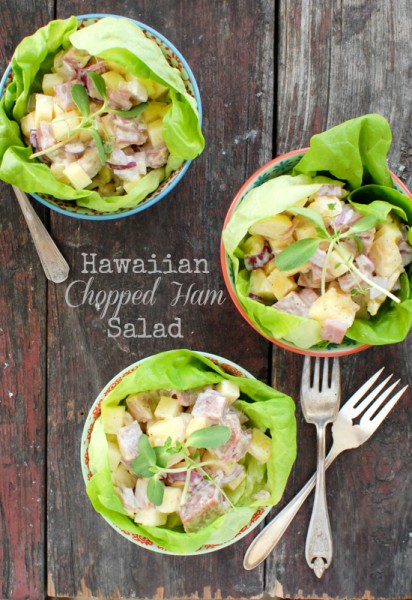 I was born in Hawaii; Honolulu precisely.  For any who have been there I was born in Queen's hospital, a large, eye-catching bubble gum pink building where my mother recalls seeing black panthers stalk the hallways as she was left alone on a mysterious medication to await my arrival.
I've been back to Hawaii many times for stays up to a month in duration.  My maternal grandparents purchased a small motel 'back in the day' with some other couples from the mainland and loved 'the Islands'.  They would do house exchanges and stay for long periods of time with my immediate family being benefactors of their local digs.
I've traveled every inch of all the islands and had many an adventure.  At the age of 15 I was certified in SCUBA diving on Kauai during a one month summer visit, doing all my certification work in the ocean.  On that same trip I also had perhaps the most socially awkward public experience of my life, which if interested you can read about here (skip to the middle of the page to the Kahlua segment).  I snorkeled in Hanauma Bay on Oahu with my Grandmother when she was bitten by an eel in the coral and taken for stitches to my birthplace, Queen's hospital.   Our last 'couple only' trip when I was 5 months pregnant with my eldest child was to Kauai.  We stayed at the Princeville Resort and took a spectacular helicopter ride over the inside of the island and along the Napali coast. Our ex-war veteran pilot delivered dramatic build ups to the top of a rise and elevator drops into waterfall canyons causing me to use the 'aloha bag' several times on the trip (pregnancy and a propensity for motion sickness were not well paired with this excursion).  I've visited Leper colonies on Molokai and dreamed of what the sequesterd community of Hawaiians living without exposure to the modern world would be like on Niihau (no non-residents were allowed to visit nor were the Hawaiians allowed to leave and return to Niihau).  Hawaii is in my blood and my heart.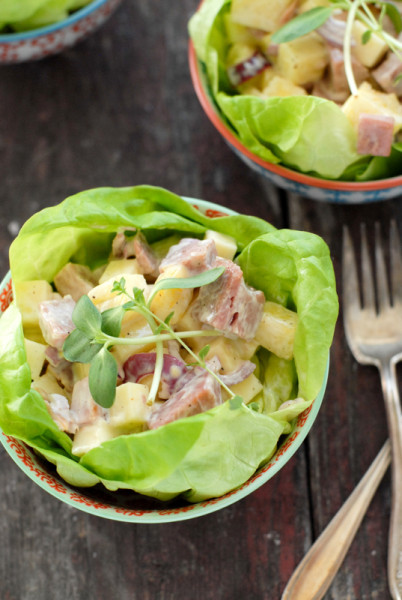 AND in my ham salad today.  Two days after Easter I was ready to throw in the ham-towel.  We enjoyed a fantastic Easter meal and had plenty of leftovers.  Plenty.  As in way-too-many plenty.  After a number of ham sandwiches, ham and bean soup, ham and cheese omelets I was stymied.  I did not want to make a quiche or frittata (both good options if you are ever in this situation) so I reached out to my blog Facebook Fan Page for help:
"I'm swimming in leftover Easter ham.  What would you make?"
The responses came fast and furious with the first two being 'ham salad'; as in chicken or egg salad just with ham.  I realized I've never had ham salad.  I like ham IN salad but it's never crossed my mind to make it as I would with chicken or eggs.
I had a spring idea for ham salad in mind and as I was wandering through the store dreaming up flavors I spotted pineapples.  And for an excellent price.  All directions changed thinking of Hawaiian pizza.  I love the flavors of pork, sweet, salt and spicy from onions and decided my first ham salad would be an homage to my birthplace.
For those of you NOT swimming in holiday ham, getting sliced ham from you favorite deli would work however do NOT use thinly sliced ham.  You want slices to make 1/4- ½ inch cubes so ask them for ¼-½ inch slices.  This could also be used in sandwiches (with some sweet Hawaiian bread).  Whichever way you prepare it you'll be pleased and maybe enjoy a little taste of the aloha spirit!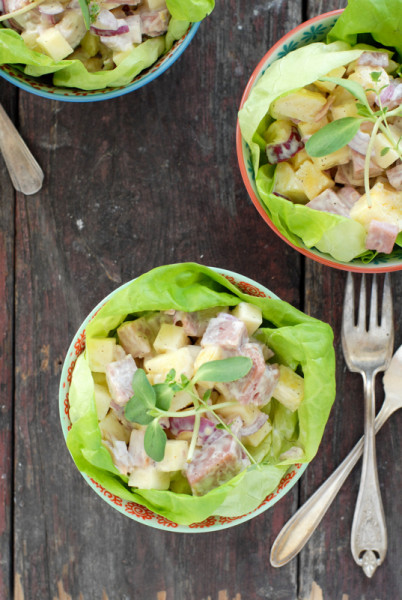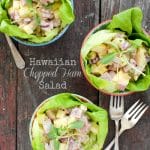 Hawaiian Chopped Ham Salad
Whether using this Hawaiian Chopped Ham Salad on greens or as the filling of a sandwich, the combination of sweet pineapple, salty ham and provolone chees and spicy red onions is captivating. It called for seconds and thirds for my familial taste testers!
Servings
4
servings (each just shy of 1 cup)
Ingredients
1

cup

chopped ham

(not deli thin sliced ham), ¼-½ inch cubes

1

cup

fresh Pineapple

, cut into ¼-½ inch cubes

¾

cup

Provolone cheese

, chopped into ¼-½ cubes

½

cup

Red Onion

, chopped

¼

cup

Mayonnaise

1

teaspoon

Dijon Mustard

Salt and Pepper to taste

1

pinch dried Lemongrass

(optional)

1

head Butter Lettuce

Garnish: Baby Sunflower sprouts

, Lemon Thyme
Instructions
1.In a small bowl fully combine mayonnaise, Dijon mustard, salt, pepper and lemongrass.

2.In a serving bowl (or larger bowl if serving separately or making sandwiches) combine ham, pineapple, provolone and onions. Stir to fully combine.

3.Spoon mayonnaise-mustard mixture onto ham mixture and mix to fully coat. Line plates or small bowls with butter lettuce leaves to make a cup (curved side of leaved facing up). Spoon ham salad into the center of the lettuce leaves. Garnish (if desired) and serve cold. Note: Mayonnaise-based dishes should not be exposed to heat for long periods so ensure it stays cold at events where it could sit out indefinitely.