A steaming mug of Glogg, Scandinavian mulled wine, is the perfect way to take the chill out of a winter's evening. Easy to make, it's brimming with warming spices and other surprises!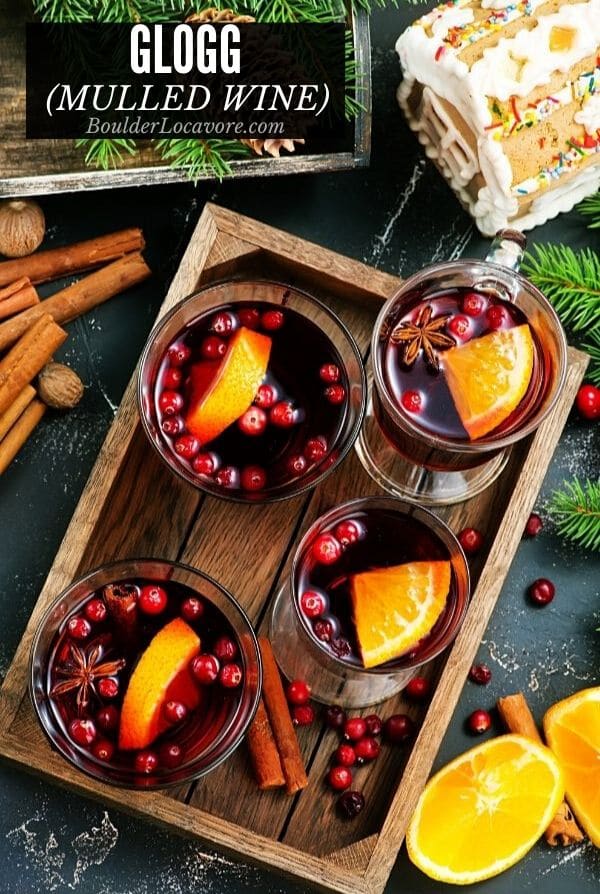 Mulled wine is a perfect drink for winter outings and holiday celebrating.
When I found this recipe for Glogg, a Scandanavian mulled wine, in my Grandmother's recipe box, I knew I had to share it with you!
Great for après ski lounging or snuggled up by a home fire by the Christmas tree.
This festive hot wine is sure to warm the insides and the spirit. Perfect for a holiday party!
Maybe it's from living in a wintery climate but hot cocktail drinks are really a favorite of mine when the snow begins to fall.
Wine drinks have an especially warming quality that make for a cozy evening.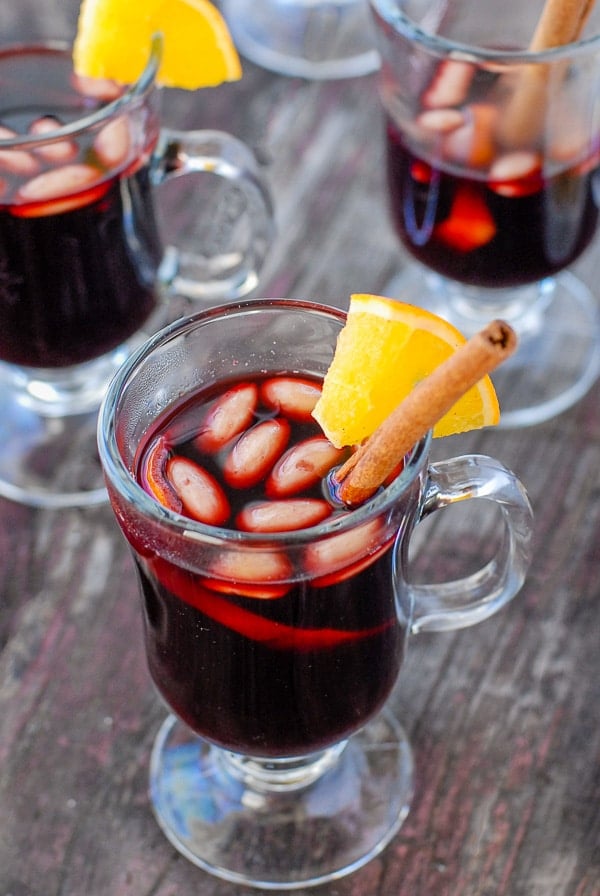 What Is Glogg?
Glogg is a hot, spiced wine from Scandinavia. Pronounced more like 'glug', with the 'o' sounding like the 'u' in nut or the 'oo' in foot, meaning 'to burn' or 'to mull'.
It is a spiced or mulled wine being heated with warming spiced.
Glogg is a holiday drink in Scandanvian countries.
It's usually served for St. Lucia's Day, December 13, and all through the Christmas season.
Unlike regular mulled wine Glogg includes some additional special ingredients!
Difference between Mulled Wine, Glogg and Gluhwein
Mulled wine
Mulled wine the overall category of red wines simmered with spices and served warm.
Different spices are used in different recipes so it may not always taste the same.
Gluhwein
Gluhwein is German mulled wine. The name roughly translates to mean 'glow wine'. It is a type of mulled wine.
Glogg
As shared above, is a Scandanavian mulled wine.
In addition to spices it includes other fruits and some recipes include other liquor in addition to red wine.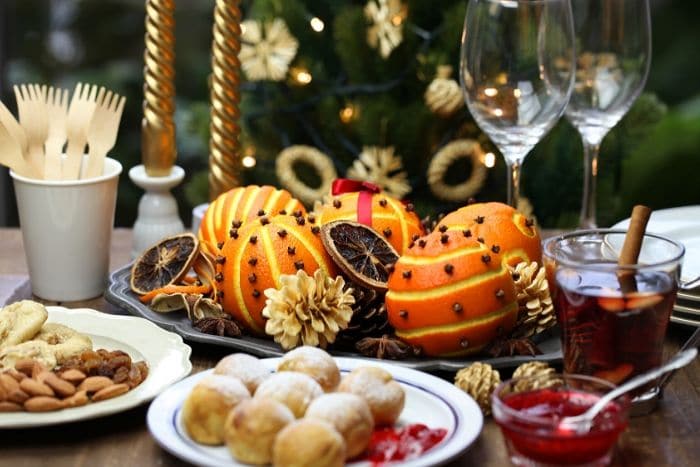 Glogg Ingredients
The addition of the raisins and almonds set Glogg apart from other mulled wine recipes.
Orange
Granulated Sugar
Raisins
Whole Cloves
Cinnamon Sticks
Bottle of Red Wine
Blanched Almonds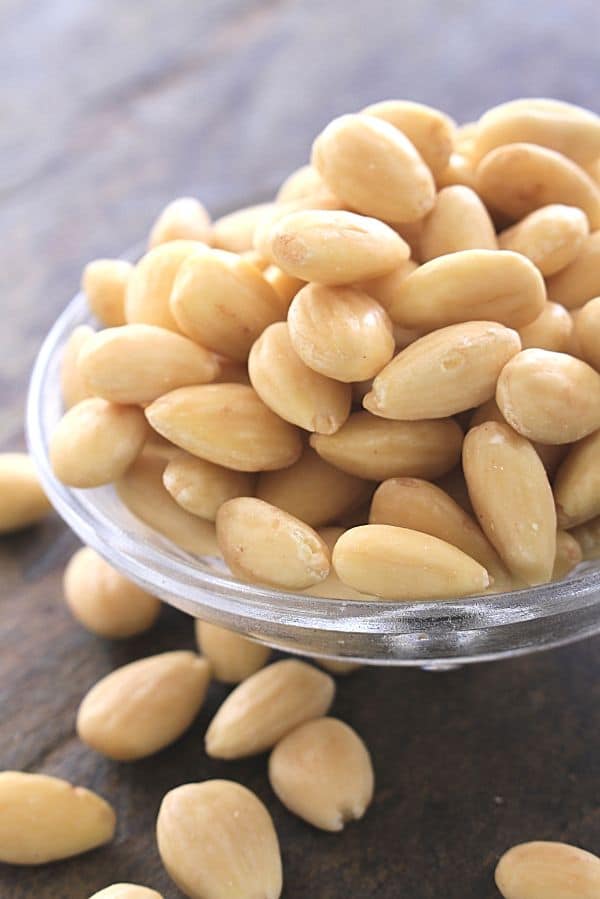 Blanched Almonds
I will admit I was unclear on the role of the blanched almonds when I first read my Grandmother's recipe card.
They seemed an odd ingredient for a wine drink.
However, once having soaked in the mulled wine they become soft and fantastic, adding a very unique element to the drink.
Raisins
Save the raisins and find something to do with them (Ice cream? Bread? Pie? Boozy oatmeal?); they are delicious.
What Type of Wine to Use for Glogg
The original recipe suggests three possible wine varietals:
I used an old vine Zinfandel that was fantastic.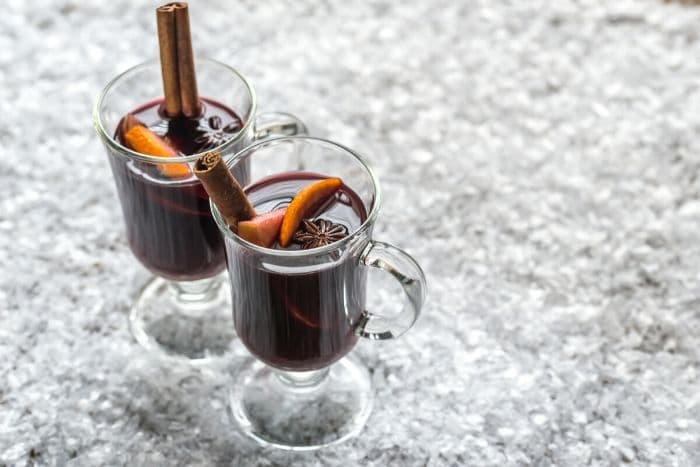 How to Make Glogg – Step-by-Step
STEP 1: Cut the peel from the orange making a long strip of peel. Squeeze the juice from the orange and place into a 2-quart saucepan with the peel.
STEP 2: Add the sugar, raisins, cloves, cinnamon sticks and wine. Over moderate heat, heat the mixture do not allow it to boil.
STEP 3: Simmer 10-15 minutes. Strain and serve hot with a few blanched almonds in each serving.
Garnish with orange slices and cinnamon sticks.
Pro Tips for Making Glogg
Pick the Right Pan
Do not make mulled wine in aluminum, copper interior or cast iron pans. There will be a chemical reaction between the metal and the wine causing unpleasant flavors.
You CAN use anodized aluminum or non-stick coated aluminum pans.
Glass, stainless steel and enamel coated cast iron pans are great choices for best flavor results.
Do Not Boil the Glogg
Boiling the Glogg will allow the alcohol to evaporate. It will also begin to reduce the mulled wine and change its flavor.
Heat over moderate heat. If it begins to bubble or you observe steam (that's evaporation) turn down the heat.
Straining Tips
Use a fine mesh strainer or sieve OR line a larger mesh strainer with two layers of cheesecloth to strain the Glogg before serving.
The cloves can also be inserted into the orange peel before cooking making it easy to remove them.
If doing this the mixture can be strained through a larger mesh strainer at the end.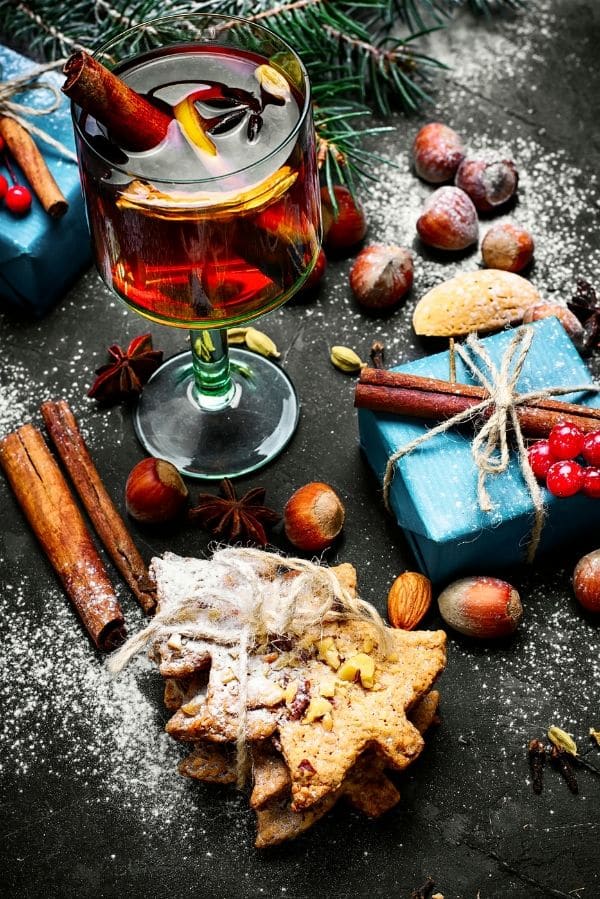 Make it Ahead & How to Store Glogg
Glogg can be made ahead of time. The instructions for making ahead and how to store Glogg are the same.
Allow the prepared Glogg to fully cool
Put it in an airtight container (I recommend a glass container, like a Mason jar)
Store in the refrigerator for up to 4 days.
A Glogg Gift Idea
When visiting friends or family for the holidays take them a Glogg Gift Pack!
Add the following to a decorative basket or gift bag:
the dry ingredients in a jar or small sealable bag
a bottle of suggested wine varietal
an orange
blanched almonds
the recipe
GLOGG PRINTABLE GIFT RECIPE CARDS!
Download a sheet of FREE printable Glogg Gift Recipe Cards! It's a great way to turn this fun recipe into a surprise holiday gift.
Just print, and cut out the recipe cards (2 per sheet). Add to the other ingredients for a unique and special gift.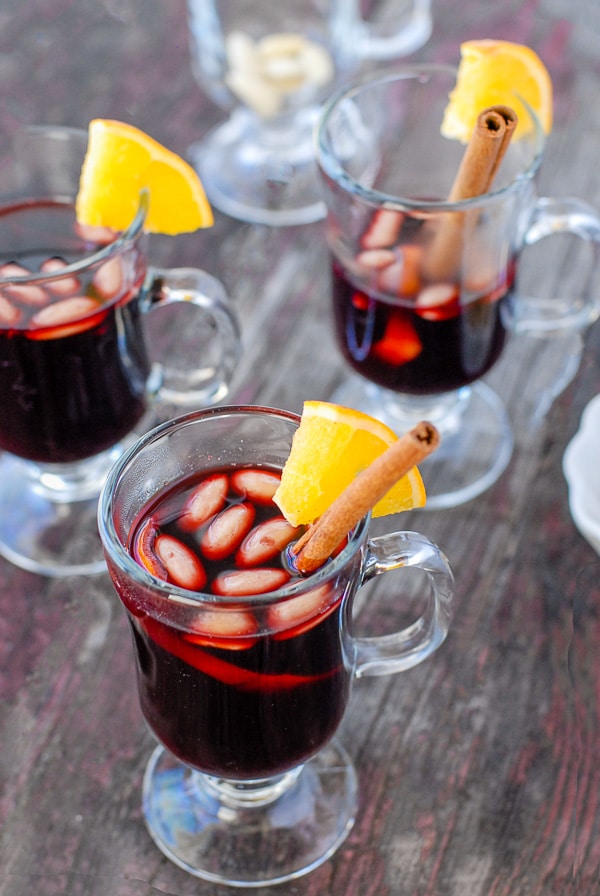 More Holiday Drink Recipes You'll Love
Did you make it? Please RATE THE RECIPE below!
Please SUBSCRIBE and FOLLOW ME on FACEBOOK , TWITTER , INSTAGRAM and PINTEREST !
Recipe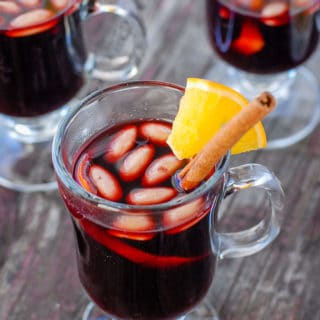 Ingredients
1

small

Orange

½

cup

Granulated Sugar

½

cup

Raisins

2

teaspoons

Whole Cloves

2

2-3 inch

Cinnamon Sticks

1

750-ml bottle

Red Wine

(Burgundy, Zinfandel or Gamay)

½

cup

Whole Blanched Almonds
Instructions
Cut the peel from orange making one long thin strip.

Squeeze juice from orange and place both peel and juice in a 2-quart non-reactive saucepan.

Add the sugar, raisins, cloves, cinnamon sticks, and wine. Heat over moderate heat until hot but not boiling. Allow to simmer 10-15 minutes, strain and serve in mugs with a few blanched almonds in each mug.
Nutrition
Calories:
279
kcal
|
Carbohydrates:
34
g
|
Protein:
2
g
|
Fat:
5
g
|
Saturated Fat:
0
g
|
Cholesterol:
0
mg
|
Sodium:
11
mg
|
Potassium:
366
mg
|
Fiber:
2
g
|
Sugar:
19
g
|
Vitamin A:
50
IU
|
Vitamin C:
12.3
mg
|
Calcium:
52
mg
|
Iron:
1.3
mg
Originally published: December 6, 2011
Glogg is a tasty, warming wine cocktail perfect for holiday celebrating!