Gingerbread Cookies are full of warming winter spices and molasses. It's a fun recipe for the holidays. The dough is easy to make and the cookies fun to cut out and bake.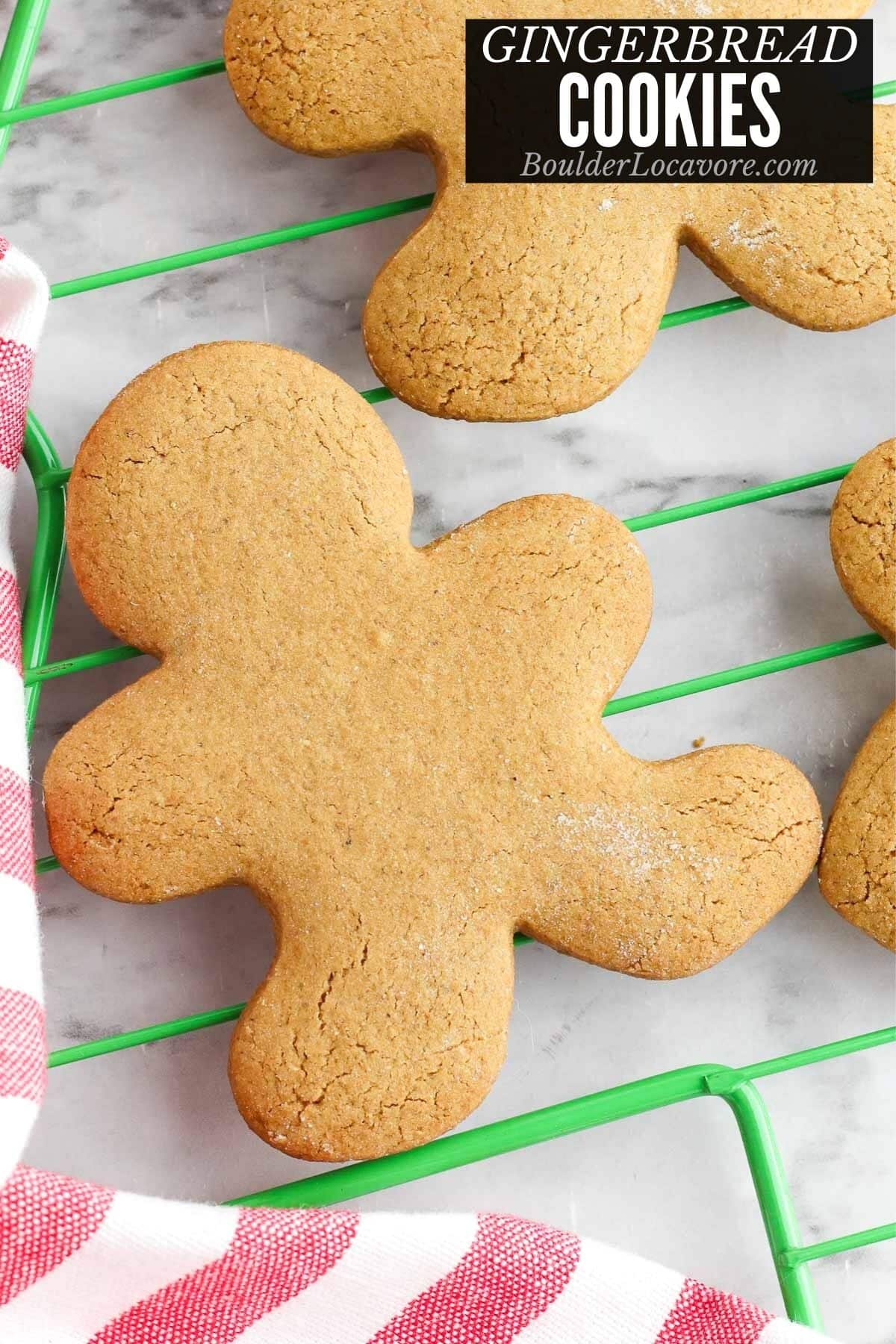 Gingerbread Men cookies are a holiday classic. Their wonderful spicy flavor is something that make Christmas time complete.
Their cute shapes are perfect on a cookie platter with Stained Glass Cookies, Butter Cookies and Mint Chocolate Chip Cookies.
Enjoy them with a warm glass of homemade eggnog (regular or for adults the boozy eggnog recipe).

Easy Gingerbread Recipe
This cookie dough is easy to make. Chilling time is important to allow the ingredients to blend together and for the best end result.
Cutting out the shapes is a fun project for the family! They can be eaten plain or iced.
The cookies bake in 10 minutes or less. They are crisp without being hard.
The tummy's of your ginger people with be a bit soft too.
The flavors of the spices will make your kitchen smell like sweet winter baking!
Gingerbread Men Cookies
When I first shared this recipe in 2010, I also shared I have a relative who would make them every holiday season with her girlfriends.
Day drinking with a bottle of wine, they'd make 'Lewd Nude Gingerbread Cookies', all anatomically correct with all their bits and pieces.
When making Gingerbread Men or Gingerbread Women you don't need to take it that far. In fact, they don't need to be people at all!
And frankly whose to say the classic cookie cutter shape is a man OR a woman? They are just great Gingerbread Cookies.
That's a traditional cut out shape for gingerbread cookies but they are delicious in any shape you make them.
Just try to keep the sizes the same to ensure even baking time for all the cookies on the baking sheet.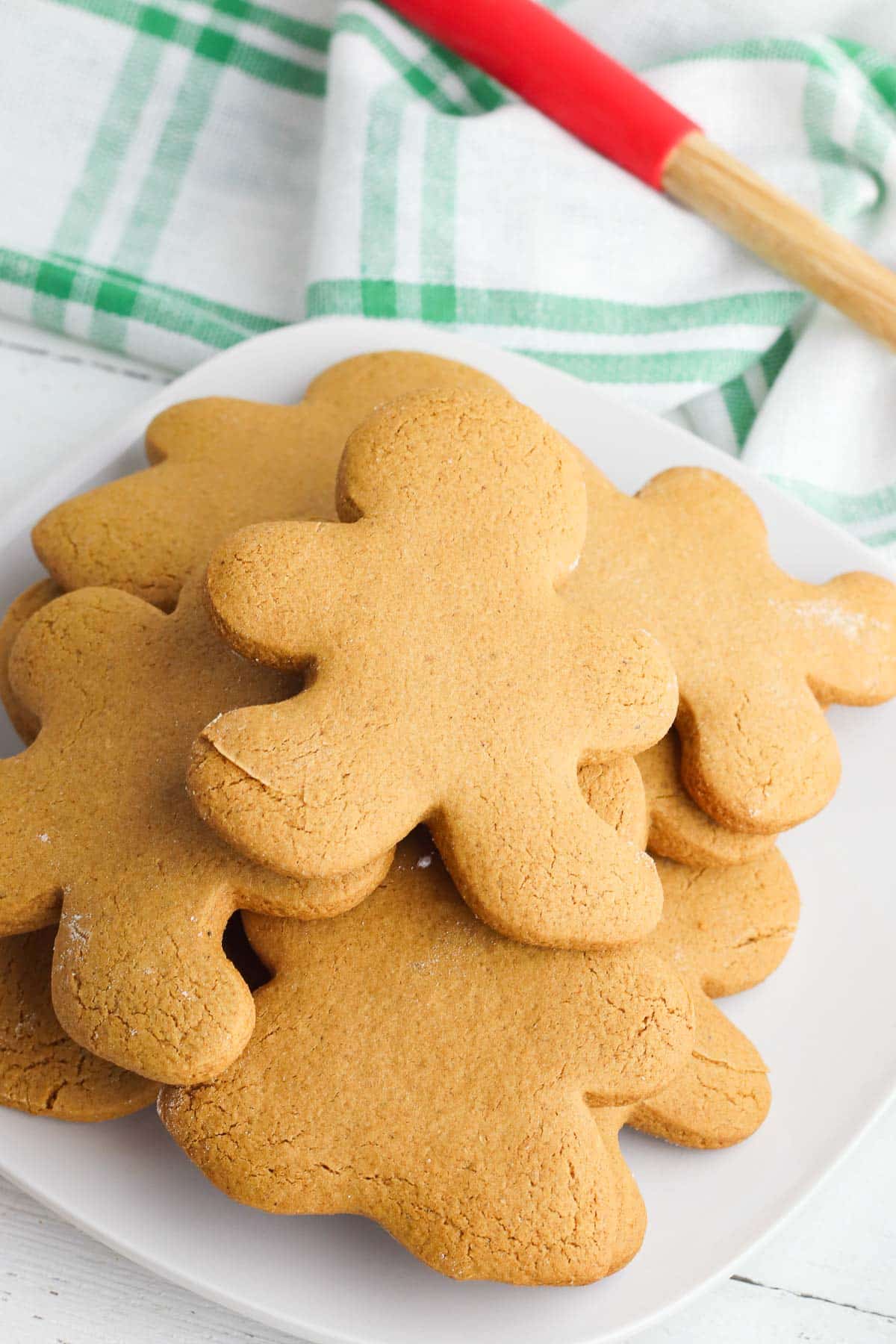 Recipe Ingredients + Notes
Unsalted Butter. Preferred butter so the salt content is controlled by you not the butter. Be sure the butter is room temperature before starting the recipe.
Sugar. I've made these with either brown sugar (light or dark) or granulated sugar. Brown sugar will make a deeper more caramel-y flavor. Granulated sugar lightens up the flavor a bit but they are still very gingerbread flavored.
Molasses. This is a key ingredient when making gingerbread. Combined with the spices it makes the signature flavor you'll recognize.
Egg yolk.
All Purpose Flour. Regular or gluten-free measure-for-measure flour blend work great. For the gluten-free version we used Bob's Red Mill Gluten-Free 1-to-1 Flour Blend.
Baking soda. Helps with rising (which isn't much with gingerbread men cookies).
Baking powder. Also helps with rising.
Salt. We love kosher salt because it's a less salty tasting salt.
Spices. Cinnamon, cloves, ginger and nutmeg. Use ground spices, not whole. The ground spices are what really give gingerbread cookies their defining flavor (along with the molasses).
You can also change them up! If you want them really ginger-y you can add a little more. Don't like cloves? Leave it out.
After you make the recipe once change them up to make your favorite flavor combo.
What Size Cookie Cutter to use?
The estimated yield of the recipe is based on using a 3 1/2-inch tall gingerbread person cookie cutter. With that size you'll get at least 24 cookies.
You can use any size though the yield may change if it's much larger or smaller.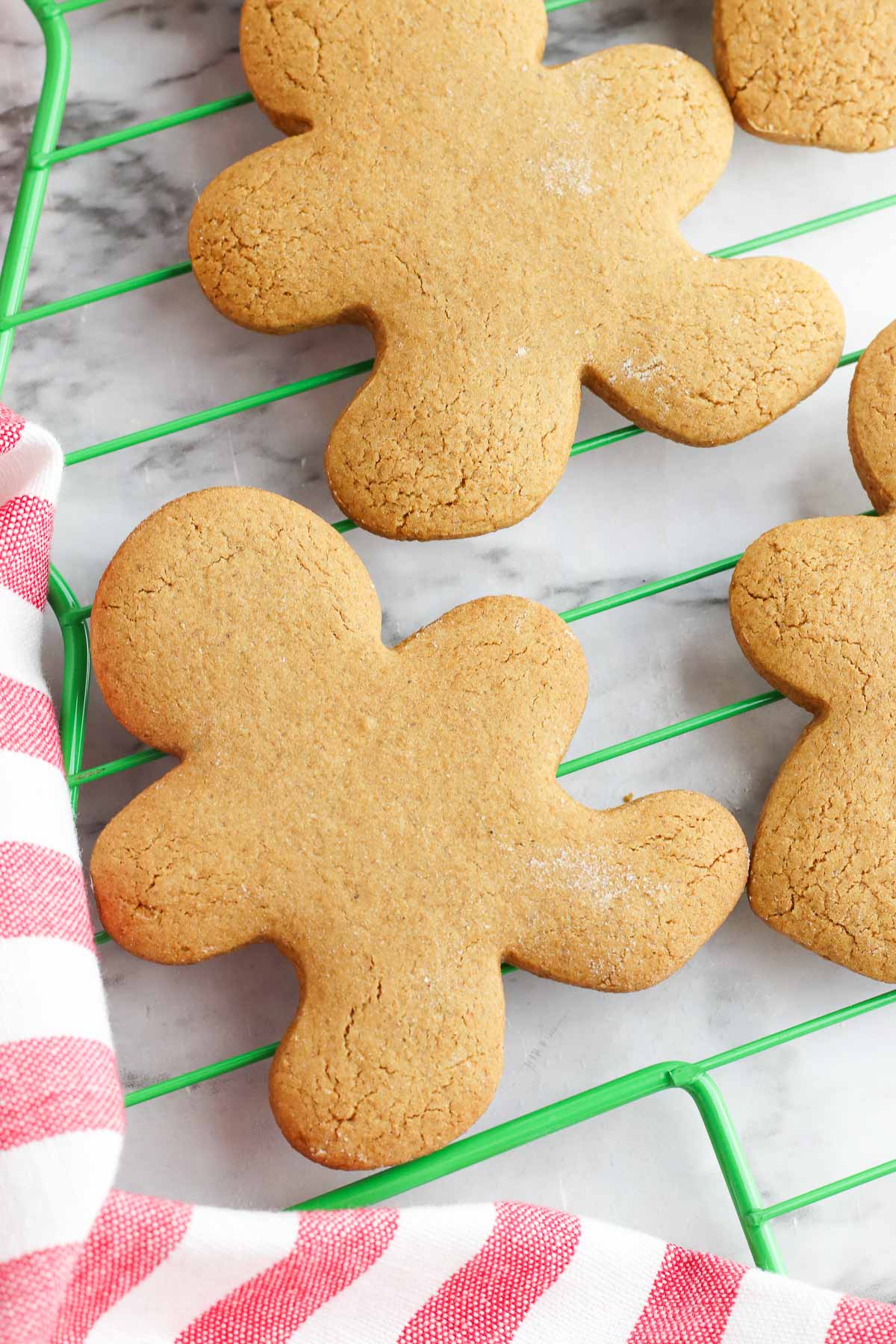 Gluten-Free Gingerbread
These cookies are delicious when making gluten-free gingerbread cookies. Originally the all-purpose flour was swapped with a homemade blend.
That has been updated to use a measure-for-measure flour blend that takes all the thinking out of the process.
We love Bob's Red Mill Gluten-free 1-to-1 Flour Blend.
Homemade Gluten-free Flour Blend
When this recipe was originally published gluten-free measure-for-measure flour blends did not exist. I shared a mix I used from a gluten-free author Annalise Roberts from her cookbook Gluten Free Baking Classics (shared with her consent).
If you are making the gingerbread cookies gluten-free and prefer to mix your own flour give this blend a try. I also added ½ teaspoon Xanthan Gum with the dry ingredients when using this flour blend.
How to Make it – Step-by-Step
STEP 1. Mix the Wet Ingredients.
In a large bowl or bowl of a standing mixer, cream together the softened butter and sugar (photo 1). Beat until creamy. NOTE: either granulated sugar OR brown sugar can be used.
Add the molasses and egg yolk (photos 2-3). Beat until fully combined.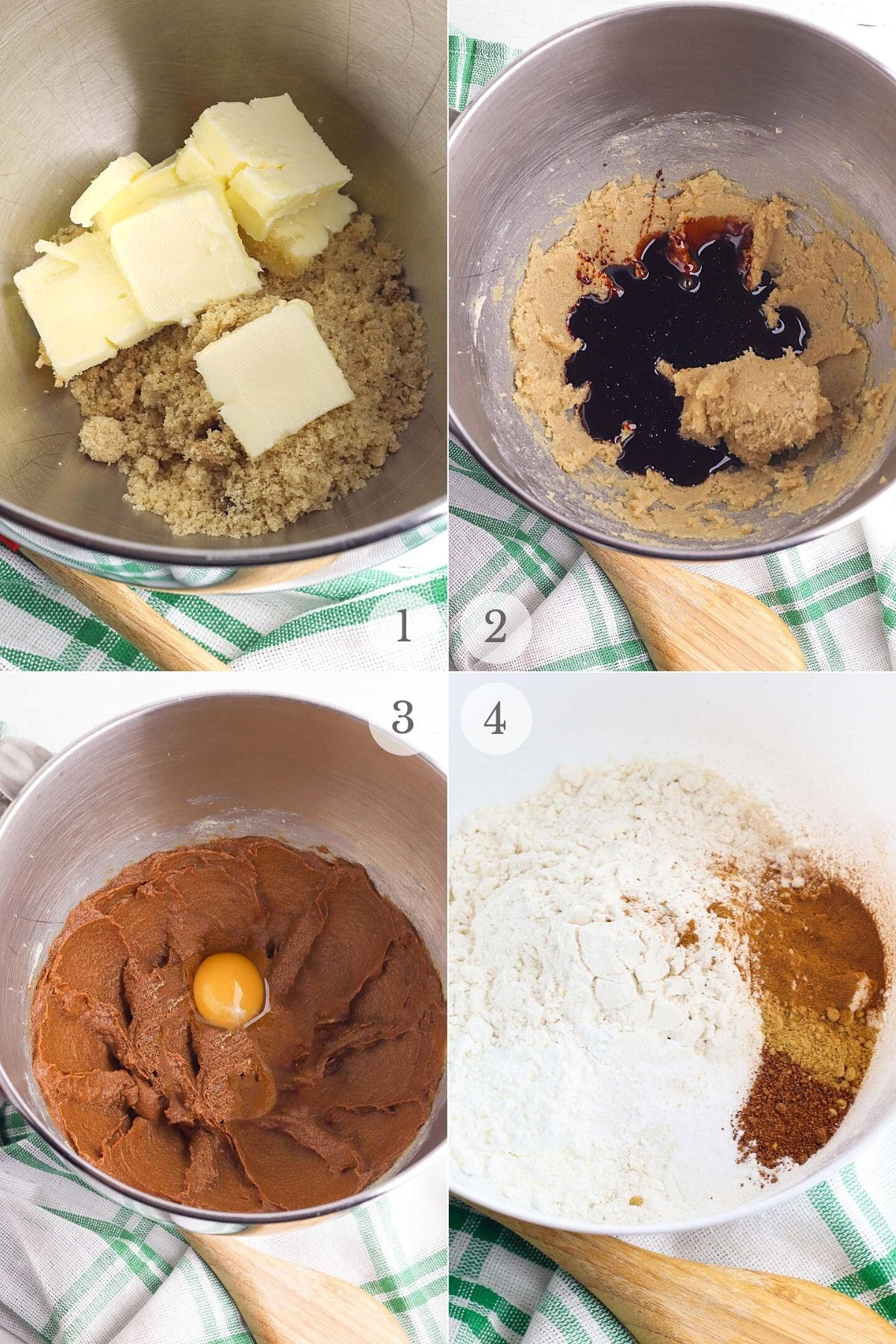 STEP 2. Mix the Dry Ingredients.
In a separate large bowl whisk the flour, baking soda, baking powder, salt and spices (photo 4). Whisk to fully combine.
STEP 3. Making and Chilling the Cookie Dough.
Add the dry ingredients to the wet ingredients (photo 5). Mix to fully combine.
Form one to two disks out of the dough that is flattened on the top.
Place in a sealable plastic bag, squeeze out the air and chill the dough in the refrigerator a minimum of 1 hour (photo 6).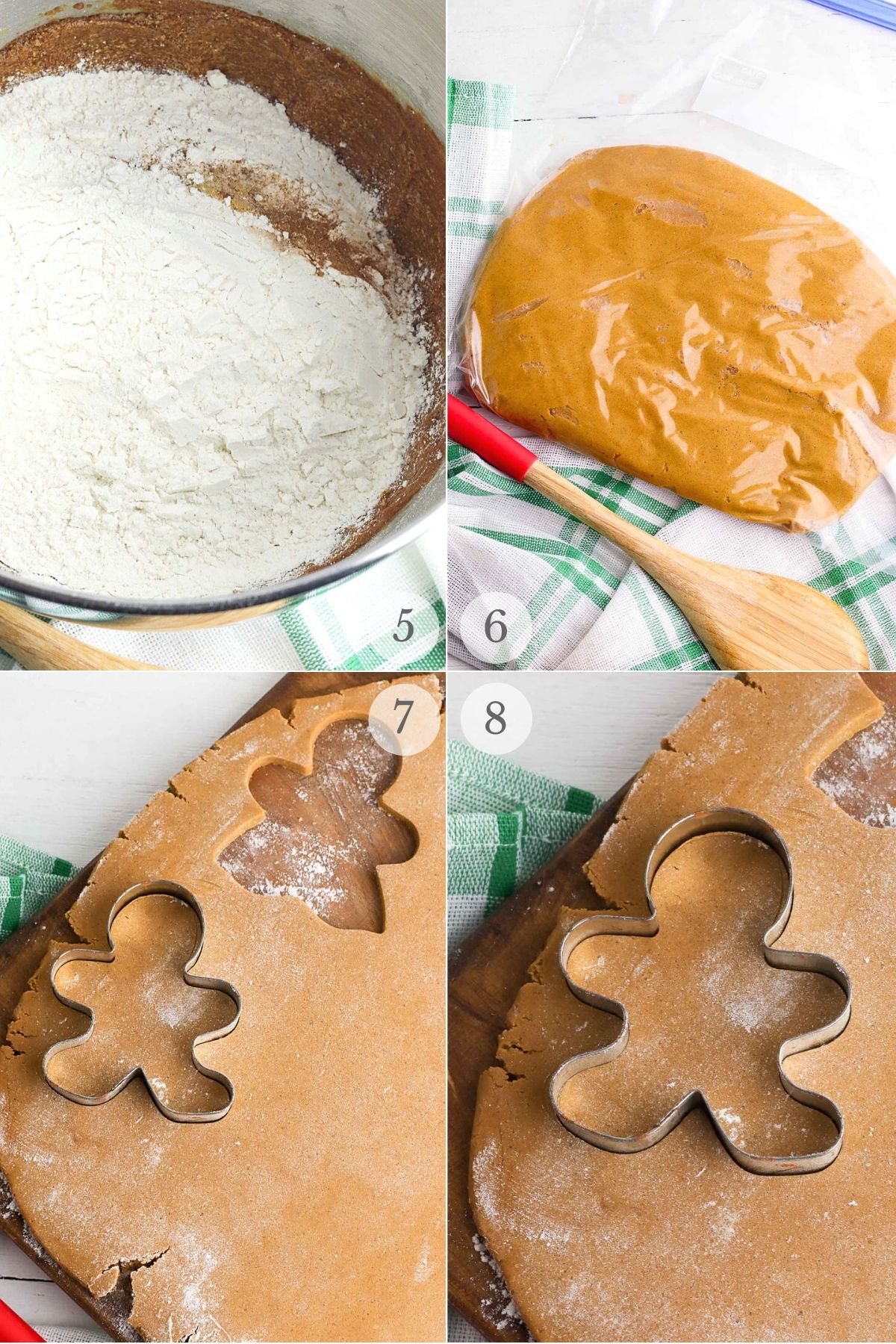 STEP 4. Cutting out the Cookies.
Preheat the oven to 350 degrees F. Line baking sheets with parchment paper.
After chilling roll out the dough on a lightly floured surface with a rolling pin to be 1/4-inch thick. Tips for sticking dough below.
Cut out cookies (as close together as possible) with a gingerbread people cookie cutter (photos 7-8).
Gather scraps after cutting out cookies, combine and roll out again to cut more.
Place cookies 2-inches apart on the parchment lined cookie sheet (photo 9). NOTE: they will not spread like regular cookies.
STEP 5. Bake and Cool the Cookies.
Bake for 8-10 minutes. The centers will puff slightly but they will not brown like other cookies.
Allow the cookies to cool on the baking sheet for a few minutes.
Remove with a spatula and place on a wire rack to fully cool (photo 10).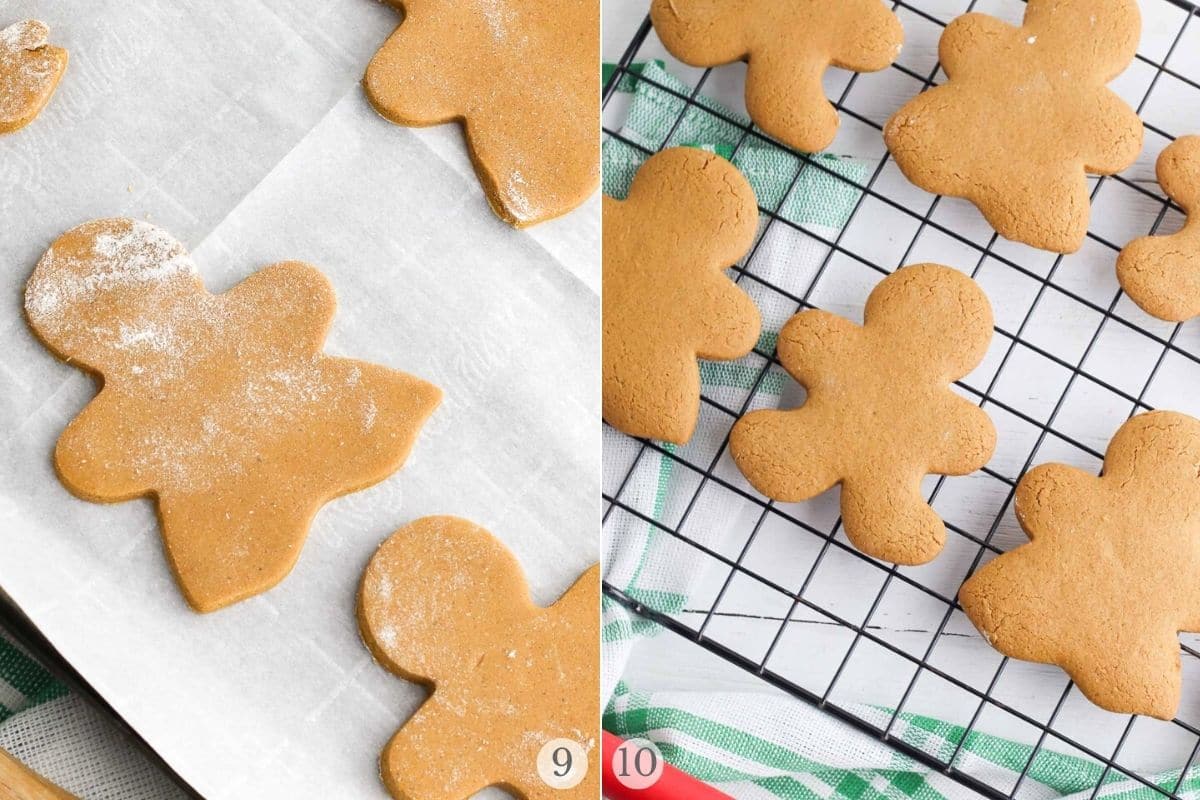 Recipe FAQs + Pro Tips
Use cut out shapes similar in size. This ensures even baking time.
Be sure to chill the cookie dough. This step is very important for the best end result!
Flatten the top of the dough disk before chilling. Because the dough will be still after chilling, if the top has a flat surface it will be easier to roll out than the round surface of a ball.
Make 1 or 2 dough balls. If working in a hot or humid environment, definitely make 2 dough balls for chilling.
Remove one, roll it, chill it and bake the cookies and then use the second one.
What do I do is my cookie dough is sticking?
I have never had an issue with this dough sticking to the rolling pin or when moving the cut cookie shapes. BUT the dough needs to stay cold.
If the dough does become sticky try one of these options:
Lightly flour the rolling pin.
Roll out the dough on a lightly floured surface or use a roulpat silicon rolling mat.
Lightly flour the dough on the top as well as the bottom.
Place the dough between two layers of plastic wrap and roll the dough out.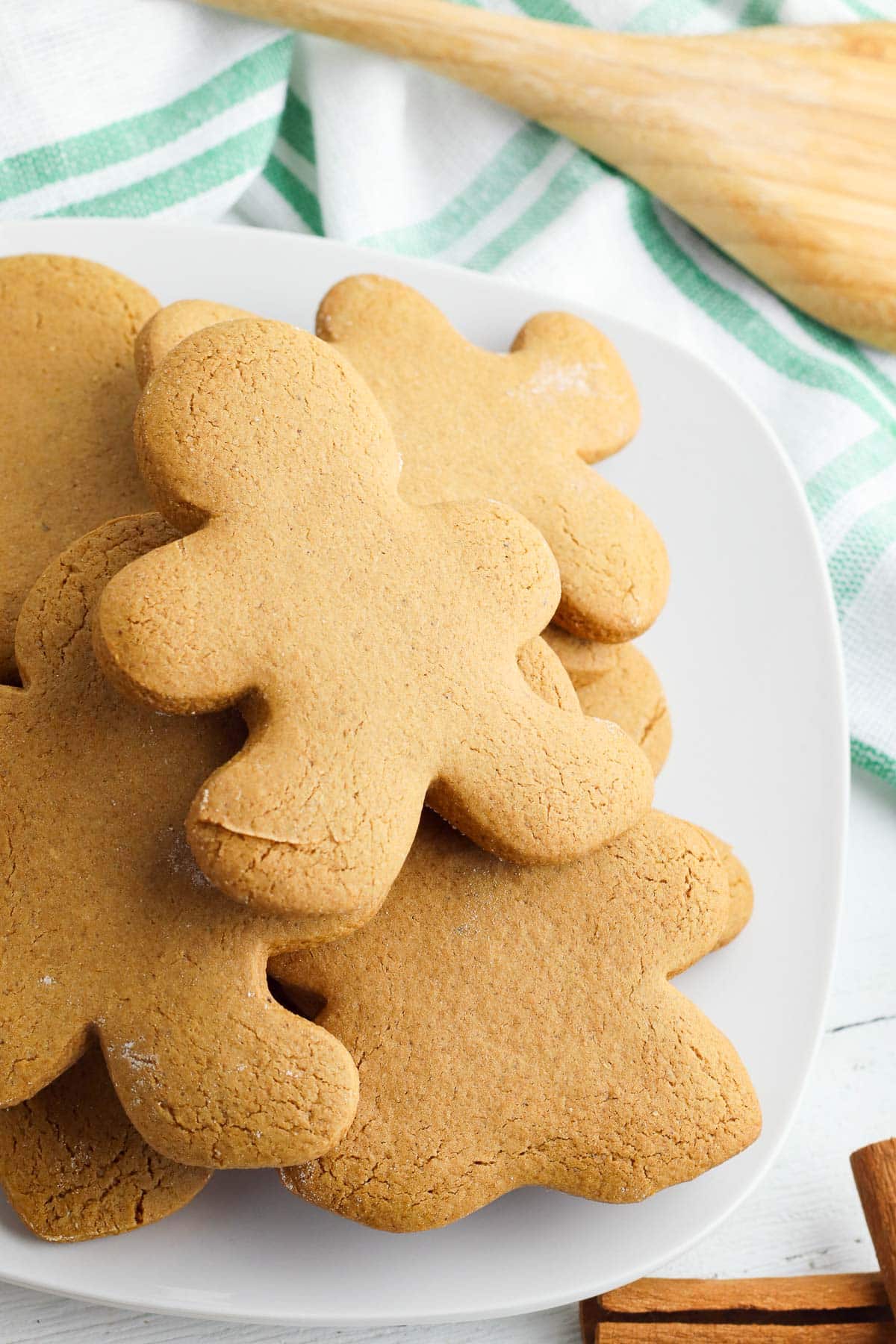 More Recipes You'll Love!
Did you make it? Please RATE THE RECIPE below!
Please SUBSCRIBE and FOLLOW ME on FACEBOOK , TWITTER , INSTAGRAM and PINTEREST !
Originally published: December 12, 2010