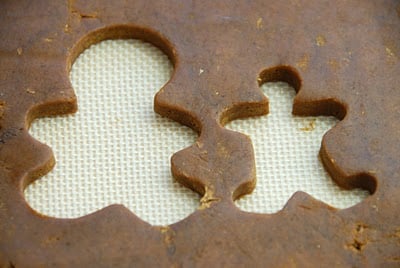 I learned recently that my mother and her friends get together during the day for the holidays, drink a bottle of wine and make 'Lewd, Nude Gingerbread People' complete with all their 'bits and pieces' if you know what I mean. I personally prefer the gender ambiguity of traditional ginger-people. I just really don't need to know that much about them.
As part of our countdown to Christmas I wanted to make a batch of gender-neutral Gingerbread People (in fact 'personality-neutral' as I'm not big on the icing) to accompany a homemade batch of Eggnog Ice Cream.

Truth be told I had decided to try some new gluten free recipes for this blog post and they failed.

I was now like a heat seeking missile and was not to be detoured from my goal.
I am not a recipe innovator.

I'm a 'tweaker' but not truly a 'whip-it-up-from-scratch' kinda gal on a large scale.

However in this time-limited moment with steadfast commitment to creating my gingey-folk, I was overwhelmed by a gust of courage crossed with wreckless abandon.

I decided I would create my own gluten free gingerbread cookie recipe, gosh darn it.
Modifying regular baking recipes to be gluten free is not overly complicated.

What I know is that no one gluten-free flour has the structure of wheat flour so it's best to use combinations of them which can be purchased pre-blended or you can blend them yourself.
Secondly gluten is a binder so you need a substitute in baking:

Xanthan Gum.

This adds in the binding power wheat flour would provide naturally.
I have a flour mixture I use for everything.

It comes from the cookbook Gluten Free Baking Classics by Annalise Roberts.

I will be discussing the cookbook in depth at another time but I will say this flour has allowed creation of a myriad of gluten free baked goods rivaling their gluten-filled cousins and delighting even gluten diners in the process.

I like the flavor of this blend as well.

Many recipes use Gar-Fava flour which is made from Garbanzo bean flour and Fava bean flour.

It tastes very green and beany to me leaving a bit of a twang on my palette.
I whipped up these cookies based on a number of recipes I've seen or tried, fingers crossed, breath held and I will say they are fabulous!

Flavorful without being overwhelming in taste, good structure without being dry and most importantly a perfect partner to our Eggnog Ice Cream!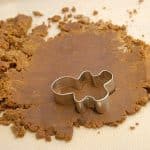 Gluten Free Gingerbread People Cookies
This delicious from scratch recipe is gluten-free with a gluten option.
Total Time
1
hour
40
minutes
Ingredients
½

cup

softened unsalted butter

½

cup

sugar

I use organic

¼

cup

molasses

1

egg yolk

2

cups

sifted All Purpose Flour (regular or gluten free measure for measure flour)

see NOTES below for my preferred blend used for this recipe

½

teaspoon

baking soda

½

teaspoon

baking powder

½

teaspoon

salt

½

teaspoon

cinnamon

1

teaspoon

ground cloves

1

teaspoon

ground ginger

½

teaspoon

nutmeg
Instructions
In the bowl of a mixer cream together the softened butter and sugar until creamy.  Add molasses and egg yolk and beat until combined.

In a separate bowl sift together flour, salt, baking soda, baking powder, xanthan gum and the four spices.

Add to butter/sugar/molasses mixture blending until combined.

Cover and refridgerate at least one hour.

Preheat the oven to 350 degrees.

Using a rolling pin, roll out the dough to a thickness of a ¼ inch. NOTE: I rolled mine out on a Roul'pat and did not have any sticking issues. You can also use a lightly floured surface or between two sheets of waxed paper. If the dough stays cold it should not stick.

Cut out cookies using a gingerbread shaped cookie cutter.

Place cookies about 2 inches apart on a cookie sheet. Bake for 8-10 minutes (they will begin to puff slightly but not to brown).

Remove cookies to a cooling rack until cool. May be iced if desired.
Recipe Notes
Annalise Roberts Food Philosopher Gluten Free Brown Rice Flour mixture (shared with permission):
Brown Rice flour (extra finely ground):    2 parts  (2 cups)
Potato Stratch (NOT Potato Flour):    2/3 part  (2/3 cups)
Tapioca Flour:  1/3 part  (1/3 cups)
Nutrition Facts
Gluten Free Gingerbread People Cookies
Amount Per Serving
Calories 97
Calories from Fat 36
% Daily Value*
Fat 4g6%
Cholesterol 18mg6%
Sodium 75mg3%
Potassium 59mg2%
Carbohydrates 14g5%
Protein 1g2%
Vitamin A 130IU3%
Calcium 20mg2%
Iron 0.6mg3%
* Percent Daily Values are based on a 2000 calorie diet.