4th of July desserts make the holiday all the more fun. Easy Red White and Blue Trifles are fresh, light and portable for all your holiday outings!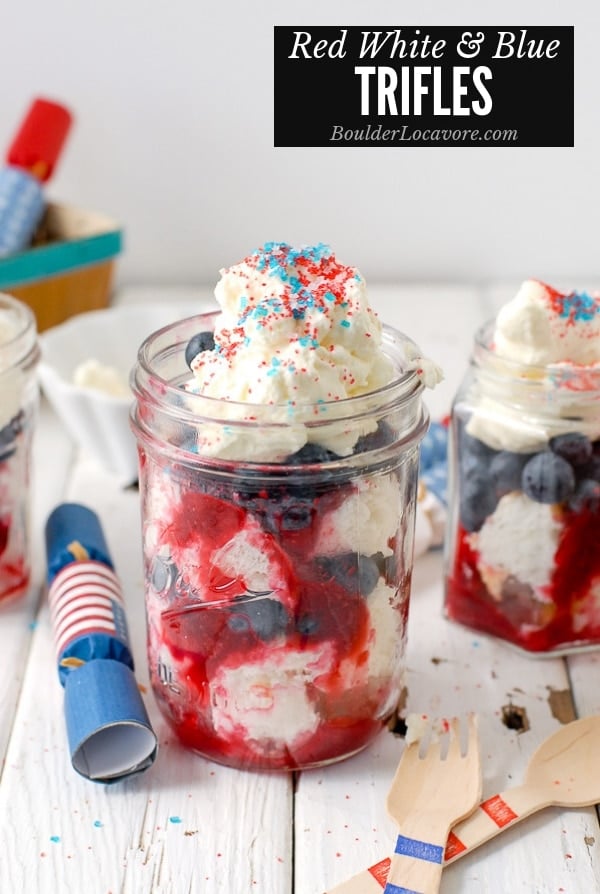 The deeper into summer we go, the lazier I become in the kitchen! If it's not on the grill or eaten raw, it seems I don't want to have anything to do with it!
Having said that I do love a 4th of July recipe. A little bit of red white and blue makes the holiday feel special. However, it IS summer; my 4th of July dessert recipes need to be easy, fast and fun!
What Makes Good 4th of July Desserts?
In my opinion good 4th of July desserts are relaxed, easy, with flavors of summer. Red, white and blue desserts are always fun! The color palette of this holiday makes the food immediately recognizable.
I love a flag theme (as in this American Flag Fruit Cookie Dessert Pizza) or something as simple as Star Spangled Layered Finger Jello in red white and blue.
Whatever you make it shouldn't be fussy.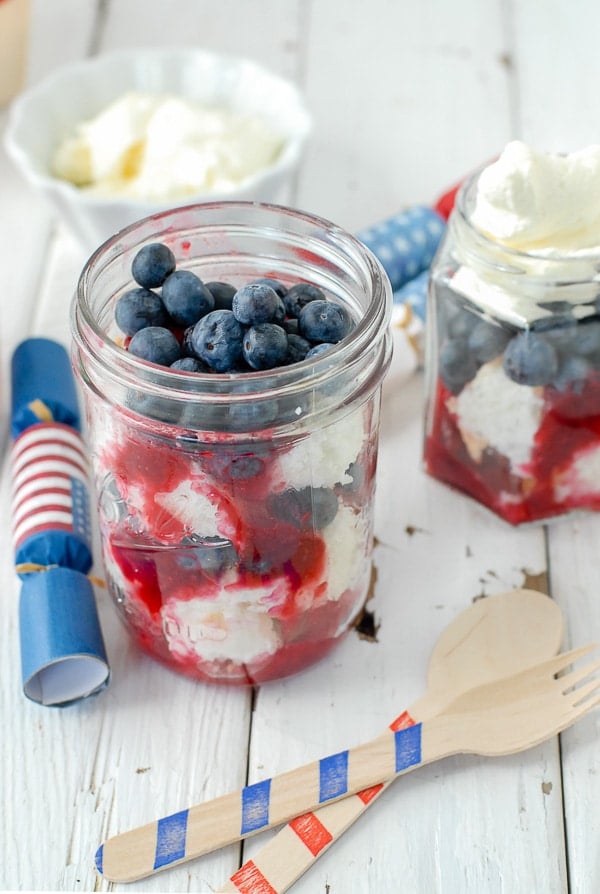 What is a Trifle?
A traditional English trifle is a dessert made of sponge cake (often soaked in liqueur) layered with custard, preserves and cream.
It's traditionally served in a large pedestal trifle bowl.
For today's 4th of July dessert recipe, individual trifles are made in pint size Mason jars.
The red white and blue trifles have a rustic feel and are perfect for transporting if watching fireworks away from home!
What is in Red White and Blue Trifles?
This easy fourth of July recipe for individual trifles is light and full of seasonal summer flavors.
Cubes of angel food cake are layered with fresh blueberries and a homemade cherry-lime sauce.
The finishing touch is a dollop of freshly whipped cream and some patriotic sprinkles or sparkling sugars.
Everyone Loves 4th of July Desserts in a Jar!
I can't exactly pinpoint the love of a dessert in a jar but can confirm it exists. Some of the favorites I've shared include:
I think the surprise of the jar as a serving container changes things up and definitely fits with summer desserts.
Also having your own dessert that doesn't have to be shared is as fun for adults as it is for kids.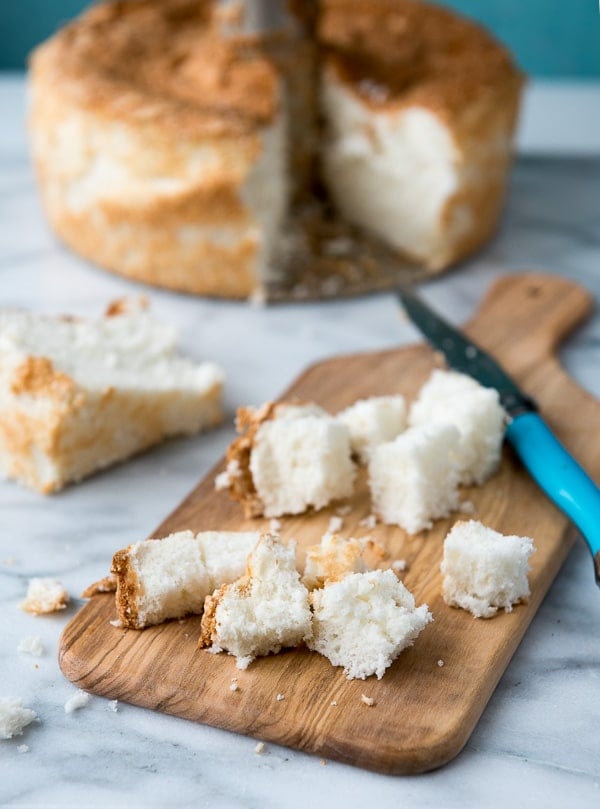 What's in the Cherry Lime Sauce?
This easy sauce recipe is made with:
fresh cherries
lime juice
granulated sugar
cornstarch (to thicken it slightly)
Cherry-Lime sauce can be made ahead of time and used for other recipes (putting it on ice cream as an idea!).
The sauce takes about 15 minutes to make.
After it cooks it will cool allowing it to thicken before adding it to these 4th of July desserts!
How to Make Red White and Blue Trifles
I think you'll agree 4th of July desserts don't get easier than Red White and Blue Trifles.
Layer cubes of angel food cake in pint Mason jars and drizzled with the homemade Cherry-Lime sauce and fresh blueberries.
A dollop of whipped cream tops the red white and blue dessert along with sparkling sugars (shown here) or red white and blue sprinkles.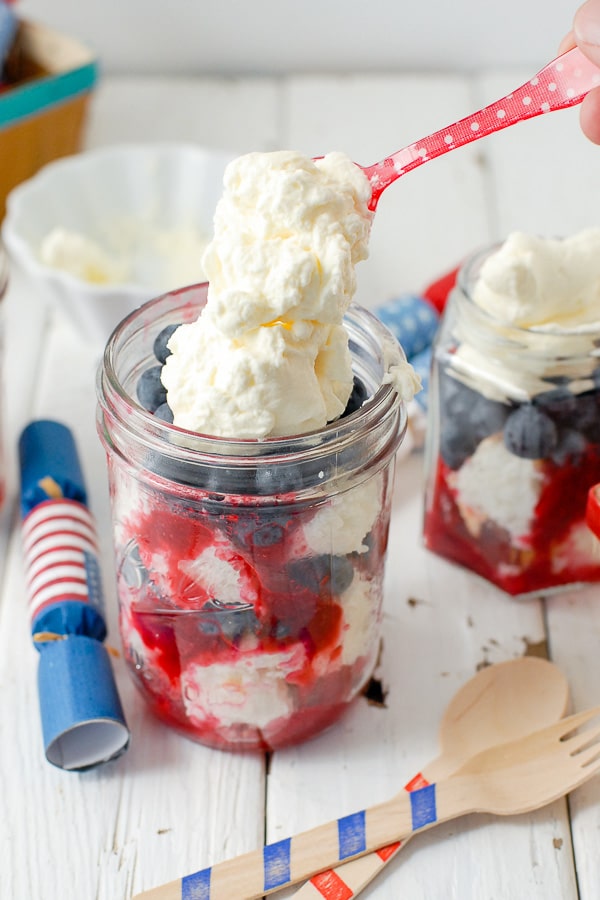 Time Saving TIPS for Making this 4th of July Recipe
Angel Food Cake: Purchase the angel food cake instead of baking it.
NOTE: If making the trifles gluten-free purchasing angel food cake is usually not an option. I used a great mix which makes it go quickly (and an angel food cake pan).
Whipping Cream: Buy canisters of whipped cream instead of whipping fresh cream. This is a perfect choice if transporting the desserts. Add the whipped cream at the last minute.
Cherries: if fresh cherries are not available substitute frozen thawed cherries.
Serving Sizes for these 4th of July Desserts
Red White and Blue Trifles are light but flavorful desserts perfect for the heat of summer.
I made them in two sizes, a single and double serving. Don't let the 'double serving' scare you; with angel food cake being so light and airy the double serving is probably just right for most.
The recipe can be doubled or tripled using the same proportions.
The batch of cherry-lime sauce makes 1 1/4 cups so serves 3-4 servings per batch (the amount depending on making single or double servings).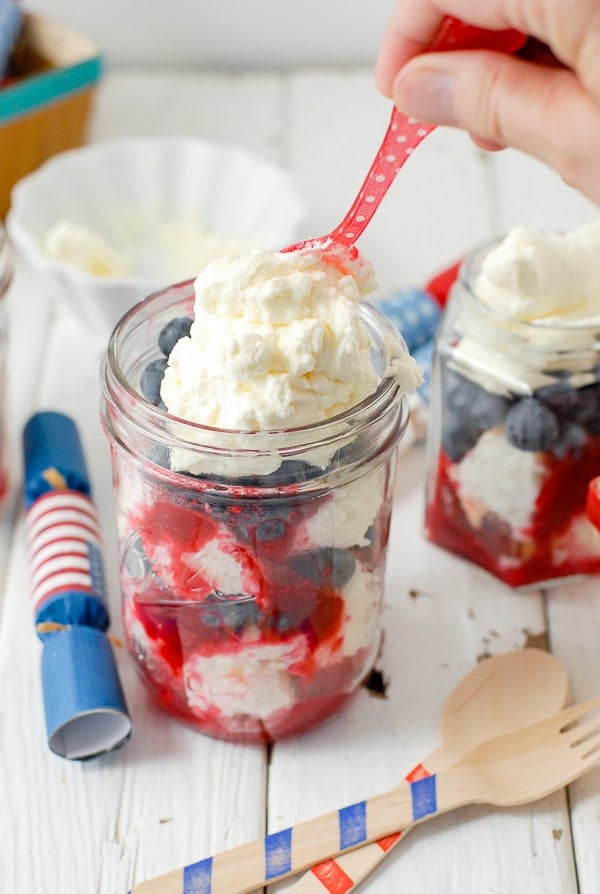 What Jars Can be Used for Red White and Blue Trifles?
The desserts can be made in any container (clear jars are the best for the effect of it). I chose to mix and match pint size Mason jars (double serving) and other small, interesting jars I keep around for a variety of purposes.
Eight-ounce Mason jars (1/2 pint) are great for single servings.
Tips for Transporting the Red White and Blue Desserts
After creating the trifles cover (solid lids are available for Mason jars) and refrigerate them.
Pack in a cooler for transport. I personally love the coolers that can be pre-frozen and stay cold for hours requiring no ice packs.
Stick the canisters of whipped cream and some sprinkles in the cooler to finish off the desserts just before serving. Great for a picnic or fireworks watching treat! I used India Tree Sparkling Sugar on the trifles shown here; red and blue.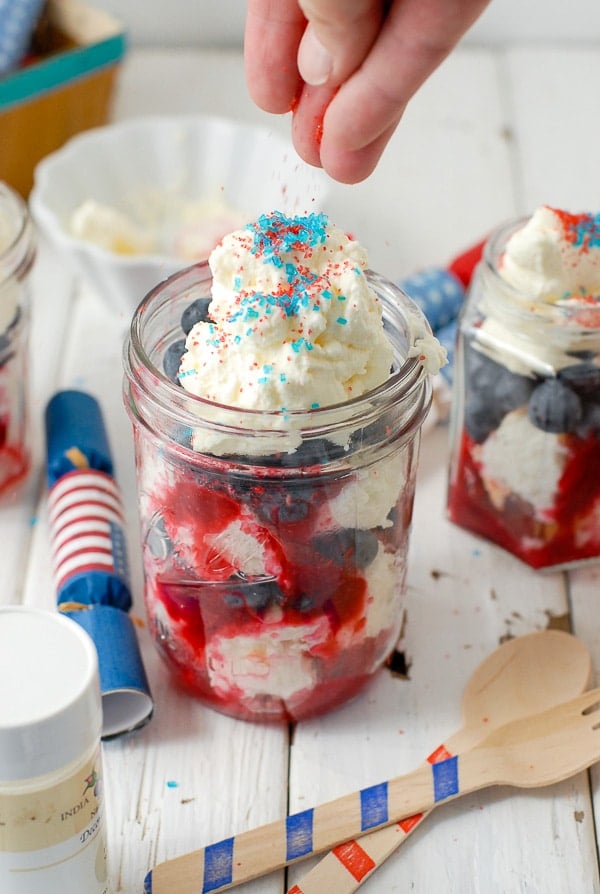 More Red White and Blue Recipes
Did you make it? Please RATE THE RECIPE below!
Please SUBSCRIBE and FOLLOW ME on FACEBOOK , TWITTER , INSTAGRAM and PINTEREST to see more delicious food, travel and what I'm up to!
Originally published: July 1, 2014