Here's a fun, light, refreshing treat to celebrate any patriotic holiday or summer with cherry and berry flavors: Star Spangled Layered Finger Jello! This red white and blue layered finger jello is firm enough to pick up and eat, finger jello can be cut into a variety of sizes and shapes, and is easy to make.  A bit of patience is required while it chills but it's worth the wait!
CLICK HERE TO PIN FOR LATER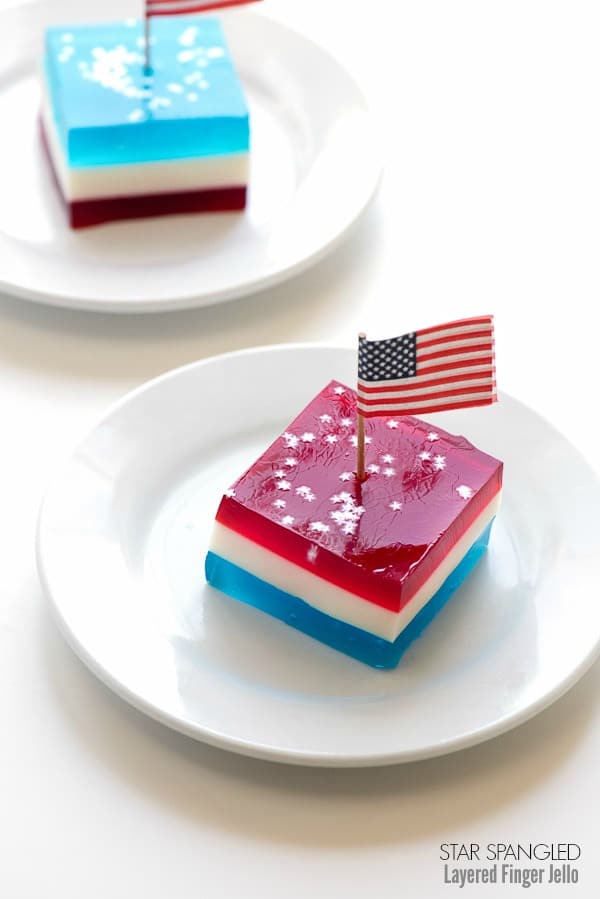 I'm sort of a sucker for red, white and blue recipes when it comes to July 4th celebrating.  I love a great grilling menu but patriotic colors make me cheery and are great to punctuate the holiday spirit.  Today I have a fun addition to your holiday and summer menus:  Star Spangled Layered Finger Jello.
Truth be told I left my fascination for jello in my childhood.  From eating the unprepared mix for 'energy' at swim meets (at the coaches urging) and fruit cocktail jello salads, I always thought jello was pretty cool.  Fast forward to last week, my daughter had her wisdom teeth extracted and my relationship with jello was rekindled.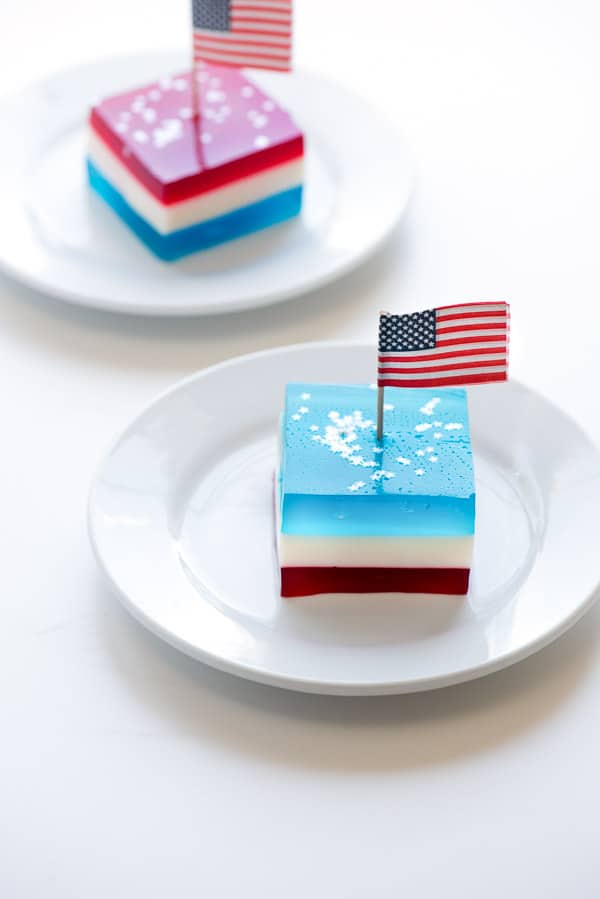 Two days of lying in bed watching movies on TV with her and preparing multiple varieties of jello which was all she could tolerate, left me thinking of fun jello recipes for July 4th.  After a few day of a jello-based sympathy diet, I was hooked and remembering how fun the texture, and the flavor and coolness are perfect for summer.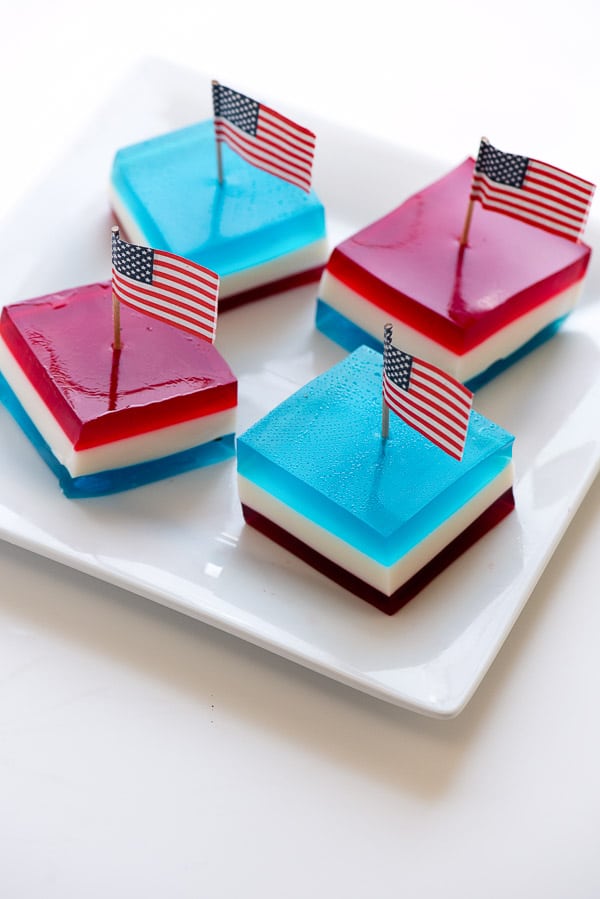 The very first thing I ever pinned on Pinterest was a gorgeous rainbow layered jello recipe.  I loved all the colors and how perfectly layered it was.  It seemed so fancy and looked like stained glass stripes.  I really wanted to make a red, white and blue version for July 4th.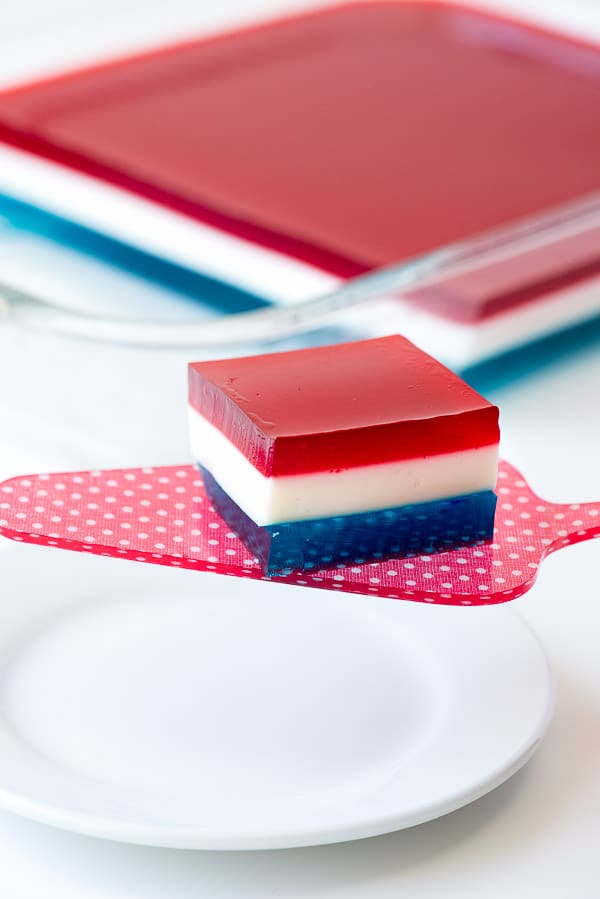 With the lazy time on my hands I decided to make a three layered Red White and Blue Finger Jello.  Finger Jello has extra gelatin in addition to the jello mix, making it more firm and able to be eaten with one's fingers (hence the name)!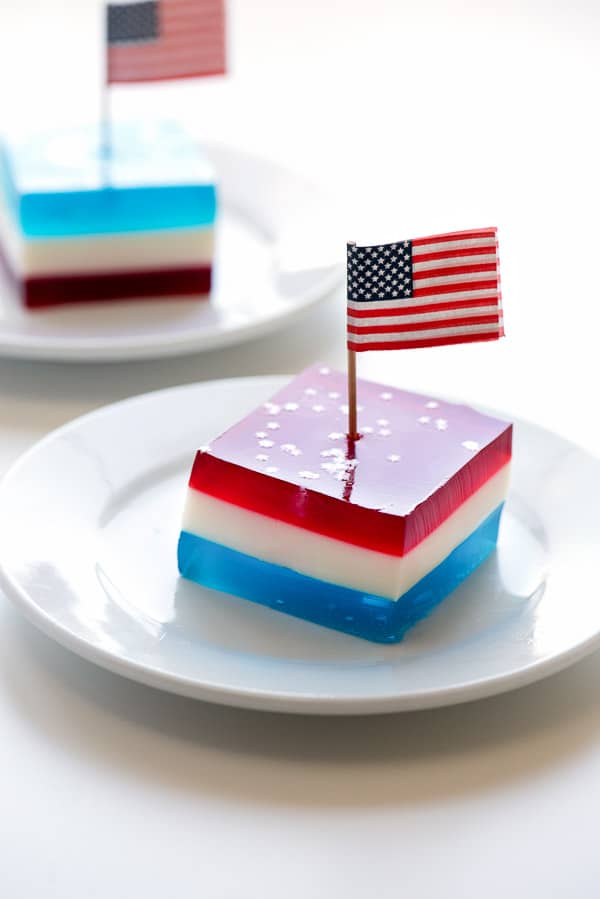 I love the colors of this jello especially with the light coming through the layers.  The ruby red is cherry flavor and the ocean blue is berry.  The middle sweet creamy white layer is made with sweetened condensed milk.  The recipe is very easy to make through there is waiting time involved for the layers to fully set and to ensure the distinct layers.  I found some tricks along my testing batches that are included in the recipe.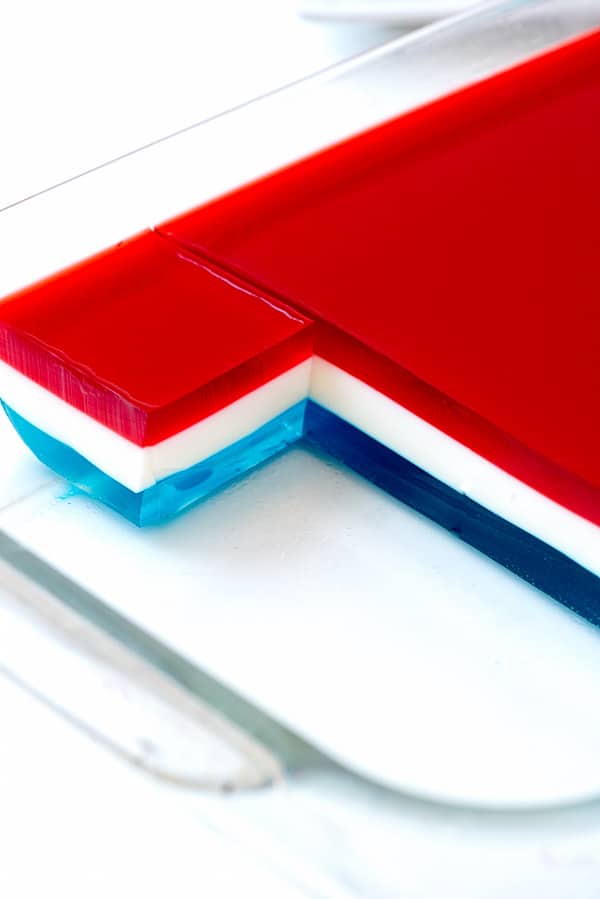 This red white and blue finger jello may be served cut into small squares or rectangles or adorned with miniature edible stars (making the Star Spangled Layered Finger Jello) as shown and cupcake topped that fit the holiday.  The jello can be easily picked up to be eaten or eaten with a fork.  It is light, cool, fun addition to your party menu and I'm sure your guests will agree!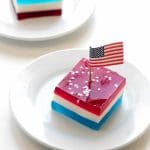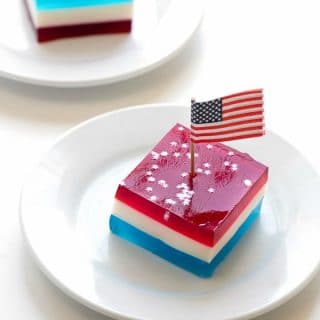 Star Spangled Layered Finger Jello
This patriotic red, white and blue layered finger jello is a refreshing and festive addition of your patriotic holiday celebration or for summer. Finger jello is more stiff than regular jello so can be picked up to eat. It can be cut into smaller sizes or with cookie cutters in addition to squares or small rectangles.When making the jello be sure the pan is sitting flat in the refrigerator to ensure the layers are straight and even. I don't recommend covering the pan with plastic wrap until it has completely set. Adding plastic wrap over the individual layers will cause condensation as the jello layer cools and will drip on top of the layer.The majority of the total time is for cooling.
Total Time
3
hours
30
minutes
Servings
30
jello rectangles
Ingredients
1 6-

ounce

package Berry Blue Jello

1 14-

ounce

can Sweetened Condensed Milk

1 6-

ounce

package Cherry Jello

6

(1 tablespoon) packets Unflavored Gelatin

Optional: Wilton Edible Stars

, patriotic cupcake toppers
Instructions
Prepare a 13 by 9-inch baking dish by spraying with non-stick spray and wipe around the bottom and side of the pan with a paper towel to coat evenly.

Layers 1 and 3: Dissolve 2 packages unflavored gelatin in 1 cup of cold water. Set aside.

In a small saucepan bring 1 cup of water to a boil; add the Berry Blue Jello. Return to a boil, stirring to dissolve the jello and remove from heat.

Add the gelatin mixture and ½ cup cold water to the saucepan and stir to fully combine and dissolve any solids.

Pour into the prepared pan and place in the refrigerator on a level surface to ensure even layering. Allow to set.

Layer 2: In a small mixing bowl combine ½ cup cold water and 2 packets of gelatin; stir. Set aside.

In a large mixing bowl combine the sweetened condensed milk and 1 cup boiling water. Stir to combine.

Add the gelatin and an additional ½ cup of boiling water. Allow to cool to room temperature (15-20 minute approximately). Note: if this layer is poured onto the first layer prior to cooling it will release some of the jello into the white layer.

Once cooled, pour onto the first layer of blue jello and allow to set in the refrigerator (again on a level surface).

Repeat Steps 2-4 with the Cherry jello. Allow to cool to room temperature before proceeding with Step 5. Allow to fully set for a few hours or overnight.

Spray a sharp knife with non-stick spray and cut the jello into squares or rectangles (spraying with non-stick spray allows smooth cutting); 6 horizontal rows each cut evenly into 5 pieces. Use a metal spatula to life jello out of the pan. Sprinkle with edible stars just before serving.

Store any extra jello in the pan, covered with plastic wrap in the refrigerator.