Red White and Blue Popsicles are perfect for patriotic summer celebrations. Sports drink Rocket Popsicles keep everyone cool and hydrated in the summer heat.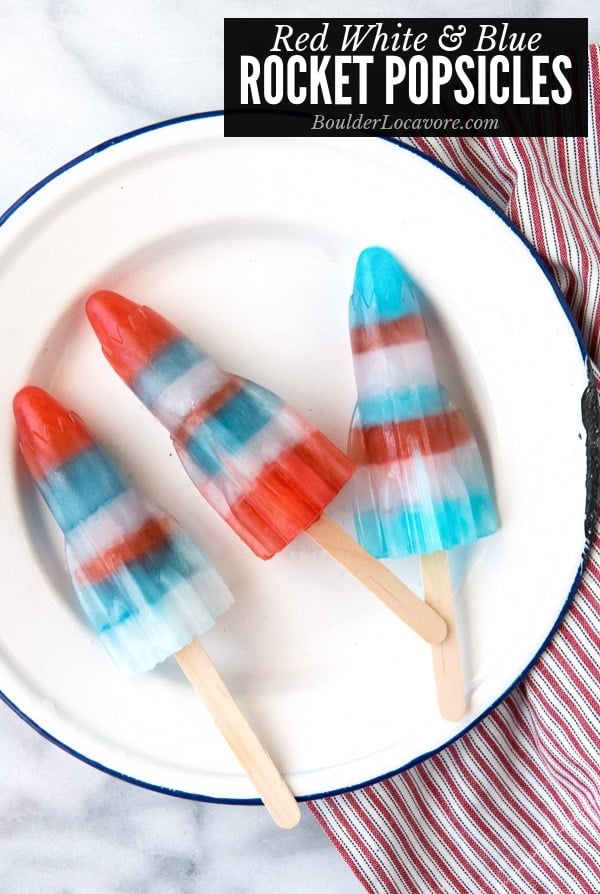 There is one thing the beats the summer heat and that is a good old-fashioned popsicle.
Whether it's a boozy cocktail popsicle (adults only please), or something made with fruit juice (and maybe coconut water). OR a recipe that can swing either way like Blue Lagoon popsicles.
Fourth of July is notoriously beastly in the heat department. Making a cooling red white and blue popsicle that's hydrating as well as refreshing is a win.
These cute Red White and Blue Rocket Popsicles are all that. Made with sports drinks, they taste great and are loaded with electrolytes to keep everyone hydrated.
What are Sports Drinks?
Sports drinks are beverages designed to help athletes replace water, minerals, electrolytes and energy during and after exercise.
Gatorade is one brand of sports drink.
I used sports drinks for these red white and blue rocket popsicles both to get nice colors but to replace electrolytes lost from sweating on a hot summer day.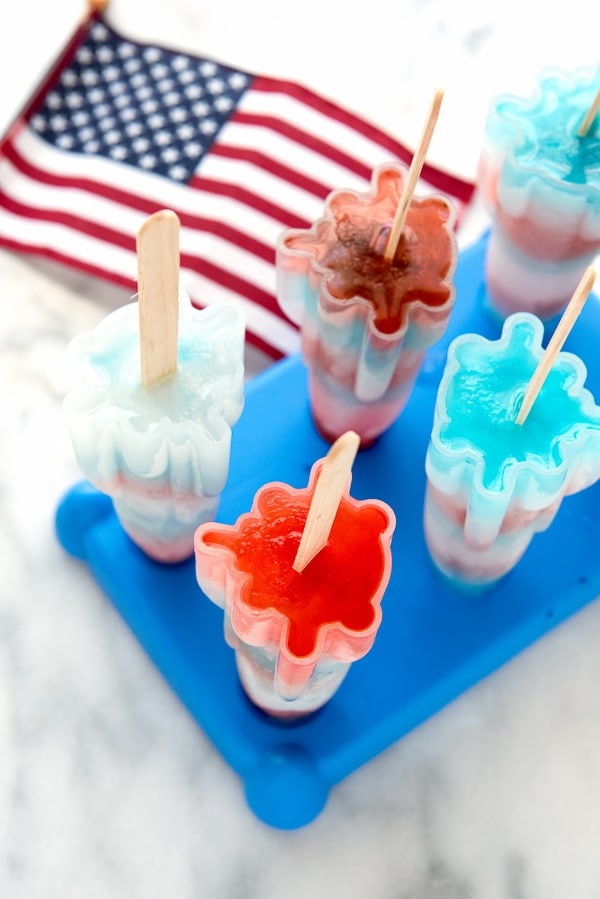 Which Sports Drinks were Used in these Red White and Blue Sports Drink Rocket Popsicles?
Any juice or sports drinks that are red white and blue can be used for a fun 4th of July popsicle recipe. Here are the specific flavors I used to make these red white and blue rocket popsicles are (all Gatorade Thirst Quencher varieties):
Can the Rocket Popsicles be Made with Juice?
Sure! This recipe was specifically developed to use sports drinks for hydration on hot days.
If you'd rather use juice, go for it!
Also if you'd like a red white and blue popsicle using smoothie ingredients, I have a specific recipe for that.
How to make Red White and Blue Popsicles – Step by Step:
Making layered popsicles is easy.
PRO TIP: allow each layer to freeze before adding the next layer.
I did not want these to be all the same so varied the layer order and size for a fun design.
How to make Layered Rocket Popsicles
Pour the desired amount of a specific color sports drink into the mold (I used a funnel) then allow it to freeze.
It usually takes 20 minutes to freeze.
Once the first layer of the rocket popsicle is frozen, add an additional layer and allow it to freeze. Alternate the colors for red white and blue popsicles.
REPEAT this until the rocket popsicle mold is full.
Place in the freezer to fully freeze.
PRO TIP: It is best to make layered popsicles when you have a number of hours to allow the layers to freeze. They also can be done over a few days.
How to Remove the Rocket Popsicles from the Mold
Remove the popsicles from the ice pop mold by running the SIDE of the mold quickly under hot water.
Do not allow the water to enter the top of the mold.
Gently release the rocket shaped popscile from the mold.
PRO TIP: If after running the side of the mold under hot water the popsicle does not release, repeat.
Running the frozen treat under hot water TOO long will begin to melt it. It's better to do it quickly a few times instead.
Use Wooden Popsicles Sticks
When making layered popsicles wooden sticks must be used (not the stick with drip guard that comes with the popsicles mold).
Because sports drinks are poured into the rocket popsicles mold and frozen in steps a 'free' (not attached to a drip guard) stick is the only way to make them.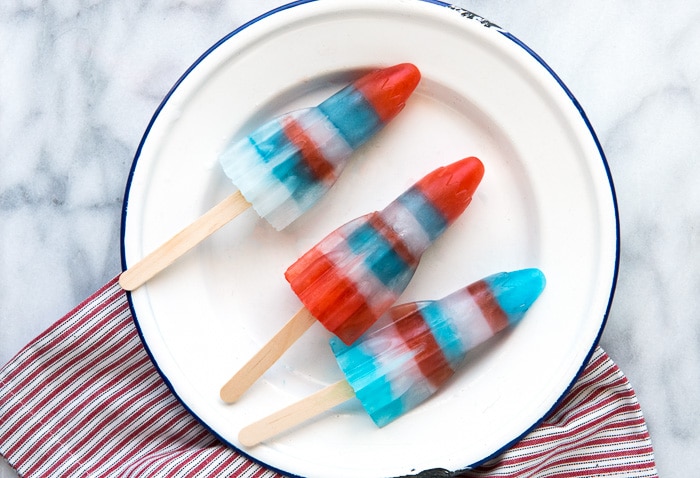 Create any striped pattern you like. There is no wrong way to make them!
Also switch up the colors if not making a 4th of July popsicle.
How Big are Rocket Popsicles?
The molds I used create red white and blue sports drink rocket popsicles that are 7 inches tall and 2.25 inches wide.
Each mold holds 2.5 ounces of sports drinks (or other liquids).
The molds come with a drip guard and stick however traditional wooden popsicles sticks may also be used.
Where to Buy a Rocket Popsicle Mold?
Rocket popsicle molds can be found seasonally at grocery stores or department stores where kitchen goods are sold.
Also, online: rocket popsicle molds and wooden sticks (the molds come with plastic sticks and a drip guard which cannot be used when making layered popsicles).
Can you Buy Pre-Made Red White and Blue Rocket Popsicles?
You can! However, these patriotically-perfect red white and blue sports drink rocket popsicles can only be made at home.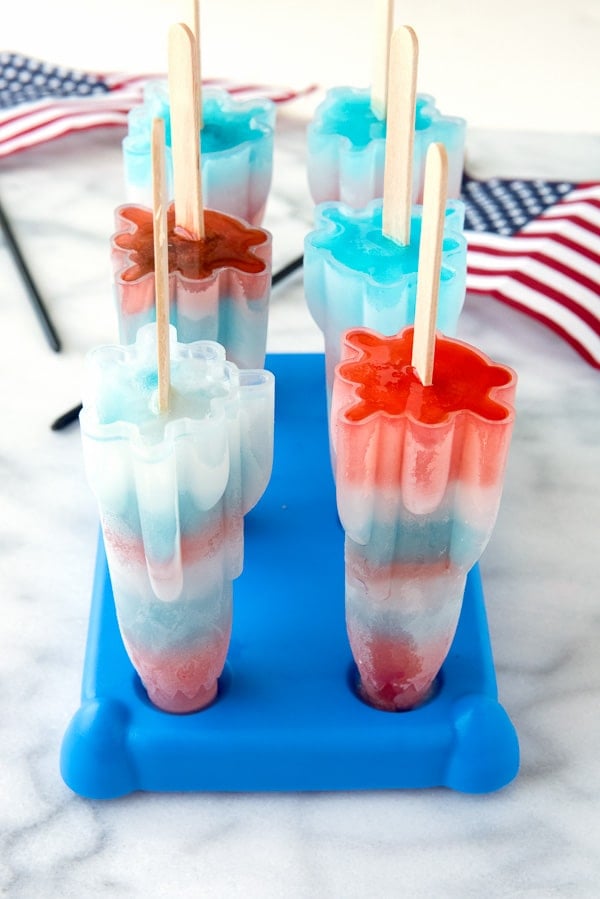 More Red White and Blue Recipes You'll Love
Did you make it? Please RATE THE RECIPE below!
FOLLOW ME on FACEBOOK , TWITTER , INSTAGRAM and PINTEREST!
Recipe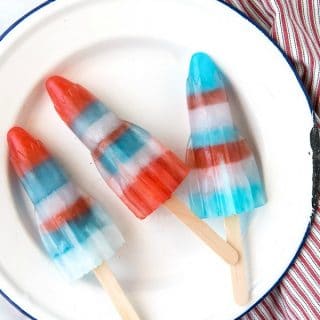 Red White & Blue Sports Drink Popsicles
Any sports drink brands may be used. Though these are made targeting a patriotic pop, any colors may be used.
Instead of using the bottom and attached sticks that come with most rocket shaped molds, traditional wooden sticks are used to allow the layering.
Print
Save Recipe
Recipe Saved!
Pin
Rate
Servings:
6
Patriotic Rocket popsicles
Ingredients
2

cups

total Red , White and Blue Sports Drink or Juice

(I used blue=Gatorade Fierce Blue Cherry, white=Gatorade Frost Glacier Cherry and red=Gatorade Fruit Punch which are all Gatorade Thirst Quencher varieties)*

Rocket Popsicle Molds

(I used Tovolo)

Foil
Instructions
Pour some of the sports drink you are using into each popsicle mold for the first layer; using a funnel for pouring into the molds works well.

Place in the freezer to allow it to fully freeze (usually around 20 minutes but verify before pouring the next layer).

Continue making layers and freezing the popsicles until the molds are slightly under halfway full.

Tear a piece of foil to fit fully over the top of each mold.

Tightly wrap a piece of foil over the top of that mold and using a paring knife, make a small slit to insert the popsicle stick (don't make it larger than the stick or it will not hold the stick upright to freeze in the proper position).

Insert the popsicle stick. Do this with all of the remaining molds until they all have sticks inserted. Freeze until fully frozen.

Continue to add layers, freezing in between, until the molds are full and frozen.

To release the popsicles run the outside of the mold briefly under hot water until pulling on the stick releases the popsicle.
Notes
*Determine the volume of the rocket popsicle molds you are using for exact volume required.
TIPS:
Allow aproximately 20 minutes for each layer to freeze.
Pour any thickness of layers you desire.
Nutrition
Calories:
38
kcal
|
Carbohydrates:
9
g
|
Protein:
0
g
|
Fat:
0
g
|
Saturated Fat:
0
g
|
Cholesterol:
0
mg
|
Sodium:
3
mg
|
Potassium:
83
mg
|
Fiber:
0
g
|
Sugar:
7
g
|
Vitamin C:
0.7
mg
|
Calcium:
7
mg
|
Iron:
0.1
mg
Originally published: July 3, 2015