Frosty orange and pink Tequila Sunrise Freezer Pops are a great way for adults to take the heat out of a summer's day. This easy recipe fills freezer pop bags to make an icy boozy treat!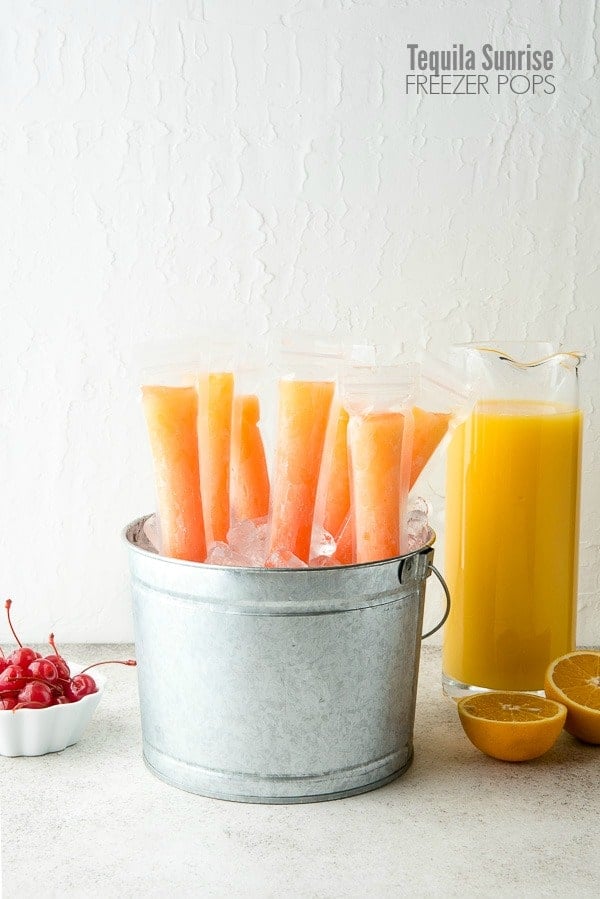 I was compensated by Nielsen-Massey Vanillas for my time in developing this recipe and post. All opinions are my own.
Summer's heat begs for constant relief and hydration. In my house that means a freezer full of delicious popsicles, with many boozy choices for adults! Something I started making last summer that has picked up recipe steam are freezer pops. Inspired by the frozen pops in a long slender bag my kids are awarded when getting a first place at swim meets, I couldn't see why adults wouldn't love them too. My current favorite? Tequila Sunrise Freezer Pops!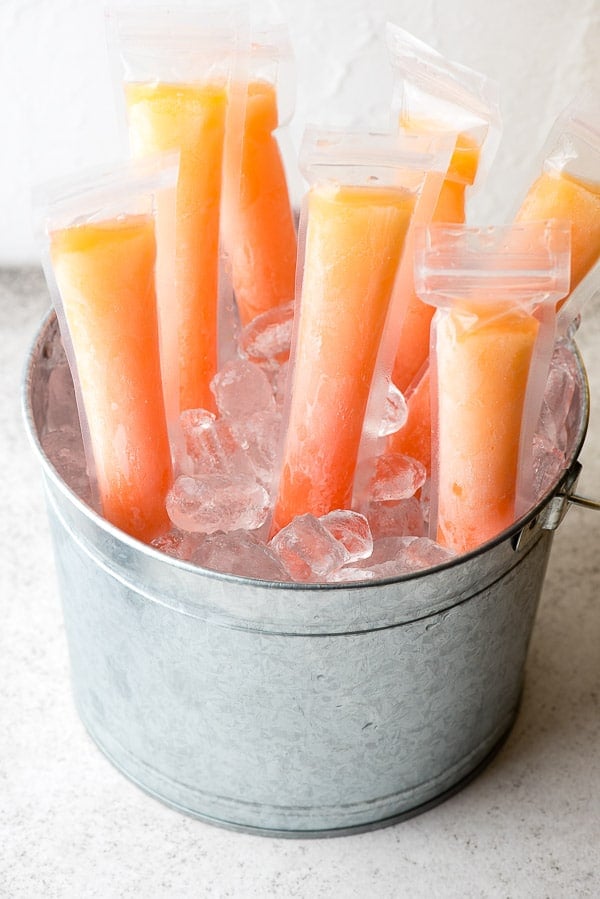 There are a few things I love about making boozy freezer pops. Cocktail popsicles freeze differently due to the alcohol content; they don't freeze as hard as non-alcoholic popsicles, or freeze at all if too much liquor is included. Even when freezing hard the popsicles melt more quickly again due to the alcohol content. When made in freezer pop bags, if the pop melts more quickly no one cares, you can still drink it out of the bag!
Light and fresh tequila sunrise popsicles are a perfect choice to take the heat out of a summer's day. They are an easy 3-ingredient cocktail that transforms into a pretty freezer pop. A simple combination of tequila, orange juice and grenadine, along with a stemless maraschino cherry, are all that is needed to whip up these 'poptails'.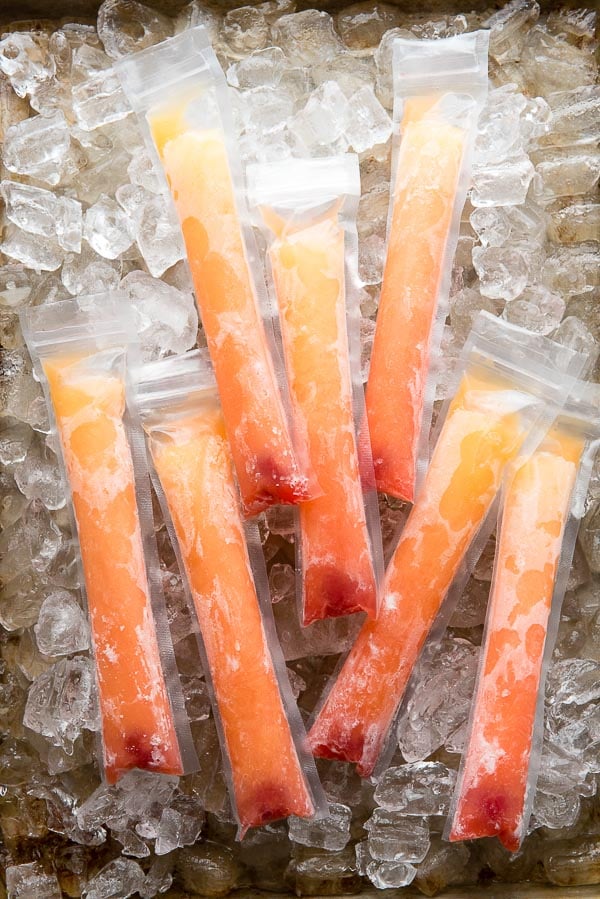 When certain ingredients are frozen their flavors can become dull, especially in the case of this recipe, since all orange juices are not equal in flavor depth. I add Nielsen-Massey Pure Orange Extract to the Tequila Sunrise Freezer Pops to keep the orange flavor bright. Nielsen-Massey Pure Orange Extract is made from the highest quality oranges and therefore has superior flavor in my experience. It's in high use in my kitchen and I love the flavor addition to the tequila sunrise freezer pops!
The tequila sunrise freezer pops can be made 'per pop' or in a batch. Ingredient amounts for each are included. When making a batch, be sure to fully mix all ingredients and stir between pouring into each pop bag to ensure the alcohol is well mixed with the other ingredients for even freezing. I recommend drizzling the grenadine into each individual bag to get the beautiful sunrise coloration. If you are in a hurry, it may be mixed into the other liquid and poured in as a whole.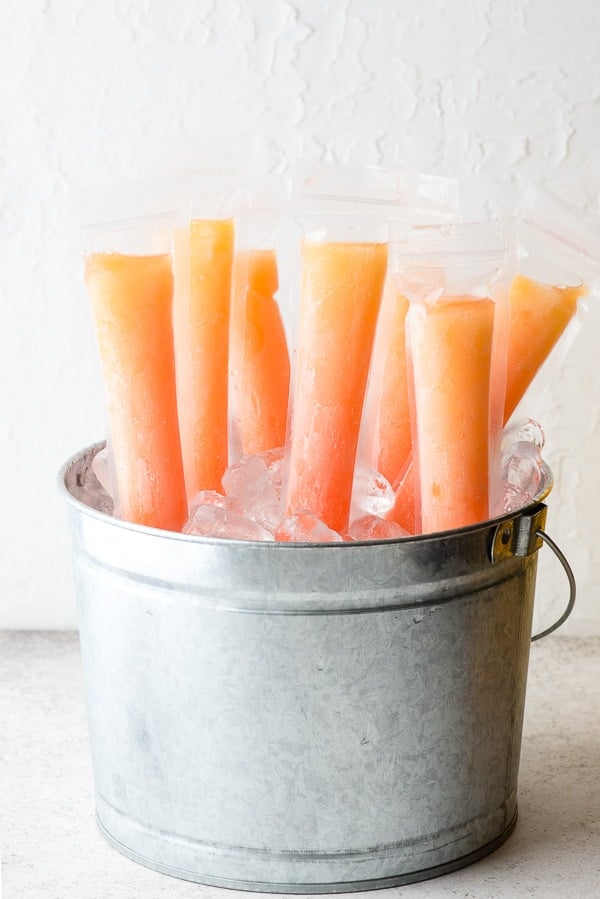 My favorite freezer pop bags are available online in packs of 36. They are essentially a long skinny plastic zipper bag. Frozen liquids expand so do not fill them more than the designated fill line; when the pop is frozen it will have expanded almost to the closure. To eat, cut just below the zipper closure.
For more inspired recipes using Nielsen-Massey products follow them on Instagram, Facebook and Twitter.
How to Make Tequila Sunrise Freezer Pops: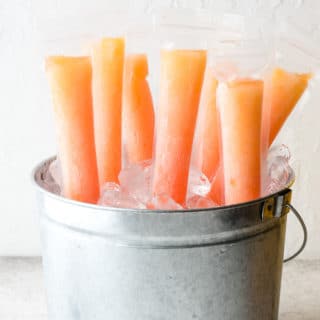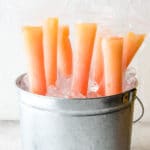 Tequila Sunrise Freezer Pops
Nothing takes the edge off summer heat more than a frosty popsicle. Homemade boozy pops are a fun way for adults to eat their cocktails! Making the pops in specially-designed affordable freezer bags can keep them frozen and ready without taking up too much room!
Instructions per freezer pop and for a batch are included to meet your preparation needs.
Cook Time
2
hours
45
minutes
Ingredients
Ingredients per individual freezer pop:
Ingredients for a batch of 10 freezer pops:
Instructions
Instructions for making individual freezer pops (not a batch):
Add the maraschino cherry to the freezer pop bag and shake the bag to migrate the cherry to the very bottom.

Place the freezer bag in a clean tall drinking glass. In a measuring cup combine the orange juice, tequila and Nielsen-Massey Pure Orange Extract and stir together. Place a funnel into the top of the freezer pop bag and pour the liquid into the bag. The liquid should reach the 'fill line' on the bag but no higher.

Pour the grenadine through the funnel into the liquid. It will create a color gradient with more red toward the bottom. Freeze the freezer pop upright in the freezer until fully frozen.

To eat: cut the top of the freezer pop bag just below the zipper seal and serve.
To make a batch of 10 freezer pops:
Follow instruction steps 1 and 2 above, adding a cherry to each freezer pop bag and mixing the full batch of orange juice, tequila and orange extract in a large measuring up or bowl. Fill the bags in the same method as step 2 above, stirring the mixture between each pouring. (see note about the grenadine below).

Adding the grenadine: to achieve the color gradient the grenadine should be measured and poured individually per freezer pop. If preferred it may be mixed into the orange juice, tequila, extract in batch step 2 and poured into the freezer pop bags.

Freeze upright until frozen to retain color gradient and prevent seepage.
Nutrition Facts
Tequila Sunrise Freezer Pops
Amount Per Serving
Calories 89
% Daily Value*
Sodium 2mg 0%
Potassium 155mg 4%
Total Carbohydrates 13g 4%
* Percent Daily Values are based on a 2000 calorie diet.