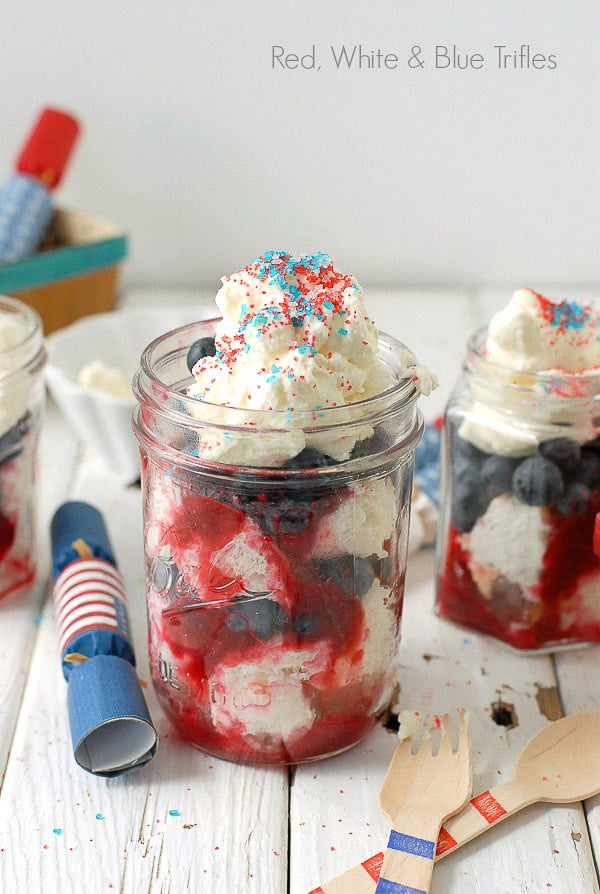 Fourth of July is coming this week and it's time to get some red, white and blue recipes on your menu!  This year our schedule is a bit crazy so I've opted for some less labor intensive yet still flavor packed options.
It's hot, hot, hot right now in Colorado, which means turning on my oven is a choiceful task.   Though this dessert takes a bit of cooking, it's worth the effort for the end result.  And who can resist a dessert in a Mason jar?!  No one in my family that's for sure.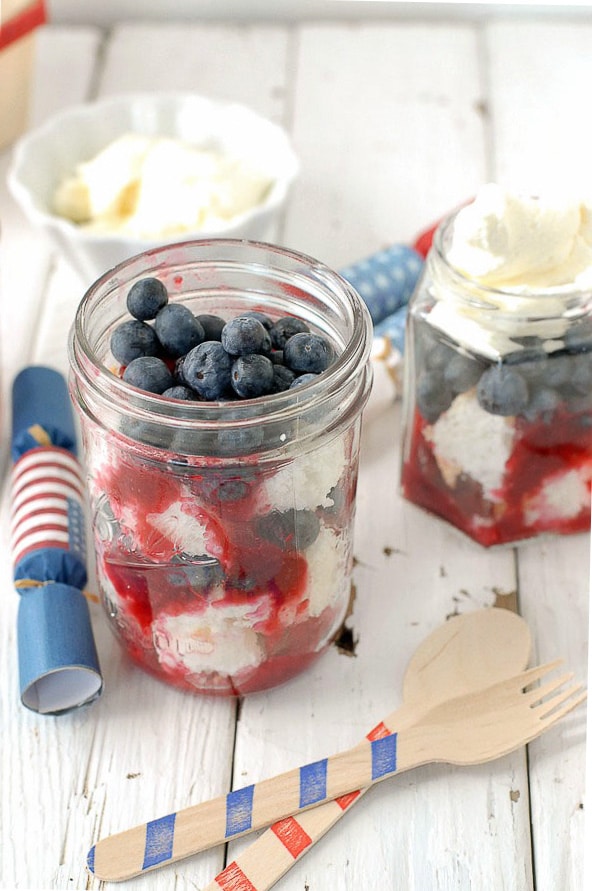 We are swimming in cherries right now; no complaints!  In our last week's CSA share we had three pounds of fruit of which we could choose between strawberries, three types of cherries and apricots.  My son was on fruit share duty and opted for some strawberries and lots of cherries so I've been whipping up recipes all week at home with those.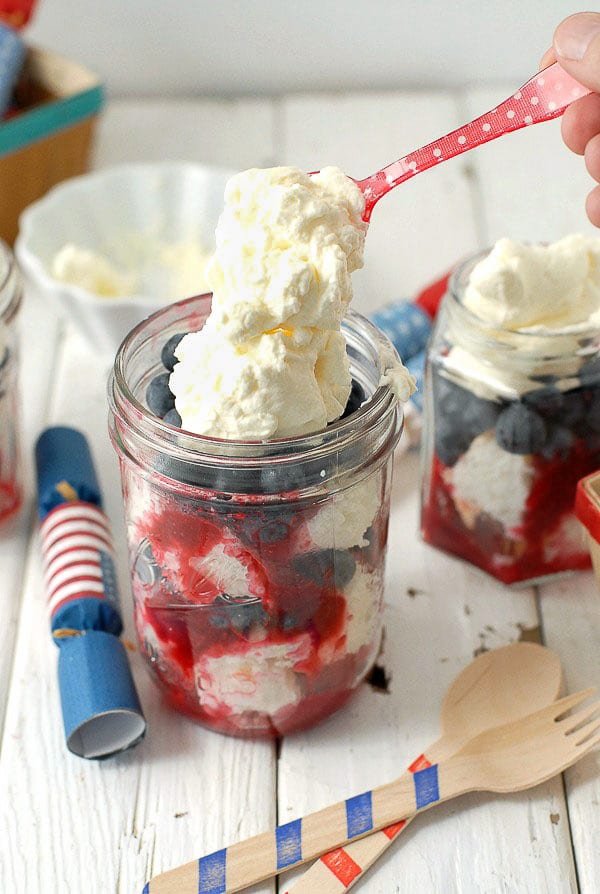 Being true to the red, white and blue I came up with an trifle made with angel food cake squares, fresh blueberries, a fresh cherry sauce (very easy and quick to make; great in many things too) topped with a dollop of freshly whipped cream and if you are feeling very festive, red and blue sparkling sugars for a touch of fun.  They are light but flavorful desserts perfect for the heat of summer.  I made them in two sizes, a single and double serving.  Don't let the 'double serving' scare you; with angel food cake being so light and airy the double is probably just right for most.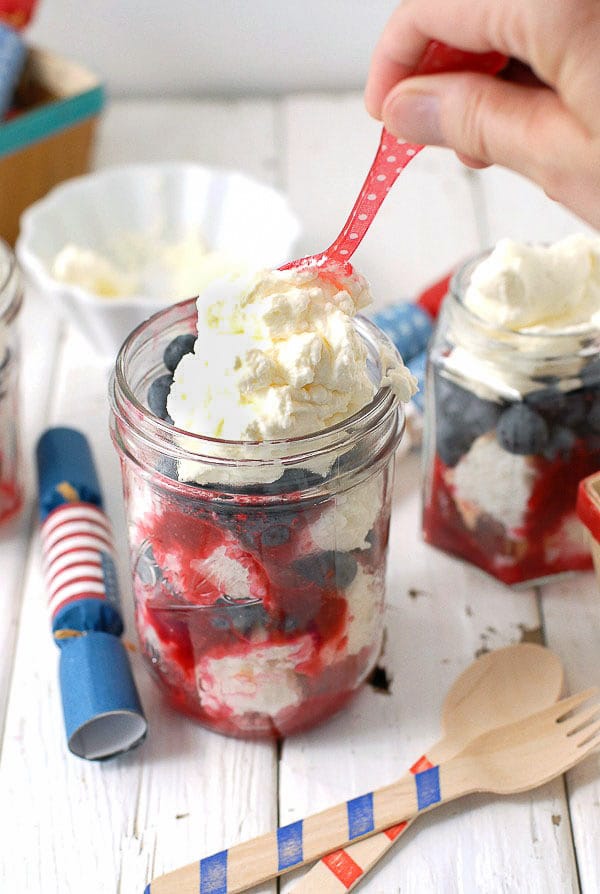 The desserts can be made in any container (see through is the best for the effect of it).  I chose to mix and match pint size Mason jars (double serving) and other small, interesting jars I keep around for a variety of purposes.  To me the charm of Fourth of July tables is the relaxed, rustic presence of the food and the mis-matched jars were perfect to me.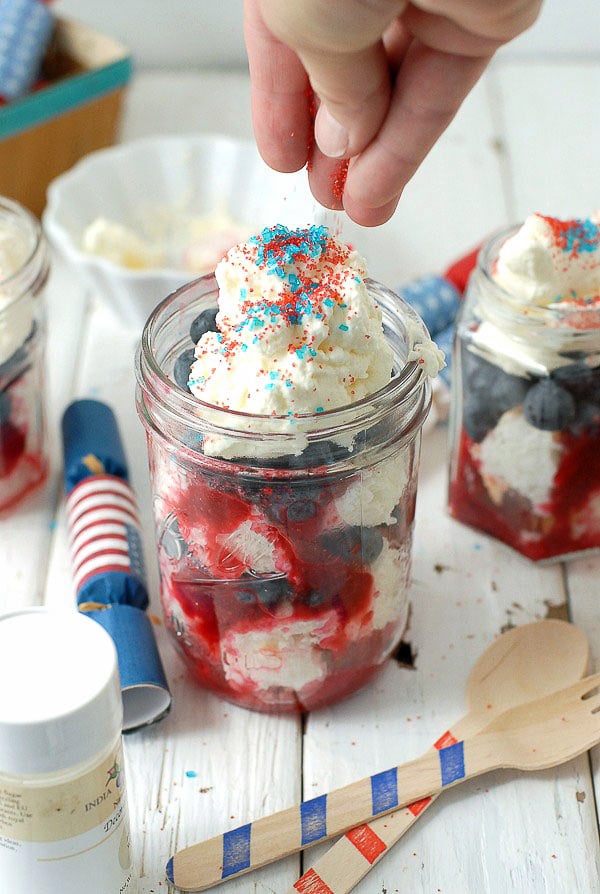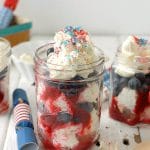 Easy Red, White & Blue Trifles
A fun and easy dessert to celebrate Fourth of July or summer! Light, airy Angel Food cake topped with fresh Cherry Lime Sauce, Blueberries and whipped cream. What could be better?!The recipe includes ingredients per serving to allow making as many as desired. The Cherry Lime Sauce makes approximately 1 1/4 cup; any leftover may be sealed and refrigerated for later use. It may be made the day before.
Ingredients
Ingredients for Fresh Cherry Lime Sauce:
2

cup

fresh Cherries

, pitted and diced

2

tablespoon

granulated Sugar

2

+ 4 tablespoons of Water

2

teaspoon

Cornstarch

1

tablespoon

plus 1 teaspoon freshly squeezed Lime Juice
Ingredients per SERVING:
¾

cup

Angel food cake

(3/4 cup per single serving), homemade or store-bought (I made Kinnikinnick Gluten Free Angel Food Cake)

3

tablespoon

Fresh Cherry Lime Sauce

¼

cup

fresh Blueberries

Whipped Cream to top

Optional: blue and red sanding sugar to top
Instructions
Ingredients for the Fresh Cherry Lime Sauce:
In a small bowl combine the cornstarch and 2 tablespoon of the water. Whisk to combine.

In a small saucepan over Medium-Low heat, combine the cherries, 4 tablespoons of the water and the sugar. Stir until combined and sugar dissolves; about 2-3 minutes.

Pour the cornstarch mixture into the cherry mixture; stir to combine. Place back onto low heat, stirring often, until the mixture thickens (5-10 minutes).

Remove from heat and add the fresh lime juice. Stir to fully combine. Allow to cool to room temperature before serving.
Instructions to prepare the Trifles:
Single Serving: In select container add the cubed Angel Food cake. Drizzle the cherry sauce over the cake, top with blueberries. Add a dollop of whipped cream on top and sparkling sugar if desired.

Double Serving: Add cubed Angel Food cake to serving container. Drizzle cherry sauce and top with blueberries. Repeat. Add a dollop of whipped cream on top with sparkling sugar if desired.