A Shirley Temple drink is the sweet, fizzy mocktail that always perks up a party. Throw in a few well-placed props and this creepy version of the beloved drink will make your Halloween party a favorite!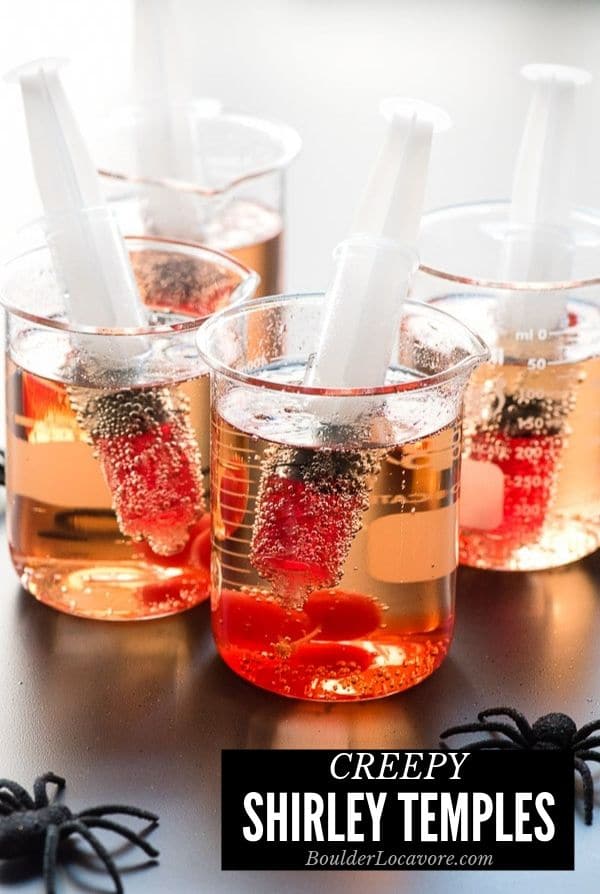 Do you remember your first Shirley Temple drink?
Probably at a restaurant and it probably made you feel like one of the 'big kids'.
That sweet flavor, sparkling bubbles, loads of maraschino cherries and layer of ruby-red Grenadine lingers on the bottom of the glass.
This recipe takes our favorite mocktail Shirley Temple drink Halloween creepy with some fun props!
What is a Shirley Temple drink?
A Shirley Temple is a non-alcoholic drink that's sweet, fizzy and served with maraschino cherries.
They were originally developed in the 1930's to serve the then famous curly-top child actress, Shirley Temple.
The actual restaurant responsible for creating the drink is in dispute. It is believed to be either Chasen's or the Brown Derby Restaurant, both in Hollywood.
FUN FACT: Shirley Temple herself hated the drink. She shared in an NPR interview they were way too sweet for her!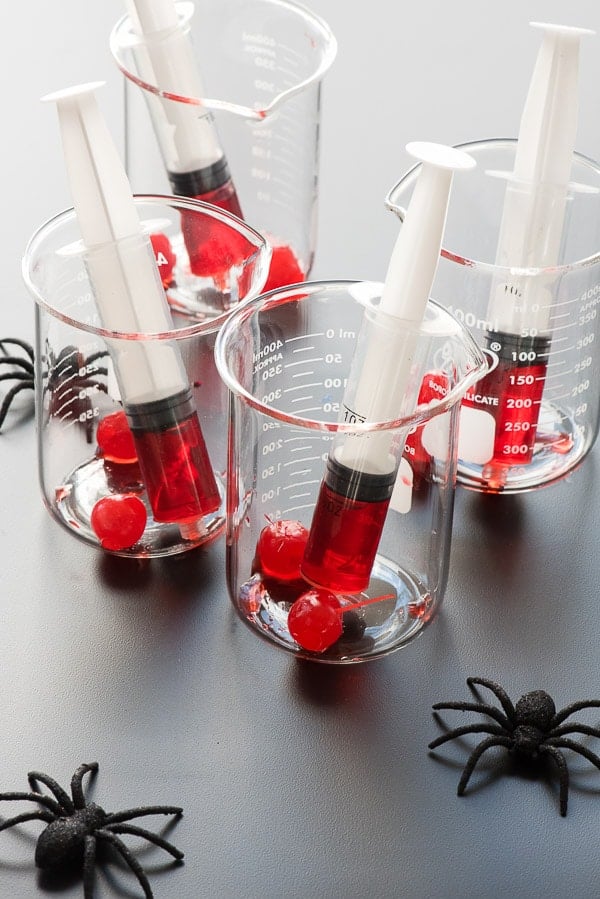 Shirley Temple drink Ingredients
Ever wonder what's in a Shirley Temple?
This mocktail could not be easier to make. Shirley Temple ingredients include:
PRO TIP: chill the ginger ale beforehand when making this Halloween version. Then the drink will be cold with no ice required.
Shirley Temple Variations
There are modern versions that swap the ginger ale with lemon-lime soda or lemonade but the classic recipe always uses ginger ale.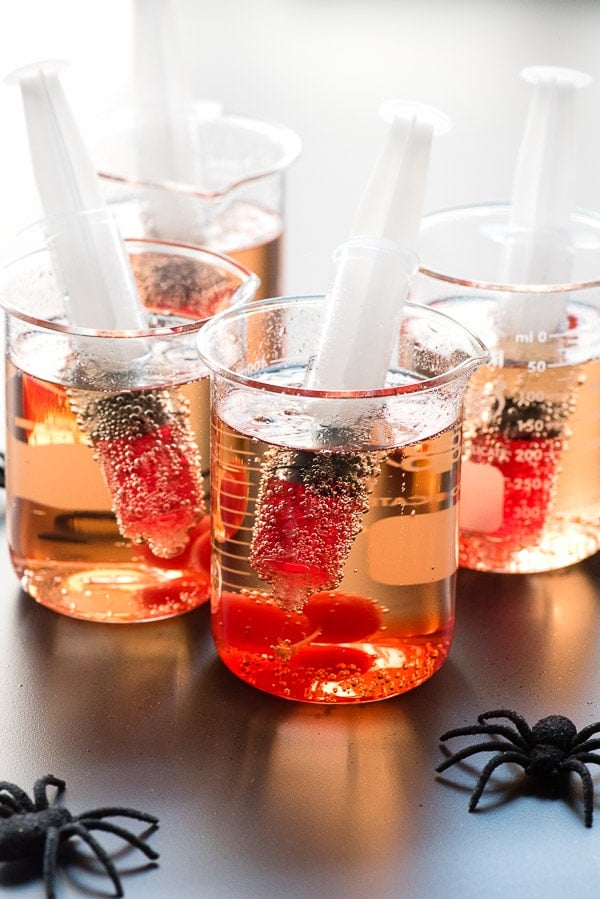 How to Make a Shirley Temple drink
Mixing up this classic mocktail is very easy.
It takes a few extra minutes to make the Halloween version but it's well worth the time for the delight of your guests!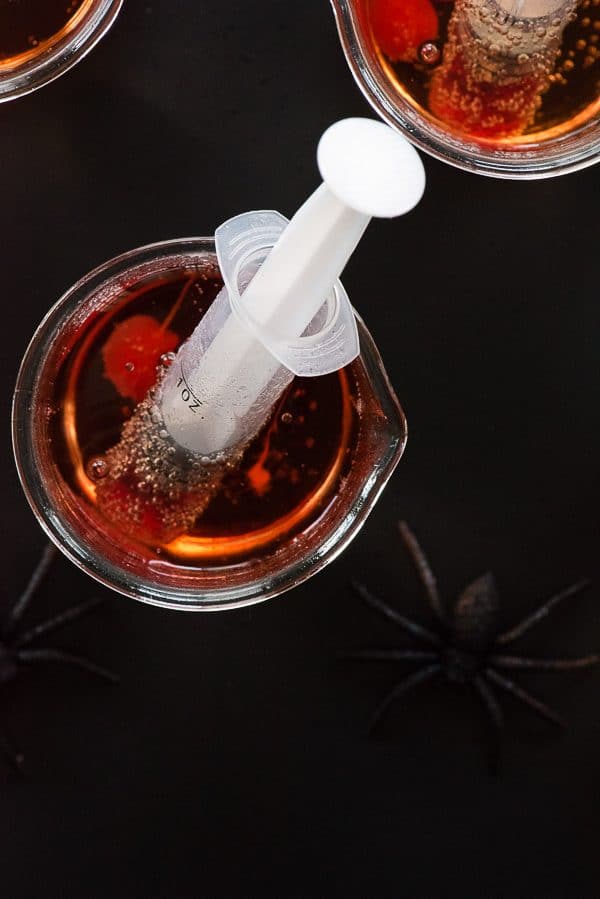 Shirley Temple Recipe – Easy Step by Step Instructions
STEP 1: Fill a glass (or beaker; see the supply buying guide below) with ginger ale with a few maraschino cherries.
STEP 2: Add the grenadine to a jello shot syringe inserted into the mocktail.
STEP 3: Serve them and let guests shoot the grenadine into the drink themselves.
Some super creepy fun!
PARTY PREP TIP
If preparing this drink for a party of larger gatherings some make-ahead tips keep it easy.
Fill the syringes with grenadine before the party. Then the only drink prep is adding the soda to the beakers or glasses.
Add in the cherries and the syringe and serve!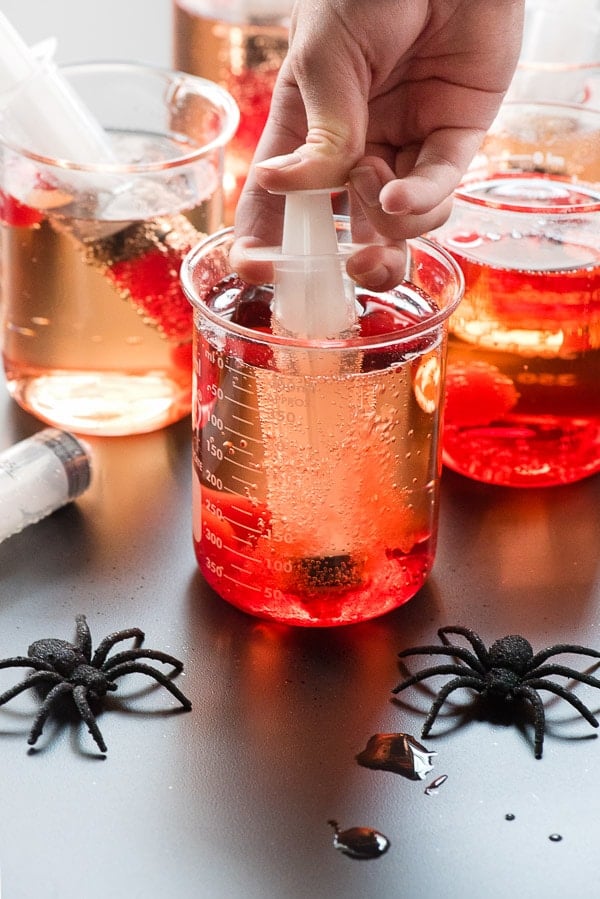 How to Make an Alcoholic Shirley Temple drink
To turn this sweet innocent mocktail into a boozy cocktail version, known as a 'Dirty Shirley cocktail'; it's easy.
Add 1-2 ounces of vodka per cocktail.
Some Dirty Shirley recipes include an ounce of lime juice or orange juice too.
Creepy Shirley Temple drink Supplies – Where to Buy
Science Beakers (glasses)
I used these Science Beakers for glasses (shown in the photos).
(NEW) I just found glassware maker Libbey has abeaker glass settoo.
You can also use them for a creepy Halloween cocktail: Glow-in-the-Dark Infected Brain Cocktail (but you'll need the brain ice mold too!)
Syringes
The syringes used here are made for jello shots. Amazon in a few styles: style 1 (most similar to those shown here) and style 2 as well.
The syringes shown here can be found at Spirit Halloween stores or from their online store.
The syringes are great for other Halloween recipes like: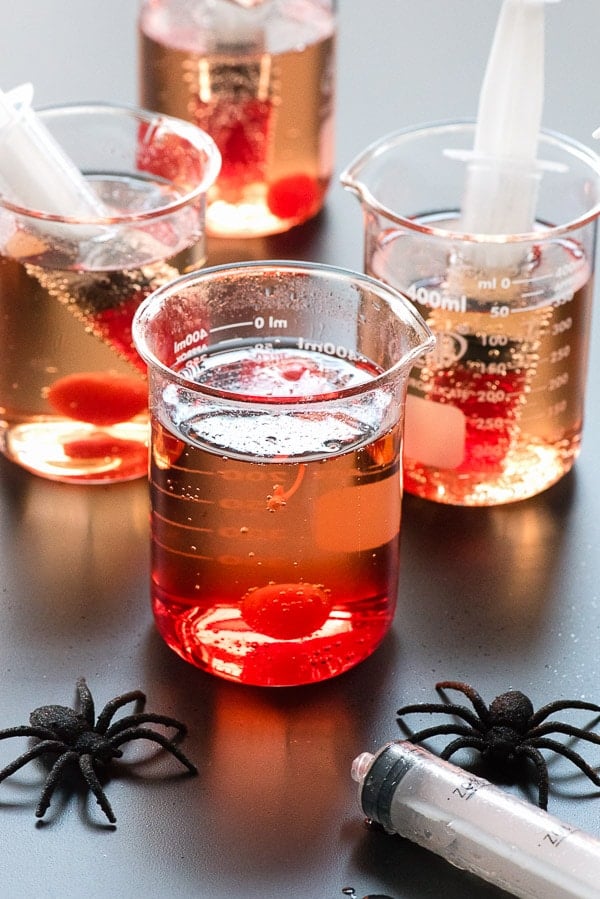 More Halloween Cocktails & Mocktails recipes
Halloween cocktails and mocktails make a party fun!
For Christmas try this 2-ingredient layered Christmas Punch mocktail recipe too!
With Halloween festivities kicking off, you don't want to miss this recipe: The Best Method for Roasting Pumpkin Seeds! It's been pinned thousands of times, with good reason. It takes the goopy mess out of the process!
Did you make it? Please RATE THE RECIPE below!
Please SUBSCRIBE and FOLLOW ME on FACEBOOK , TWITTER , INSTAGRAM and PINTEREST!
Originally published: September 30, 2016
Shirley Temple drinks are perfect for any party especially Halloween with some fun props!