Cowboy Casserole is full of seasoned ground beef, plenty of cheese and a crispy tater tot layer on top. This casserole dish is comfort food at its best. Prep it and bake it all in one pan for an easy, adult and kid-friendly dinner.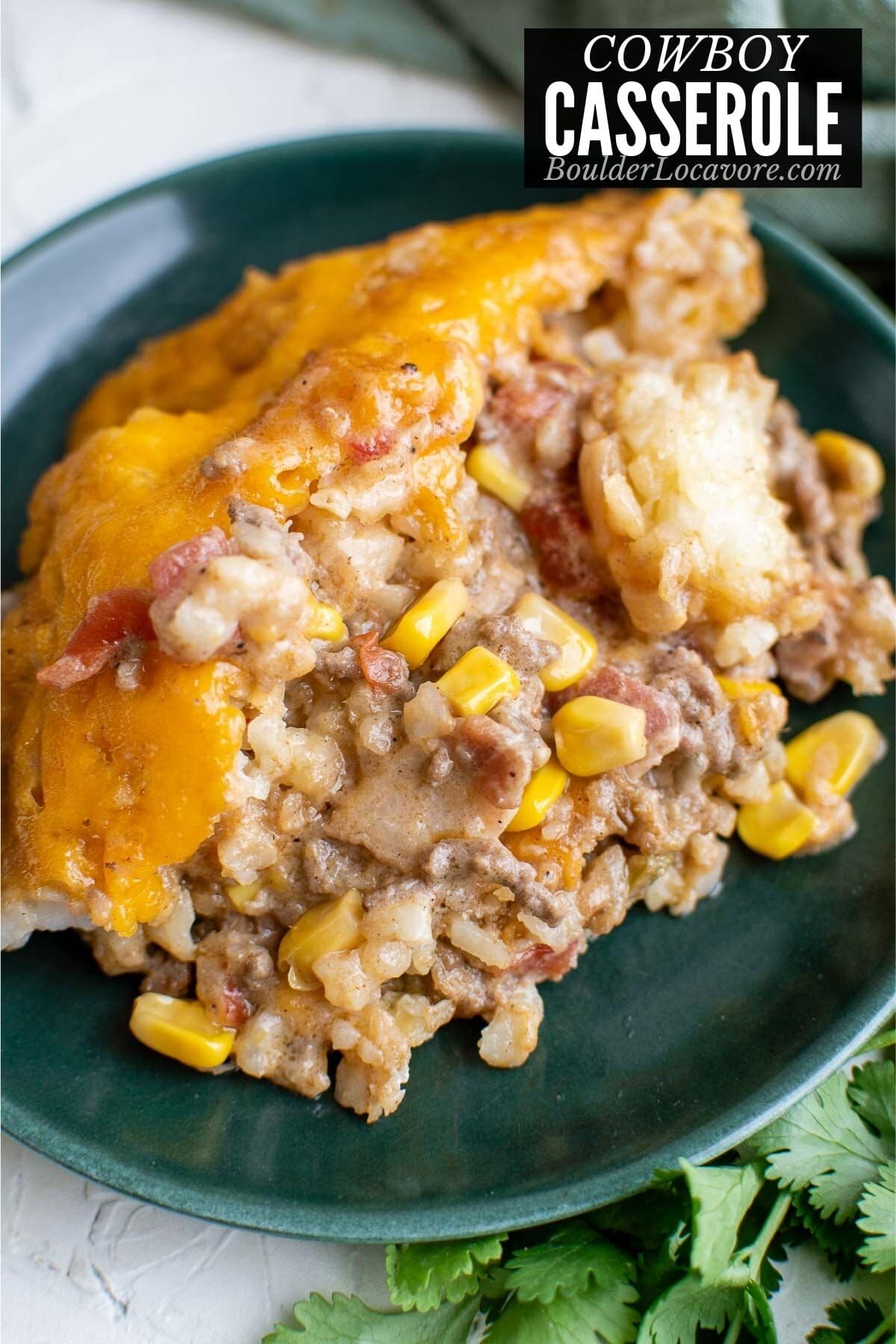 Cowboy Casserole is a Tater Tot Casserole with a twist! It has a kick of flavor from Rotel tomatoes, chilies and southwestern spices.
This family loved easy one pan meal idea is a sure fire hit every time!
It's an easy recipe that is a family favorite.
Jump to: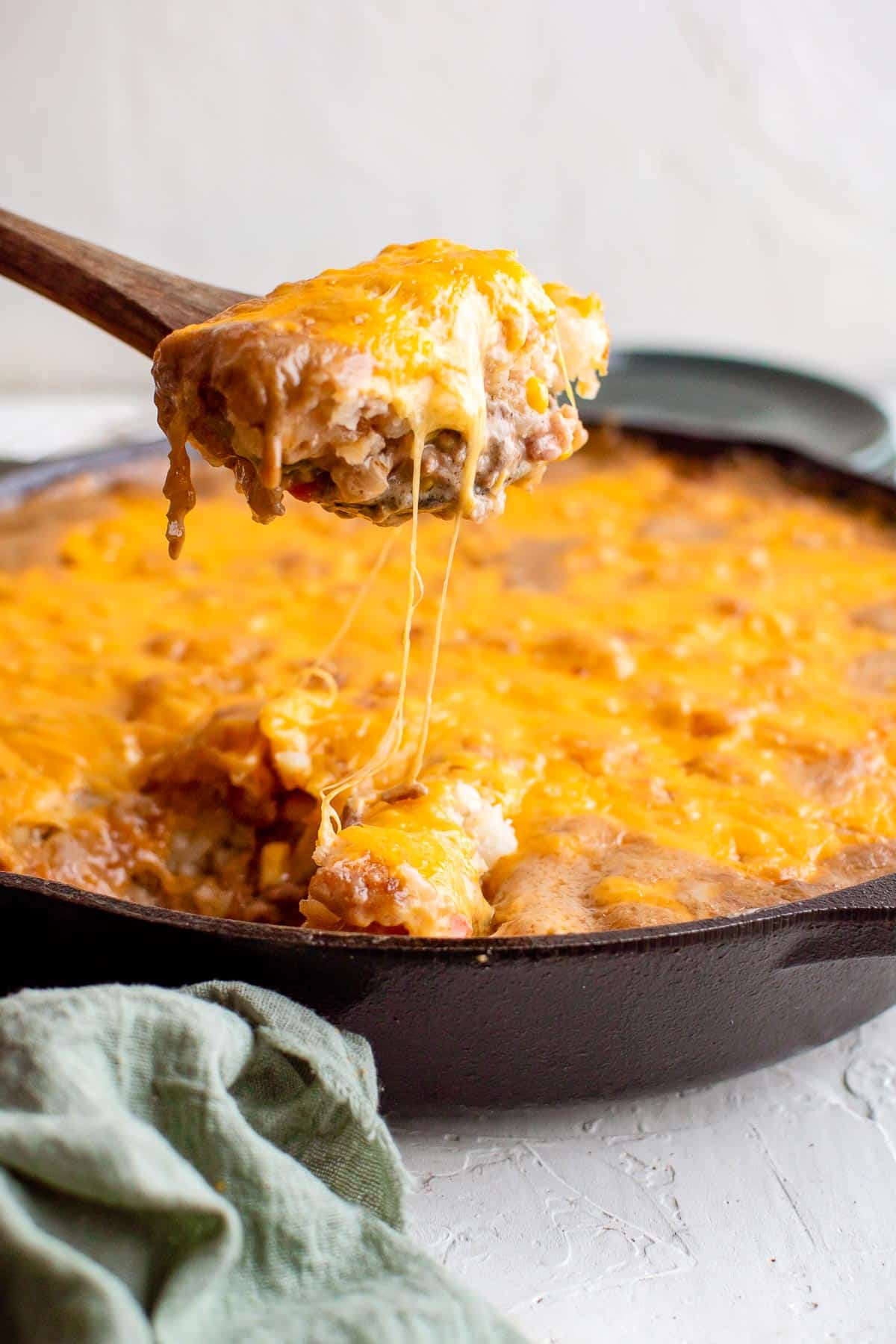 What is Cowboy Casserole?
This spin on a tater tot casserole, uses pantry and fridge staple ingredients to create a hearty baked main dish.
Ground beef, mushroom soup and sour cream get combined with corn, Rotel tomatoes and spices then baked under a layer of tater tots and cheese.
The "Cowboy" moniker comes from the southwestern flavors of the Rotel and corn, plus the simple down-home ingredients.
You'll love the creamy casserole base contrasted with the crispiness of the tater tots!
This gluten-free, kid approved meal makes a perfect weeknight dinner or dish to share at a potluck.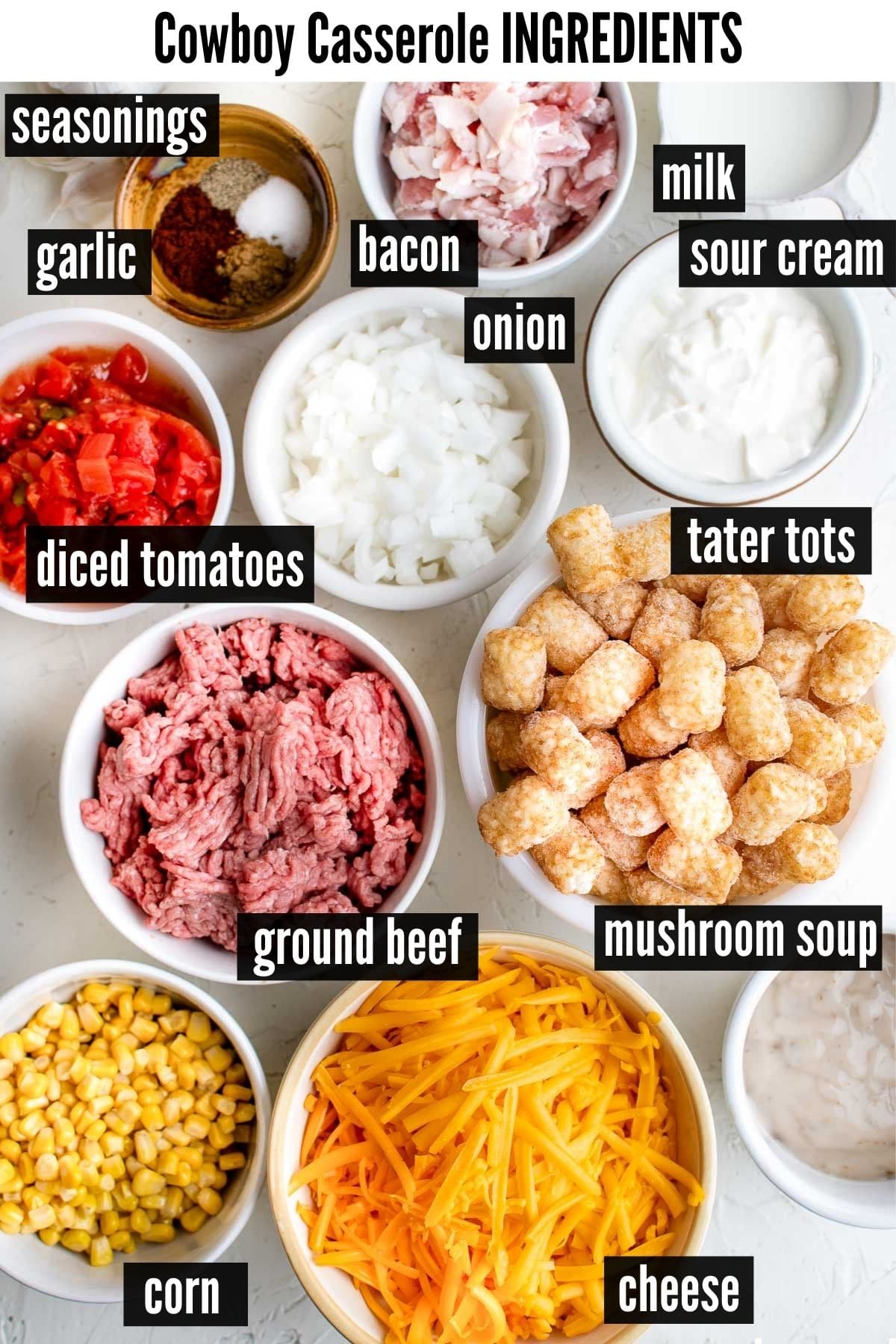 Recipe Ingredients + Notes
Here's what you need to make Cowboy Casserole:
Bacon. Uncooked and chopped bacon will be cooked in the skillet to start the recipe.
Onion. I used white onion, but yellow would taste good too.
Garlic. Either minced garlic or garlic paste work best.
Ground beef. Any ground beef will work though lean ground beef will produce less excess fat.
Spices. A combination of cumin, chili powder, salt and black pepper season the beef perfectly.
Cheddar cheese. I recommend buying it in blocks then shredding it at home. Freshly shredded cheese melts better!
Condensed Cream of Mushroom soup. Add it straight from the can (don't mix first).
For a gluten-free version, check the label to make sure your soup contains no gluten. Here's the brand I love!
Rotel diced tomatoes and green chilies. Use mild, medium or spicy depending on your taste preferences. Because of the added spices I recommend using mild or medium so it's not overly spicy.
Sweet corn. Canned corn is used. Fresh or frozen/thawed corn can be substituted too.
Sour cream. Use full fat sour cream. It will be mixed into the sauce giving it a tangy flavor and creamy texture.
Milk. Any fat content dairy milk can be used.
Frozen tater tots. Use a 32 ounce bag of tater tots. You'll have a few tater tots leftover, but the smaller bags of tots won't have enough to cover the top of the casserole.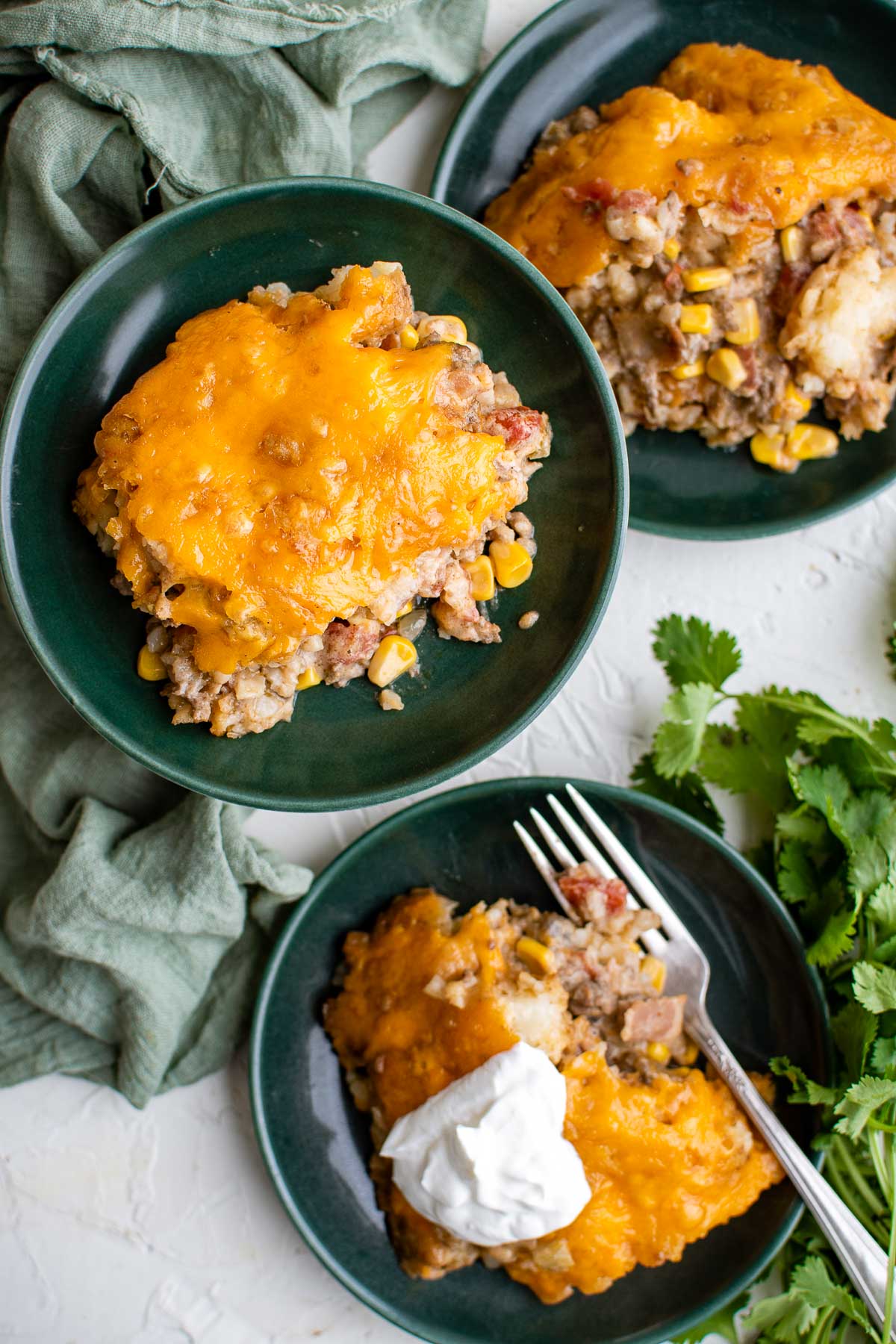 Two Ways to Make it
Skillet
Making the entire recipe, stove top and oven, in one 12-inch skillet is recommended.
That way, you can brown the beef AND bake the casserole all in the same pan. This builds the best flavors.
I love using a cast iron skillet which conducts heat perfectly and is seasoned so adds flavor.
Skillet + Baking Dish
If you do not have an oven proof 12-inch skillet or prefer to bake it in a baking dish that's also possible.
Follow the stove top instructions as written. Then transfer the mixture to a 9-inch by 13-inch baking dish and bake as directed.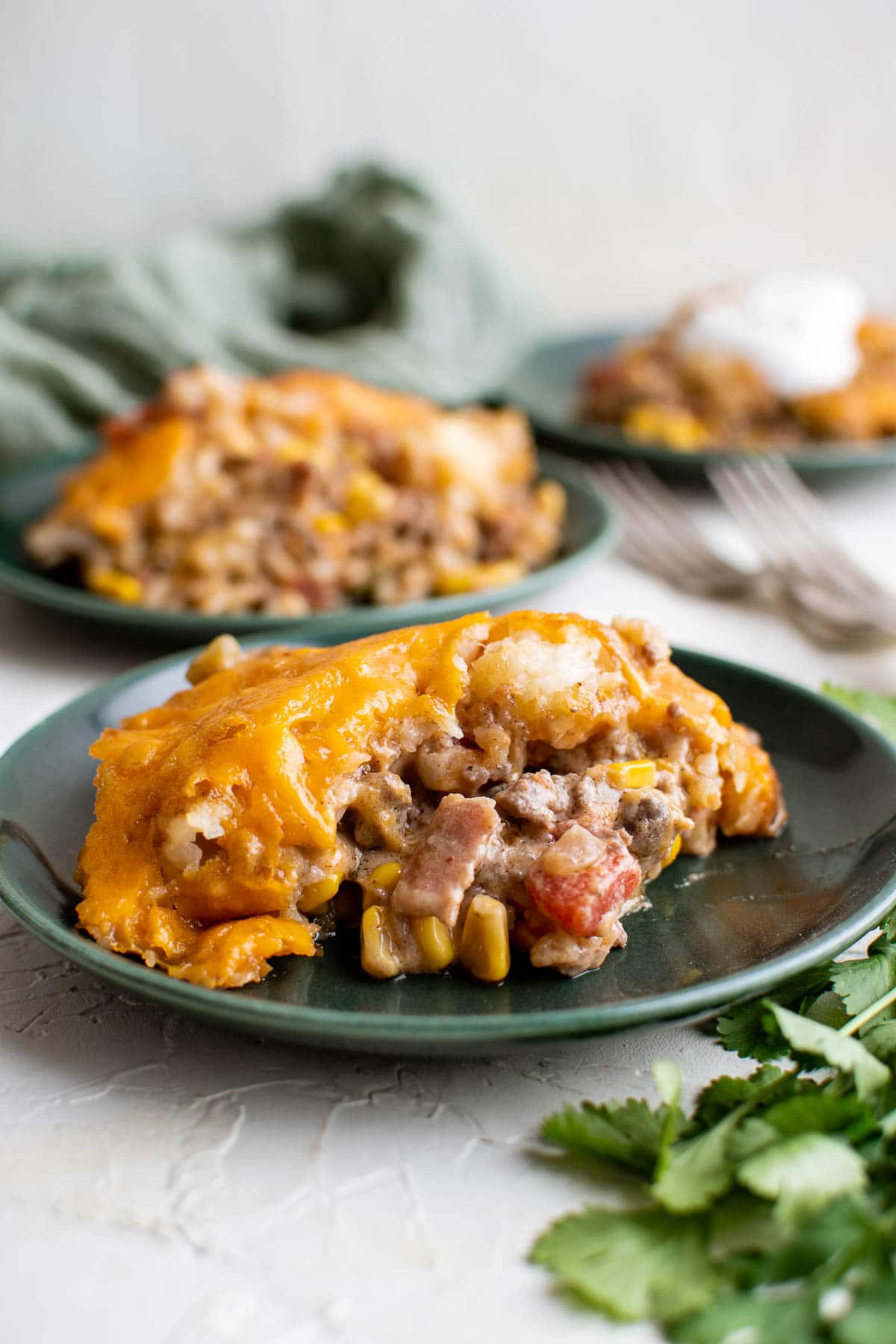 How to Make it – Step-by-Step
Before you start cooking, preheat the oven to 375 degrees Fahrenheit and get your ingredients ready.
STEP 1. Cook bacon
Place bacon in a preheated skillet and cook until done but not crispy (photo 1).Transfer the bacon to a paper towel to drain.
STEP 2. Cook onions, garlic and ground beef
Add onions to the pan with the leftover bacon fat and sauté until soft, followed by the garlic (photo 2).
When the garlic is fragrant, add the ground beef to the pan and sprinkle the spices on top (photo 3).
Brown the ground beef, breaking it up with a spatula, until its no longer pink (photo 4).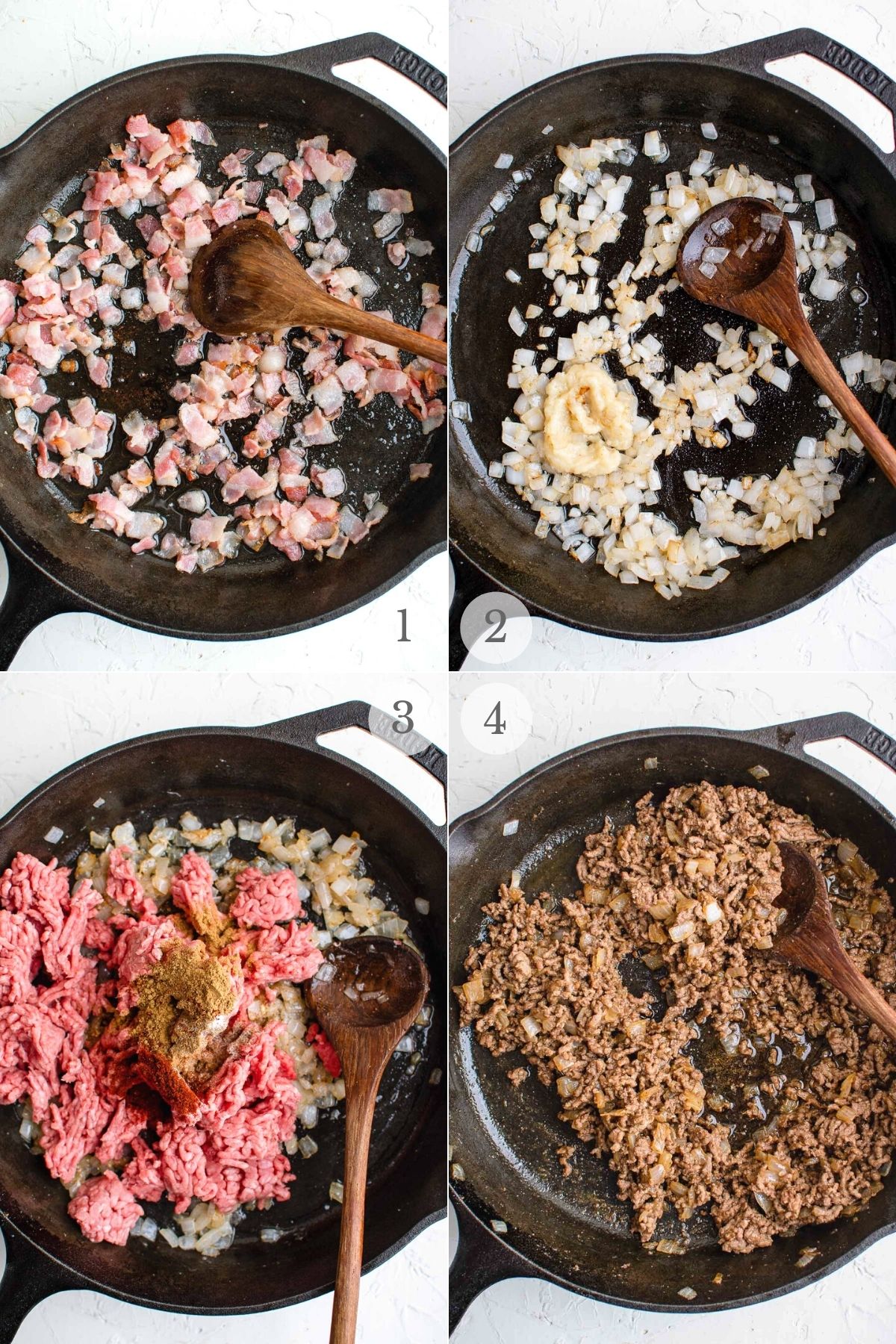 STEP 3. Combine
Pour the mushroom soup, half of the cheese, Rotel tomatoes, sour cream and milk into the pan, then stir in the cooked bacon (photo 5).
Continue cooking for another 5 minutes until the cheese melts and the condensed soup thins out (photo 6).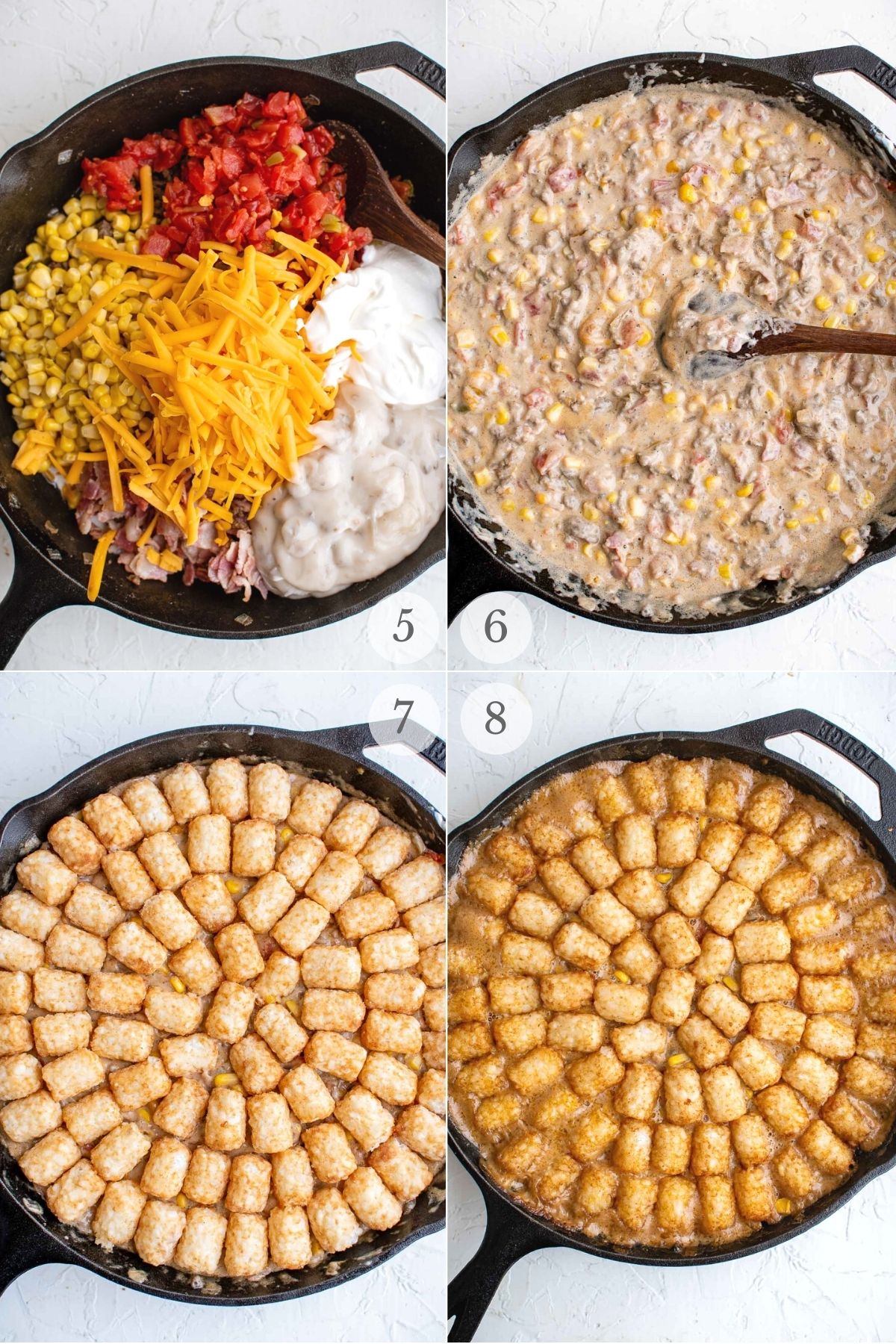 STEP 4. Bake
Arrange the frozen tater tots over the casserole filling in a single layer (photo 7). Bake in the oven for 30 minutes until the tots are golden (photo 8).
NOTE: If you aren't using an oven-safe skillet, transfer the casserole filling into to a baking dish BEFORE adding the tater tots on top.
STEP 5. Add cheese
Sprinkle the remaining half of the cheese on top of the tater tots (photo 9) and return the pan to the oven. Bake for another 10 minutes or until the cheese is melted and bubbly.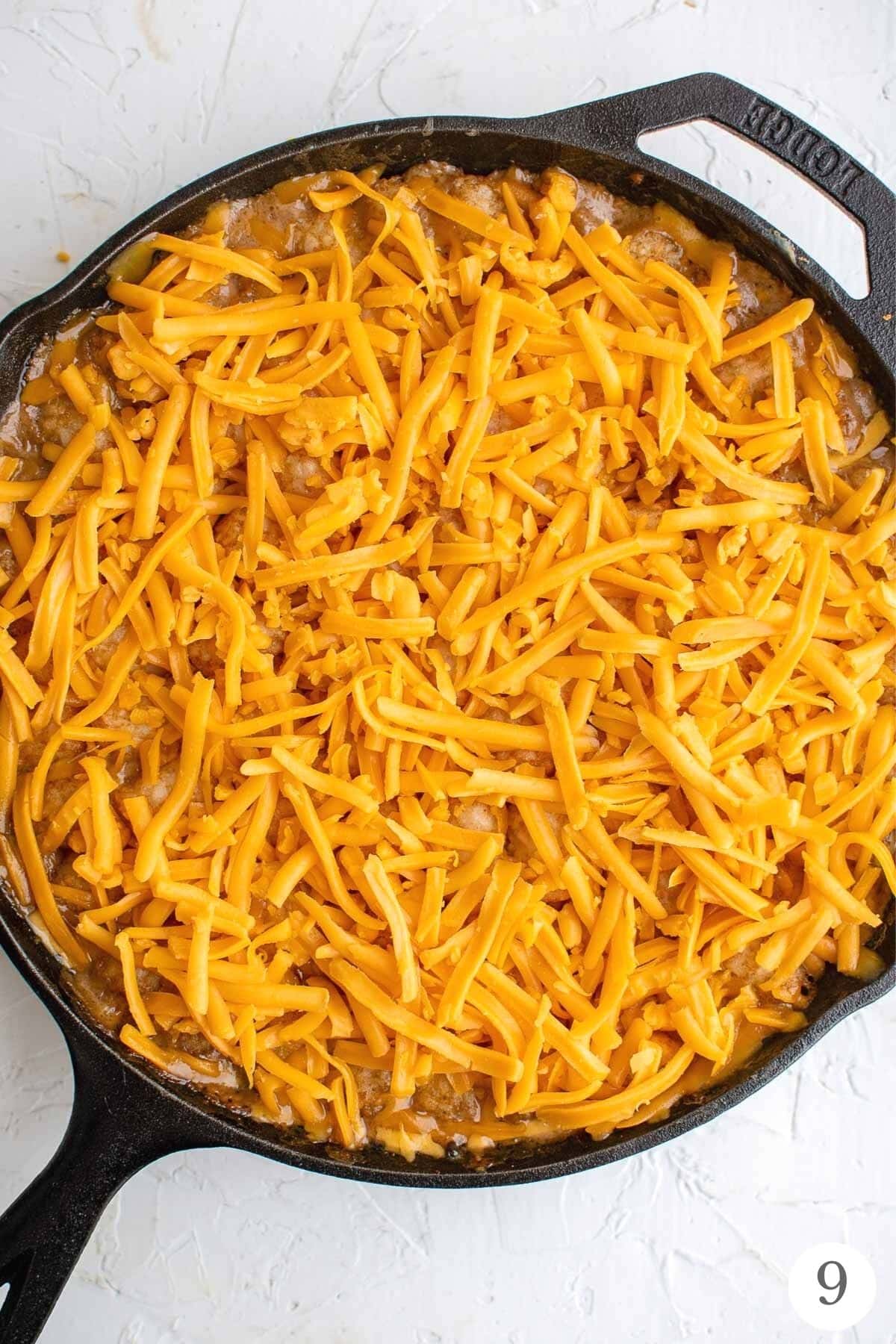 STEP 6. Garnish and serve
Remove the pan from the oven and let it cool for 10 or 15 minutes. Serve helpings of Cowboy Casserole garnished with sour cream and fresh cilantro!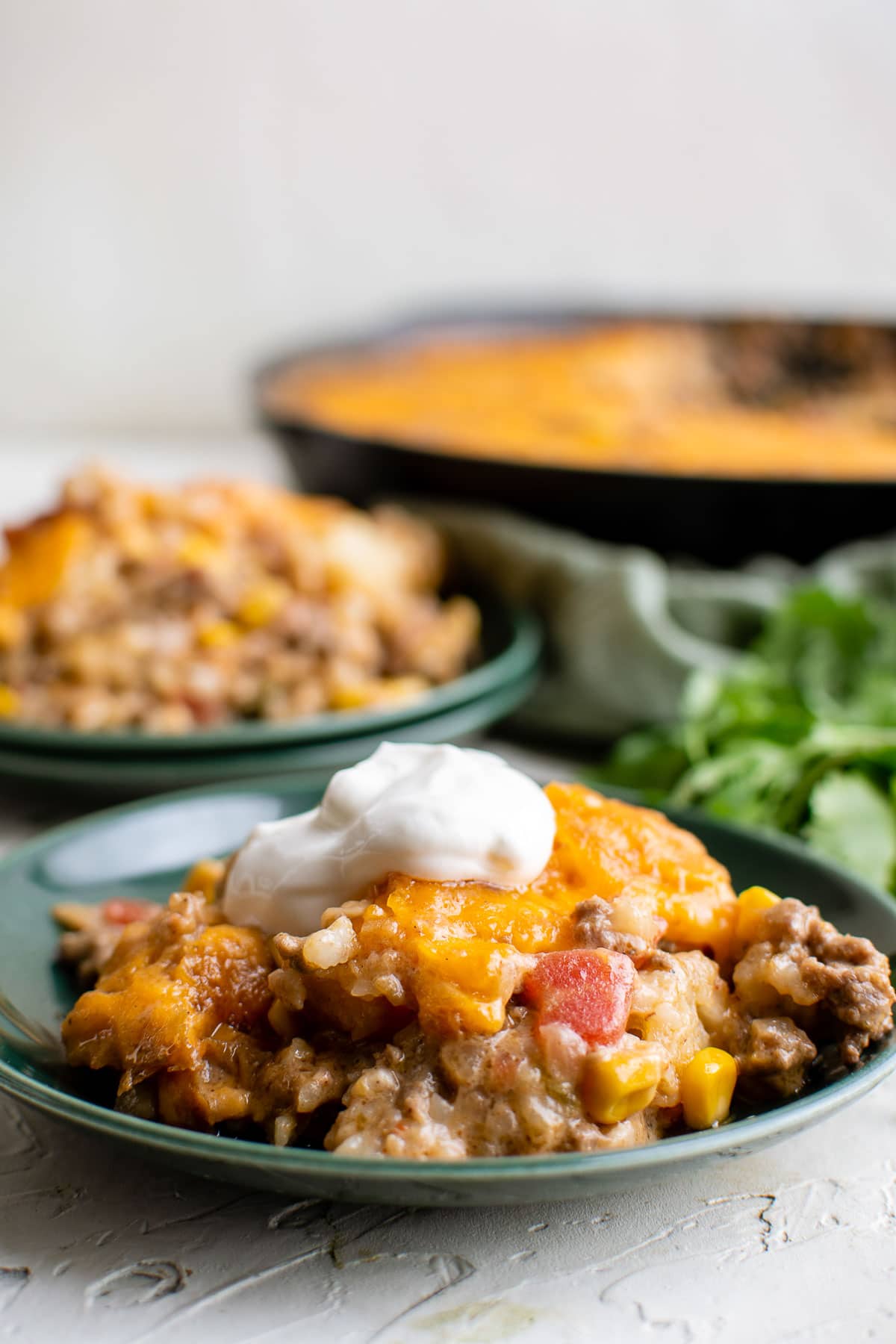 Variations
For a crispier tater tot topping. Don't push the tater tots down when you add them to the top of the filling. They should just rest on top to create a lovely golden brown super crispy crust.
The finished dish will look just like Photo 8 but with melted cheese on top.
For a softer tater tots. You can push the tots gently down into the top of the casserole before baking, if you want the tots to bake up softer.
It'll still taste delicious but the tater tots will bake into the casserole rather than sitting on top for a crust.
If you make the recipe that way, you'll get a casserole that looks like Photo 10 below.
Frequently Asked Questions
Can this be made with ground turkey?
Yes, for a lighter spin on Cowboy Casserole, ground turkey or chicken would make a delicious substitute.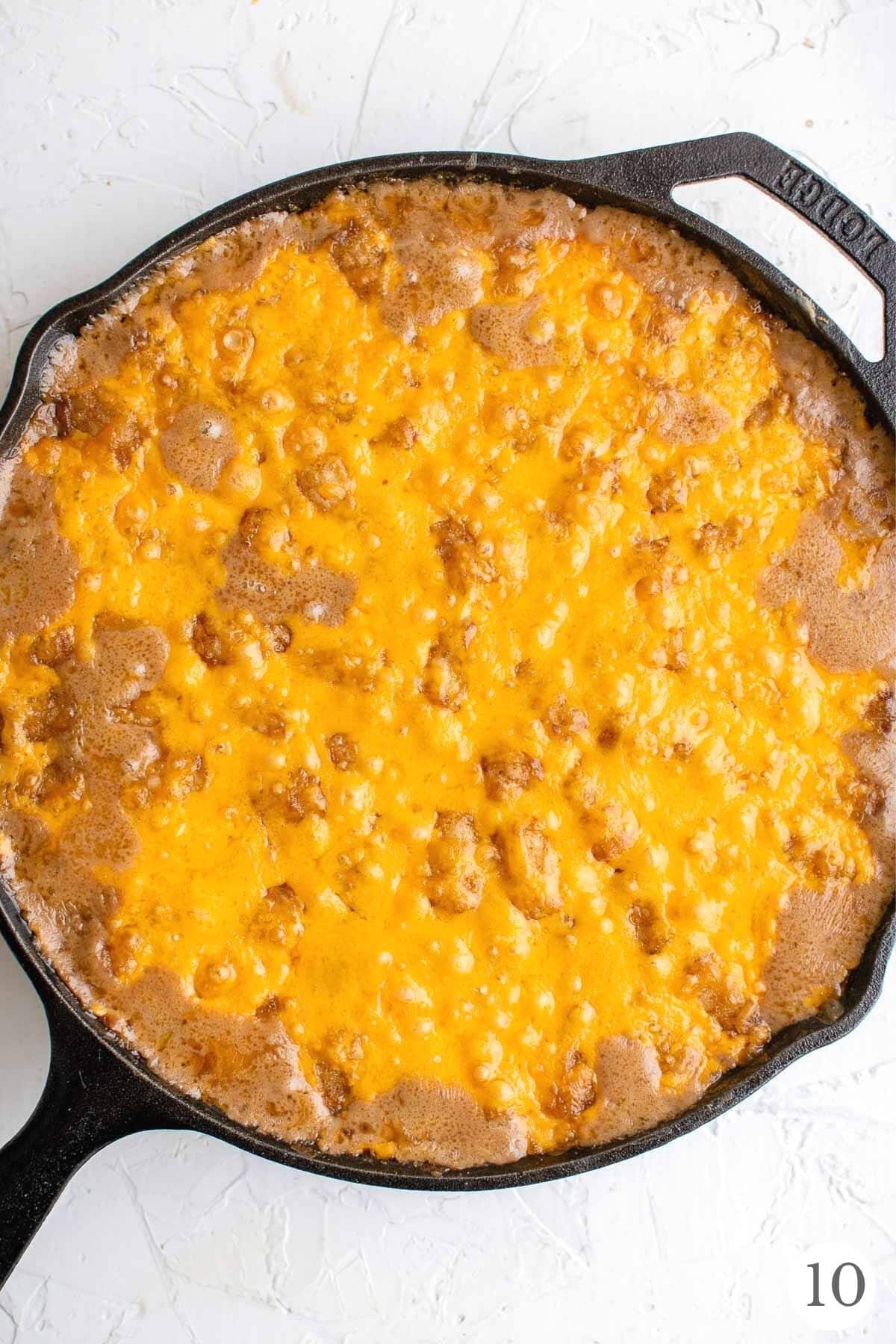 Storing Leftovers
Tater tot casserole is best enjoyed the same day as its made.
If you have leftovers, store them in an airtight container in the refrigerator. Reheat in the microwave or oven.
The tater tots will not be crisp after been stored in the refrigerator but the casserole will still be delicious!
When I make this it disappears so fast that we hardly ever end up with any leftover!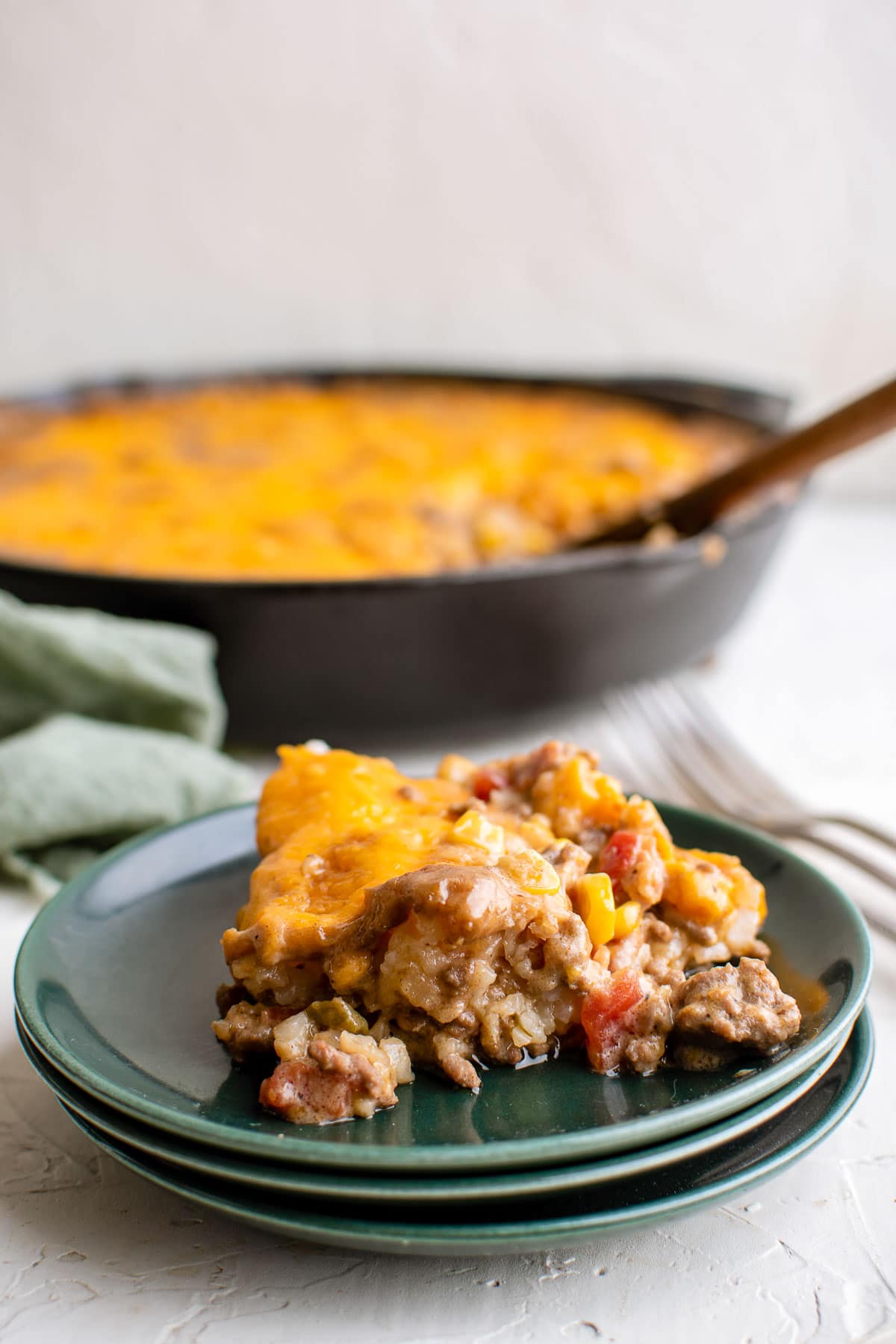 More Recipes You'll Love!
Recipe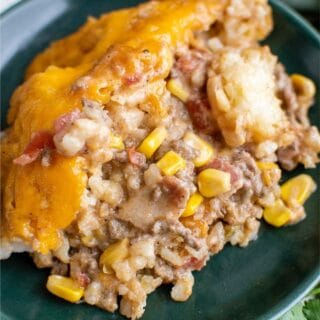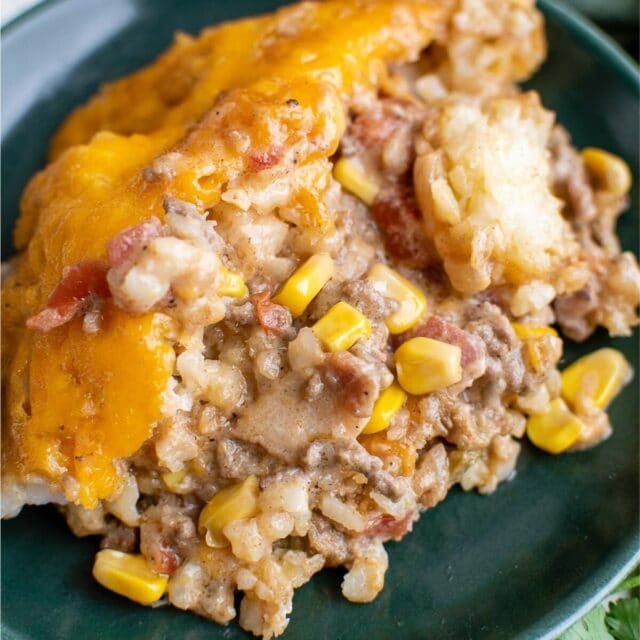 Cowboy Casserole
Cowboy Casserole is a hearty, flavor-packed easy main dish full of ground beef, vegetables, bold spices with a tater tot and cheese crust.
Print
Save Recipe
Recipe Saved!
Pin
Rate
Ingredients
6

slices

bacon

chopped

½

white onion

chopped

2

tablespoons

garlic paste or finely minced garlic

1

pound

ground beef

1

teaspoon

cumin powder

1

teaspoon

chili powder

½

teaspoon

salt

½

teaspoon

ground black pepper

3

cups

freshly shredded mild cheddar cheese

1

14.5-oz can

sweet corn

drained

1

10.5-oz can

cream of mushroom soup

regular or gluten-free

1

10-oz can

Rotel diced tomatoes & green chilies

mild or spicy

½

cup

sour cream

¼

cup

milk

1

32-ounce bag

frozen tater tots
Instructions
Preparation
Preheat the oven to 375 degrees Fahrenheit.

Preferred method: Use a 12-inch oven proof skillet for the entire recipe (cast iron skillets are great). Alternative method: Use a large skillet for the cooking of the ingredients and transfer into a 9-inch by 13-inch baking pan or casserole dish to cook in the oven.
Making the Cowboy Casserole
Cook the bacon over medium high heat until cooked but not crispy. Place on paper towel to drain. Leave the bacon fat in the skillet.

Cook the onions in the bacon fat until soft.

Add the garlic and cook for about a minute or until it becomes fragrant.

Add the ground beef to the skillet. Sprinkle the cumin powder, chili powder, salt and pepper over the ground beef.

Cook, breaking the beef up with a spatula, until it is fully browned with no pink color remaining.

Reduce the heat to medium. Add half of the cheese (1 1/2 cups), corn, mushroom soup (straight from the can), Rotel, bacon, sour cream and milk and stir to combine.

Cook for an additional 5 minutes. The cheese should melt and the condensed soup thin out.

If you are not using an oven safe skillet, pour the casserole filling into the casserole dish.

Add the tater tots to the top of the casserole in a design or simply in a single layer.

Place in the oven for 30 minutes until the tater tots are light golden in color. Spinkle on the remaining 1 1/2 cups of cheese.

Place back in the oven for 10 minutes or until the cheese has fully melted.

Remove from the oven and let the casserole cool for 10-15 minutes. Serve with a bit of sour cream and fresh cilantro.
Notes
Cool completely before storing in an airtight container for up to three days in the fridge.
Alternative Casserole Cooking method
In the cooking method above the tater tots are not fully crisp as they are when they are cooked by themselves. However the tops will have a nice crispness.
If you prefer softer tater tots, try this alternative method:
Cover with aluminum foil and bake for 40 minutes then remove the foil and sprinkle the remaining cheese on top of the tater tots.

Bake again, uncovered for 15 minutes, or until the cheese starts to bubble and caramelize around the edges.
OR push the tater tots lightly into the casserole mixture before cooking. They will not form a crust but will bake into the casserole itself.
Nutrition
Calories:
428
kcal
|
Carbohydrates:
4
g
|
Protein:
23
g
|
Fat:
35
g
|
Saturated Fat:
17
g
|
Cholesterol:
104
mg
|
Sodium:
578
mg
|
Potassium:
299
mg
|
Fiber:
1
g
|
Sugar:
1
g
|
Vitamin A:
608
IU
|
Vitamin C:
2
mg
|
Calcium:
354
mg
|
Iron:
2
mg