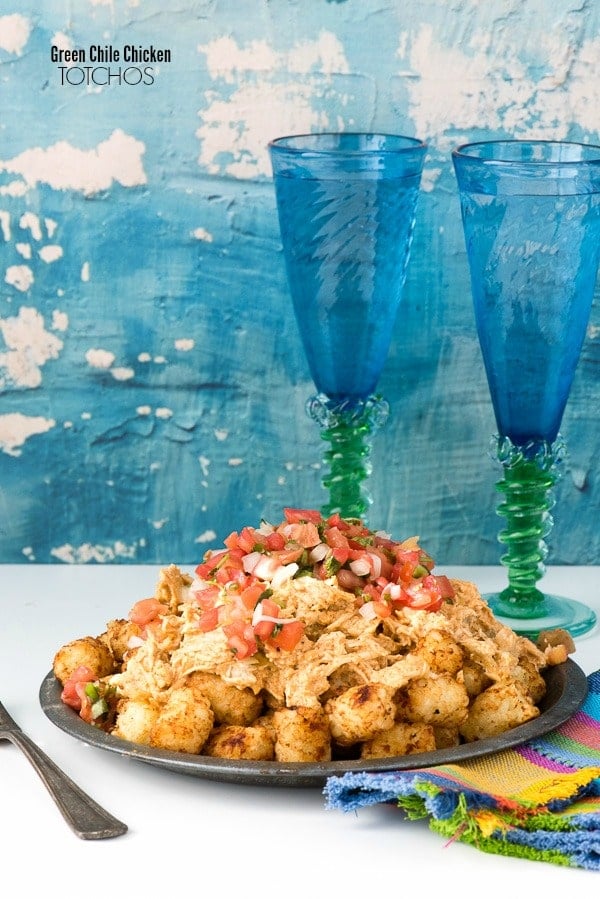 I have been d-y-i-n-g to make a recipe for something I learned about relatively recently: Totchos.  Have you heard of them?  My family has been stuttering through the pronunciation since I brought them up. Tot-chos.  Think tater tots meet nachos.  Maybe because I saw some before I heard the name I've been focused on the quintessential Friday-night, football food, comfort food, Mexican food essence of them rather than the name.
I will share that when I brought up that I was making them to my family, each individually, they thought I was kidding.  There is no joking around about this depth of savory goodness for me and I completely did not understand their responses.  When I went on to make it clear this was no laughing matter but rather potentially the best indulgent, messy, delicious dish they'd had in a long time, my kids were grossed out.  Say, what?  Kids who love tater tots and nachos and this did not sound like a dream come true? I wondered whose family I was really speaking to.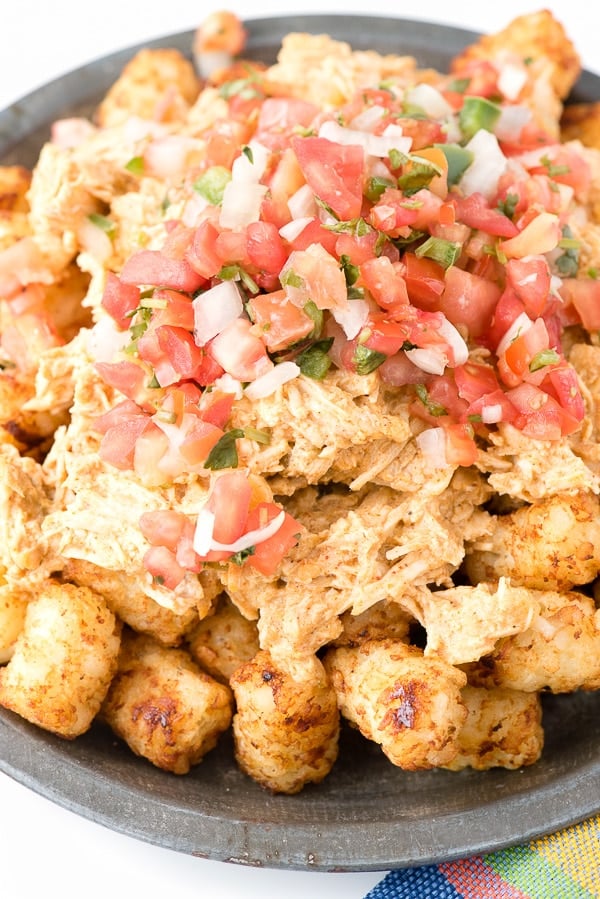 I ignored them completely and created this heaping plate of died-and-gone-to-heaven Green Chile Chicken Totchos.  A layer of crispy tater tots loaded with a creamy, green chile shredded chicken and topped with pico de gallo.  I love the flavors of the southwest and would happily eat the shredded chicken alone by the forkfuls.
When my family all arrived home from where they'd been I announced the Totchos were available to sample.  I will share with you, and only you, I think they dismissed me a bit!  I ignored them.  When the kids asked where the totchos were (because our refrigerator is so big you'd never find them, LOL, as they dragged their feet) I got them out and told the kids how to rewarm them; then I skedaddled out of the kitchen not wanting to see the humbled looks on their faces when they tasted the totchos.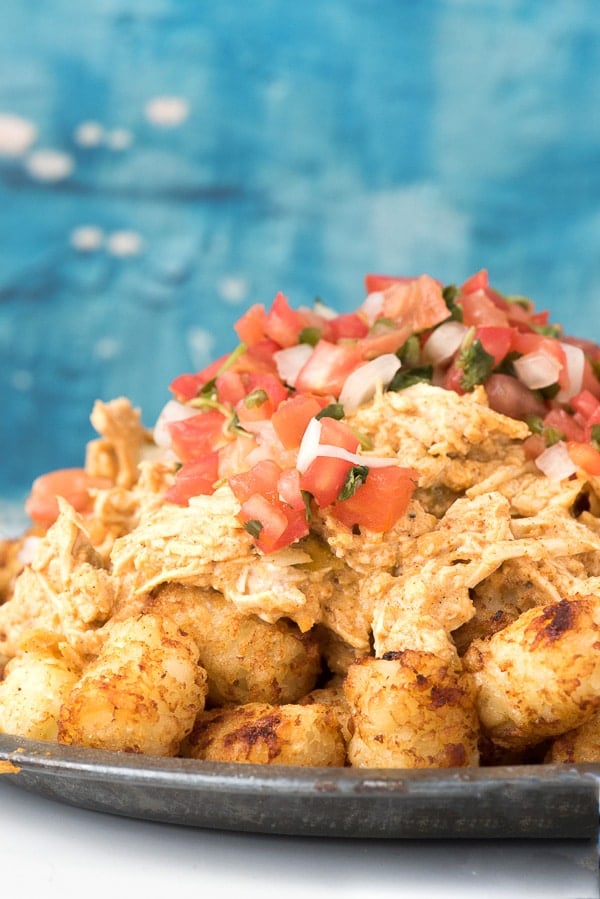 It was no surprise when they came to find me to tell me how GOOD they were in between multiple servings.  They both said 'when you were describing them I pictured something very different that sounded gross'.  I'm not sure what there is to picture about tater tots loaded with an irresistible chicken and green chilies, but you HAVE photos here so you don't have to risk the same fate as my kids.
There was a secondary dialog about adding cheese or not.  My daughter thought is sounded horrific (but this again when in the imagining stage, which clearly was way off track for her).  Originally I thought I would add cheese but after everything was compiled it was just perfect as is.  You can add cheese if YOU want to.  And I won't tell my daughter.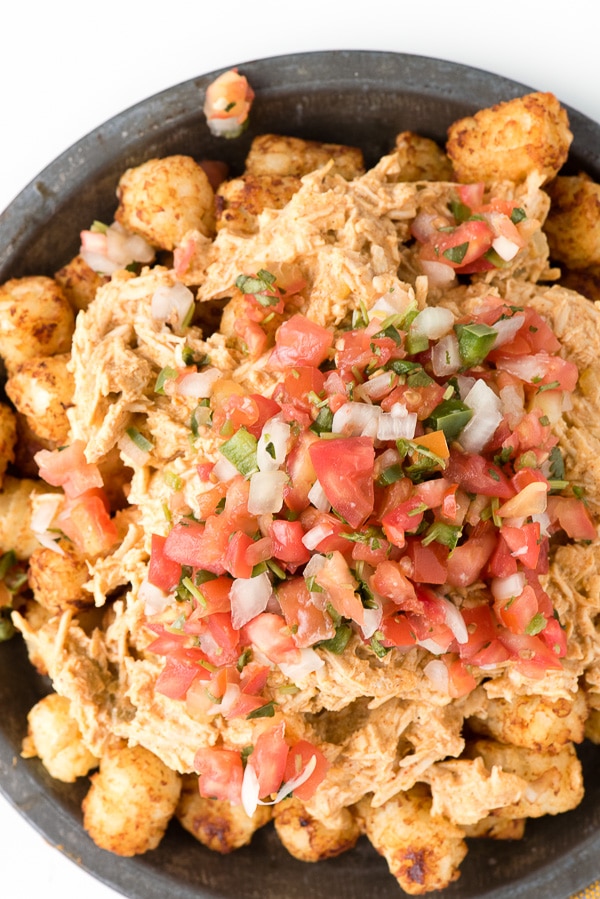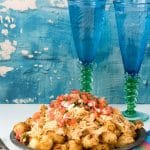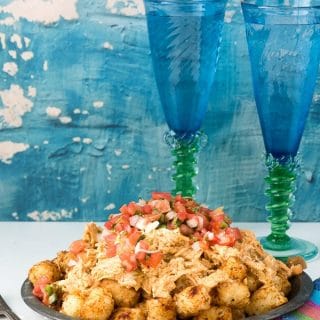 Green Chile Chicken Totchos
If you aren't familiar with Totchos, they are tater tot nachos basically. I didn't feel all the ingredients of traditional nachos were necessary or even appreciated when topping these crispy, irresistible spuds. A simple, creamy green chile shredded chicken pairs wonderfully with the potatoes with the crowning glory being pico de gallo. It's fantastic comfort food and simple to make.
Ingredients
2 16-

ounce

packages frozen 'Tater Tot' type potatoes

4

cups

shredded Chicken Breast

(homemade or from a store rotisserie chicken)

1

packet Taco Seasoning

(gluten-free if on a gluten-free diet)

1

cup

Low Sodium Chicken Stock/Broth

1 4-

ounce

can Mild Green Chilies

½

cup

Sour Cream

Pico de Gallo

(also known as Salsa Fresca)
Instructions
Prepare the potatoes per the package directions.

While the potatoes are cooking, combine the taco seasoning packet and the chicken broth in a large skillet over medium-high heat. Bring to a boil and lower the heat to medium-low bringing the liquid to a simmer.

Add the shredded chicken to the skillet, stir to coat with the sauce and allow it to simmer, stirring periodically, until the liquid has been absorbed by the chicken; 5-10 minutes. Remove from the heat and stir in the green chilies and sour cream.

When the potatoes are done, either leave them on the baking sheet for serving or move them to a serving platter (or individual portions on plates). Top with the green chile chicken followed by some pico de gallo. Serve immediately.