It's Totchos time! These loaded Tater Tots are the potato lover's answer to nachos. Slow cooker pulled pork, baked beans, BBQ sauce and cheese transform an ordinary bag of frozen tots into an exciting shareable meal or party food.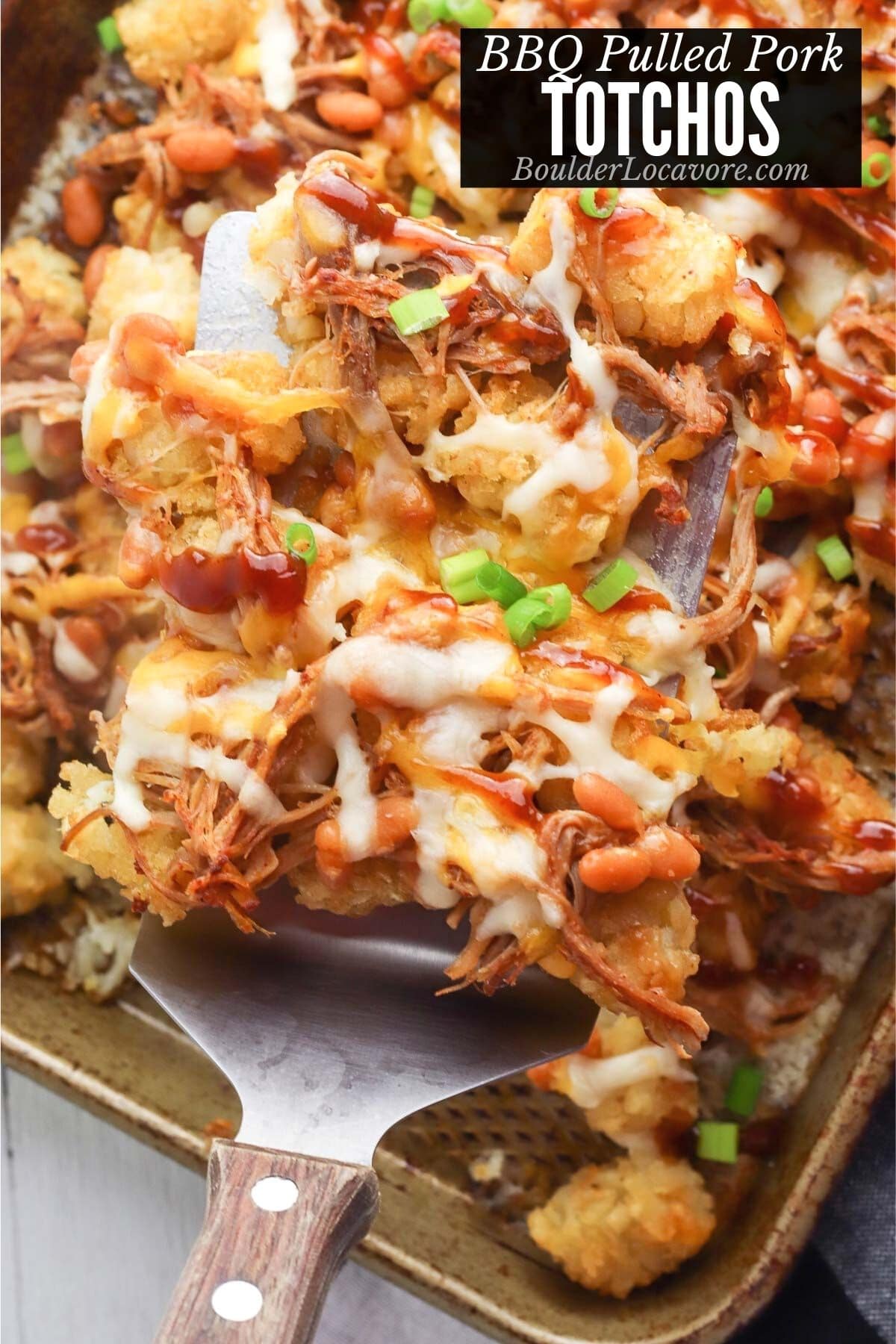 Whether you serve these loaded tater tots as party snack, appetizer or fun family meal, BBQ Pulled Pork Totchos have everything you need to keep bellies full and tastebuds happy.
Jump to:
What are Totchos?
Also called "Tater Tot Nachos", Totchos are nachos made with tater tots instead of tortilla chips.
If you love tater tots, you'll love them loaded with all your favorite nacho toppings even more!
This loaded tater tots recipe has a mouthwatering barbecue spin.
We've added BBQ pulled pork, baked beans and BBQ sauce.
Pop the pork shoulder in the slow cooker in the morning and it's ready to add to your Tater Tot Nachos by dinner time.
Totchos are a perfect game day appetizer, party food or casual meal served family style!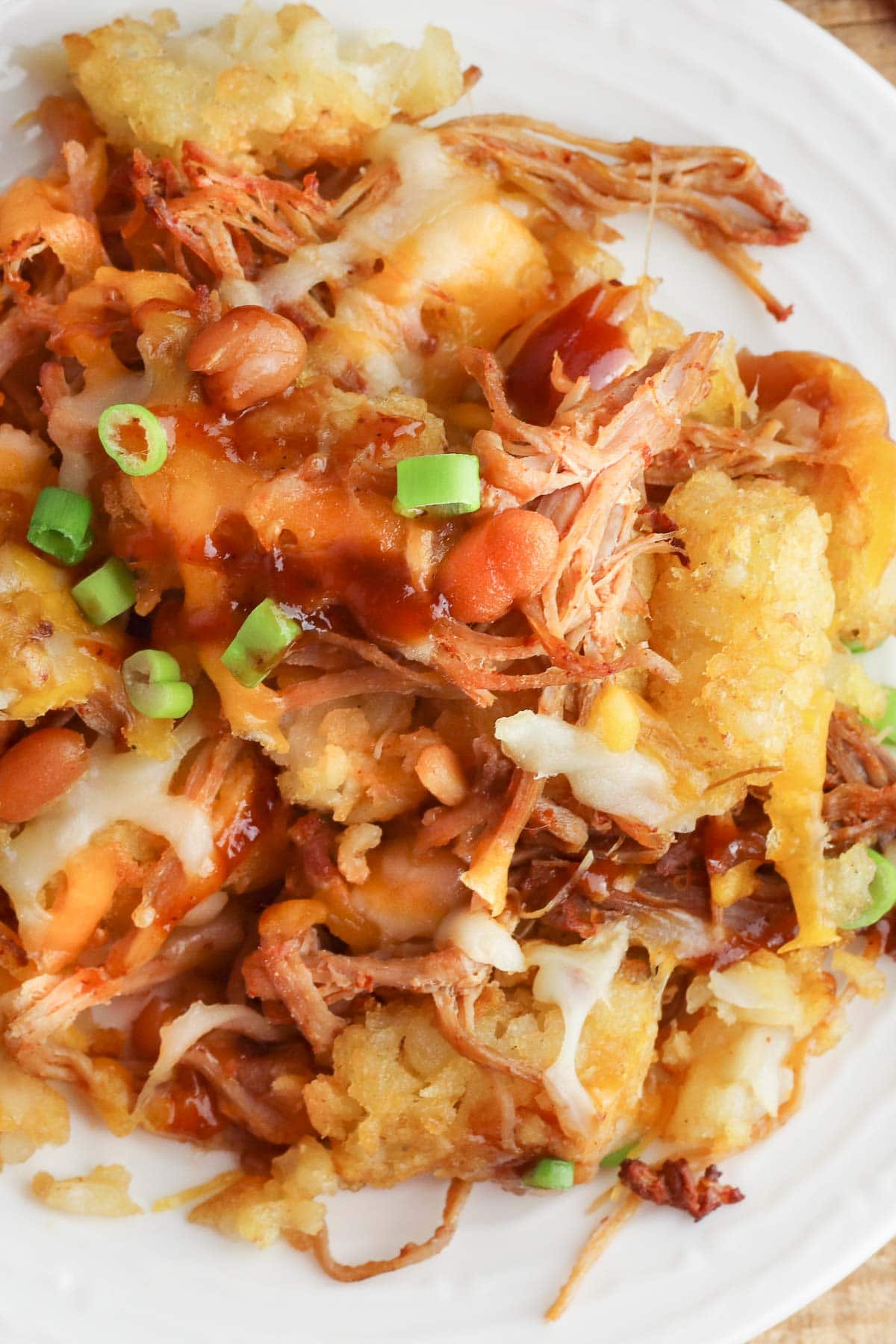 Two Recipes in One!
This Totchos recipe is really two recipes.
Slow Cooker Pulled Pork
They can be used together to make the loaded tater tots shared here or the slow cooker pulled pork can be used as a stand alone recipe.
The pulled pork recipe is fast and simple to prepare. Any barbecue seasoning can be used (try this rub for ribs too).
The cooking liquid can also be changed up. Apple cider would be a great alternative.
Totchos
The Totchos method is like nachos; you really can put anything you love on top.
Green Chile Chicken is another favorite.
Use the recipes together for this mouthwatering combo or use them on their own for pulled pork sandwiches or other versions of these potato nachos.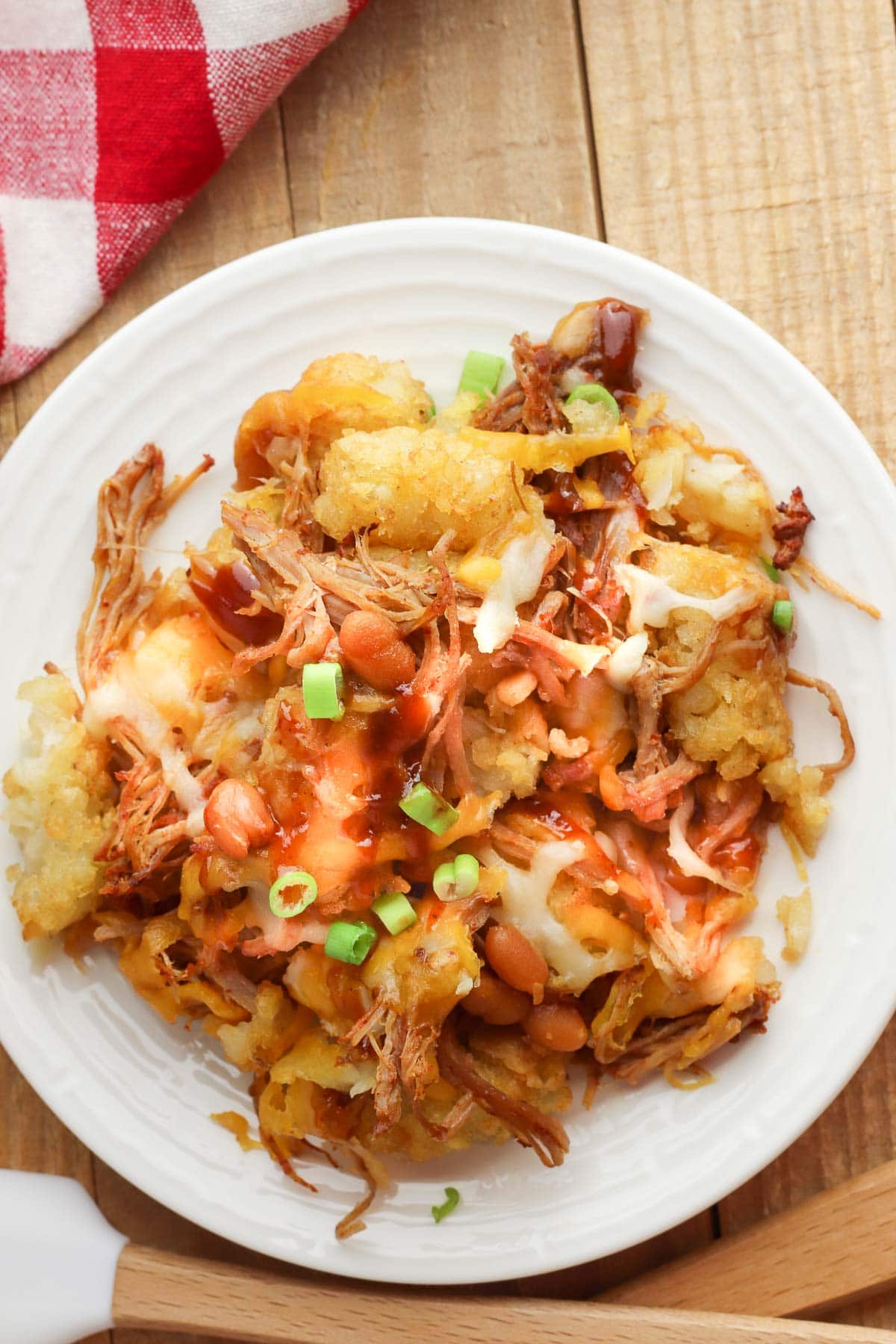 Recipe Ingredients + Notes
Slow Cooker Pulled Pork
Pork shoulder. Classic cut of pork for making pulled pork.
Chicken stock. Use low sodium chicken stock or broth.
BBQ seasoning. The seasoning will determine the flavor of the pulled pork. There are multiple types of BBQ seasoning usually sold with spices at the grocery store.
Choose a smoky blend, sweet and spicy or any other spice blend you're in the mood for.
Totchos
Frozen tater tots. Use a full 32-ounce bag.
Baked beans. Store bought or homemade work great. If using homemade you'll need 3 1/2 cups. We love these Instant Pot Baked Beans!
BBQ sauce. My Homemade Barbecue Sauce recipe is perfect here, or use your family's favorite sauce.
Cheese. The recipe uses a combination of shredded cheddar cheese and Monterey jack. Shred the cheese yourself for best results.
Store bought shredded cheese includes an anti-caking agent that prohibits it from melting in the cheesy way we love on nachos.
Green onions. Optional as a garnish.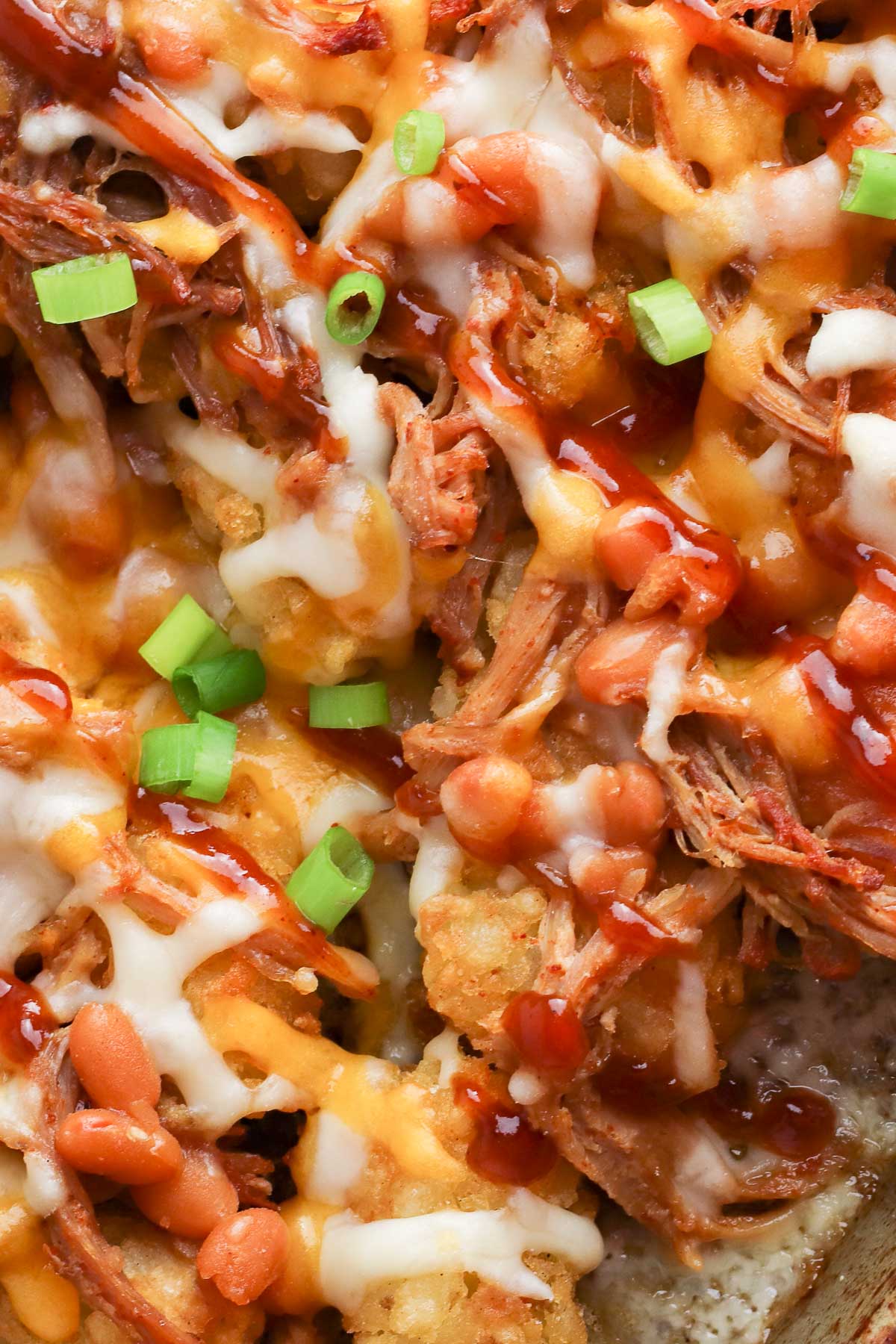 How to Make it – Step-by-Step
STEP 1. Slow Cook the Pork
Put the pork shoulder in your slow cooker with the chicken stock and BBQ seasoning. Cook on low for 8 hours or on high for 4 hours.
When done, remove the pork from the pot and shred. Return the shredded pork to the slow cooker and stir to combine with the juices (photo 1).
From here, you could enjoy the pulled pork on its own topped with BBQ sauce and have a delicious meal.
I highly suggest you keep going and try it with the Loaded Tater Tots at least once!
Preheat the oven to 425.
STEP 2. Bake the tater tots
Arrange the frozen tater tots in a single layer on a large baking sheet sprayed with cooking spray.
Give the top of the tater tots a spritz of the cooking spray and sprinkle with salt and pepper.
Bake for 30 minutes or until the tots are golden brown and crispy (photo 2).
STEP 3. Assemble the Totchos
To make the Tater Tot Nachos, spread the pulled pork over the pan of tater tots (photo 3).
Top with baked beans and shredded cheese, then bake for another 10 minutes to melt the cheese.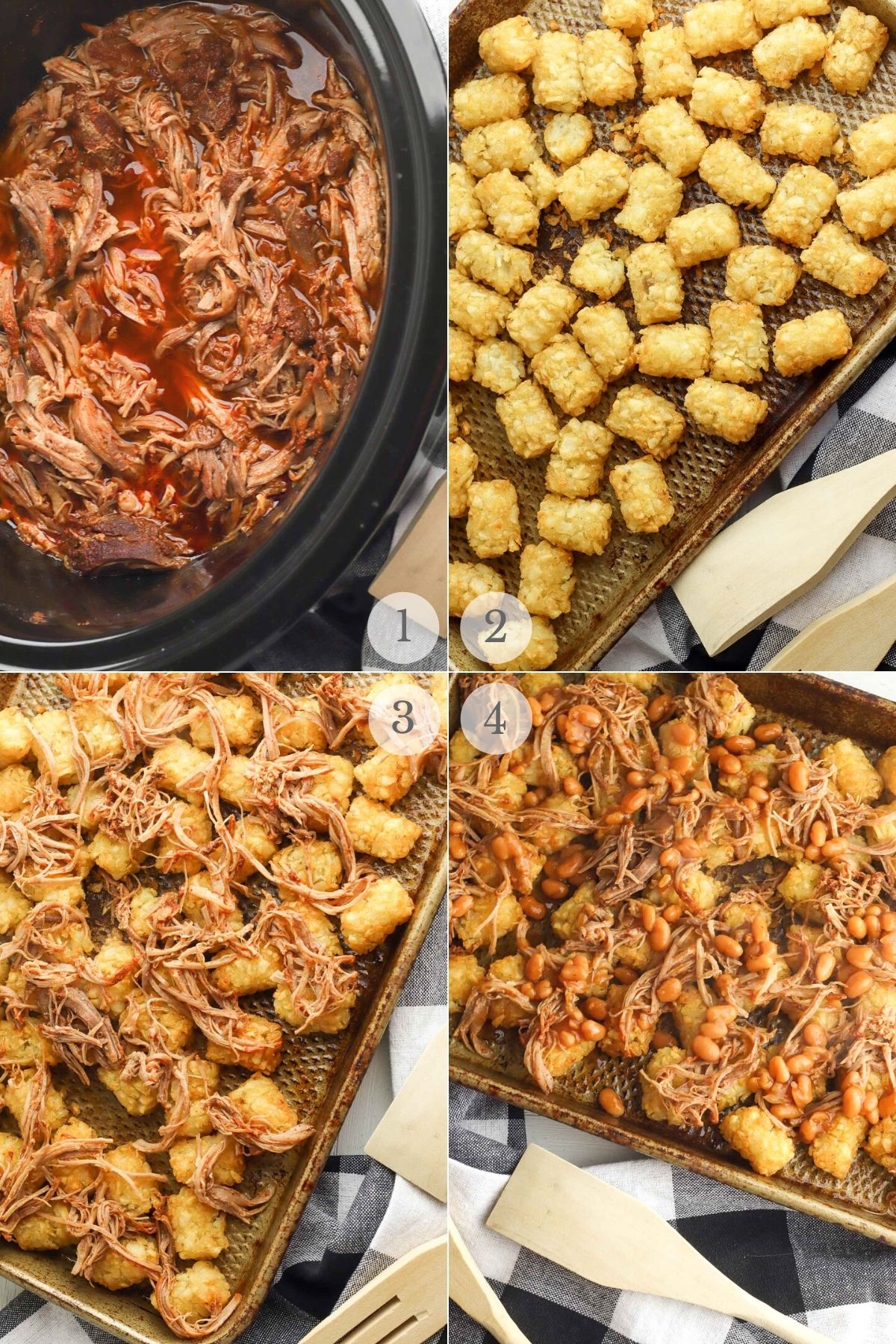 STEP 4. Serve
Pour BBQ sauce over the Totchos before serving and garnish with green onions for a pop of color and freshness (photo 6)!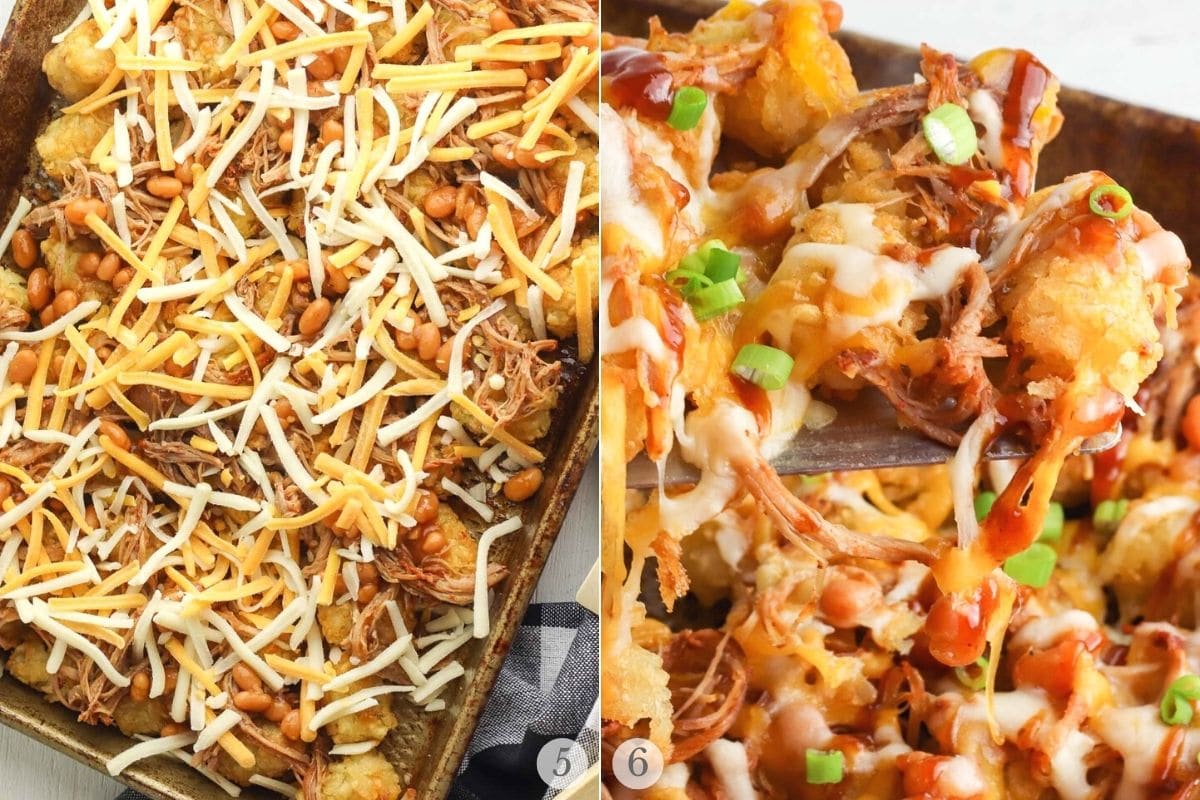 Frequently Asked Questions
Can the pulled pork be made ahead of time?
Yes! You can make the pulled pork in advance for quick assembly meal. Prepare the pork are directed up to 3 days ahead and store sealed in the refrigerator.
When ready to prepare the Totchos, reheat the pulled pork on the stove or in the microwave. It's important to start with warm pulled pork for the recipe cooking time. Reheating will also liquify any of the congealed juices to ensure the pork is moist.
Can you make this vegetarian?
Yes! Leave off the pulled pork and select vegetarian baked beans to use.
How many servings of Totchos does this recipe make?
This recipe will yield about 3 1/2 cups of slow cooker pulled pork and enough loaded Tater Tot Nachos to feed 8 hungry people as an appetizer or snack.
Storing Leftovers
Pulled Pork
If making it ahead of time or for a different meal, it can be stored in an airtight container in the refrigerator for up to 4 days.
Totchos
The Totchos are best when served freshly made. Leftovers can be stored in an airtight container for 2-3 days and reheated in the microwave.
The tater tot will not retain their crisp texture but they'll still be good!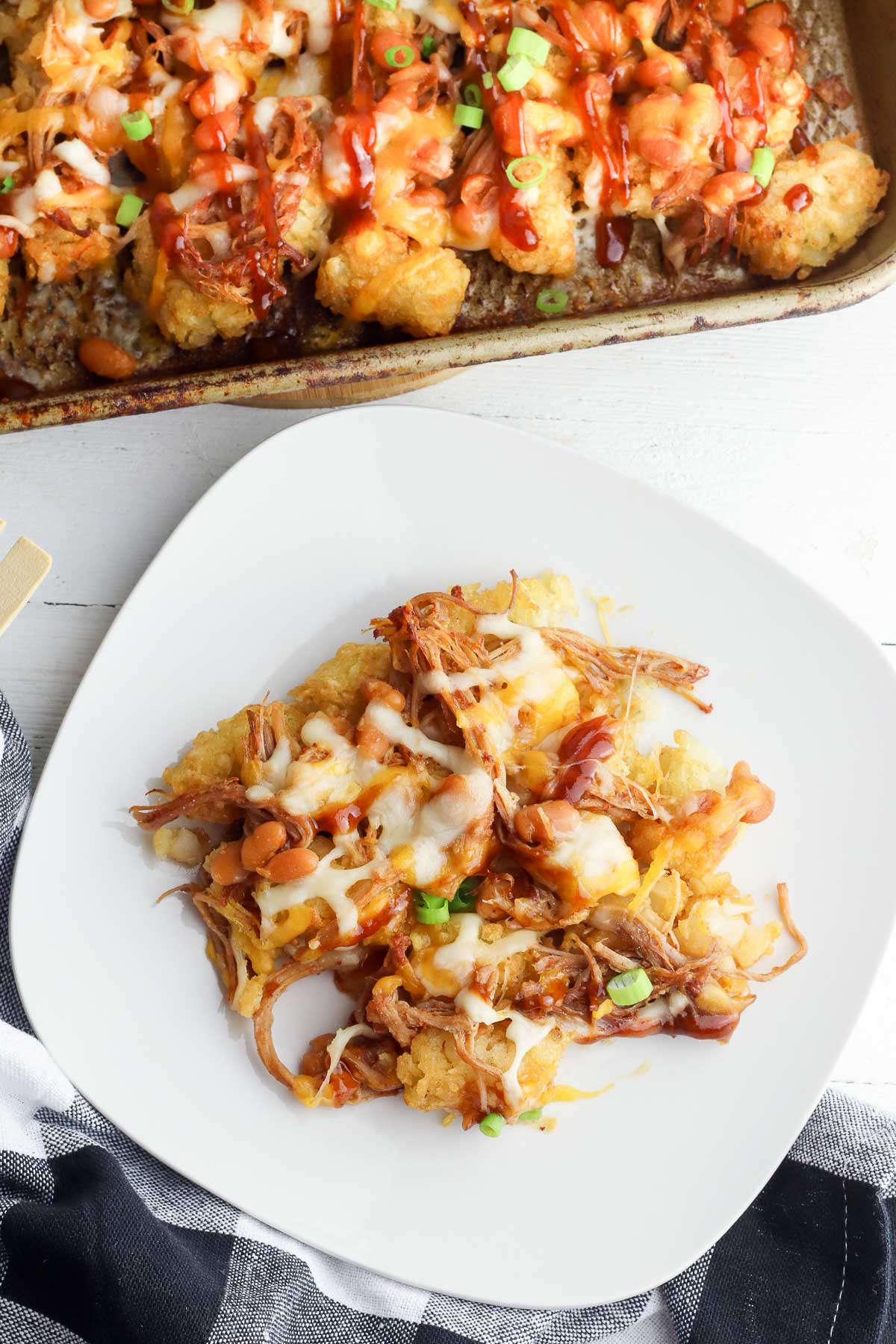 More Recipes You'll Love!
Recipe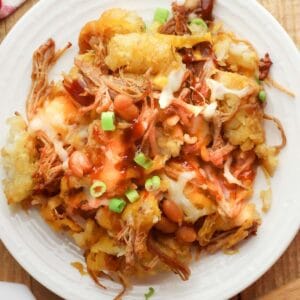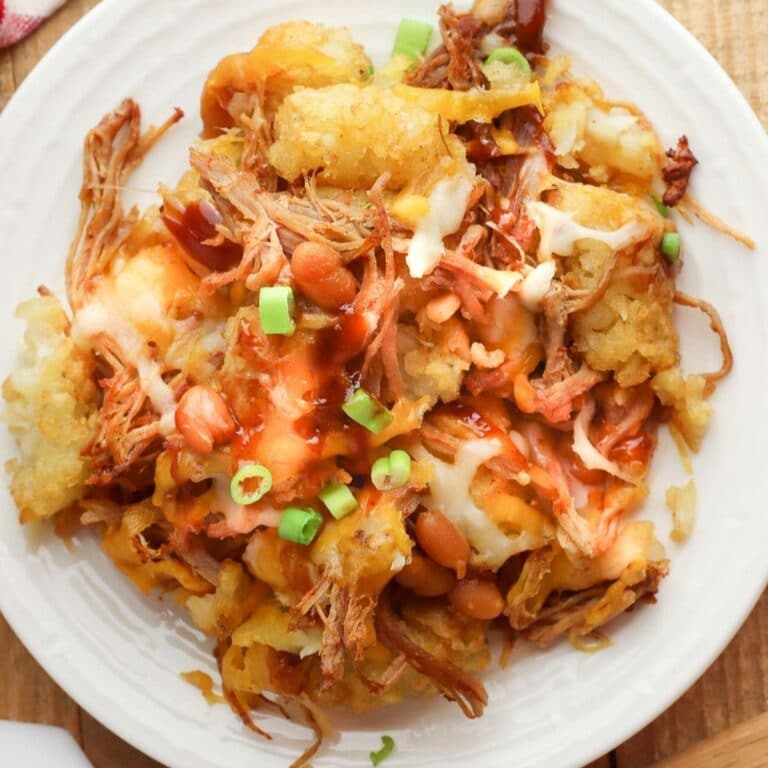 BBQ Pulled Pork Totchos
These loaded tater tot nachos are pulled high with favorite BBQ flavors. A simple pulled pork recipe started in the slow cooker in the morning is ready in time to make these totchos for dinner.
Print
Save Recipe
Recipe Saved!
Pin
Rate
Ingredients
2

pounds

pork shoulder

1

cup

low sodium chicken stock

1

tablespoon

BBQ seasoning

1

32-ounce bag

frozen tater tots

Salt

1

28-ounce can

baked beans

or 3 ½ cups homemade baked beans

1 1/2

cups

shredded Monterey jack cheese

1 ½

cups

shredded mild cheddar cheese

1

cup

BBQ sauce

homemade or store bought

Green onion for garnish
Instructions
Making the Pulled Pork
Place the pork shoulder in a slow cooker. Add the chicken stock and season with BBQ seasoning.

Cook the meat on LOW for 8 hours or HIGH for four hours.

When the meat is cooked through, remove it from the pot and shred it using 2 forks. Return the shredded pork to the slow cooker and stir to combine with the cooking liquids.
Making the Totchos
When ready to prepare the totchos, preheat the oven to 425 degrees.

Spray a large rimmed baking sheet with nonstick cooking spray and spread the tater tots in an even layer on the sheet.

Spray the tots with nonstick cooking spray and season with salt.

Bake in the preheated oven for 30 minutes, until crispy.

Remove the tots from the oven and spread the shredded pork over the top.

Top the meat with baked beans and shredded cheese. Return to the oven to bake for 10 minutes, until cheese is melted.

Before serving, top with BBQ sauce and green onions.
Notes
Cooking time based on cooking the pork shoulder on low for 8 hours.
Yield notes: pulled pork recipe makes 3 /12 cups pulled pork. If substituting homemade baked beans use 3 1/2 cups.
Nutrition
Calories:
327
kcal
|
Carbohydrates:
12
g
|
Protein:
26
g
|
Fat:
19
g
|
Saturated Fat:
10
g
|
Cholesterol:
87
mg
|
Sodium:
867
mg
|
Potassium:
328
mg
|
Fiber:
1
g
|
Sugar:
9
g
|
Vitamin A:
424
IU
|
Vitamin C:
1
mg
|
Calcium:
339
mg
|
Iron:
2
mg