Want to turn a plain glass of Champagne into a party cocktail? Easy peasy. This Classic Champagne Cocktail could not be easier or a more delicious way to elevate sparkling wine into a fun and festive cocktail.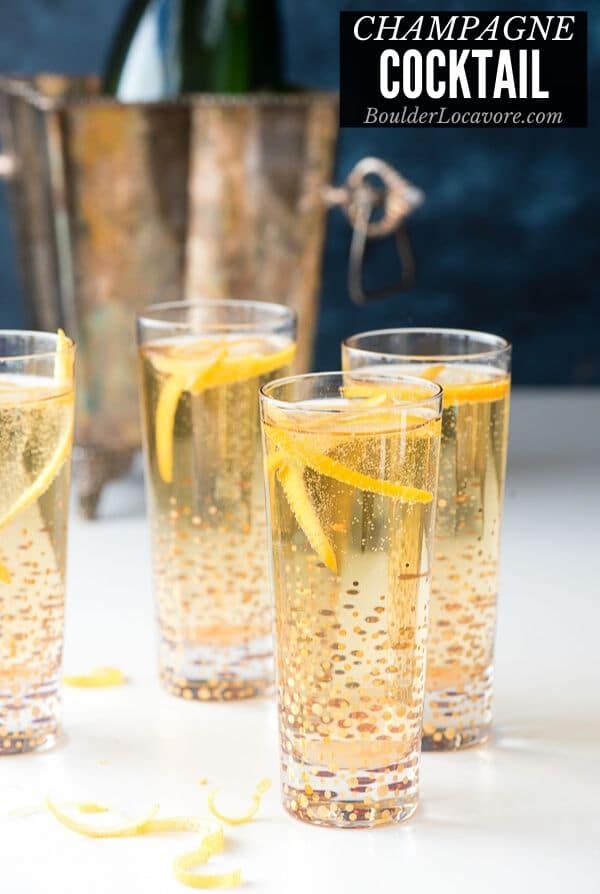 Whether for a special occasion, Christmas, New Year's Eve or New Year's Day making a Champagne Cocktail takes sparkling wine to the next level.
It's an easy, delicious cocktail that's fun to make and serve!
Bring the party to YOUR house and serve up this classic cocktail.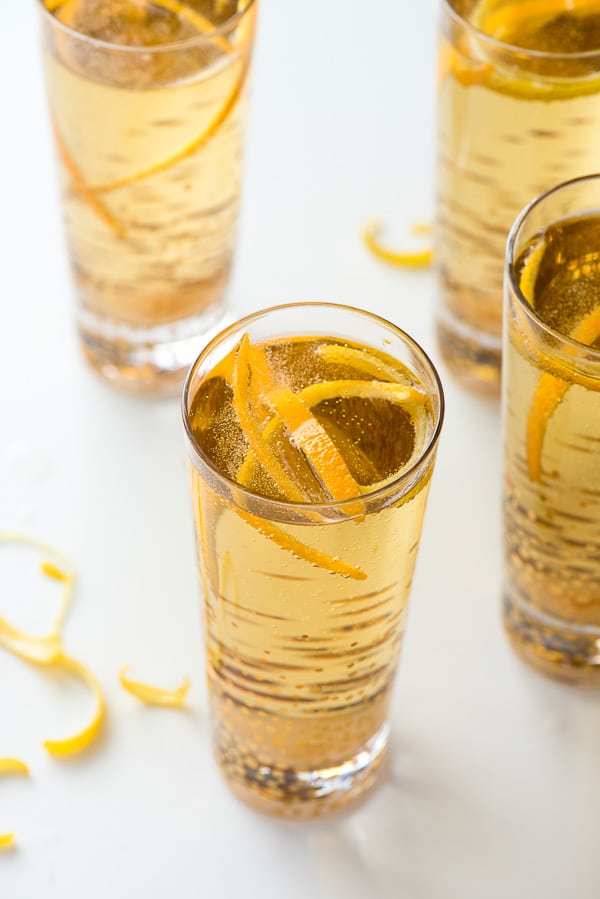 What is a 'Champagne Cocktail'?
Technically it can be any cocktail using Champagne, or sparkling wine, as an ingredient.
This particular recipe is a particular cocktail: Classic Champagne Cocktail.
Instead of just champagne some additional cocktail ingredients are added for a sweet, citrusy cocktail.
The Classic Champagne Cocktail is a great way to make a simple glass of bubbly even more festive.
A few extra ingredients take delicious sparkling wine to the next level of sophistication. Perfect for any party!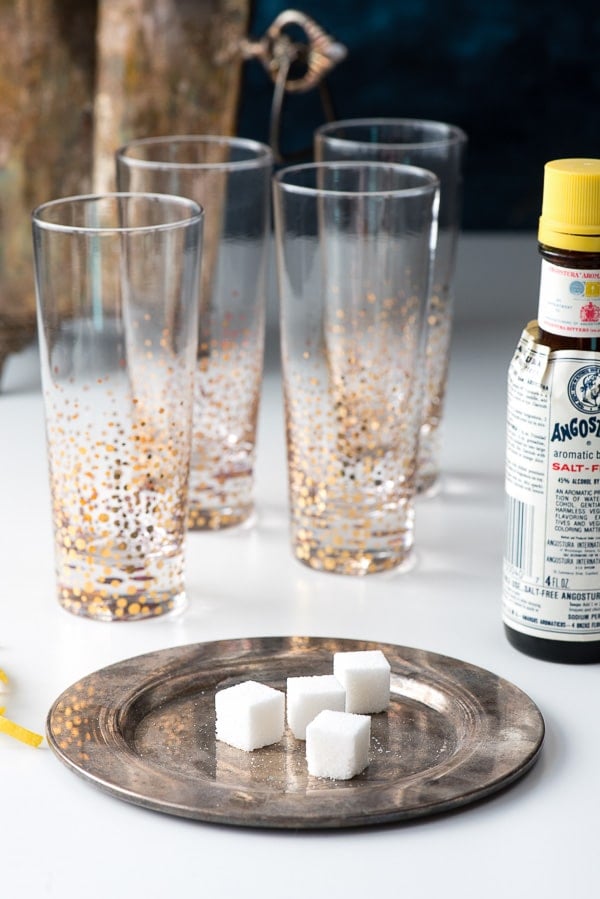 Champagne Cocktail Ingredients
Sugar Cube
Angostura Bitters
Brut Champagne or Sparkling Wine
Lemon and Orange Twists

Difference Between Champagne and Sparkling Wine
Technically to call something 'champagne' is must be produced in the Champagne region of France.
Champagne is a type of 'sparkling wine'. Any other bubbly wine produced outside of the Champagne region is referred to as sparkling wine.
Sparkling Wine can taste just like Champagne but it just can't be called that.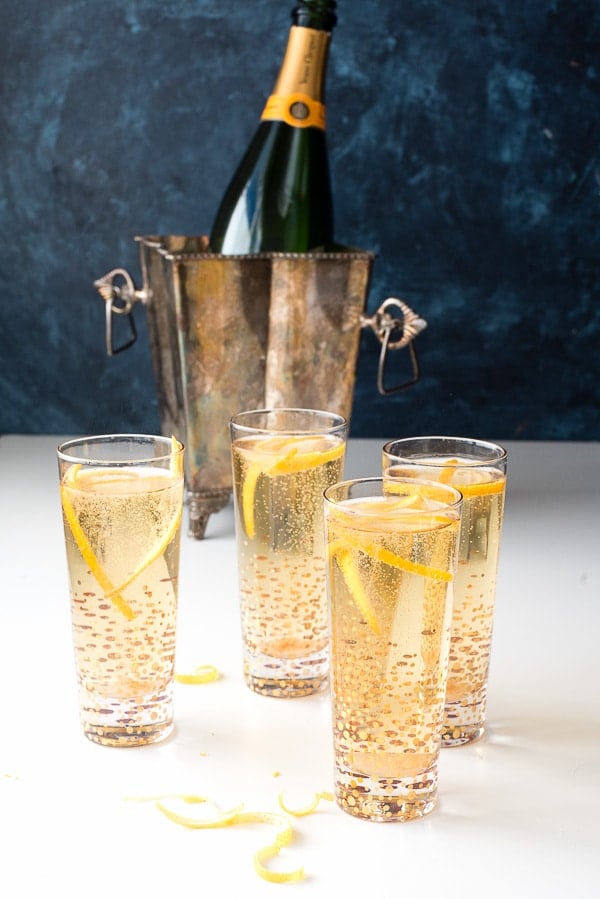 What is 'Brut' Champagne?
Brut (pronounced 'brute') is the driest of champagnes or sparkling wines, meaning it is the least sweet.
That is perfect for a Champagne Cocktail. Sugar is added to create specific type of sweetness while retaining the sparkling wine flavor.
Using a brut Champagne or sparkling wine keeps the cocktail from being overly sweet.
What Price Champagne to use for the Champagne Cocktail
I suggest a mid-range price Champagne (or most likely 'sparkling wine' which is the true Champagne equivalent for anything produced outside of the Champagne region of France).
Pricey Champagnes are great, but when making a cocktail I go for something good, but not the highest price range.
You DO 'get what you pay for' so I would not buy the cheapest available as they can lead to a sad next morning.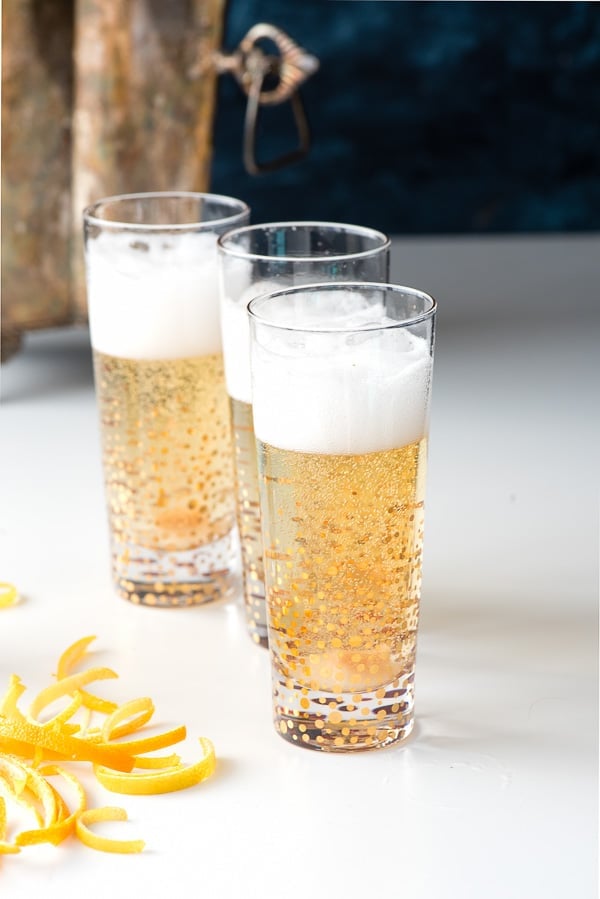 PRO TIP: Making Citrus Peel
A little tip for this cocktail. It uses citrus twists, a strip of citrus peel (in this case lemon and orange) that omits the pith (the bitter white layer below the exterior peel).
If you have a bartender's channel knife that is designed for this, have at it.
It creates a long, slender string of peel that is twisted and squeezed to release the oil in the peel which adds flavor to the cocktail.
I just bought a new channel knife that is built in to a citrus zester.
Sadly, it did nothing but drag along the surface of the citrus and not cutting it at all (I need to order one from Amazon.com; note to self).
My Personal Cheater Method
A cheater way to do this without any special tools is to use a vegetable peeler.
Drag the peeler the length of the orange or lemon creating a fat peel.
Using a sharp kitchen knife, slice the peel lengthwise in 1/8th inch widths.
Twist and squeeze when adding them to the cocktail!
For more ideas check out this post on Orange Zest or how to make Lemon Spirals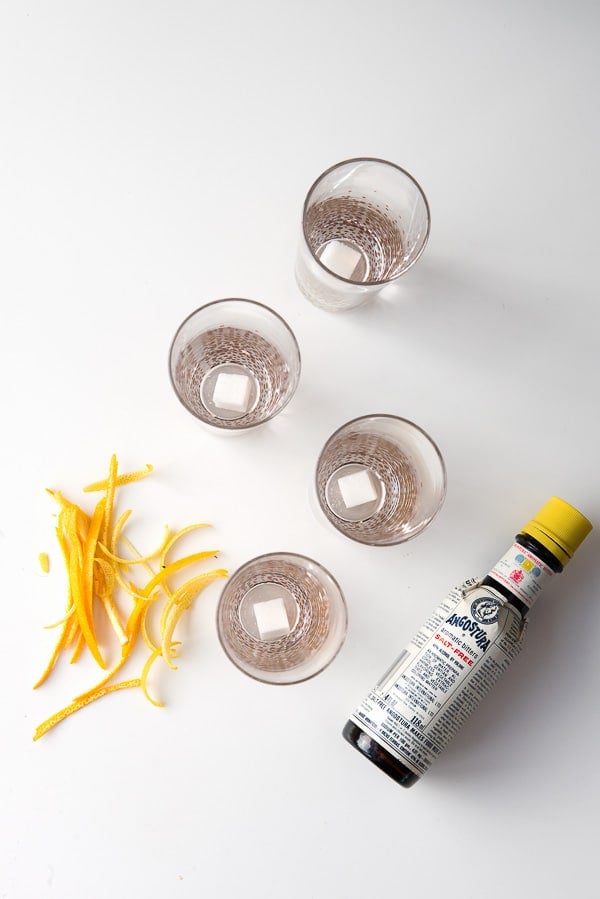 How to Make a Champagne Cocktail – Step-by-Step
A classic Champagne cocktail is easy to make.
The flavor difference from regular Champagne is subtle but sophisticated. It deepens the natural Champagne flavor.
STEP 1: Place a sugar cube in a Champagne flute and douse with 2-3 dashes of bitters.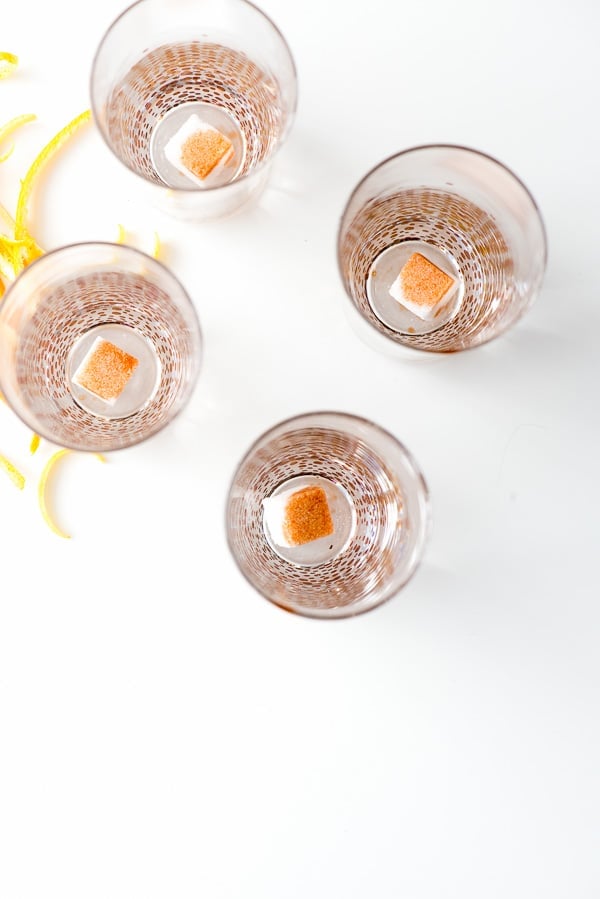 STEP 2: Fill the glass with Champagne.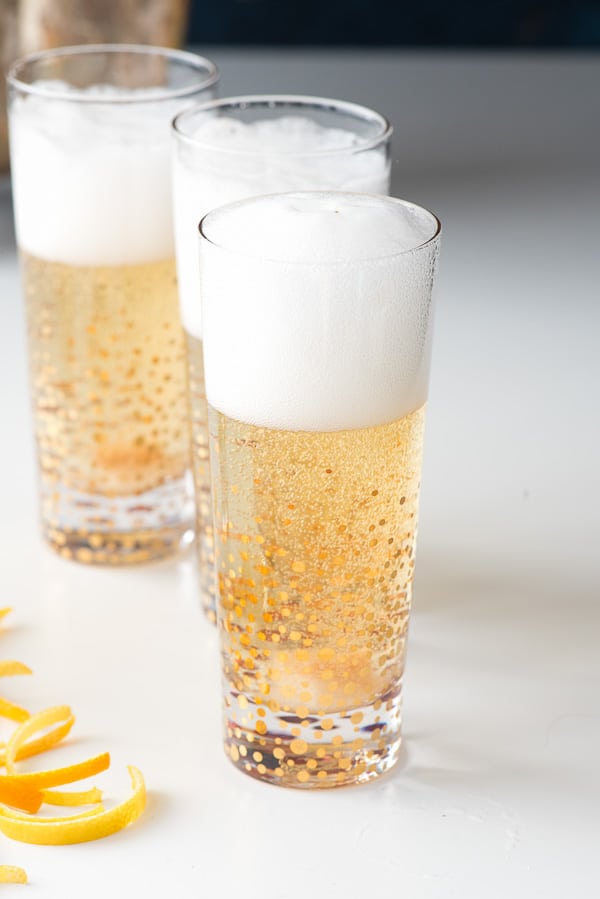 STEP 3: Add some twists of orange and lemon.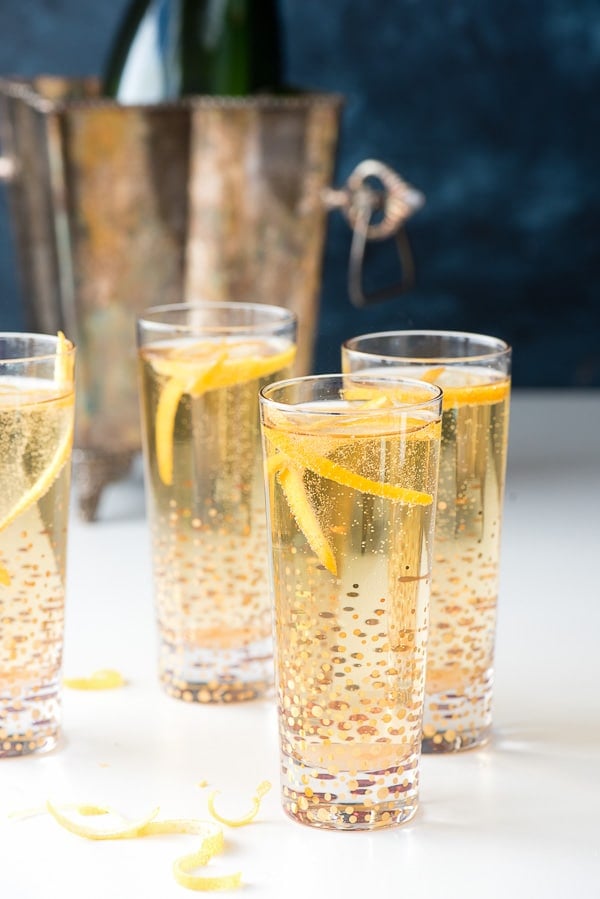 More Champagne Ideas
Champagne is the sipper of the holiday but there are many ways to enjoy it.
Champagne punches like the Champagne Cup are a great way to stretch your champagne dollar.
It also dilutes the bubbly so everyone is still awake with all their faculties at midnight if enjoying it on New Year's Eve.
Some other favorites of mine are Sparkling Cranberry-Orange Champagne Punch and Sparkling Cranberry-Orange Cava cocktail.
Beautiful citrus flavors intermix with sparkling wines to make for a festive feel.
I love the St. Germain-Champagne French Cocktail too.
All my favorite sparkling cocktails check my Sparkling Cocktails category for ideas!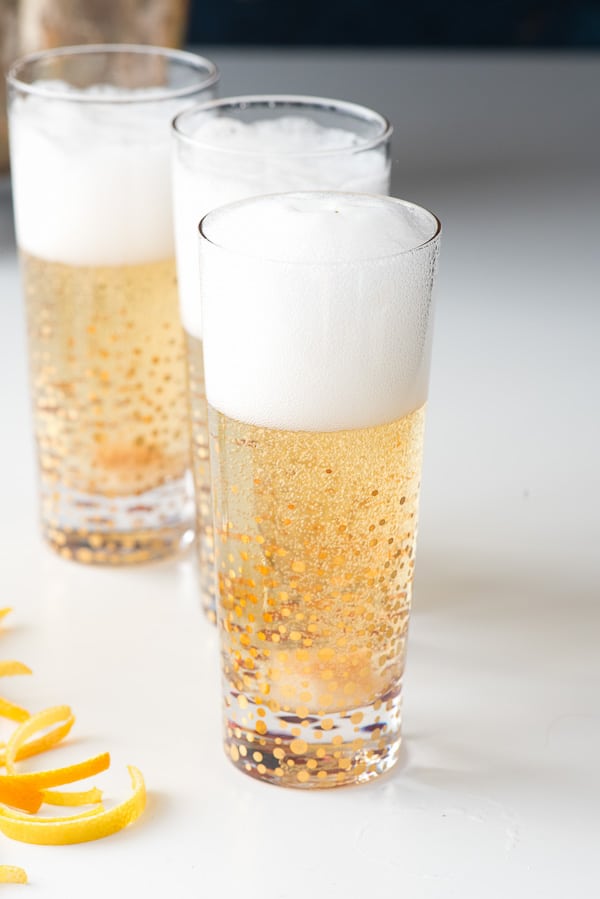 Make your Celebration Complete! Try these Recipes too…
Did you make it? Please RATE THE RECIPE below!
Please SUBSCRIBE and FOLLOW ME on FACEBOOK , TWITTER , INSTAGRAM and PINTEREST !
Recipe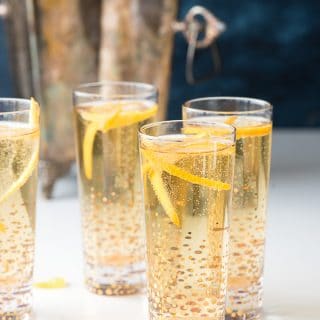 Classic Champagne Cocktail Recipe
A simple twist on a straight up glass of champagne gives a cocktail feel to any celebration. The Classic Champagne Cocktail serves up a depth of flavor that elevates any sparkling wine!
Print
Save Recipe
Recipe Saved!
Pin
Rate
Servings:
1
cocktail (aproximately 4-6 cocktails per bottle of Champagne or sparkling wine)
Ingredients
1

White Sugar Cube

2-3

drops

Angostura Bitters

8

ounces

Brut Champagne or Sparkling Wine

Lemon and Orange Twists
Instructions
Place a sugar cube in a champagne flute. Douse with 2-3 dashes of Angostura Bitters.

Fill with Champagne. Add lemon and orange twists and serve!
Nutrition
Calories:
15
kcal
|
Carbohydrates:
4
g
|
Protein:
0
g
|
Fat:
0
g
|
Saturated Fat:
0
g
|
Cholesterol:
0
mg
|
Sodium:
0
mg
|
Sugar:
3
g
Originally published: December 30, 2016
A Champagne Cocktail is perfect for parties or any cocktail hour.