Cabbage Soup is full of wholesome vegetables, delicious flavor and few calories! It's perfect to warm up the coldest of days or a post-holiday food reset!

Most of use have a fond childhood memory of steaming hot vegetable soup on a cold day.
Chances are it was from a can.
This Hearty Vegetable Cabbage Soup is easy to make, and is chock full of wholesome vegetables.
It's a key recipe to have handy to make on repeat. Make it on the stove top or in an Instant Pot!
I'll confess. One reason I love this cabbage soup recipe is it is a great 'food reset' recipe.
If I've had an over the top holiday or just want a more nutrition-rich meal, I reach for this vegetable soup recipe.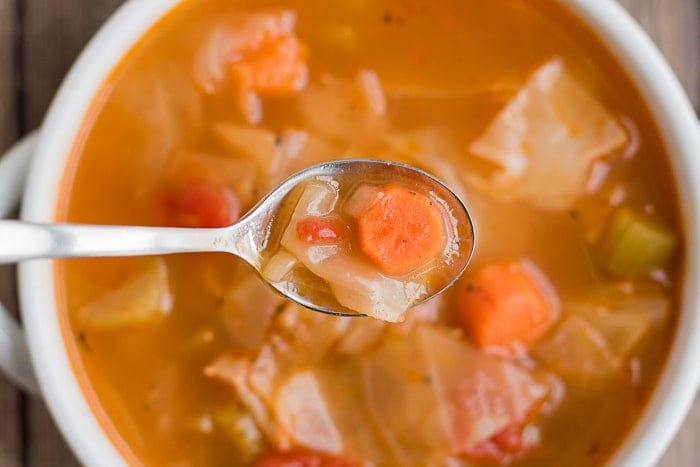 Why I Love This Cabbage Soup Recipe
It is…
Hot and filling
Easy and fast to make
Full of vegetables and is vegetarian, vegan and naturally gluten-free
Has great natural flavors
Low in calories (so you can fill up without bulking up)
Can be easily changed up
Can be made on the stove top or in the Instant Pot
I have found personally after a big holiday it's a great way to 'retrain' my taste buds to get on track with more healthy food choices.

Vegetable Cabbage Soup Ingredients
I love recipes with simple, clean ingredients.
Olive Oil
Sweet Onion
Garlic
Vegetable Broth
Green Cabbage
Carrots
Celery
Seasoned stewed tomatoes (canned)
Kosher Salt
ground Black Pepper
Canned Tomatoes
Seasoned stewed tomatoes can be added to the soup as is or chopped.
Also diced canned tomatoes with seasoning can be substituted too.
The key is that they have other flavors added, like basil, garlic, oregano, etc. to give flavor to the soup.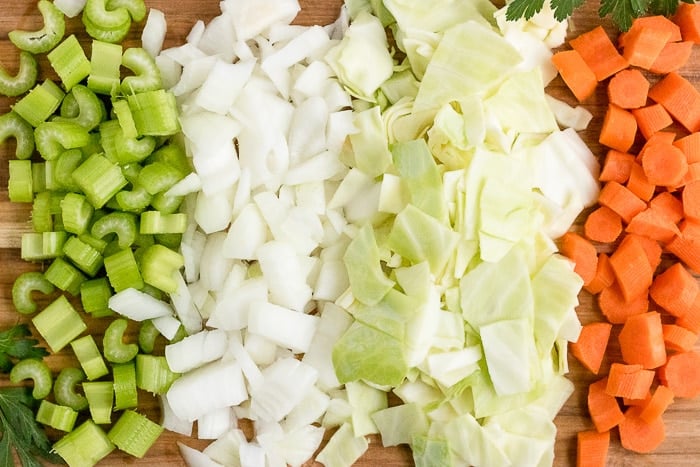 Recipe Variations/Ideas
Want to add some protein? consider adding a cup of shredded chicken, or 1/2 pound of cooked ground turkey, or ground beef.
For a spicier version, add a seeded, diced jalapeno to the vegetables. Or spicy ground chorizo (cooked in the same pan after the onion and garlic and drained).
Have vegetables you need to use up? Add them! Even frozen vegetables can be added.
Change up the flavor by using chicken broth or nourishing bone broth instead of vegetable broth.
Have a favorite spice you love (cumin for me)? Add some to the cabbage soup. Pick spices that work well with the seasoning of the canned tomatoes for best results.
It's a very flexible recipe:
Like a chunkier soup? Add more vegetables.
Prefer more broth? Cut back on the vegetables or just add more vegetable broth.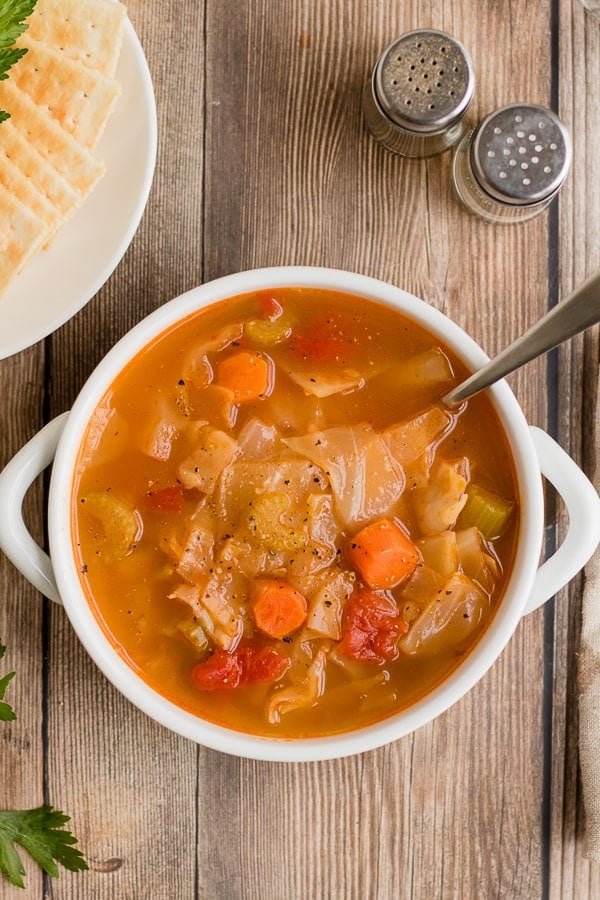 How to Make Cabbage Soup – Step-by-Step (stove top method)
For Instant Pot preparation instructions please refer to the recipe card at the end of the blog post.
STEP 1: Prepare all the vegetables (photo 1).
STEP 2: Heat olive oil in a large stock pot or Dutch oven. Saute the onions and garlic over medium high heat.
STEP 3: Add the carrots and celery, stir to combine (photo 2).
STEP 4: Add the vegetable broth (photo 3) and cabbage (photo 4).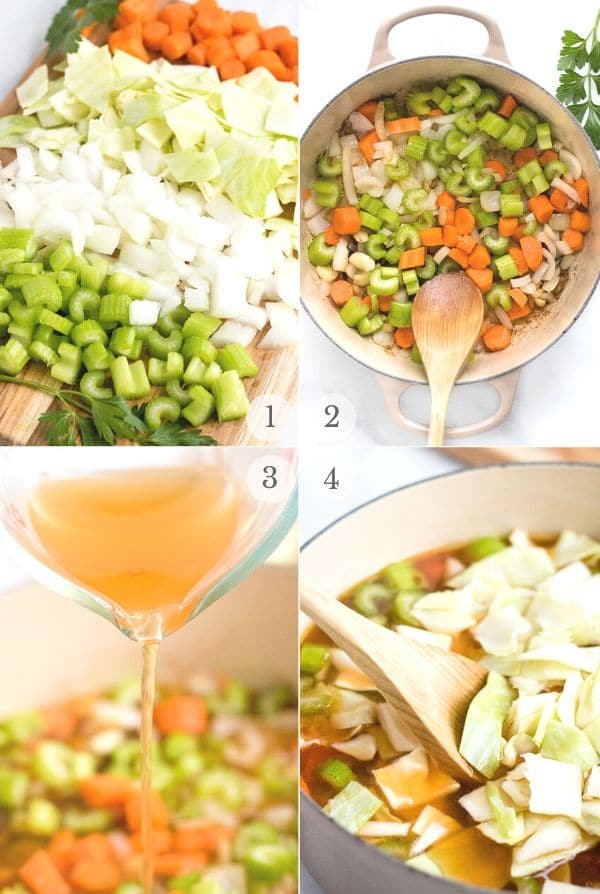 STEP 5: Bring to a boil. Reduce heat, cover and simmer until the vegetables are soft and cabbage is wilted; about 30 minutes.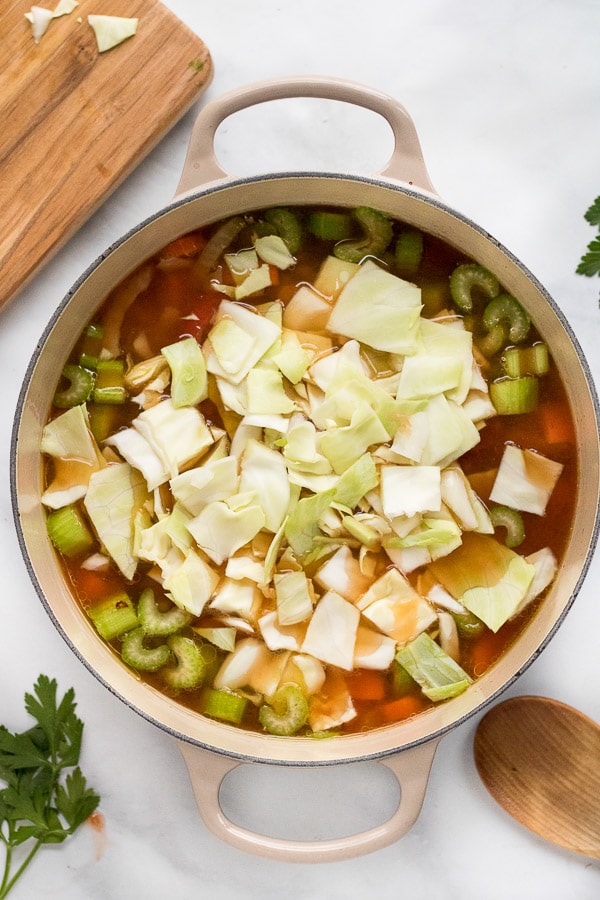 Can Cabbage Soup be Frozen?
Yes! It's a perfect soup to freeze.
How to Freeze Vegetable Soup:
Allow the soup to fully cool.
Pour soup into freezer containers. Leave about 1-inch 'head space' (room between the surface of the soup and the rim of the container) for expansion when frozen.
Store for 2-3 months in the freezer.
Allow to thaw in the refrigerator before heating.
What to Serve with Cabbage Soup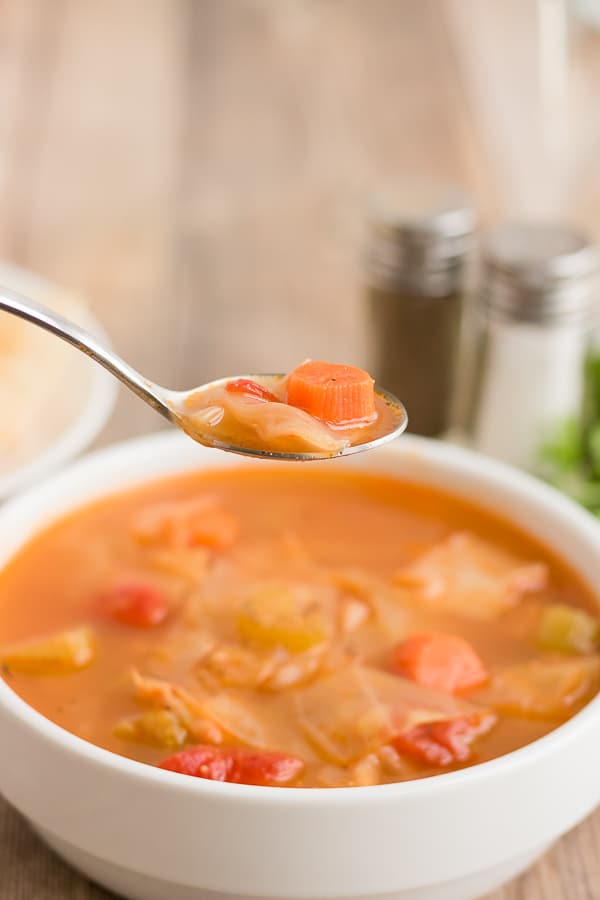 Did you make it? Please RATE THE RECIPE below!
Please SUBSCRIBE and FOLLOW ME on FACEBOOK , TWITTER , INSTAGRAM and PINTEREST !
Cabbage soup is easy to make and a nourishing recipe any time.