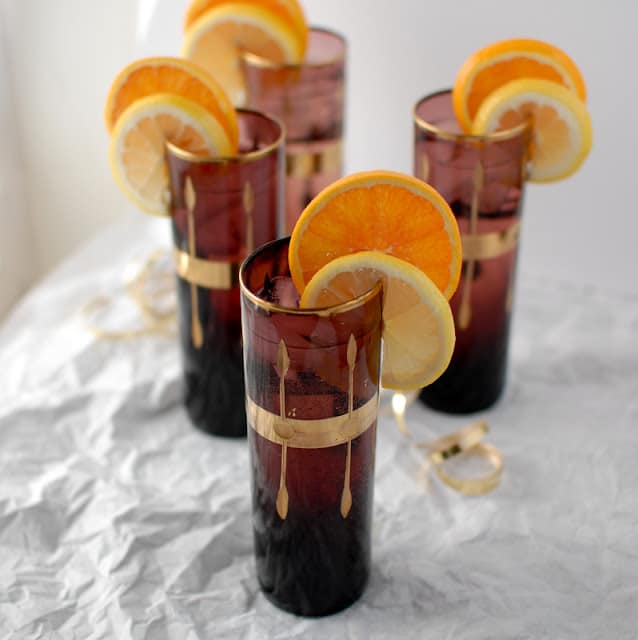 I'm not one for New Year's resolutions.

They always have felt artificial to me until a friend described their process of using them for goal setting.

That made sense but I don't let much grass grow underneath my feet so if I see a resolution need, I reengineer to meet it regardless of the time of year.
Last year I started off with a post titled ''Does This Blog Make My Butt Look Big (and other New Year's Reflections)?' realizing the perils of sitting to write and preparing so many foods 'for print', of course consuming them along the way.

My commitment for a daily 'blog walk' with my trusty, albeit low endurance, English Bulldog was fun though not lasting regularly more than the middle of January when I undoubtedly became distracted with other things.
This year rather than committing to a specific exercise regime I will instead predict a bulk of it will be found in the wintery months care of the Xbox 360 Kinect's 'Just Dance 3'.

After all a girl never knows when she'll be in a pedestrian hollow and a Flash Mob will break out.

One would not want to be caught flatfooted without her urban dance moves intact.
More than looking ahead I found myself dreamily recalling the events of the last year.

It was a truly incredible year with so many unforeseen people and events taking place.

The happenings ranged from breathtakingly exciting to unbelievably tragic, all reminding me to drink in each day as medicine, appreciating whatever may unfold.

I learned so much from those around me and have been graced by some beautiful people who whisper my soul's language and make my spirit dance.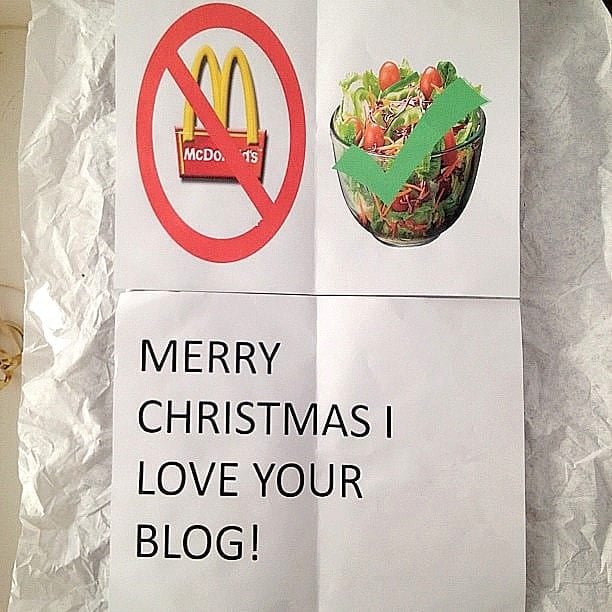 This was folded up in my Christmas stocking this year.

One of Santa's elves, though one living under my roof, who really should not be old enough to use a computer let alone have mastered PowerPoint.

One of life's more simple yet shiny moments for me this holiday, getting this!
I am a person that never likes to set goals too strictly for fear of something greater than I can imagine not having a window to climb aboard.

I love the mystery life brings as unpredictable as it can be.

I have loved the chance to share my thoughts, food, drink and photography with all of you and thank you for the magic you have brought to my life.

I do not know what this year holds for all of us but believe it will be full of wondrous things.

Wishing you all you dream for this year!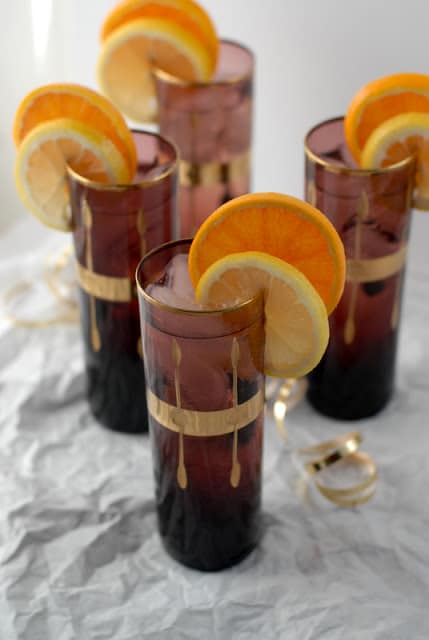 To toast the occasion I have found a little vintage potion (please forgive me, one of the holiday break activities in my household was watching all the Harry Potter movies back to back; it was like immersion therapy leaving me regretting I must manually complete my housework sans wand).

Often champagne punch or cocktails are designed to extend one's champagne (actually usually 'sparkling wine' since unless it is produced in the Champagne region of France it technically is not considered 'champagne').

This rather is designed to flatter and heighten it with the company of worthy spirit mates of cognac and orange liqueur.

I toast to you today anticipating a wonderful 2012 for all!
The original recipe suggests making this into a punch and then serving.

I opted to mix it up and serve individual glasses.

Several garnishes were stipulated originally leaving me with the visual of them all combined delivering a jungle-like experience with the tippler struggling to find the cocktail.

I'd say 'pick and choose' as you see fit.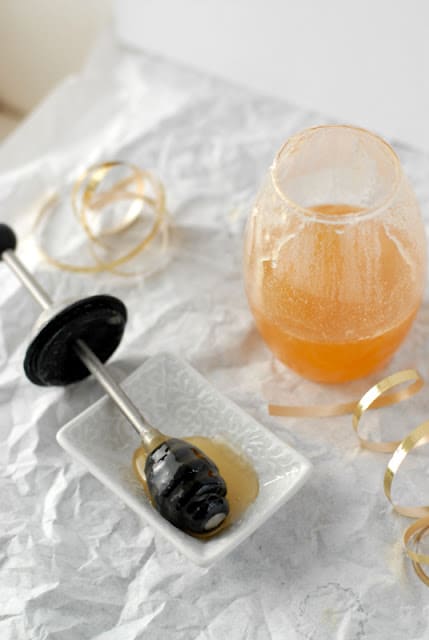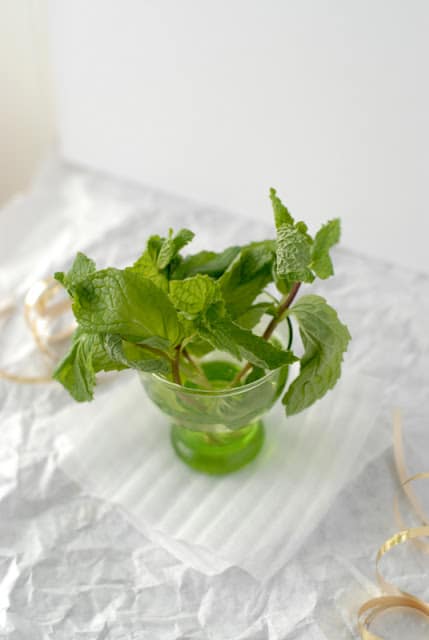 Recipe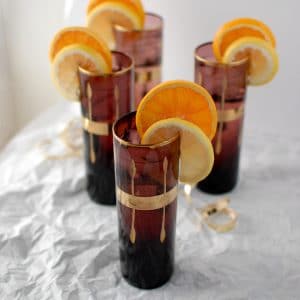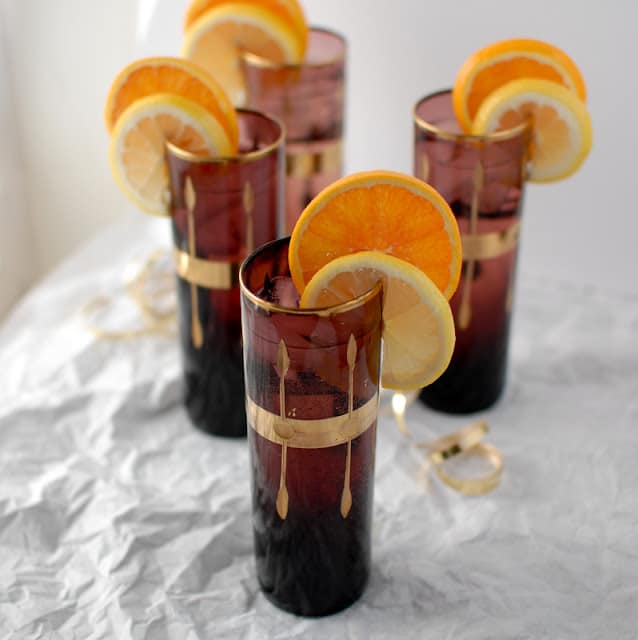 Ingredients
1/4

cup

orange liqueur

1/4

cup

cognac

1

tablespoon

honey

6

mint leaves

crushed

1

bottle

dry 'champagne' or sparkling wine

chilled

Garnish options: orange slices, lemon slices, cucumber slices, or mint sprigs
Instructions
Combine orange liqueur, cognac, honey and mint leaves in a chilled punch bowl; cover and refrigerate until cold.

Stir in the champagne/sparkling wine and ice cubes into cognac mixture. NOTE: If desiring to fill glasses instead, combine the champagne/sparkling wine with the cognac mixture and pour it over glasses filled with ice. Garnish and serve.
Notes
Adapted from recipe originating in Sphere (1976)
Nutrition
Calories:
251
kcal
|
Carbohydrates:
15
g
|
Protein:
0
g
|
Fat:
0
g
|
Saturated Fat:
0
g
|
Cholesterol:
0
mg
|
Sodium:
20
mg
|
Potassium:
220
mg
|
Fiber:
0
g
|
Sugar:
14
g
|
Vitamin A:
85
IU
|
Vitamin C:
0.7
mg
|
Calcium:
27
mg
|
Iron:
1.1
mg