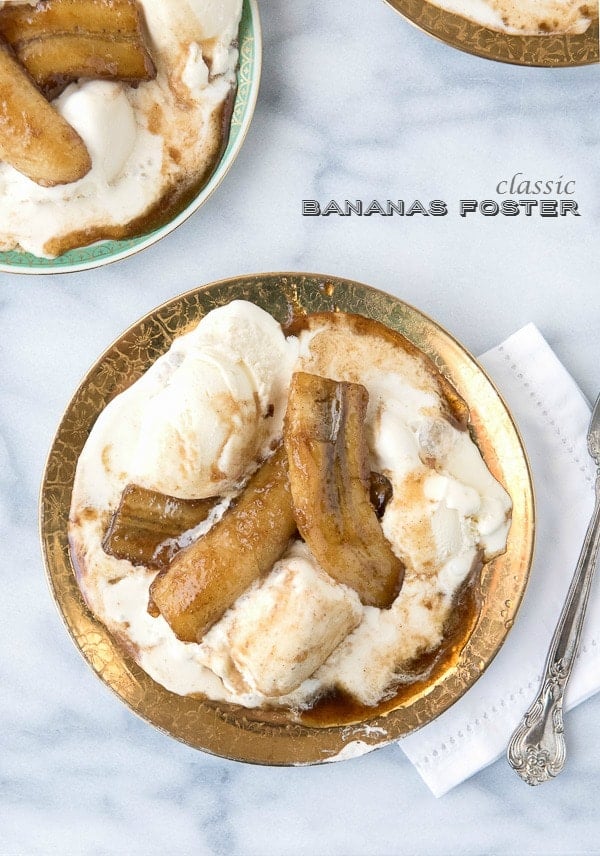 Southern food IS comfort food. Fried chicken. Shrimp and grits. Mashed potatoes. Chicken-fried steak. Country ham with red-eye gravy. Pecan Pie. Shall I go on?!
Some of the most popular recipes on Boulder Locavore are of southern origin. Hummingbird Cake, a flavor mix of Carrot Cake (no carrot in the recipe however) and Banana Bread with a Cream Cheese Pecan Frosting has been in the annual top 10 recipes since it was originally published.
Hoppin' John is something I eat almost every New Year's Day, if not at the stroke of midnight, first thing in the morning to start out a lucky new year.
Cajun Chicken has all the flavors of Cajun food you love.
Gluten-free King Cake and Brandy Milk Punch originate in New Orleans and are a joyous way to celebrate Mardi Gras no matter where one calls home.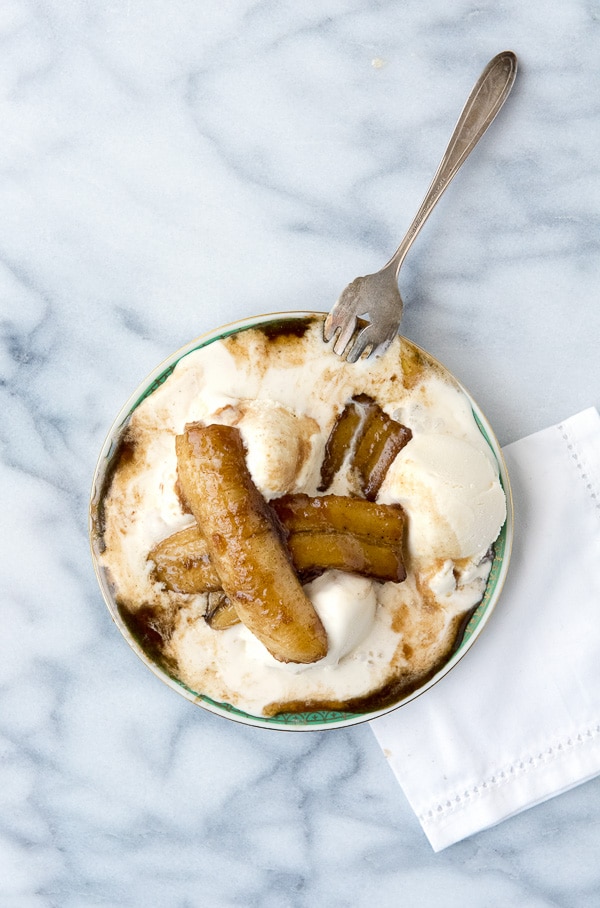 My first real experience with southern food was shortly after I was married. My father-in-law hails from Alabama and my husband and I set out to visit his extended family as a bit of a surprise. My husband's Aunt Mayblane (pronounced may-buh-leen) is a fierce cook and one of the hardest working women I've ever met. Dark-haired and of slight frame, with an accent sounding like sweet, thick molasses on a summer's night, Aunt Mayblane pulled out all the stops introducing me to southern dishes I'd never tasted. Deep fried hushpuppies and catfish cooked in a propane fryer, okra, field peas grown in her enormous garden, cornbread dipped in buttermilk and of course sweet tea. It was a full culinary immersion in the way you want to discover regional food; from the kitchen of a home cook who'd been preparing it for years and probably learned from her mama when she was young.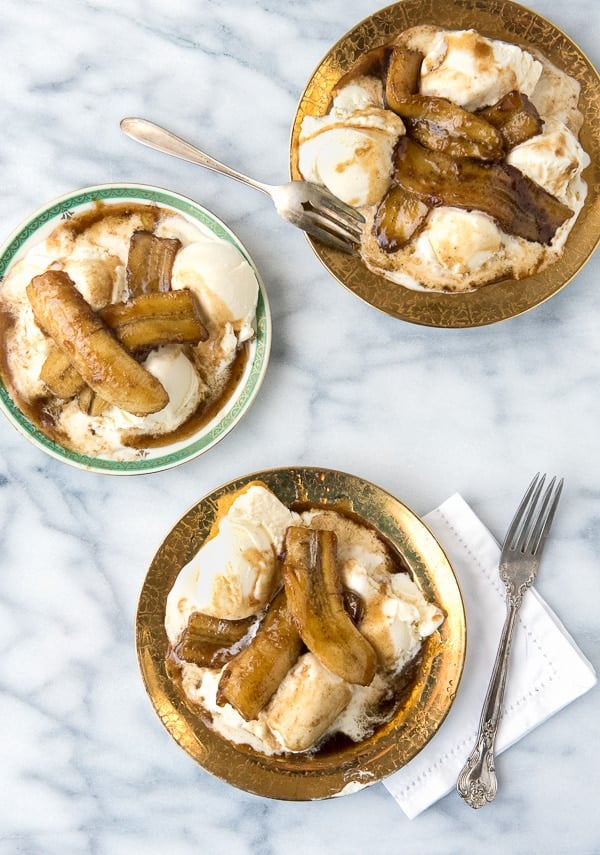 I am partnering today with Ovation TV who is releasing a fantastic new series called Southern Uncovered with the Lee Bros. Like my trip to Aunt Mayblane's kitchen, the Lee Bros. travel the southern states uncovering authentic cuisine and sharing it with viewers. I'm sharing a favorite southern recipe of mine which was probably the first southern recipe I ever remember having: Bananas Foster.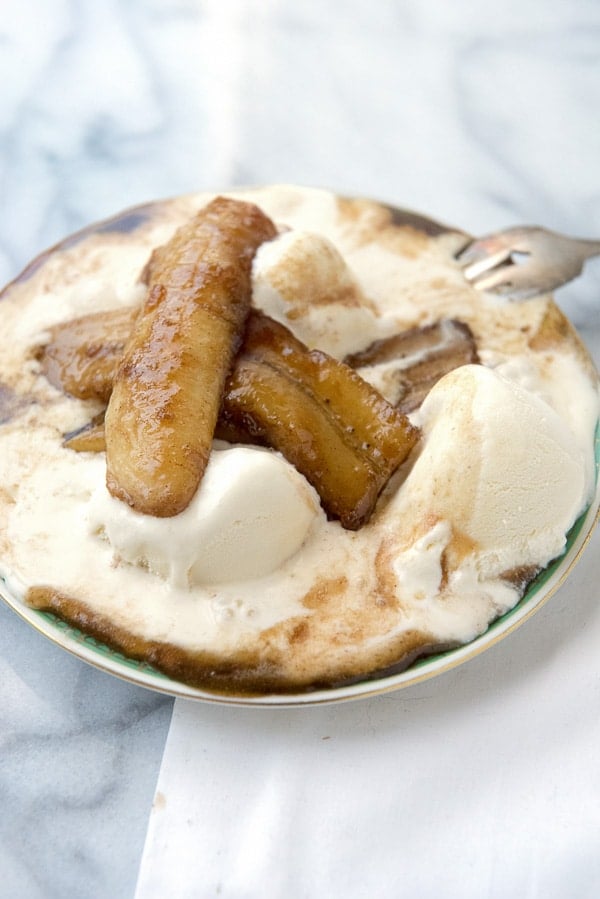 The dish originated in New Orleans at famed Brennan's restaurant in the French Quarter in the 1950's. New Orleans was a port for banana shipments from Central and South America at the time and then Brennan's chef, Paul Blangé, created this exotic flaming dessert taking advantage of the readily available tropical fruit. The dessert is quite simple and sophisticated at the same time. Bananas caramelized in butter and brown sugar are flambéed in rum then served over vanilla ice cream. The combination of the creamy frozen ice cream, topped with the boozy, warm bananas and drizzled with caramel sauce is like a love potion; you'll be a goner with the first bite!
Bananas Foster is truly in a league of its own as far as decadent desserts go. At the same time it's a relatively simple dessert to prepare. The bananas cook in a buttery caramel sauce to soften slightly then are flambeed in rum and served hot over scoops of vanilla ice cream.
A TIP to make the assembly easier and to delay the melting of the ice cream from the hot bananas and sauce: pre-freeze the ice cream scoops. The night prior individual scoops of ice cream can be put in the freezer and popped onto serving dishes when the bananas have cooked. The dessert must be served immediately so this really helps with that.
Flambeing may sound scary and though it does require focus and some preparation to clear flammables from the cooking area, it's not the dramatic event as seen in table-side restaurant cooking.
It produces a faint blue flame that extinguishes itself in a bit over a minute, burning off most of the alcohol from the dish. Should your mixture not ignite immediately when holding a flame to the edge of the mixture in the pan, tip the pan slightly allowing more of the sauce to pool to the bottom and hold the flame close to that area.
If you'd like to try other flambeed desserts you'll love Cherries Jubilee and Mangoes Diablo!
Recipe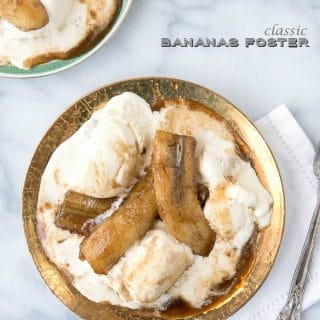 Ingredients
1

pint

of French Vanilla Ice Cream

(regular vanilla may be substituted)

4

tablespoons

Unsalted Butter

(1/2 stick)

¾

cup

Light Brown Sugar

½

teaspoon

ground Cinnamon

¼

cup

Banana Liqueur

3

large

, firm Bananas; each cut lengthwise, then in half to make 4 pieces per banana

¼

cup

Dark Rum
Instructions
Optional pre-freezing of ice cream scoops: to make the final assembly of the dessert quicker, you may pre-freeze scoops of ice cream. Line a baking sheet with parchment paper. Form 4-8 large scoops of ice cream and place onto the prepared baking sheet ensuring they do not touch each other. Lightly cover with plastic wrap. Place in the freezer overnight. When it's time to serve, add the scoops to the serving bowl or plate just before topping with the cooked bananas.

In large skillet or flambé pan over medium heat, melt the butter and add the cinnamon and sugar. Stir to begin to dissolve the brown sugar.

Lower the heat to medium-low and carefully pour in the banana liqueur, quickly stirring to mix into the sugar mixture in the pan. This should dissolve the remaining sugar.

Add the bananas in a single layer. Cook for 30 seconds on one side and gently flip over to cook on the opposite side. As they begin to soften slightly and become a more golden color, carefully pour in the rum.

Note: clear the area around the burner of anything flammable and have a large pot lid ready to extinguish the flame if needed before proceeding. Cautiously hold a long fireplace match or a grill starter next to the edge of the cooking mixture. This will cause the rum to ignite into a flame. Allow the mixture to continue to cook undisturbed until the flame dies out (1 minute usually).

Flambé note: Flambeing at home with a large skillet and this amount of alcohol does not produce the large, orange blaze that one seeing in restaurant flambeing. If you look closely you below will see a blue S shape above these bananas; that was as massive as the flame got! The flame can be somewhat transparent so caution should be applied nonetheless.

Add the prepared ice cream (or scoop to the serving dishes is scoops were not pre-frozen) to serving dishes (1-2 scoops per serving) and top with three slices of banana and a drizzle of the caramelized rum sauce! Serve immediately.
Nutrition
Calories:
384
kcal
|
Carbohydrates:
51
g
|
Protein:
0
g
|
Fat:
13
g
|
Saturated Fat:
7
g
|
Cholesterol:
31
mg
|
Sodium:
52
mg
|
Potassium:
54
mg
|
Fiber:
0
g
|
Sugar:
46
g
|
Vitamin A:
350
IU
|
Calcium:
40
mg
|
Iron:
0.5
mg
Disclosure: This post is sponsored by Ovation TV. All opinions, as always, are my own.