Flambéed desserts make for an exciting end to any meal, and flambéed Mangoes Diablo is a perfect choice! Sweet, juicy mango slices are flambéed in tequila and served over ice cream creating a spectacle to dazzle all diners. This step-by-step recipe includes instructions on how to flambe.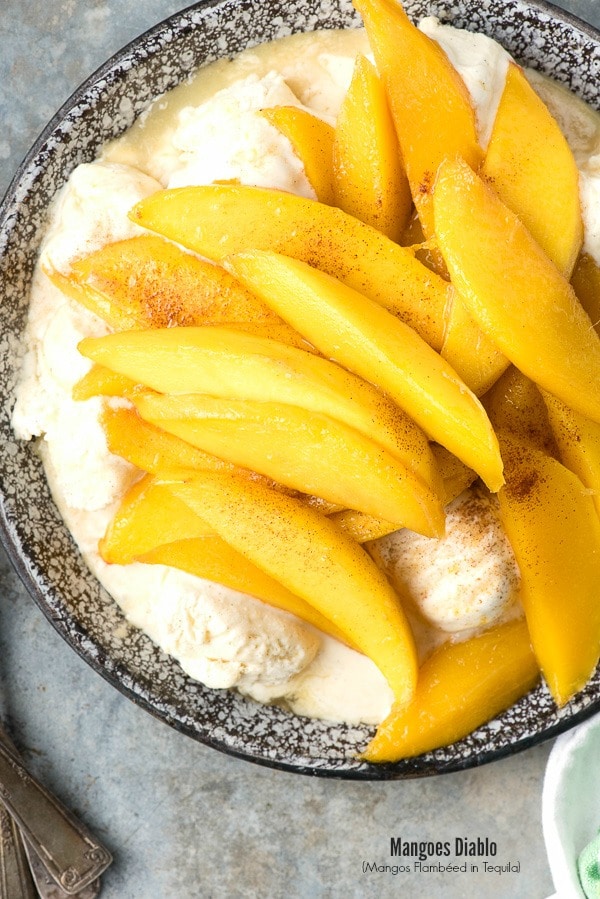 It's winter. It's cold. Sitting by the fire is a favorite pastime. Why not eat food on fire too? Well not literally WHILE it's on fire. Making a flambé dessert does not only have to be reserved for old school table-side service at fancy restaurant outings. It's not difficult to do at home though should be done with full attention; not while chasing kids, talking on the phone, texting or anything distracting you from the task at hand.
Flambéed Desserts
Last year about this time I was asked to prepare a traditional Southern dish for the roll out of a TV show about southern cooking. I made a Classic Bananas Foster. If you have not had the pleasure of trying Banana Foster is it bananas cooked in butter, brown sugar, banana liqueur and rum, flambéed at the end. It is served on vanilla ice cream and is dreamy.
If you love a dessert classic, Cherries Jubilee is another easy, delicious flambeed dessert great for any season.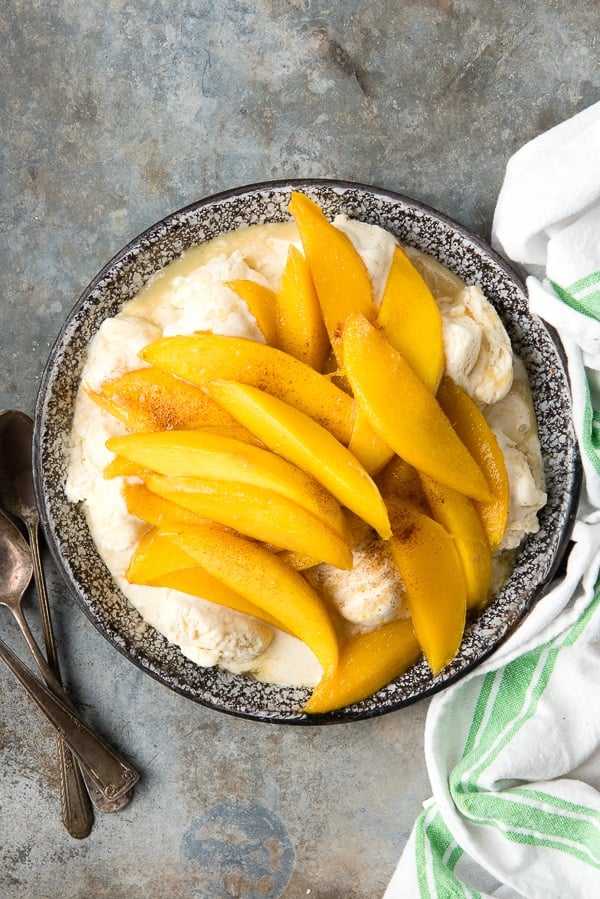 I was researching the history of the dish and ran into Mangoes Diablo, a similar flambéed dessert made with mangoes and tequila. After and eyebrow raising 'oooo' it was deposited on my 'blog dishes to make in the future' list and forgotten about. Perhaps prompted by the constantly low temperatures lately, it sprang to mind and seemed like the perfect time to make it.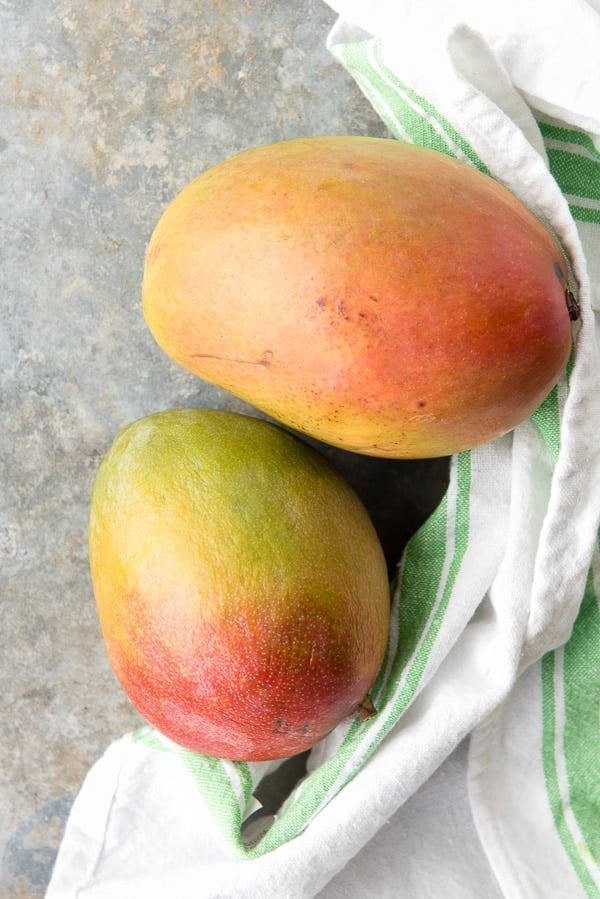 When making the announcement I'd be preparing it, my husband's first question was 'is it actually mango season?' Great question. Most of the mangoes sold in the U.S. are from Mexico, Haiti, Guatemala, Brazil, Peru and Ecuador. There are six main varieties of mangoes, each having a different season. Between the growing regions and mango varieties, some type of mango (if not multiple types) is available all year round. So guess that means for preparing this recipe, it's always mango season!
The dish is simple and I think sort of elegant. Slices of mangoes are sautéed in butter and brown sugar, with Citronage (an orange liqueur which is a distilled in Mexico) and lime juice, to finally be lit on fire with some tequila. I serve it over vanilla ice cream which I pre-freeze into balls beforehand to slow the melting of the ice cream when piled with hot mangoes.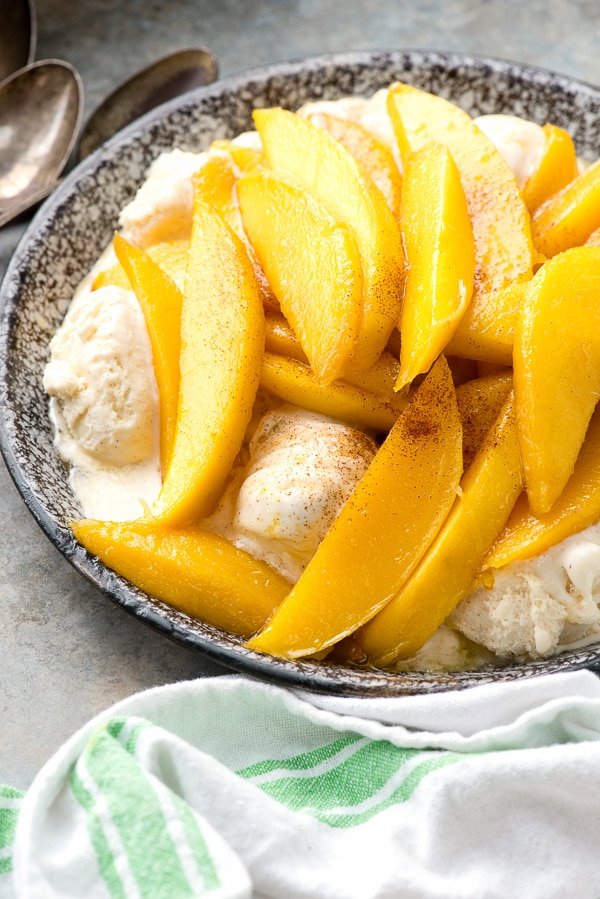 A tricky thing I've found about flambéing is that the flame is very light or colorless; not the raging fire you see in restaurants. It's important to clear the area around the pan from things that could catch fire and allow the flame to fully die down. It only flames for a few minutes but allow it time so you don't accidentally stick your hand in the flame!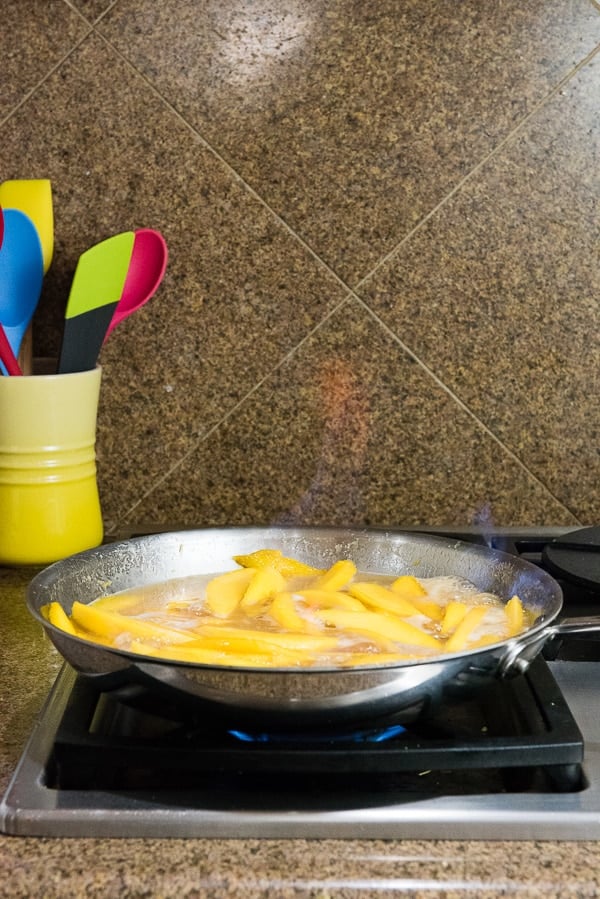 Mangoes Diablo is a unique dessert with a tropical flavor you'll love. It can be served individually or from a main dish as shown in the photos. Whichever way you serve it will make a meal special and out of the ordinary. And of course delicious.
If you want to try a savory mango recipe I suggest Instant Pot Mango Chicken!
How to Make Flambéed Mangos
To make any flambeed dessert, be sure to use extra long fireplace matches or a grill lighter.