Now you can make a Gluten-Free King Cake for Mardi Gras version at home! Colorful King Cake is a signature of Mardi Gras celebrations. It's so delicious you will want one more than once a year. Gluten recipe links included!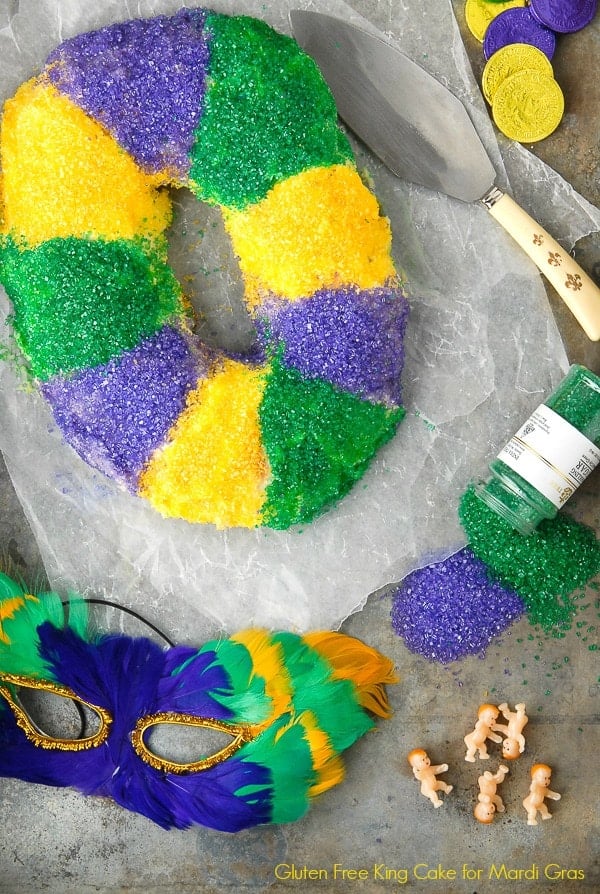 I would love to introduce Gluten-Free King Cake for Mardi Gras with tales of my first excursion to a Mardi Gras parade, listening to the roots of jazz in an authentic, lived-in club or after a superb meal from one of New Orleans' notable rising new chefs.
Truth? All I have for you is that I have a current obsession with NOLA after watching three seasons of HBO's 'Treme'; a series set in post-Katrina New Orleans as residents pick up and try to craft a new life after the storm.
It's full of sumptuous food, transporting jazz (with guest appearances of luminaries), a view into the organic culture; all leaving me yearning to go. Ironically I was invited by the city to come for a visit during the holidays but the timing did not work out. So until I DO visit I'm sharing some Mardi Gras classics with you this weekend.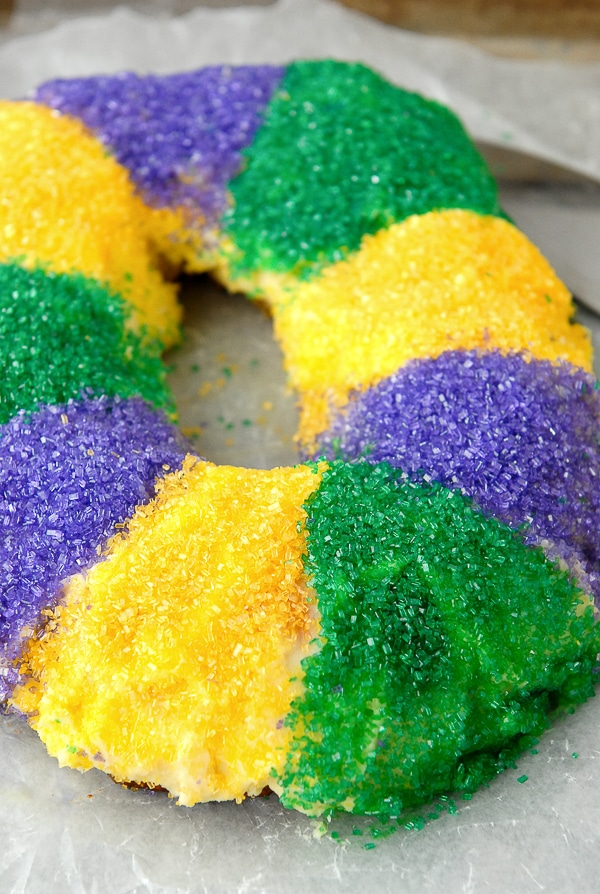 Mardi Gras, or translated 'Fat Tuesday', is February 17th this year. It always falls on the Tuesday directly before Ash Wednesday. Despite the more raucous reputation, it is rooted in the Catholic calendar as the last big party before Lent begins. Mardi Gras is not the same as Carnival in South America, despite some of the traditions of floats and ornate costumes being enjoyed at both.
Elaborate masks may be seen on most parade watchers and are required by law for those on the Mardi Gras floats! Trinkets such as beads and doubloons are thrown from the floats to parade onlookers, a tradition that began in 1870's.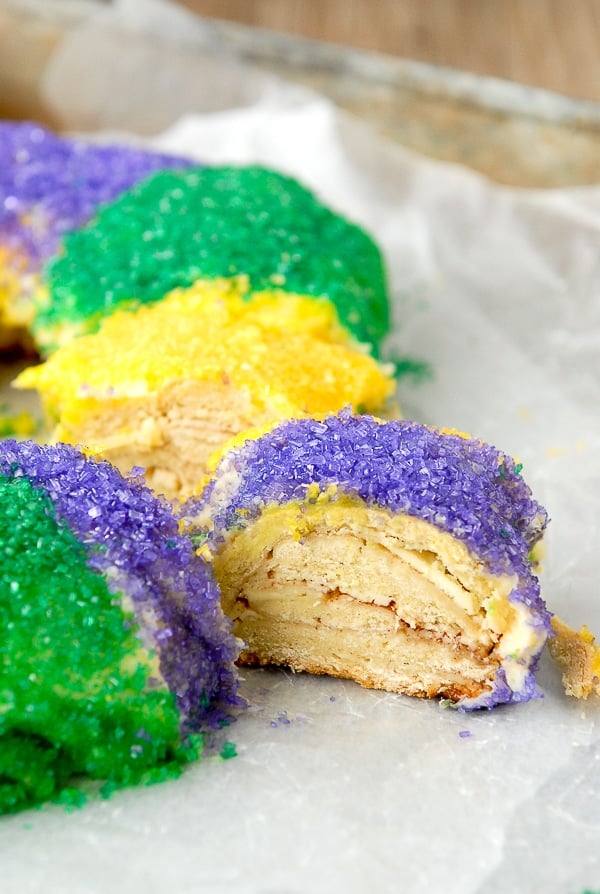 There are many traditional foods as with most holidays and King Cake is at the center of those for Mardi Gras. I've researched King Cake tirelessly, fascinated by the foods of celebration. Unlike what one would imagine as a cake, especially with its eye-catching presentation, King Cake is truly more in the bread family. It is made with a bread dough and is more of a coffee cake often with cinnamon and sometimes cream cheese layered in the middle.
The two families of King Cakes include unfilled and filled, with distinct opinions from locals about what constitutes a proper filling. The significance of King Cake is related to the three Kings visiting the baby Jesus on the twelfth day of Christmas, January 6. This kicks off the 'King Cake season' with celebration and gift exchanges culminating in Mardi Gras Day on the Tuesday 47 days before Easter Sunday.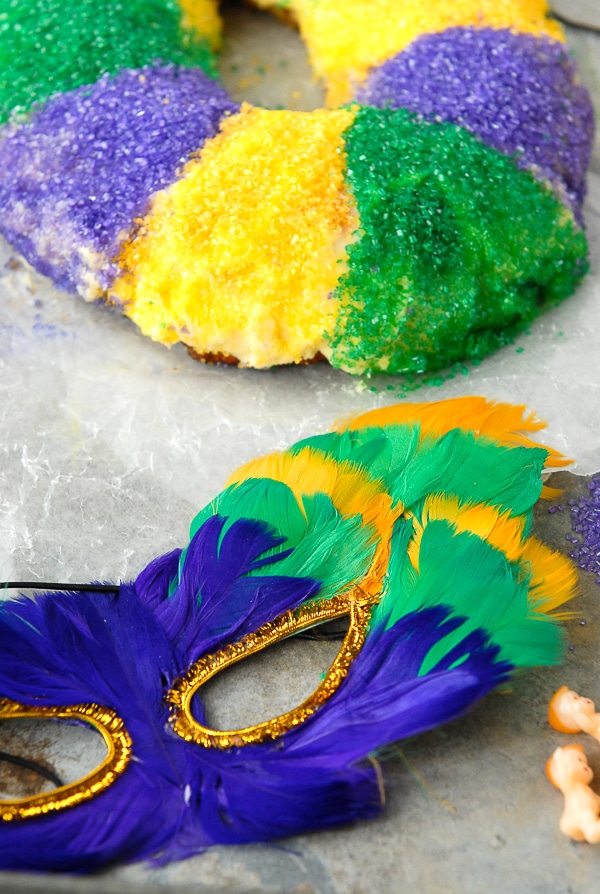 Traditional King Cake for Mardi Gras
The top of the cake is adorned with traditional colors each bearing a significance: green (faith), purple (justice) and gold (power) in a striped pattern. There is no missing the visual of a King Cake as they are decorated in a style befitting Mardi Gras. Another tradition is to hide a toy baby in the cake and the person who gets the lucky slice is said to be the King or Queen and tagged to provide the King Cake for the next year's Mardi Gras party.
There are variations on the thought of the baby meaning. Some also say it's a sign of Good Luck. Originally the baby figurine (which might signify the baby Jesus) was porcelain or metal and was baked in the cake. Today the practice is usually to insert the baby into the cake after baking.
I'll come clean to share I baked the baby into my cake (I bought a 'cake-ready' baby, no worries) and was terrified I'd dismember the baby in the cake cutting. I'd suggest the post-baking insertion to save your nerves and good knives.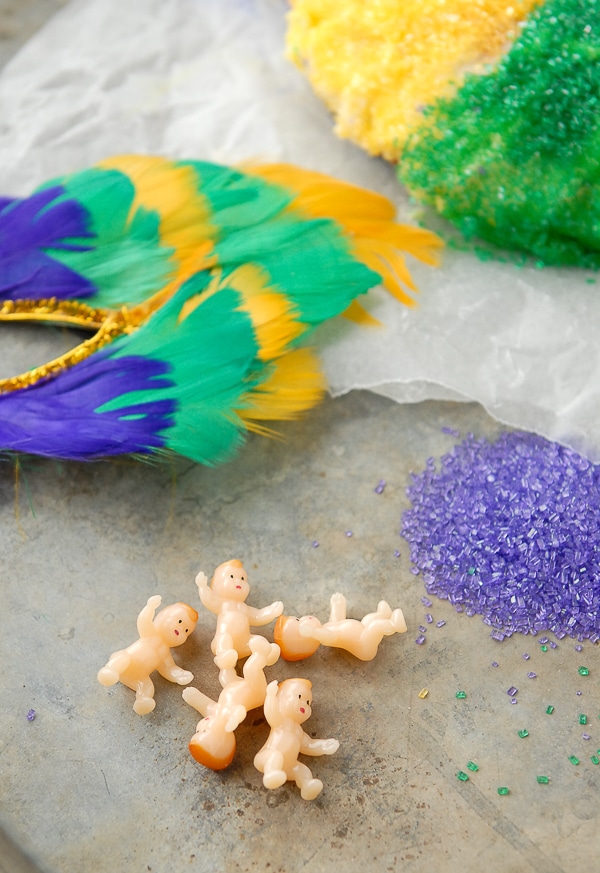 Tips for Making a Gluten-free King Cake for Mardi Gras
As mentioned prior I have researched King Cake for Mardi Gras in great detail. Few of the recipes are for gluten-free versions and I have endeavored to create a recipe of my own along the traditional lines to share for Mardi Gras. Being essentially a bread, and gluten being the aspect of flour that binds ingredients creating that doughy, pliable texture, it is a challenging recipe to make successfully gluten-free.
I did the testing for you!
After several test batches I found the magic ticket; using gluten-free bread mix instead of a flour blend. A bread mix contains a variety of flours as well as gum (Xanthan Gum or Guar Gum) which behaves more like a whole wheat flour. When using the bread mix I found the cake to be more pliable to construct, as well as it did not dry out or become too hard on the exterior when baked.
I did experience one small crack on the side and some slight seepage of the sugary filling when baking but it was easily covered with the glaze and did not affect the construction of the cake when sliced.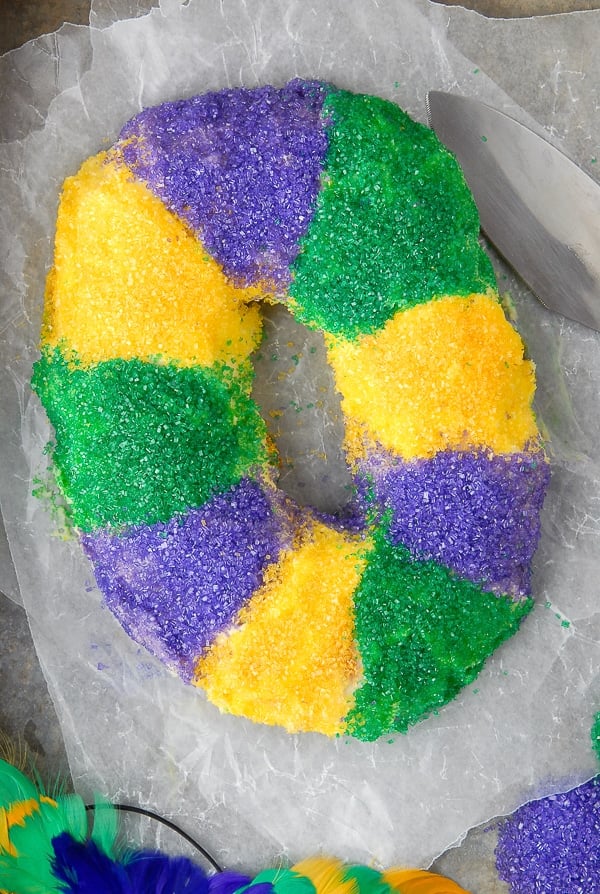 Gluten-free King Cake for Mardi Gras
This gluten-free King Cake recipe for Mardi Gras uses a gluten-free bread mix as a base for a sweet, filled King Cake made in your own kitchen! One doesn't have to travel to New Orleans to partake in the 'Fat Tuesday' celebrations!
Ingredient Suggestions for Gluten-Free King Cake Recipe for Mardi Gras
There are many versions of miniature plastic babies which can be inserted into the cake (see recipe below for details; one is inserted after the cake has cooled) some examples may be seen/purchased here.
The sugar sprinkles I use and love because their color is so brilliant are found here: green, gold and purple. I used this gluten-free bread mix for the Gluten-Free King Cake Recipe which is available in smaller bags or 4-pound bags.
How to Make Gluten-Free King Cake Recipe for Mardi Gras
King's Cake is an iconic Mardi Gras recipe and is irresistible with bold traditional sugar decoration in purple, gold and green. It is really more of a bread than what most think of as a cake. Filled versions such as with this recipe are rolled and when sliced remind one of the top view of a cinnamon roll.
This recipe is filled with traditional cream cheese and cinnamon-sugar. Being a bread, converting a recipe to be gluten-free is tricky, to put it mildly, since it is the gluten in the flour that creates the pliable, elastic quality of traditional bread dough.
This recipe substitutes a bread mix instead of gluten-free flour which allows the qualities of gluten dough thanks to a hearty blend of tasty flours and xanthan gum which assists in binding. I opted for Pamela's Products bread mix which is available in bulk.
Other proven bread mixes or flours could be substituted should you have a track record with their success. The end result of this King Cake is the consistency of cinnamon rolls; bready without being dry. It has a gorgeous flavor made irresistible with the glaze which is more like a light frosting.
Unlike regular confectioner's sugar glazes, the flavor of this glaze is enhances with cream cheese and butter, giving it great flavor and consistency to sugar the outside of the cake in traditional Mardi Gras style!
Some gluten-filled King Cake recipes:
Traditional King Cake (Southern Living)
Cream Cheese filled King Cake (Southern Living)
Quick King Cake for Mardi Gras (Betty Crocker)
Super Easy Mardi Gras King Cake recipe (AllRecipes.com)
More on King Cake details with videos and multiple recipes (NOLA.com)