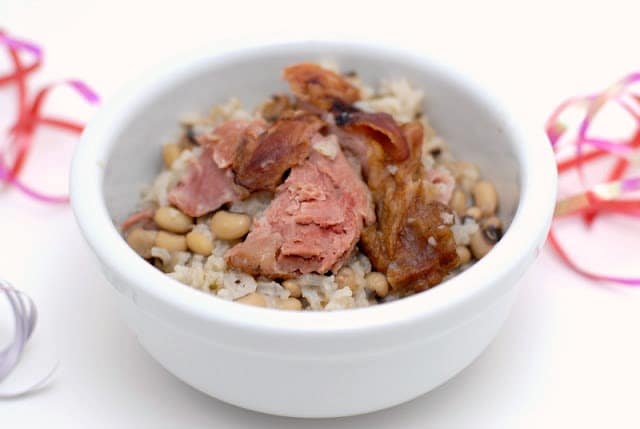 I'm not Southern, nor is Hoppin' John a family tradition from my upbringing.

I am one however that will take good luck in almost any form it's offered.
I don't exactly remember where I learned about Hoppin' John but once I did it became the first thing I eat on New Year's Day; whether that is 1 minute after midnight on a well-caffeinated year or first thing when I wake New Year's morning.

Personally I think eating a steamy, slightly spicy bowl of beans with pork is a very civilized breakfast anyway.
Hoppin' John origin
The roots of the dish are most likely from African slaves brought to the U.S. from rice plantations in the West Indies.

What is beautiful about this bean-and-rice dish is its uniform simplicity.

Variations consist literally of one herb difference or preparing it with pork or not!

It's considered especially lucky to eat on New Year's Day believing if you 'Eat poor that day, you'll eat rich the rest of the year'. It should be the first thing to cross your lips by the way. I stand strictly behind that practice even if it is only a spoonful before coffee!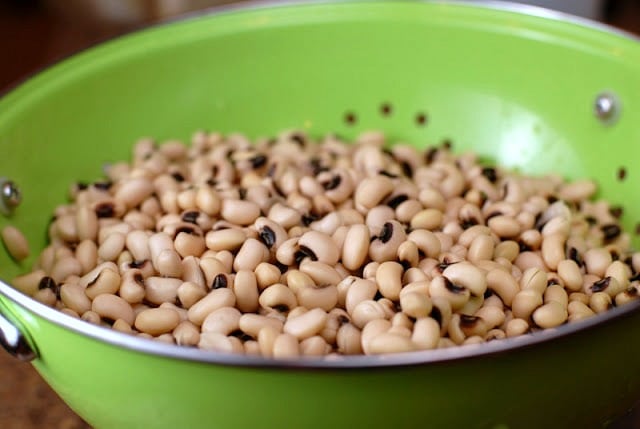 An aside: when I was chatting with my local butcher about the cut of pork to use for my recipe, he shared he always stocks a lot of ham hocks at this time of year due to this dish. He also shared in the Japanese community it is customary to eat mochi, a pounded rice cake, first thing New Year's Day for good luck!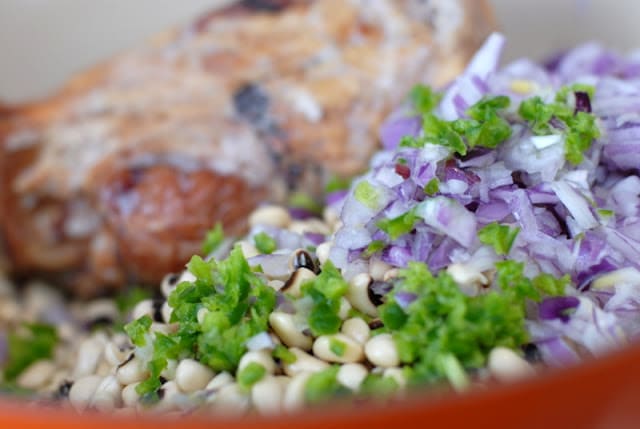 International Lucky Foods and Traditions to begin a New Year
I was intrigued about the international food customs to kick off the New Year and found some others I wanted to share with you. I'd love to hear of any food customs you practice to set your new year off with luck and promise!
Spain, Portugal and former Spanish colonies in South America: 12 grapes eaten at the stroke of midnight New Year's eve; believing if a grape is sour, the month associated with that grape (e.g. if it is the third gape, the month of March) will be not so good.
Denmark: The New Year's menu includes boiled cod. The fish is believed lucky as their scales look like silver.
Germany: Eating sauerkraut (cabbage) believing the green symbolizes prosperity. Carp is often part of the New Year's Eve meal as it is believed to bring wealth. Herring is believed to bring good luck!
Holland: Ollie Bollen, a doughnut-like fritter is believed to be good luck because it has a round shape like coins.
Italy: Round foods (symbolizing coins or wealth) are also popular in Italy. Cotechino conlenticchie, or green lentils and sausage, is eaten after midnight for good luck.
Armenia: A flat bread, Darin, with a coin often hidden inside is eaten. The recipient will be very lucky for the coming year!
Brazil: First meal of the New Year is lentil soup (the roundness of the lentils mirroring the wealth of coins).
France: Eat a stack of crepes for good luck and good health for the coming year.
Bosnia and Croatia: Sarma, minced beef rolled in cabbage leaves is believed to bring health and wealth.
Cuba, Spain, Portugal, Hungary, and Austria: Serve pork symbolizing wealth and prosperity.
Hungary, and the Netherlands: Eat donuts, believing the round shape to represent a full circle or prosperity.
Japan: Along with the mochi, soba noodles are served symbolizing long life.
Poland: Pickled herring eaten first thing is believed to offer good luck for the coming year.
Mexico: They eat Rosca de Reyes, a ring-shaped cake decorated with candied fruit and baked with one or more surprises inside!
Sweden and Norway: Hide a whole almond in rice pudding and whoever gets it will have good luck for the next year.
Greece:It is traditional to eat Vasilopita, a sponge cake, with a coin baked inside. The person to find the coin is sure to have a lucky year!
Seems as well that lobster (swims backwards) and chicken (scratches backwards) is to be avoided on New Year's Day, believed this backward behavior leads to 'set backs'! And New Year's Day is not the best day to become a member of the 'clean plate club'. Many cultures believe leaving some food on the plate signifies having full pantries for the upcoming year.
Recipe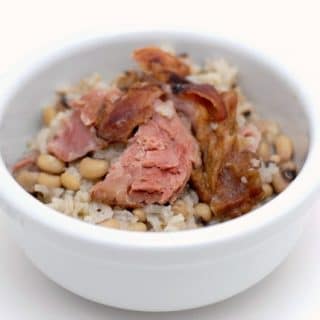 Hoppin' John
Hoppin' John is a rustic Southern dish of black eyed peas, seasonings and ham said to provide luck in a new year if it is the first food consumed! It's a simple, savory dish that reminds food doesn't have to be fancy to be soul-warmingly delicious. There are versions of Hoppin' John that omit the pork. This is not an overly flavorful dish without the ham and I feel the pork is what really infuses the flavor.
Print
Save Recipe
Recipe Saved!
Pin
Rate
Ingredients
2

cups

black-eyed peas

(dried)

1

large onion

, chopped (finely)

2

jalapeno chilies

(diced)

1 ½

pound

ham shank

(can substitute 1 ½ pounds ham hocks; shank just has more meat)

1

cup

long grain rice
Instructions
Soak the black-eyed peas overnight and drain. Soaking short cut method: Add peas and 8 cups of water to a pan; bring to a boil and let boil for 2 minutes. Turn off heat, cover and let sit for 1-1 ½ hours. Drain and proceed with recipe.

Add black-eyed peas, onion, chilies and ham shank to a large stock pot or Dutch oven with 8 cups of water. Bring to a boil.

Reduce heat so the pot is gently boiling. Boil for 1 to 1 ½ hours (so peas are soft but not mushy). Periodically check pot to skim off/discard 'foam' (protein compounds released when cooking beans) and to ensure there is enough water. Should the water begin to disappear below the top of the peas add enough so they will not dry out or stick to the bottom of the pan (but not more than they can absorb).

Take half of the black-eyed peas and the pork shank and put them into another pot with a tightly fitting lid. Add the rice and enough water that it is a ½ inch above the top of the rice.

Bring mixture to a boil, reduce to medium-low and put lid on the pot. Do not remove the lid during cooking! Let mixture cook for about 20-25 minutes. Turn off heat and leave lid on for an additional 10 minutes.

Test to ensure the rice is soft and combine with remaining black-eyed peas. Remove pork from the bone (discard the bone(s)), cut into bite sizes pieces and mix in with the black-eyed peas and rice.
Nutrition
Calories:
463
kcal
|
Carbohydrates:
38
g
|
Protein:
31
g
|
Fat:
19
g
|
Saturated Fat:
6
g
|
Cholesterol:
70
mg
|
Sodium:
1350
mg
|
Potassium:
557
mg
|
Fiber:
4
g
|
Sugar:
2
g
|
Vitamin A:
60
IU
|
Vitamin C:
7.1
mg
|
Calcium:
35
mg
|
Iron:
2.7
mg