These moist, delicious Zucchini Muffins are bursting with great brown sugar flavor and are so easy to make. One bite and you'll be in love….and no one will ever know they have zucchini in them!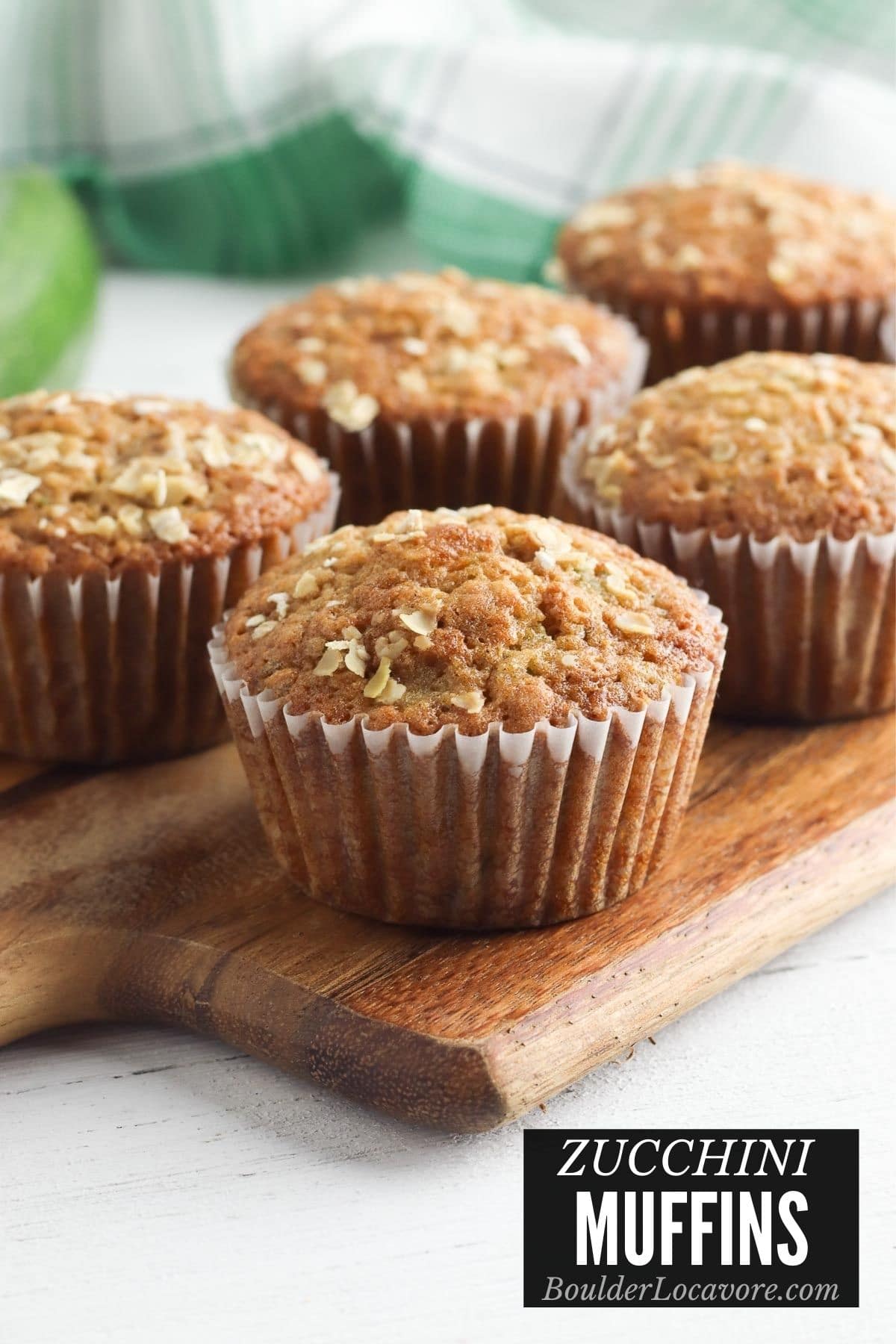 If you are a zucchini bread recipe or zucchini cake lover you already know you'll love this easy zucchini muffin recipe!
The brown sugar flavor, and moist light texture win all ages over in one bite.
This may become your favorite zucchini recipe perfect for busy mornings!
Try our Peanut Butter Banana Muffins too!
Best Zucchini Muffin
This healthy muffin recipe is perfect for that time of year when you have an abundance of zucchini.
You know what I mean. Those summer months during zucchini season when garden zucchini seems to be endless.
This recipe is perfect for summer and fall. Why?
Very easy and fast to make.
No mixer is required. All ingredients are stirred together by hand.
They are as good for breakfast as an after school snack!
Zucchini adds moisture to the muffins just as it does in cake or breads.
It also adds a nice texture and of course some extra nutrition!
Do the Muffins TASTE like Zucchini?
No they don't. That's a great thing about adding the squash to baked recipes, you usually won't even know it's there.
The muffins are delicious!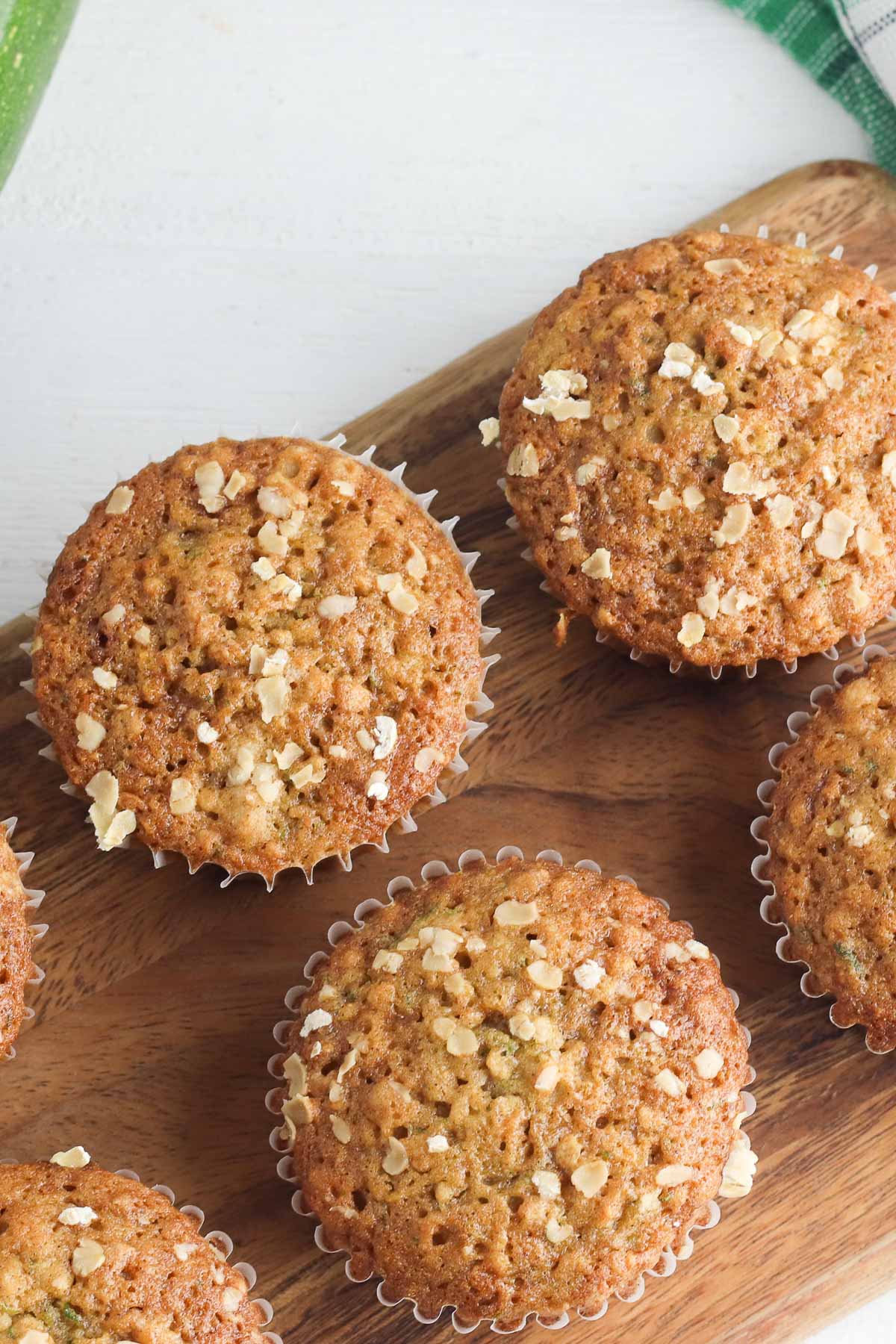 Recipe Ingredients + Notes
Shredded zucchini. Star ingredient. Adds moisture and structure. More specifics below on zucchini.
Sugar. Two types are used: granulated sugar and brown sugar. The mix gives a wonderful sweetness to the zucchini bread muffins.
Eggs. You'll use two.
Vegetable oil. Adds moistness to the muffins.
Baking powder and baking soda. These are the rising agents for the muffins.
Instant cooking oats. Regular or gluten-free can be used. They give a homey flavor and additional structure to the muffins.
All Purpose Flour. Regular or gluten-free measure-for-measure flour can be used. We've tested both.
Vanilla extract. Adds a classic homey flavor.
Cinnamon. Ground cinnamon adds a bit of flavor.
Salt. We prefer kosher salt which is a less salty tasting salt.
Variations
Nuts. Add 1/2 cup of chopped nuts or seeds.
Baking Morsels. Add 1/2 cup of mini chocolate chips or other baking morsels. White chocolate, butterscotch or a favorite gourmet chocolate bar chopped into small pieces.
The addition of chocolate chips is a great way to change up the flavors in these easy zucchini muffins.
Spices. Change the flavor by using allspice, nutmeg or ginger. Use 1/4 teaspoon of these spices in a place of the 1 teaspoon cinnamon.
Lightening them up. Did you know applesauce can be swapped with oil in baking recipes? The texture will be basically the same and it removes the extra calories from using oil.
Feel free to swap 1/3 cup applesauce for the 1/3 cups vegetable oil.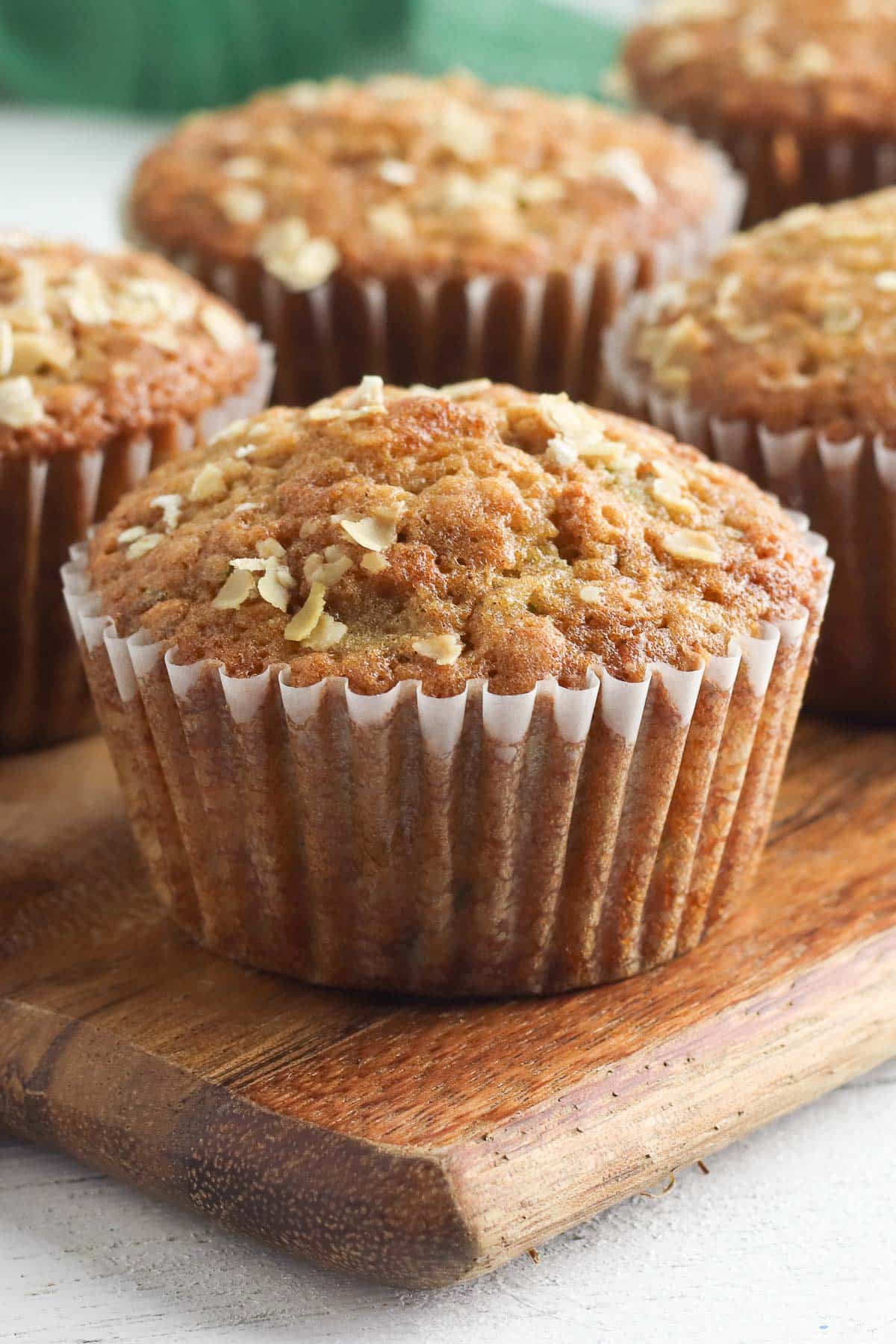 Pro Tips: The Perfect Zucchini for Muffins
Any size zucchini can be used for this muffin recipe. This is a perfect way to use up overgrown squash in your home garden!
For the most appetizing muffins, shorter pieces of grated zucchini work best.
Use the grating blade on a food processor.
Or if grating by hand hold the squash at a 90-degree angle against the box grater. This makes the shortest piece.
If the zucchini is very moist after grating, dab it with a paper towel before adding to the recipe to remove excess water.
Tried and Tested Recipe
This recipe has been tested multiple times at sea level, at altitude (5,400 feet), with regular flour and with a gluten-free measure-for-measure flour blend.
Our taste testers gave every batch a double thumbs up.
How to Make them – Step-by-Step
STEP 1. Preparation
Preheat the oven to 350 degrees F. Line a 12-cup muffin tin with muffin liners.
STEP 2. Mix wet ingredients
In a large mixing bowl combine: the zucchini, brown sugar, granulated sugar, vegetable oil, eggs and vanilla extract (photos 1-2).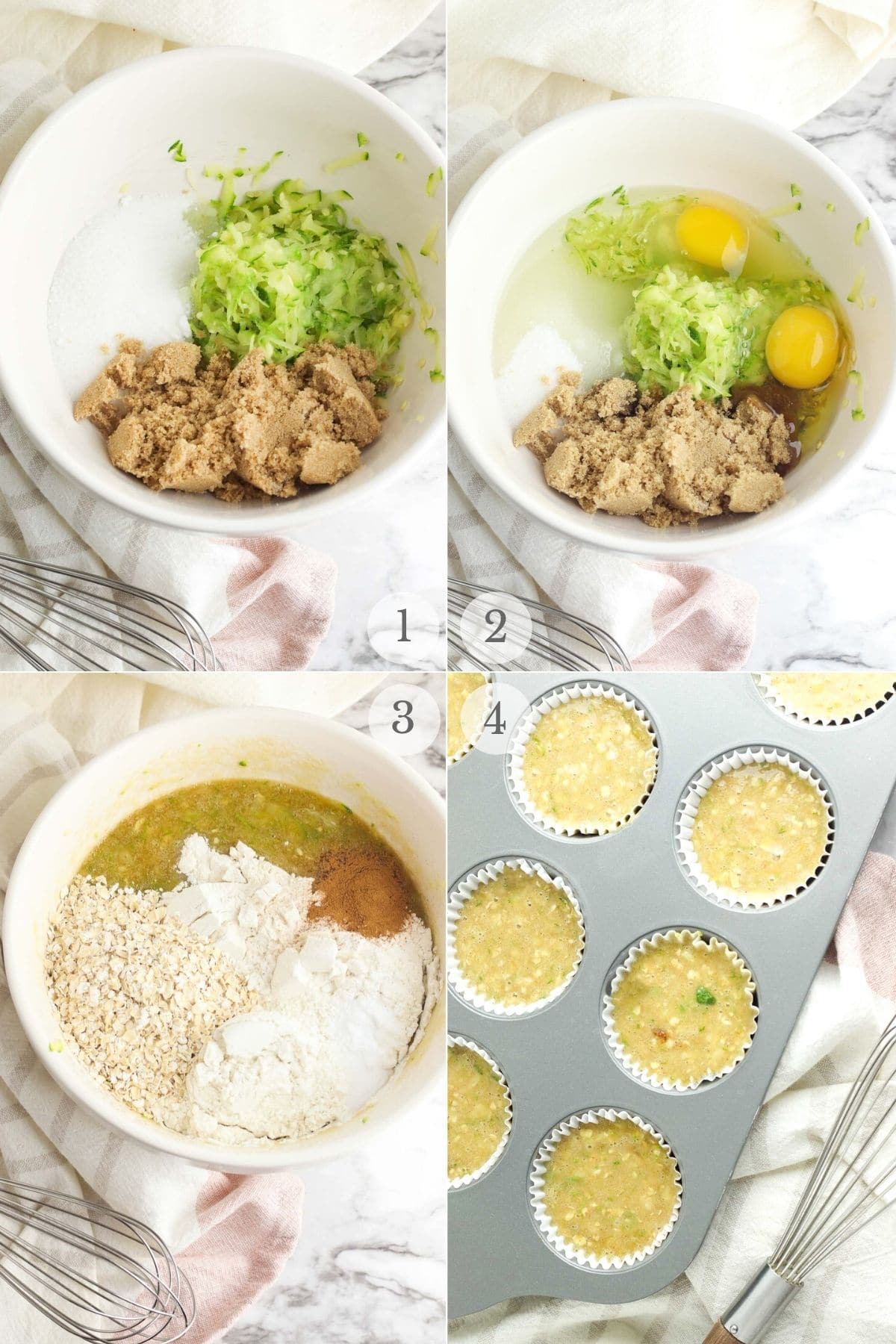 STEP 3. Mix and add the dry ingredients
Add the dry ingredients: flour, instant oats, baking powder, baking soda, salt and cinnamon (photo 3). Stir to fully combine.
STEP 4. Fill muffin cups and Bake
Scoop the muffin batter evenly into the prepared muffin pan filling each muffin cup about 2/3's full (photo 4). Using an ice cream scoop makes this fast and easy.
OPTIONAL: Sprinkle a few instant oats on top of the muffins before baking for visual appeal!
Bake for 20-25 minutes or until a toothpick inserted in the center of a muffin comes out clean. The tops will be lightly golden brown.
STEP 5. Cool
Remove the pan from the oven and allow to cool on a wire rack for 10 minutes (especially important if making gluten-free).
Remove the delicious muffins from the pan and allow to cool fully on the wire rack before eating.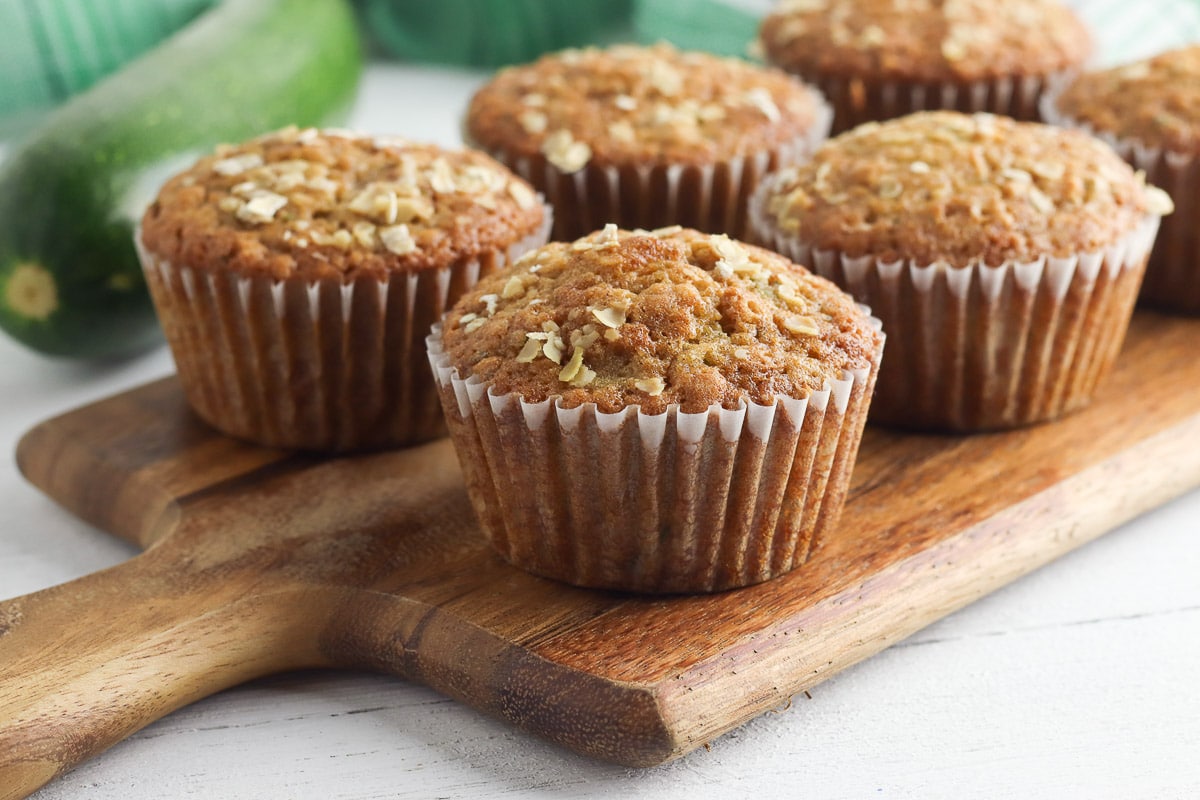 Frequently Asked Questions
Are Zucchini Muffins healthy?
As baked goods go they DO have extra nutrients from the zucchini.
They also have everything you love in a muffin including two types of sugar!
I would say they are a 'health-ier' muffin but I wouldn't consider them a healthy food.
Can these zucchini muffins be made into mini muffins?
Yes! Prepare the muffin batter as directed. Fill mini muffins 2/3 full and bake for 10-12 minutes (check for doneness). It should make up to 36 mini muffins.
How to Store
Room Temperature. Place in an air tight container at room temperature for up to 3 days.
If stacking, place a layer of parchment paper or wax paper between layers of muffins.
Refrigerator. Place in an airtight container and refrigerate for up to 5 days.
How to freeze them.
Place the fully cooled muffins on a lined baking sheet with room in between them.
Place in the freezer until they have frozen (30 minutes or longer).
Gather the frozen muffins and place in a gallon zipper-close plastic freezer bag or other seal-able freezer proof container.
Freeze up to 2-3 months.
Thaw in the refrigerator.
NOTE: this method of freezing allows the muffins to be easily taken out one at a time versus thawing an entire batch.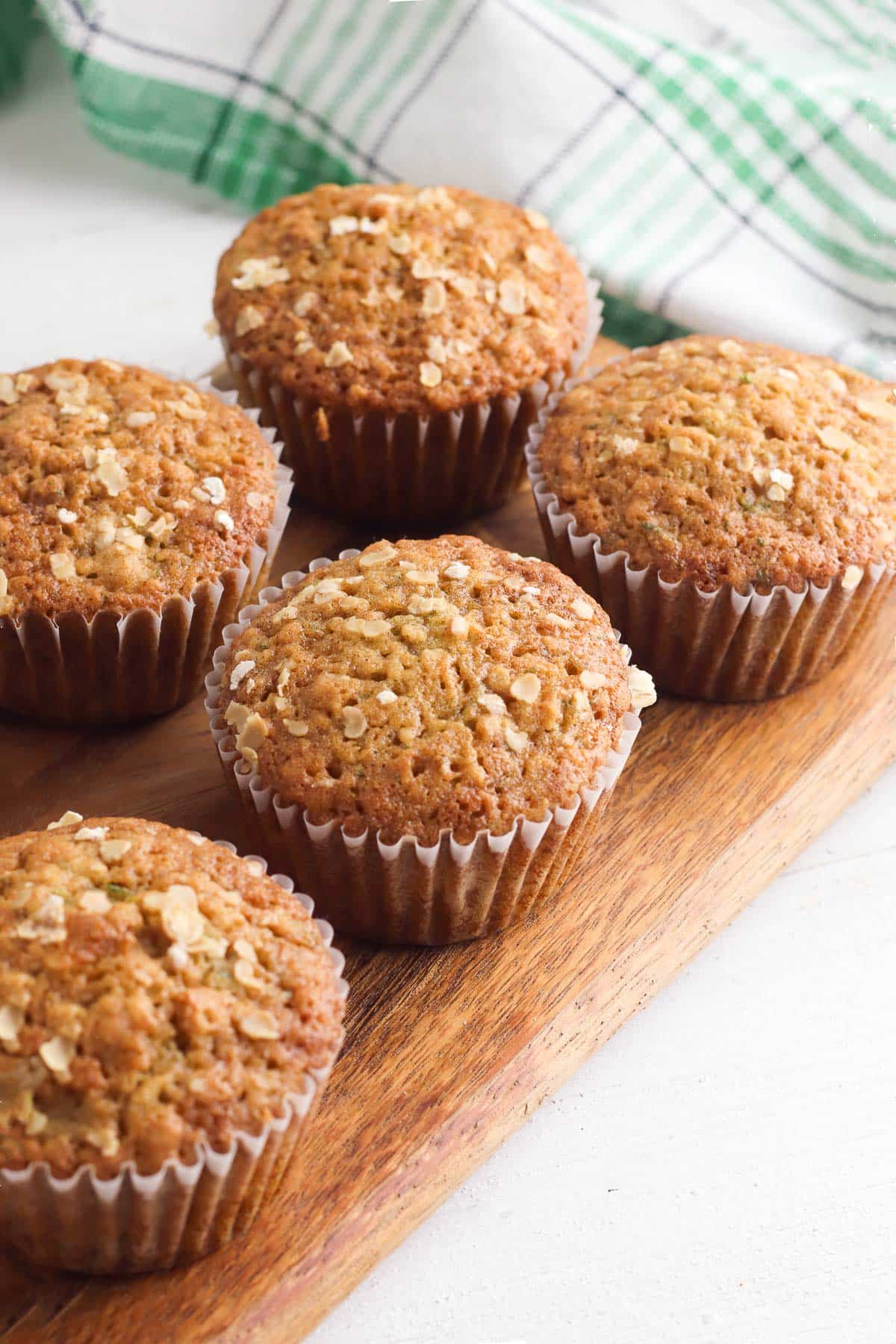 More Muffin Recipes you'll Love!
Did you make it? Please RATE THE RECIPE below!
Please
SUBSCRIBE
and
FOLLOW ME
on
FACEBOOK
,
TWITTER
,
INSTAGRAM
and
PINTEREST
!
Originally published: July 23, 2020