Christmas Cake Mix Cookies are soft, chewy and absolutely delicious! These quick and easy cookies are festive in red and green, perfect for the holiday season!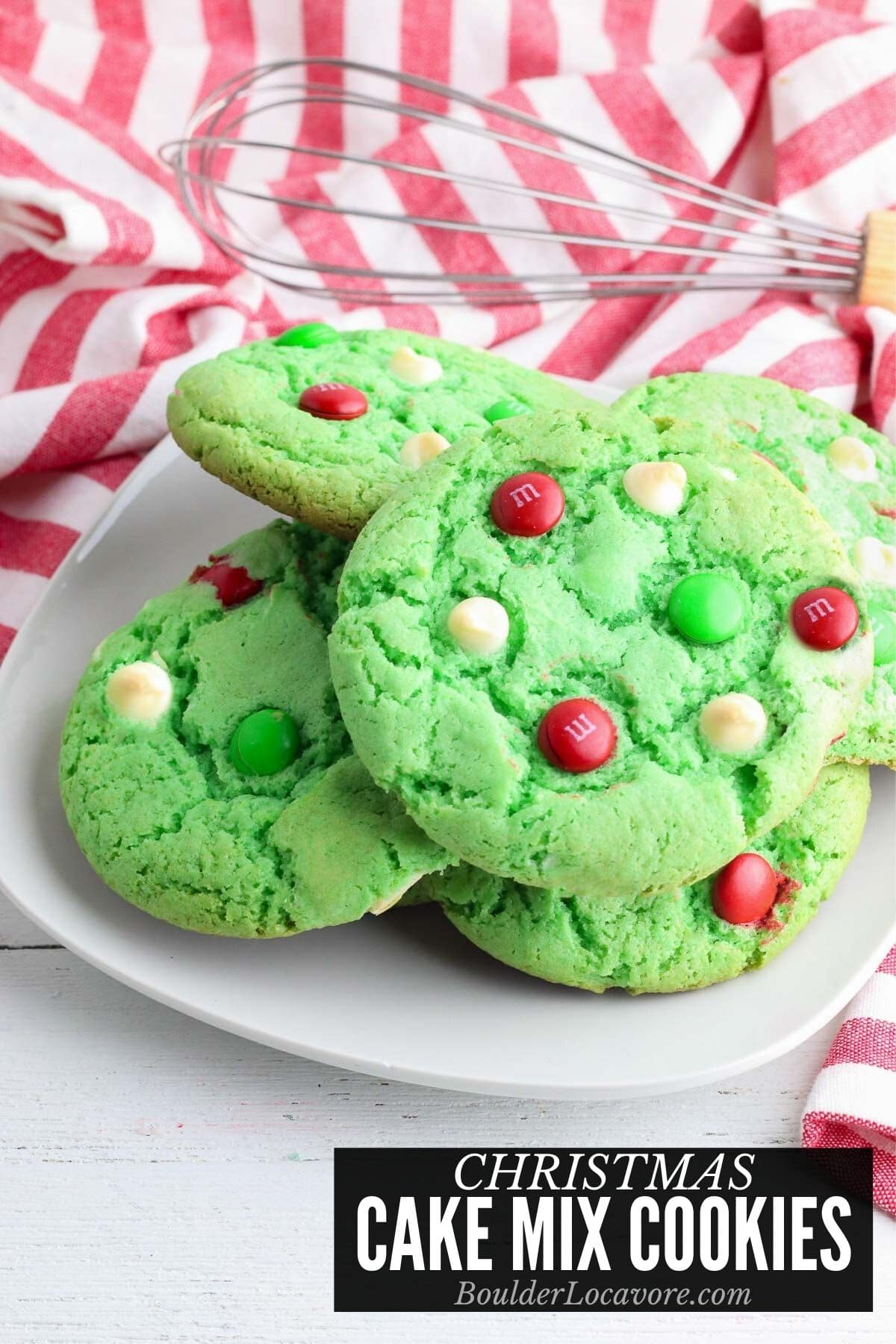 These are a a cookie recipe kids love to eat AND help make!
Cake Mix Cookies start with a mix and quickly come together as a favorite Christmas cookie.
They have the BEST soft and chewy consistency! The added candies and baking chips only make them that much better.
Regular or gluten-free cake mix can be used too. We've tested both!
Serve with a glass of warm Eggnog, Wassail, Christmas Punch or Rompope for the adults!
EASY Christmas Cookie Recipe
Everyone should have an EASY holiday cookie recipe on hand. One that delivers a delicious festive vibe but doesn't take hours to make or tons of effort.
These cake mix cookies are that Christmas Cookie recipe!
Staring with a vanilla cake mix base, everything has been put together for you so no measuring of dry ingredients.
Two wet ingredients are added, some color and fun stir-in ingredients.
The cookies are Christmas colored and delicious!
Cake Mix Cookie Basic Recipe
Cake mix cookies contain three ingredients as a base:
1 box Cake Mix
2 Eggs
1/2 cup Vegetable oil
With this basic formula you can create any type of cake mix cookie.
Any flavor cake mix can be turned into cookies: chocolate cake mix, white cake mix, red velvet etc.
The flavor of the cake mix creates the flavor of the cookie.
How to Make Variations
Often other ingredients are stirred in.
One half to one cup of chocolate chips, nuts, candies, dried fruit, crushed candy canes or a combination can change the flavor of the cookies.
We made this version Christmas themed but it would be easy to change the coloring and make them for Valentine's Day, Easter or Fourth of July too.
Hang on to this basic recipe to create your own versions!
Here are two more of our favorites:

Recipe Ingredients + Notes
Vanilla Cake Mix. A standard 15.25-ounce vanilla cake mix is used for this recipe. See the notes below if using a gluten-free cake mix.
Eggs. Two eggs are used in this recipe. This is a standard amount for most cake mix cookie recipes.
Vegetable oil. One half cup of vegetable oil will be added. This is a standard amount for most cake mix cookie recipes.
Green food coloring. For these Christmas Cookies we used a green food coloring to dye the cookie dough.
Red and Green M&M's. Holiday colored M&M's bring the festive feel!
White chocolate baking chips. Add a creamy white chocolate flavor.
What size cake mix to use?
The standard size cake mix is 15.25-ounces as of the writing of this recipe. However they can vary up to 18-ounces.
The standard addition of 2 eggs and 1/2 cup of oil should work with cake mixes ranging up to 18-ounces.
Gluten-free cake mixes can range in size. Outside of mainstream cake mix brands (gluten brands) you'll find them to be different sizes.
If the mix makes a typical 2-layer cake it will work. Those mixes range from 18-22 ounces.
We used Bob's Red Mill Gluten-Free Vanilla Yellow Cake mix for the gluten-free cookie version and they were delicious!
What is the best food coloring for baking?
Any food coloring can be used for this recipe but our recommendation is gel food coloring.
Gel food coloring creates the most brilliant color and it doesn't fade when baking.
Only a few drops will create a rich color too. They are made by a few brands Americolor and Wilton being two.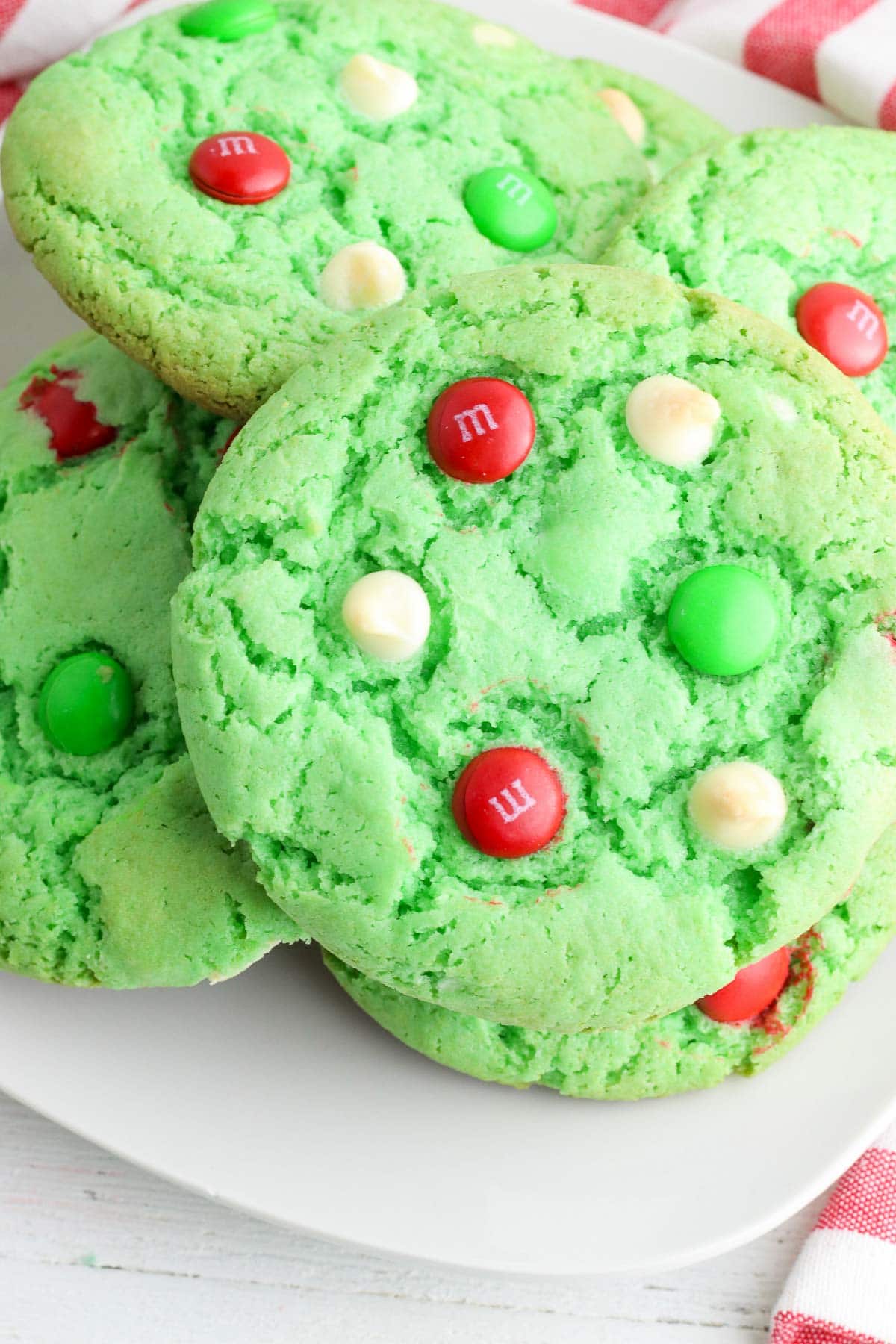 How to Make them – Step-by-Step
STEP 1. Making the Cookie Dough.
In a large bowl (or bowl of a standing mixer) best together the cake mix, eggs and oil until combined (photo 1).
Add the food coloring and fully mix in (photo 2).
Stir in the M&M's and white baking chips (photo 3).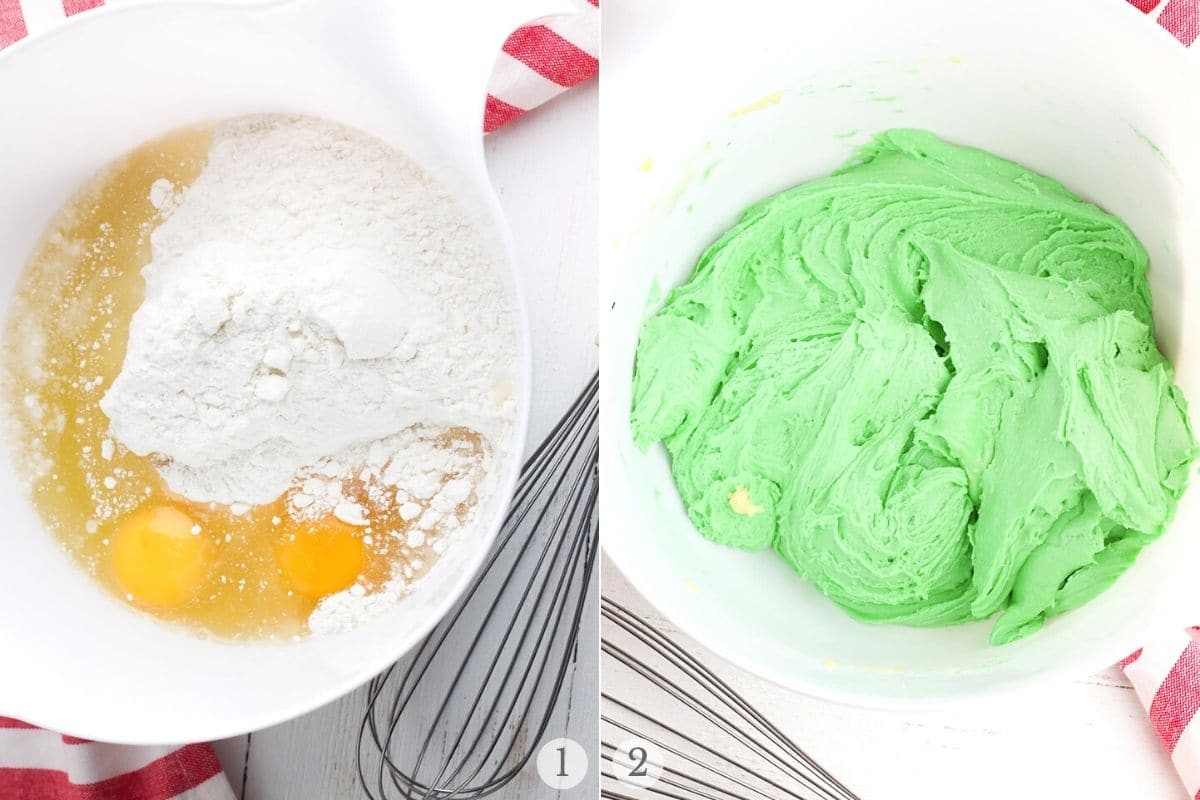 STEP 2. Chill the dough.
Cover and chill the dough for at least 30 minutes.
The dough can be sticky and this makes it easier to work with.
STEP 3. Make and Bake the Cookies.
Preheat the oven to 350 degrees F. Line a baking sheet with parchment paper.
Using a tablespoon or 1-tablespoon cookie scoop (recommended) scoop the dough, roll into a ball and place on the cookie sheet.
Press down slightly and add a few M&M's and baking chips on top (photo 4). Leave 2 inches space between the cookies.
Bake for 10-12 minutes until the cookies are set and only slightly turning golden on the edges (photo 5).
Remove from oven, allow to sit on the baking sheet for 5 minutes. Transfer to a cooling rack to cool completely before serving.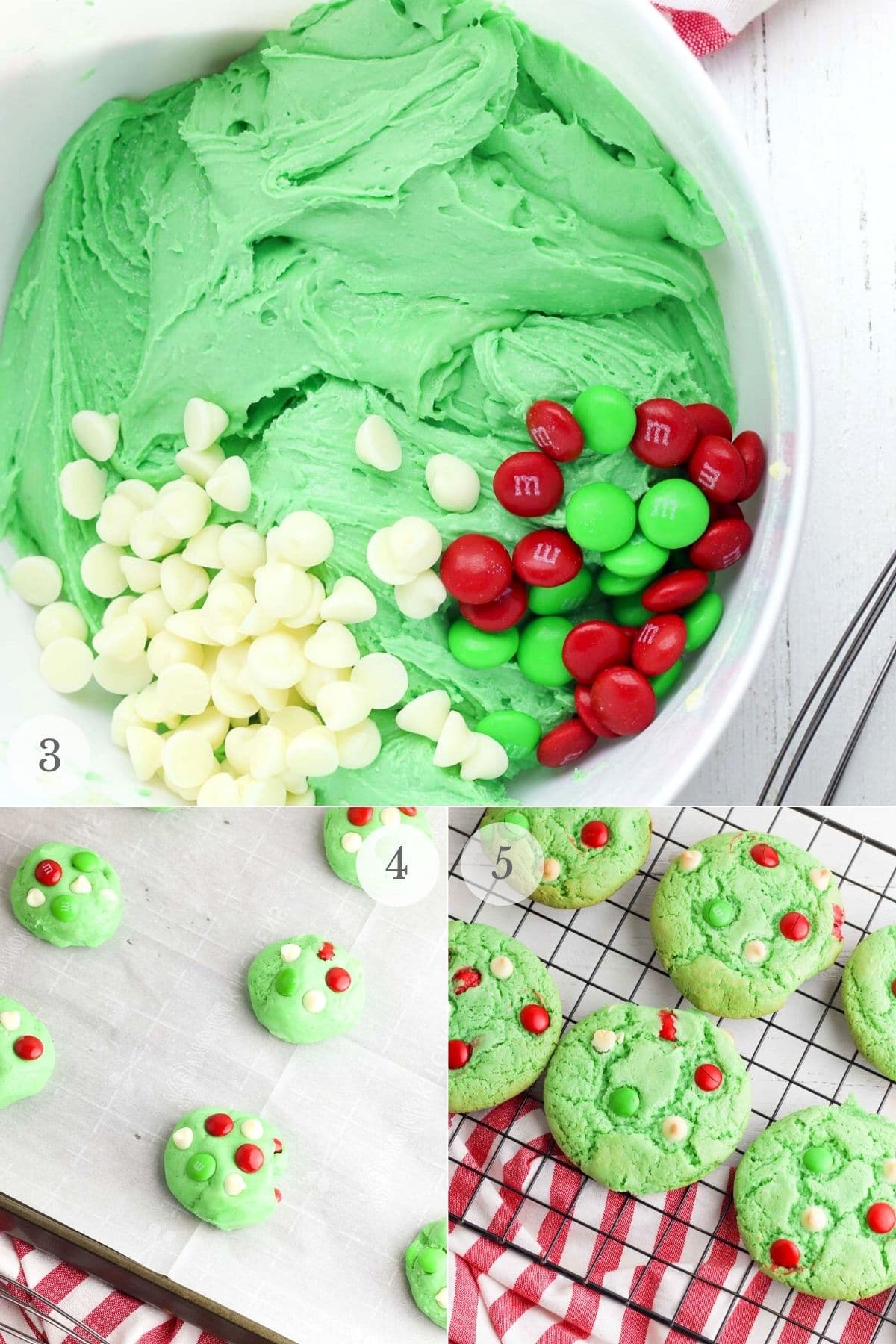 Pro Tips for Handling Sticky Dough
In general cake mix cookie dough tends to be stickier especially as it warms. Chilling the cookie dough helps with stickiness when making the cookies.
For the step of rolling the cookies into a ball, use a 1-tablespoon cookie scoop if possible.
Don't over handle the cookies when making the balls.
Spray your fingers with non-stick cooking spray to help the dough from sticking to your fingers and palms!
Storing Cake Mix Cookies
After they cool completely, store in an airtight container at room temperature for up to 3 days.
How to Freeze them
Allow the cookies to cool completely. Place them in an airtight freezer safe container with single layers separated by wax paper. Freeze for up to 3 months.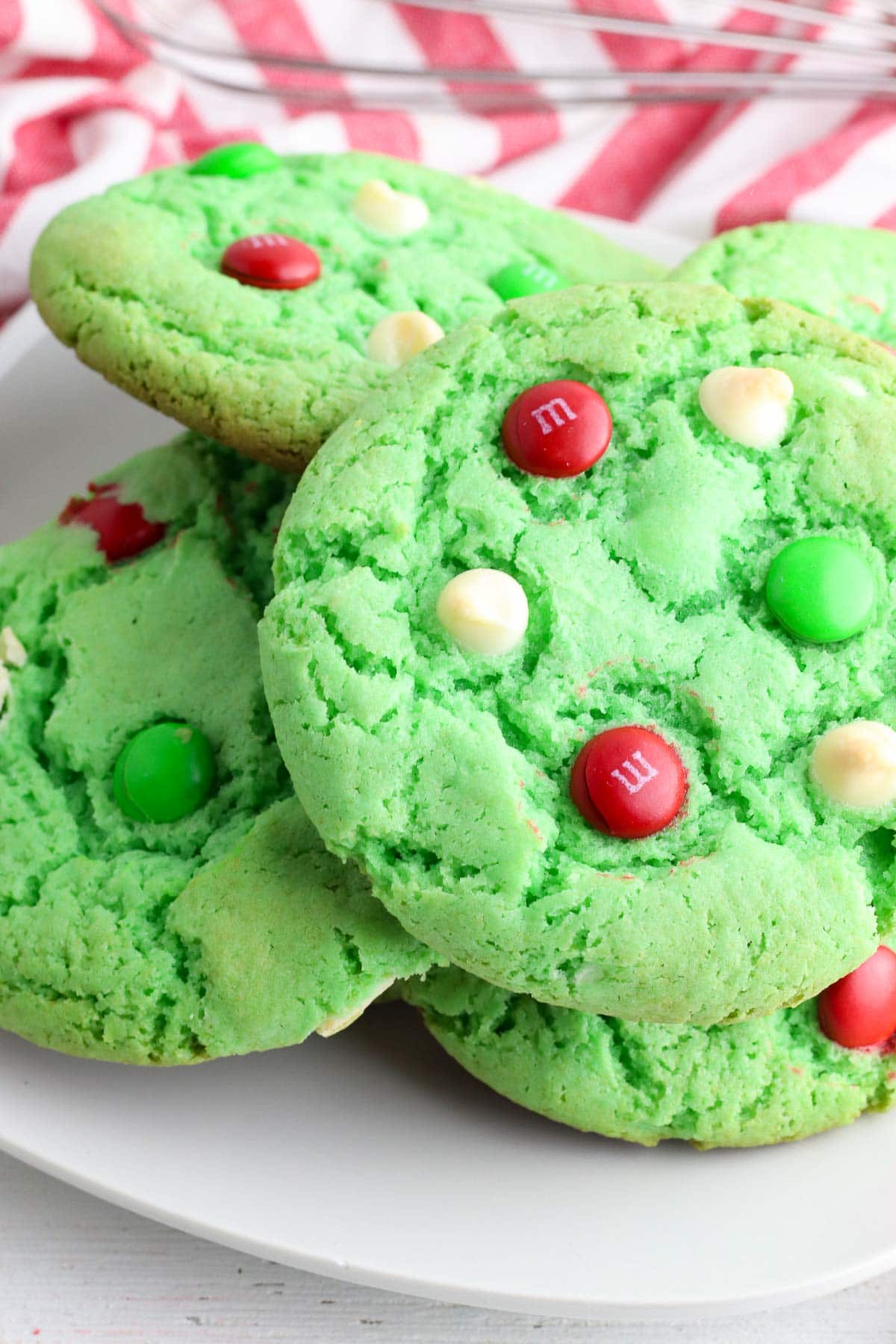 More Cookie Recipes You'll Love!
Did you make it? Please RATE THE RECIPE below!
Please SUBSCRIBE and FOLLOW ME on FACEBOOK , TWITTER , INSTAGRAM and PINTEREST !