There is nothing that tastes more like summer than All American Berry Buttermilk Shortcake. Light, flaky (gluten-free) shortcake are the perfect base for fresh strawberries and blueberries topped with lofty sweet whipped cream!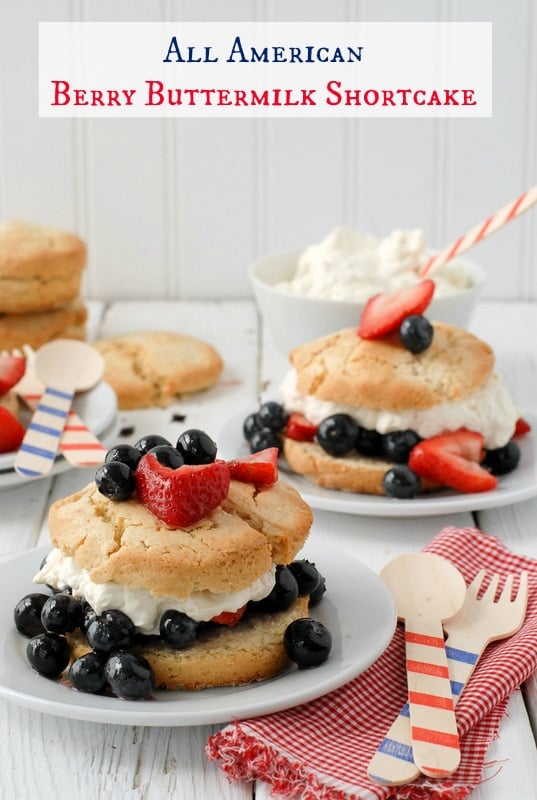 When considering a patriotic dessert for July 4th or any summer meal frankly, Strawberry Shortcake is a classic in most households. The strawberry is rivaled only by the tomato as the summer produce poster child, showcasing the highest sweetness when naturally ripened. Paired with light, flaky shortcake (not to be confused with shortbread or sponge cake cups sold in grocery stores), and a dollop of freshly whipped cream, and the season is deemed in full swing. This patriotic version is perfect for summer and Fourth of July, All American Berry Buttermilk Shortcake.
Want more red, white and blue inspiration? Check out my Fourth of July recipes and my Fourth of July Pinterest board!
The Roots of All American Berry Buttermilk Shortcake
Strawberry shortcake was first noted in the mid 1800's in the U.S. coinciding with transcontinental railroad making strawberries available more readily, shipping them on ice from coast to coast. The shortcake is different than the shortcake cookie of Scottish descent. It is a scone-like sweet biscuit using shortening or butter providing it be flakier than its traditional sister sponge cake.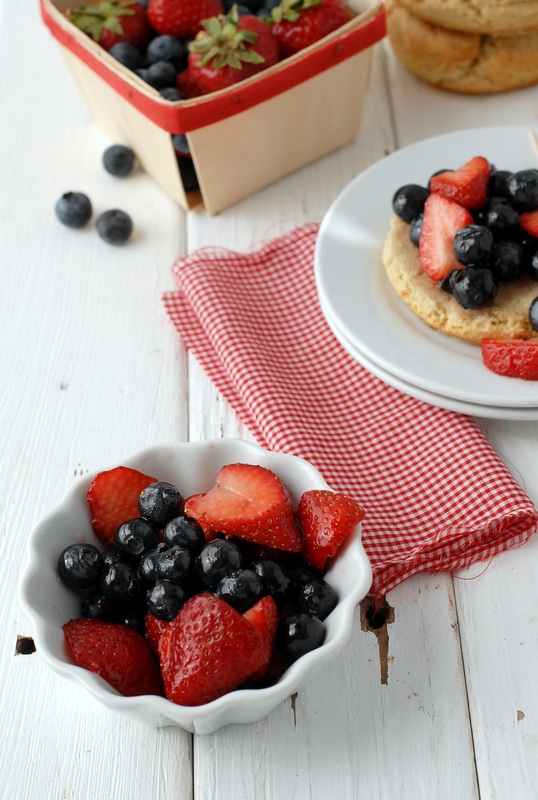 In the case of my recipe, four times is a charm! I love to develop recipes but unquestionably baking is a different beast than cooking. Add altitude and gluten-free to that and the cooking fairy often must be in the kitchen sprinkling a bit of love in the oven for success!
After three failed attempts I resorted to adapting a shortcake recipe from a 20 year old baking book my husband picked up as an addition to our hundreds (literally) of cookbooks. I was so glad he had for though the original recipe was not gluten-free my modifications worked (or the cooking fairy showed up in the nick of time) to produce a perfectly structured shortcake, flaky on the outside and moist in the center.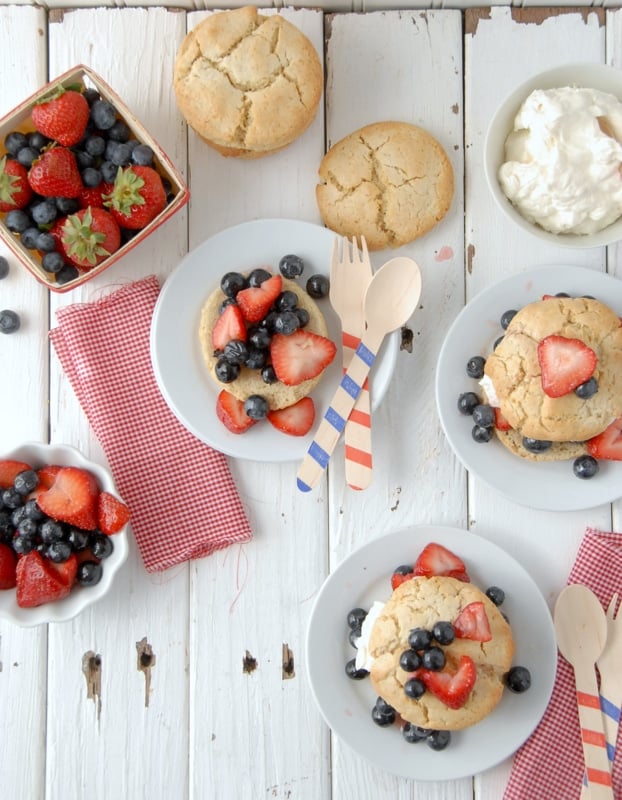 Adding buttermilk felt homey and nostalgic as you'd hope Americana recipes would be. This does not disappoint and will bring some sweet red, white and blue to your July 4th table!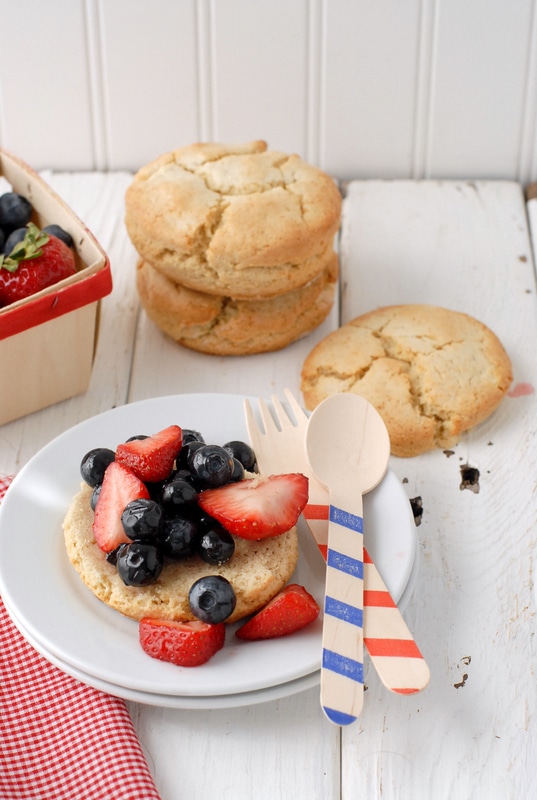 Setting a fun table for Fourth of July is so easy with adding a bit of red, white and blue to whatever you are serving. I love these old school wooden striped forks and spoons. They remind me of an old fashioned celebration. Red Gingham napkins add a fun touch too.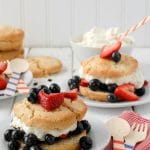 All American Berry Buttermilk Shortcake
A delicious taste of Americana and perfect for patriotic holidays dazzling in red, white and blue!
Ingredients
2 ¼

cup

all purpose or gluten-free flour

(I used King Arthur's Gluten Free Flour) plus extra for patting down the dough

½

cup

plus 2 tablespoons granulated Sugar

1 ½

teaspoons

Baking Powder

¾

teaspoons

Baking Soda

¼

teaspoon

Kosher Salt

6

tablespoons

cold

, Unsalted Butter, cut into pieces

2/3

cup

Buttermilk

(plus a bit extra for glazing)

1

large Egg Yolk

1 ½

plus ½ teaspoon Vanilla extract

2

cups

Strawberries

, hulled and sliced

2

cups

Blueberries

1/3

cup

Baker's

(fine grain) Sugar

2

cups

Heavy Whipping Cream

3-

inch

diameter cookie cutter or biscuit cutter
Instructions
Preheat oven to 425 degrees. Butter a metal (not black) baking sheet or use a silpat.

In a large bowl place berries and 1/3 cup Baker's Sugar. Mix with a spoon to fully coat and set aside to allow berries to macerate (their juices with mix with the sugar creating a sauce).

In a food processor bowl using the pastry blade combine the flour, ½ cup granulated sugar, baking powder, baking soda and salt. Pulse to fully combine.

Add the chopped butter; pulse to combine until crumb-like consistency.

Combine the 2/3 cup buttermilk, vanilla and egg yolk. Pour into the food processor while it is mixing; pulse until the liquid and solid mixtures have completely incorporated. If the dough is too dry to hold together, add additional buttermilk by the tablespoonfuls until the dough stays together.

Place the dough onto a floured surface (if making the shortcake gluten-free be sure to use gluten-free flour). Gently flatten to the dough until it is 3/4 inch thick. Cut out rounds using a 3-inch round cookie cutter or biscuit cutter. Slide a spatula underneath the round of dough and gently transfer it to the prepared baking sheet.

Combine remaining dough and repeat until no other shortcake can be cut from the dough scraps. Brush the top of each shortcake with buttermilk and place in the oven.

Bake until shortcake is lightly golden brown; between 10-15 minutes. Remove from the oven and allow to sit on the baking sheet for 5 minutes. Transfer to a cooling rack and allow to cool fully (this is especially important for gluten-free shortcake to ensure the shortcake will stay intact). Once fully cooked, slice in half with a serrated knife horizontally.
To prepare the Whipped Cream:
In a chilled mixing bowl combine the heavy cream, 2 tablespoons granulated sugar and 1 ½ teaspoons vanilla. Mix on high speed until soft peaks are reached but the cream is still a bit relaxed (do not beat until the whipping cream is completely stiff).
To assemble the shortcakes:
Place the lower half of a shortcake on a serving plate. Add an ample spoon of the berries and liquid, whipped cream and place the top of the shortcake on top. Add a few berries on the top of the shortcake. Repeat with remaining shortcakes and serve.
Recipe Notes
Shortcake adapted from 'Classic Home Desserts' by Richard Sax (1994)
Nutrition Facts
All American Berry Buttermilk Shortcake
Amount Per Serving
Calories 670
Calories from Fat 288
% Daily Value*
Total Fat 32g 49%
Cholesterol 144mg 48%
Sodium 385mg 16%
Potassium 441mg 13%
Total Carbohydrates 90g 30%
Protein 9g 18%
* Percent Daily Values are based on a 2000 calorie diet.