Shortcake biscuits are the heart of this classic dessert recipe especially when berries are in season. Light and flaky, piled high with sweet blueberries, strawberries and lofty whipped cream. A summery red, white and blue dessert recipe!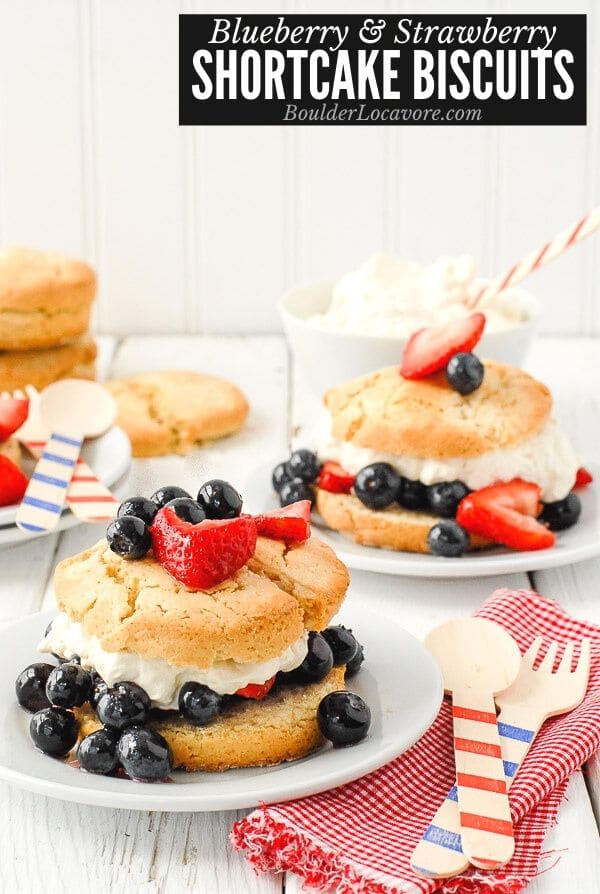 When considering a patriotic dessert for July 4th or any summer meal frankly, Strawberry Shortcake is a classic.
Fresh sweet strawberries paired with light, flaky cake, and a dollop of freshly whipped cream; it just tastes like summer!
These individual buttermilk Shortcake Biscuits are easy to make and delicious!
Adding sweetened berries makes it a celebration of summer.
This red white and blue dessert recipe is perfect for summer and Fourth of July!
Want more red, white and blue inspiration? Check out my Fourth of July recipes and my Fourth of July Pinterest board!
These sweet cake biscuits bake flaky on the outside, soft on the inside!
The buttermilk adds a a subtle tang that is nostalgic of old school baked good.
It helps keeps the shortcake biscuits moist too.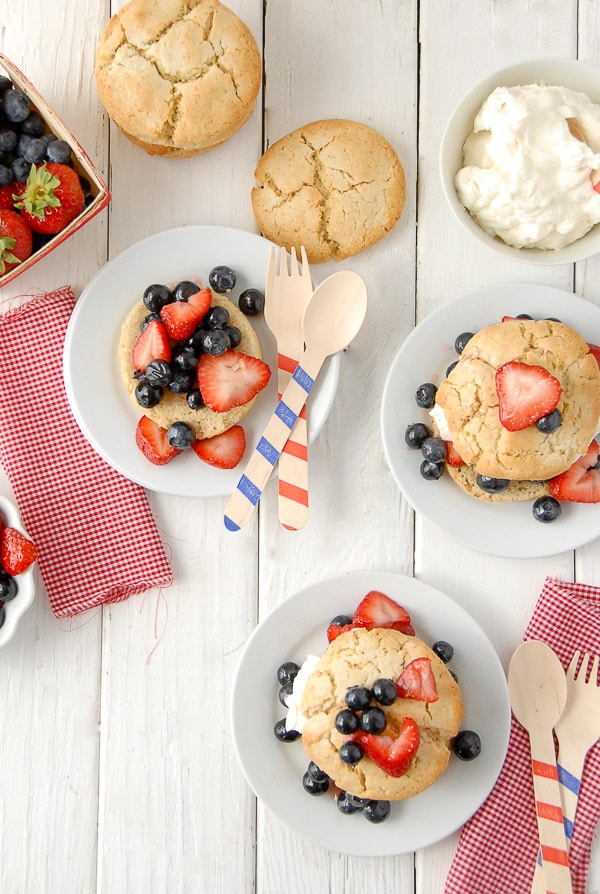 What is Shortcake?
The 'shortcake' is a scone-like sweet biscuit using shortening or butter making it flakier than its traditional sister sponge cake.
This berry dessert is a simple, homey recipe made with shortcake biscuits, sliced fresh berries and sweet whipped cream.
Why is it called Shortcake?
The term 'shortcake' is a 16th century English word meaning something made crisp by the addition of butter or lard.
Origins of Strawberry Shortcake
The now classic summer dessert was first noted in the mid 1800's in the U.S..
This coincided with transcontinental railroad making strawberries available more readily by shipping them on ice from coast to coast.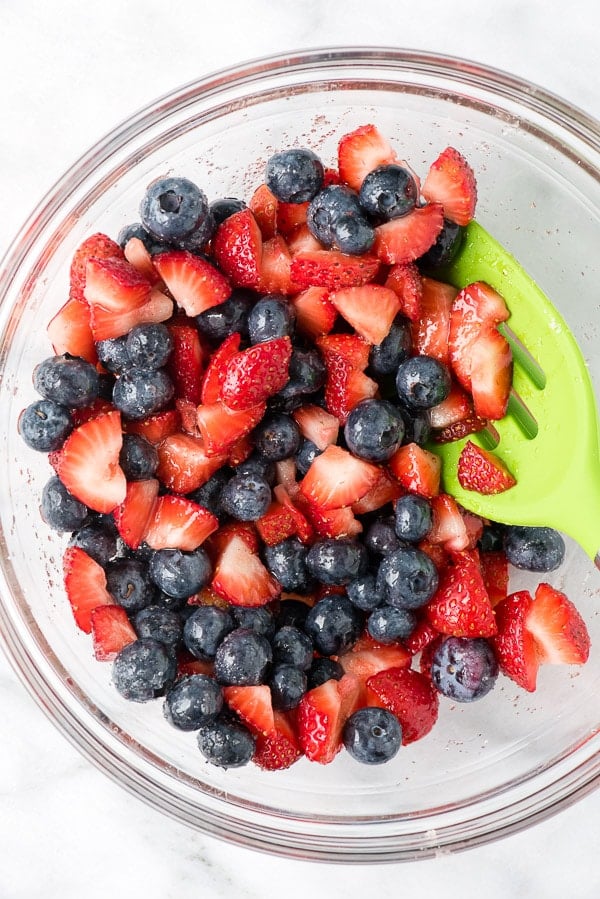 Recipe Ingredients
The ingredients in this recipe are mainstream baking ingredients. Nothing exotic and all easy to find!
All-Purpose Flour (regular or favorite gluten-free measure-for-measure flour blend)
Granulated Sugar
Baking Powder
Baking Soda
Kosher Salt
Unsalted Butter
Buttermilk
Egg Yolk
Vanilla Extract
Fresh Strawberries
Fresh Blueberries
Heavy Whipping Cream
An Easy Recipe to Change up
Swap the quantity of fresh blueberries for the same amount of (more) strawberries. Or visa versa for a solo berry dessert.
Proceed with the recipe as written.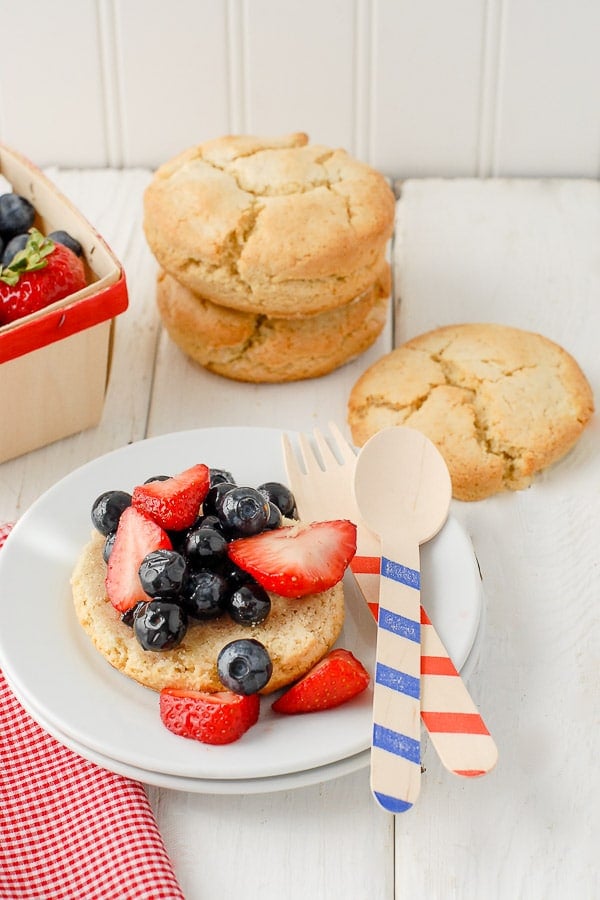 Make Regular or Gluten-Free Shortcake
This recipe can be made with either regular All Purpose Flour or a gluten-free measure-for-measure flour blend.
It will turn out perfectly with either one!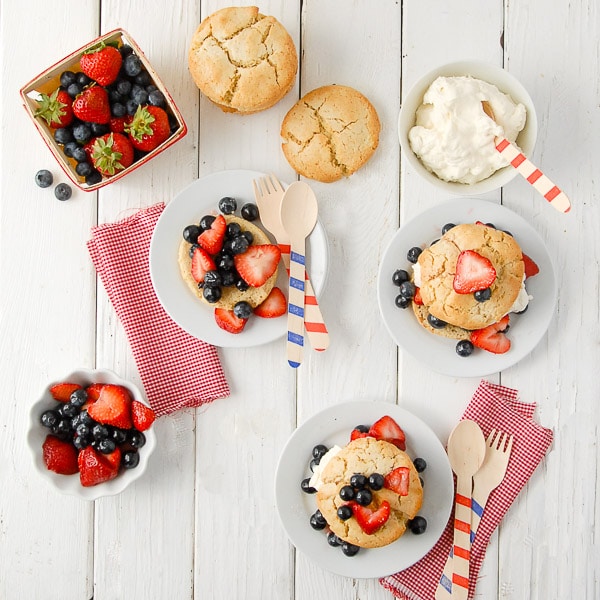 Suggested Supplies for Making the Shortcake
All the supplies needs are standard to kitchen use. The only supply that you may not have is the cookie cutter which is easy to find.
3-inch diameter round cookie cutter or biscuit cutter
Food Processor with pastry blade
Baking sheet
Parchment paper or Silpat (optional for the baking sheet)
Cooling rack
Serrated knife for easy slicing of the biscuits
Mixer with whisk attachment (or handheld mixer)

How to Make Shortcake from Scratch – Step by Step
For the full detailed printable recipe please refer to the recipe card at the end of the post.
This high-level instruction outlines the main steps for making shortcake.
STEP 1: Preheat oven to 425 degrees.
STEP 2: Prepare a rimmed (not black) baking sheet (butter or line with parchment paper or a silpat).
STEP 3: Using a Food Processor fitted with a pastry blade, combine flour, granulated sugar, baking powder and soda, and salt. Pulse to combine.
STEP 4: Add butter and pulse until the mixture is coarse crumb like in texture.
STEP 5: Separately combine the buttermilk, vanilla and egg yolk. Pour into the Food Processor and pulse to fully combine making a dough.
STEP 6: Turn dough out onto a floured surface. Flatten dough to ¾-inch thickness.
STEP 7: Cut out 3-inch circles with a cookie cutter and transfer to the prepared baking sheet. Combine remaining dough and repeat.
STEP 8: Brush the tops of the shortcake with buttermilk and bake for 10-15 minutes.
STEP 9: Cool on the baking sheet for 5 minutes. Transfer to a cooling rack to cool fully (note: this is critical for a gluten-free version).
STEP 10: When fully cooled, slice horizontally with a serrated knife.
The instructions for macerating (sweetening with sugar) the berries, making the whipping cream and assembling the full dessert can be found in the recipe card.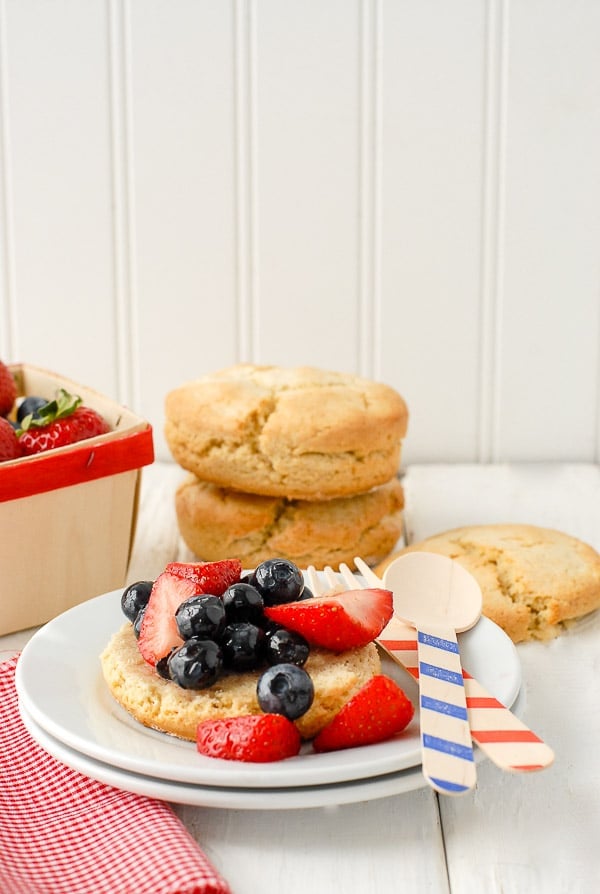 Can Shortcake Be Made in Advance?
The actual shortcake biscuits can.
The dessert itself should not be assembled until just before serving to keep the cake biscuits from getting soggy.
To make ahead:
Follow the recipe for the biscuits and cool completely.
Place in an airtight container in the refrigerator for up to two days before assembling the dessert.
How Long Does Shortcake Keep in the Refrigerator?
This is a dessert that should be assembled and eaten pretty immediately.
Though leftovers can be saved for a bite the next morning, the shortcake biscuits will become soggy.
Also the sliced strawberries and whipped cream quickly become unappealing.
Fourth of July Serving Accessories
Setting a fun table for Fourth of July is so easy with adding a bit of red, white and blue to whatever you are serving.
I love these old school wooden striped forks and spoons. They remind me of an old fashioned celebration.
Red Gingham napkins add a fun touch too.
More Red White and Blue recipes
Did you make it? Please RATE THE RECIPE below!
FOLLOW ME on FACEBOOK , TWITTER , INSTAGRAM and PINTEREST!
Originally published: June 28, 2013