Sausage Pasta Skillet with Shallot Cream is an easy, 30-minute meal full of flavor and cheesy goodness! It's simple elegance everyone loves. Can be made with regular or gluten-free pasta.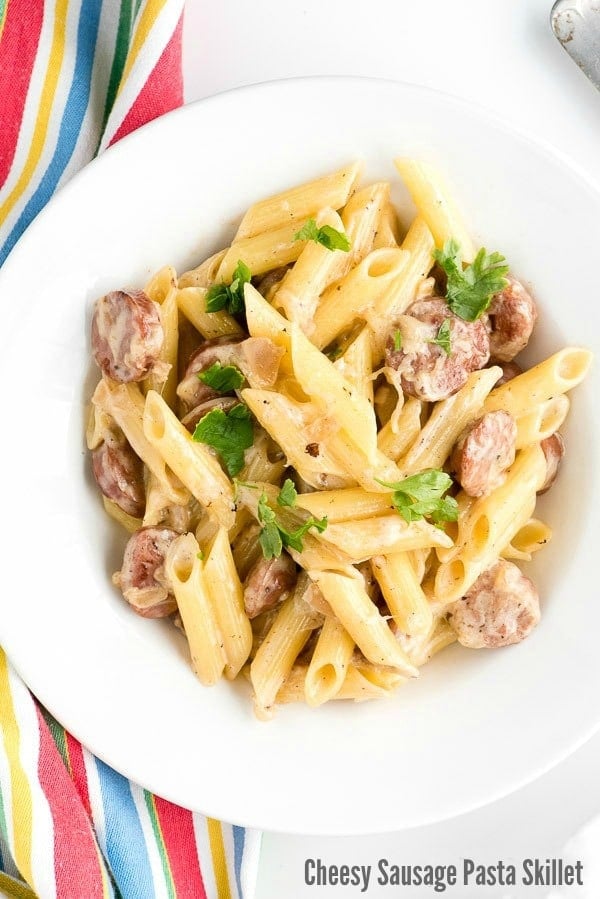 I'm often lazy about preparing dinner. Sure, I love having a main dish, a side dish or two, but frankly I often can't pull that off on a busy night. One pot pasta meals are a perfect solution!
Even when making easy pasta recipes I want a one pot pasta recipe that will impress. There is even more pressure when applying the 'less is more' tactic of serving a one skillet recipe instead of a main dish with a few sides.
Cheesy Sausage Pasta Skillet Recipe with Shallot Cream is delicious, with multiple textures and flavors. It's easy and simple to make. It's a pasta dinner idea you'll want on repeat!
Easy Sausage Pasta
This easy pasta recipe uses wholesome, flavor-packed ingredients for a creamy satisfying easy dinner recipe.
A big-time saver in this sausage pasta recipe is using pre-cooked sausage. I used Chicken Apple Sausage which is a favorite of my family and has a light, sweet flavor that's great for summer dining.
The flavor is a perfect match with the shallot cream sauce making this one of my best pasta recipes, in my opinion. Another time-saver tip is to use a mini chopper to dice the shallots!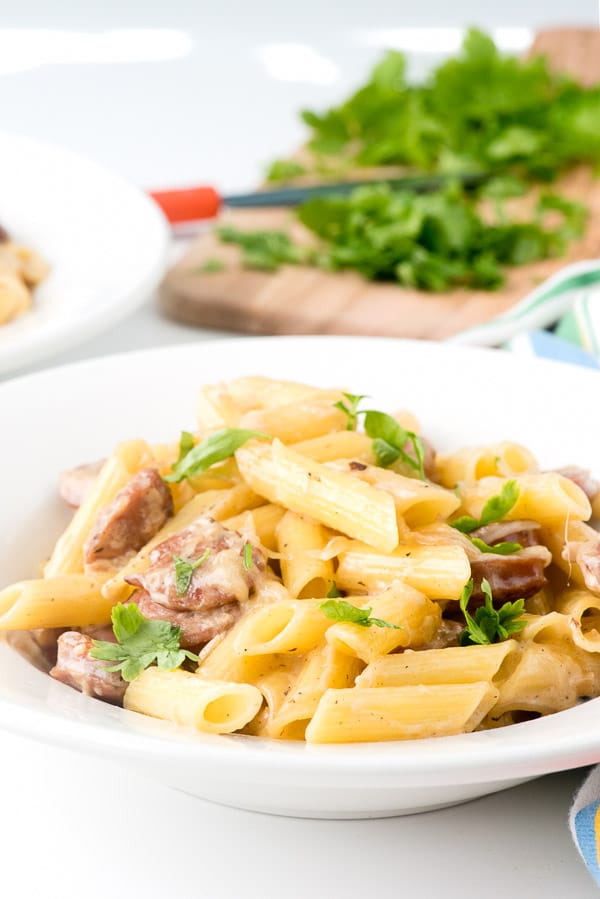 What is Shallot Cream Sauce?
Shallots are one of my favorite recipe ingredients. Being part of the same family as onions, leeks, and garlic, they have a wonderful combination of flavors. Many feel they taste like a perfect cross between an onion and garlic.
Shallots have a less biting flavor than onions (making them great raw for salad dressing recipes for instance) and are a mix of sweeter onion flavors and a hint of garlic.
When sautéed the shallots become soft and mix in with the chicken stock and cream creating a smooth flavorful sauce. It adds the perfect touch to this sausage pasta recipe.
Use Regular or Gluten-Free Pasta
When I first met my now husband I was dazzled at his skills in the kitchen. I was more of a functional eater at the time. Though appreciating good food, I lived in San Francisco and commuted an hour each way to work in Silicon Valley.
By the time I got home I would scavenge for dinner or go out in my cute Russian Hill neighborhood for a bite.
My husband on the other hand would make himself dinner every night. And a good dinner. The main dish I recall eating when he would cook was pasta. He bought the best brands, drew from well-known Italian chefs, making special sauces.
Becoming gluten-free fortunately did not put a crimp in our pasta style. There are many good quality brands of gluten-free and regular pasta making a quality penne pasta perfect for this easy pasta recipe!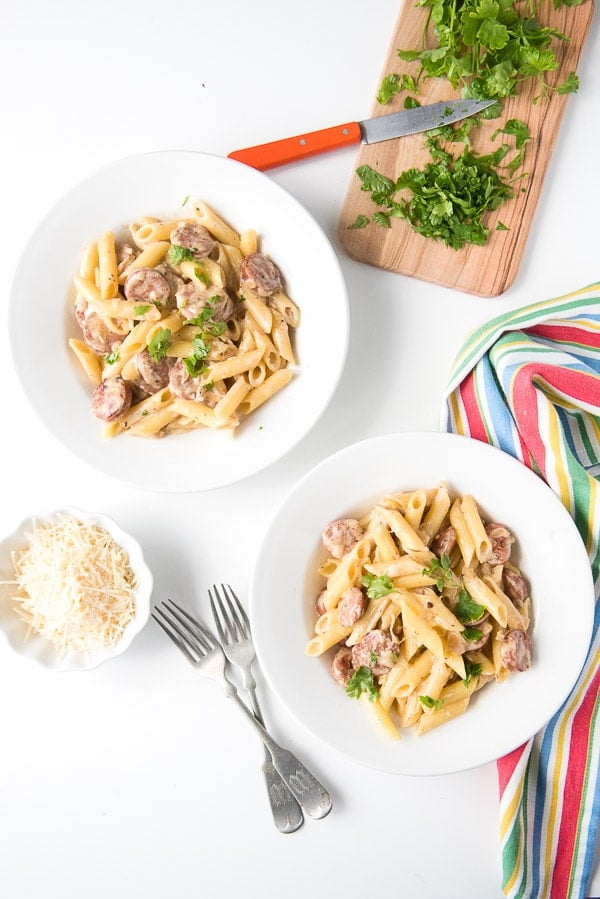 How to Reheat Gluten-Free Pasta
Gluten-free pasta often does not have the same texture after being refrigerated and reheated. It can become tough and chewy.
Adding moisture helps recover the best texture in gluten-free pasta leftovers.
Do not reheat the pasta uncovered in the microwave. My PRO TIP: place a damp paper towel over the top of the leftover pasta container and microwave to heat. The moisture turns into steam which gives the pasta better texture.
How to Make Sausage Pasta – Step by Step:
This one pot pasta recipe is ready in just over 30 minutes delivering sweet sausage, al dente penne pasta coated in a creamy shallot sauce you'll love!
Prepare pasta per the package instructions.
While the pasta water comes to a boil, a medium skillet is heated, olive oil added and slices of pre-cooked chicken apple sausage are browned.
Shallots are added to the pan to sauté.
Wine is added to the skillet to deglaze the pan (removing all the crispy bits from the skillet) and mixture is simmered until it reduces.
Chicken Stock and heavy cream are added to the skillet to simmer for a few minutes.
Finally, the prepared pasta is added, folded into the sauce, simmering for a few minutes.
The pasta is removed from the heat, parmesan cheese folded in and sprinkled with fresh chopped Italian parsley and served immediately.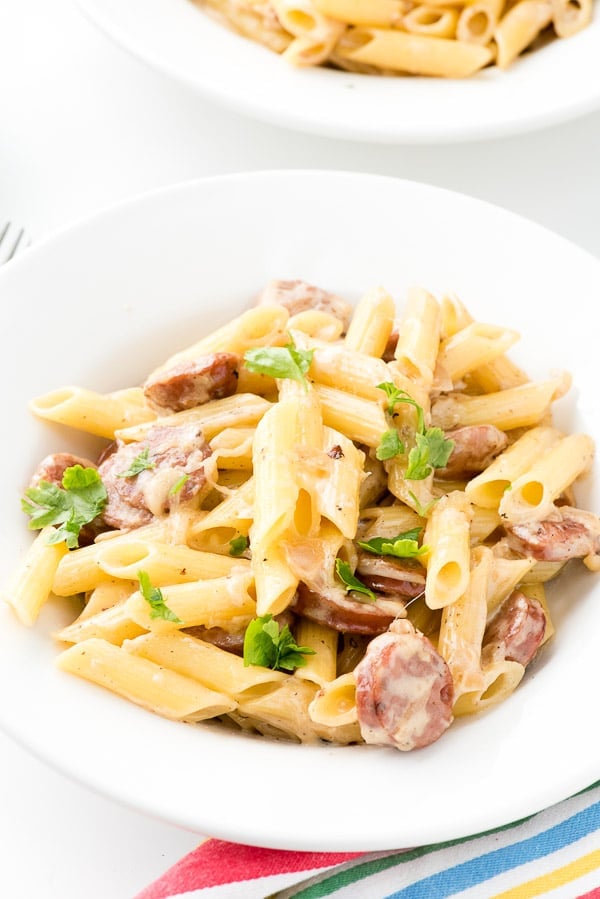 If you DO want to add a simple side dish to this Sausage Pasta Skillet, I suggest an easy salad:
Suggested Supplies for making Cheesy Sausage Pasta Skillet:
Did you make it? Please RATE THE RECIPE below!
Please
SUBSCRIBE
and
FOLLOW ME
on
FACEBOOK
,
TWITTER
,
INSTAGRAM
and
PINTEREST
!
Recipe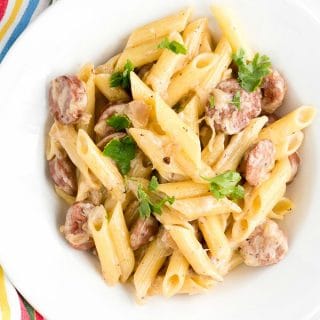 Ingredients
1

package

Penne Pasta

(gluten-free or regular)

2

tablespoons

Olive Oil

1

12-ounce package

pre-cooked Chicken Apple Sausages

, sliced into ½ inch slices

2

medium

Shallots

, peeled and diced

½

cup

Pinot Grigio or Sauvignon Blanc Wine

½

cup

Low Sodium Chicken Broth

1

cup

Heavy Whipping Cream

½

cup

freshly grated Parmigiano-Reggiano Cheese

1 1/2

tablespoon

diced fresh Italian Parsley
Instructions
Following the directions on the pasta package, prepare the pasta. While the water is coming to a boil, begin preparing the sauce below (Step 2).

In a large skillet over medium-high heat, heat the olive oil until the surface is shimmering. Add the sausage slices and sauté until begin to brown.

Add the shallots to the skillet and sauté until translucent/golden in color. Pour in the wine and deglaze the pan by scraping the pan bottom with a stiff spatula, releasing any cooked bits from the skillet.

Lower the heat to medium, and allow the mixture to simmer, stirring periodically, until the liquid has reduced to ¼ the original volume.

Add the chicken broth and heavy whipping cream allowing the mixture to return to a simmer.

Drain the pasta and add to the sauce. Stir to fully combine and allow to cook a few minutes, remove from heat and fold in the cheese. Sprinkle with the Italian Parsley as garnish. Serve immediately.
Nutrition
Calories:
509
kcal
|
Carbohydrates:
58
g
|
Protein:
14
g
|
Fat:
22
g
|
Saturated Fat:
11
g
|
Cholesterol:
60
mg
|
Sodium:
161
mg
|
Potassium:
221
mg
|
Fiber:
2
g
|
Sugar:
2
g
|
Vitamin A:
730
IU
|
Vitamin C:
1.6
mg
|
Calcium:
140
mg
|
Iron:
1.2
mg