Spicy One Pot Pasta is brimming with tomatoes, mushrooms and basil. It all cooks together and is ready in 20 minutes! Satisfying, hearty easy comfort food. Regular or gluten-free pasta.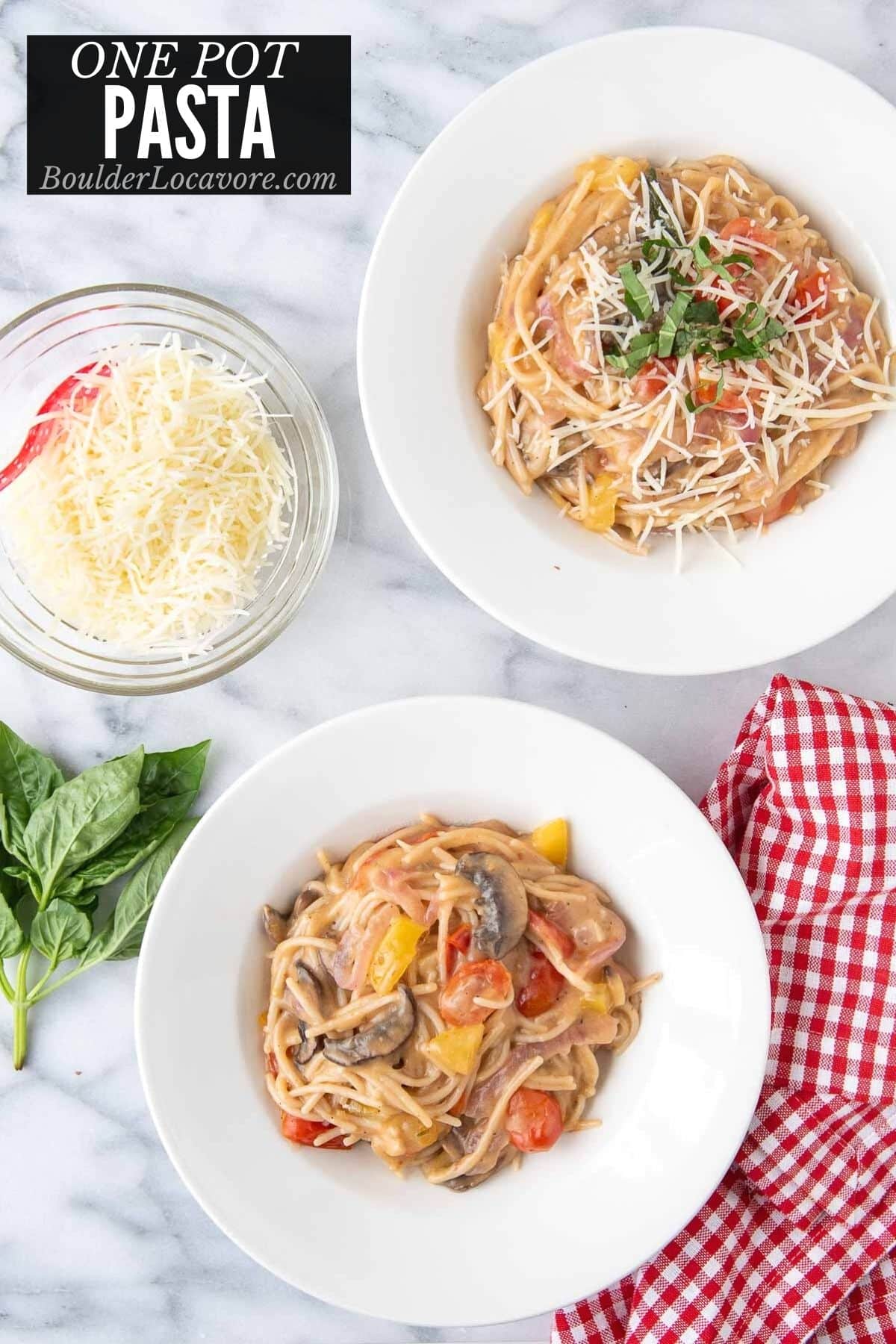 If you love pasta but are tired of preparing the pasta and sauce separately, you'll love this recipe!
Or if you love a satisfying dinner recipe ready in less than 30 minutes this recipe if for you.
All the ingredients cook together for a delicious meal and easy clean up.
What is One Pot Pasta?
It's really a dream-come-true meal. Rather than boiling pasta in a separate pot and making a sauce to combine the two in the end, this dish is all cooked together!
ALL the ingredients go into a pot at the same time, cook together and come out a creamy, flavor-packed delicious pasta recipe!
It's an easy no-fuss recipe. It's easy to change up too.
For this version we use fresh tomatoes, basil and mushrooms!
It can be made with either regular spaghetti or gluten-free spaghetti too!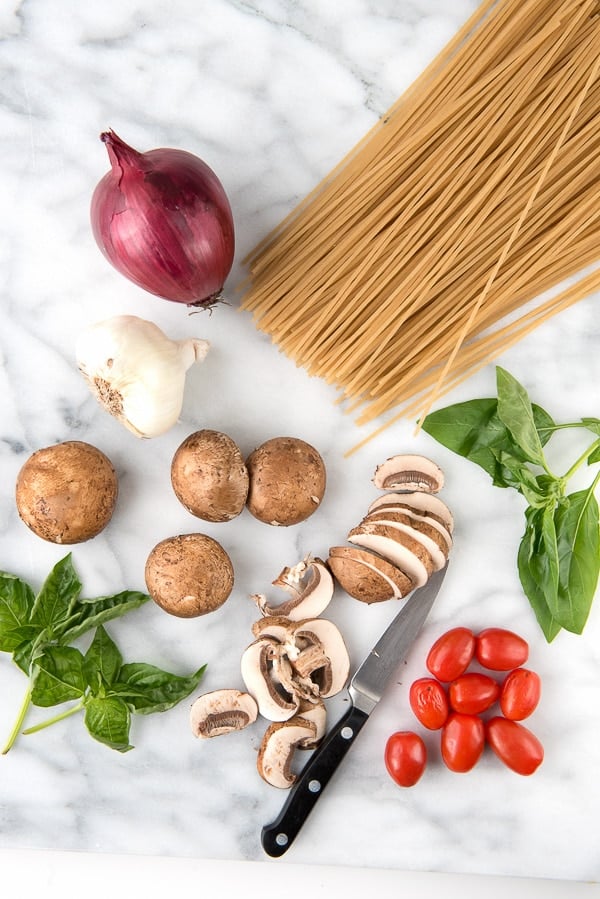 Recipe Ingredients Notes
Spaghetti pasta. Use either regular or gluten-free brown rice spaghetti. Use a 12-ounce package. More details for the gluten-free version below.
Tomatoes. Use fresh tomatoes. Cherry tomatoes, grape tomatoes or regular tomatoes can be used.
Red onion. Choose a small size. It will be peeled and sliced.
Garlic cloves. These will be diced.
Cremini mushrooms. Cleaned and sliced. More on cleaning mushrooms in the Pro Tips section below.
Basil. Use fresh basil. You'll need 6-8 large leaves for the pasta dish and more for garnish if desired.
Red Pepper Flakes. These perk up the pasta's flavor just a touch.
Salt and pepper. We prefer kosher salt which is a less salty flavored salt. And freshly ground black pepper if possible.
Olive oil. Goes right in the pot!
Chicken broth. Instead of water we love low sodium chicken broth or chicken stock to add some extra flavor. Water can be substituted if desired.
Chardonnay wine. We add a 1/2 cup to deepen the flavor of the broth. More broth or water can be swapped in if desired.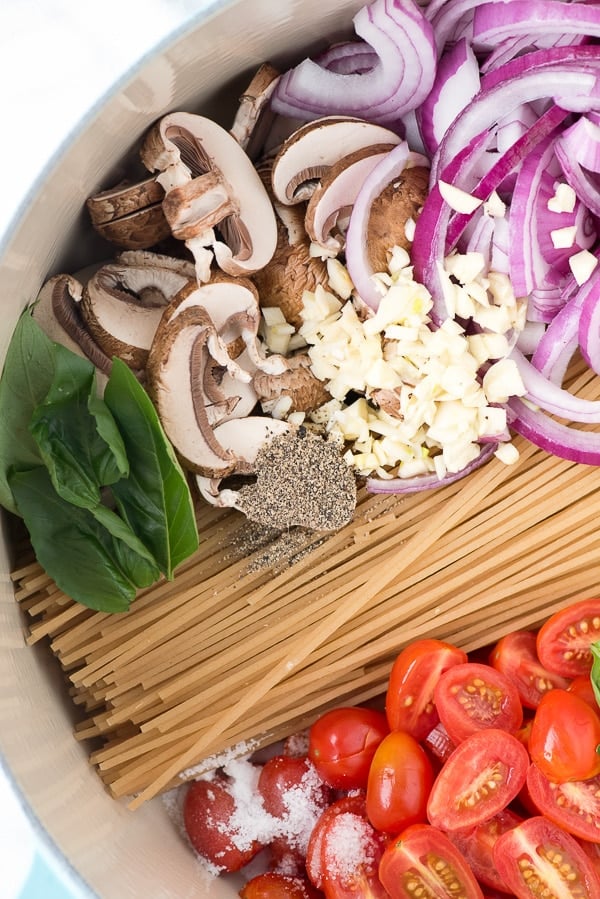 One Pot Pasta using gluten-free pasta
What gluten-free pasta to use?
All gluten-free pastas are different. They use different blends of grains or singular grains.
Therefore they behave differently when cooked. Some fall apart. Some don't taste great.
For this recipe we recommend brown rice gluten-free spaghetti. It maintains its shape when cooked and has a great texture very similar to traditional wheat pasta. The flavor is very good too.
After years of experimenting we find Tinkyada brand pastas in all shapes to work great. They are sturdy and flavorful. We used Tinkyada brown rice spaghetti we used for making the gluten-free version of this pasta.
Note the pasta comes in 12-ounce and 16-ounce packages. For this recipe use 12-ounces.
Cooking time will be longer
Regular pasta will cook in about 10 minutes but gluten-free pasta will take closer to 12-15 depending on the pasta used. For Tinkyada brown rice spaghetti it took 12-15 minutes.
Test the noodles for softness. All the liquid should be absorbed and the pasta al denta.
NOTE: any pasta will take longer to cook at altitude than it does at sea level.
The pasta will be starchier
Gluten-free pasta tends to be starchier than traditional wheat pasta. In this one pot pasta recipe it will serve to make the mixture creamier as shown in the photos.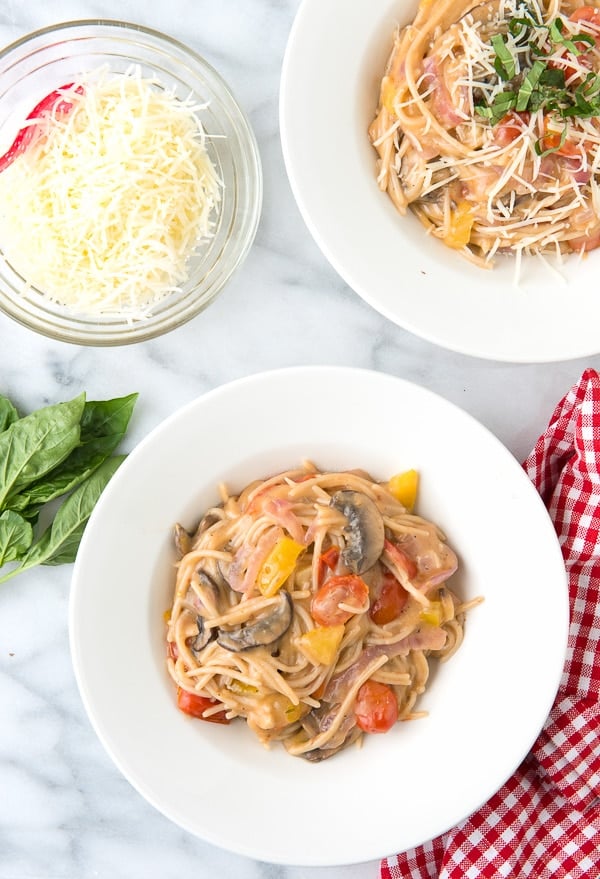 How to Make it – Step-by-Step
STEP 1. Bring the ingredients to a boil
Add all ingredients to a stock pot or Dutch oven.
Bring to a boil over high heat. Stir to combine the ingredients and keep the pasta submerged. Cook 3 minutes.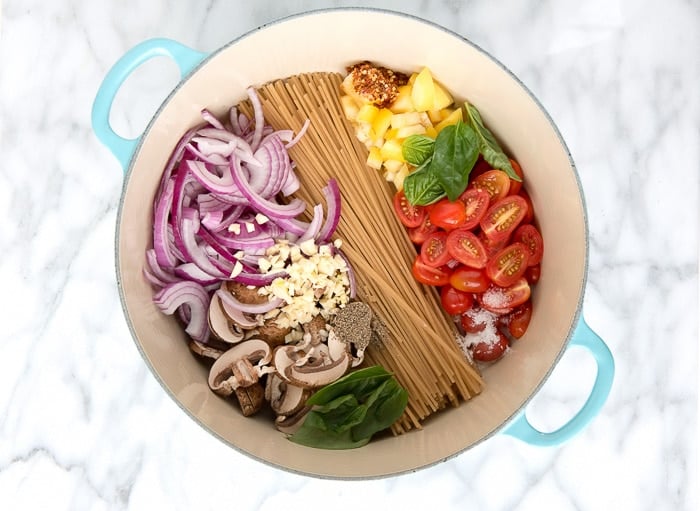 STEP 2. Simmer
Lower heat to medium. Partial cover the pan and stir often to combine the ingredients.
Cook until the liquid is absorbed and the pasta is al dente.
This will be aproximately 10-12 minutes for regular pasta and around 15 minutes for the gluten-free pasta recommended.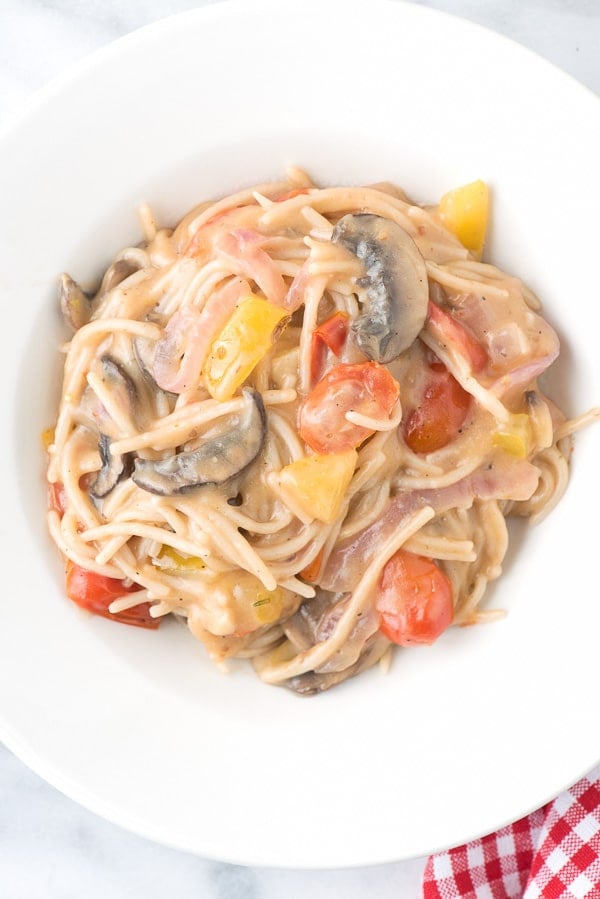 How to know the pasta is done?
The pasta will be done when it has softened and cooked to an 'al dente' texture. Also the liquid will be fully absorbed and the ingredients cooked.
Watching and taste testing is the best way to confirm it's ready.
As a guide, if using regular spaghetti it should take around 10 minutes. For gluten-free spaghetti it will take around 12-15 minutes (more details on that below).
Pro Tips
How to clean mushrooms
To clean off any dirt or debris from mushrooms they should not be run under water. This makes them soft and mushy.
Instead dampen a paper towel (wet it and ring it out) and gently brush off any debris.
A mushroom brush can also be used. It gently brushes off any dirt. It is different than a vegetable brush which has stiff bristles.
Background of this recipe
When this recipe was originally published in 2015 it was a popular concept on Pinterest.
I did some sleuthing and learned that Martha Stewart is apparently the source of the easy peasy pasta recipe.
After watching a video on her site and studying some similar recipes I began experimenting on my own, adding ingredients I love and finding a method that also works with gluten-free pasta.
The original method delivers start to finish in 10 minutes however gluten-free pasta cooks on average one third longer than wheat based pasta.
My goal was to devise a method to make my recipe within a reasonable time frame making it an appealing alternative to cooking pasta and a sauce separately in the traditional method.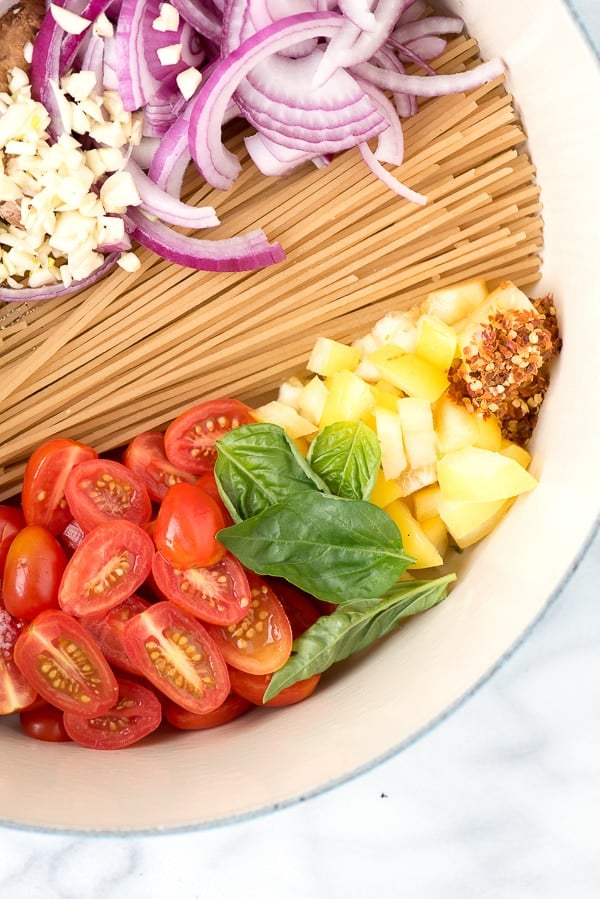 Changes to the original recipe
The original recipe boiled and stirred the pasta and other ingredients constantly.
In my experimenting I found bringing the pasta to a boil, placing a lid partially over the pot and allowing it to simmer until the pasta was done worked better for me.
I also used low sodium chicken stock and some wine in the place of water. We changed the ingredients too.
Storing Leftovers
This pasta is best eaten freshly made especially if using gluten-free pasta.
Leftovers can be stored in an airtight container in the refrigerator for up to 2 days.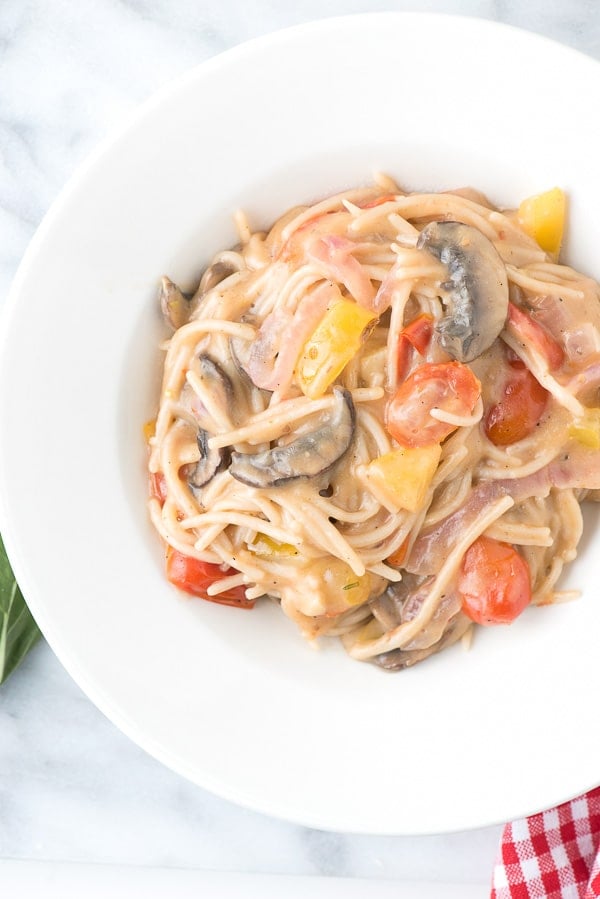 More Recipes You'll Love!
Did you make it? Please RATE THE RECIPE below!
Please
SUBSCRIBE
and
FOLLOW ME
on
FACEBOOK
,
TWITTER
,
INSTAGRAM
and
PINTEREST
!
Recipe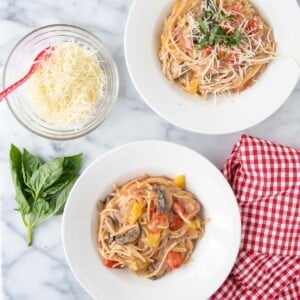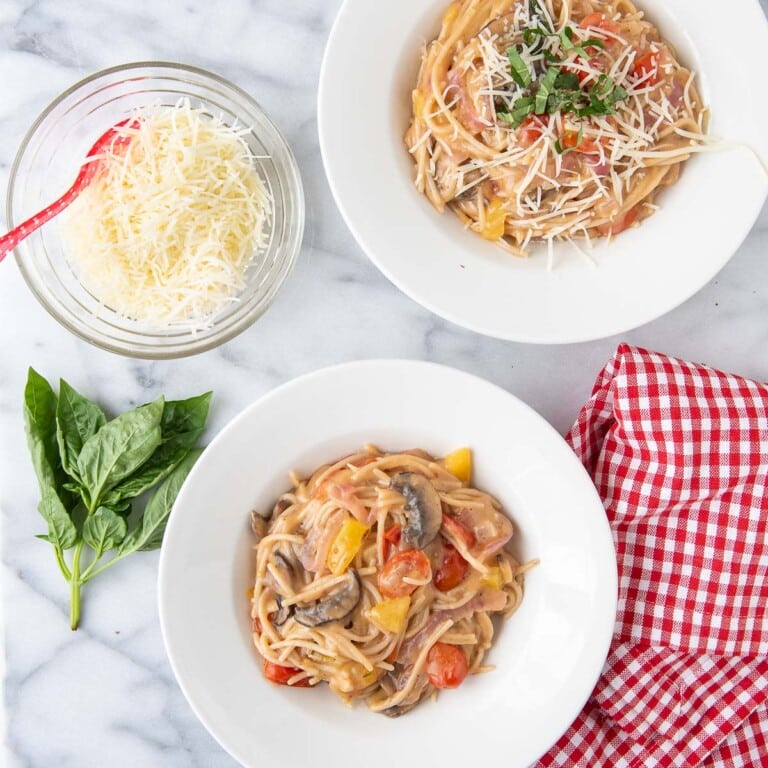 One Pot Pasta
Everything goes into one pot together and comes out a flavor-packed Tomato Mushroom Basil pasta dish! It couldn't be easier. Works with regular and gluten-free pasta.
Print
Save Recipe
Recipe Saved!
Pin
Rate
Ingredients
12

ounces

regular spaghetti or gluten-free brown rice Spaghetti Pasta*

12

ounces

fresh Tomatoes

(grape tomatoes, cherry tomatoes, regular tomatoes or a mixture), chopped or halved if using grape or cherry varieties

1

small

Red Onion

, peeled, halved and sliced into 1/8-inch thick sliced

3

large

Garlic Cloves

, diced

4

ounces

Cremini Mushrooms

, cleaned* and sliced

6-8

large

fresh Basil leaves

, torn

½

teaspoon

Red Pepper Flakes

2

teaspoons

Kosher Salt

½

teaspoon

Black Pepper

, freshly ground

2

tablespoons

Olive Oil

4

cups

Low Sodium Chicken Broth

½

cup

Chardonnay Wine

(can use additional broth instead if preferred)
Instructions
Add all ingredients to a large stock pot. Bring to a rolling boil over high heat, stirring periodically to mix the ingredients and submerge pasta in the liquid.

Boil for 3 minutes and reduce heat to medium to allow the mixture to simmer.

Place the lid on the pan allowing about a 1- inch opening. Allow the pasta to simmer, stirring every few minutes to thoroughly mix ingredients together.

Cook until the liquid has been absorbed and the pasta is softened and al dente.

For regular spaghetti this will take around 10 minutes. For gluten-free brown rice spaghetti about 15 minutes. **

Divide between 4 bowls and top with grated parmesan cheese and chopped fresh basil.
Notes
*To maintain the structure of mushrooms, using a mushroom brush or a dampened paper towel to lightly rub the surface of the mushroom cap removing any debris are easy ways to clean the mushrooms before cooking them.
**Cooking Times
The type of pasta being used and altitude will make a different in the cooking times. These are general guidelines. Taste the pasta for doneness.
Storing Leftovers
This pasta is best eaten freshly made especially if using gluten-free pasta.
Leftovers can be stored in an airtight container in the refrigerator for up to 2 days.
Adapted from Martha Stewart
Nutrition
Serving:
0
g
|
Calories:
452
kcal
|
Carbohydrates:
74
g
|
Protein:
17
g
|
Fat:
9
g
|
Saturated Fat:
1
g
|
Cholesterol:
0
mg
|
Sodium:
1250
mg
|
Potassium:
770
mg
|
Fiber:
4
g
|
Sugar:
6
g
|
Vitamin A:
815
IU
|
Vitamin C:
14.4
mg
|
Calcium:
51
mg
|
Iron:
2
mg
Originally published: November 10, 2015