Candy Cane Hot Cocoa Pops melt into hot milk for a rich cup of hot chocolate. Fun to make, they are great for gifts and printable gift labels are included in the recipe!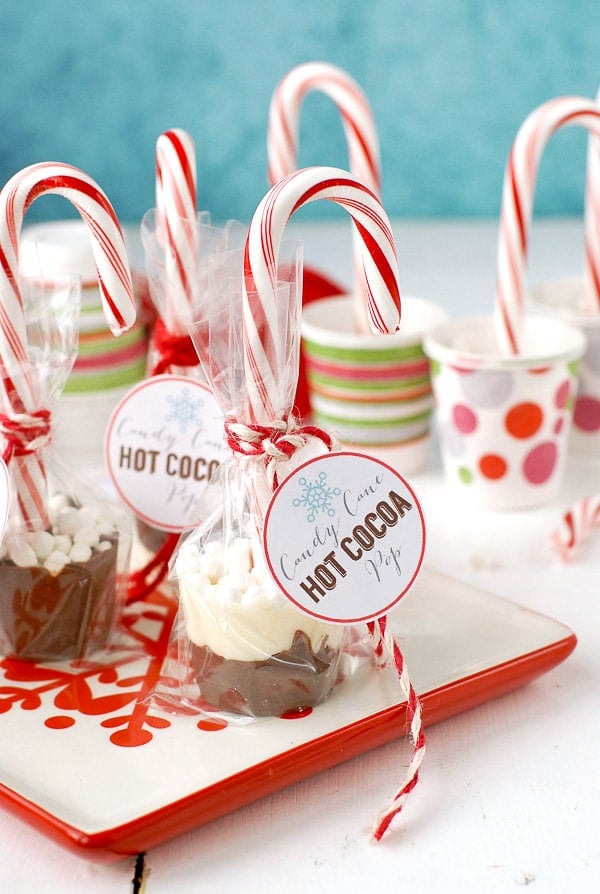 This delicious DIY recipe makes the tastiest hot chocolate you've had!
Even better it makes peppermint hot chocolate in a package perfect for Christmas stockings and holiday gift giving.
It's a great project and you can make the chocolate layers any way you want them. OR make them solid.
Hot Chocolate Spoons
If you've been on Pinterest you've seen hot chocolate spoons.
They are usually dipped in chocolate with some marshmallows stuck on them.
OR made with a block of chocolate in an ice cube tray.
This is the same sort of idea with more pizzazz!
Candy Cane Hot Cocoa Pops
Part recipe, part craft, Candy Cane Hot Cocoa Pops are a stunning gift that's fun to make.
Swirled in a cup of hot milk they transform into the most rich, luscious peppermint hot chocolate you've ever tasted!
The candy cane is the stirring stick until is dissolves into the hot cocoa!
You'll love How to Make Hot Chocolate Bombs too!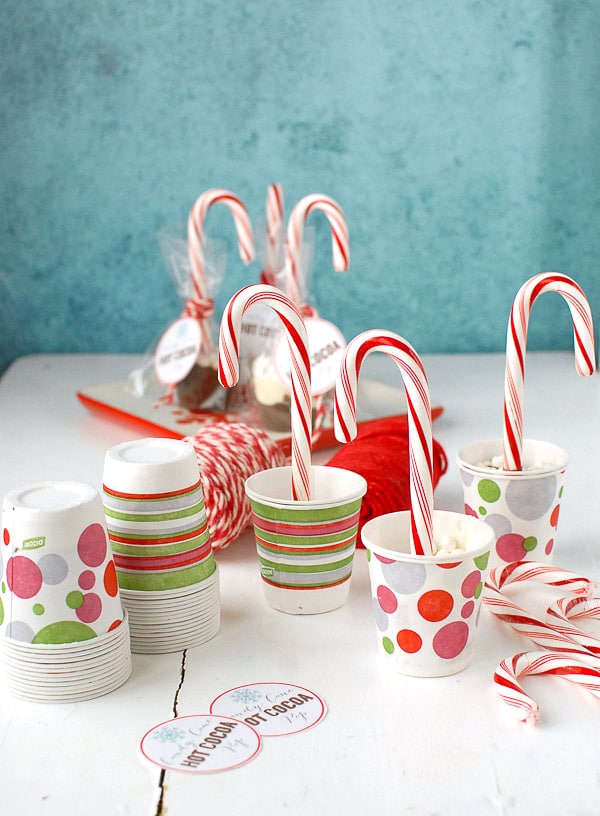 Recipe Ingredients
There is a mix of ingredients and supplies needed to make these pops.
The pops themselves require:
Chocolate chips
Marshmallow Bits
full size Candy Canes
What Type of Chocolate to Use
The Candy Cane Hot Cocoa Pops can be made with just one type of chocolate.
It can be semi-sweet, dark or white chocolate.
They can be layered with multiple types of chocolate if desired too.
TIP: If layering, allow each layer to harden between 'stripes'.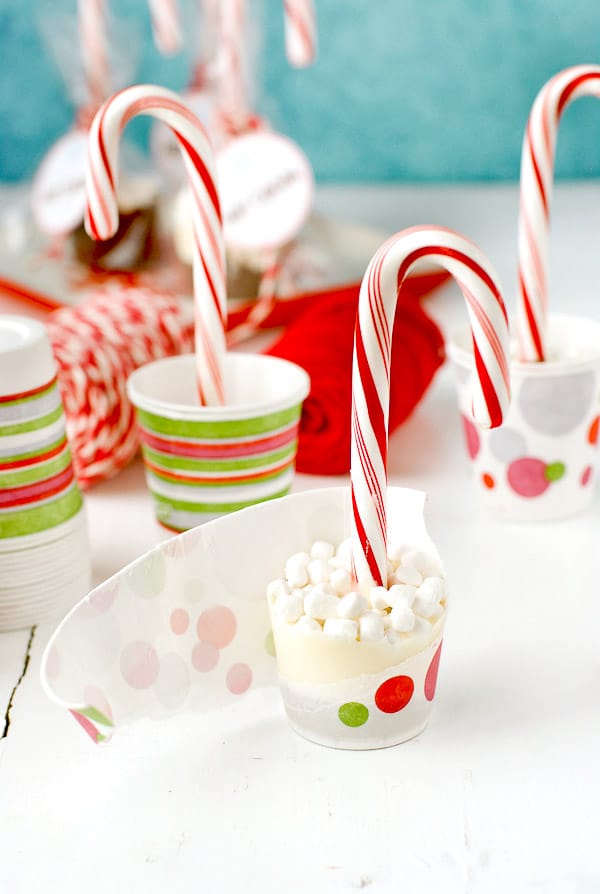 How to Make Candy Cane Hot Cocoa Pops
These pops are easy and fun to make!
Here is how they are made 'in a nutshell'.
For a detailed printable recipe refer to the recipe card at the end of the blog post.
STEP 1: Pour melted chocolate into a bathroom size Dixie cup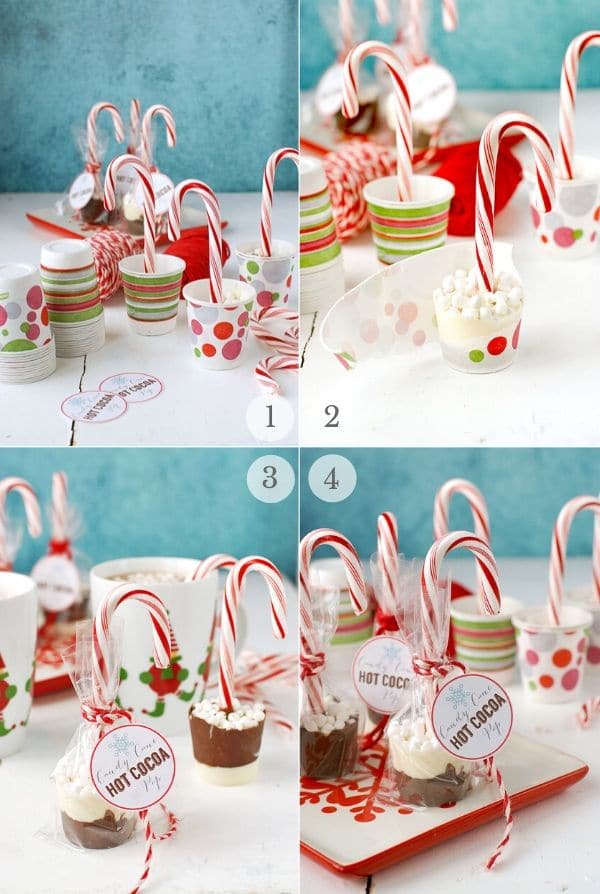 STEP 2: Insert a full-size candy cane in the middle (photo 1). Secure with foil.
STEP 3: Place Tiny Marshmallow Bits (micro marshmallows) on the top.
STEP 4: Allow to harden. Peel off the Dixie cups and wrap in cellophane bags. Secure a gift label or use! (photos 2-4)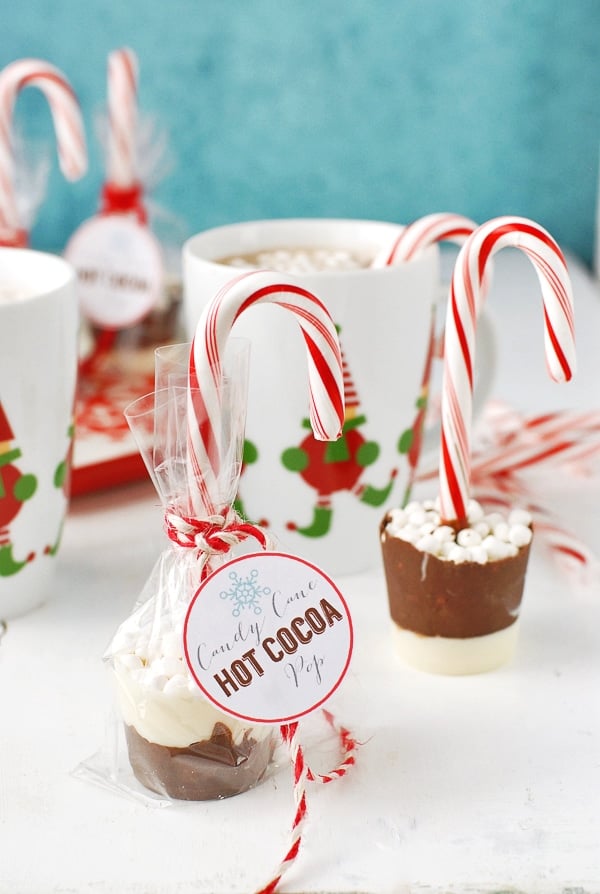 How to Store them
Store in a cool dry location for up to 1 week.
Do not store in the refrigerator. The moisture will cause condensation on the chocolate as well as the candy cane.
It can cause the candy cane to break off.
How to Use these Hot Chocolate Pops
After the chocolate sets, swirl in a cup of hot milk to melt the chocolate and release the marshmallows.
How fun is that?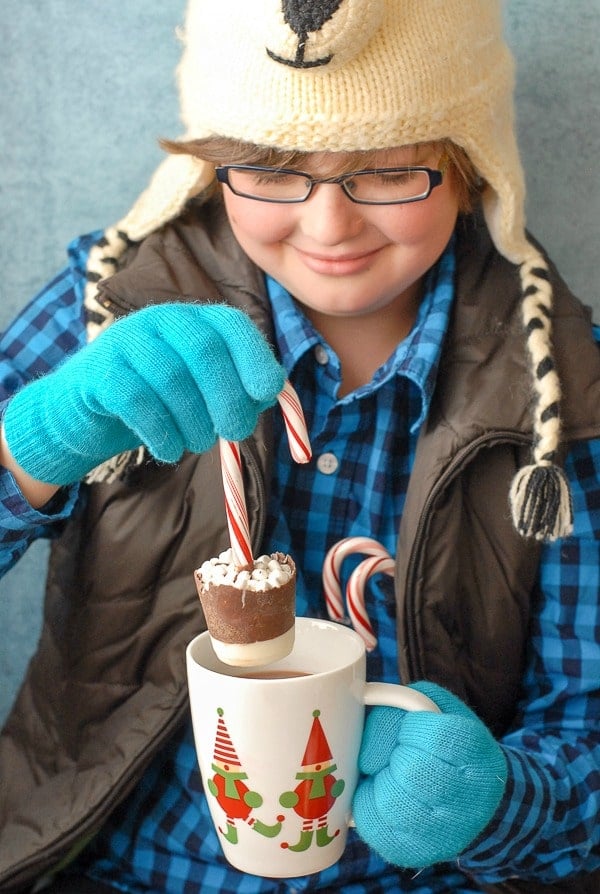 CANDY CANE HOT COCOA POPS – PRINTABLE GIFT LABELS
Download a sheet of FREE printable Candy Cane Hot Cocoa Pops gift labels!
It's a great way to turn this fun recipe into a surprise holiday gift.
Just wrap the pops with plastic lollipop sleeves from a craft or baking store and attach the label!
Would be so cute with a fun holiday mug for a teacher, neighbor, or stocking stuffer!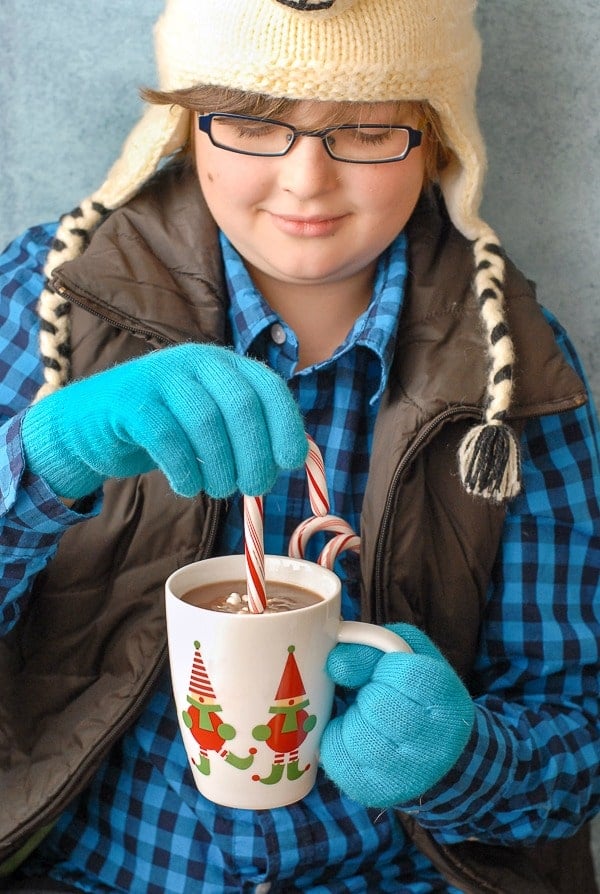 Where to Buy – Ingredients and Supplies (links included)
I typically buy as much as possible on Amazon.com especially at this time of year (to avoid trying multiple stores) so am including links here.
Many of these supplies may be found at grocery stores, and craft supply stores should you prefer a brick-and-mortar shopping experience!
Bath size Dixie Cups (3-ounce size)
Candy Canes (full size)
Marshmallow Bits. These are a specific marshmallow size smaller than a mini marshmallow. They are also freeze dried. The size is perfect for these pops.
I originally used Kraft Jet Puff Mallow Bits but they have become difficult to find especially in the white color.
Here are some other options for the same product: Vanilla Marshmallow Bits or Hoosier Hill Farms Mini Dehydrated Marshmallows.
String, twine or ribbon to affix the labels (TIP: lollipop wrappers usually come with decorative twist ties too that would work)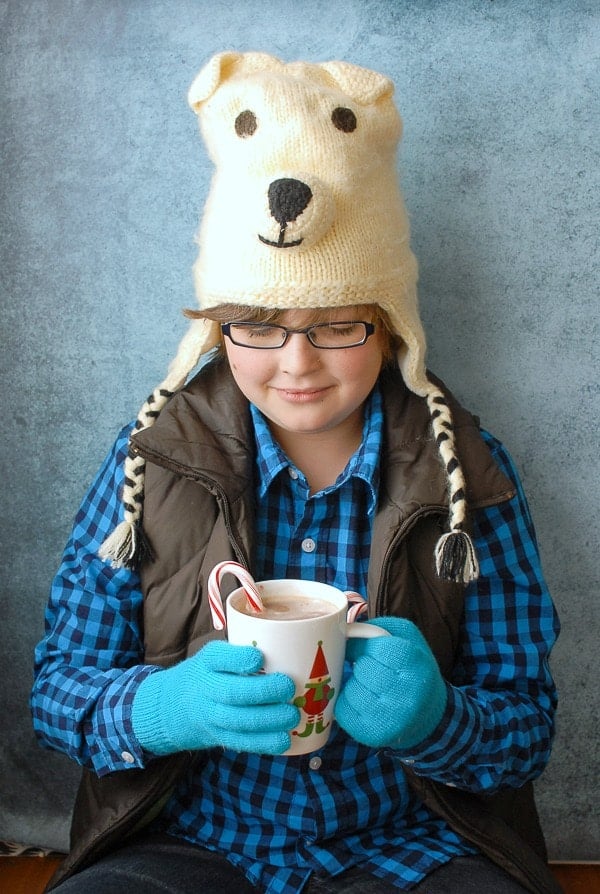 More Homemade Craft and Gift Ideas
Try these Recipes Too!
Did you make it? Please RATE THE RECIPE below!
Please SUBSCRIBE and FOLLOW ME on FACEBOOK , TWITTER , INSTAGRAM and PINTEREST !
Love this hat. And this boy.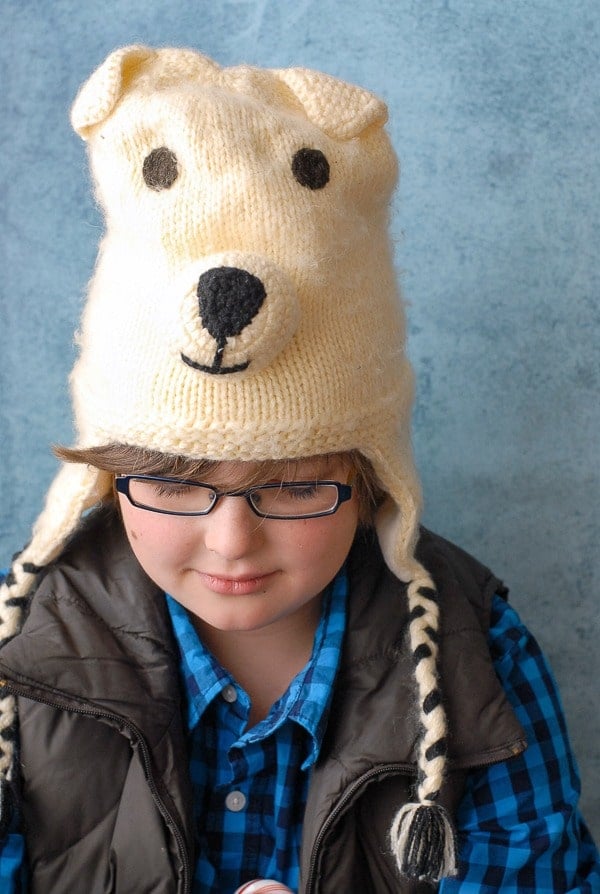 Originally published: December 14, 2014