Who needs pasta when you can make your own Spicy Sweet Potato Noodles in Garlic-Cinnamon Brown Butter? Easy and delish.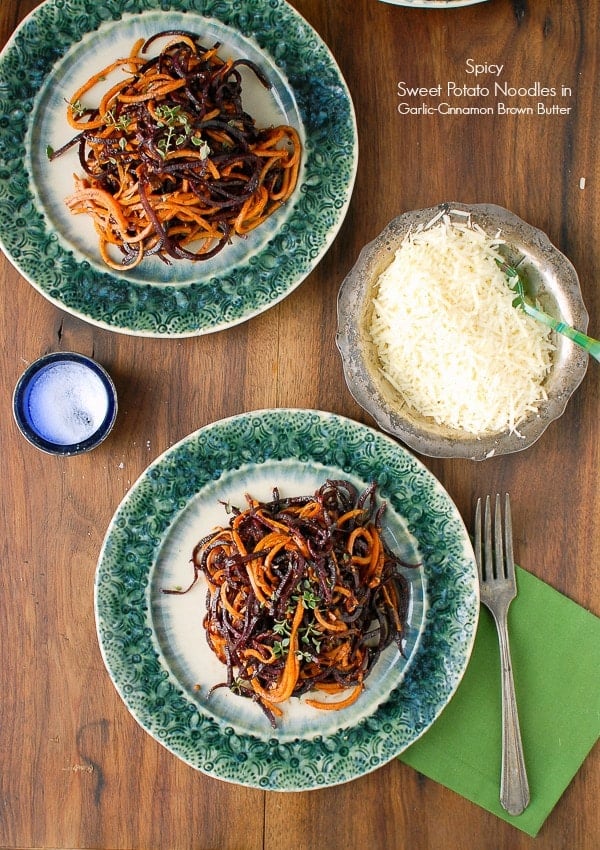 I can say without a doubt one of the favorite additions to my kitchen this year is my Spiralizer. I originally purchased it out of sheer intrigue. I loved the idea it could turn ordinary produce into ribbons of faux pasta or nests of tangled deliciousness.
I always love an open ended proposition and the chance to step out of the box. In my mind the Spiralizer offers an invitation to experiment and see what I could create from vegetables and fruit. A few favorite creations so far are Butternut Squash Noodles with Sage Brown Butter, Zucchini Ribbon Mediterranean Salad and Cucumber Melon Spa Salad (this Freaky Halloween Salad was pretty fun too).
I also love the idea of making vegetable pasta out of vegetables, not pasta flavored with vegetables and colored like them. It's naturally gluten-free which is fantastic. The speed with which vegetable pasta can be made fits well into my speed meal needs on busy school nights or when I'm feeling lazy. Vegetables are turned into noodles in minutes, and by roasting squash noodles (or sweet potato in this case) for less than ten minutes the texture is that of traditional pasta. Winter squashes are perfect for this and when complimented by the right topping or sauce truly can be mistaken for flour pasta.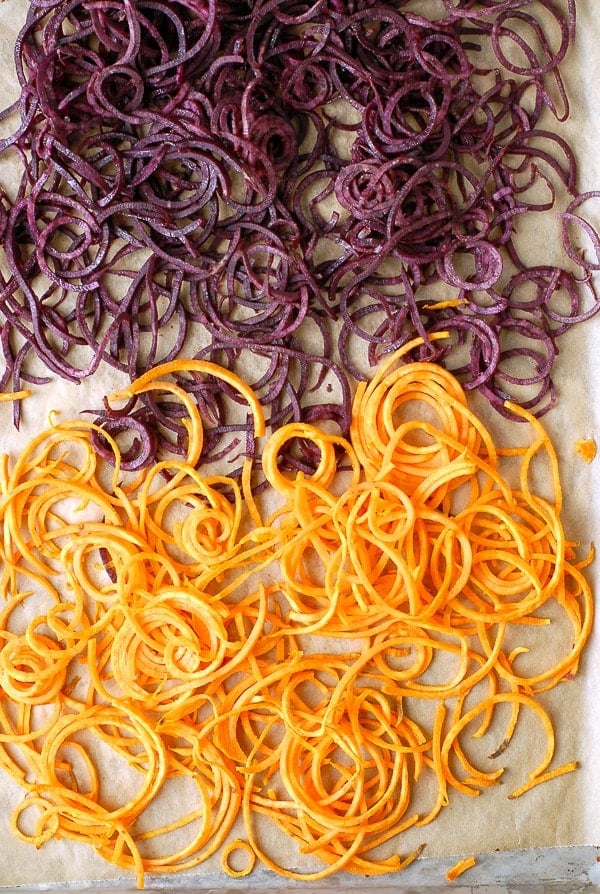 While I'm sounding like an infomercial I'll add were you have told me I'd be happily turning squash into pasta I would have laughed, especially that I'd be gobbling it up faster than my family could get a share. I love the texture, the full flavor when roasted, the nutritional content and the lower calories. At this time of year the Spiralizer is a fabulous tool to keep meals fast and healthy. There are loads of options to try that provide a great result with good structure.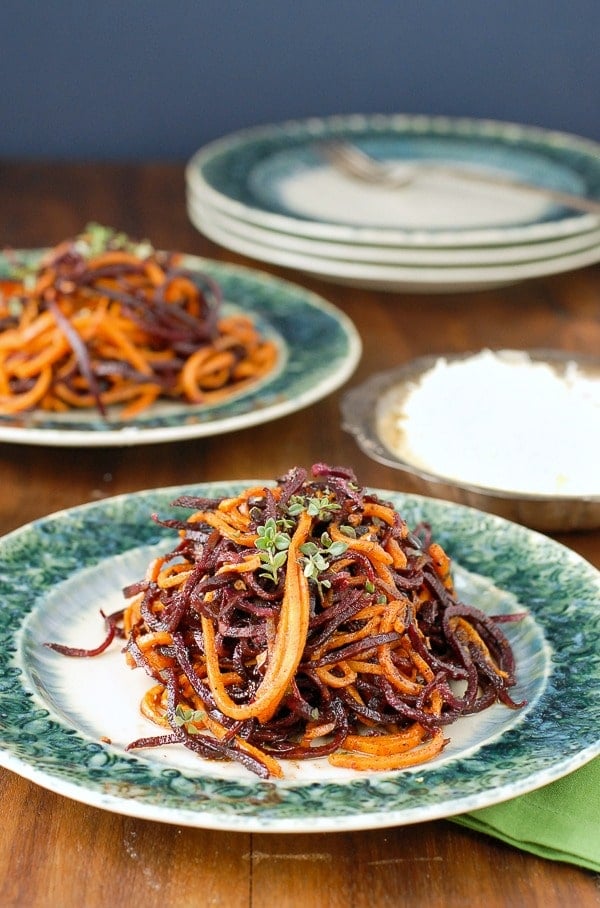 It was feeling like a Spiralizer opportunity recently between the parade of holiday sweets in the Boulder Locavore house. When shopping I snatched up a traditional sweet potato and a purple variety. I truly feel, especially when coaxing younger eaters into trying new things, that novelty is your friend. A wound pile of orange and purple noodles is not something to be easily ignored! After roasting the noodles I tossed them in a fragrant garlic brown butter with red pepper flakes, cinnamon and nutmeg. The butter is intense in flavor and spice which is imparted to the sweet potato noodles for a warming, irresistible dish!