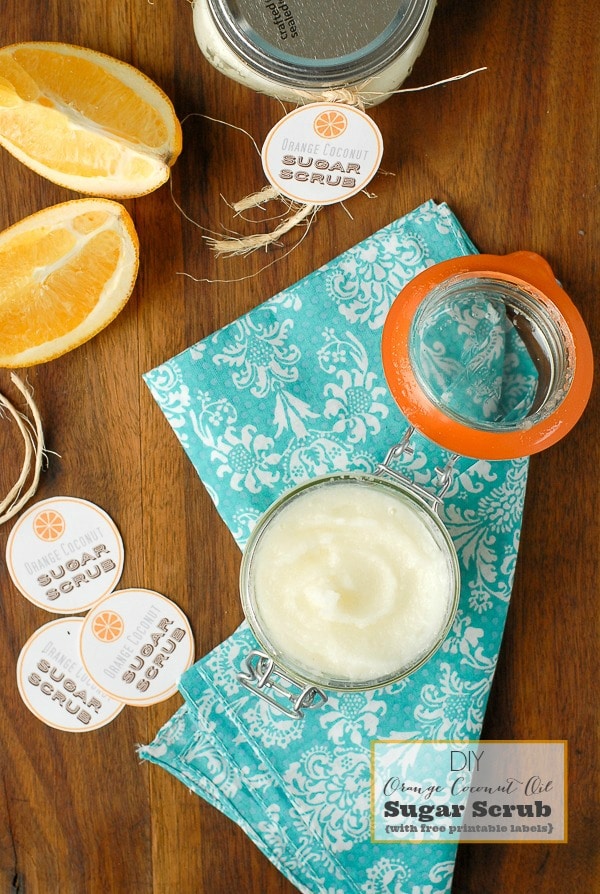 My hands look about 164 years old. Ok, that IS an exaggeration. Not a day over 153. We have entered the time of year, certainly in Colorado, where it feels that the moisture Gods have packed up for the season and headed to Florida or some other place that is more forgiving on skin. It's cold. It's windy. As much water as I drink, my lips are constantly parched and any exposed body skin is dry with a pallor of 'desert desiccation'. It's not pretty.
Something I love at this time of year especially are scrubs. I remember the first time I experienced a scrub which was at the hands of prim cosmetics representative in the Origins department of a major department store. I was walking through when she stopped me. I was intrigued by her set up: a large tub of some beauty product, a clear basin of water that you'd expect to see on a laundry product demo Infomercial and a fluffy white hand towel. She proceeded to gently rub this salt scrub on the back of my hand, rinse and pat it dry only to reveal a silky, moisturized result causing me to buy several tubs of the scrub for myself and every girlfriend I could think of.
As much as I loved that product, and it was revolutionary at the time, it left my bathtub dangerously slick with oil and being salt based stung any knicks or cuts I might have been sporting at the time. The need to couple a relaxing, exfoliating bath with a high chemical oil spill recovery treatment to my bathtub right afterward eventually left my favorite product and I to part ways.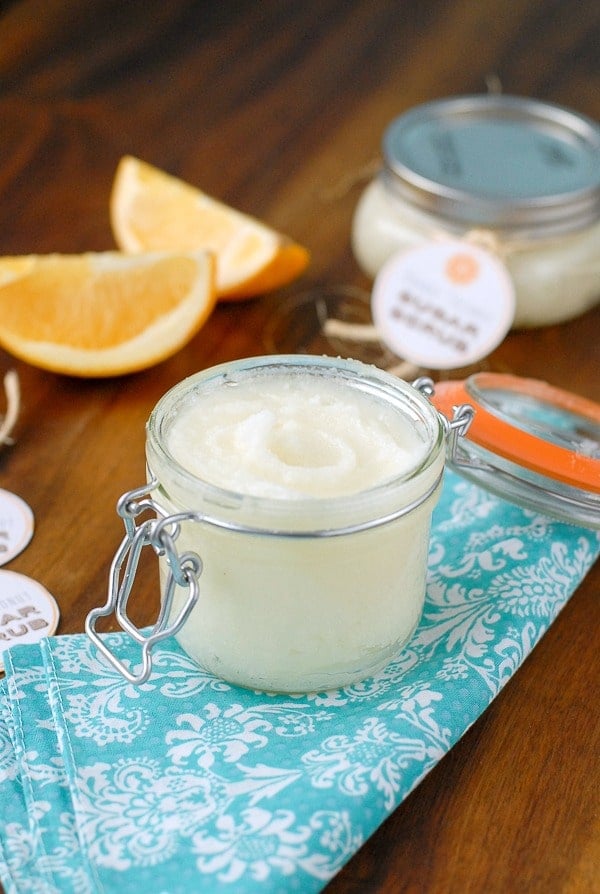 The great news is that I've created a homemade scrub that I love. It provides a gentle exfoliation without the risk to limb from falling in the shower on slippery surfaces, and is made of natural products: Orange Coconut Oil Sugar Scrub. Coconut Oil is all the rage right now with good reason. I won't get into the dietary benefits now but it is a fabulous oil for your skin. It solidifies at room temperature so has a beautiful creamy texture and that 'tropical-vacation-at-home' smell I love. It also doesn't go bad when kept at room temperature. For a natural beauty product kept in a bathroom this is a great thing. If it becomes too warm, set on a sunny window sill for instance, the oil will liquefy but when back at normal room temperature solifies again.
Sugar is wonderful in a scrub. The granules are finer so though the exfoliation it is not as aggressive as using salt nor drying as salt can be. One should never use salt on their face however sugar is a great exfoliator for the face and the body. It dissolves easily when used so your shower floor won't be gritty with sugar. There is no sting factor as with salt coming in contact with shaving knicks or scrapes.
This scrub is very easy to make. In fact if it takes you five minutes you are doing something wrong! I've added orange essential oil to it for the bright, happy smell which is a wonderful pick-me-up. Citrus oil can be irritating to the facial skin so I would suggest body use only for this blend, however without the orange oil is fine for the face (and it might not bother your skin, it can with more sensitive complexions). The scrub is creamy and gently. I love what it does for my parched hands and the coconut oil soaks into the skin for a wonderful moisture benefit rather than merely coating the exterior of the skin with oil. I used it on one of my hands to compare the effect to my untreated hand; I love how silky smooth it is. I'd show you the before and after contrast but couldn't stand the shame of you seeing how my hands look when I don't use the scrub! I have included free printable labels for gift giving too!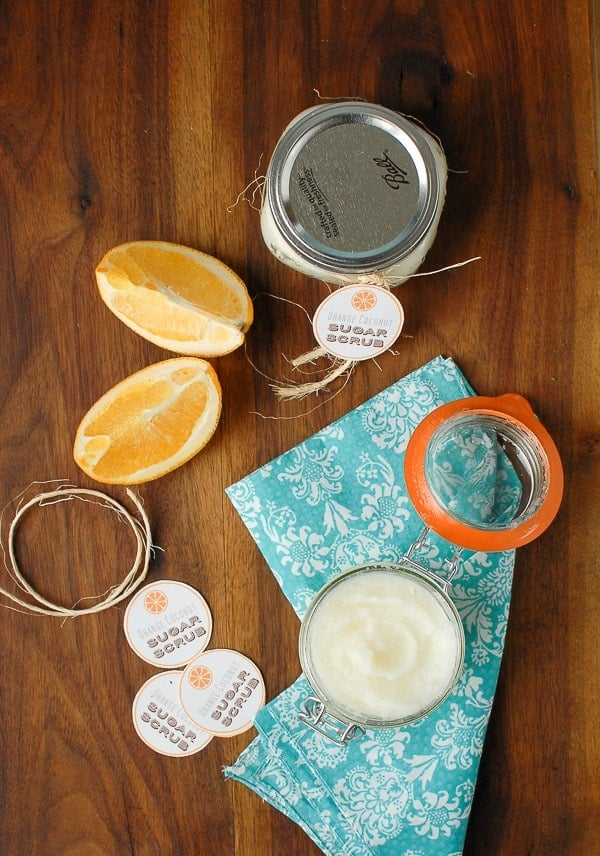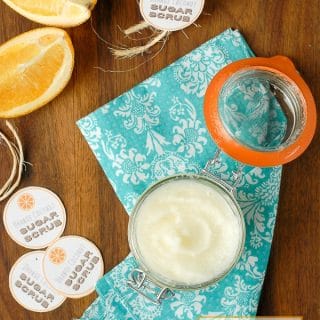 DIY Orange Coconut Oil Sugar Scrub
This simple, creamy Orange Coconut Oil Sugar Scrub is destined to become your new favorite and a favorite gift to give! The coconut oil has a moisturizing emollient effect on the skin and smells delicious like a tropical vacation. The essential orange oil adds a fresh lively scent of citrus. The sugar provide a gentle exfoliation without any harsh drying effects and dissolve easily in the tub or shower. Cute printable gift labels add the finishing touch to make this a perfect gift you can create in less than 30 minutes.
Print
Save Recipe
Recipe Saved!
Pin
Rate
Servings:
1
3/4 cups sugar scrub
Ingredients
1 1/4

cups

Coconut Oil

3/4

cup

granulated Sugar

20-25

drops Orange Essential Oil

(I recommend all natural or organic essential oils for best purity)
Instructions
Combine the coconut oil and sugar in a large mixing bowl. Stir by hand to fully incorporate.

Add the essential oil and stir in.

Store in fully sealed, glass jar(s) out of direct sunlight. Add a label and give as a gift.

To Use: Scoop a small amount onto fingertips and gently rub in a circular motion on moist skin. Rinse and pat dry.