Fried Ice Cream is an unexpected, irresistibly good dessert. This version is churro-flavored with a a hot, cinnamon-sugar fried cookie coating over frozen vanilla ice cream!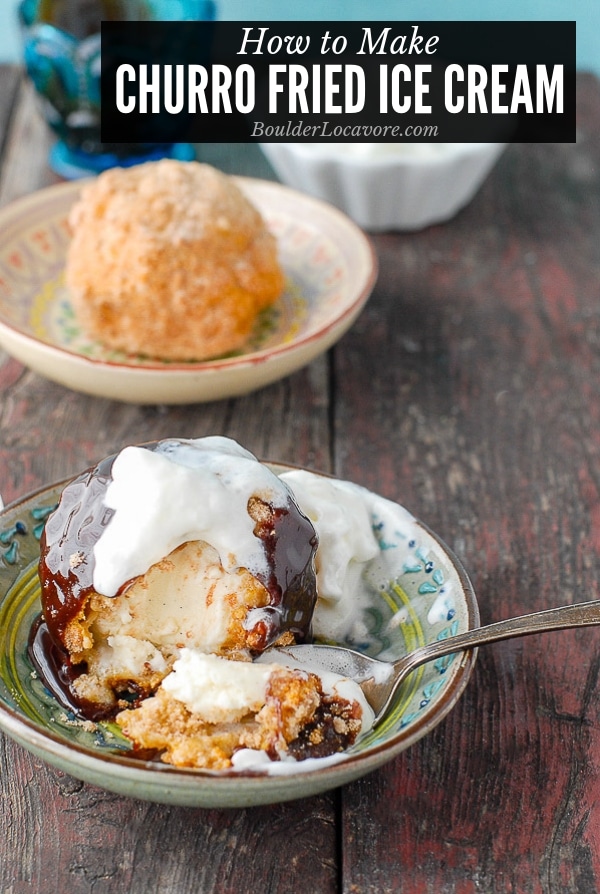 This first time I ever had Fried Ice Cream was at a Japanese restaurant in San Francisco as a child with my grandparents. It was love at first bite!
There is nothing more magical than biting into a hot, sweet, doughy ball to find frozen ice cream inside!
Well, there is something better: making it yourself and Churro Fried Ice Cream!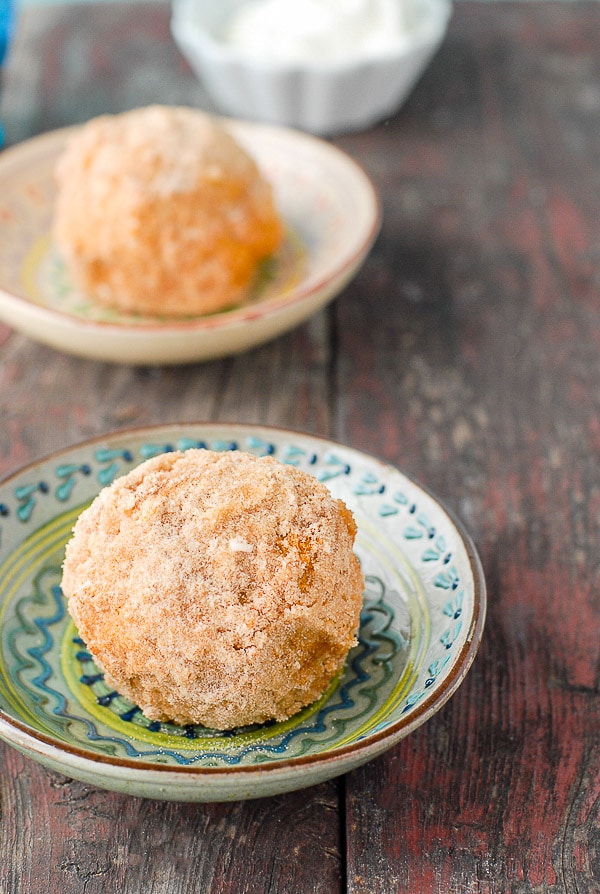 What is Fried Ice Cream?
It sounds like a contradiction in terms but it's not: 'fried' 'ice cream'.
Ice cream is dipped in batter and fried, creating a hot-on-the-outside frozen-on-the-inside dessert that's like none other.
Making fried ice cream at home it is not a difficult process but takes some time.
The ice cream must be fully frozen and frozen with a coating.
Each step is simple but there is freezing time in between to turn the coated ice cream balls into the irresistible dessert!
Ingredients in Churro Fried Ice Cream
The ingredients for making fried ice cream are simple: ice cream, a coating and oil to fry it in.
There are many variations of the ice cream flavors and the coating that can be used.
The recipe today is for Churro Fried Ice Cream which has a wonderful cinnamon cookie crust.
Here are the ingredients:
Vanilla Bean Ice Cream
Snickerdoodle Cookie crumbs (from homemade or store purchased snickerdoodles)
Cornflakes crumbs
Eggs
Granulated Sugar
ground Cinnamon
Sunflower oil
Toppings:

Chocolate Syrup
Whipped Cream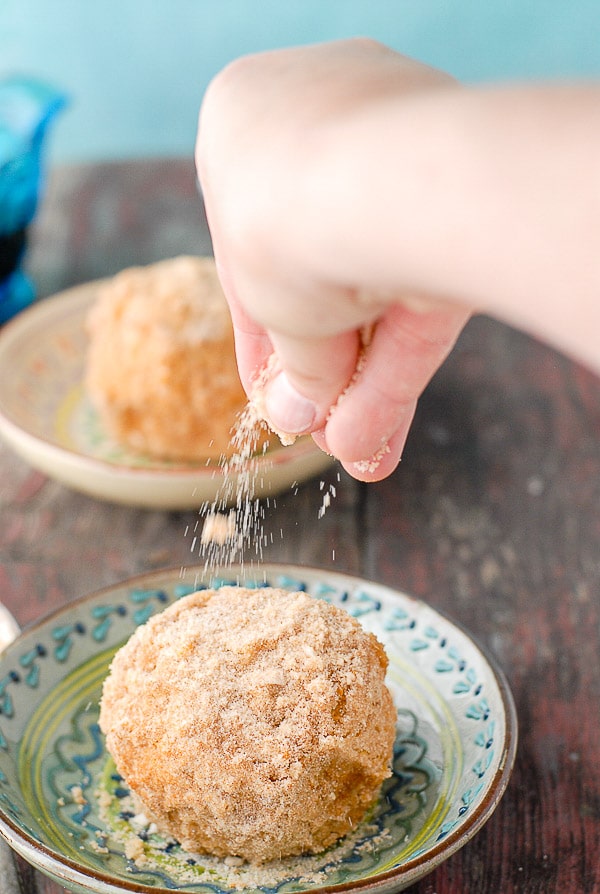 Why Use Sunflower Oil?
Sunflower oil is neutral in flavor so it will not flavor the fried ice cream.
It also has a high 'smoke point' which means it can be heated to higher temperatures without smoking making it a great choice for deep frying.
Making Cookie Crumbs
This recipe calls for both cookie crumbs and cornflakes crumbs. You'll easily make these yourself.
If you have not make them before, you'll undobutedly find other ways to use the technique for other recipes in the future!
Making the crumbs is easy:
Place the cookies (homemade or store purchased) in a mini chopper (my preferred method), food processor or blender.
Pulse to grind the cookies into crumbs.
The same technique is used to turn the cereal into crumbs.
Because cookies are all different sizes, you'll have to experiment with how many are needed to produce the 1 1/2 cups for the recipe.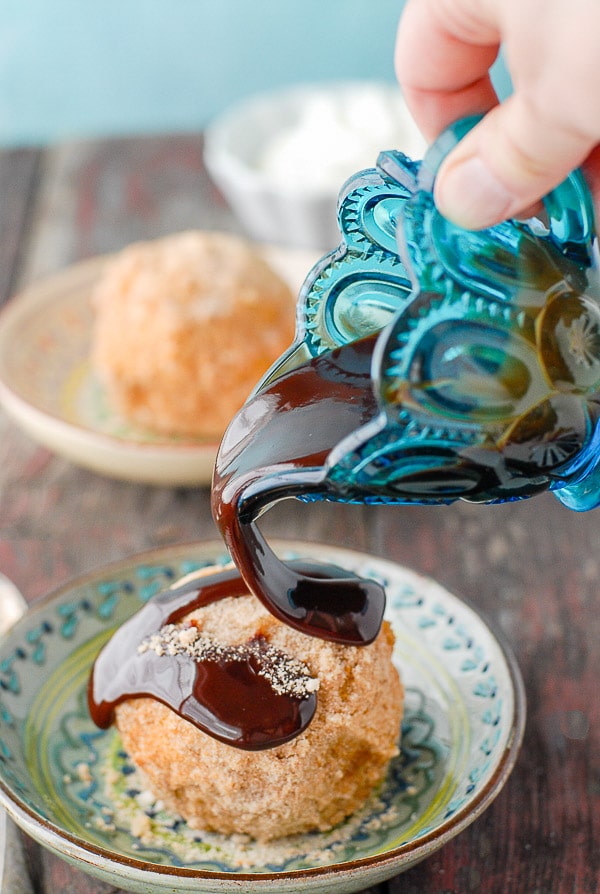 Is Fried Ice Cream Gluten-Free?
This recipe may be made gluten-free if gluten-free cookie crumbs and cornflakes are used.
The fried ice cream in the photos is gluten-free!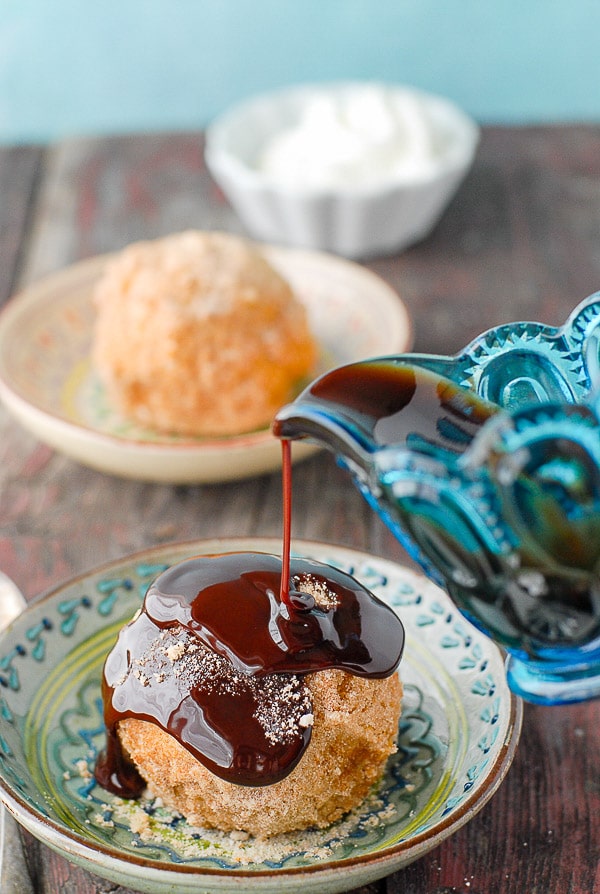 Supplies for Making Fried Ice Cream
Supplies for making fried ice cream are probably already in your kitchen!
The only tool you may not have and is probably the most helpful utensil is a frying strainer.
A frying strainer is a slotted ladle designed for frying temperatures (link below) and to allow fried foods to easily drain over the pot.
The spoon portion is at an angle making it easy to drop the ice cream into the oil and lift it out.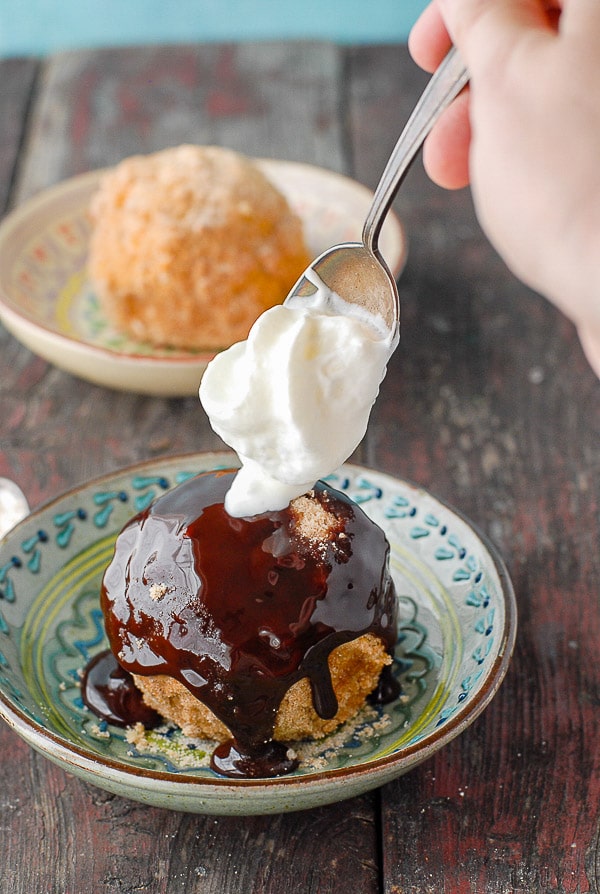 Cooking Notes on Making Fried Ice Cream
Making fried ice cream takes a bit of time to ensure the coating properly freezes before frying.
The coating process takes only minutes and waiting through the freezing time is important to ensure a great end result.
The ice cream balls are coated and fried individually to discourage melting.
The volume of crumbs and number of eggs called for allows some surplus, which makes coating the ice cream balls quicker and easier to do.
The recipe can be increased to make a larger batch of fried ice cream balls by multiplying the ingredient proportions.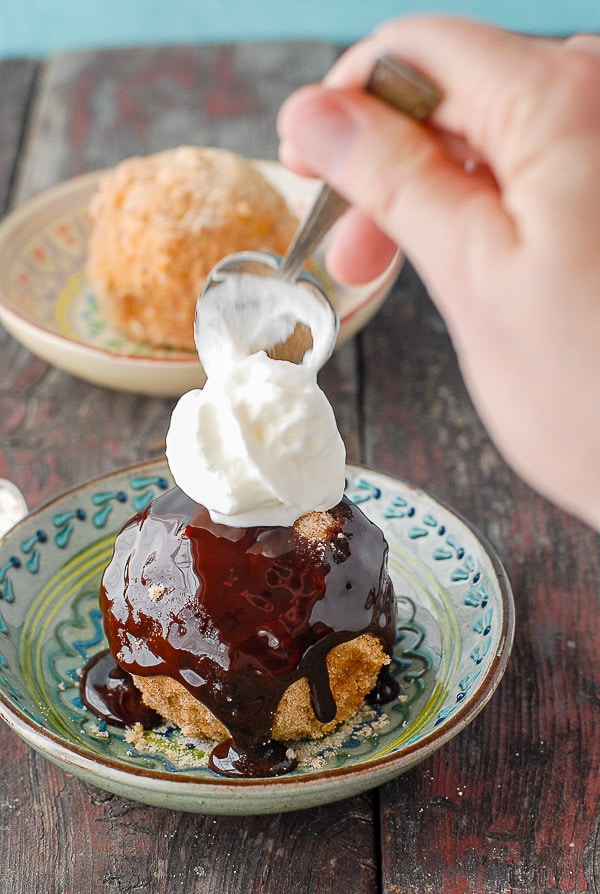 How to Make Fried Ice Cream
Refer to the recipe card below for specific instructions.
The fried ice cream goes through four freezing cycles before it is fried:

Freezing the ice cream balls (2-3 hours or overnight)
After rolling frozen ice cream balls in the cookie crumbs (30 minutes)
After rolling the ice cream in an egg and more cookie crumbs (1 hour)
After rolling in eggs and cornflakes (30 minutes or until hard)

Combine the sugar and cinnamon in a small mixing bowl and spread onto a salad plate.
Fill a heavy pot with 4 inches of oil. Position a candy thermometer on the side of the pot and heat the oil to 375 degrees.
Using a heatproof slotted spoon gently lower one ice cream ball into the heated oil. Fry for 20 seconds spooning the oil over the ice cream ball as it fries.
Remove the fried ice cream and place immediately into the cinnamon sugar using the spoon to roll and coat it fully (it will be HOT; don't touch with your hands).
Gently lift and shake off any excess cinnamon sugar. Serve immediately on a plate or bowl with chocolate syrup and whipped cream.
Repeat for remaining ice cream balls.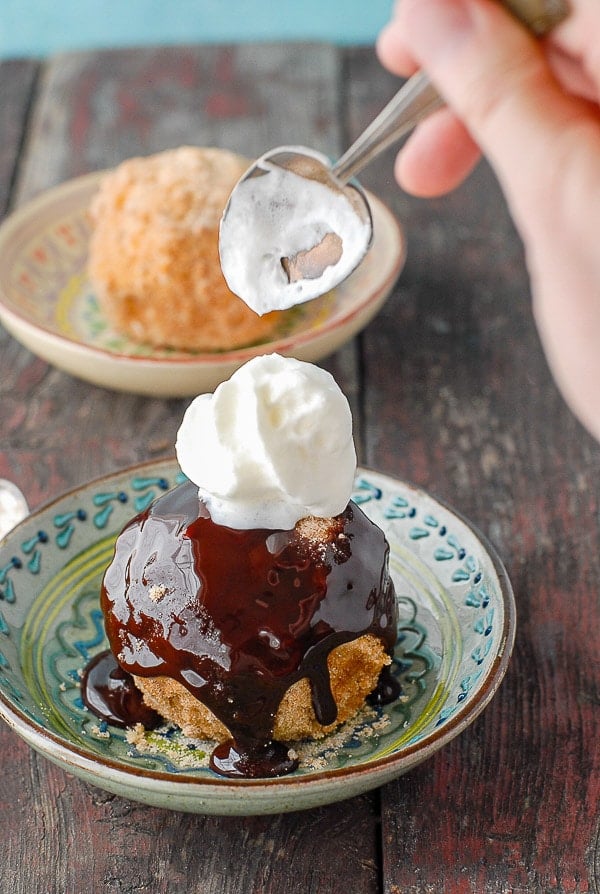 Time Saving Tips
The biggest opportunity to save time is during making and freezing the ice cream balls for fried ice cream.
Two options:
Make the initial ice cream balls the night before planning to fry them and do the three coating and freezing steps the day of frying them.
Prepare and coat the ice cream balls the day before frying them. Seal well in the freezer so the coating doesn't get soggy with any moisture.
Make Ahead Option
I pre-freeze ice cream balls for ice cream floats. Doing this allows them to stay frozen longer in the float.
The ice cream balls, uncoated, for this recipe could also be frozen without the coating.
Cover, seal well, and keep in the freezer for a few days before coating and frying.
Recipe Serving Size
This recipe makes 4 1/2-cup fried ice cream balls.
Increase (or decreased) the recipe servings by keeping the proportions of the ingredients the same.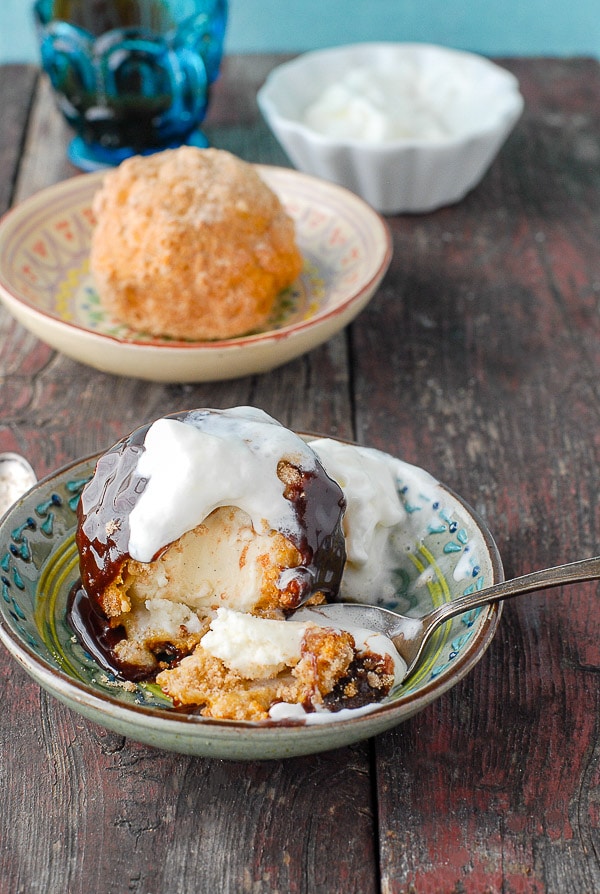 More Dessert Recipes You'll Love
Have you made this Churro Fried Ice Cream recipe? Please RATE THE RECIPE below!
Originally published May 2, 2014; updated February 2019.