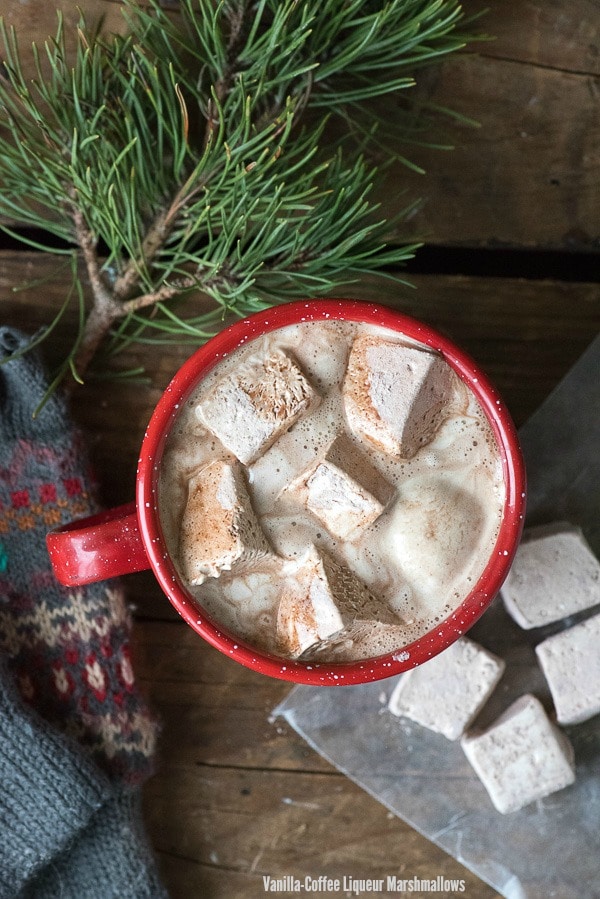 One of the most fun confections I've begun to make at home in the past year has been marshmallows. I'm not sure why I had not made them before. Something about them seemed like one could not make them at home. Like there is a magic marshmallow factory and they only could be made there.
Not so, I'm happy to report. Marshmallows are really sugar that is melted and whipped up to be lofty, and airy, flavored and left to sit overnight. The toughest part? Deciding what flavor to make them! Two favorites are Crème de Menthe Marshmallows and Rose-flavored Marshmallows.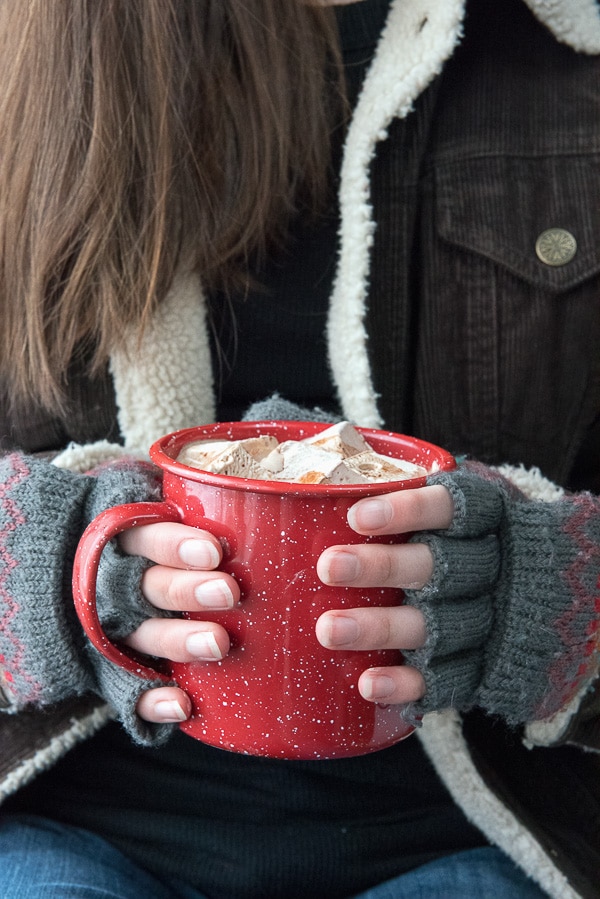 We are at the time of year where everything needs to be quick and easy. We are overloaded, behind and careening headlong toward a much needed lull in the year over the holidays. I also love making homemade gifts, especially those unexpected. A bag of homemade marshmallows to add to hot cocoa, a steamer or to make oven s'mores is most welcome. Unlike store-bought marshmallows, they have a more dense consistency and the flavor, though sweet, isn't the same strong sugar flavor.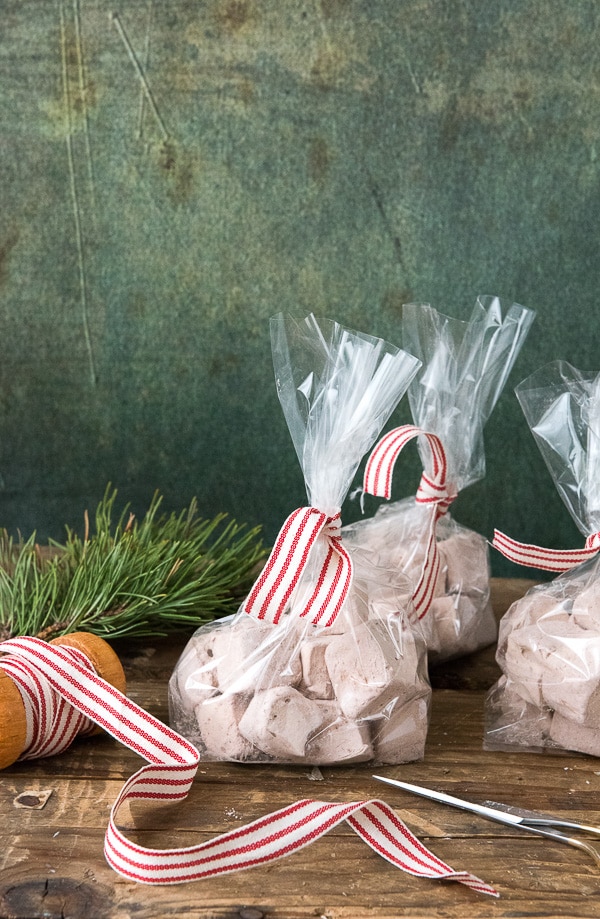 For my latest batch I made Vanilla-Coffee Liqueur Marshmallows. Teetotalers, don't fret; the amount of liqueur is only enough to flavor the marshmallows, no one will be tipsy from them. My mom was a teacher when I was growing up and she always made gifts for friends and co-workers. I remember her making batches of homemade Crème de Menthe and 'Kahlua', coffee liqueur to gift. I've shared both of her recipes and have a batch on hand at all times myself. My kids love Grasshopper Pie so the Crème de Menthe is used mainly for that.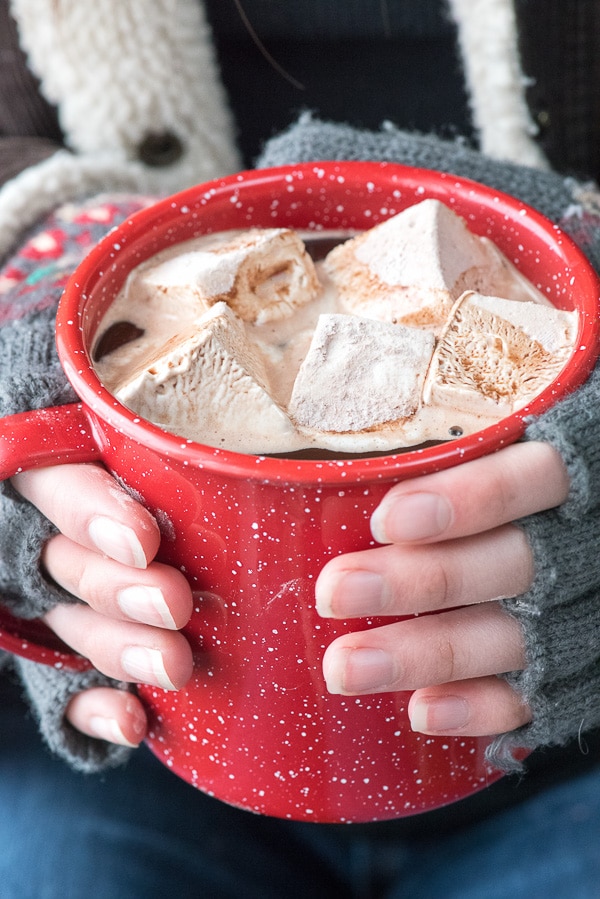 The marshmallows are coated with a mix of confectioner's sugar and corn starch which keeps them from sticking together. I've added some unsweetened cocoa powder to these which brings in a nice chocolate flavor to deepen the taste of the coffee.
Homemade marshmallows take about 30 minutes to get into the pan and the pan sits overnight (uncovered at room temperature) when the mixture can be cut into individual marshmallows and stored or packaged as gifts. Whether popping them into your mouth as a treat or in your favorite steamy drink this winter, I think you'll love them as will anyone you give them too.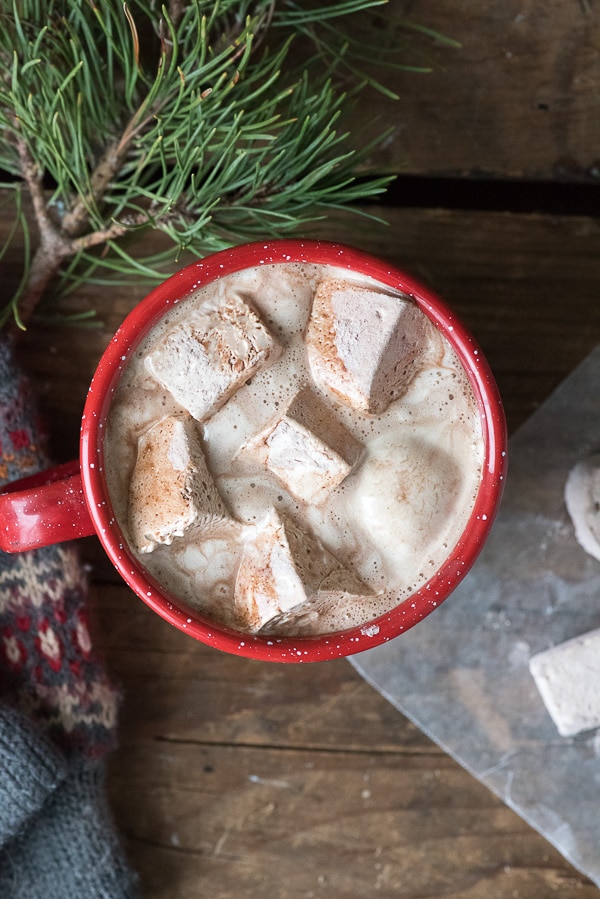 Recipe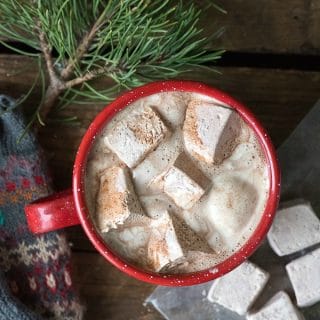 Vanilla-Coffee Liqueur Marshmallows
Once you make a batch of homemade marshmallows there is no turning back! They have a wonderful dense consistency and creamy 'mouth feel', more so than store bought marshmallows. This recipes yields a wonderful coffee liqueur flavor without being boozy, along with a hint of chocolate to deepen the flavor. Great for a treat, hot drinks and absolutely for gifts!
Print
Save Recipe
Recipe Saved!
Pin
Rate
Servings:
49
-1 1/4 inch cube marshmallows or 36-1 1/2 inch cube marshmallows
Ingredients
¼

cup

Confectioner's Sugar

¼

cup

Cornstarch

1

tablespoon

Unsweetened Cocoa Powder

3

packets gelatin

¼

cup

Coffee Liqueur

, homemade or purchased

¾

cups

cold Water

1 ½

cups

Granulated Sugar

1

cup

Corn Syrup

1

teaspoon

Vanilla Extract
Instructions
Prepare a 9 by 9-inch square pan by spraying with cooking spray. Place a piece of parchment paper in the pan to cover the bottom and two adjacent opposite sides (leaving the other two opposite sides of the pan uncovered); press into the creases. This makes it easy to lift out of the pan when done. Spray the parchment paper and set pan aside.

Mix together the confectioner's sugar, cornstarch and cocoa powder in a small bowl; set aside (this is for coating the marshmallows).

In the bowl of a free standing mixer equipped with a whisk attachment, add the gelatin, coffee liqueur and ¼ cup of the cold water. Do not stir.

In a large pan combine the sugar, corn syrup and remaining ½ cup of cold water. Stir to dissolve. Equip the pan with a candy thermometer and bring to a simmer over Medium-High heat; do not stir. Allow mixture to simmer until it reaches 240 degrees on the thermometer.

Carefully pour the sugar mixture into the bowl of the mixer with the gelatin. Start the mixer on low speed and once the two mixtures have combined, raise the speed to high and allow to mix for 15 minutes when mixture will be light and airy.

At 14 minutes add the vanilla extract.

Spray a spatula or silicone spoon with cooking spray so it won't stick to the marshmallow. Spoon the marshmallow mixture out of the mixing bowl and into the prepared pan. Smooth with the sprayed spatula to cover the pan and smooth the top. Sprinkle some of the confectioner's sugar-cornstarch-cocoa mixture on the top; reserve the rest for the next day.

Set the pan of marshmallow aside at room temperature, uncovered, overnight.

The next day sprinkle the remaining confectioner's sugar-cornstarch onto a work surface.

Lift the marshmallow from the pan with the sides of the parchment paper. Peel away the parchment paper and place the underside of the marshmallow (that was on the parchment paper) onto the sugared work surface, allowing it to become covered with the sugar-cornstarch.

Cut the marshmallow into 1 1/4 or 1 1/2-inch-wide strips; kitchen scissors work the best for this task. Cut each strip into individual marshmallows (1 1/4 or 1 1/2 inch). Roll all sides of the marshmallows in the sugar-cornstarch mixture and shake off any excess (this will keep the marshmallows from sticking to each other or hands).

Store in an airtight container for up to 5 days.
Nutrition
Calories:
53
kcal
|
Carbohydrates:
13
g
|
Protein:
0
g
|
Fat:
0
g
|
Saturated Fat:
0
g
|
Cholesterol:
0
mg
|
Sodium:
4
mg
|
Potassium:
1
mg
|
Fiber:
0
g
|
Sugar:
12
g
|
Calcium:
1
mg
|
Iron:
0
mg