Chocolate Fondue has never been easier! Made in individual cups in a slow cooker! Fast and easy to make any time.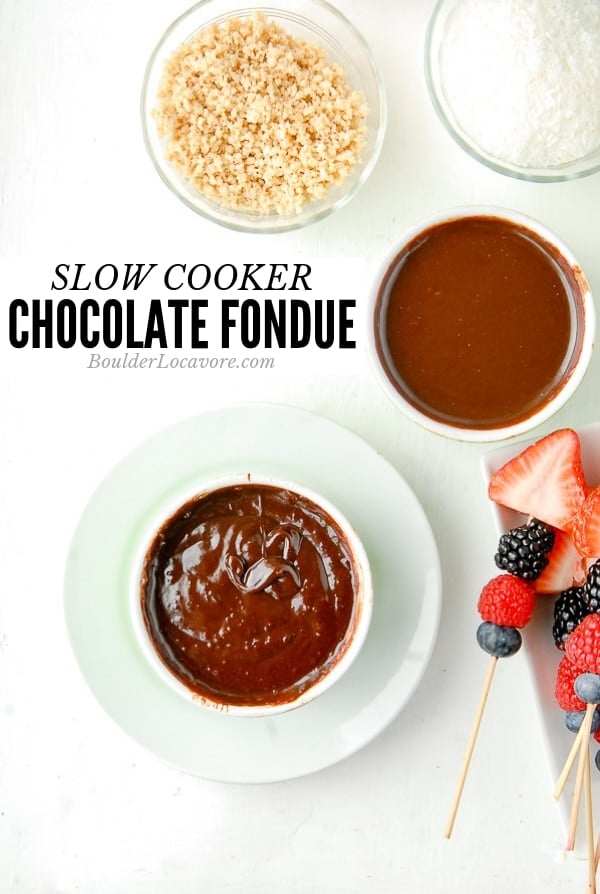 There is nothing more adored on the dessert front than chocolate.
AND there is nothing like the silky texture of melted chocolate for dipping other favorite treats.
Chocolate fondue has been a long favorite but did you know you can make it without a fancy fondue pot?
Chocolate Fondue in the Slow Cooker is super easy, and SO easy it becomes an 'anytime' dessert.
This recipe creates individual chocolate fondue pots perfect for a special occasion (Valentine's Day for instance) or entertaining guests!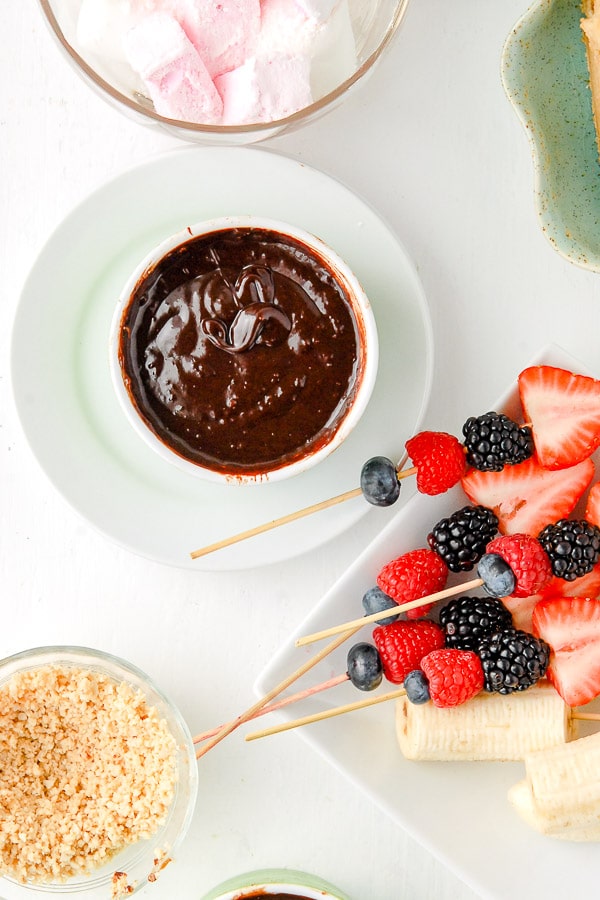 What is Chocolate Fondue?
Chocolate Fondue is a mixture of melted chocolate and cream or milk that has the thickness of a sauce.
It is traditionally served in a communal fondue pot that stays heated by a small source of heat underneath.
Long handled fondue forks are used to dip bread or fruit for a delicious, warm chocolate coating.
This chocolate fondue recipe uses other options so fondue forks are not required.
Ingredients in Chocolate Fondue
Chocolate Fondue is a simple recipe with only three ingredients:
Chocolate Baking Chips or chopped Chocolate
Heavy Whipping Cream
Vanilla Extract
Some chocolate fondue recipes add some a bit of liqueur such as Kirsch (cherry flavored), Grand Marnier (orange flavored) or Brandy.
You can add a splash if you choose!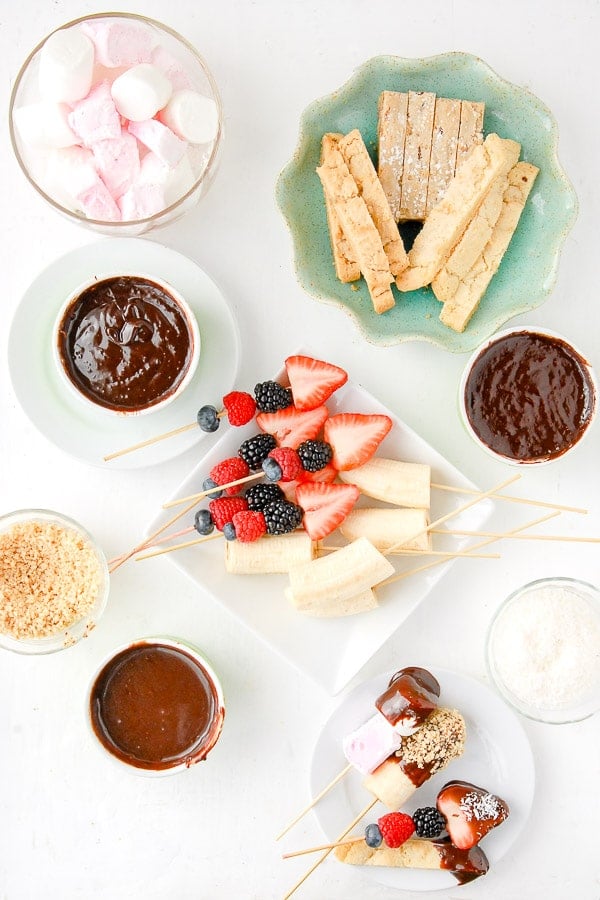 What Type of Chocolate Can be Used for Chocolate Fondue?
Any type of chocolate can be used for Chocolate Fondue.
Darker chocolate is deeper in flavor and a bit less sweet. Milk chocolate is loved by most.
Consider what will be dipped into the fondue pots for the best match.
Experiment with gourmet flavor chocolate bars that would be chopped to make the chocolate fondue instead of using baking chips.
A favorite is a combination of a Dark Chocolate Orange Bar and Semi-Sweet Chocolate Chips!
Also, because this chocolate fondue is made in individual pots, different types of chocolate fondue pots can be made and shared.
TIP: before starting check to see how many 1-cup ramekins fit into your slow cooker. This will determine how many you can make at a time.
Is this Chocolate Fondue Gluten-Free?
Yes depending on the chocolate selected (usually only chocolate with extra ingredients would have gluten).
Select dipping ingredients that are also gluten-free.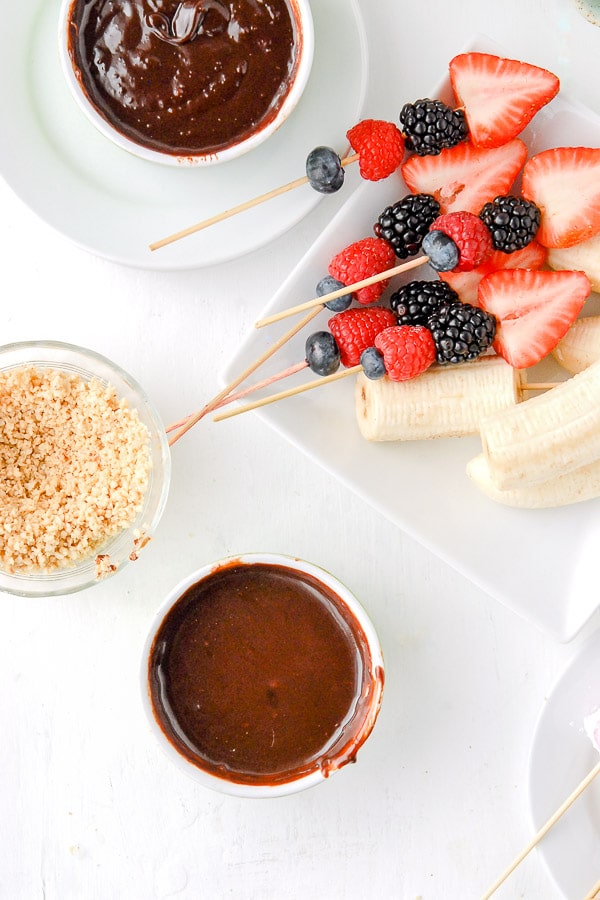 Chocolate Fondue Pots in the Slow Cooker
Why is this chocolate fondue recipe unique?
Made in a Slow Cooker
Individual ramekins for personal servings or a mixture of chocolate fondue pots to share
So EASY
No special equipment
It's not a fussy recipe
No messy clean up
Setting the Chocolate Fondue pots in the slow cooker before dinner will have them ready for serving when the meal is done when entertaining.
This method of making Chocolate Fondue makes it an EASY dessert.
One that can be made any time, not just on special occasions.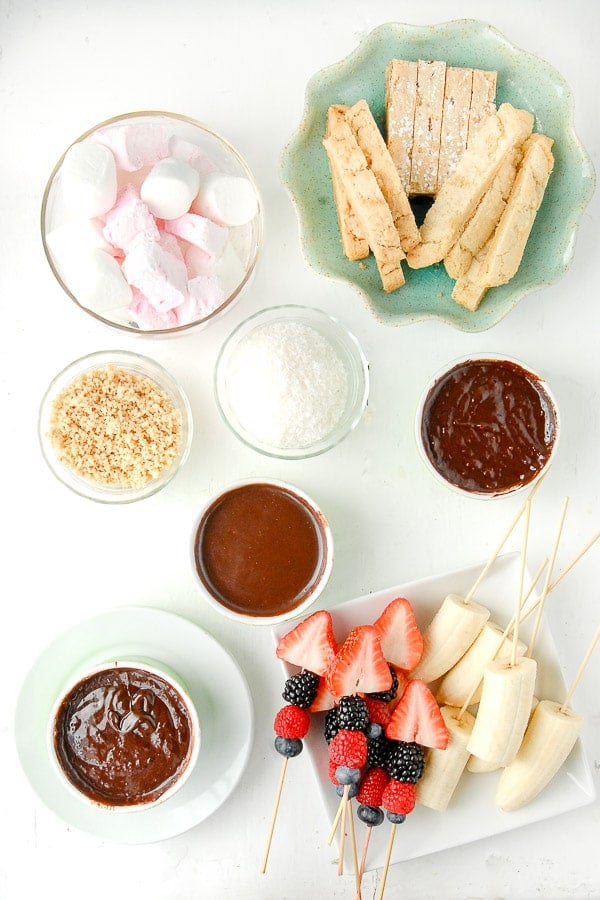 What to Dip in Chocolate Fondue?
The possibilities are endless in terms of what to dip into the Chocolate Fondue. Some favorites include:
Fruits

Slices or chunks of Banana
Orange slices
Berries:

Strawberries, sliced, halved or whole if small
Raspberries
Blueberries
Blackberries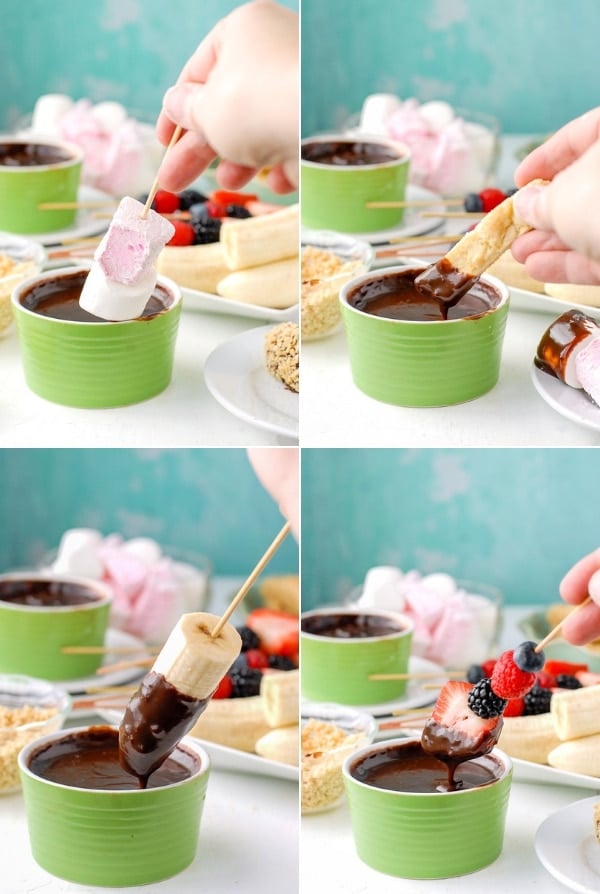 Cookies: Softer cookies that can be cut into ¾-inch wide strips are perfect:

Snickerdoodles
Peanut Butter cookies
Blondies

Cubes of cake (pound cake, angel food cake)
Small meringues (these Forget Me Not rose-flavored meringues are a great option for Valentine's Day or Mother's Day)
Marshmallows
Adding Coatings to 'Dip and Roll'
Including coatings to finish off dipped ingredients takes chocolate fondue up a notch! Coatings such as:
Ground peanuts
Small flake coconut
Sprinkles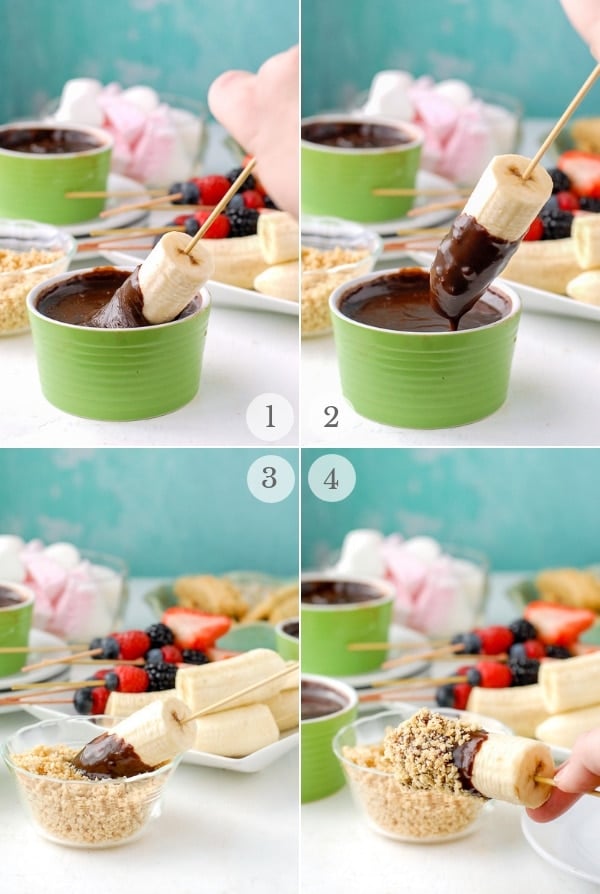 Make Ahead Skewers for Dipping
When preparing chocolate fondue pots for a party, making the dipping ingredients beforehand makes it an effortless but elegant dessert choice.
Creating small bamboo skewers with different fruits can be prepared, sealed and refrigerated.
I recommend doing them the same day for berries.
Bananas can become discolored so prepare those as close to serving as possible.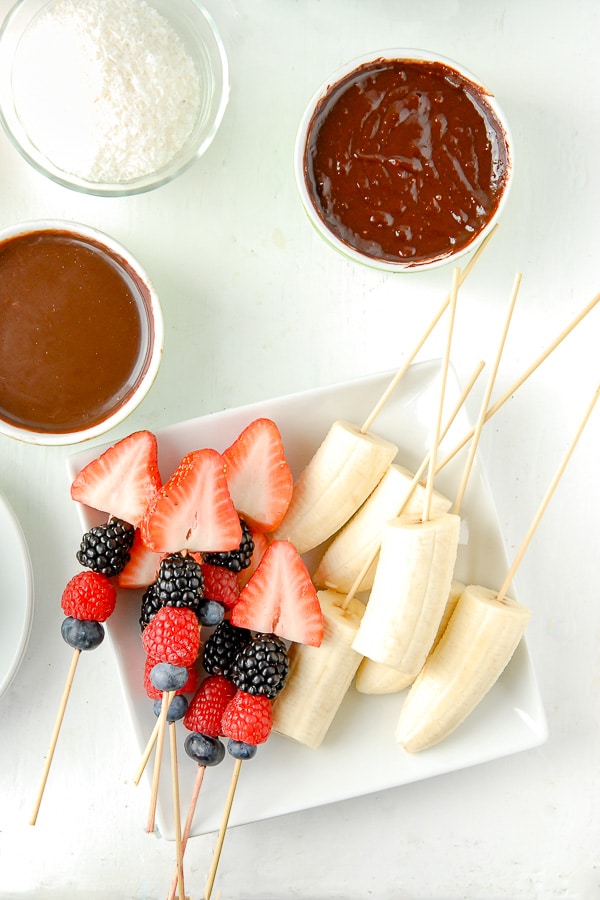 How to Make Chocolate Fondue in the Slow Cooker
Supplies Needs:
Before beginning, confirm how many ramekins fit in the slow cooker being used!
Combine the chocolate and cream in 1 cup ramekins or small heatproof bowls.
Place in the slow cooker and place the lid on the slow cooker.
Cook on LOW for 45 minutes. NOTE: Ramekins and the slow cooker will be hot; carefully remove from the slow cooker with pot holders(I like the pot holders with silicon on them for a better grip).
The ramekins will be full; carefully stir in vanilla extract or whisk mixture until fully blended together into a creamy consistency.
Serve immediately.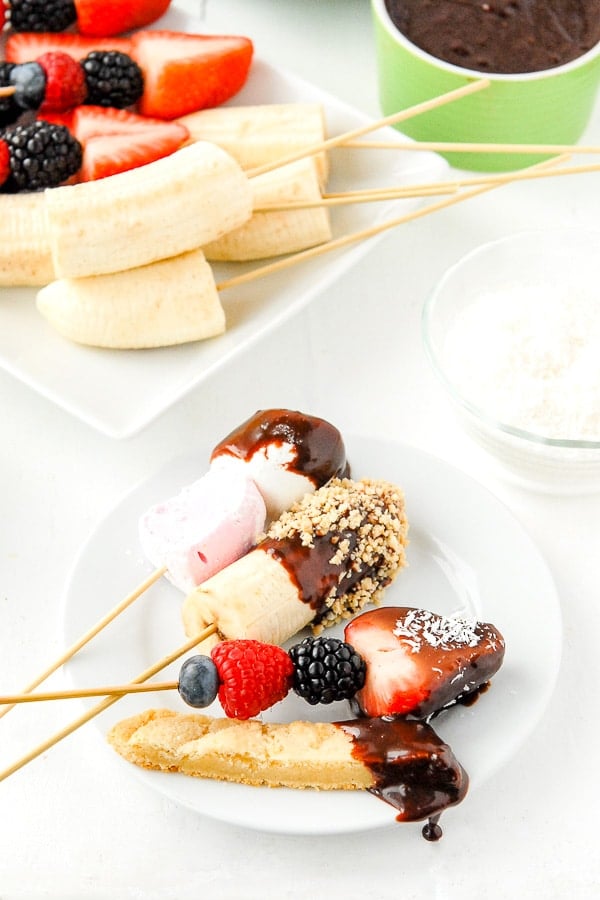 Did you Make this Recipe? Please RATE THE RECIPE below!
Originally published February 8, 2015. Updated February 2019.