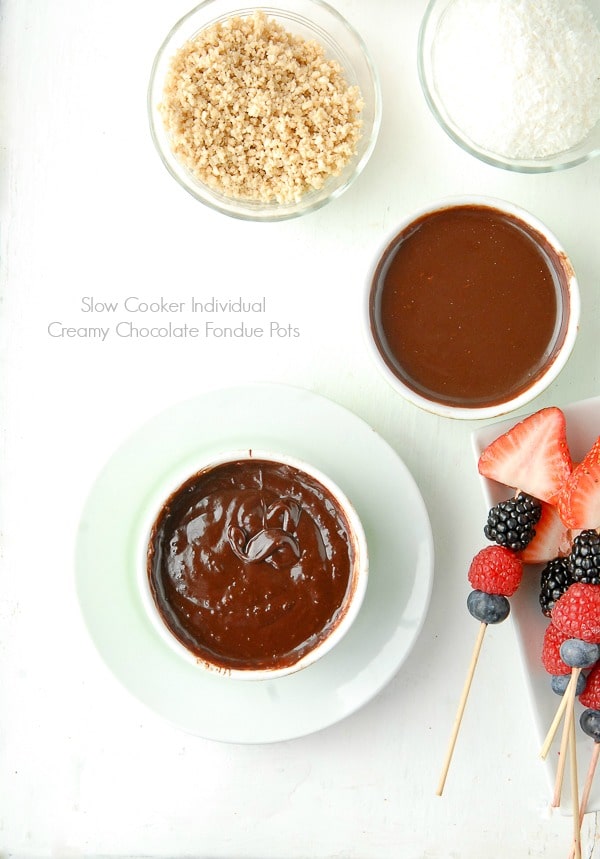 Ever since I was a child fondue has been a treat for special occasions.  So exotic!  The blue flame from the fuel pot dancing wildly, licking the bottom of the metal pot was mesmerizing.  I loved the ritual of loading up the skewers with dip-able bites and watching the bubbling oil transform meat into seared perfection.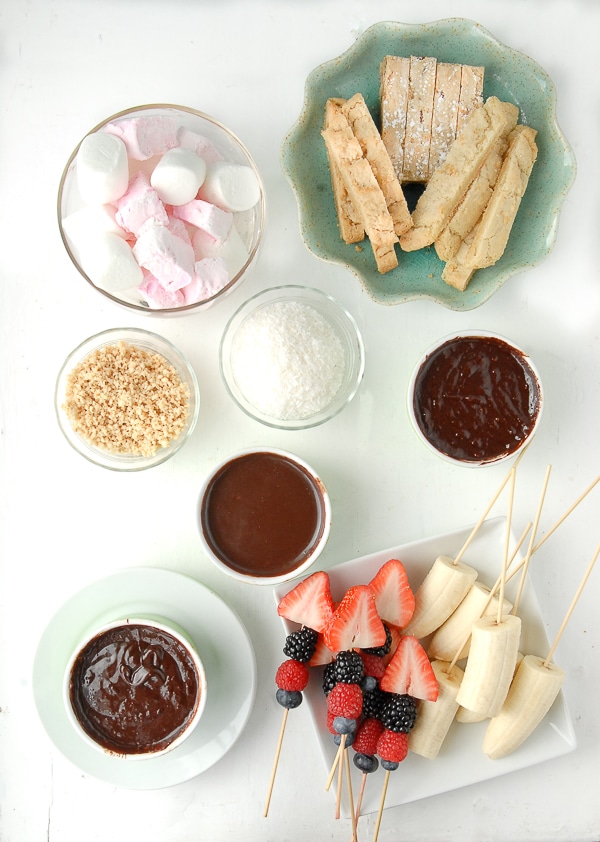 It wasn't until I was an adult that I tasted chocolate fondue.  When I lived in California we'd pop into a dedicated fondue restaurant, again on special occasions, which offered three courses of fondue with chocolate being the crowning glory.  Then fondue disappeared from the culinary landscape.  Poof; gone.  I did not think about it or even realize it until a few years back when approaching my husband's birthday we wanted to get him something unexpected.  He's a wonderful cook, has more cookbooks than I ever did and every high-end appliance, knife, pot or pan imaginable.  After strolling through our local kitchen emporium we settled on a red cast iron fondue pot.  The kids and I were all excited to christen the pot and have enjoyed it ever since.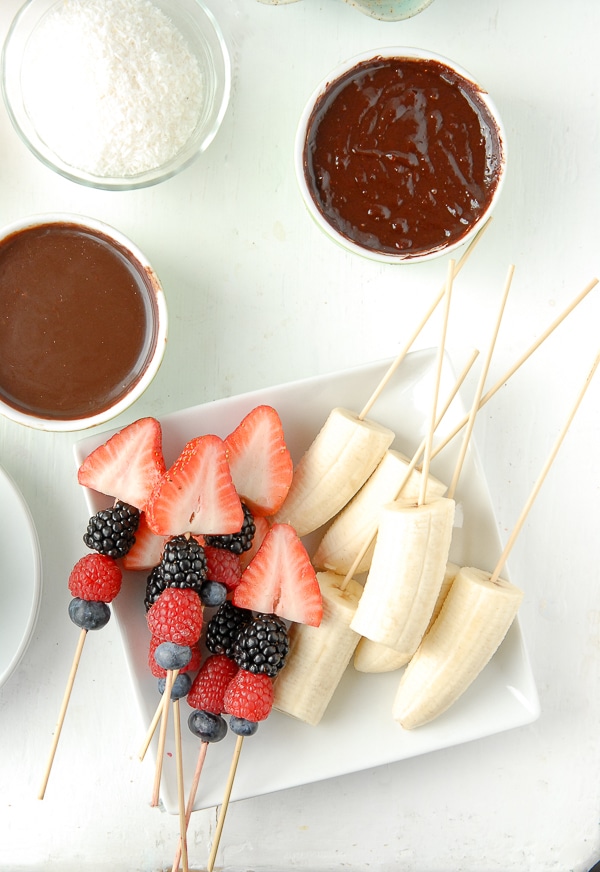 A few years ago my son requested fondue for his birthday dinner.  He wanted both meat and chocolate fondue (not together of course!).  I found a second vintage fondue pot at a local thrift store (where 1970's fondue pots in avocado green and antique gold go to rest) for the chocolate fondue.  Candidly I loved it but would not eat much for the richness of it.  We dipped cake squares and marshmallows.  It was a grand, sophisticated celebration!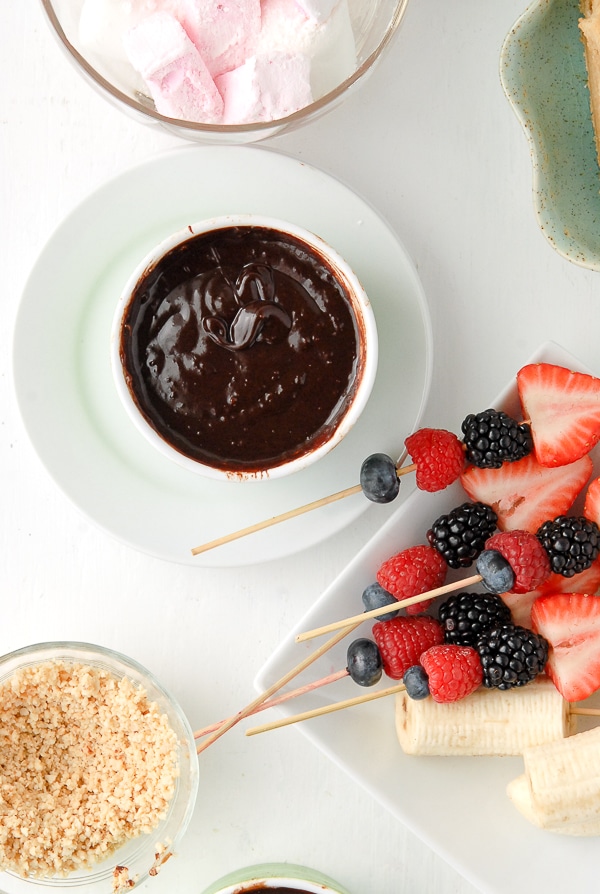 With Valentine's Day on the horizon, a special chocolate treat seemed in order.  Fondue again popped to mind.  Though this time I had a different criteria: I wanted something simple to whip up, something not requiring trolling thrift stores for a fondue pot, something that did not make such a large batch it could never be finished.  With that in mind I share with you Slow Cooker Individual Creamy Chocolate Fondue Pots.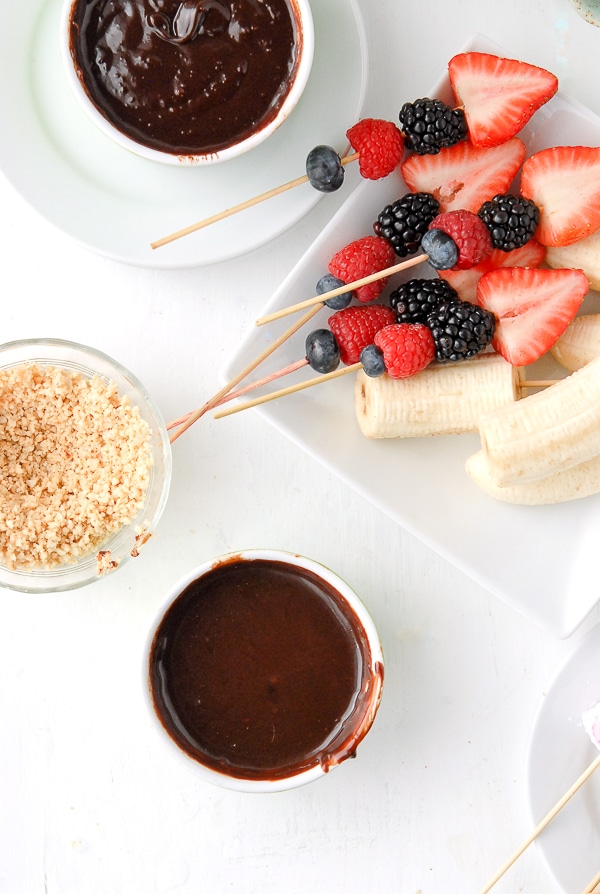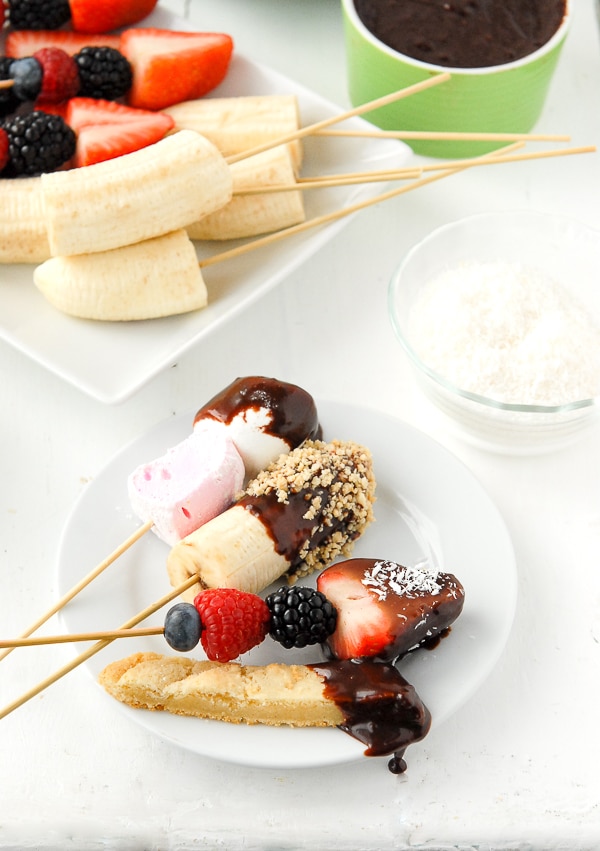 I'm excited beyond description for this recipe!  Three simple ingredients combined in 1 cup ramekins are placed in a slow cooker to melt away into the creamiest chocolate fondue you can imagine.  The time it takes to add the ingredients to the ramekins is about the longest time you'll spend on this dish!  It can be made with chocolate chips or chopped chocolate.  It can be made with chocolate of your choice, even flavored chocolate.  One of the types I made was a combination of a Dark Chocolate Orange Bar and Semi-Sweet Chocolate Chips.  It was fantastic.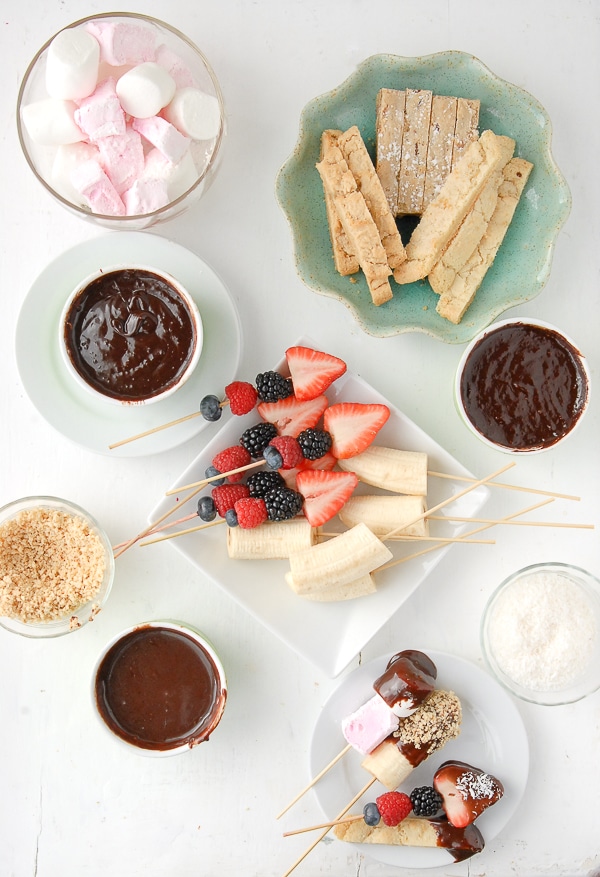 What I love about this the most is the flexibility.  It no longer has to be for a special occasion but clearly will make any occasion special!  Depending on the size of your slow cooker, pots may be made for individual diners exclusively (no more double-dipping monitoring).  An assortment can be made to share.  The recipe does not create an amount that is excessive.  Who can beat the ease of making the recipe either?  Chocolate fondue will no longer just be for birthdays and holidays, and not having a special fondue pot is no longer an issue.  It is an accessible treat anytime.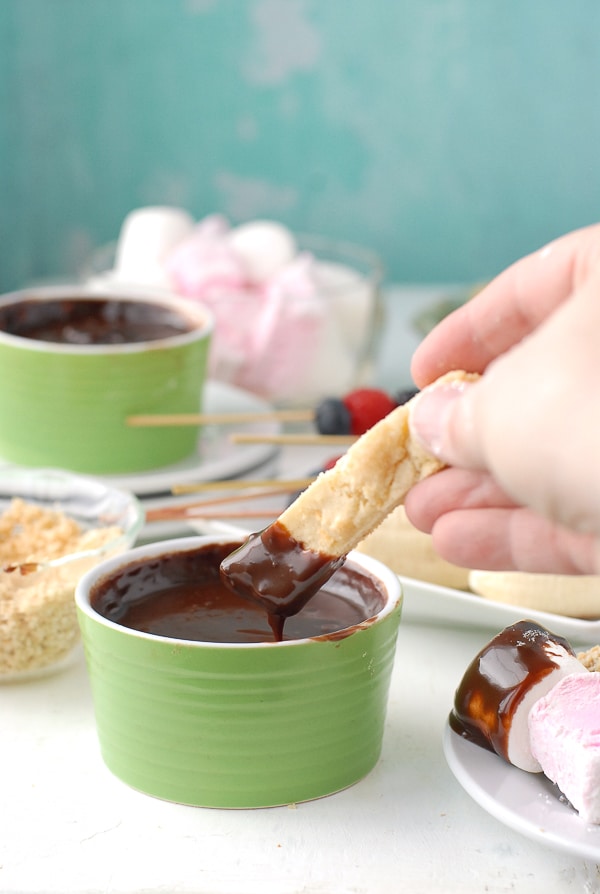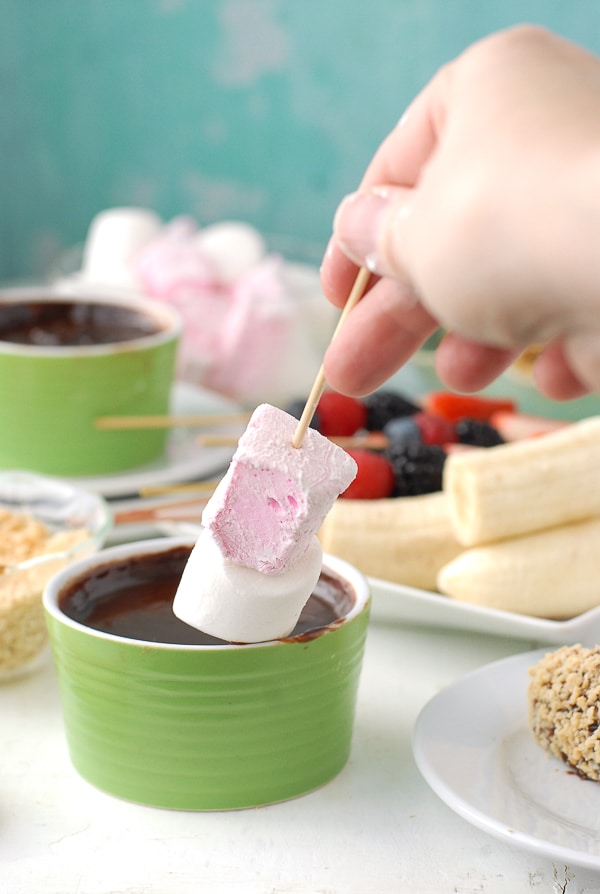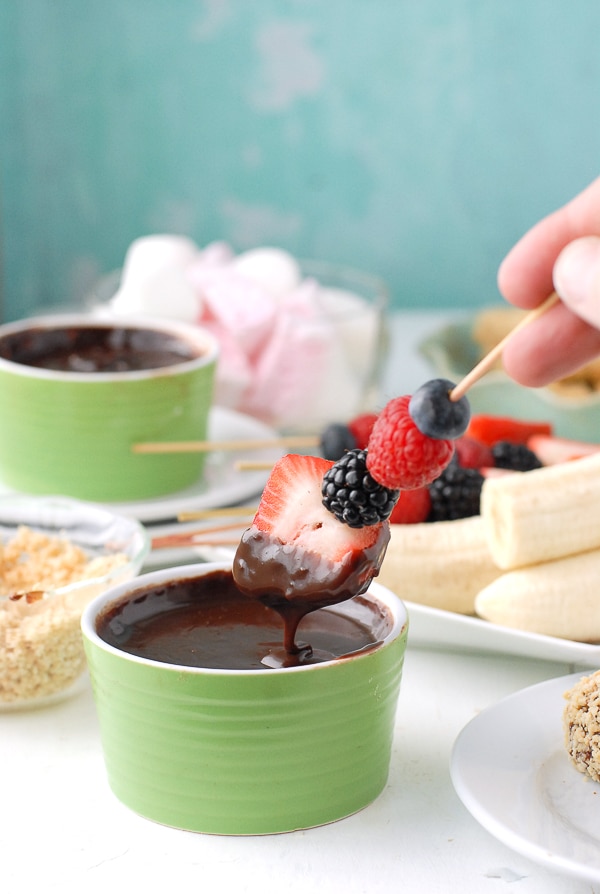 What to dip is always fun to decide.  Of course a classic pairing is strawberries.  The sweet, juicy contrast of fruit is a wonderful partner to the rich chocolate.  I included my recently shared Rose-flavored Marshmallows and standard store bought marshmallows.  Large soft cookies cut into strips are delicious.  I picked up some gluten-free Snickerdoodles, Peanut Butter cookies and Blondies from out favorite local bakery and cut them into ¾ inch strips for dipping.  Cake cubes are great (angel food, pound cake).  I also love to include small dishes of foods to roll the chocolate-covered fondue item into such as fine grated coconut or finely chopped peanuts.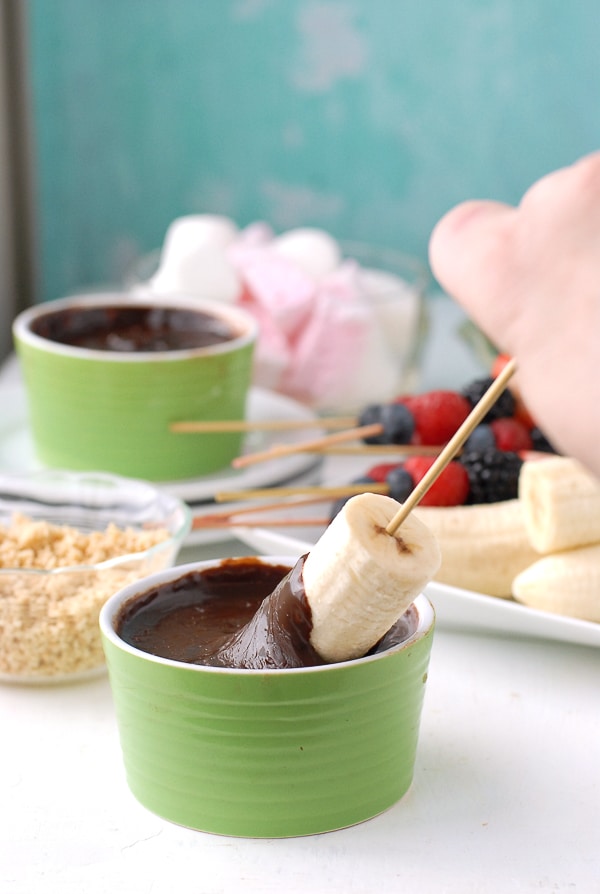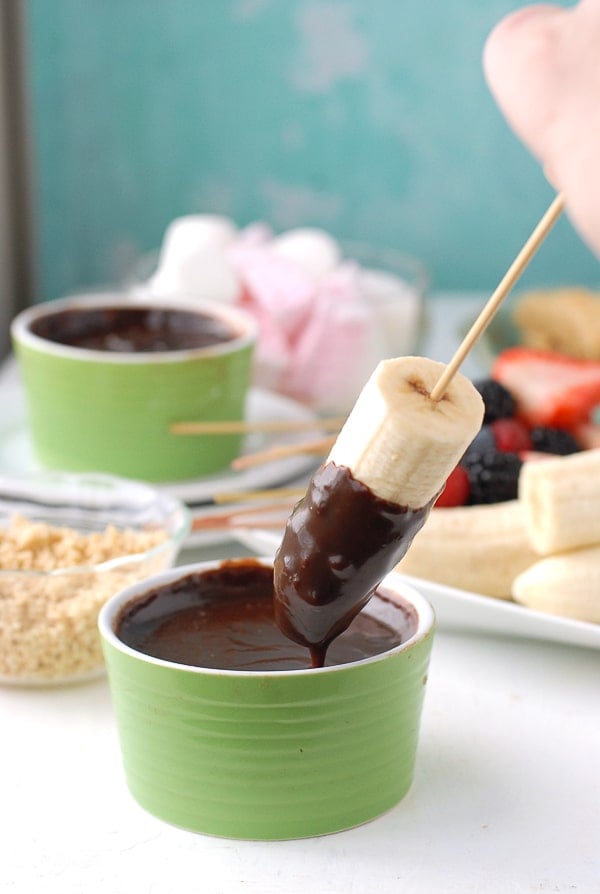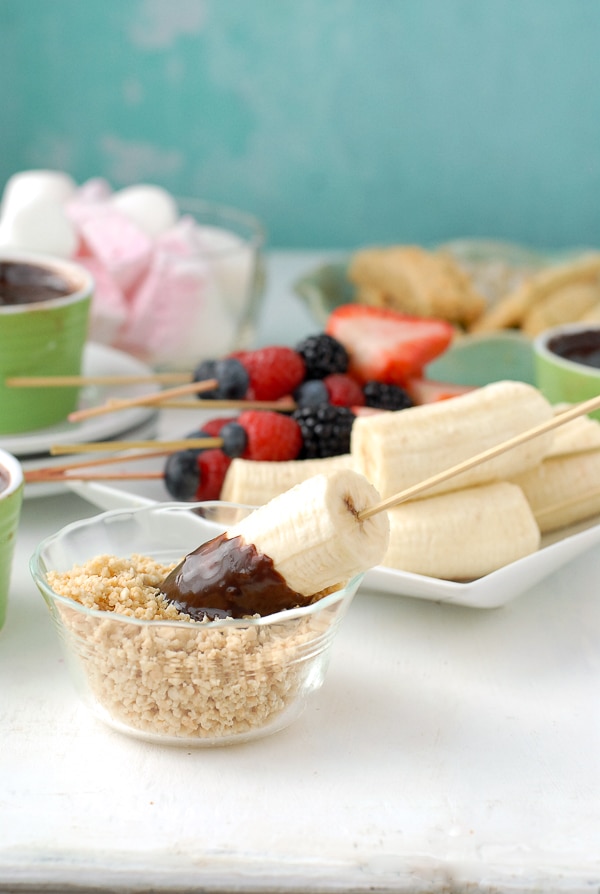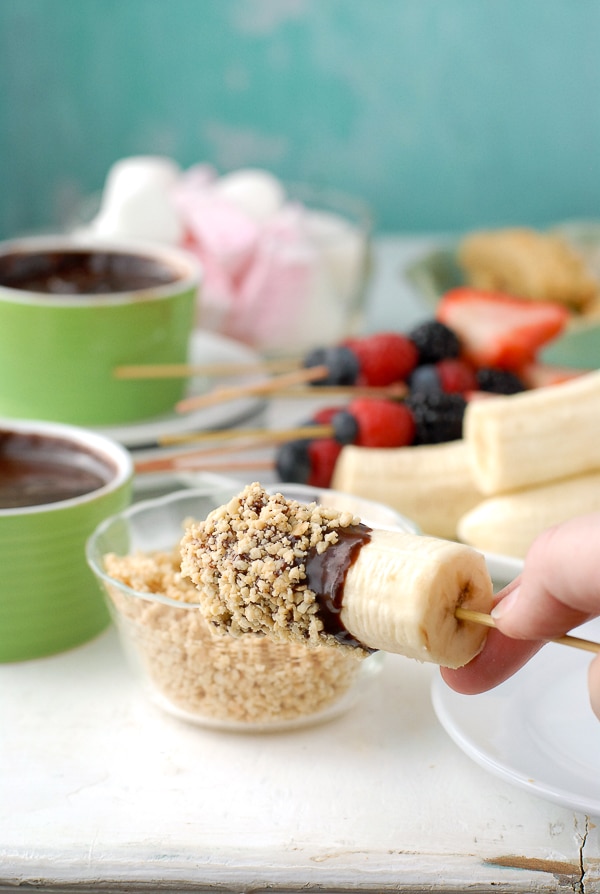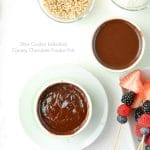 Slow Cooker Individual Creamy Chocolate Fondue Pots
Individual Creamy Chocolate Fondue pots are easily made in a slow cooker and yield 1 cup ramekins of fondue to be shared or kept all for yourself! Any type of chocolate may be used; either chocolate chips or chopped chocolate. Mixing in flavored chocolate is also an option.Determine the number of chocolate fondue pots to be made based on the number of ramekins that will fit in your slow cooker. The ingredients below are for 1 fondue pot and may be multiplied by the number you will be making.This simple method opens the door for making fondue whenever the mood strikes with no special fondue pot required!
Ingredients
Ingredients per individual Chocolate Fondue Pot:
4

ounces

chocolate chips or chopped chocolate

¼

cup

Heavy Whipping Cream

½

teaspoon

Vanilla Extract

Skewers

(bamboo skewers work well), dip-ables (fruit, cake squares, cookie strips, marshmallows)
Instructions
Combine the chocolate and cream in 1 cup ramekins or small heatproof bowls. Place in the slow cooker and place the lid on the slow cooker.

Cook on LOW for 45 minutes. Ramekins and the slow cooker will be hot; carefully remove from the slow cooker with pot holders.

The ramekins will be full; carefully stir in vanilla extract or whisk mixture until it all blends together into a creamy consistency. Serve immediately.