Two simple ingredients create mouthwatering, refreshing Strawberries and Cream Ice Cream Floats you'll love!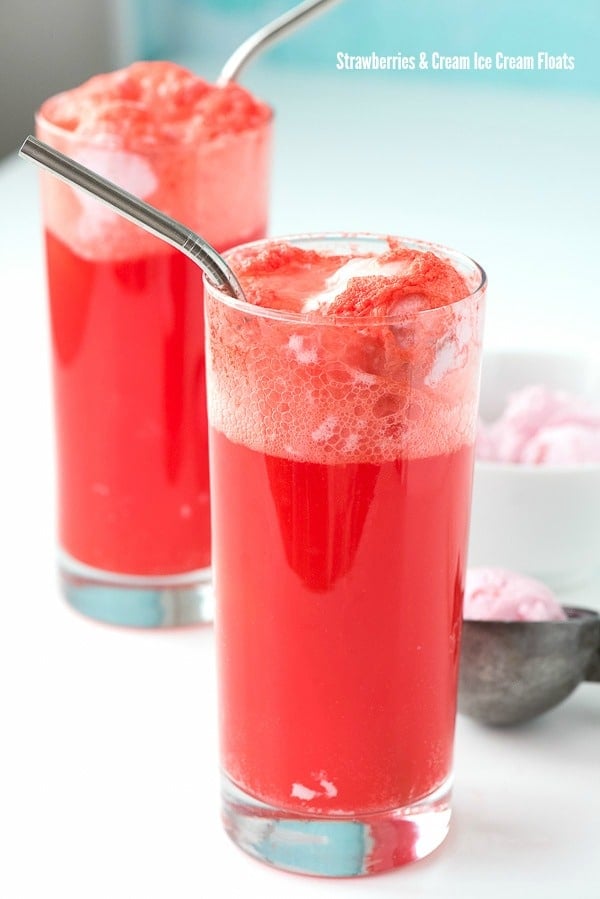 I think strawberry ice cream gets the short end of the stick.  I don't know exactly what percentage of milkshakes ordered at fast food restaurants are strawberry over the mainstays of vanilla and chocolate, but I'd guess not a ton.  Having said this, I will confess I'm a vanilla milkshake girl myself, and that has been a favorite flavor of the 'primary', non-exotic varieties of ice cream since I was a child.  So maybe that makes me an ice cream hypocrite.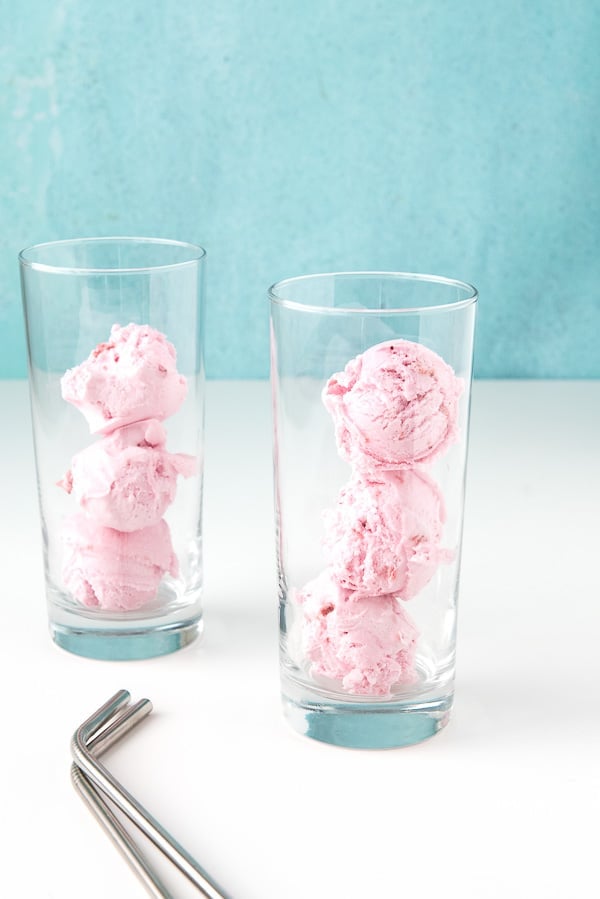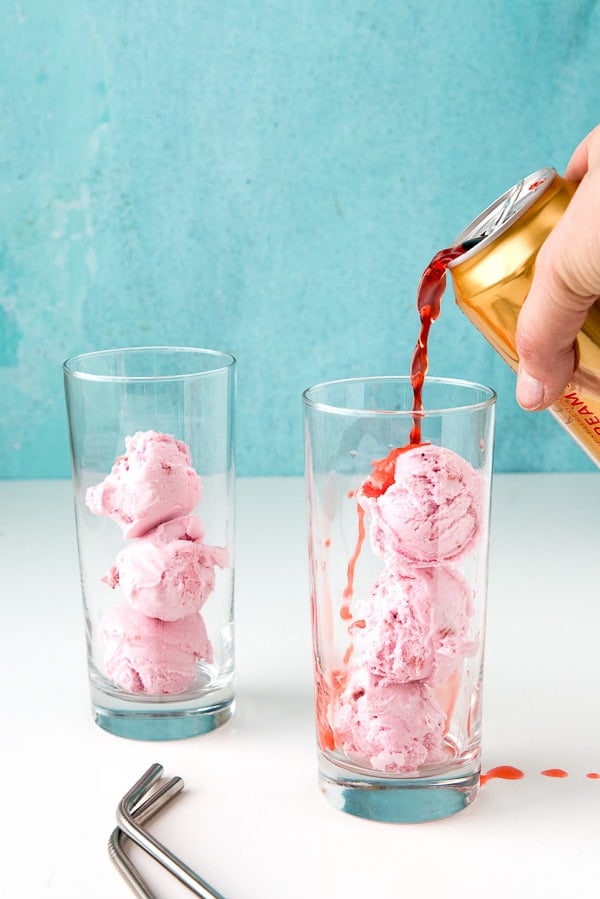 Strawberry ice cream however offers something unique.  The fruity flavor, the sublime pink color and it seems to make me less thirsty than other flavors of ice cream (but maybe that's all in my head).  I find the color pink in a dessert is a happy-making affair.  The same goes for strawberry ice cream; it feels more like a party than mere ice cream.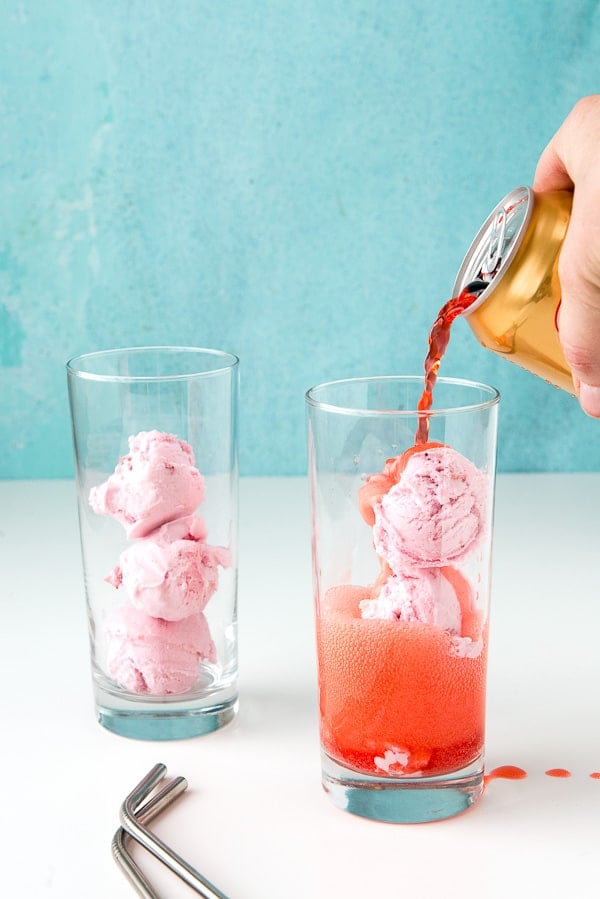 Similar to strawberry ice cream, ice cream floats are shortchanged in the ice cream treat arena.  Root beer floats are king and yet they only dominate in summer.  Where do all the ice cream floats go in the off months?  Shakes, sundaes, 'I'll have a bowl of ice cream, please' are all year round mainstays.  I'd wager that ice cream floats are thirst-quenching in the winter too when, at least in my location, it is as dry as a bone.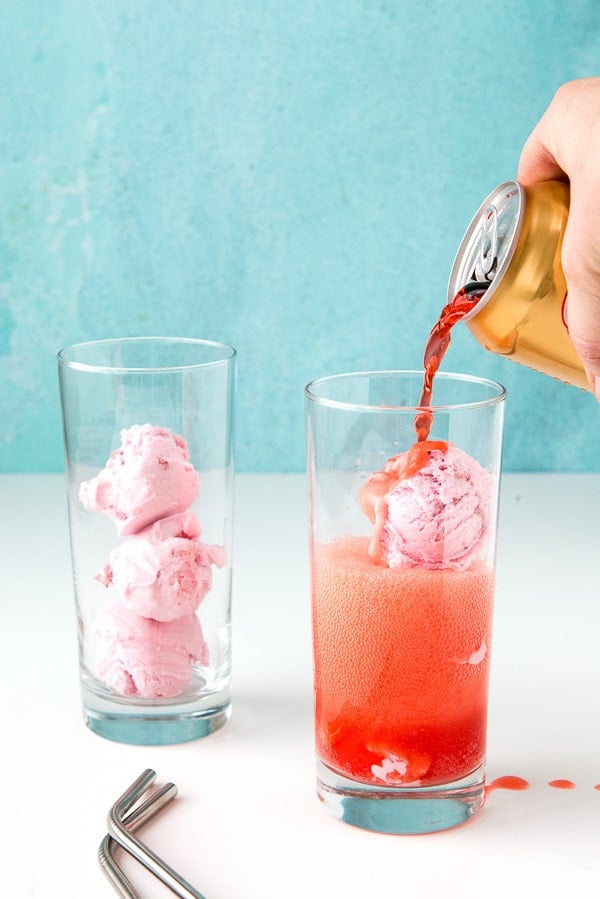 We are in the dead of winter, yes, but what better time to pull out the happy pink ice cream, flavored from summer fruit for gosh sakes?  With Valentine's Day just around the corner too, a fun Strawberries and Cream Ice Cream Float seemed just the ticket.  Two ingredients: strawberry ice cream and cream soda.  That's it.  Cream soda comes in a variety of colors besides the usual drab brown and I chose red cream soda for these floats.  Cream soda is vanilla flavored so it's a flavor match made in heaven.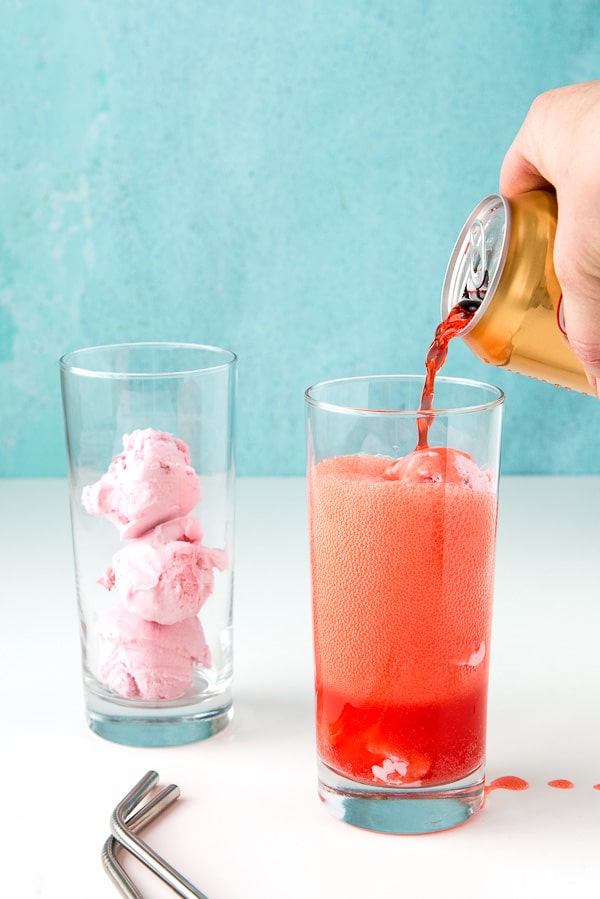 I have a little trick when making ice cream floats, especially if I want to make them for a group.  I line a baking sheet with wax paper, parchment paper or plastic wrap (the type that sticks is perfect) and pre-scoop the ice cream into balls about 2 inches in diameter.  The pan is quickly put into the freezer for the ice cream balls to harden.  It makes constructing the floats effortless as well as the ice cream does not melt quite as fast.  Something this delicious should stick around as long as possible if you ask me.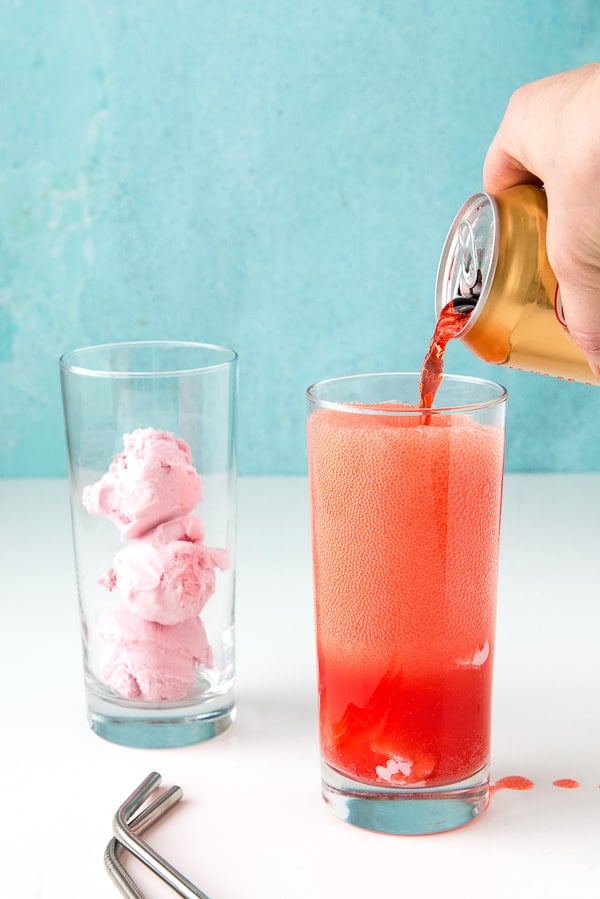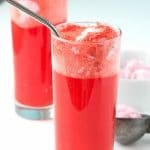 Strawberries and Cream Ice Cream Floats
The flavors of strawberries and cream are quintessential and a homey summery combination. This ice cream float is perfect in any season and easy to make with only two ingredients. Ice cream balls are pre-frozen which allows the ice cream to stay firm in the float longer and is great when preparing them for a crowd.For this recipe a softer style ice cream works best to allow easy scooping into balls. Typically this ice cream is found in larger containers versus the pint size of gourmet ice creams that are much more firm when purchased. I found approximately 27 2-inch diameter ice cream balls will yield from a 1 1/2 pint container of ice cream. This equates to about 3 ice cream floats worth of ice cream from each 1/2 pint of ice cream (3 ice cream balls per float). Scale your preparation of ice cream balls according to the number of ice cream floats you plan to make.The total time noted below reflects the freezing time for the ice cream balls of minimum 2 hours.
Total Time
2
hours
15
minutes
Ingredients
Strawberry Ice Cream

(see the notes above for a quantity guide), softer style

12

ounces

Cream Soda per float
Instructions
Line a baking sheet (or multiple sheets depending on the quantity you are making) with wax paper, parchment paper or sticking plastic wrap. Using an ice cream scoop, scoop balls of ice cream (2-inches in diameter) onto the prepared baking sheet. Place in the freezer immediately and leave until the ice cream balls are firmly frozen 2 hours minimum (can leave them overnight).

Place three ice cream balls in a 12-14 ounce Collins glass and fill with cream soda. Tip: pour some cream soda and wait for the foam to subside before pouring more. Fill the glass in this manner to avoid overfilling.