Sweetheart Bark, a Valentine's Candy Chocolate Bark, is a simple, fun and EASY recipe that's fast to create. Whether making it for a holiday treat or to use up Valentine's candy, it will make anyone's heart go pitter pat!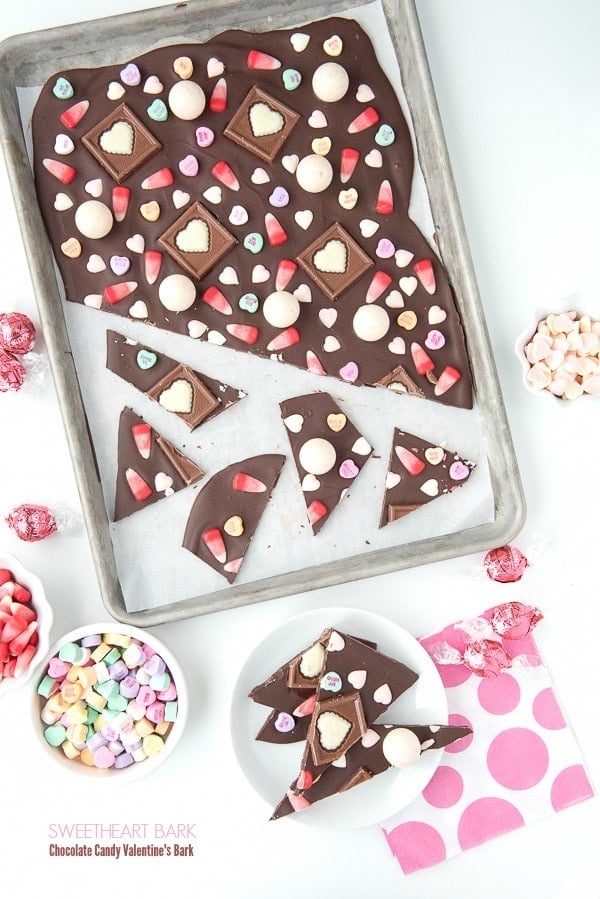 Valentine's Day is this week and with all the holiday love comes loads of candy. Chocolate takes center stage but for anyone who has recently been in the seasonal aisle of a grocery or drug store, you know that's only the start of it. Whether for a stand-alone treat or a way to dispense with holiday candy, Sweetheart Bark, a Valentine's Candy Chocolate Bark is a fast and easy recipe that's incredibly cute!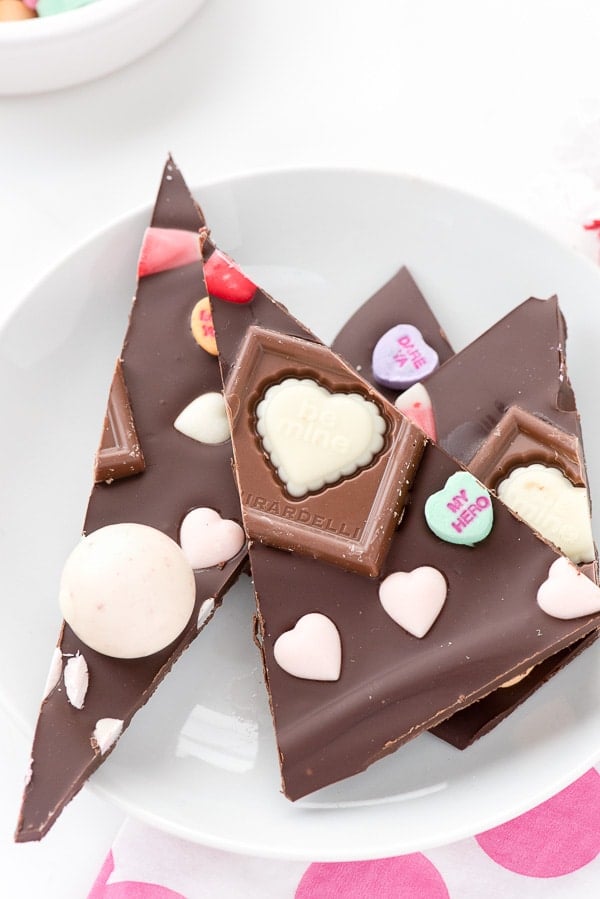 This isn't the first holiday chocolate bark recipe I've shared here. Peppermint Bark for winter holidays is a mouthwatering combo of the quinessential winter flavors chocolate and peppermint. As with this Valentine's chocolate bark, Gourmet Easter Candy Bark as a great way to use up Easter basket candy that never seems to end.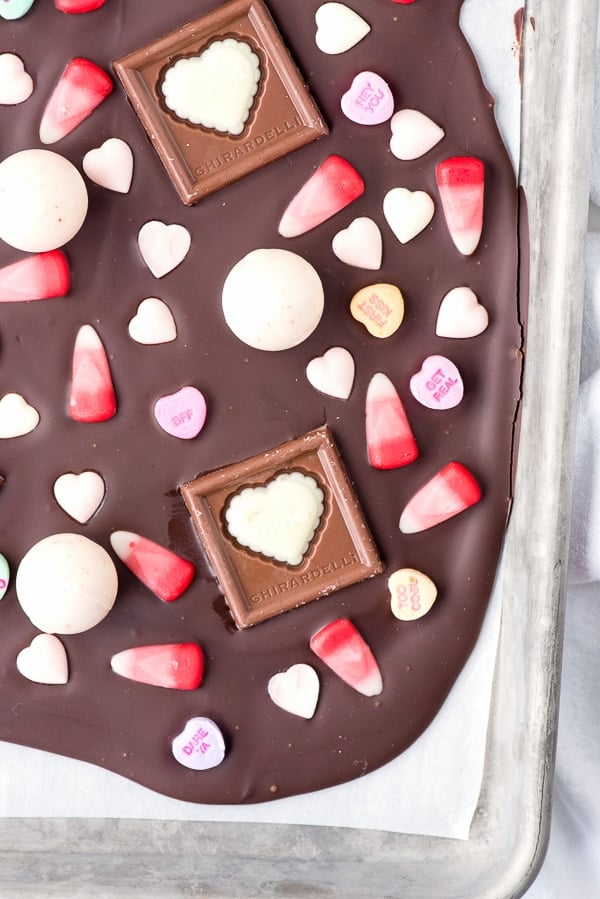 Valentine's Chocolate Bark: Fast and Easy!
There are so much Valentine's themed candy, making a Valentine's chocolate bark seems a natural idea.
It takes less than 15 minutes to create and is ready to eat as soon as it sets with chilling.
It is a great treat for school parties, as part of a Valentine's gift for those you appreciate or to use up candy after the holiday too.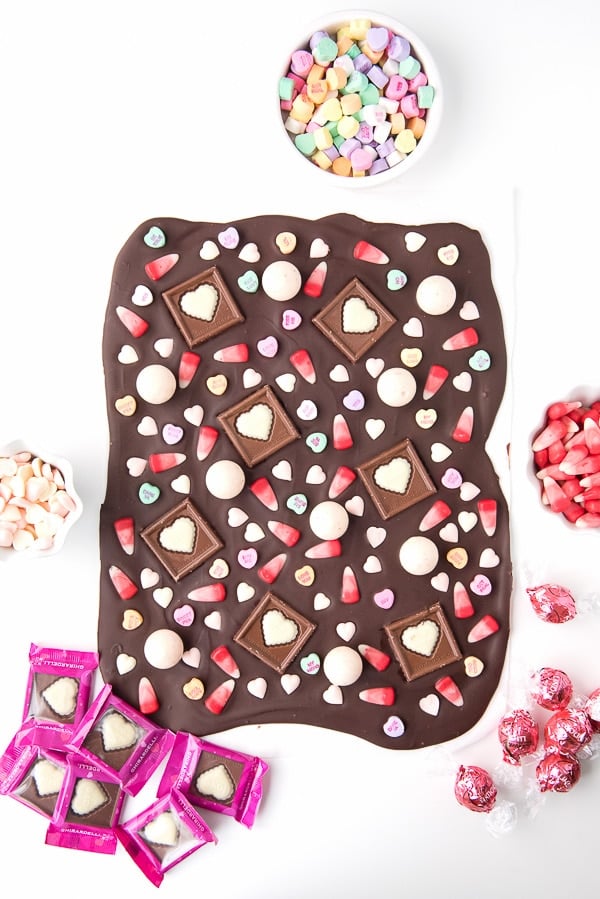 How to Make Valentine's Chocolate Bark – Step by Step:
Before beginning: I recommend picking a flavor theme. My kids went with me to scout some fun candy (undoubtedly their favorite Boulder Locavore food shopping outing ever). We found loads of options that would both look great and taste great, though not all Valentine's candy would taste great together.
For instance, there are cute peanut butter cups with messages on the top though to me that wouldn't be the best pairing with strawberry as an example.
Think through whether you want a flavor or color scheme before shopping. After deciding, select a variety of candies in size and shape that will make a nice combination for your chocolate bark.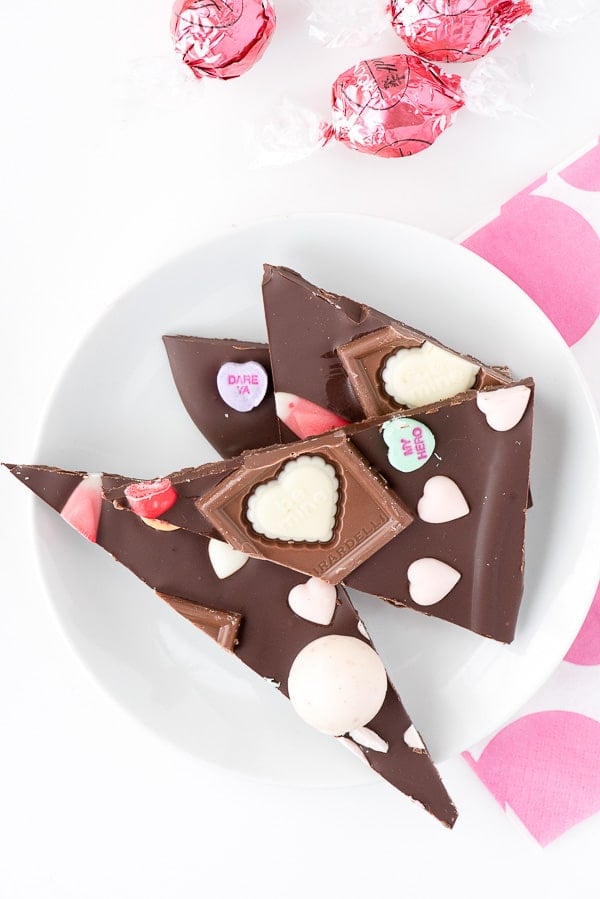 With all the ingredients selected, line a rimmed baking sheet with parchment paper. Melt the chocolate in the microwave as described in the recipe (bars or baking chips may be used). Pour onto the prepared baking sheet to make a 1/8-inch thickness and add the selected candy to the chocolate bark. Allow to fully set by chilling in the refridgerator.
How to Cut Chocolate Bark
Chocolate bark may be broken into individual servings however I recommend using a large heavy knife to cut this Valentine's Candy Chocolate Bark into attractive pieces.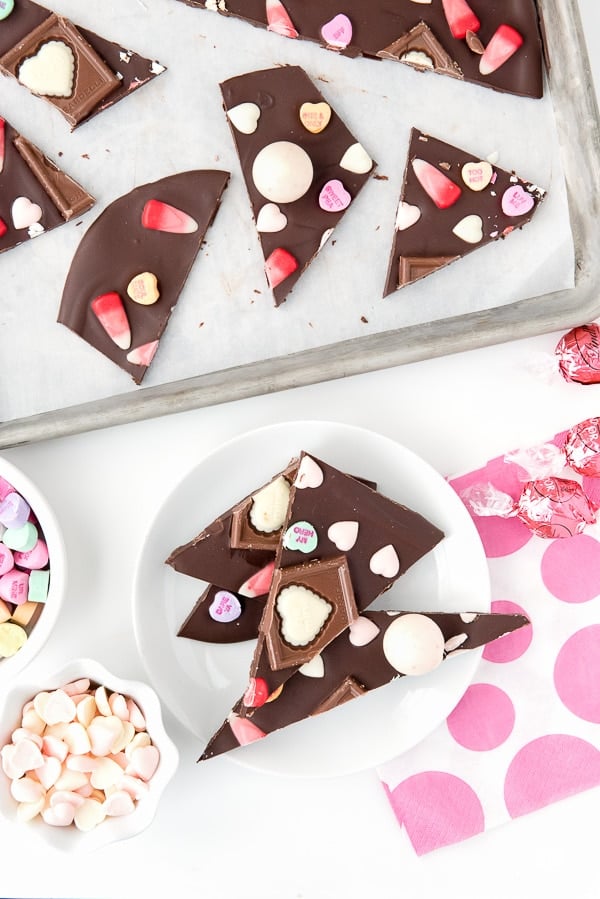 How to Store Chocolate Bark
Store the chocolate bark in a sealed container at room temperature for us to a week or freeze it. If freezing the bark, wrap it well and place in an airtight freezer-proof container. When thawing it, allow it to thaw in the refrigerator to avoid consdensation developing.
More Easy Valentine's Recipes You'll Love
Did you make it? Please RATE THE RECIPE below!
Please SUBSCRIBE and FOLLOW ME on FACEBOOK , TWITTER , INSTAGRAM and PINTEREST !
Originally published: February 5, 2016