Three Bean Salad is a classic summer salad recipe. It's colorful with soft and crunchy textures, and a delicious tangy-sweet dressing. It's fast and easy to make! Perfect for easy summer meals, grilling out, picnics and potlucks.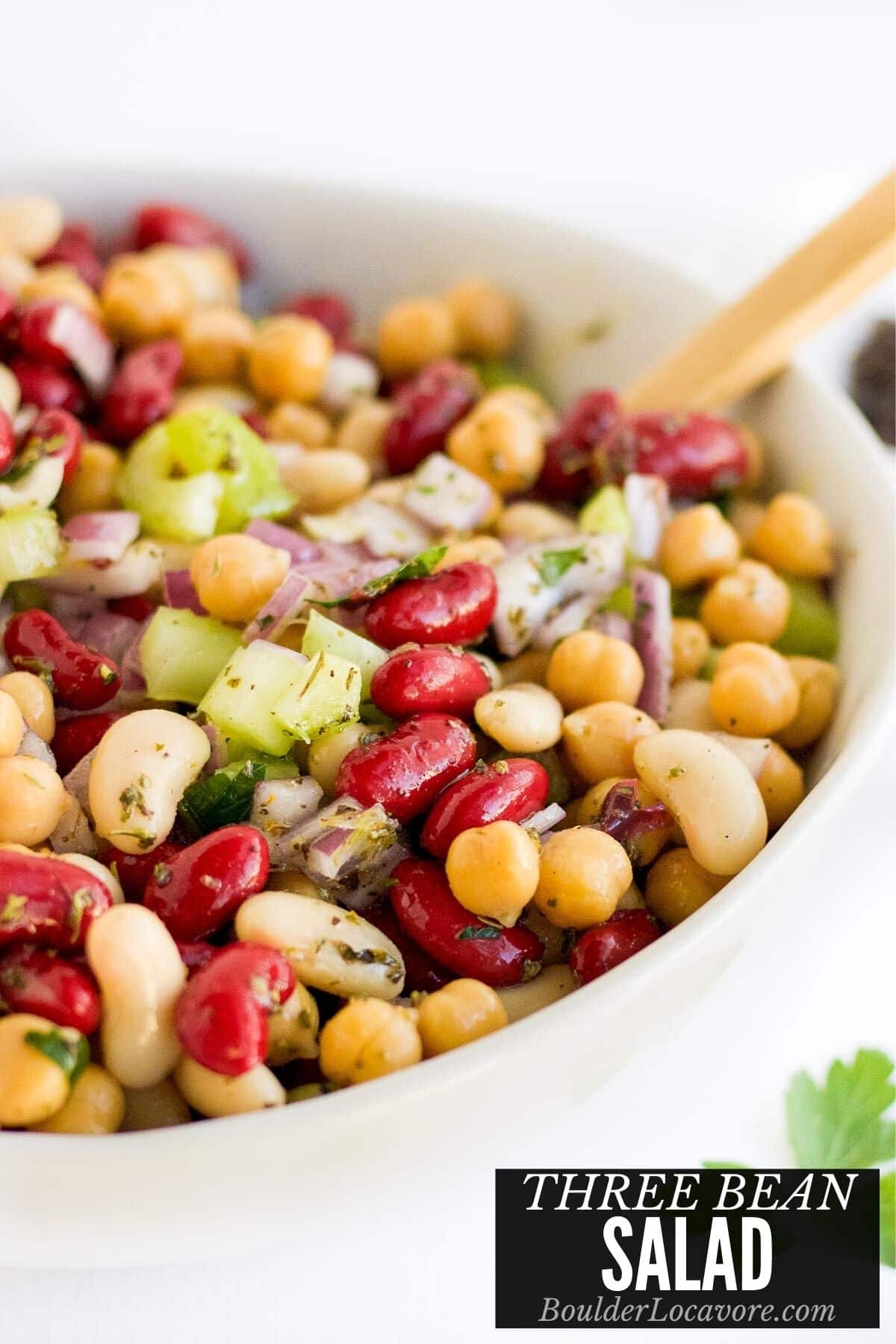 This easy Three Bean Salad is in perfect company with the likes of Broccoli Salad, Macaroni Salad, Potato Salad and Italian Pasta Salad.
Those summer salad favorites that are hearty, satisfying, full of flavor and iconic. Every family has their own slightly different recipe.
This one is a cinch to make and a delicious side dish recipe anytime of the year.
Jump to:
Classic Three Bean Salad
There are so many reasons to love this salad.
First it has no mayonnaise which is a plus for summer salads that might sit out at a picnic or gathering.
Our version combines the sweet and tangy flavors of the traditional salad but we've toned down the sugar. It's sweet, but just enough without being over the top.
It's fast to make AND can be made ahead of time.
Not much prep work and the main ingredients are canned.
It tastes great, goes with anything and is full of wholesome ingredients.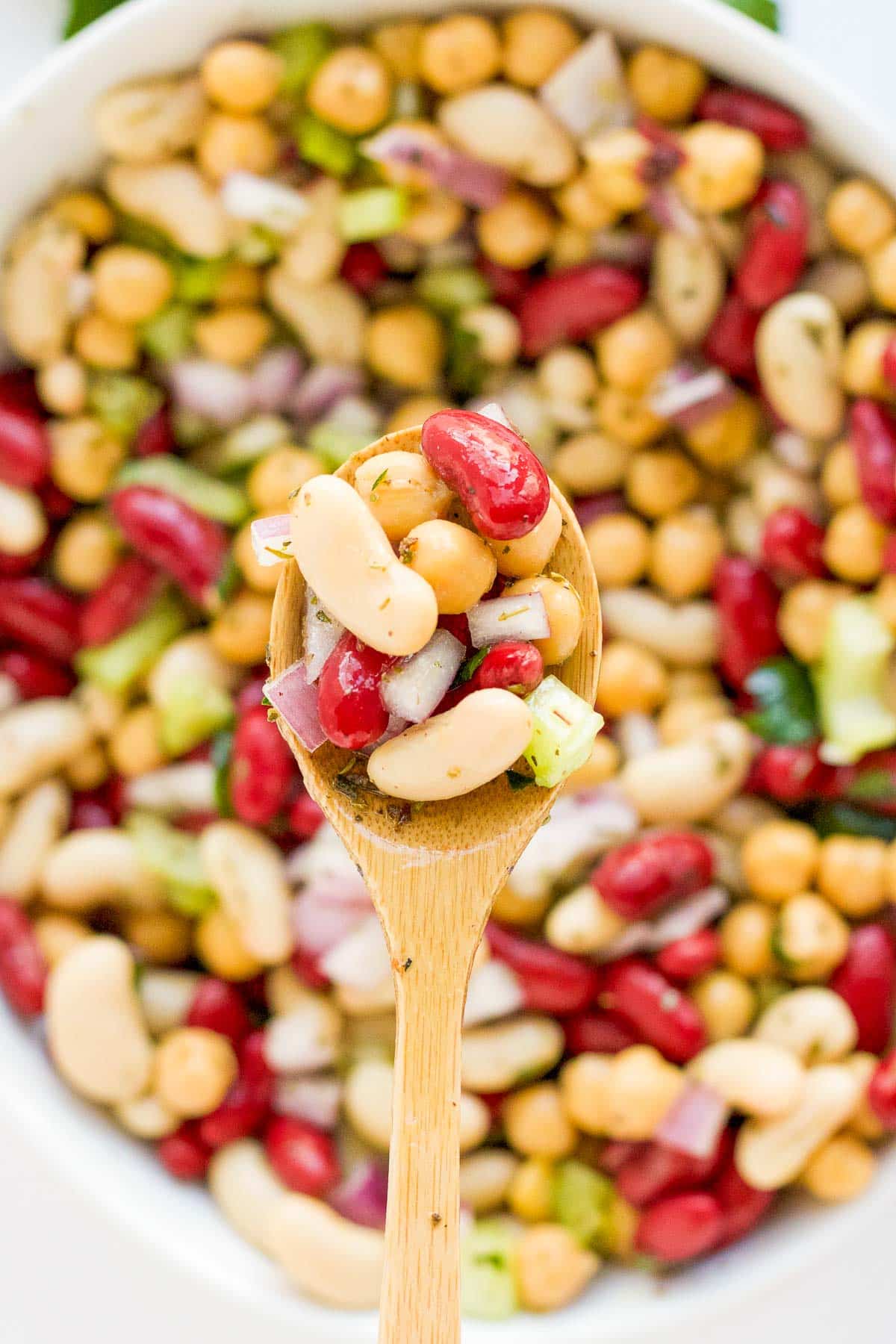 Even better the next day!
This is one of those recipes, like spaghetti sauce or chili, that gets better with time.
Allowing it to sit overnight soaks the dressing into the salad ingredients building on the flavor.
Recipe Ingredients + Notes
The Beans: Cannellini beans, kidney beans, garbanzo beans. Use canned beans rinsed and drained. This classic combination provides great color, texture and flavor.
Red onion. Gives a bit of a spicy flavor to the bean salad.
Celery. Gives a nice crunch in contrast to the soft beans. You'll need one cup which is between 2-4 celery stalks depending on the size.
Italian parsley. Adds some nice green color and great flavor. Curly parsley can be substituted if preferred.
Italian seasoning blend. This favorite spice blend combines the key Italian spices into one delicious mix. This gives some great Mediterranean flavor to the salad.
Apple Cider Vinegar. Used for the dressing. Gives a perfect tangy flavor.
Olive Oil. Used in the dressing.
Salt and pepper. Seasons the dressing.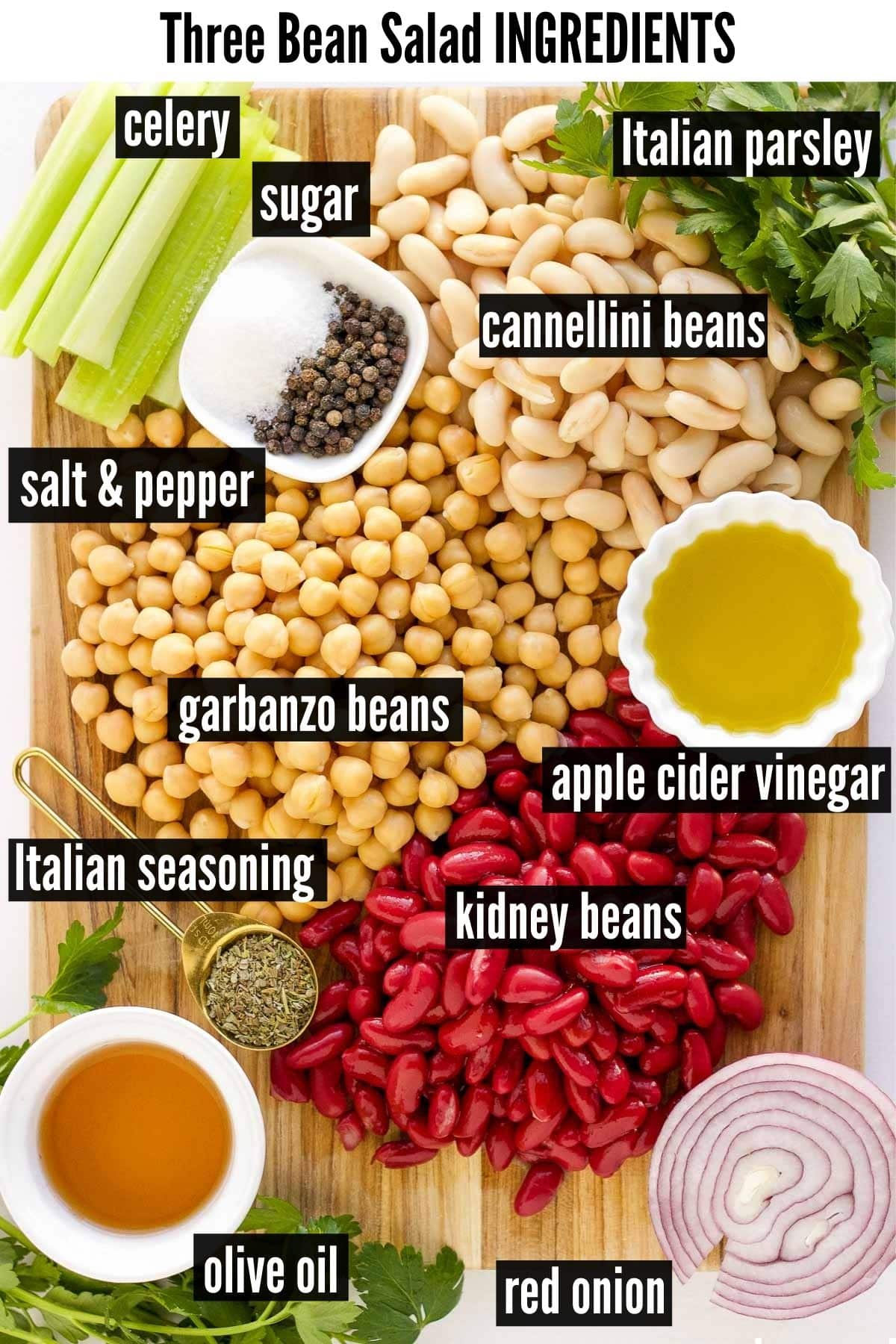 Variations + Substitutions
Substitute Green Beans and Wax Beans. Keep the kidney beans and add canned (drained) green beans and wax beans. Substitute 15 ounces cans. You'll have another classic version of this favorite bean salad.
Using fresh cooked green beans. For the version above, fresh green beans can also be used. Trim the beans and steam or boil them for a few minutes (literally 2 or 3). Add them to an ice bath to stop the cooking and keep some crunch.
Swap in distilled white vinegar. It has a stronger vinegar flavor than apple cider vinegar. If you like more tang, try this! Red wine vinegar is another option.
Use a different oil. Olive oil is a favorite but regular vegetable oil or any other neutral flavored oil can be substituted.
Add chopped green bell pepper. Actually ANY color bell pepper will additional color, flavor and crunchy texture.
Don't want to use sugar? Add some honey or agave nectar. The dressing needs a bit of sweetness to offset the vinegar. If you love the flavor of pickled foods you can try leaving it out all together.
Swap cilantro for the parsley. For a different flavor profile try this change up.
Swap carrots for the celery. Give some bright orange color and some sweetness along with the crunch.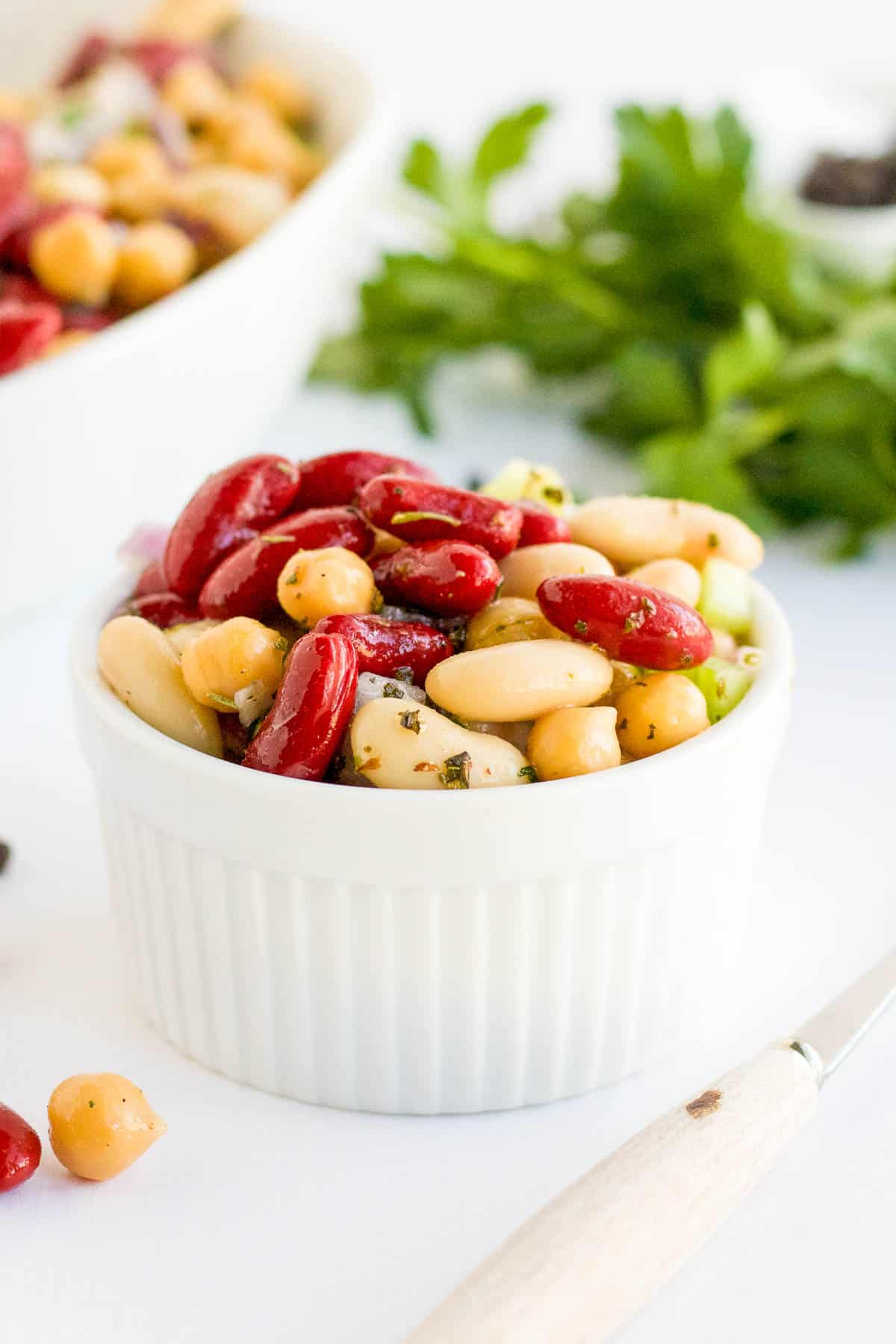 How to make Three Bean Salad – Step-by-Step
STEP 1. Combine the salad ingredients
Add the beans, celery, onion, parsley and seasoning to a large bowl (photo 1).
STEP 2. Make the dressing
In a small bowl combine the apple cider vinegar, olive oil, sugar, salt and pepper (photo 2). whisk together.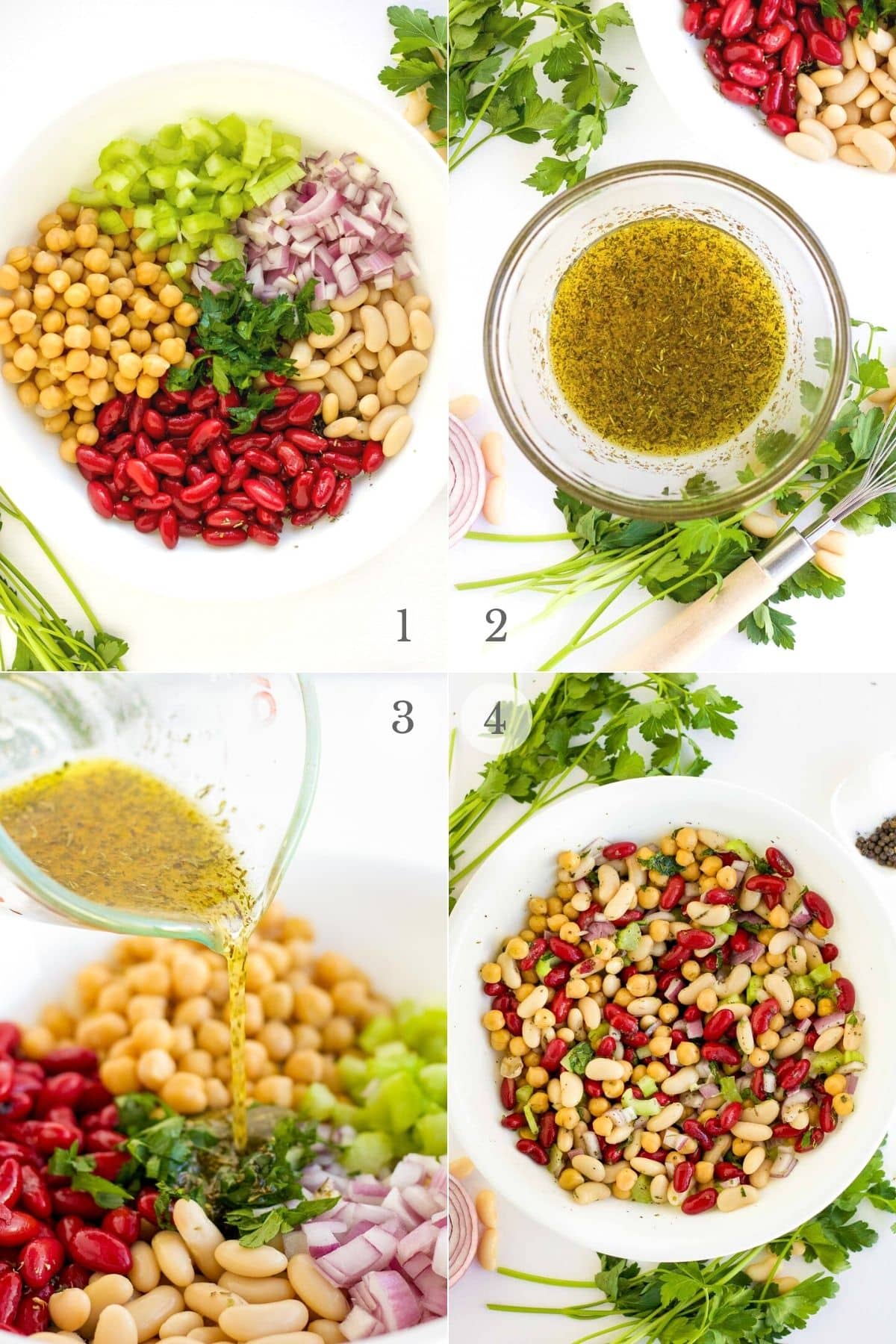 STEP 3. Combine
Pour the dressing into the salad (photo 3) and toss to coat and fully combine (photo 4).
How long does Three Bean Salad keep?
Store in the refrigerator in an airtight container for up to 5 days. The flavor actually improves with storing it.
Serve chilled or at room temperature.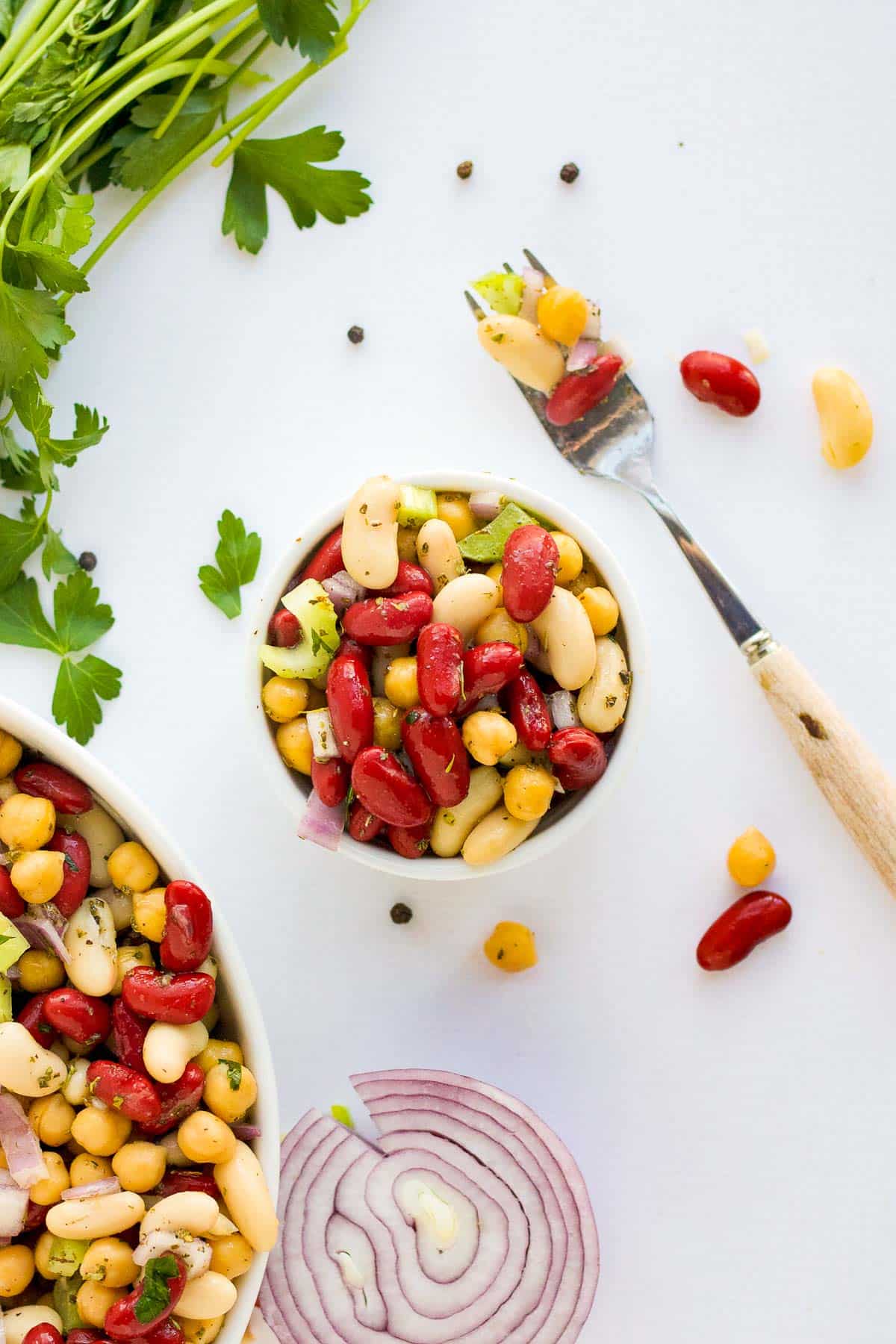 More Recipes You'll Love!
Did you make it? Please RATE THE RECIPE below!
Please
SUBSCRIBE
and
FOLLOW ME
on
FACEBOOK
,
TWITTER
,
INSTAGRAM
and
PINTEREST
!
Recipe