Tarragon Pesto Chicken Breasts with Dressed Greens rolls two favorite recipes into one! My trick how to make fast, juicy chicken breasts every time and how to make pesto! Both are easier than you think and will allow you to mix and match with endless other recipes.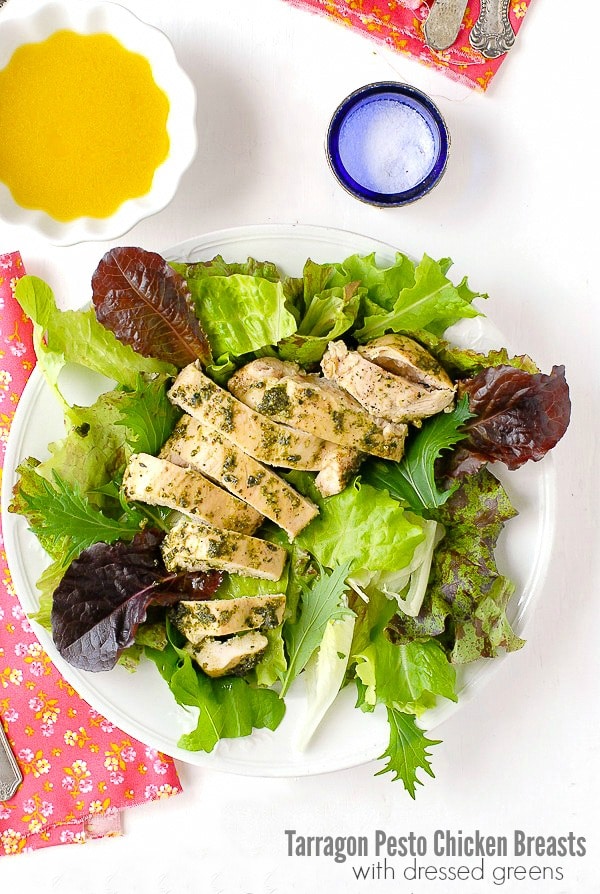 As much as grilling is king for the summer, fast, fabulous, fresh meals also are happening in the Boulder Locavore kitchen. We love the exhale into summer, with a bit more sleep and spontaneity than the school year but more time doesn't mean I want to spend hours in the kitchen being slave to a hot oven!

I have an absolute favorite way to prepare boneless chicken breasts that leaves them flavorful, with a beautiful seared outside and always moist and plump inside. And did I mention they are done in less than 15 minutes? It usually takes almost that long to order, pay for and pick up fast food. This is a far better end result.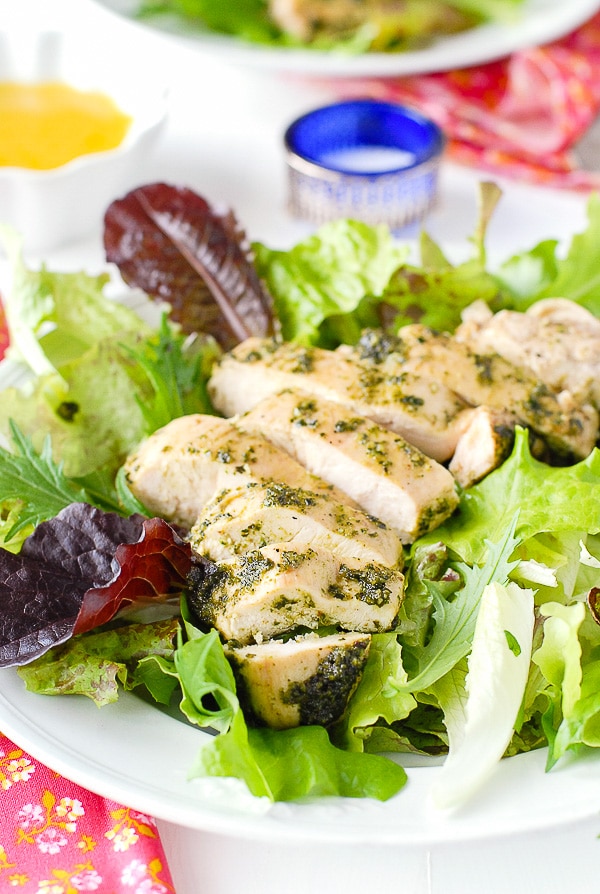 As soon as the weather warms up I love to combine protein and a salad for a one plate meal. It's satisfying and in this case super fast to make. For this recipe I wanted to top the succulent chicken breasts with a fresh pesto. Pesto can be made with any herb or green, not only the traditional basil. Typically it is made from a green herb or greens, olive oil, garlic and a nut. Some recipes include Parmesan cheese though if you leave it out you can also freeze the pesto for a future recipe.
My garden is always full of tarragon and I often can't think of what to make with it. French Tarragon which is the main variety of culinary tarragon can be found in the herb section of the grocery store. The idea of tarragon mixed with some basil in a pesto seemed great along with some toasted walnuts. Tarragon pesto chicken breasts with dressed greens seemed a full flavored easy meal we'd love!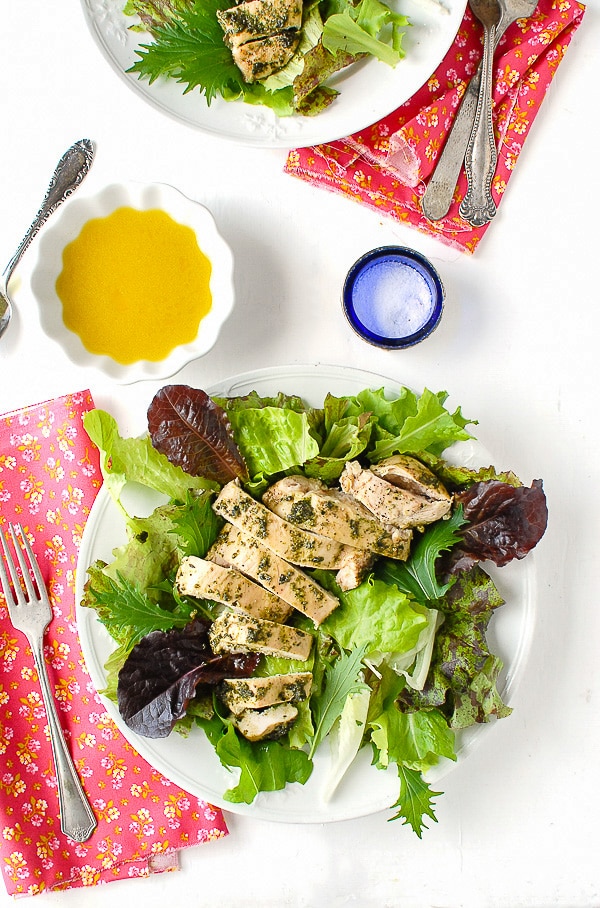 French tarragon tends to have a distinct, strong flavor and smells similar to anise, which is why I also used basil. Incorporating the pesto at the end of the recipe preparation allows using the amount desired and reserving some to add at the table as well. Always taste as you cook to ensure the end results is pleasing to you.
If you are unfamiliar with tarragon's flavor, mix up the pesto ingredients using a small amount of the tarragon and adjust by your taste as you go. If you find the pesto strong, use a bit less when preparing the chicken and allow guests to add more individually on the chicken when served.
Though the weather has not been quite warm enough to plant my food garden (and seriously I have not had a moment of time to do it even so), I love keeping pots of different greens and herbs to make a fresh, healthy, tasty bed to place a sliced chicken breast. Greens dressed with Meyer Lemon Salad Dressing makes a quick, seasonal meal everyone will love! There are plenty of salad dressing recipes to choose from if you'd like a different option.

I want to connect with you! Leave a comment and follow me on Facebook, Twitter, Pinterest & Instagram!