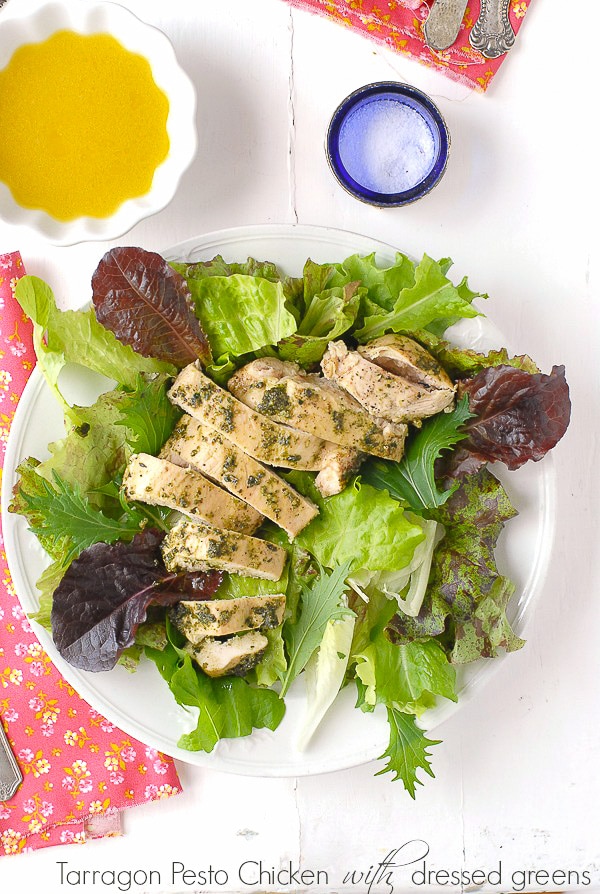 As much as grilling is king for the summer, fast, fabulous, fresh meals also are happening in the Boulder Locavore kitchen.  We love the exhale into summer, with a bit more sleep and spontaneity than the school year but more time doesn't mean I want to spend hours in the kitchen being slave to a hot oven!
I have an absolute favorite way to prepare boneless chicken breasts that leaves them flavorful, with a beautiful seared outside and always moist and plump inside.  And did I mention they are done in less than 15 minutes?  It usually takes almost that long to order, pay for and pick up fast food.  This is a far better end result.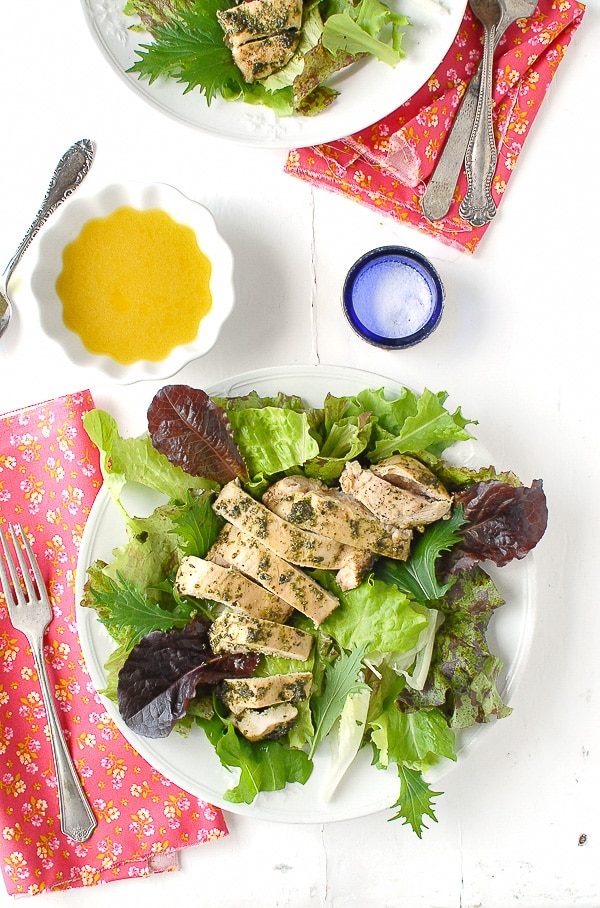 The other thing I love about this method is that it can be changed up with different flavors to suit the season or your mood.  Today I was really wanting some fresh pesto.  Pesto can be made with any herb or green, not only the traditional basil.  My garden is always full of tarragon and I often can't think of what to make with it.  The idea of tarragon mixed with some basil in a pesto seemed great along with some toasted walnuts.  Tarragon tends to have a distinct, strong flavor and smells similar to anise, which is why I also used basil. Incorporating the pesto at the end of the recipe preparation allows using the amount desired and reserving some to add at the table as well.  Always taste as you cook to ensure the end results is pleasing to you.  If you find the pesto strong, use a bit less when preparing the chicken and allow guests to add more individually on the chicken when served.
Though the weather has not been quite warm enough to plant my food garden (and seriously I have not had a moment of time to do it even so), my front porch pots are burgeoning with different greens and herbs allowing a fresh, healthy, tasty bed to place a sliced chicken breast.  Dressed with the Meyer Lemon Salad Dressing I shared recently and you have a quick, seasonal meal everyone will love!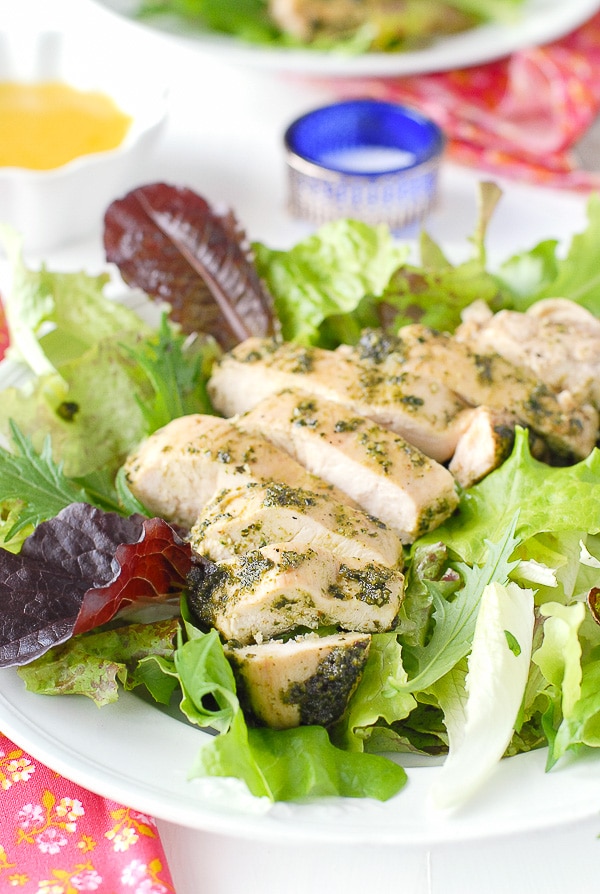 Tarragon Pesto Chicken Breast with dressed greens
This fool-proof method of cooking boneless chicken breasts will always render well seasoned, moist chicken in about 15 minutes. Combined with freshly dressed seasonal greens and you have a meal in less than 30 minutes everyone will love!
Ingredients
Ingredients for Tarragon-Walnut Pesto:

1/4 cup Walnut halves
2 1/2 cups fresh Tarragon leaves
1 cup fresh Basil leaves
1/4 cup Extra Virgin Olive Oil
1 large Garlic Clove
Salt and Pepper to taste
Ingredients for the chicken breasts:

4 6-ounce boneless, skinless Chicken Breasts
3 tablespoons unsalted Butter
½ teaspoon Kosher Salt
½ teaspoon freshly Ground Pepper
Instructions
Instructions for Tarragon-Walnut Pesto:

Place walnuts in a small skillet over medium-high heat. Stirring often allow walnuts to toast to a golden brown, approximately 2 minutes. Remove from skillet and set aside.
Combine the tarragon, basil, garlic clove and walnuts in the bowl of a food processor. Turn the food processor on and while the ingredients are processing drizzle in the olive oil until all ingredients are pulverized into a pesto.
Taste and add salt and pepper to your preference. Reserve pesto for the chicken.
Ingredients for the chicken breasts:

In a large skillet or casserole (with lid) over medium-high heat, melt the butter. Sprinkle the salt and pepper on the chicken breasts. Lower heat to medium and place the chicken breasts in the pan for 2 ½ minutes (uncovered).
Turn chicken to the opposite side and cook for 3 minutes (uncovered).
Brush or spoon-and-smear the chicken breasts with the pesto on both sides.
Turn off the heat, cover the chicken and allow to sit for 8-10 minutes (if chicken breasts are larger allow to sit 10 minutes).
While chicken is sitting, toss the greens with salad dressing and place serving portions on individual plates (1 1/2 cups per person).
When chicken is complete, slice each breast and place it on a bed of dressed greens. Additional pesto may be added to the chicken breast before slicing if desired. Serve immediately.
https://boulderlocavore.com/tarragon-pesto-chicken-breast-with-dressed-greens/
More great Pesto and Fast Chicken recipes from Boulder Locavore {as always, all recipes are gluten-free}:
Kale-Walnut Meyer Lemon Pesto with Brown Rice Penne 
Toasted Pistachio Arugula Pesto with Brown Rice Fusili 
Baked Coconut Pecan Chicken Tenders