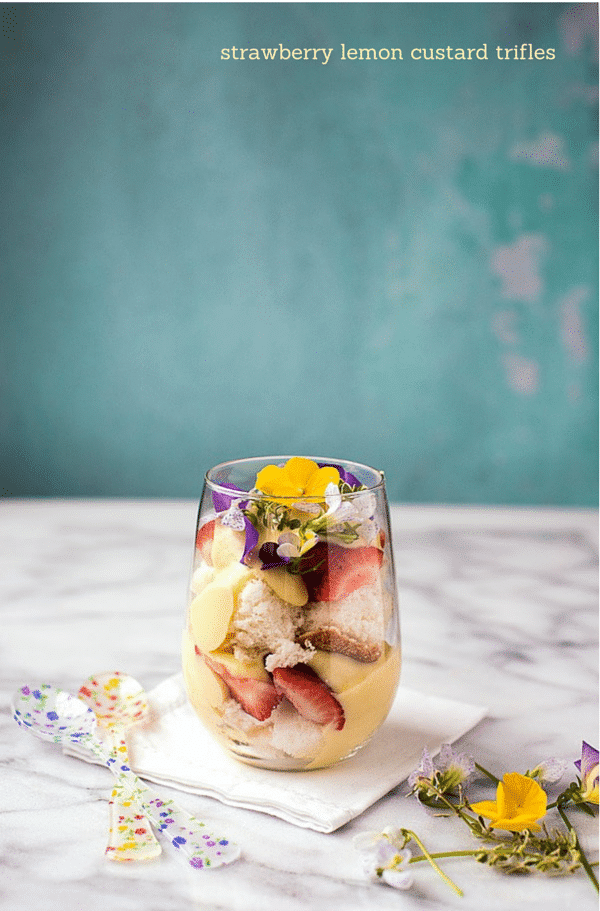 As I've been planning upcoming recipes for Boulder Locavore, a certain someone in my family has been wafting around whispering 'pudding' under her breath. Pudding sort off drops of the menu after kids are small I think and in our case when we became gluten-free we were also dairy-free for awhile nixing it for more reasons. For adults, desserts usually take a sexier stance involving salted caramel or molten chocolate, ice cream usually in a more exotic flavor but rarely do I hear adults hankering for straight up pudding.
I think that would all be different if they tasted homemade pudding. As silly as it sounds, it never occurred to me that pudding was something one could make from scratch, or that it would be worth doing. My childhood was full of pudding from a package as most families ate. Premade pudding is now available with some pretty tasty brands in the dairy case complete with organic varieties that bring back happy memories.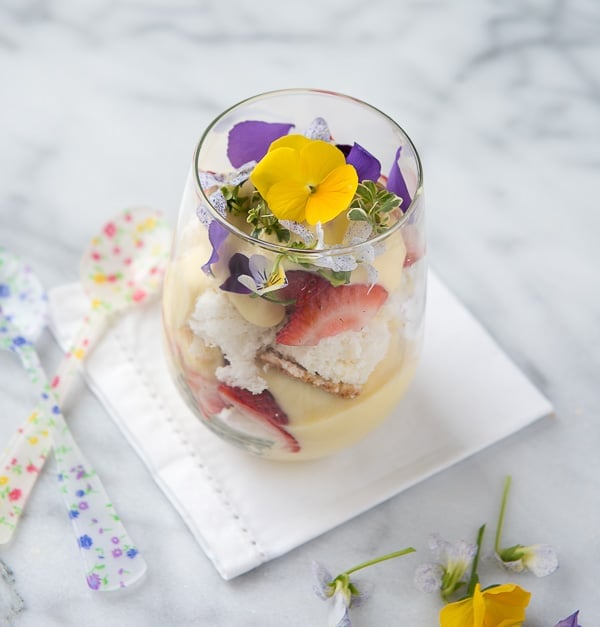 I endeavored to make dark chocolate pudding as few years ago and I fell in love. Thick, creamy, rich with a serious depth of flavor. Made with a custard base, it had a few steps involved but is worth it. I went on to make cinnamon pudding (to die for, seriously) and pumpkin pudding for fall desserts. I have not made it in some time so I finally gave in to the constant not-so-subtle mentions of pudding; sort of.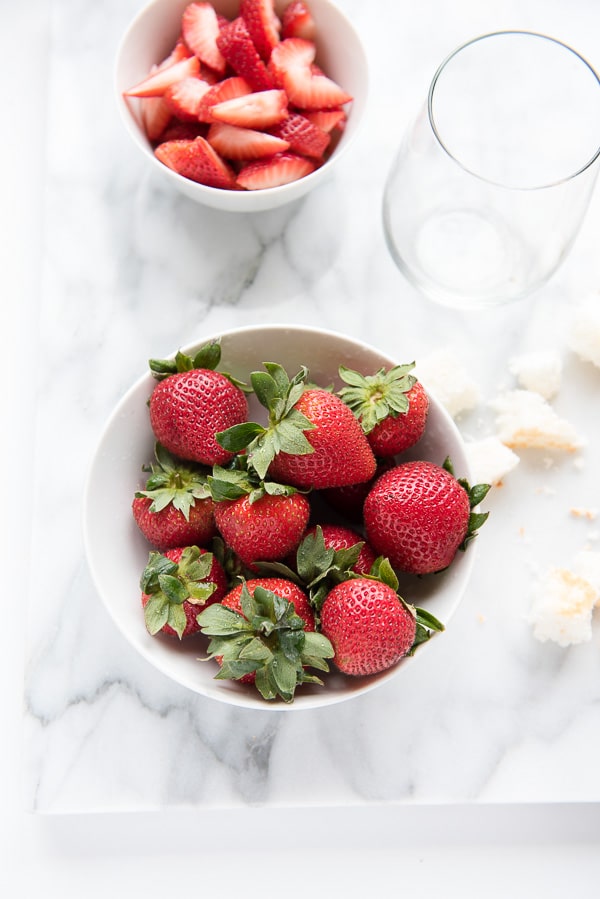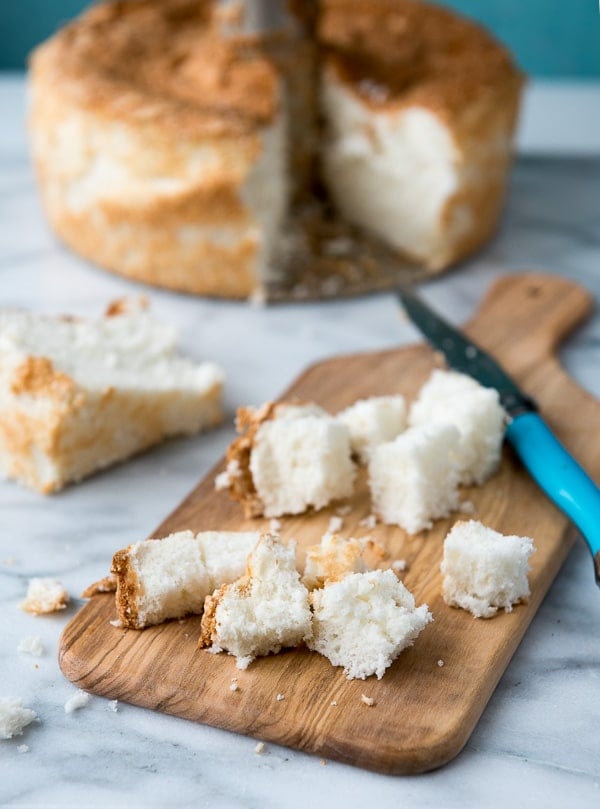 It's spring and though for us it has been a cold, dreary, rainy spring weekend, I love it. It reminds me of the years I lived in Northern California where rain was a mainstay. My yard is parched and we tend not to turn on our sprinklers until May since we still could get a big dump of snow before Mother Nature shoves winter out of the warm season's path. Back to the pudding, I was amenable, sort of, but wanted it to be springy and paired with something else.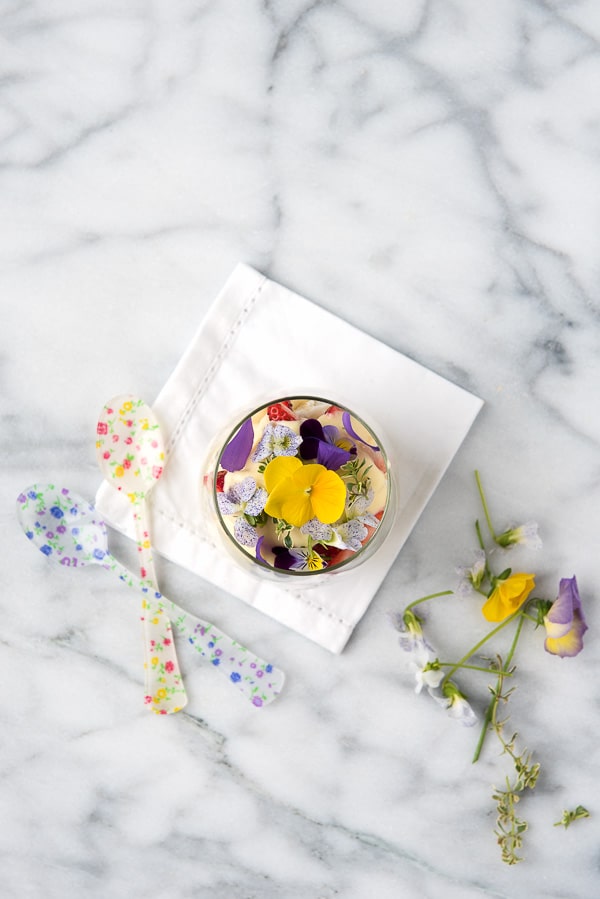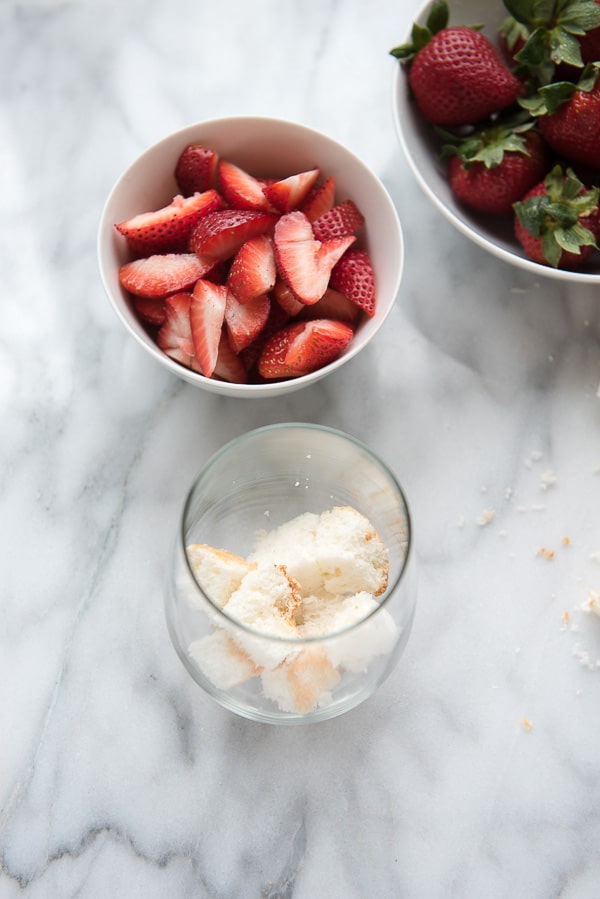 I began to think of my favorite childhood dessert, a Lemon Custard with Pillow (Meringue) top. One batter is poured into custard cups and separates while cooling to make a true creamy lemon custard and a lofty, billowy top. I actually made it as one of my first Boulder Locavore recipes. Back then the narrative was sparse and the photos not so great but it's a wonderful recipe.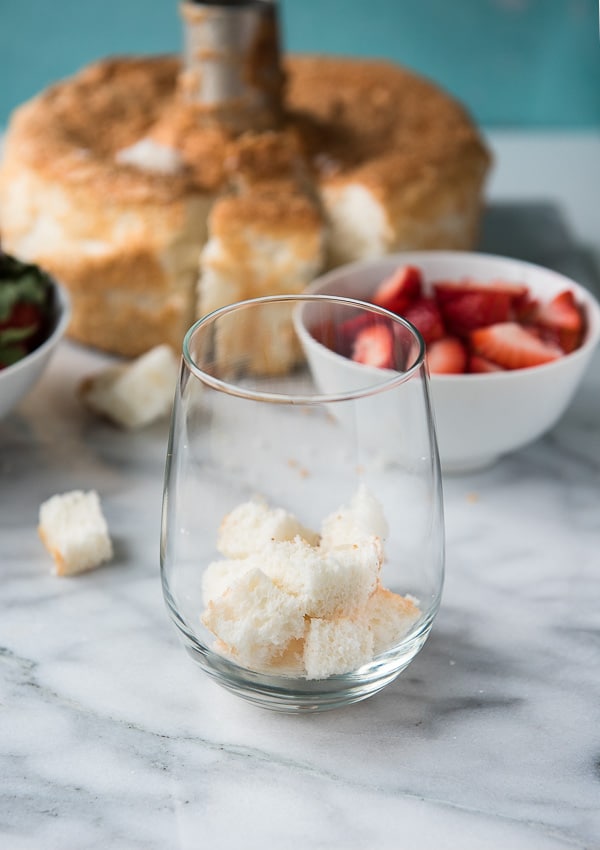 As an ode to that dreamy dessert, I've sharing today a Strawberry Lemon Custard Trifle. It's light and luscious. I found juicy, ruby-red, plump organic strawberries at the store and bought 3 containers worth. Simple Angel Food cake, store bought or from your favorite mix or recipe, is a light compliment along with a homemade Lemon Custard Sauce. It is a thick sauce but doesn't set firmly like pudding.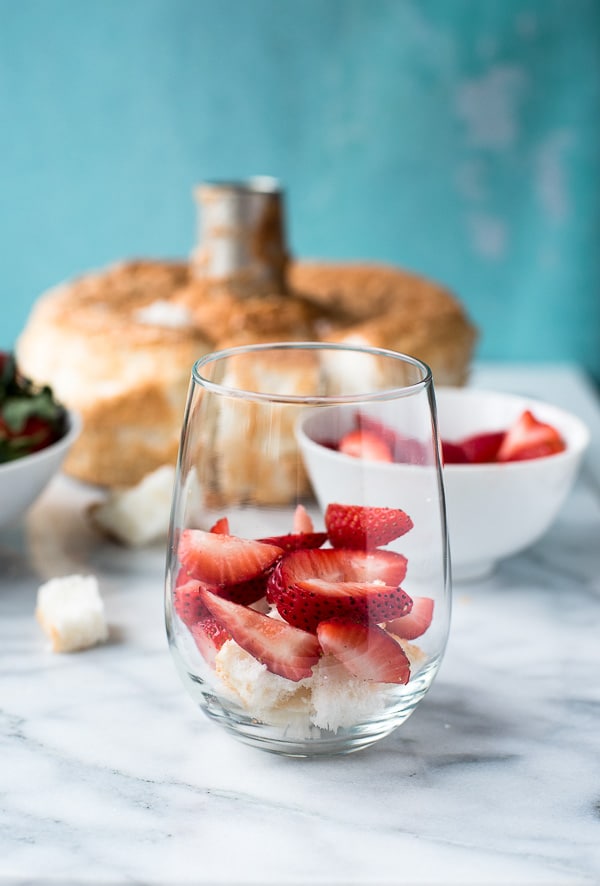 To top it off, the top is adorned with edible flowers. I have violets in my garden at this time of year and also grow Johnny Jump Ups (miniature pansies) and pansies, along with lots of Lemon Thyme which is a beautiful variegated bright green and white tasting like lemon and thyme. Fortunately most grocery stores carry a great variety of herbs and edible flowers. One should only use flowers intended for edible purposes, or edible varieties grown personally which are guaranteed to be organic without any chemicals applied.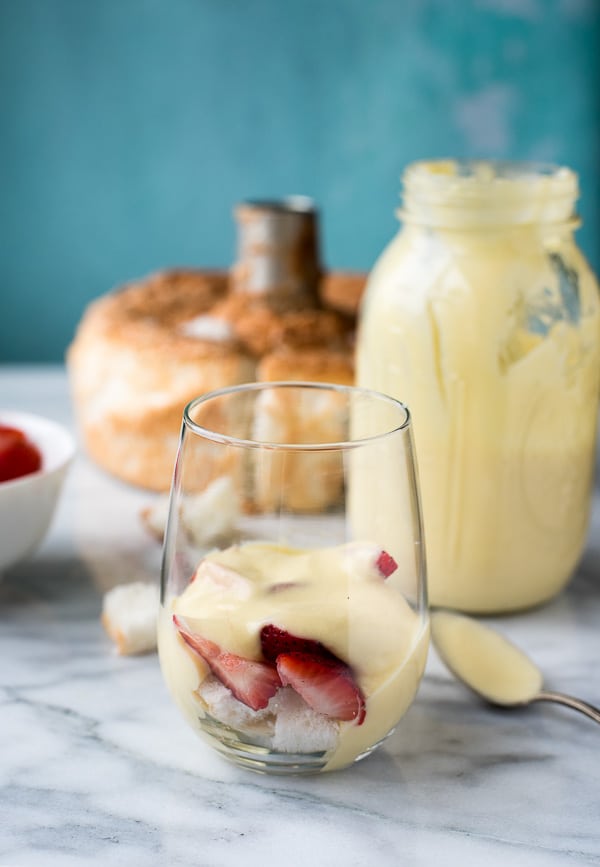 Though this little dessert ended being more than 'pudding' it gets the big thumbs up. Light and fresh, and a bit decadent at the same time. Very easy to assemble and sure to make any meal feel like an occasion.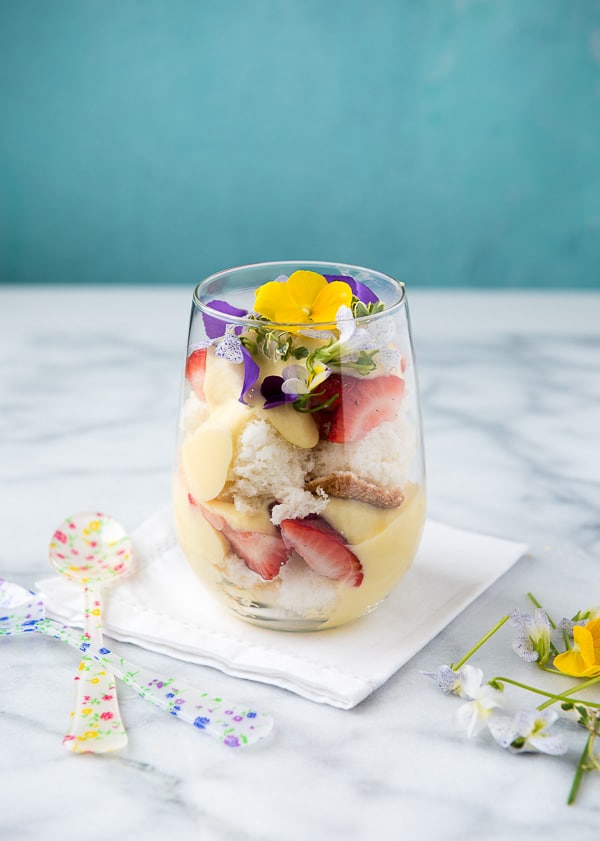 Recipe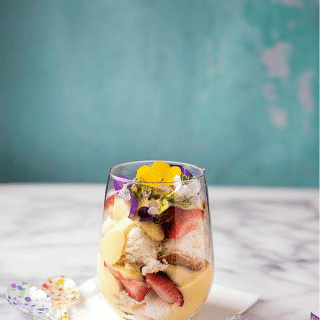 Strawberry Lemon Custard Trifles
A light, lemony dessert with angel food cake, fresh strawberries and a lemon custard sauce. Topped with edible flowers this pretty trifle makes any meal special. The recipe is for 6 large 2-cup trifles but it can also be made into 12 1-cup trifles just making one layer.
Print
Save Recipe
Recipe Saved!
Pin
Rate
Servings:
6
2-cup trifles or 12 1-cup trifles
Ingredients
6

cups

Angel Food Cake

, cut into 3/4-inch squares (I used Kinnikinnck brand gluten-free Angel Food Cake mix)

6

cups

fresh Strawberries

, halved if small or cut into vertical wedges if large
Ingredients for the Lemon Custard Sauce:
1/3

cup

Granulated Sugar

2

tablespoons

Cornstarch

¼

teaspoon

Kosher Salt

2 ¼

cups

Whole Milk

3

Egg Yolks

, lightly beaten

¼

cup

plus 2 tablespoons Lemon Juice

Zest of 1 Lemon

3

tablespoons

Unsalted Butter

¼

teaspoon

Lemon Extract

½

teaspoon

Vanilla Extract

3

tablespoons

Unsalted Butter

Optional: edible flowers and herbs
Instructions
Instructions for Lemon Custard Sauce:
Before starting place a fine mesh strainer over a bowl and set aside.

In a medium saucepan combine the sugar, cornstarch and salt; whisk to combine fully.

Pour ¼ cup of the milk into the dry mixture and whisk to dissolve the cornstarch completely. Add the remaining milk and lightly beaten egg yolks to the mixture, whisking to fully combine; then whisk in the lemon juice and lemon zest.

Heat saucepan over medium heat until the mixture comes almost to a simmer and begins to show bubbles, stirring often using a heatproof spatula. Reduce heat to medium-low, continuing to stir constantly, scraping the bottom and sides of the pan while stirring, until the custard thickens (10-15 minutes) and coats the spatula.

Add the butter to the pudding mixture; stir until butter is fully dissolved.

Pour the custard mixture through strainer, using the stirring spatula to press the mixture through the strainer, as well as scraping the outside of the strainer into the bowl. Stir in the lemon extract and vanilla extract.

Pour pudding into a quart size Mason jar or an alternative container with a sealable top/lid. Seal and place in the refrigerator until fully set (approximately 1-2 hours). The custard will thicken but not fully set as with pudding.
To Assemble the Trifles:
Place 1/2 cup of the angel food cake cubes in each glass or jar. Cover with 1/2 cup of strawberries per container. Spoon 3-4 tablespoons of custard sauce over the berries. Repeat the three layers ending with the sauce. Top with edible flowers if desired.
Nutrition
Calories:
413
kcal
|
Carbohydrates:
58
g
|
Protein:
8
g
|
Fat:
17
g
|
Saturated Fat:
9
g
|
Cholesterol:
136
mg
|
Sodium:
399
mg
|
Potassium:
418
mg
|
Fiber:
2
g
|
Sugar:
38
g
|
Vitamin A:
645
IU
|
Vitamin C:
84.6
mg
|
Calcium:
183
mg
|
Iron:
1
mg