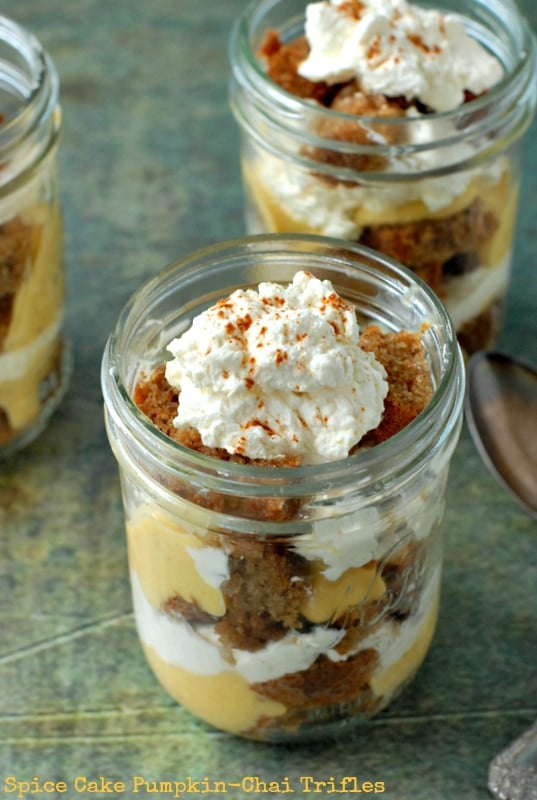 As if on cue fall has settled into Colorado. I published a selection of late summer recipes Monday, inspired by temperatures in the high 90's over last weekend, and the feeling that fall might pop in at any time. That time turned out to be Monday arriving with a 35 degree drop in the mercury and rain fit for launching Noah's Ark.
The weather change dovetailed perfectly into a passion project of mine. I keep a list of dishes I've never made. My personal culinary Bucket List. Making a Trifle is in the top 10. I love the look of a big glass trifle bowl layered with delicious sponge cake, custard and whipped cream. It has the look of a party starting any minute. For my family however individual trifles would work better. Both for portioning out the dessert, as well as there is just something about having your 'very own'. Plus who doesn't love eating a dessert like this out of a Mason jar? Perfect for the season.
Another plus about making a trifle for me would be knocking out a second 'haven't made that' dish; pudding from scratch. I'm a DIY'er at heart and if I can make something myself I like to (though time doesn't always permit). I could think of no more perfect a flavor than pumpkin, feeling it to be the flavor herald of the cool weather season.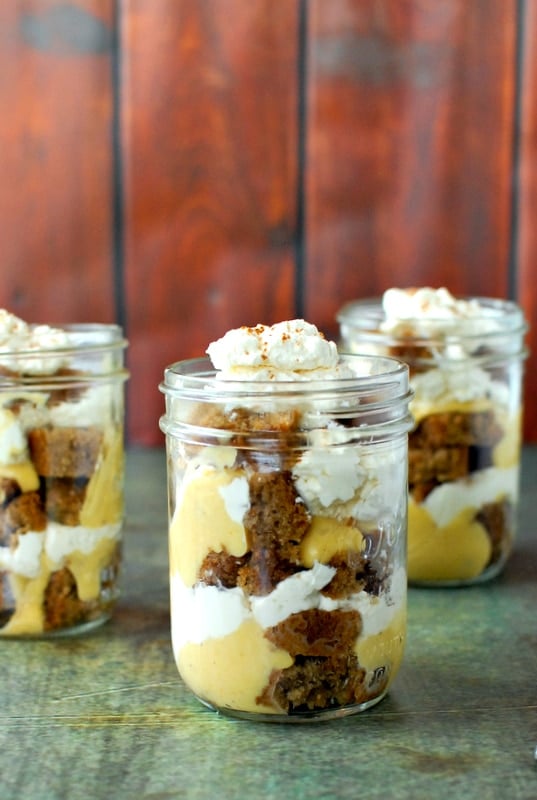 After making the pudding I was kicking myself over not having tried it before! It's effortless with an outcome calling into question the common name with the pudding from a box. It is creamy, smooth and beautifully pumpkin-y without being overbearing to the rest of the dessert.
The trifle is a layering of Spice Cake, Pumpkin Pudding and Chai Whipped Cream pulling together a sumptuous bite of fall. As you can see, it has a rustic appearance potentially looking haphazard in its construction but I assure you that's not the case. Each ingredient is layered on the prior, free to wind its way in the jar to land where it may. The pint size Mason jar lends a relaxed feel to this clearly approachable dessert! It's a 'snuggle up with a blanket and fire' type of dessert. And based on the the reception in my house, I think you'll love it!