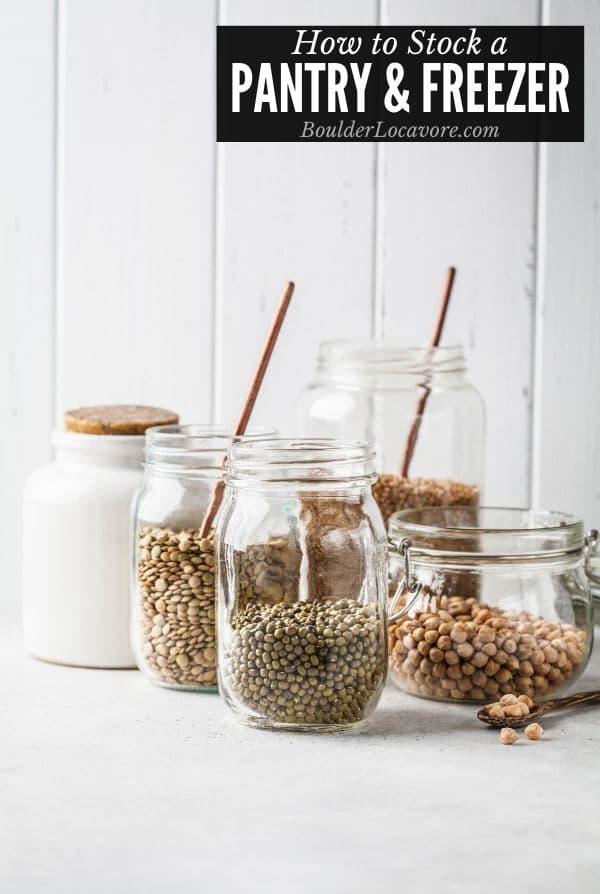 After receiving many requests for guidance on what types of food to stock in a pantry and freezer I wanted to share what I am doing personally.
Your own dietary needs and space may require making different choices. Hopefully this sparks some ideas
How to Decide How Much and What Type of Food to Store
This is the criteria I am using personally to guide the type and quantity of food I have on hand:
1. The government advice of ensuring you have at least 14 days of food on hand in the event you have to self-quarantine
This advice was issued before cities have been put on Shelter in Place as well as mass shopping has begun.
Grocery stores are remaining open so food is still available.
Considering what may be needed for basics you use regularly may mean stocking up on a longer supply of some foods.
2. Stocking things my family would eat normally, as much as is possible
We don't know how long this will go on, as well as certain food supplies are unpredictable as people react to the quickly developing news and fear of shortages.
My goal is to not waste by stocking up on food we'd never eat.
3. Choosing nutrient-dense food
I try to keep a supply of fresh produce, fruits and vegetables, on hand.
As well as when possible choose healthier foods that are satisfying and nutritious.
My goal is to keep everyone healthy.
4. Choosing foods with a long shelf life
I want to have foods I can count on to stay 'good' for a longer period of time.
Grocery and Supply Delivery
I have been using Instacart, Walmart grocery delivery and Amazon to have items delivered.
What's in my Pantry
The types of foods I suggest stocking up on are non-perishable, nutritious and flexible foods.
By flexible foods I mean foods that can be used in multiple ways.
Here is a summary of what I have on hand:
Rice
Cans of all sorts of beans
Dry Pasta and Dried Beans
Tuna
Trail Mix
Protein Bars
Canned fruits
Canned vegetables
Canned Chili and stew
Canned soup and stock in tetra paks
Soy Milk in tetra paks (don't need to be refrigerated)
Cereal (granola and other more nutrient dense cereal)
Nuts
Potatoes
Onions
Baking supplies (flour, sugars, baking soda, baking powder)
Basic Condiments (to use on things and also to make sauces)
What's in my Freezer
We also have a second freezer in our garage.
In there I have:
Multiple types of ground meat
Bags of shredded and grilled chicken strips (already cooked)
Pizza
Prepared meals
Frozen pie crust (great for quiche or dessert pies)
Frozen fruit and vegetables
Baking supplies (which I always have for recipe development)
How Long do Pantry Foods Last?
It depends on the food but most pantry items have a long shelf life, meaning they will stay 'good' a long time.
This makes them a good choice.
Every food item should have a 'Best By' or 'Use By' date stamped on the package or bottle somewhere.
That is the guide I use for when to replace or use that item.
The same is true for store bought items that go into the freezer.
Recipe Ideas for Preparing Freezer Meals
I typically make large batches of soups or stews, as well as base ingredients like shredded chicken or Mexican Taco chicken that are flexible in other dishes.
Soups and Stews
Shredded Chicken
Slow Cooker Mexican Chicken Taco Meat
More Recipe Ideas
I will be adding to this list of recipes so check back! The recipes listed here either:
use pantry and freezer staples
have substitution suggestions making them flexible to adapt to what you may have on hand, or
use only a few basic ingredients
Best Chili Recipes(Something for Everyone!)
Homemade Spaghetti Sauce – My Grandmother's Recipe
Muffin Tin Denver Omelet (the ingredients can be changed easily to what you have on hand using the same amounts and they can be frozen)
Salt & Pepper Roasted Chicken Thighs
Slow Cooker Pulled Pork (if you don't have the ingredients for the sauce a bottle of BBQ sauce can be substituted. Serve as a sandwich, over rice, over mashed potatoes, in a soup, on a salad)
Ultimate Hot Dog Guide: 10 Ways to Cook a Perfect Hot Dog
Ultimate Burger Grill Guide: How to Grill the Perfect Burger
Cocktail Recipes (this has been a popular request!)
How to Find Recipes to Match your Ingredients
There are two ways to search for recipes on this website:
1. Use the Search Bar at the top right
Add in an ingredient or recipe name to find a match.
2. Use the drop down RECIPES menu on the Navigation Bar
Below the website title there is a navigation bar with names. You'll find 'Recipes' there.
Select Recipes. A drop down menu will open all the categories of recipes (e.g. Side Dishes, Baked Desserts, Easy Dinner Recipes, etc).
Select the type of recipe you are looking for.
After doing that all the available recipes of that type will open for you to explore.