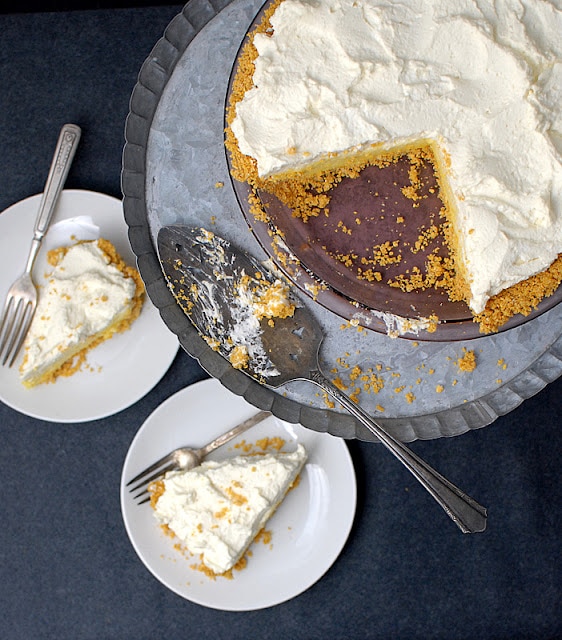 After making Lemon Infused Vodka a few weeks ago I was reminded of my love for the smell and flavor of lemons.

 

Despite being a winter fruit they really seem to be a harbinger of spring to me; here to escort us from the cold, dreary days with their lively presence and depart once we are nestled into the guaranteed warmth before us for the next several months.
I wanted to make a lemon pie of some sort and dove into my vintage collection of recipes for option.

 

I found a great Lemon Custard Pie of my Great Grandmother's though admittedly was making this rather spontaneously as I most often do and it seemed a bit lengthy.

 

I found a few others in a recipe collection I purchased on eBay that as best I can tell came from the late 1930's on from the northern mid States.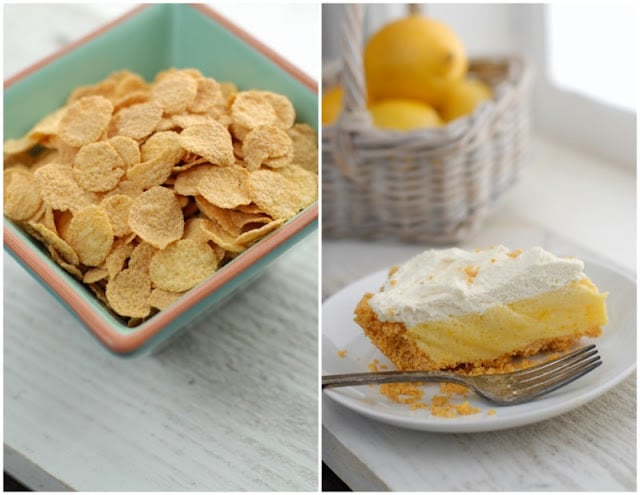 I settled however on a recipe from the 1937 handwritten recipe book I've used a few times, Kitchen Scrapbook.

 

It is a cookbook divided by recipe genre with some recipes printed by the publisher and numerous blank pages to add one's own recipes.

 

The copy I have is filled with a variety of recipes from different women, and was clearly used in the way recipe cards were passed years later.

 

The recipe was for a Lemon Chiffon Pie by 'Christine' but what really peaked my curiosity was the Cornflake Crust.

 

Have never heard or had one.

 

Always love to try something new and this was a road worth taking.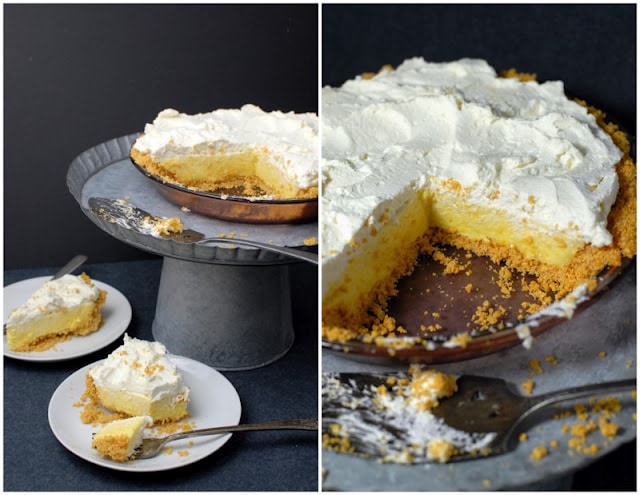 I'm not fully sure why I love vintage recipes so much.

 

I certainly cook most often with modern recipes or methods but especially in the baked goods department I find something homey, and comforting about making a recipe I know someone else was making over a half century or more ago.

 

I find the ingredients are usually 'whole' (not processed), the flavors to be true and I love pulling things out of mothballs to share.

 

There has been a shift with cyber recipe sharing.

 

Those recipes currently online are passed and adapted readily but I feel these vintage recipe girls, whose handwriting so prompts my curiosity about them, are left by the wayside.

 

By coming into their recipes I feel an ownership to share them, and thank you for the encouraging comments you've left and indulging me in my mission!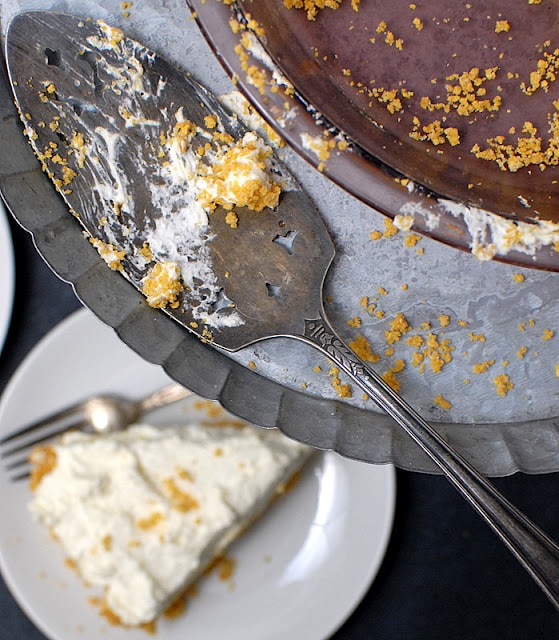 If you like lemon, this is the pie for you.

 

It is fabulously lemony with just the right amount of sweetness to ward off a pucker.
·

        
4 eggs,
separated
·

        
½ cup lemon juice, freshly squeezed (about 6-8 lemons)*
·

        
½ teaspoon salt
·

        
1 envelope unflavored gelatin
·

        
¼ cup cold water
·

        
1 teaspoon grated lemon rind
·

        
Whipping cream to top the pie
·

        
1 graham cracker or Cornflake Crust (recipe below)
*if you put a lemon in the microwave for about 10 seconds it will release more juice afterwards!
1.
 

Beat egg yolks.

 

Add to them ½ cup sugar, lemon juice, and salt, stirring to fully combine.
2.
In a non-aluminum double boiler, or in a non-aluminum metal bowl placed over a saucepan of boiling water, cook the egg-sugar-lemon juice until it thickens to a custard-like consistency; stirring constantly.
3.
As the mixture becomes almost thickened, in a separate bowl combine the gelatin and cold water.

 

Stir to combine and set aside.
4.
When egg-sugar-lemon juice mixture has thickened add the gelatin.

 

Stir to combine.

 

Add grated lemon rind.

 

Allow to cool.
5.
Beat egg whites while gradually adding ½ cup sugar.

 

Beat until stiff.

 

Note: my egg whites were not what I'd think of as classic 'stiff egg whites' when done.

 

They were more like a thick marshmallow cream consistency.

 

That may be our altitude but it worked fine in the pie.

 
6.
When the filling has cooled and is thick (but not completely firm), fold in egg whites to fully combine.

 

Pour into a completed pie crust and cool until firm in the refrigerator.

 

Top with whipping cream and serve.
A tip:
 

I ended up making the pie twice not having had experience making this type of pie.

 

I found the custard cooled slowly to a point then seemed to instantaneously gel, making chunks when mixing with the egg whites.

 

The second time I made it I quickly made the egg white mixture which took a very long time to thicken I suspect due to the sugar and my altitude.

 

As the egg whites were finishing up the custard began to fully harden.

 

I set the bowl back on the hot water in the sauce pan to soften it, whisked it to break it up and make it more fluid knowing it would harden again.

 

When I 'folded' in the egg whites I ended up using a whisk again as the two were not blending perfectly.

 

The mixture became softer but everything hardened perfectly once in the pie crust and chilled for a bit in the refrigerator.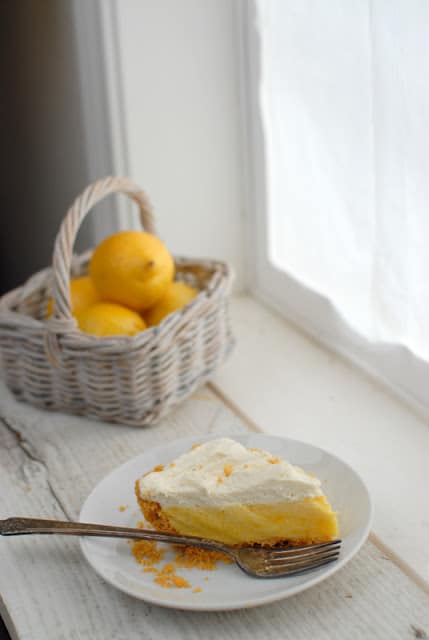 This is a unique and flavorful pie crust.

 

Even with the cornflakes being ground to crumbs it has a great crunch and a bit of a corn taste adding a different element to the pie.

 

I used Nature's Path Organic Corn Flakes which are fruit juice sweetened.
·

        
1 ½ crushed cornflakes (about 3 cups to start); I put mine through the food processor
·

        
1/3 cup (about 5 1/3 tablespoons) butter, melted
Mix all ingredients and press into a 9 inch pie pan (I used a regular, not deep dish, pie pan).

 

Chill before using.

 

I put mine in the freezer.