Light and fluffy Lemon Chiffon Pie is a dreamy chilled pie. This version includes a vintage Cornflakes Pie Crust for a perfect crunch and sweetness you'll love! No bake recipe.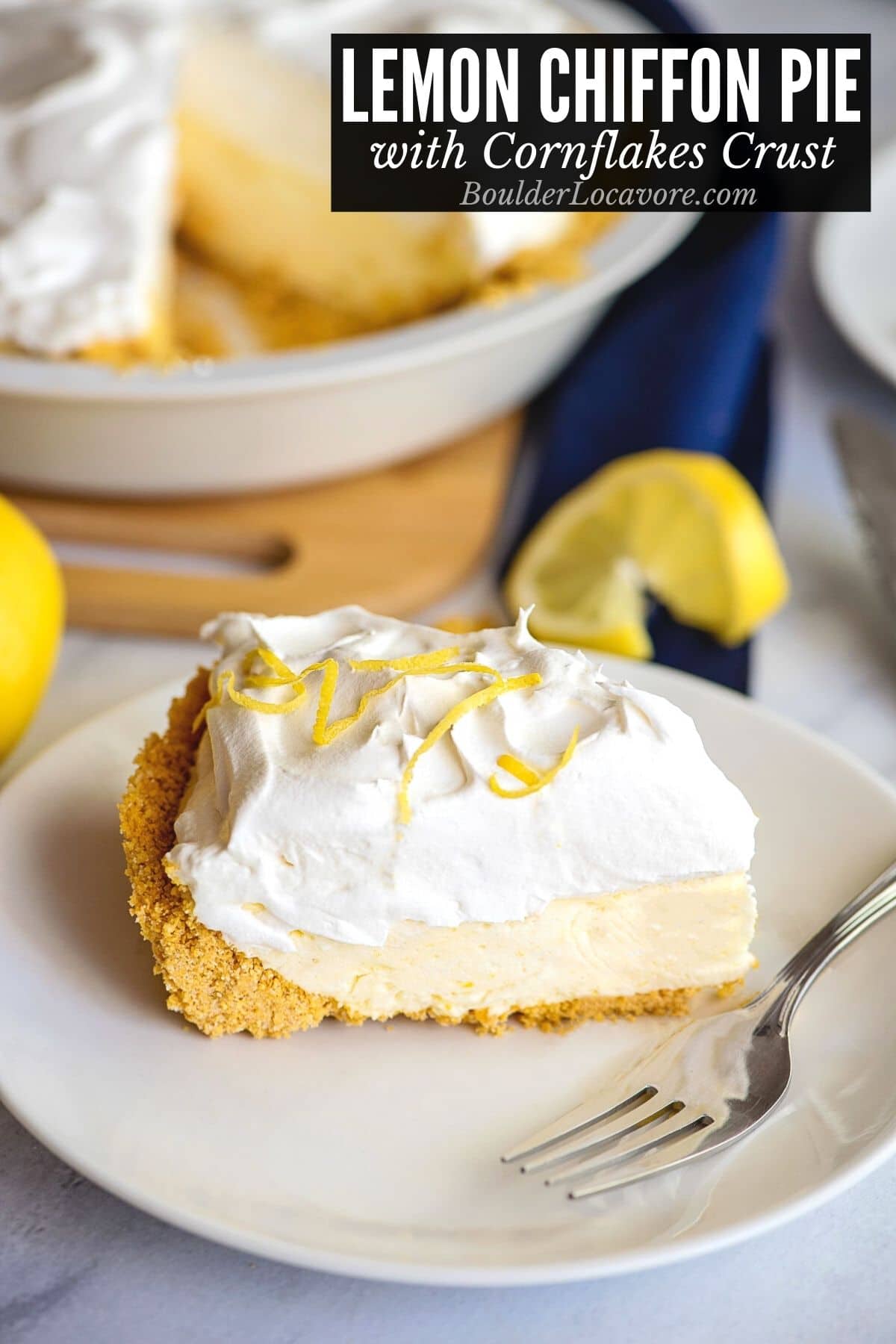 A Classic Vintage Pie Recipe
I discovered this 1930's recipe in a vintage handwritten recipe book I purchased on eBay years ago.
The part that intrigued me the most was the Cornflakes Pie Crust. It seems genius and delicious.
The pie has just the right amount of lemon to please lemon-lovers. It's also sweet enough to ward off any pucker without being overly sweet.
What is Lemon Chiffon Pie?
The pie filling is made with a homemade lemon custard folded together with sweet whipped egg whites.
The pale yellow color, perfectly balanced sweet and tangy lemon flavor are like eating a chilled lemon cloud!
Typically a traditional pie crust or graham cracker pie crust would be used.
This vintage recipe adds the Cornflakes crust which is new to modern day but was a common recipe at the time.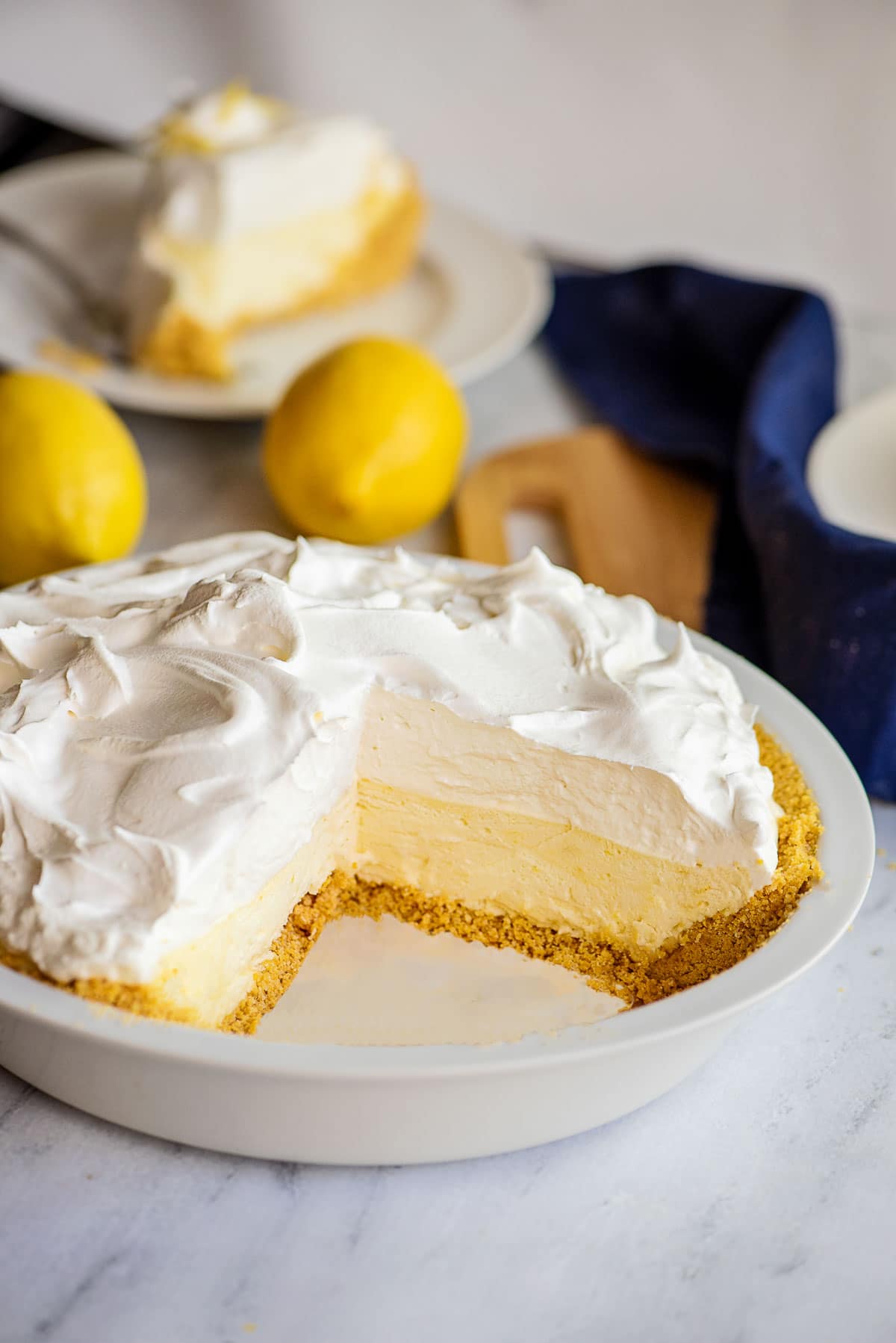 Recipe Ingredients
Only a few simple ingredients are needed to make this pie and unique pie crust!
Cornflakes Cereal
Granulated Sugar
Unsalted Butter
Eggs
Lemon Juice (freshly squeezed or not from concentrate bottled juice)
Salt
Unflavored Gelatin
Lemon Zest
Whipped Cream to top

How to Make It – Step-by-Step
Making the Cornflakes Crust
STEP 1: Combine the Cornflakes crumbs, granulated sugar and melted butter in a bowl (photo 1). Mix together to create a sandy-textured mix (photo 2).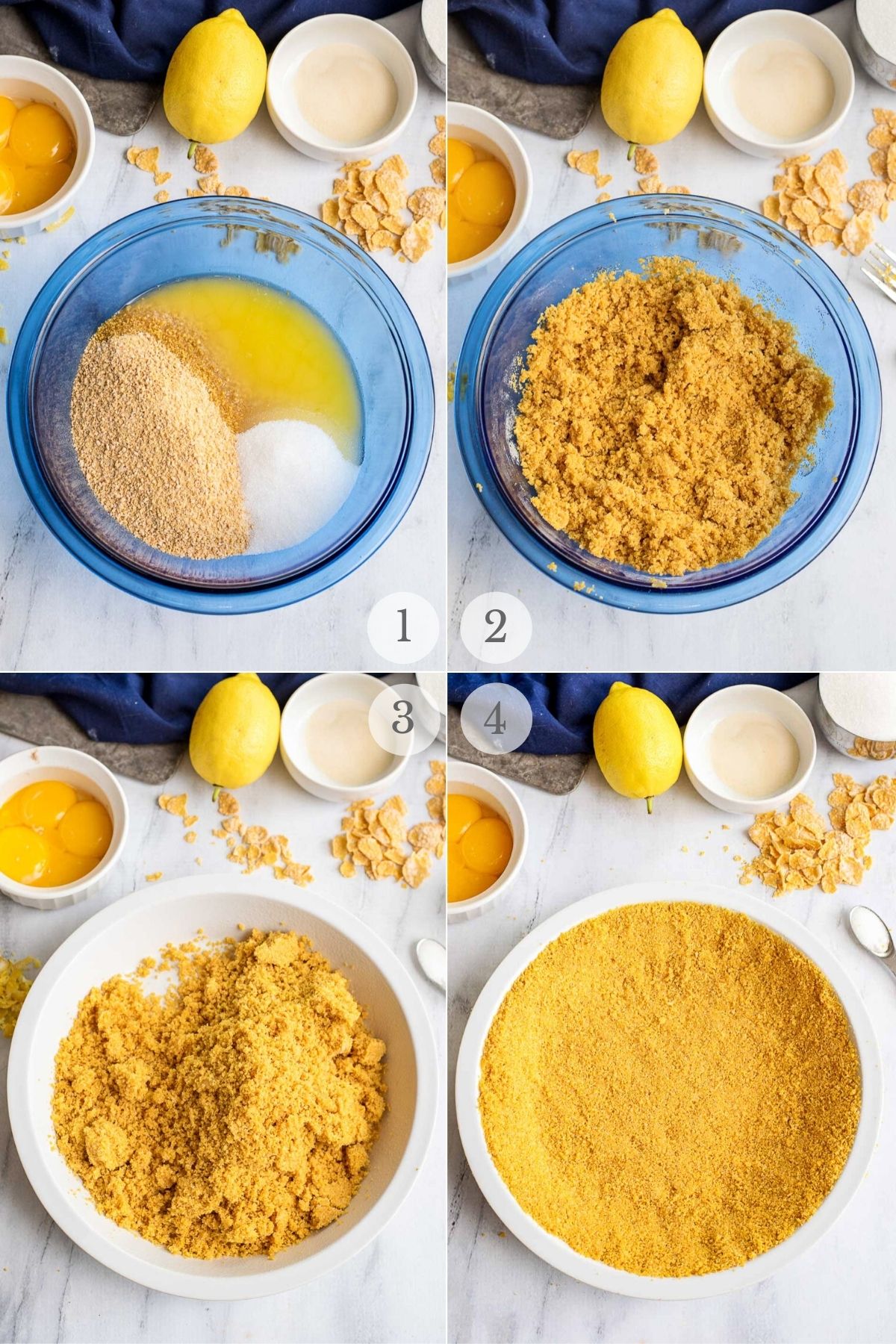 STEP 2: Spoon mixture into a 9-inch regular depth (not deep dish) pie pan (photo 3) and press into a crust (photo 4). Chill while making the pie filling (can be placed in the freezer for faster chilling)
Making the Lemon Chiffon pie filling
STEP 1: Beat egg yolk in a large bowl (photo 5). Add 1/2 cup lemon juice, granulated sugar and salt (photo 6). Mix to fully combine (photo 7).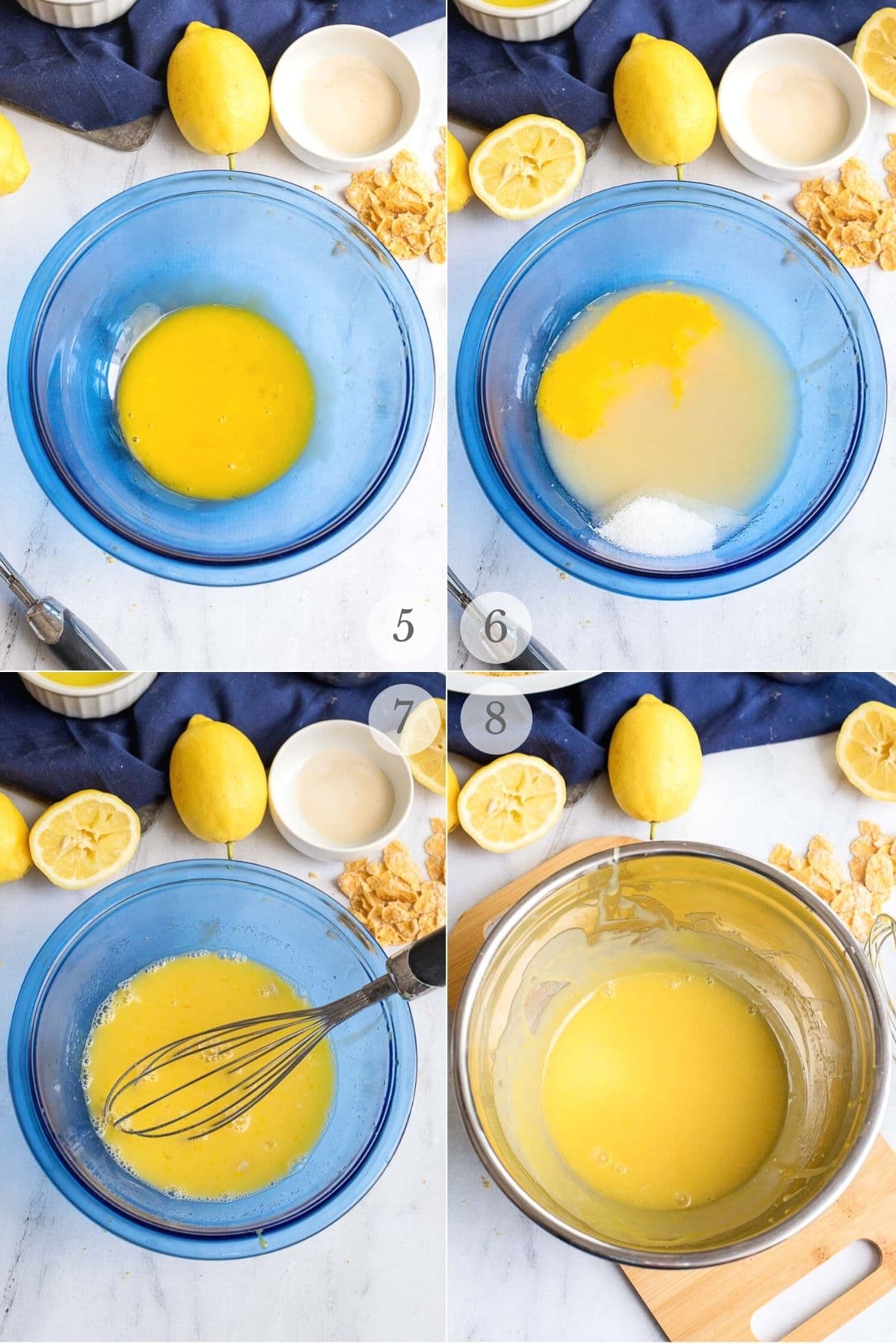 STEP 2: Put the egg mixture in a non-aluminum bowl over a pan of boiling water OR a non-aluminum double boiler. Heat, stirring constantly, until the mixture begins to thicken into a custard-like texture (photo 8).
STEP 3: As the texture becomes almost completely thickened, combine the gelatin and 1/4 cup cold water in a small bowl (photo 9). Stir to combine and set aside.
STEP 4: When the lemon mixture has thickened, remove from heat. Stir in the gelatin (photo 10). Stir to combine.
STEP 5: Stir in the lemon zest (photo 10) and allow to cool.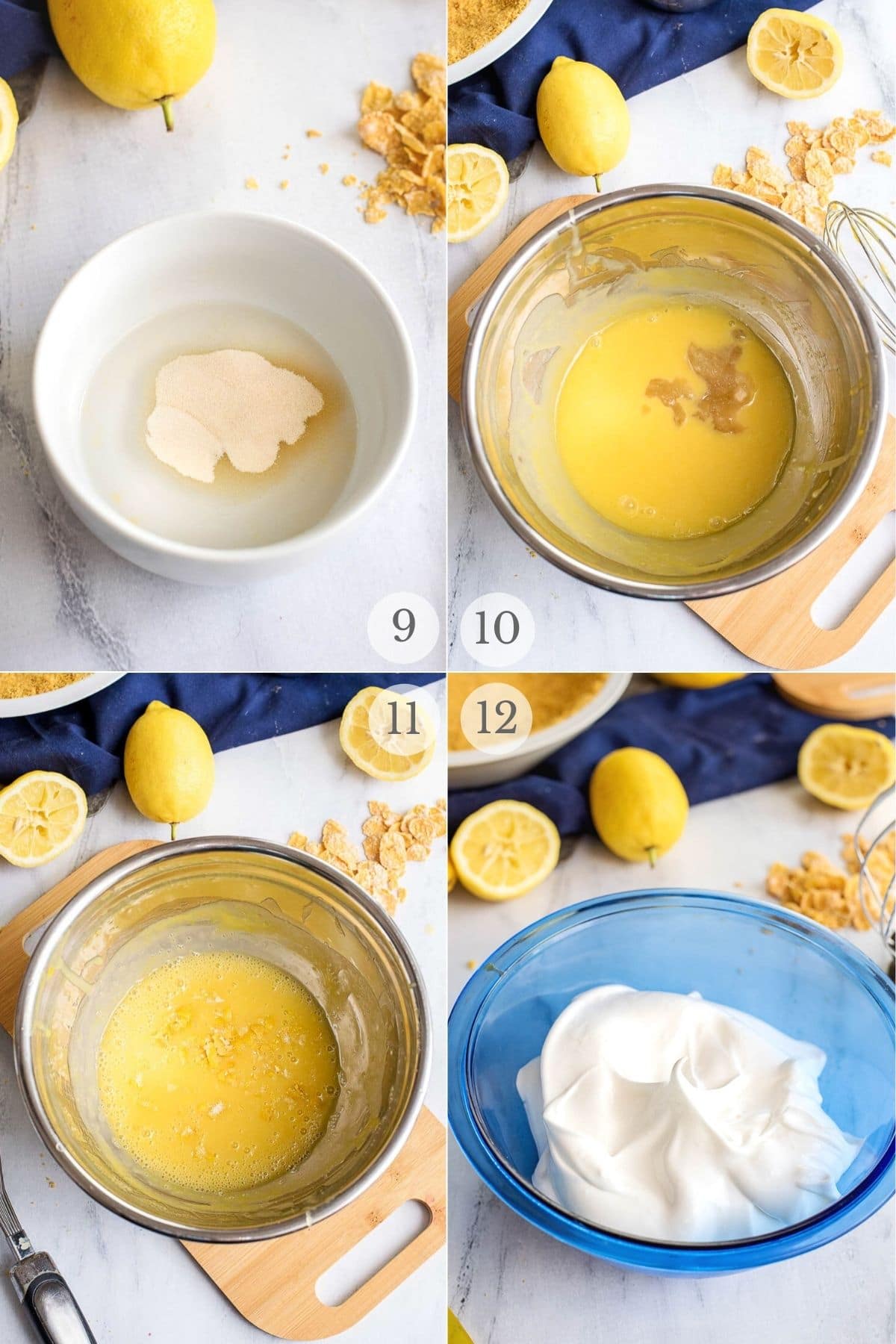 STEP 6: Beat egg whites while adding 1/2 cup of granulated sugar. Beat until stiff (photo 12).
STEP 7: When filling has cooled but is not firm fold in the egg whites (photo 14) to fully combine.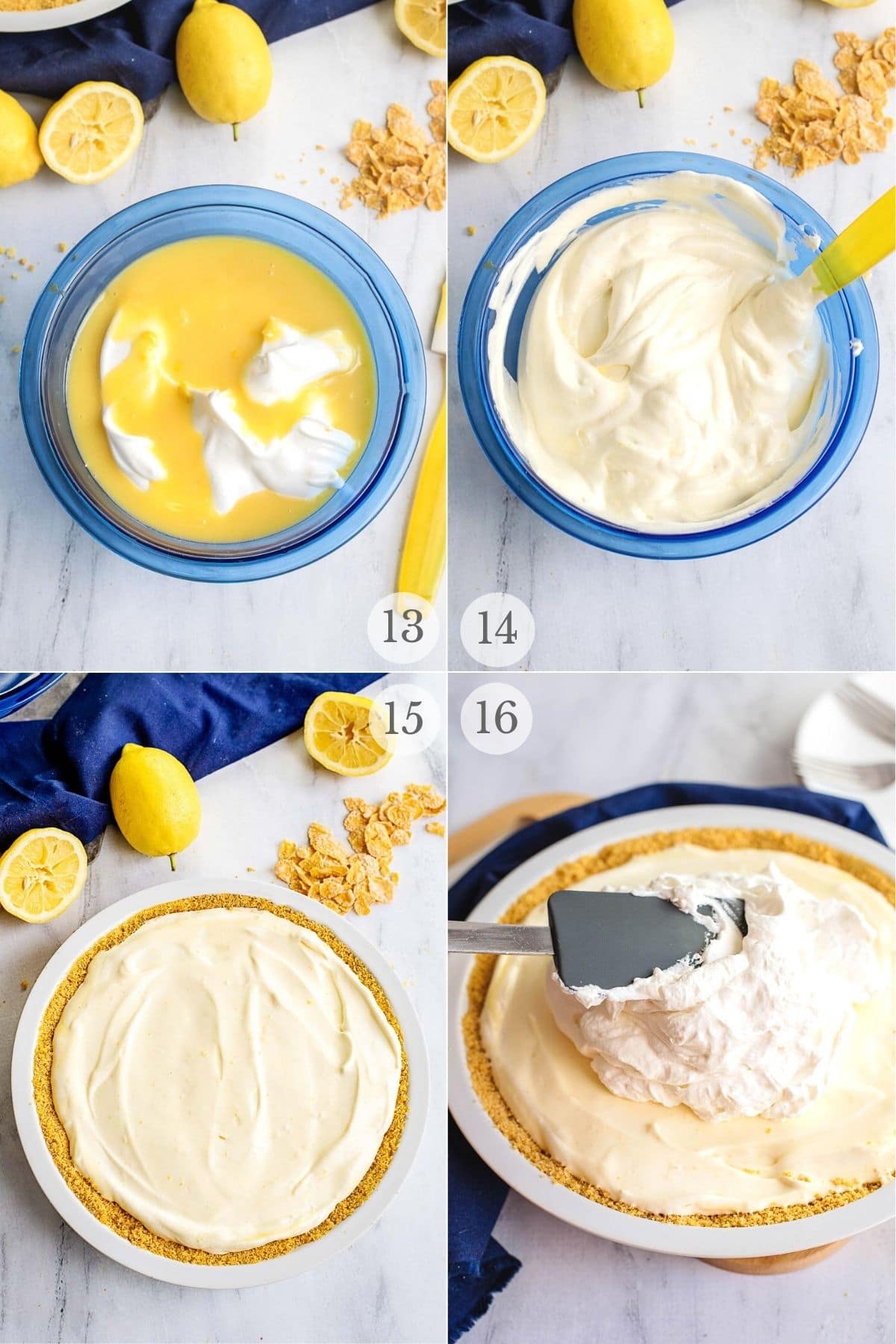 STEP 8: Spoon into the pie crust and smooth (photo 15). Chill in the refrigerator until firm (4 hours recommended). Top with whipped cream (photo 16) before serving.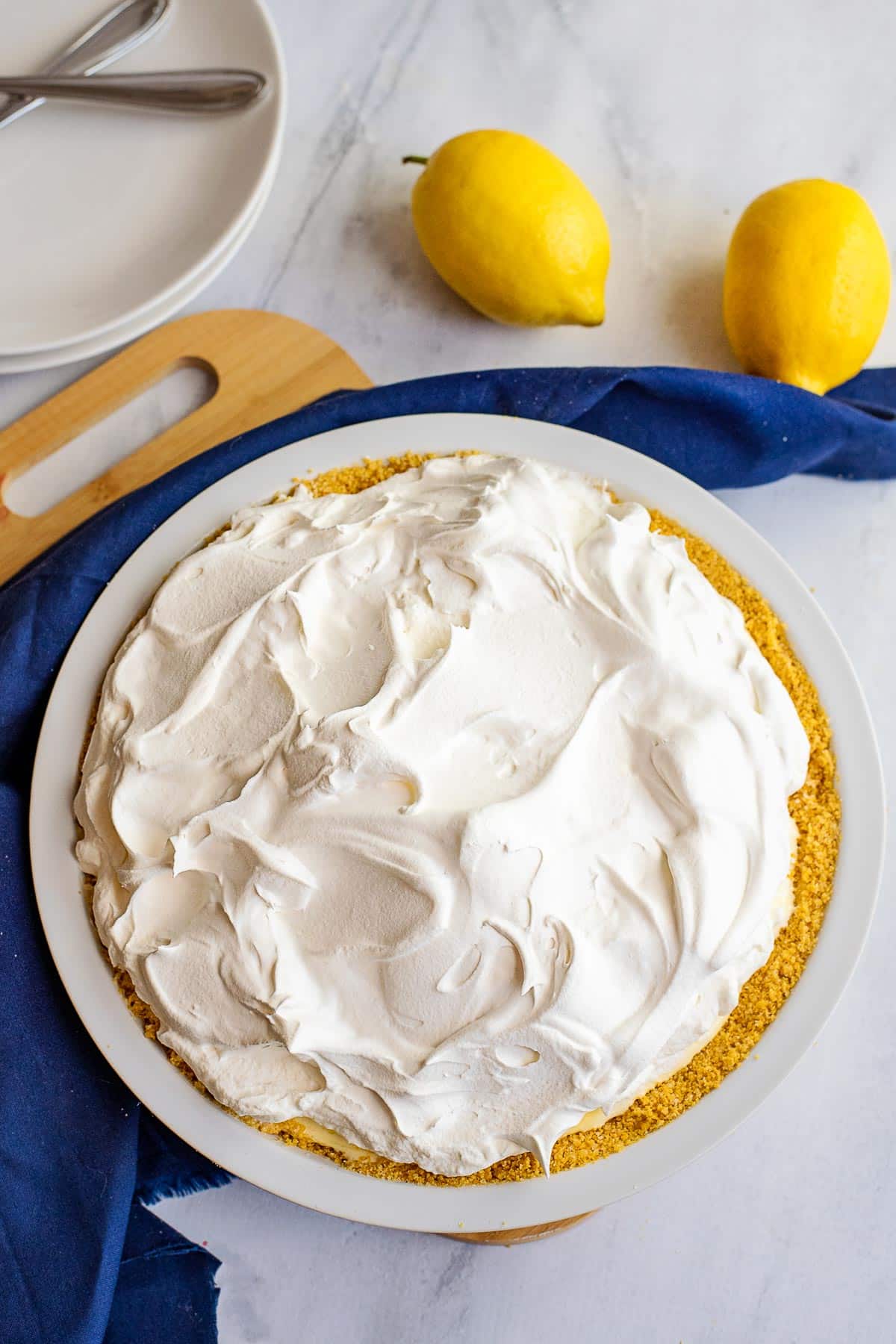 Pro Tips
Make the cornflakes crumbs for the crust by processing cornflakes cereal through a food processor or mini chopper.
Fine texture crumbs stay together best; process the crumbs twice through the food processor.
Zest the lemons before juicing them. If choosing to use fresh (not from concentrate) bottled lemon juice still use fresh lemon zest.
While making the custard filling, stir frequently and constantly toward the end to prevent the egg yolks from becoming solid and cooked.
Use pasteurized eggs. The yolk do cook to make the custard but the egg whites do not.
More Recipes You'll Love!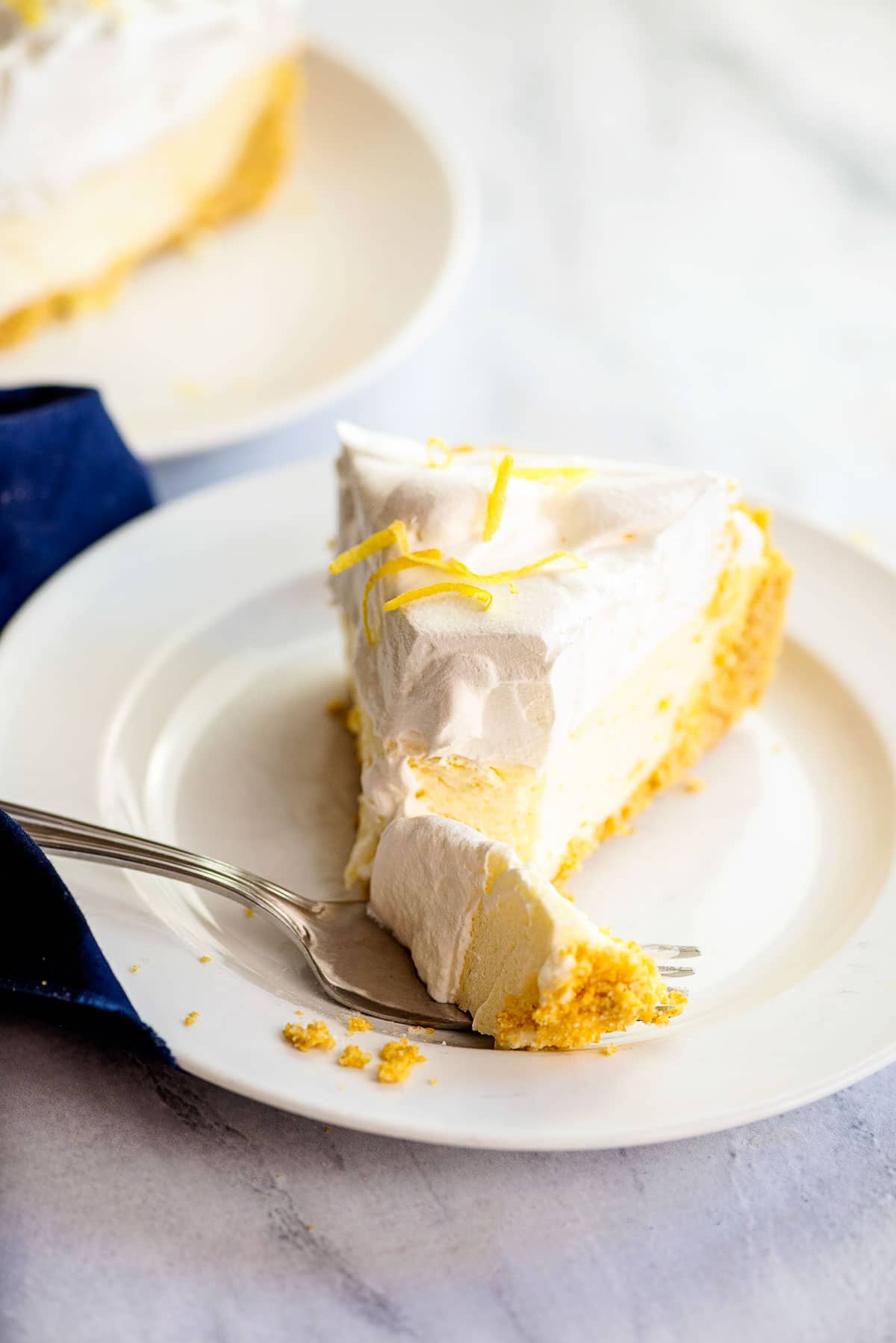 Did you make it? Please RATE THE RECIPE below!
Please SUBSCRIBE and FOLLOW ME on FACEBOOK , TWITTER , INSTAGRAM and PINTEREST !
Originally published: March 20, 2012