Spicy Cajun Shrimp is ready to eat in 5 minutes! It only needs three ingredients making it a perfect week night recipe. The bold flavors turn ordinary pasta, rice or salad greens into an exciting main dish. No one will every suspect it was so easy to make.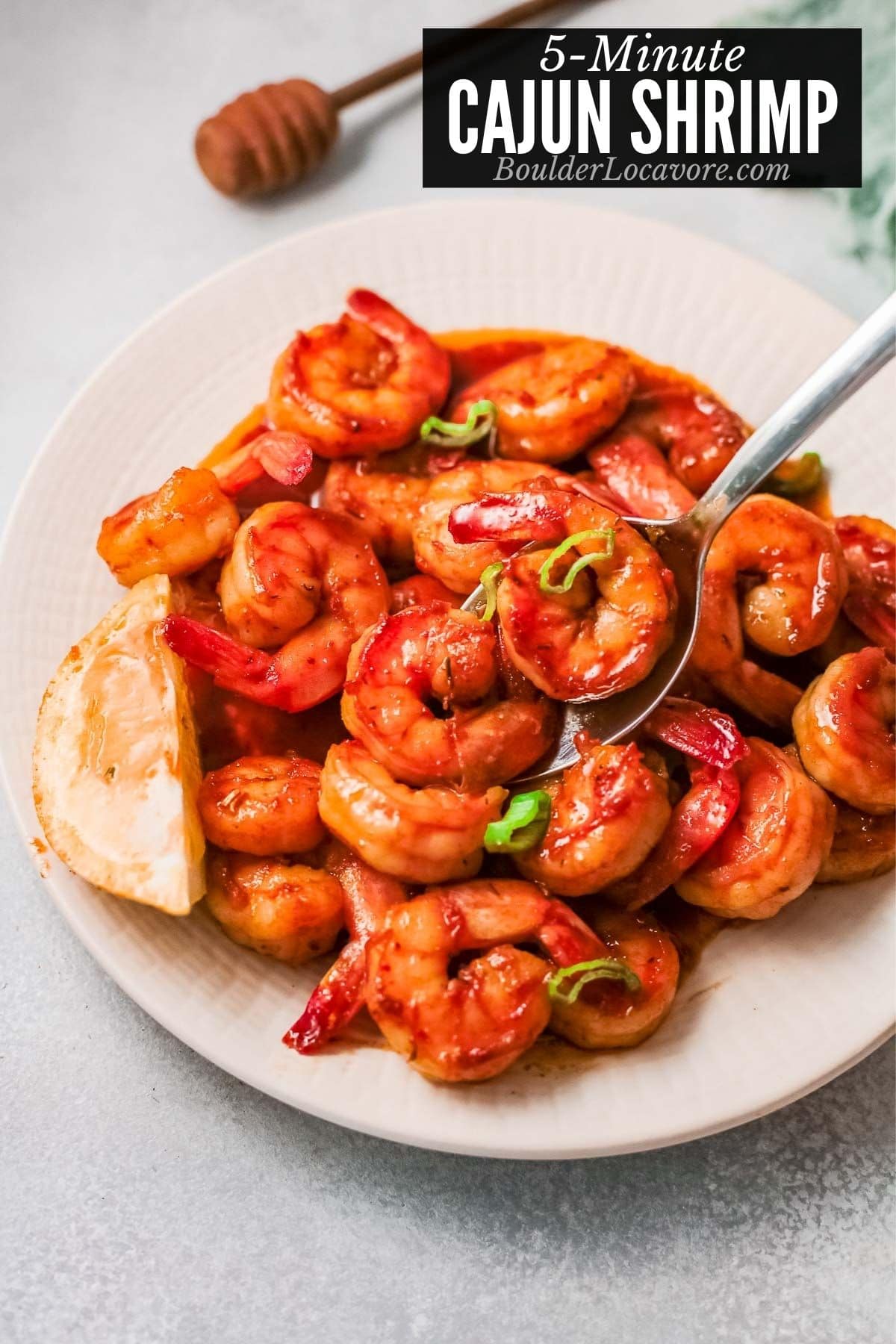 If you love to keep some fast and easy dinner recipes on the ready AND love spicy food, this shrimp recipe will be on the top of your list.
It's a restaurant quality dish that tastes great with a simple side dish or on top of pasta or rice.
If you love food from Louisiana add Louisiana Slow Cooker Red Beans and Rice, Instant Pot Jambalaya or Bananas Foster.
You'll probably love our Creamy Cajun Chicken too.
Jump to:
Spicy Cajun Shrimp
This easy recipe is a favorite of spicy food lovers for a few reasons.
It uses a pre-made Cajun seasoning blend available at any grocery stores. This speeds up the preparation.
You can blend your own too if desired.
2. Only 3 ingredients are used.
3. Shrimp cooks very fast. All it takes is 1-2 minutes on each side.
4. It really is done in 5 minutes.
Don't overcook the shrimp!
Shrimp cooks very fast and when overcooked it becomes dried out, loses it's pleasing texture and flavor.
Watch the color of the shrimp. It will begin a translucent gray color and turn opaque white or a pinkish tone.
The size shrimp called for in this recipe will not need to cook more than about 1.5 – 2 minutes (at the most) per side.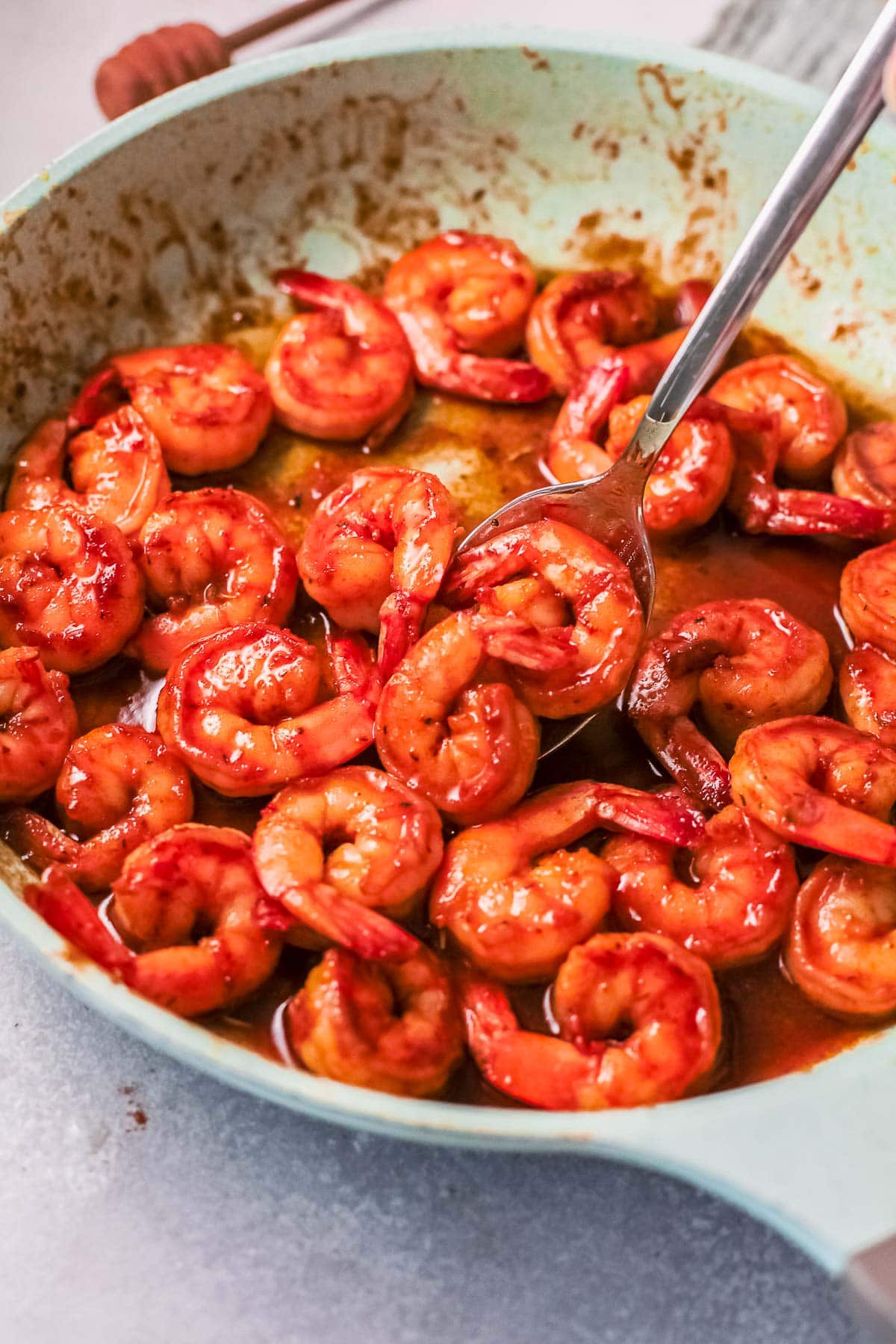 Recipe Ingredients + Notes
Olive Oil. Used to sauté the shrimp.
Shrimp. Use medium-size shrimp that is peeled, deveined and uncooked. Previously frozen shrimp that is thawed and uncooked can be used too.
For this recipe I used 26-30 count shrimp. The size is about 3-inches in length.
What is 'shrimp count'?
When buying shrimp whether fresh or frozen most will have a number associated with the size. This is the number of shrimp in a pound.
So the lower the number, the larger the size of the shrimp. And the higher the number the more you'll get in a pound and the shrimp are smaller in size.
Cajun Seasoning. This spice blend mixes the most popular spices used in Cajun cooking in Louisiana.
The Cajuns are French in origin and blended their cooking with influence of West Africa, Spain and France.
What is in Cajun Seasoning?
The spice blend can be different household to household but usually includes salt, cayenne pepper and garlic powder with other spices as preferred by the cook.
It has a spicy smoky flavor and a rich red color.
Instead of mixing spices, this recipe can be made super fast by using a prepared Cajun seasoning mix.
Select a Cajun seasoning that does not start with salt as the first ingredient.
It can lead to the finished shrimp tasting really salty as well as spicy.
Here are three Cajun seasoning blends that do not use salt as the first ingredient:
All are available at most grocery stores too.
Or you can make your own Cajun seasoning too!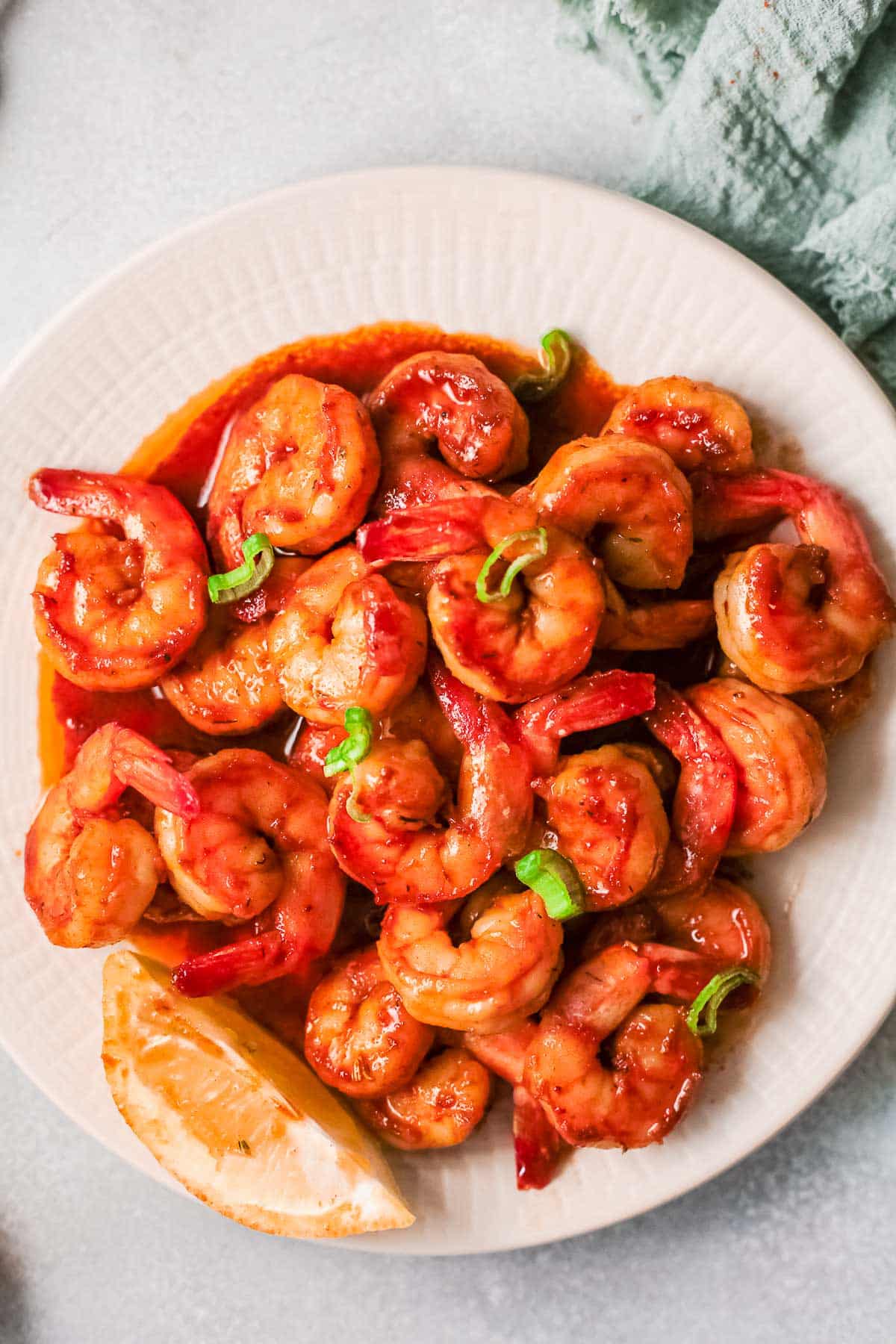 How to Make it – Step-by-Step
STEP 1. Season the shrimp
Add Cajun seasoning to a bowl of shrimp (photo 1).
Toss the shrimp to coat it with the spices (photo 2).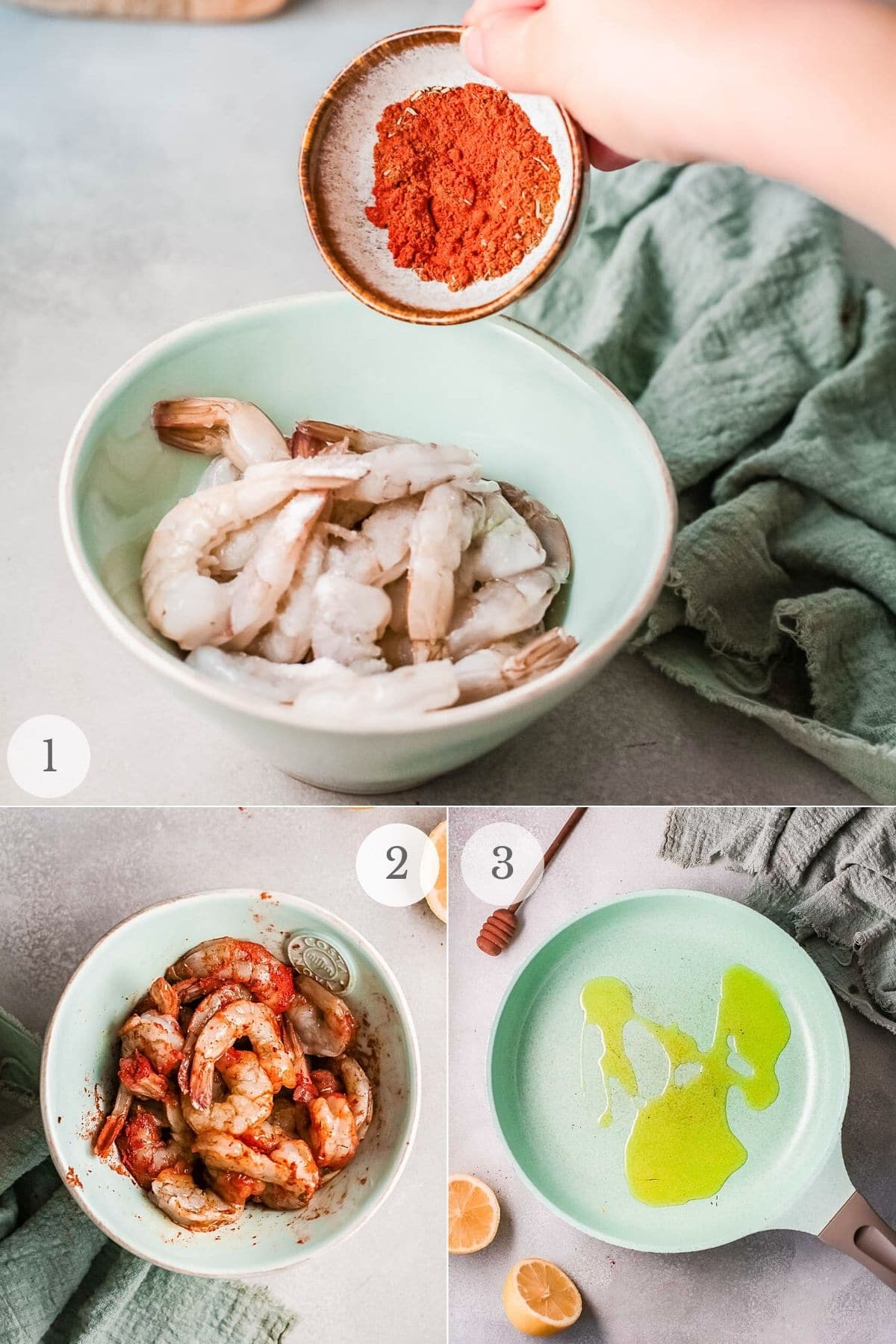 STEP 2. Cook
Heat olive oil in a large skillet over medium high heat (photo 3). Add the shrimp to the pan and cook (photo 4) until opaque and slightly pink (photo 5).
The shrimp only need a minute or two per side. DO NOT OVERCOOK. Serve and enjoy!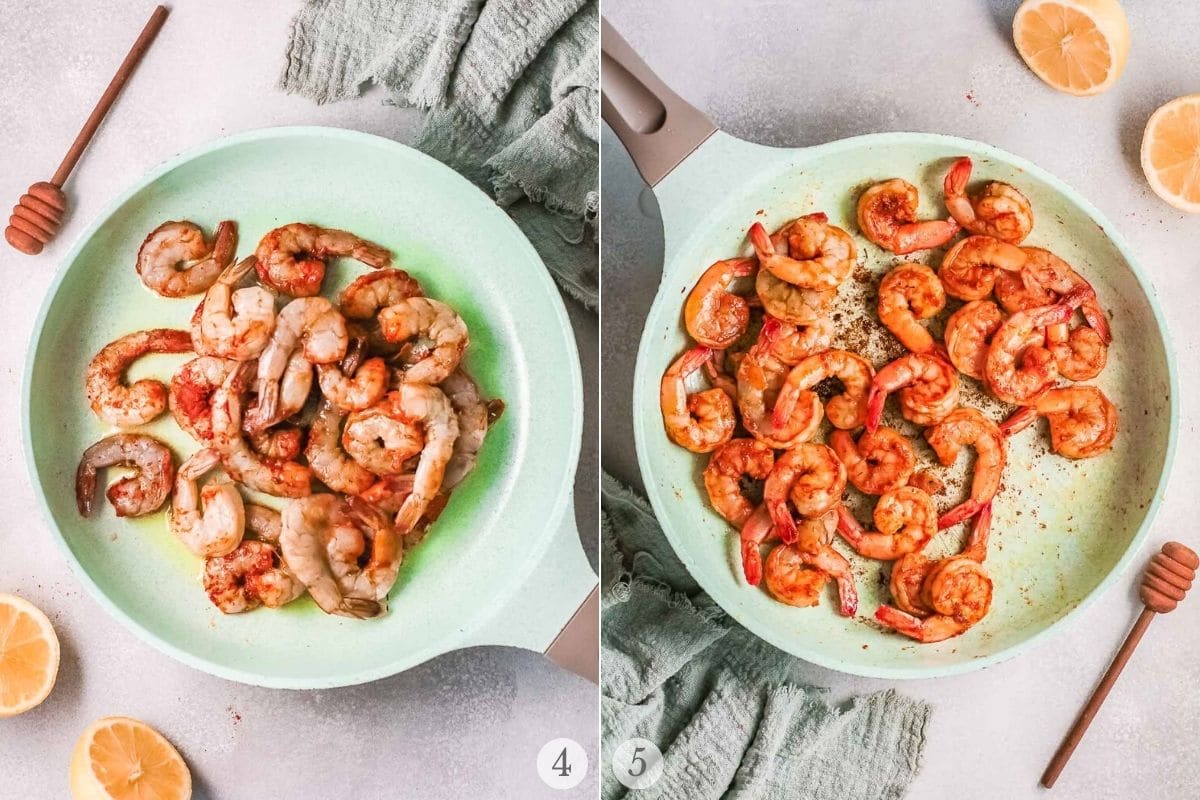 How to Serve Cajun Shrimp
The shrimp can be served on its own or add it to:
Rice or Cauliflower Rice
Pasta
Mixed greens for a salad
Zucchini Noodles
Corn tortillas with some sliced avocado for street tacos
over Mashed Potatoes
Pro Tips
Do not overcook the shrimp. Shrimp has almost no fat and cooks quickly when added to heat. Over cooking causes the shrimp become dry and rubbery.
Use tongs to turn the shrimp over. To ensure the shrimp cooks evenly on both sides and doesn't accidentally overcook it's easiest to use tongs and turn each shrimp over versus using a spatula.
Use a large pan or skillet. Choose a pan or skillet large enough to cook the shrimp in a single layer if possible.
If your pan isn't large enough to fit all the shrimp in one layer, cook the shrimp in batches. The shrimp cooks so fast that it's worth the extra minute or two.
Storing Leftovers
Cooked Cajun shrimp can be stored in an airtight container in the refrigerator for up to 3 days.
It can be reheated in the microwave just to warm it through.
The leftover shrimp can also be eaten cold on a salad or sandwich too.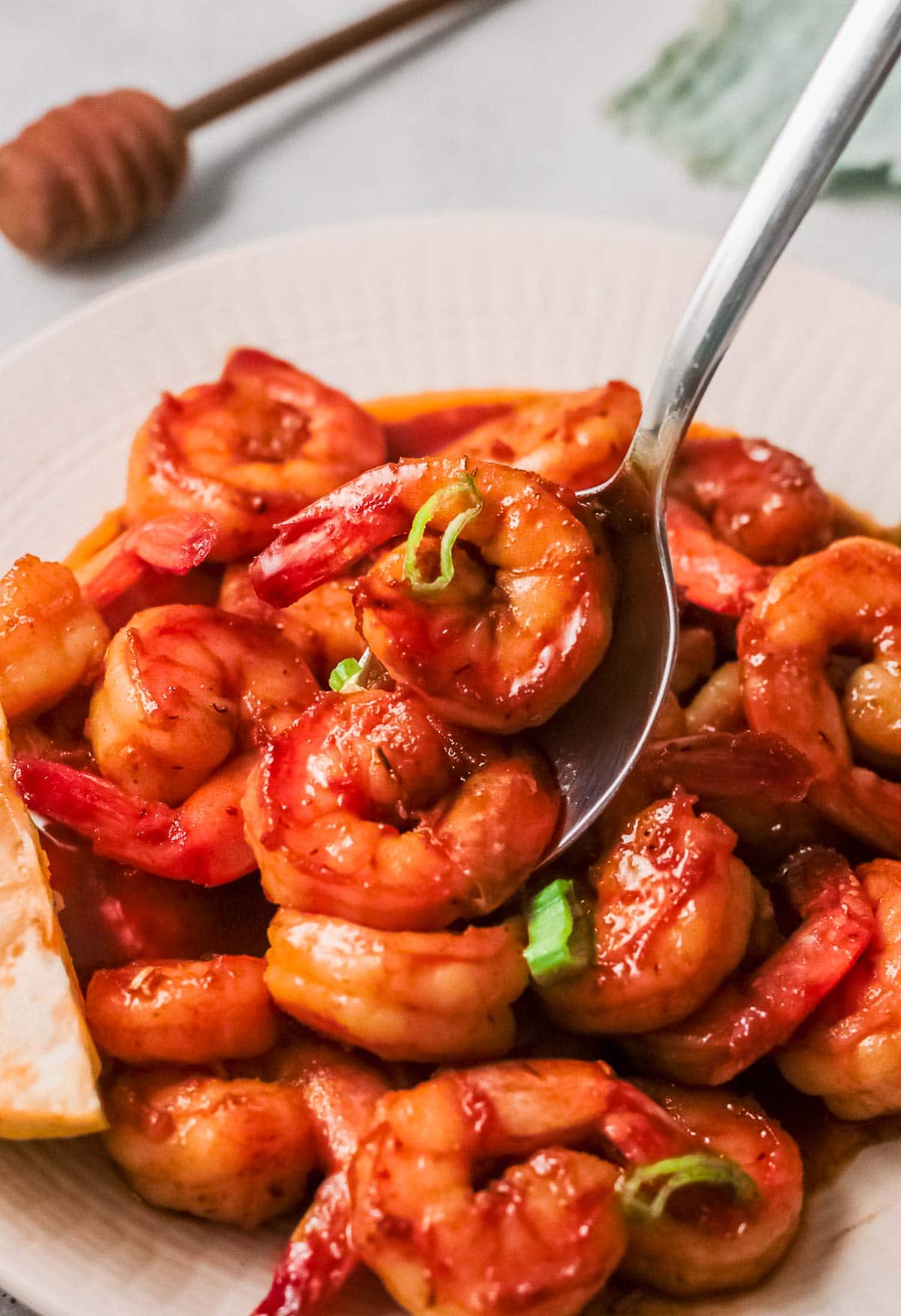 More Recipes You'll Love
Did you make it? Please RATE THE RECIPE below!
Please SUBSCRIBE and FOLLOW ME on FACEBOOK , TWITTER , INSTAGRAM and PINTEREST !
Recipe