Homemade Orange Curd is a sweet, thick, rich spread or topping you'll love! Use it anything from scones for breakfast to desserts. It's easy to make with just a handful of ingredients!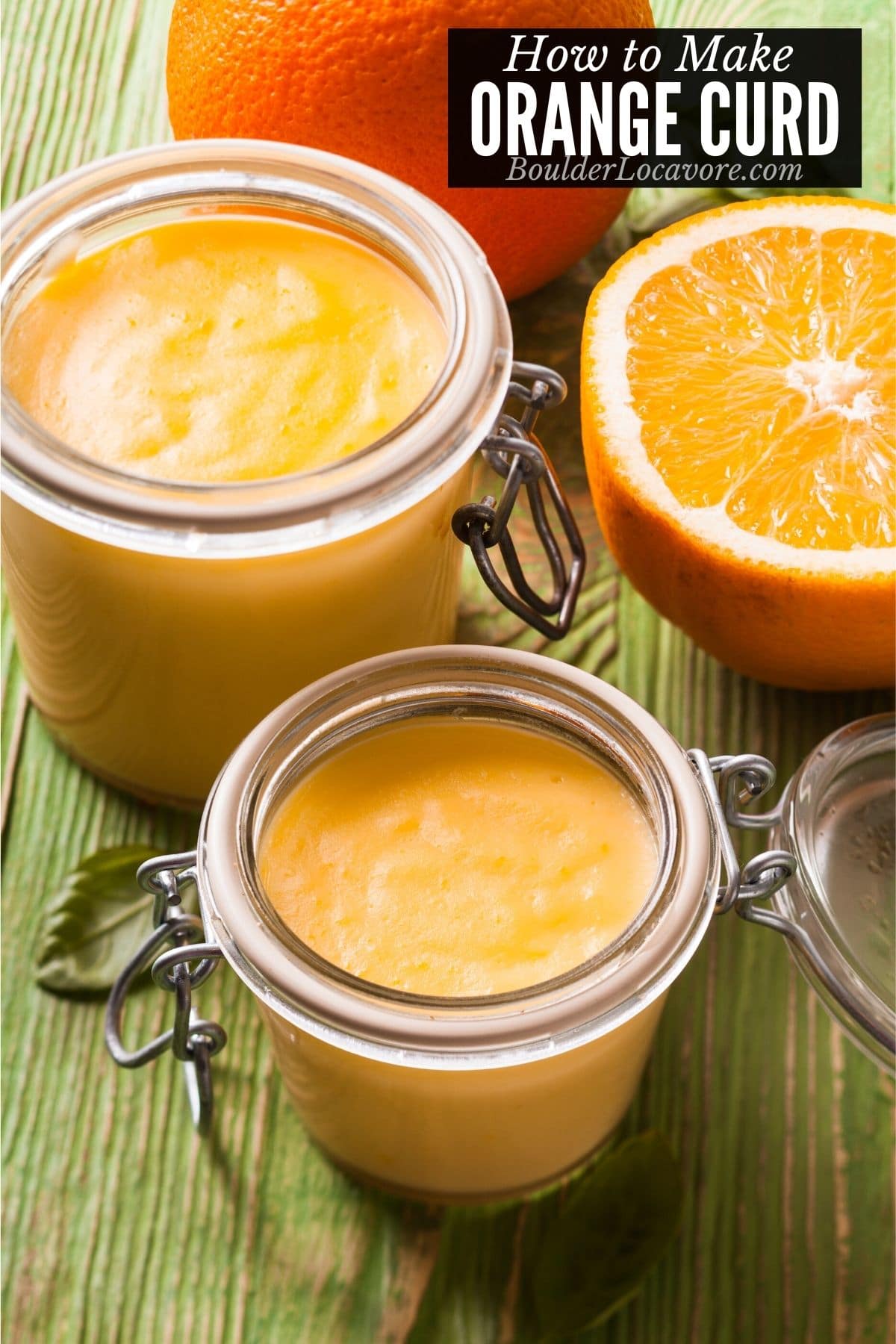 If you haven't had fruit curd before or made it yourself, you are in for a treat!
Most well known served with clotted cream on scones, that's just the start of how to use this flavorful, smooth orange curd recipe!
What is Orange Curd?
It's a thick, sweet orange flavored spread similar to a custard in texture. Though unlike custard, curd is not eaten on its own.
It's an English dish used as a spread, topping or filling between cake layers, in pastries or as tart filling.
Orange custard is typically served with scones or bread for breakfast or brunch. It is used the same way you would use jam.
Homemade curd can vary in thickness. If it's too thin it really can't be used in all situations.
The recipe below is an old family recipe that includes cornstarch.
This ensures the curd is thick and luscious. It can be used for any purpose.
There is no gelatin in this recipe.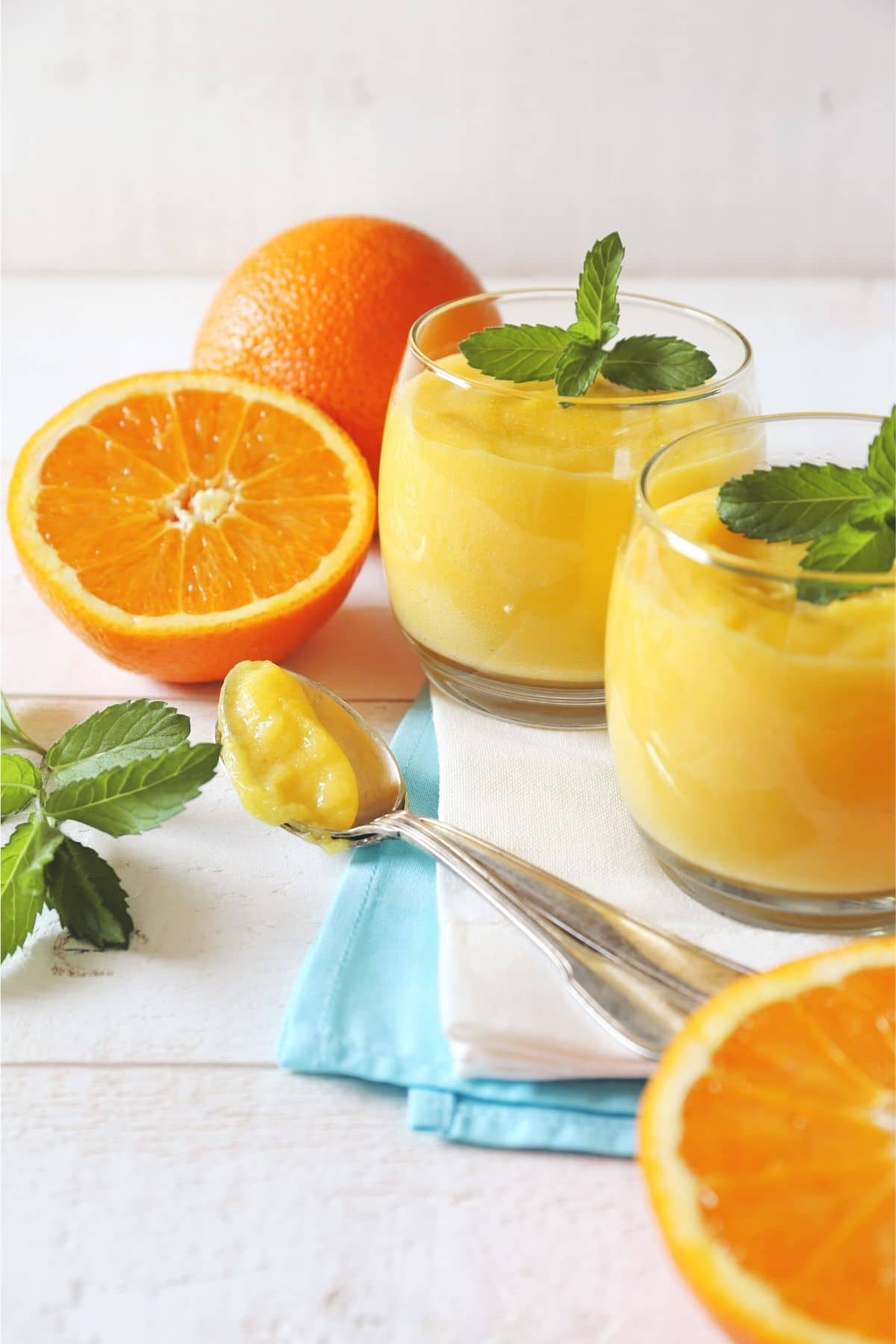 Ways to Use Orange Curd
Stir into plain yogurt
Spread as a layer on top of cheesecake
Fold together with whipped topping to fill baked pastry shells or cream puff filling for a quick dessert
As a filling between cake layers
As cupcake filling
Over ice cream
Fruit Curd Recipes
Lemon curd is probably the most well known of the fruit curds. But it's easy to make with many other fruits.
Here are some favorites: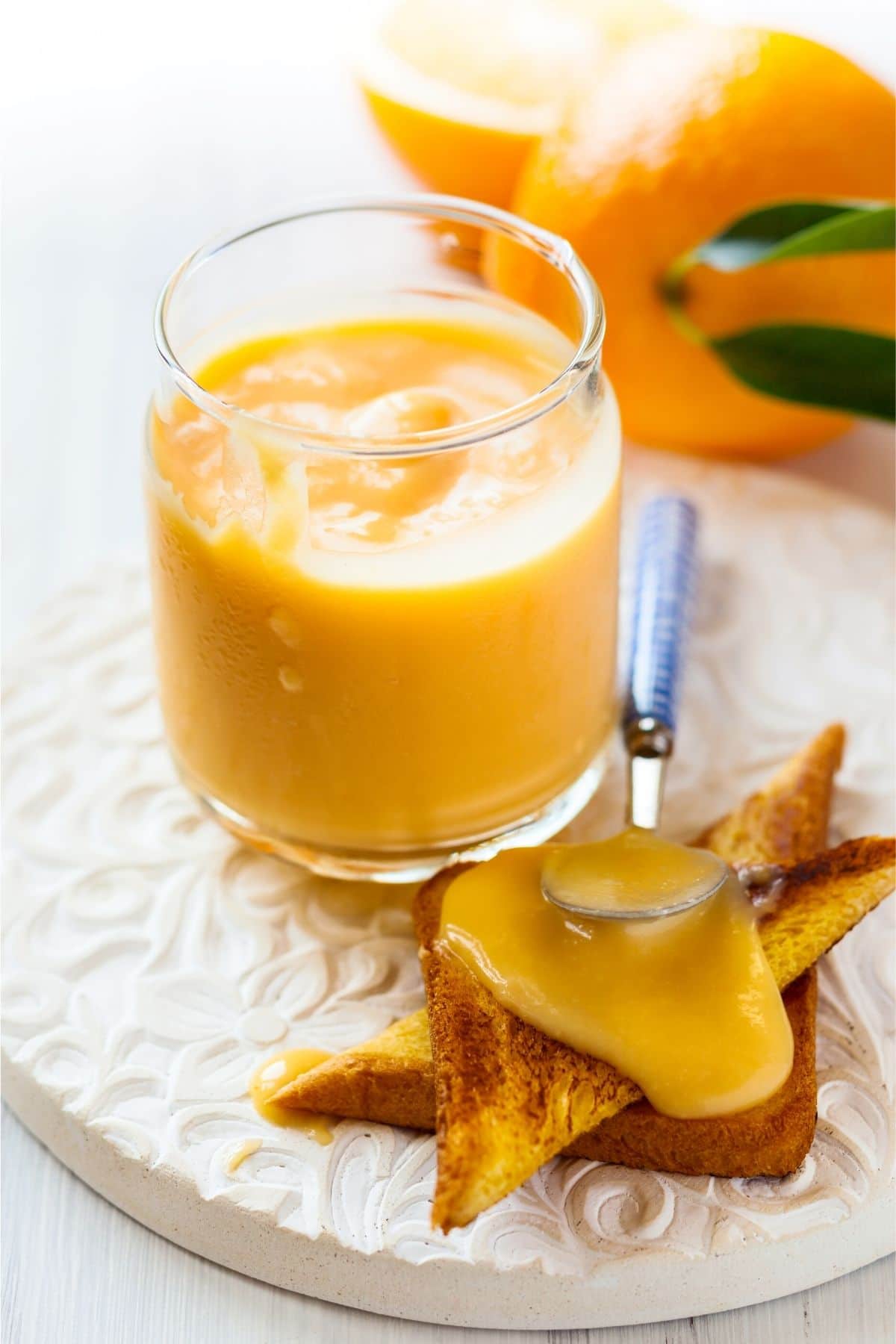 Recipe Ingredients + Notes
Granulated sugar. Sweetens the curd and helps with thickening and helps keep the curd a beautiful color.
Cornstarch. This ingredient helps thicken the curd. Arrowroot starch can also be substituted. Adding cornstarch is not common to all curd recipes.
In this family recipe we've always used it and it allows the curd to be used in any way because it's nice and thick when chilled.
Freshly squeezed Orange Juice. Squeezing the juice yourself makes all the difference in flavor. Different types of oranges will also change the flavor. Feel free to mix oranges too.
It has taken about 10 oranges to yield the needed 2 cups of juice but this can vary by orange type.
Whole Eggs. Many curd recipes just uses the egg yolks. This family recipe uses whole eggs. They should be at room temperature when starting.
If not, place them in a bowl of warm water to raise their temperature before starting the recipe.
Unsalted Butter. This gives the curd a creamy custard-like consistency. Do not use salted butter.
Orange zest. The zest is the very outer 'skin' of the orange. Directly underneath it is the white pith which is very bitter; avoid that.
The oils in the zest have a different flavor than the juice. Using both creates a wonderful flavor. Here is more info about orange zest.
How to Make it – Step-by-Step
STEP 1. Combine ingredients.
Whisk together the sugar and cornstarch in a medium saucepan. Add the fresh orange juice (photo 1) and whisk to combine. Whisk in eggs (photo 2).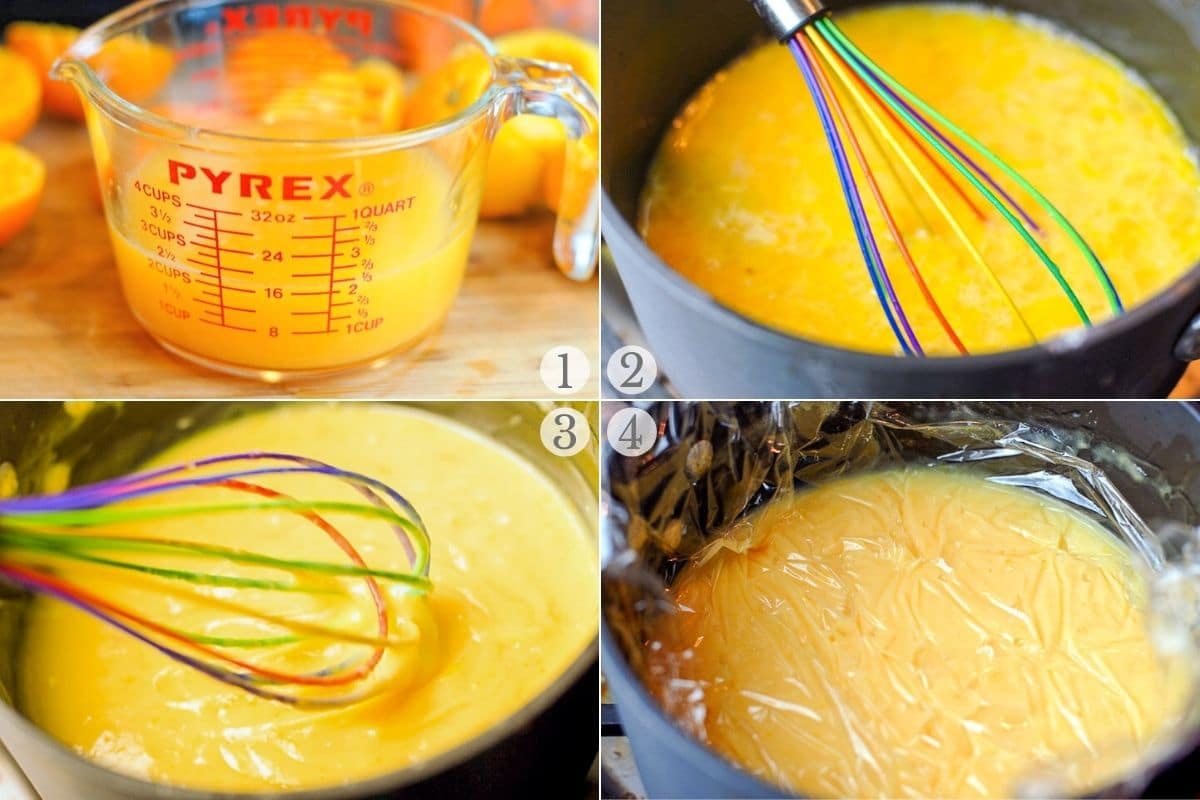 STEP 2. Cook the curd.
Heat over medium heat, stirring constantly, until it reaches a low simmer (photo 2).
Continue to stir constantly as the mixture thickens (around 2-3 minutes) (photo 3). It will coat the spoon. Remove from heat.
Add the butter and orange zest. Stir to melt the butter and fully combine.
STEP 3. Chill the orange curd.
Press a piece of plastic wrap on top of the curd (photo 4). Make small holes for venting. This prevents a skin from developing on the top.
Place in the refrigerator until it is fully chilled through (minimum 2 hours) and has thickened.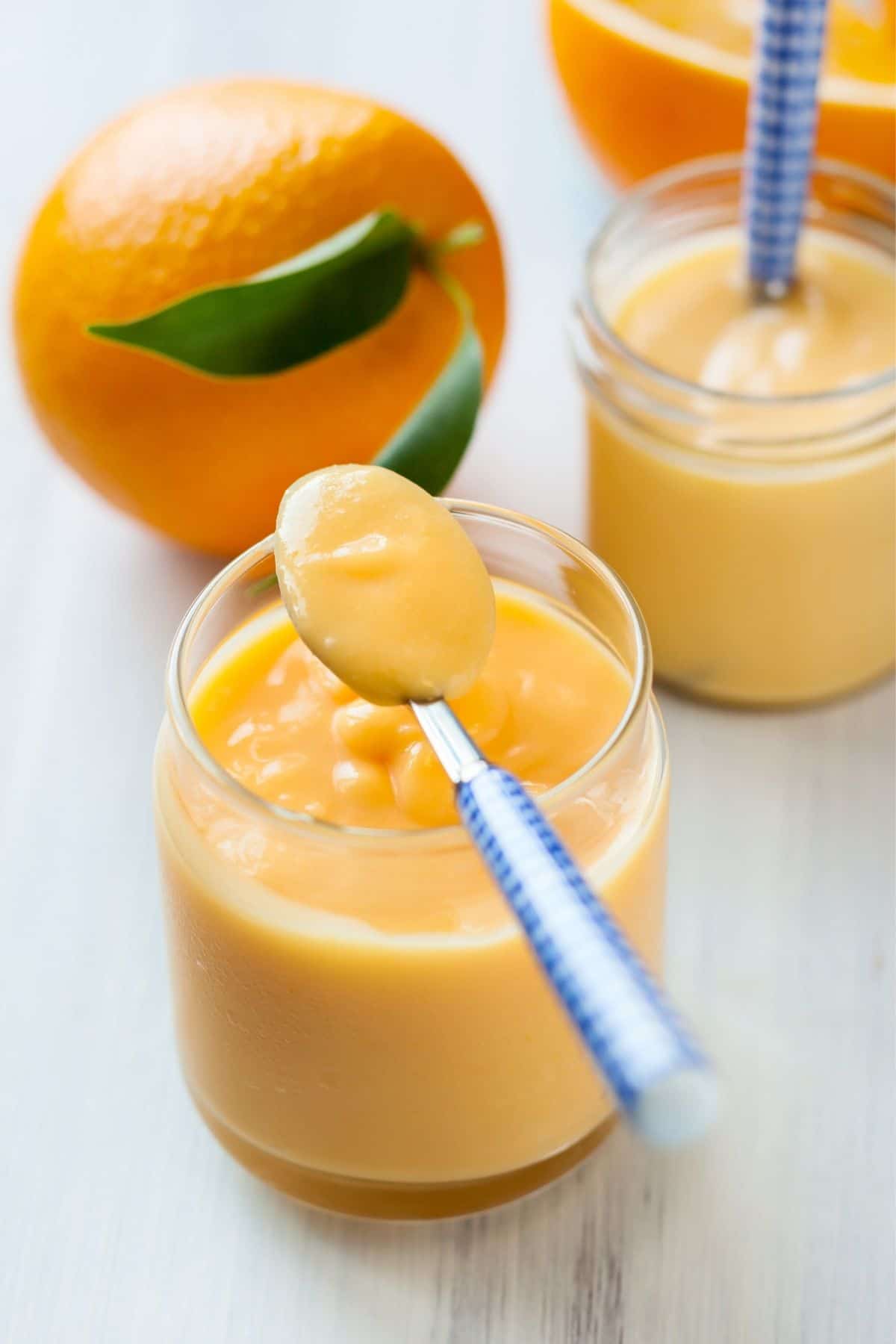 Recipe FAQs + Pro Tips
Microwave the orange for more juice. Pop the oranges into the microwave for 10 seconds before juicing to yield more juice.
My preferred juicing method is using a hand held juicer.
Zest the oranges before juicing them. This is the easiest way to get zest. Do not remove the bitter white pith directly below the skin.
My all time favorite zester makes zesting a breeze and has a measurement compartment on the back so you know how much zest you have at all time.
Do not use an aluminum pan. Aluminum reacts with the acid in citrus fruits. It can cause any citrus curd to taste metallic and alter the color.
The color of the egg yolks and juice will determine the orange curd color. Most orange curd is a pastel orange. It's a soft, dainty color. The depth of egg yolk and orange juice color will affect the end curd color.
It may not be the same color every time you make it.
When the curd coats the spoon it's done. When it begins to thicken it will thicken quickly and coat the spoon. This is the time to remove it and stir in the butter and orange zest.
How do you thicken Orange Curd?
Curd made without cornstarch can often be thin and almost runny. That is not the case with this recipe.
Homemade curd thickens as it chills and does not need to be thickened further.
Storing Orange Curd
Store in an airtight container in the refrigerator for up to 2 weeks.
How to freeze Curd
Allow the curd to fully chill in the refrigerator.
Place in a freezer-safe airtight sealed container with 1/2-inch space above the top of the curd for expansion.
Freeze up to 1 year. Thaw in the refrigerator.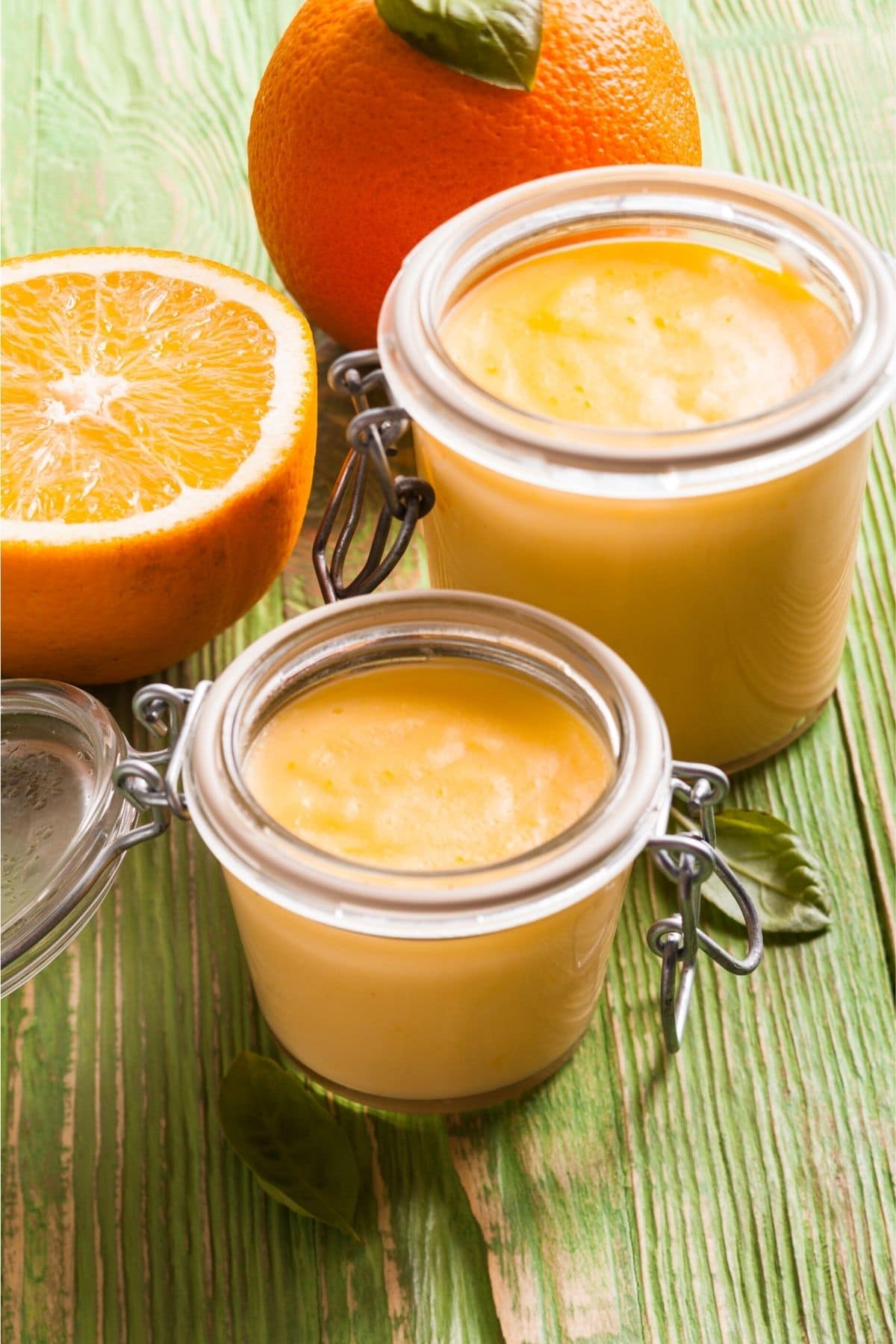 More Recipes You'll Love!
Did you make it? Please RATE THE RECIPE below!
Please SUBSCRIBE and FOLLOW ME on FACEBOOK , TWITTER , INSTAGRAM and PINTEREST !
Recipe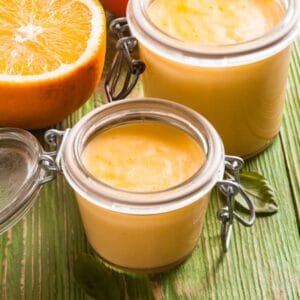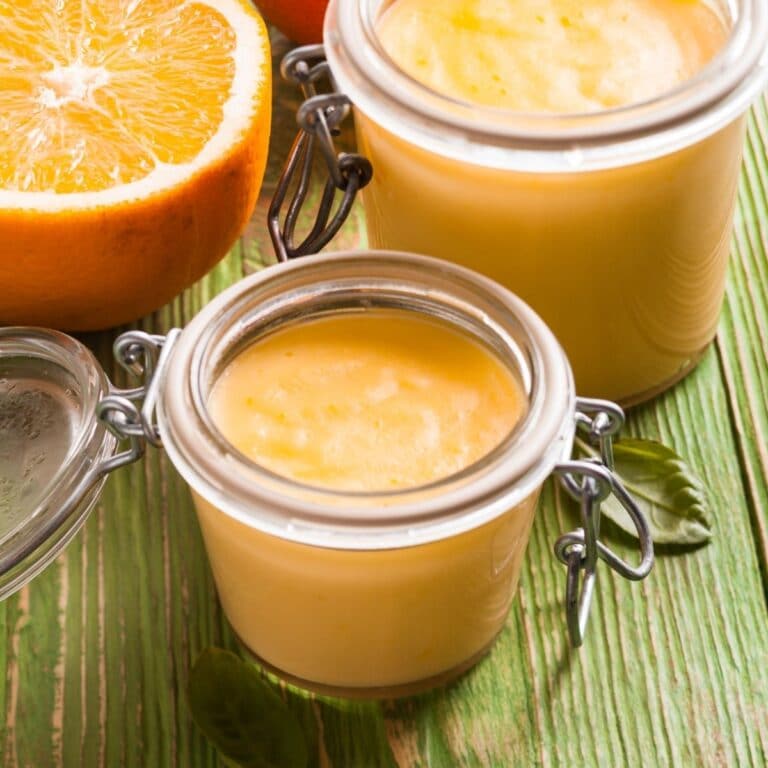 Orange Curd
Smooth sweet Orange Curd is delicious on everything from breakfast baked goods to desserts as a filling or topping. It's fast and easy to make at home.
Print
Save Recipe
Recipe Saved!
Pin
Rate
Servings:
24
2-tablespoon servings (total yield: 3 cups)
Ingredients
1

cup

Granulated sugar

¼

cup

Cornstarch or arrowroot starch

2

cups

freshly squeezed Orange juice*

3

large

Eggs

room temperature

¼

cup

Unsalted butter

cut into small pieces

1

tablespoon

Orange zest
Instructions
In a large non-reactive saucepan whisk together the sugar and cornstarch. Whisk in the orange juice.

Whisk in eggs. Heat on medium to medium high until boiling, stirring constantly.

Heat on medium heat until reaching a low simmer, stirring constantly.

Simmer, stirring constantly, until the mixture thickens (about 2 minutes). Scrape the bottom while stirring to avoid scorching. NOTE: it will thicken quickly after it starts to thicken.

Remove from heat and mix in butter and orange zest. Stir until the butter has melted and mixed in.

Place plastic wrap directly on the top of the custard, cutting holes for venting.

NOTE: the curd can be chilled in the sauce pan or a different container.

Cover refrigerate until fully chilled through; minimum 2 hours up to 8 hours.
Notes
*was about 10 oranges for me.
If desired arrowroot starch can be substituted for cornstarch. It is easier to digest and a common thickening agent in gluten free baking in other parts of the world.
Juicing tip: When extracting juice from a citrus fruit, place the fruit in the microwave for 10 seconds. It allows more juice to be squeezed from the fruit!
Adding the plastic wrap onto the top of the curd while it cools prevents it from developing a skin on top.
Storing it
Store in an airtight container in the refrigerator for up to 4 weeks.
Freeze fully chilled curd in an freezer-safe container leaving space on top for up to 1 year. Thaw in the refrigerator.
Nutrition
Calories:
73
kcal
|
Carbohydrates:
12
g
|
Protein:
1
g
|
Fat:
3
g
|
Saturated Fat:
1
g
|
Cholesterol:
28
mg
|
Sodium:
10
mg
|
Potassium:
50
mg
|
Fiber:
1
g
|
Sugar:
10
g
|
Vitamin A:
134
IU
|
Vitamin C:
11
mg
|
Calcium:
6
mg
|
Iron:
1
mg