Delicious Pinwheels are a perfect party appetizer, light lunch, after school snack or game day nosh. They are easy to make too. This version has fresh herb cream cheese, smoked turkey, baby spinach and some grated cheddar cheese for the win!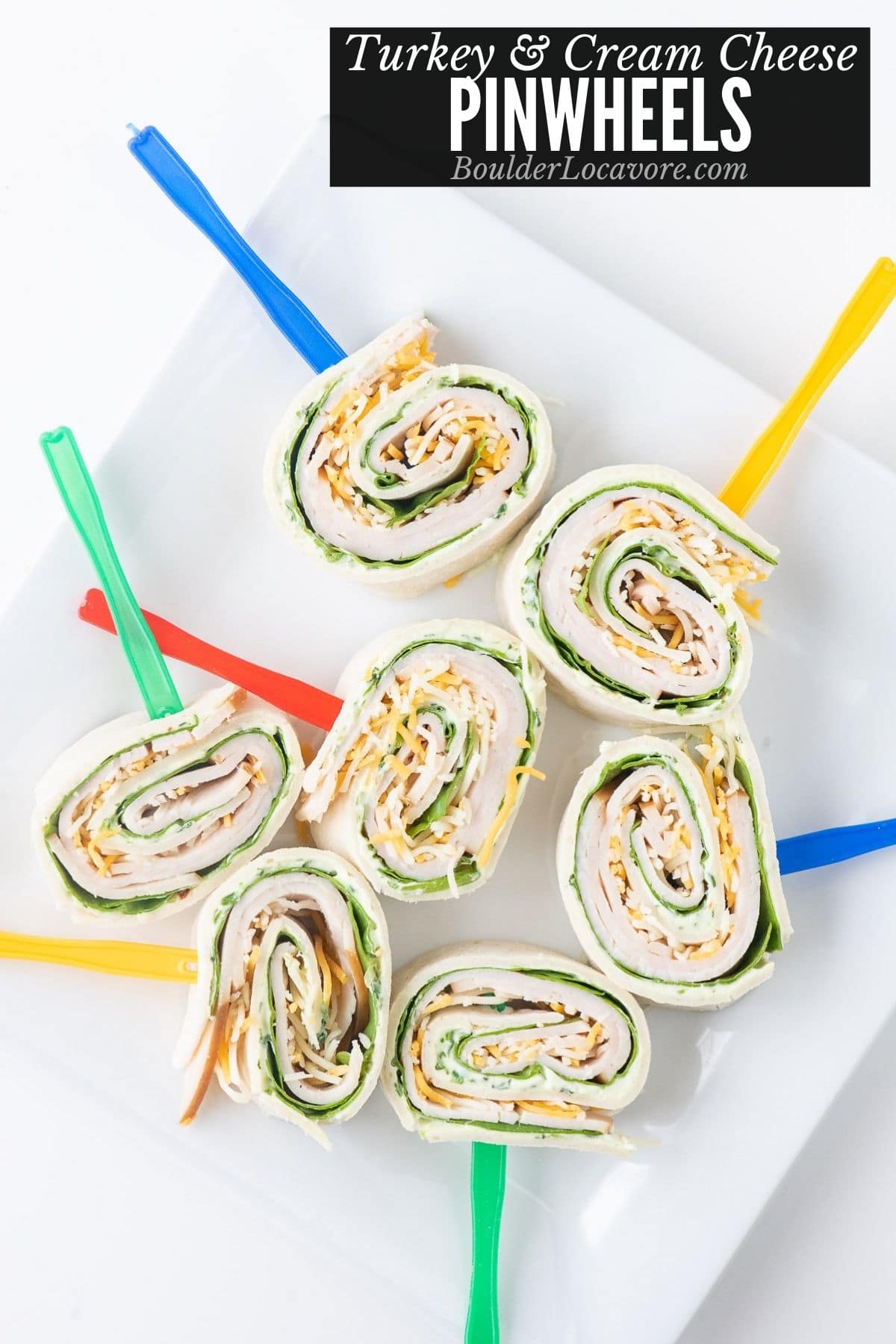 Pinwheels are one of those foods that just look fancy. They make the day feel special.
No one would guess how fast and easy they are to make!
Whether you make a pinwheel appetizer or for a main dish they'll be a huge hit!
This mouthwatering flavor combination is one you'll love no matter then you eat them.
What are Pinwheels?
These spiral wonders have been around for a long time.
They are a roll up of layered ingredients on a flour tortilla that are then cut into slices. From the side they show all the layers going round and round….like a tortilla pinwheel!
There are many things to love about pinwheel recipes:
Great for a fun appetizers or a light main course (with sides)
They are completely flexible; loads of ways to change them up
Easily made with regular or gluten-free flour tortillas
Quick and Easy to make!
The herbed cream cheese is a great spread on crackers or vegetables too!
Smoked Turkey Pinwheels
Smoked Turkey Spinach Pinwheels with fresh Herb Cream Cheese.
They are so simple to make. A homemade cream cheese spread mixed with fresh herbs on a flour tortilla, covered with baby spinach leaves, smoked turkey slices and a little sprinkle of shredded cheese.
They are brimming with fresh herb flavors and great texture making them a favorite combination.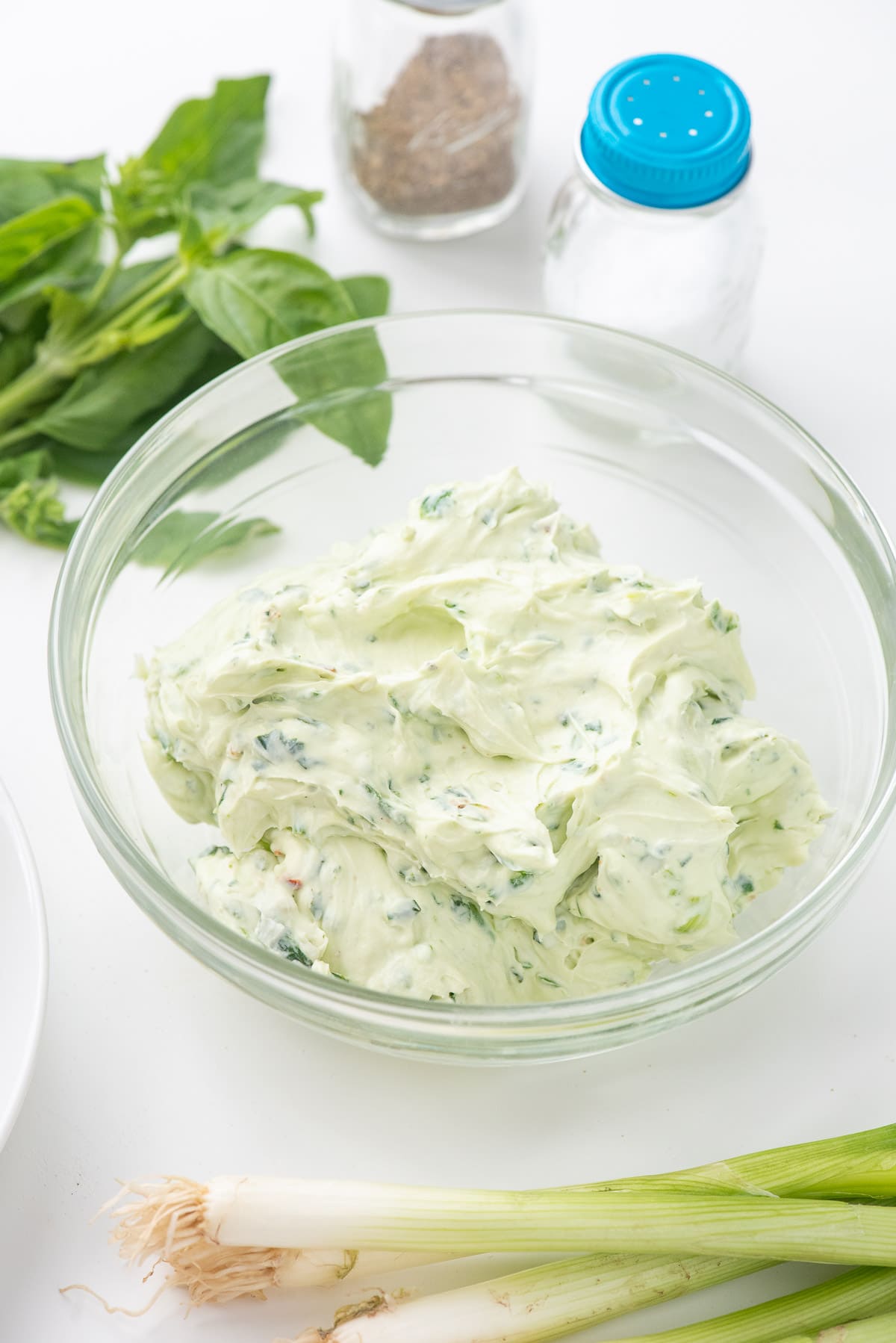 Fresh Herb Flavor
For this fresh herb turkey pinwheels recipe, the tortilla is first rolled to make a 'rollup'.
It could be stopped there and eaten as a wrap but for pinwheels slice the rollup into ¾-inch slices.
A few pinwheels are filling, making them a great snack with some protein, dark leafy green vegetables and a bit of fat too (which is a good thing; we need fat in our diets!).
I typically use Neufchatel cheese which looks and tastes like full fat cream cheese but has 1/3 fewer calories.
Pinwheels Ingredients
Fresh Herb Cream Cheese
Neufchatel cheese. You'll find it right next to the cream cheese at the grocery store. It is very similar to cream cheese (looks exactly the same) with a slightly lower fat content.
Regular cream cheese can also be used.
Fresh basil leaves. Using fresh basil really gives the cream cheese spread a fresh delicious flavor.
Scallions. You'll need two and will only use the green portion. Chives could be substituted too.
Red Pepper Flakes. Gives the spread just the right amount of zing.
Salt and Pepper. For seasoning the herb spread.
Pinwheels
Flour tortillas. Regular or gluten-free flour tortillas can be used. Use an 8-inch or 9-inch size.
For gluten-free versions we've been loving Mission Gluten-Free Flour Tortillas which are available in regular and spinach herb flavors. Great for wraps and pinwheels if making them gluten-free.
Smoked Turkey slices. The sliced turkey found in the sliced meat section of the grocery store is what is used.
Baby spinach. Buy the pre-washed baby spinach for a time saver.
Cheddar Cheese. Grate it yourself or use pre-grated cheese from the store.
As well as some of the herb cream cheese you'll make.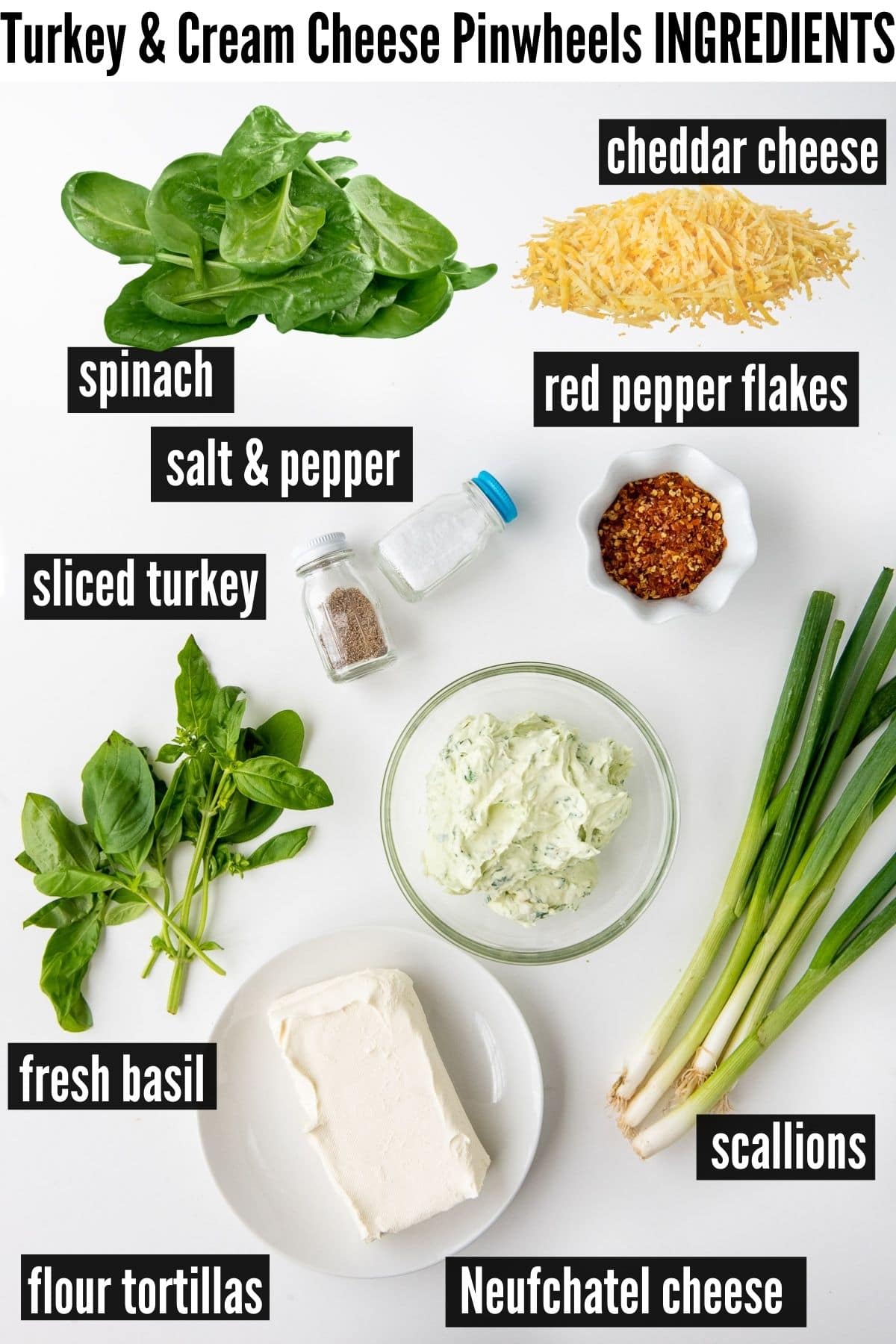 Pinwheels Variations
The really fun thing about making pinwheel recipes is they are so flexible.
Swap the meat. Any sliced meat works great. Think ham and cheese pinwheels, roast beef slices, sliced chicken.
Or try different types of sliced turkey. It's available in so many flavors like regular roasted turkey, herb flavored, spicy and more.
Change up the herb spread. Customize the spread for other ingredients you'd all to the pinwheels. Try other fresh herbs like dill, or chives.
Use different cheese. Any flavors work: swiss cheese, mozzarella, Havarti, Havarti with dill, gouda, smoked gouda, Parmesan cheese….
We use grated cheese to make the pinwheels more 'roll-able'. Some cheeses that are sliced very thinly (Sargento brand is one I believe) could also be used instead.
Pizza Pinwheels. In addition to the cream cheese, spread a bit of spaghetti sauce, baby spinach, slices of pepperoni and grated mozzarella cheese.
Mexican Pinwheels.
Make it 'skinnier'. Use a lower fat cream cheese for the herb spread. A lighter meat like turkey or sliced chicken. A lower fat grated cheese could also be substituted.
How to make Pinwheels – Step-by-Step
STEP 1. Make the Herb Cream Cheese
Place all ingredients for the herb cream cheese in a food processor. Process until combined.
STEP 2. Make the Pinwheels
Cover the flour tortilla with a damp paper towel and microwave for 15 seconds.
Spread 1/6-1/4 of the herb cream cheese onto the tortilla to cover one side (photo 1).
Layer the spinach leaving 1/2-inch space from the tortilla edge (photo 2).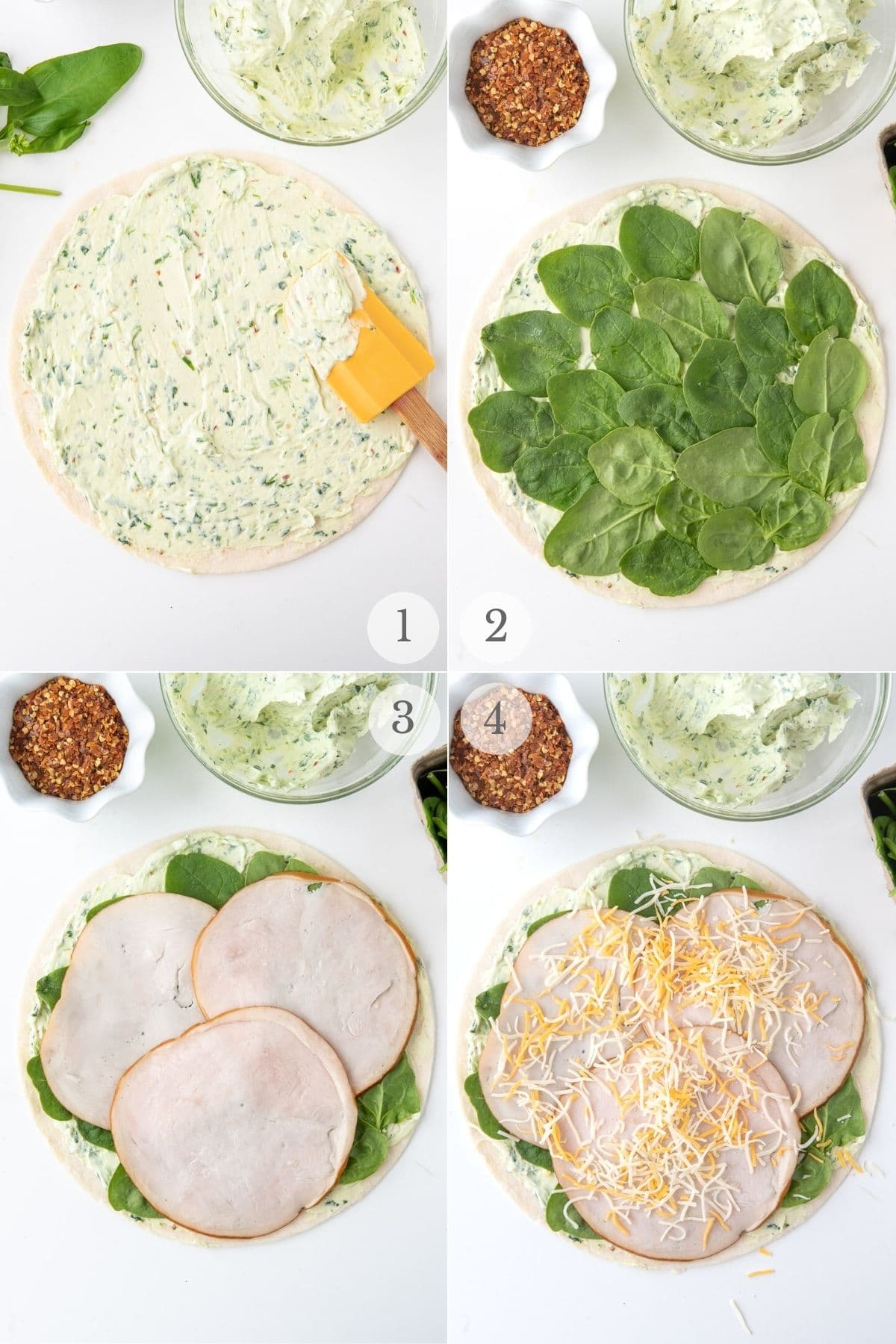 Add the turkey and grated cheese (photos 3-4).
Gently roll the tortilla tightly and slice into 3/4-inch thick slices with a sharp knife.
Secure the pinwheels with toothpicks or decorative picks as seen in photos.
Pro Tips
How to soften flour tortillas
Working with flour tortillas in recipes like rollups or pinwheels, especially if using gluten-free flour tortillas, requires a quick pre-step for success.
Microwave a few tortillas wrapped in a damp paper towels (or two to fully enclose the tortilla) for 15 seconds to make them soft and pliable.
The same goes for corn tortillas.
Leave space around the edge. When adding the spinach, turkey and grated cheese leave 1/2-inch space between the ingredients and tortilla edge. This ensures when it's rolled all the filling ingredients stay inside the tortilla.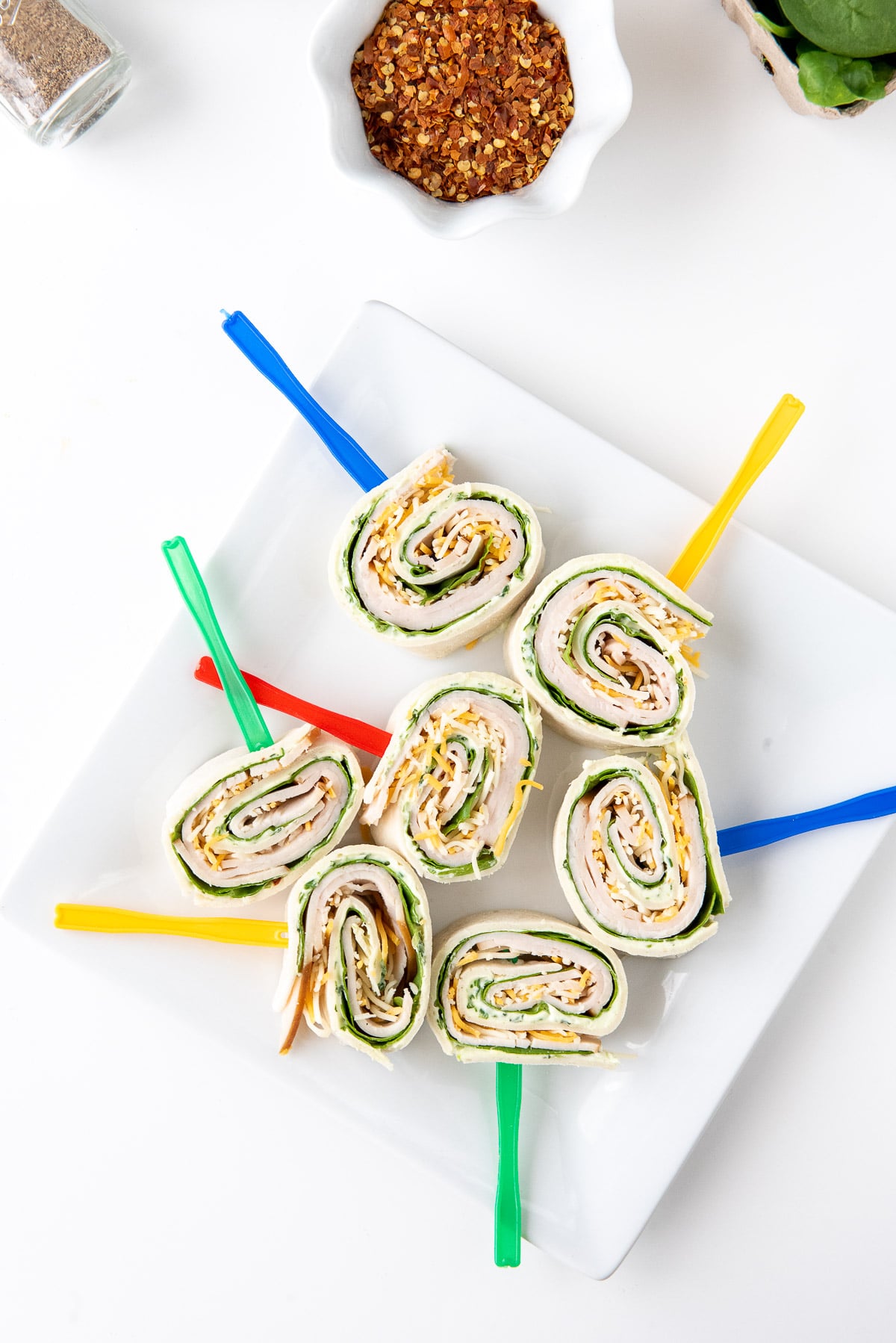 Storing Leftovers
Once the pinwheels are created, they are best eaten right away.
However, if they are not, place them in an airtight storage container with a damp paper towel on top of the pinwheels. This will help them stay soft and pliable especially if using gluten-free tortillas.
I'd still recommend eating them shortly to prevent the tortillas from drying out.
More Recipes You'll Love!
Did you make it? Please RATE THE RECIPE below!
Please
SUBSCRIBE
and
FOLLOW ME
on
FACEBOOK
,
TWITTER
,
INSTAGRAM
and
PINTEREST
!
Recipe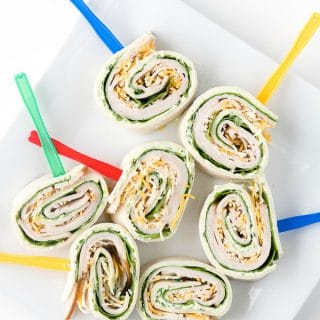 Smoked Turkey Pinwheels with fresh Herb Cream Cheese
Easy Pinwheels are full of fresh herb cream cheese, turkey, spinach and cheese. Perfect for appetizers, a light main dish or a wholesome snack.
Print
Save Recipe
Recipe Saved!
Pin
Rate
Servings:
4
2-pinwheel servings (8 pinwheels total)
Ingredients
Fresh Herb Cream Cheese:
8

ounces

Neufchatel Cheese

softened, (cream cheese may be substituted)

¼

cup

Fresh Basil Leaves

chopped

2

Scallions – green portion only

sliced

¼

teaspoon

Red Pepper Flakes

Kosher Salt

to taste

Freshly ground Black Pepper

to taste
Pinwheels (makes 8 pinwheels):
1

large (9-inch)

Flour Tortilla (regular or gluten-free)

1/6-1/4

of the Fresh Herb Cream Cheese recipe

3

slices

Smoked Turkey

(packaged)

¼

cup

fresh Baby Spinach leaves with stems removed

(about 20 leaves)

1-2

tablespoons

grated Cheddar Cheese
Instructions
Instructions for Fresh Herb Cream Cheese:
Place the Neufchatel cheese, basil, scallion greens and red pepper flakes in the food processor and process until fully pureed. Salt and pepper to taste.
Instructions for Smoked Turkey Spinach Pinwheels:
Cover tortilla with a damp paper towel(s) and microwave for 15 seconds.

Spread ¼ to ⅙ of the fresh herb cream cheese onto one side of the tortilla covering the entire surface.

Place the spinach leaves on herb cream cheese.

Note: leaving a ½ inch around the outer edge of the tortilla will keep all ingredients inside the tortilla.

Cover with turkey slices followed by the grated cheese.

Gently roll up the tortilla with the ingredient to make a roll. Using a sharp knife slice the roll into ¾ inch slices or pinwheels.

Secure the outer edge with decorative picks or toothpicks.
Notes
To make a large batch (32) pinwheels use:
4 large flour tortillas
The entire batch of herb cream cheese
12 slices of turkey
1 cup baby spinach
1/4 – 1/2 cup grated cheese
Storing Pinwheels
They are best eaten when freshly made. Leftovers can be stored in an airtight container with a damp paper towel on top of the pinwheels to prevent the tortillas drying out (especially if using gluten-free flour tortillas). Store in the refrigerator for 1-2 days.
Nutrition
Calories:
193
kcal
|
Carbohydrates:
6
g
|
Protein:
8
g
|
Fat:
14
g
|
Saturated Fat:
8
g
|
Cholesterol:
50
mg
|
Sodium:
358
mg
|
Potassium:
173
mg
|
Fiber:
0
g
|
Sugar:
2
g
|
Vitamin A:
865
IU
|
Vitamin C:
1.9
mg
|
Calcium:
108
mg
|
Iron:
0.5
mg
Originally published: May 10, 2016