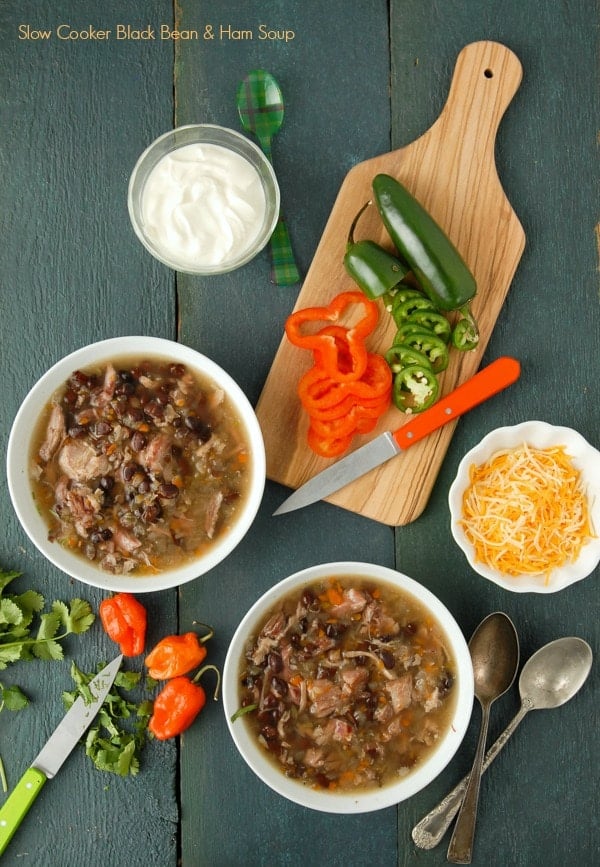 I am of the belief that often the more simple food is the best.  In the cold weather months, rustic recipes always tug at my food sensibilities like an irresistible child begging for me to come along on one of their meanders.  I'm never disappointed.  Hearty flavors, chunky textures and some healthy, whole ingredients always lead me where I want to go.
Soup is definitely a favorite at this time of year.  I really could eat it for every meal.  Over the winter holiday we had a ham for one meal.  After enjoying the initial meal, nibbling on the ham itself, making it into several dishes, we were down to the bone and small pieces of meat that would not amount to anything on their own.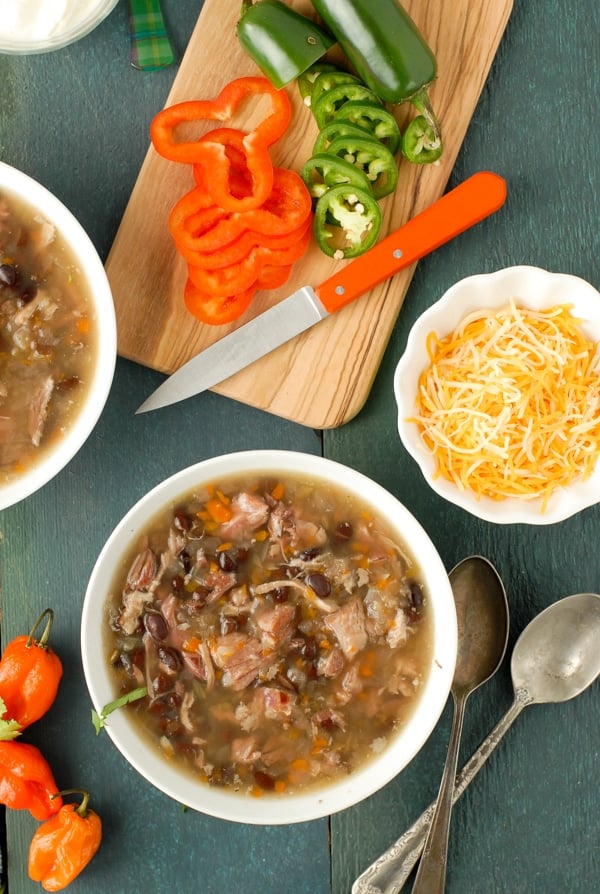 A favorite thing I've begun to do especially after Easter when we often have ham, is to make Ham Stock.  If you've never made it you really must.  It is a luscious broth that elevates any soup.  However on this occasion I really wanted to make some ham and bean soup with the help of my slow cooker.  Black Beans are another favorite which also partner beautifully with ham.
I made a simple soup with the ingredients for a from-scratch broth, black beans, the ham bone and favorite spices.  The aroma as it simmered throughout the day was spicy and soul-warming.  It's not a heavy soup but dense with the vegetables, beans and ham.  The flavors however are similar to a chili so it's a great soup to layer on some toppings such as diced cilantro, sliced jalapenos, a dollop of sour cream, or grated cheese.  It's a healthy, satisfying soup.
Eat it 'as is'…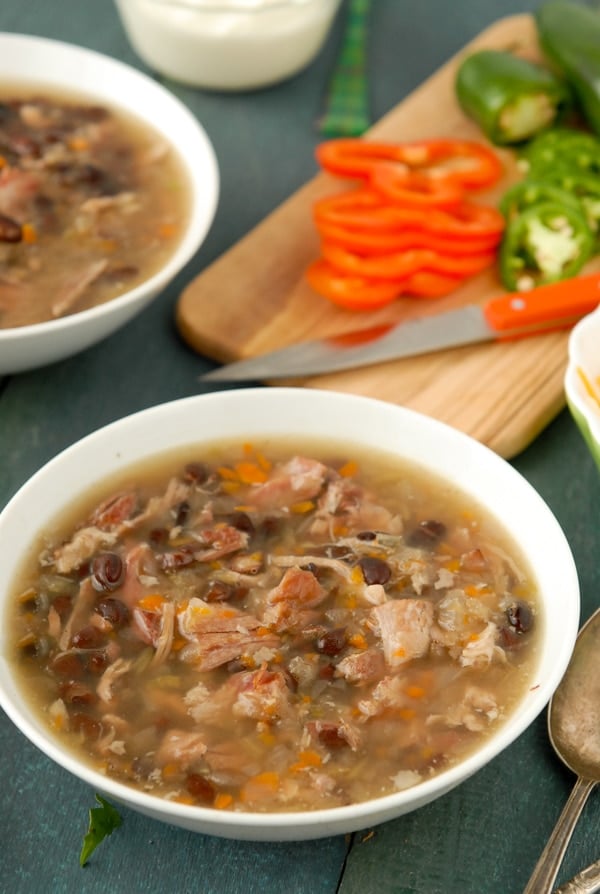 With spicy, 'skinny' toppings….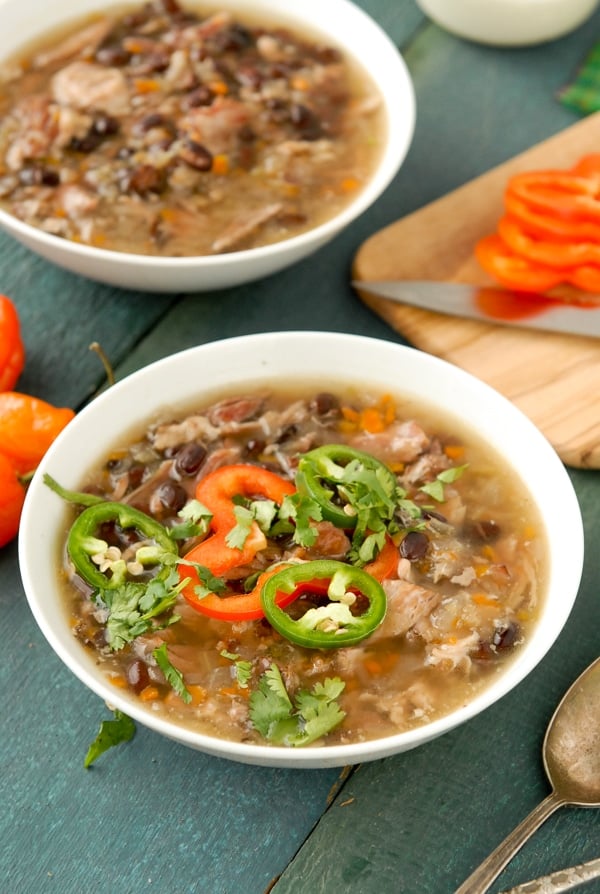 Or, 'the works'…..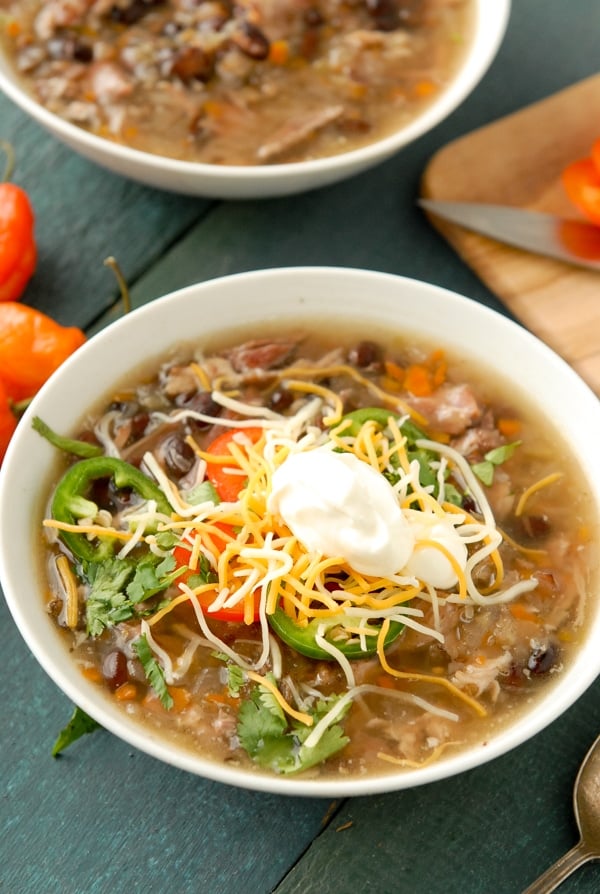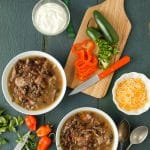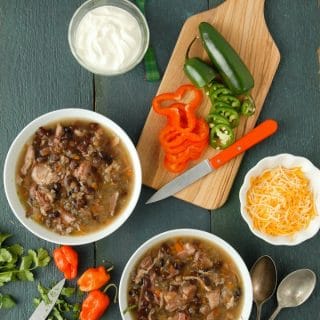 Slow Cooker Black Bean & Ham Soup with Cumin
With the help of the slow cooker, this healthy, flavorful Black Bean & Ham soup will fill your house with a delicious aroma. It takes little preparation and is a great use of a leftover ham bone.TIP: if you make this soup with a stripped down ham bone or hock with no meat on it, you can add 1/4 pound of thick cut ham (1/2 inch thick), from a deli, chopped, to add more flavor and texture if desired.
Ingredients
½

large Red Onion

, chopped

2

stalks of Celery

, diced

1

large Carrot

, scrubbed and diced

1

large ham bone or 2 ham hocks

1 25-

ounce

can Black Beans

(or 2 ½ cups homemade Black Beans), rinsed and drained

6

cups

Low Sodium Chicken Stock or Broth

1

Bay Leaf

1 1/2

teaspoon

ground Cumin

½

teaspoon

ground Coriander

Garnish options: chopped fresh Cilantro

, sliced jalapeno peppers, sliced red sweet pepper, sour cream, grated cheddar cheese
Instructions
Place the onion, celery and carrots on the bottom of the slow cooker. Add the ham bone or ham hocks. Pour black beans over the ham bone, followed by the stock and spices. Cook on low for 8 hours. When ham meat is cooked, strip it from the bone and add it back into the soup (discard the bone).