Strawberry Pie is a summer dessert that shouldn't be missed! This fresh strawberry pie recipe is easy, with only a few ingredients and a prepared crust!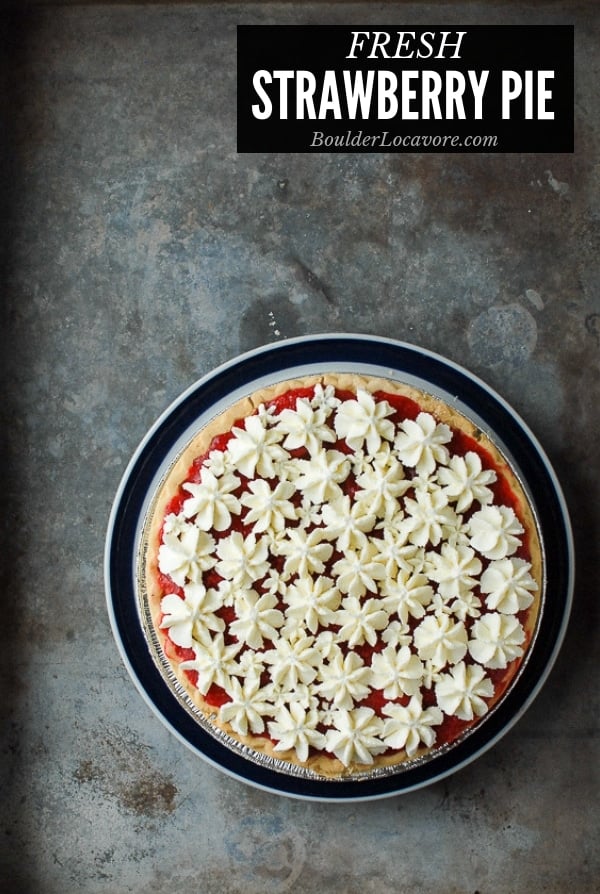 Strawberries are the quintessential summer fruit. They are one of those fruits that taste completely different when purchased in season or picked yourself.
That melt in your mouth sweetness is perfect for an easy Fresh Strawberry Pie!
This strawberry pie recipe uses only a handful of ingredients. I use a purchased prepared crust (I keep them in my freezer at all times) which is a time-saver.
You can certainly substitute your favorite homemade crust recipe too!
Strawberry Pie Recipe – A Summer Must Make Dessert
When I first created this recipe, I had a summer fruit share with a local farm. Meaning, we'd go weekly and pick up an unknown quantity of fresh fruits.
It required that I'd have think quickly about how to use the ripe fruit, especially in the case of fresh strawberries.
When strawberries are fully ripe they need to be used quickly.
Ripe strawberries begin to get soft and over ripe within a day or so.
Making this delicious strawberry pie is a perfect way to use fresh strawberries at their prime. AND to make a dessert everyone will love.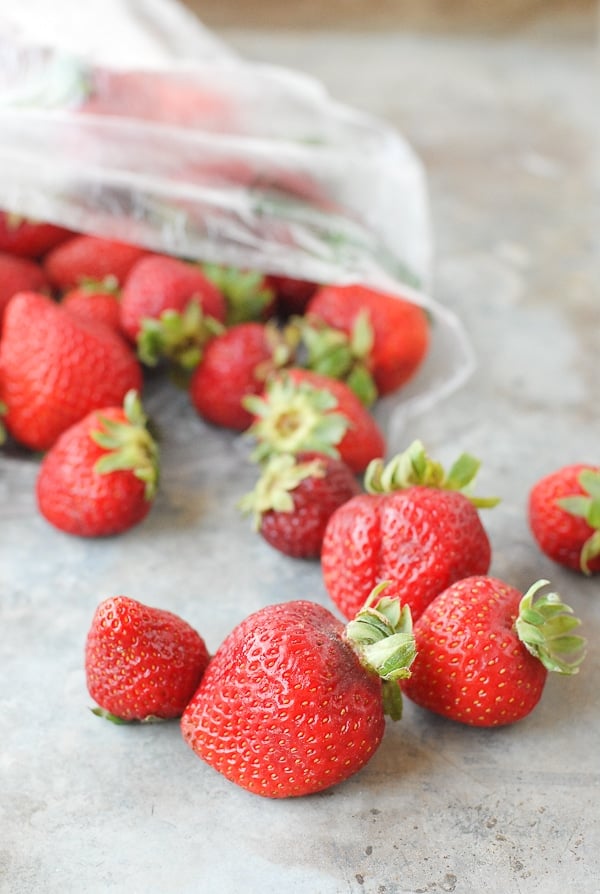 When Are Strawberries in Season?
In the U.S. the main growing locations are Florida and California.
They can product strawberries most of the year. The natural growing season in most areas however is April – June (with mountain regions often being later).
So, summer is the best time to find fresh, naturally ripened strawberries.
What Does 'Hulled Strawberries' Mean?
When my husband and I first got together, he would give me a bad time about my lazy strawberry preparation.
I'd use a paring knife to cut off the green top straight across. Usually I'd take a decent portion of the ripe strawberry with it.
This is the WRONG way to prepare a strawberry!
Strawberries should be 'hulled' meaning the green leafy top (the calyx) and the core are removed.
The core is usually tasteless and has a firmer consistency.
Once hulled the best of the sweet soft berry can be eaten raw or used for this strawberry pie recipe.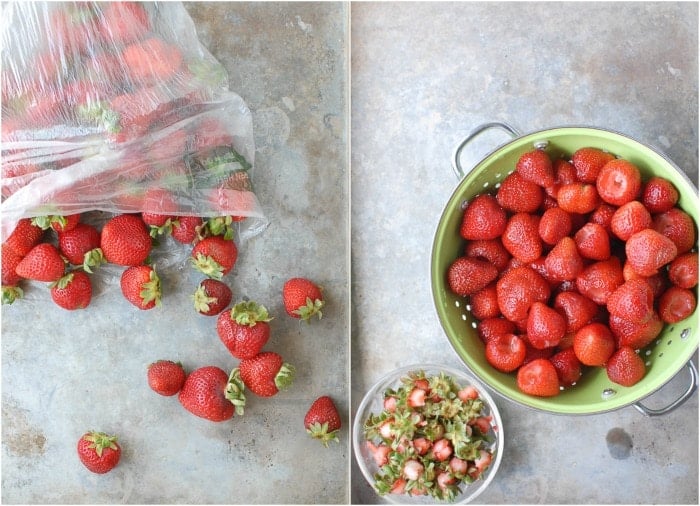 How to Hull Strawberries
To hull strawberries the top and core are removed. The top area directly underneath the steam that's often white and firm can be done with a paring knife.
Simply cutting out a cone shape underneath the green top will do it (refer to the photo).
Can I confess? I'm lazy and use a strawberry hulling tool. I have an older one that looks like a larger tweezer. The ends are inserted into the top of the strawberry, twisted and they pull the top and core out.
I have my eye on this strawberry huller however that is even easier to use.
For less than $10 it makes hulling strawberries fast and easy.
Chef Notes
There are multiple ways to make a strawberry pie, especially a fresh one.
Many versions use jello or gelatin to create a firmer filling.
This pie takes a different approach using cornstarch as a thickener.
How to Make Strawberry Pie Filling
This strawberry pie recipe uses a combination of pureed fresh strawberries, granulated sugar and cornstarch to thicken the strawberry pie filling.
This mixture is heated to allow the sugar to dissolve and the cornstarch to thicken the puree.
Additional quartered strawberries are added to the puree.
The filling is spooned into the prepared pie shell to thicken as it chills in the refrigerator.
The pie needs to fully chill to firm up before serving.
The pie slices are also more relaxed when sliced versus pies using gelatin which produces firm slices of filling.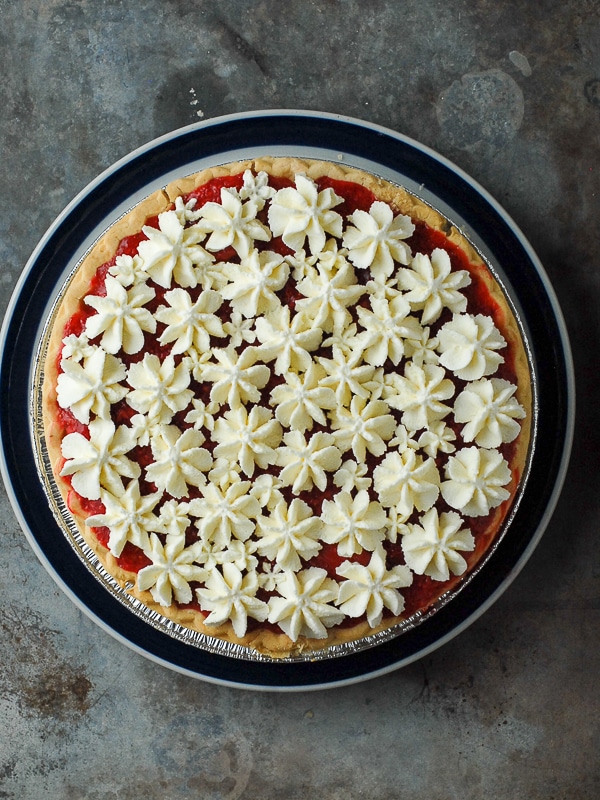 How to Tell is the Strawberry Pie Filling is 'Thick Enough'?
When the cornstarch mixture is added to the blended strawberries and sugar, the mixture will appear a creamy pink color. It is also opaque.
As the strawberry pie filling cooks it will become glossy and transparent, as well as will be noticeably thicker.
If you scoop some onto a spatula it won't run off as a liquid would.
Is the pie filling Gluten-Free?
Yep. This strawberry pie filling only has strawberry puree, sugar, cornstarch and water. Any prepared pie crust may be used to ensure the whole pie is gluten-free too.
My Favorite Pie Crust recipe
Butter Pie Crust is my favorite pie crust recipe to use for this (and any) pie.
A store bought crust may also be used.
No Bake Fresh Strawberry Pie!
The prepared pie crust will be pre-baked (or blind baked) per the package instructions and cooled.
Once the strawberries and filling are added, the pie is not baked.
Instead the pie will be chilled (recommended overnight) to set.
How Long Will it Last in the Refrigerator?
About 4-5 days wrapped snugly with plastic wrap or foil though it's best eaten when it's freshly made.
I love Press-n-Seal plastic wrap which seals snugly.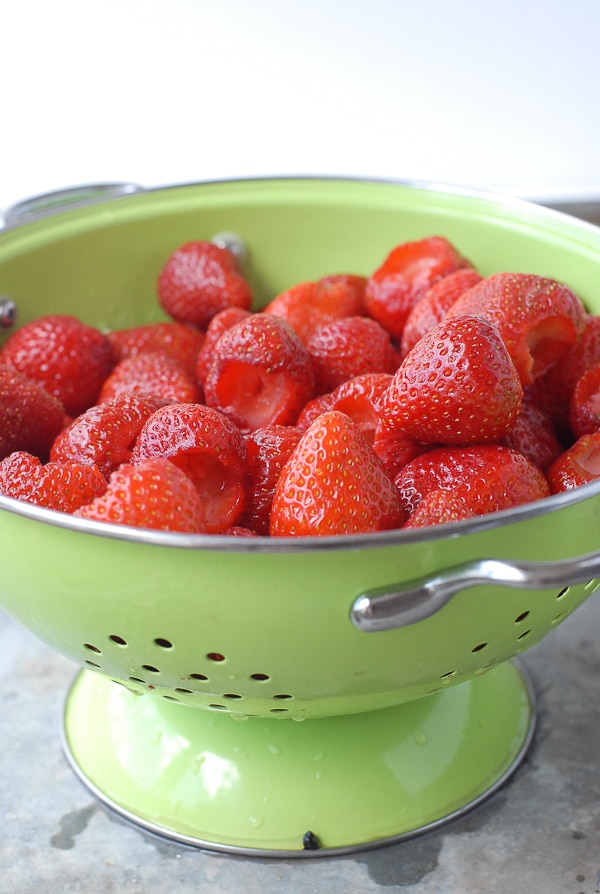 Can a Strawberry Pie be Frozen?
Yes! I'll confess they've never lasted long enough in my house to get to the freezer!
Cover the pie tightly with plastic wrap and then foil. Or after covering the top to secure the filling, it can also be placed into a larger freezer zipper plastic bag.
TIP for making a freezer bag air tight
If using a freezer bag remove excess air by:
Inserting a drinking straw into the opening of the bag
Zip the bag closed except for the straw.
Inhale through the straw, removing as much of the air as possible.
Withdraw the straw and quickly seal the bag!
It may be kept in the freezer for 6-8 months.
Some more Strawberry Recipes You'll Love
Try these Pie Recipes too
Luscious Lemon Pie
Did you make it? Please RATE THE RECIPE below!
Please SUBSCRIBE and FOLLOW ME on FACEBOOK , TWITTER , INSTAGRAM and PINTEREST to see more delicious food, travel and what I'm up to!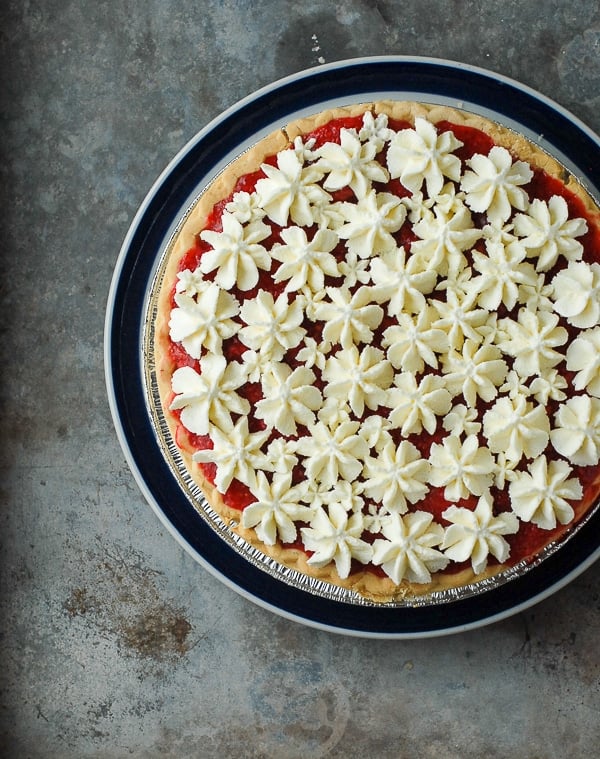 How to Make this fresh Strawberry Pie Recipe – Step by Step:
Recipe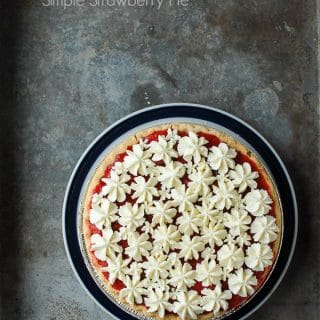 Easy Strawberry Pie
This Simple Strawberry Pie sings the flavors of summer. With few ingredients its easy to make without jello as a thickener!
Print
Save Recipe
Recipe Saved!
Pin
Rate
Ingredients
1 9-

inch

pie shell

, baked, cooled and ready to receive chilled fruit filling*

5

cups

hulled and quartered fresh Strawberries, divided

aproximately 1 3/4 pounds

¾

cup

Granulated Sugar

¼

cup

Cornstarch

1/2

cup

Water

Juice of half a Lime

Whipped Cream to top if desired
Instructions
Place half of strawberries (2 1/2 cups) into a blender and pulse to create a lumpy puree (don't make it completely smooth). Pour puree into a medium saucepan over medium heat.

Pour puree into a medium saucepan over medium-high heat.

Stir the sugar into the strawberry puree and continue to stir until the sugar dissolves and the mixture comes to a low boil.

Whisk the cornstarch into the 1/2 cup water to blend. Pour into the strawberry mixture in the saucepan, stir to combine and allow to come to a low boil, stirring constantly.

Lower the heat to medium-low and stirring constantly allow the mixture to thicken and become glossy and transparent; aproximately 4 minutes.

Remove filling from heat. Stir in the lime juice and the remaining 2 1/2 cups of quartered strawberries.

TIP: Before pouring filling into pie crust, place pie crust on a small baking sheet to steady it when chilling in the refridgerator. Pour filling into prepared pie shell.

Allow to cool slightly (10-15 minutes) before chilling for several hours or overnight until firm. NOTE: if the pie is warmer than room temperature, leave uncovered in the refridgerator until cool to prevent condensation from forming and dripping on the pie. Once it is cool it may be covered.

Top with whipped cream and serve.
Nutrition
Calories:
212
kcal
|
Carbohydrates:
39
g
|
Protein:
1
g
|
Fat:
5
g
|
Saturated Fat:
1
g
|
Cholesterol:
0
mg
|
Sodium:
89
mg
|
Potassium:
150
mg
|
Fiber:
2
g
|
Sugar:
22
g
|
Vitamin A:
10
IU
|
Vitamin C:
50
mg
|
Calcium:
18
mg
|
Iron:
0.9
mg
Originally published: July 13, 2014