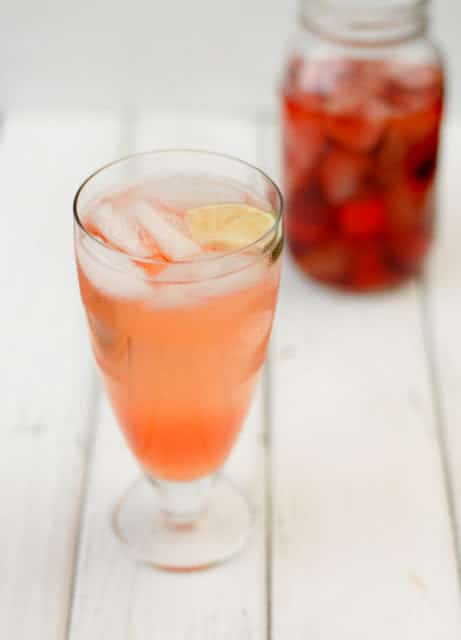 For regular readers it may feel like it's been Strawberry-A-Go-Go on my blog for the last few weeks.

 

I apologize if I've put you into strawberry overload but 'tis the season!

 

This is the last recipe for strawberry fare for now and hopefully worth waiting for.
I felt creating some strawberry infused vodka would be a fun use of the beautiful ripe berries and a fresh mixology option for the hotter months.

 

Never having consumed strawberry vodka, I created a few cocktails to use it as well.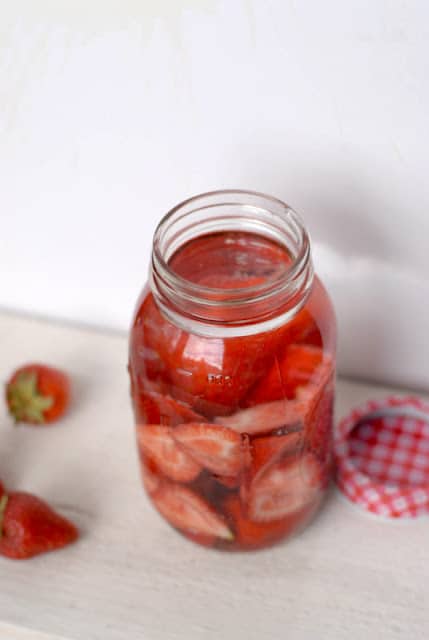 Infusing alcohol is very simple.

 

You are transferring the flavor of whatever you are using as a source into a neutrally flavored alcoholic.

 

After combining your infusing blend I store mine in a cool, dark place (like a pantry or cupboard).

 

I turn the jar over and back upright once a day to move things around and that's it.

 

I published a recipe earlier this year on infusing vodka with apples.

 

I stored it two weeks before using and elected to remove the apples as they turn brown and frankly look unappetizing.

 

The vodka was delicious and I grew very fond of an occasional Apple Vodka Tonic during the winter.
When making the strawberry vodka within a day the color of the strawberries began to transfer to the vodka and within a week the strawberries look albino and the vodka dark pink.

 

I've left my strawberries in the vodka but you can also remove them if you choose.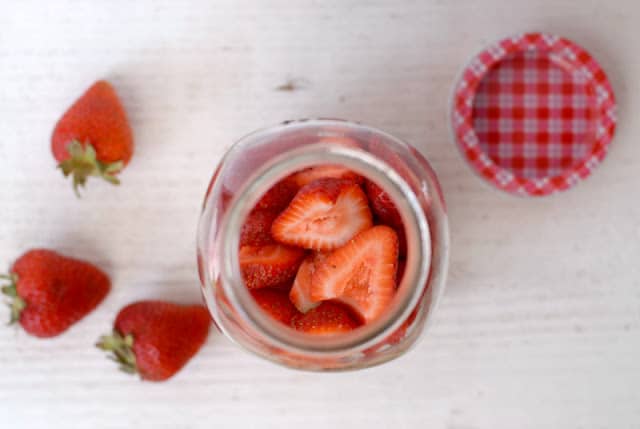 ·        
1 quart capacity jar with lid
·        
2 cups of fresh strawberries, hulled and cut in half
·        
2 ½ cups neutral flavor vodka
Wash and dry jar.

 

Add strawberries and vodka.

 

Seal.

 

Place in a cool dark place.

 

Let sit for one week.

 

Enjoy!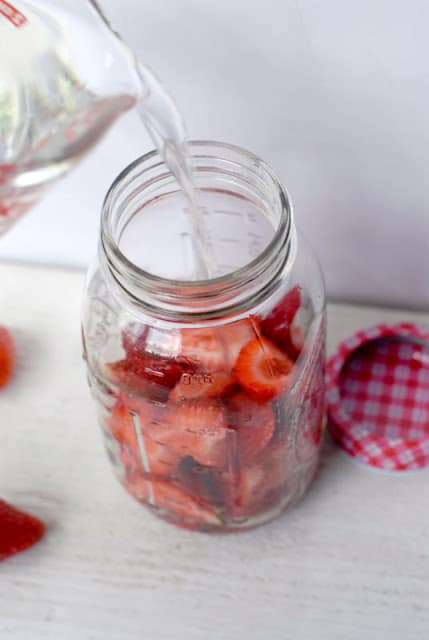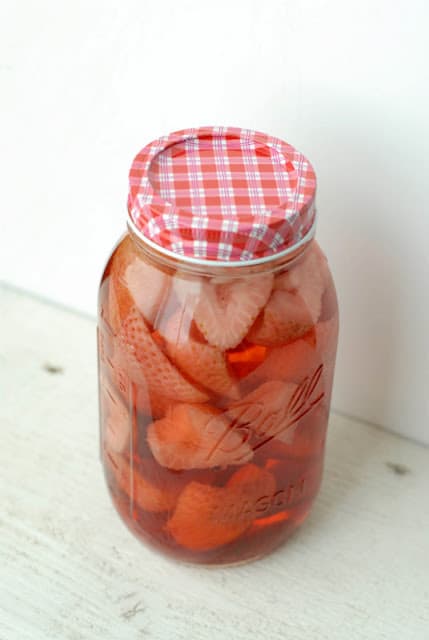 The strawberry vodka after 24 hours.

 

Note the color transfer already.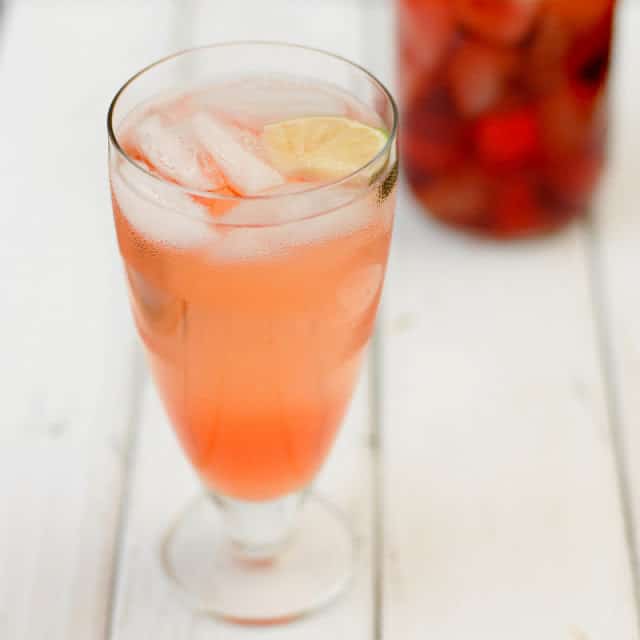 Strawberry Vodka Ginger Cooler
STRAWBERRY VODKA GINGER COOLER
·        
1 ½ ounces strawberry-infused vodka
·        
1 ½ ounces ginger ale
Fill a tall 16 ounce glass with ice.

 

Add strawberry-infused vodka and ginger ale to the glass.

 

Fill with seltzer water.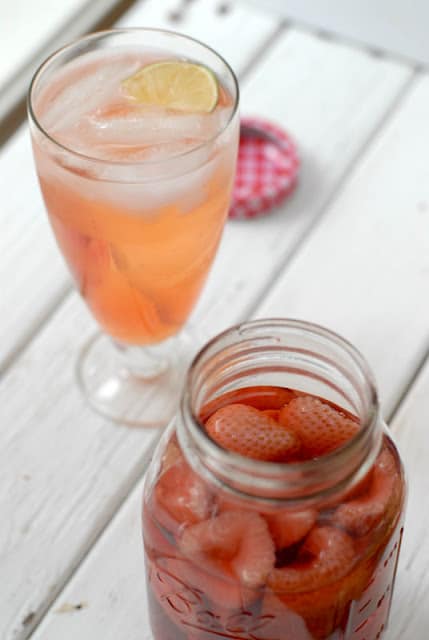 STRAWBERRY VODKA LEMONADE
This combination is very refreshing.

 

The lemon Italian soda is lighter than lemonade and does not have the same heavy, sugar taste a regular lemonade does……though that would probably be good too!
·        
1 ounce strawberry vodka
·        
Lemon Italian Soda (I used a 'Limoncello Italian Soda' which does not contain limoncello but is lemon flavored)
Place 2 or 3 ice cubes in a 6 ounce cocktail glass (a stemmed glass).

 

Add the strawberry vodka and fill with lemon Italian soda.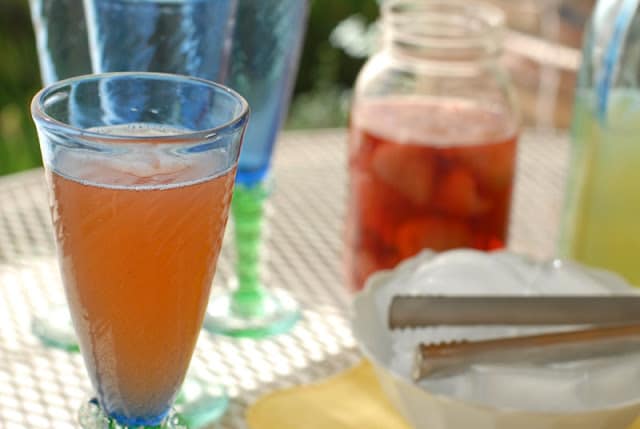 A great seasonal twist on a classic cocktail!
·        
1 ½ ounces strawberry vodka
Fill an 8-12 ounce highball glass with ice.

 

Add strawberry vodka and tonic.