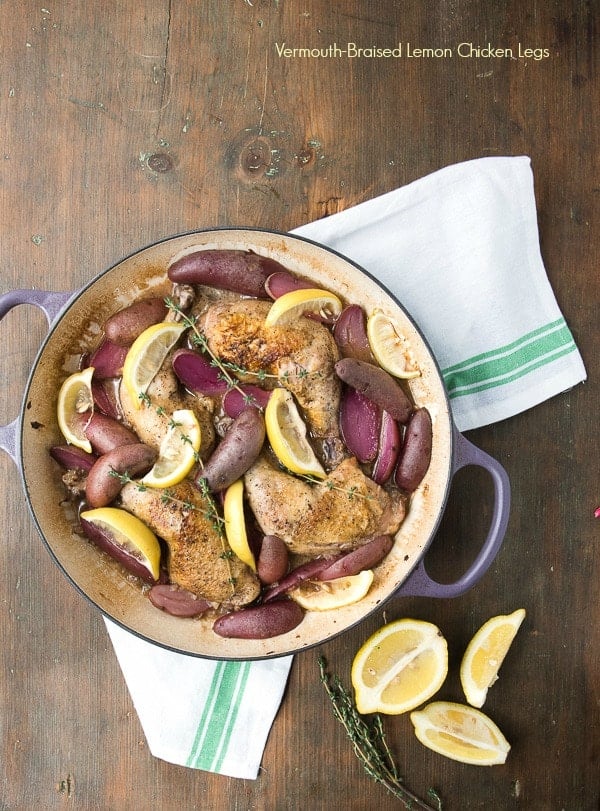 Spring is a time of newness and rebirth. It sounds cliché but I definitely feel the seasonal shift in a way that makes me want to spruce up my house and garden, take on new projects and learn new things. Though I typically leave no stone unturned, seize the day and never miss an opportunity, I too have a bucket list. I generally don't believe in these types of list, feeling they can act as a crutch to avoid taking the world by the tail in the moment, but I simply don't have enough time in a day to do it all so I keep jotting down new things to take on when I have the time.
My current quest is Braising. We've all heard the term and eaten braised foods, but I suspect if I were to do an on the street quiz, most people don't actually know what it is or how to prepare braised food. Braising is a several step process that consists basically of searing a main protein in oil, removing it from the cooking vessel, adding mirepoix (chopped vegetables) to the pan to cook, returning the protein to the pan and adding small amount of liquid which is brought to a simmer and the dish is then finished, covered, in the oven.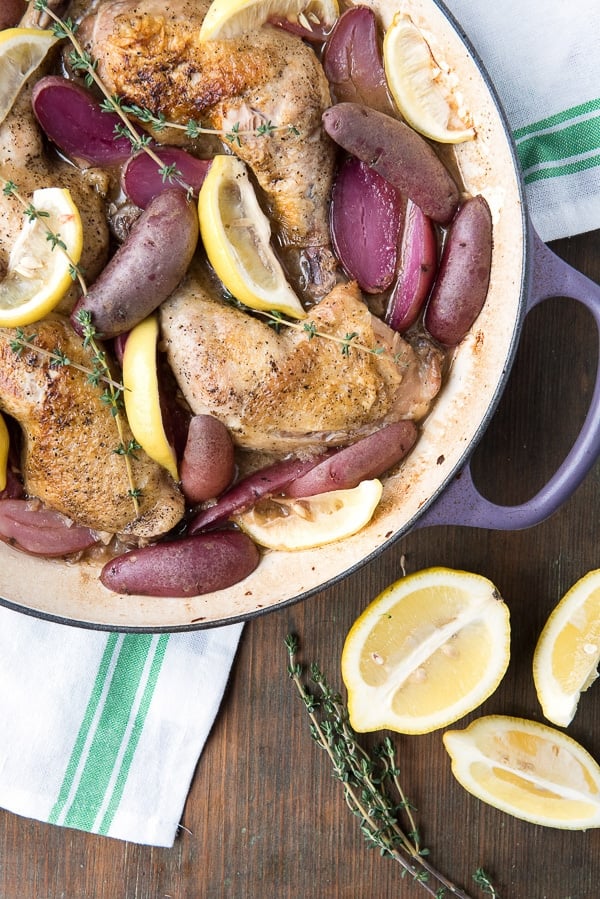 Each step is not lengthy or complicated and the end result is divine, supple meat and perfectly cooked vegetables in sauce. It was originally developed as a method to cook inexpensive cuts of meat which might be tougher in consistency, to tenderize the meat to a more pleasing texture. The method allows the flavors released in the initial searing to become melded with the mirepoix and braising liquid, hence using all the flavors fully. It is generally done in a heavy covered pan which is shorter than a traditional casserole or Dutch oven, though it will certainly work with other cooking vessels.
I had my thoughts on Mother's Day as well as spring when deciding what to cook for my maiden braising voyage. I decided on Vermouth-Braised Lemon Chicken Legs loving the idea of a light, flavorful dish made with sophisticated flavor from the vermouth and freshness from lemon. I will admit after making this I really wondered why I had not started doing this regularly a long time ago. As mentioned before, though there are multiple steps, they are quite easy.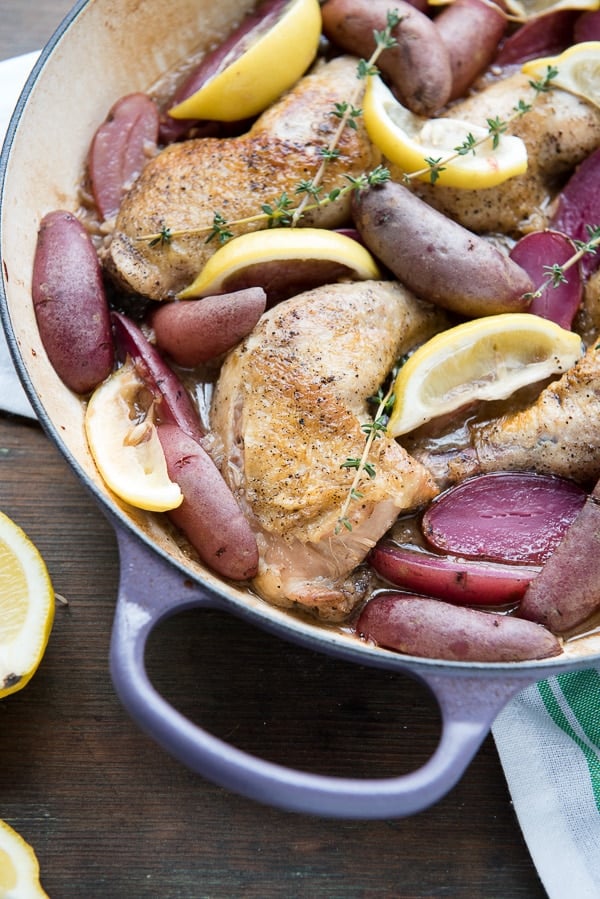 I don't think there is a more comforting dish than chicken with crisp skin, and the braising method produces succulent chicken sealed with irresistibly crunchy skin! I added some local fingerling potatoes in the most beautiful shade of deep rose and they also were flawless. This one pot dish is effortless to cook, beautiful to behold and is ready in less than an hour.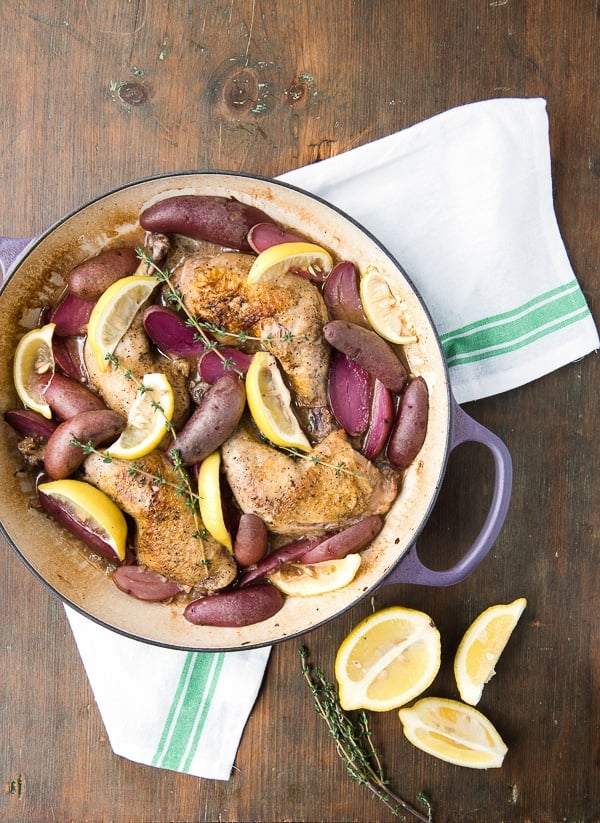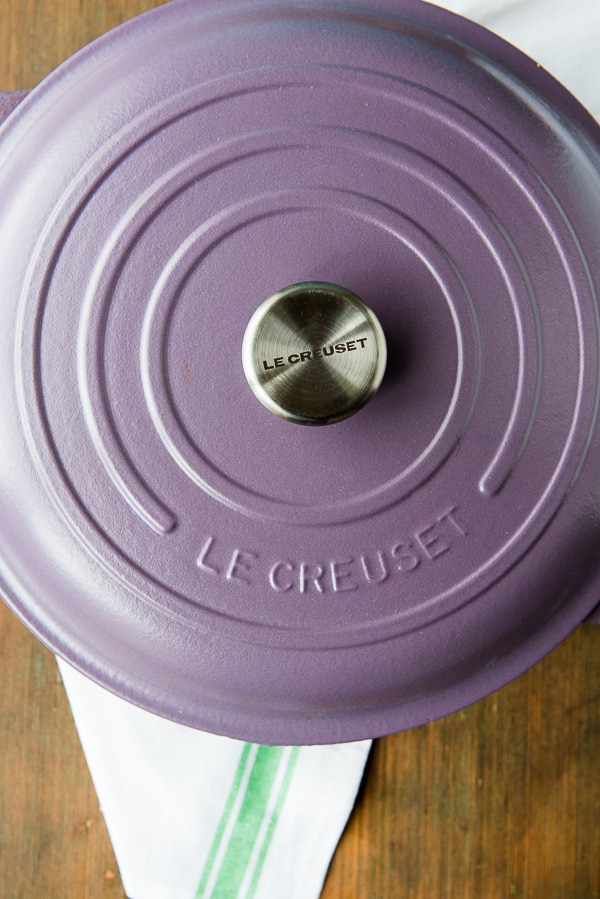 In my family Le Creuset has adorned every kitchen for the past three to four generations. We've all cherished our traditional cast iron enamel French Ovens in dazzling colors, from the original orange 'Flame' to more modern shades. The sturdiness, uniform heat conductivity and lifetime guarantee make Le Creuset both a staple of an active kitchen but a life-long kitchen companion as well.
Le Creuset has just released a new color, Amethyst, a sophisticated purple tone in a matte finish that is as fine as the gem for which it is named. To celebrate the newness of spring, learning new things, Mother's Day and the new gorgeous Amethyst matte cookware, Le Creuset is generously giving away one 3 ½ quart Braiser, (in Amethyst of course) to a US (only) Boulder Locavore follower! Please enter to win!
Disclosure: I was supplied a Le Creuset Braiser for the purpose of the post. All opinions are my own.