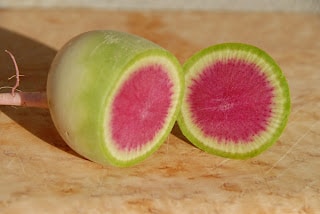 One of my favorite vegetables is the watermelon radish.

 

First of all I love a good surprise.

 

The first time I cut into one of these things I felt like I'd found the last Golden Ticket.

 

Gorgeous.

 

I think when you'd wear a vegetable it's the sure validation of its specialness.
Last year at this same time I stocked up on these at our local Farmer's Market.

 

I was shoulder to shoulder at the radish bin with a local chef of a renowned sushi restaurant who was buying a bundle to use them as a garnish.

 

I felt like a complete hoarder, talking myself into buying more and more 'just in case'.
After arriving home and coming to terms with the fact I would not eat 20 of these orange-sized extravaganzas raw, I began to experiment (note: this variety of radish is not as strong and biting as some others; it's lovely to eat raw).

 

I landed on a delicious refrigerator pickle recipe that takes no time at all but has wonderful flavor.
This is for a batch yielding a bit over 2 ½ pints.

 

Keep the proportions the same and make a smaller batch if you like.

 
For jars I used a pint jar, two ½ pints of different sizes and a 12 ounce quilted jelly jar.

 

I used Ball plastic storage lids that are made for the two sizes of Mason jars.

 

I always use these once I've opened something I've canned that is not being used in one sitting and they are great for this recipe.
INGREDIENTS:
·

        
3 large watermelon radishes (should yield 3 cups when chopped up)
·

        
1 small onion (for this recipe I used a Spanish onion plus 2 itty bitty Cippolini onions I had)
·

        
1 ½ cups rice vinegar
·

        
2 ½ teaspoon kosher salt
·

        
3 ½ tablespoon granulated sugar (I use organic cane sugar or turbinado sugar but any will do)
·

        
¾ teaspoon brown sugar
1.
 

Cut the ends off of the radishes, peel and cut them into sticks (you can do a different type of chop but I like the look and versatility of the sticks).

 

I cut slices about 1/4 inch thick and then cut that into sticks about 1/4 inch wide.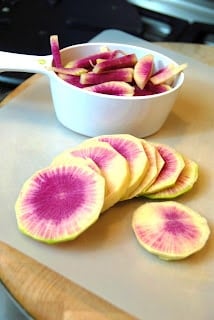 2.
Cut the onion into 1/8 inch slices using a knife or mandolin. Cut each slice in half and separate into half circle pieces.

 

Combine the radishes and onion in a bowl and toss to mix together.
3.
In a separate bowl mix together the rice vinegar, salt and sugars, stirring to combine until salt and sugar dissolve fully.
4.
Fill the jars you've selected with the radishes and onion.

 

Pour the liquid mixture into the jars leaving about ½ inch at the top.

 

Add lids; turn upside down and upright again a few time to ensure everything is mixed together.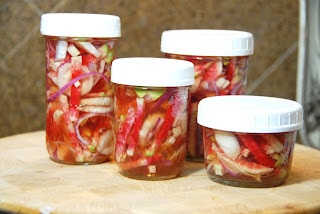 The pickled radishes can be eaten as early as after soaking overnight but realistically to get the flavor I like to leave them at least a week.

 

Since they are refrigerator pickles they are not intended for long shelf life.

 

I probably would not keep them after 3 months (but mine have never lasted that long).
You can use these as a relish, eat them on their own or as a condiment to all things grilled.

 

One of my favorite ways to use them is chopped up and added with mayonnaise to tuna for a salad or sandwich.

 

I grew up with canned tuna mixed with mayo, chopped celery, chopped scallions and some pickle relish.

 

Loved it; the sweetness, the saltiness and the crunch.

 

Using these pickles instead of the celery, scallions and relish makes an updated version that really cannot be beat!