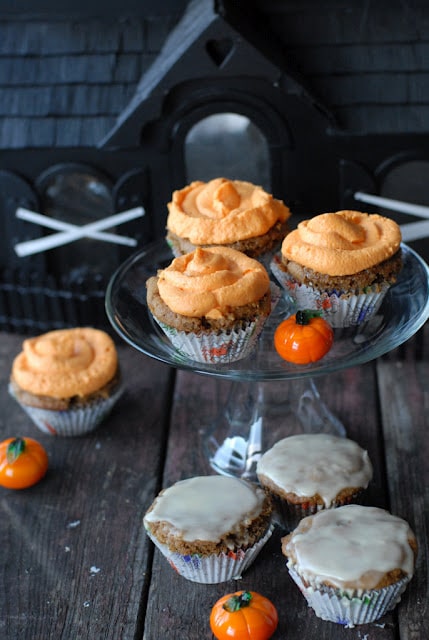 I don't go full tilt on holiday themed food.

Though I do love Halloween and have made spooky treats like jello eyeballs I feel there is enough sugar laced through the month that when I want to bake something it has to have some panache.

I love a good spice cake at this time of year and this one incorporates pumpkin making it all the better

.
In our neighborhood we have some civilized neighbors who honor the 'Trick or Drink' protocol for adults chaperoning candy-seeking ghouls.

Actually no 'trick' is required, you merely show up on their doorstep and they are armed with Dixie cups of 'the cure for what ails ya'.

Usually something liqueur-y that lightens your step afterward, often trudging through snow drifts.

In honor of this evolved custom I glazed part of these cupcakes with a Bourbon Orange Glaze for adults and Cream Cheese frosting for teetotalers and tots.

Both are yummy.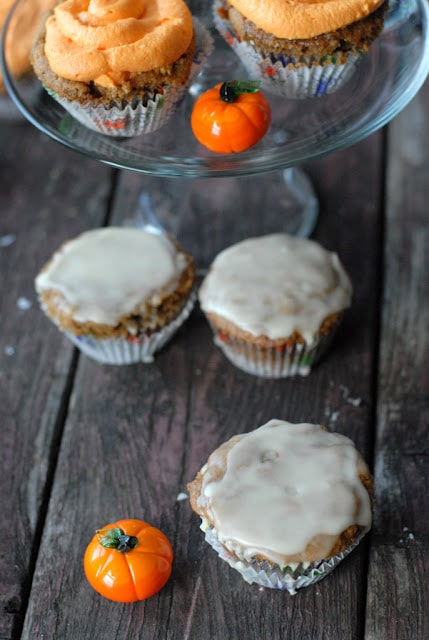 I see Halloween as a rustic holiday leaving me no trepidation about not being a neat-nick 'froster'.

I've dabbled in the occasional attempts at perfection but it's simply not me.

I did try to go fancy on the cream cheese frosting but certainly I'm not expecting a call from Top Chef: Just Desserts to harvest my undiscovered talents on TV.

Another reason to love a good glaze; drip it on when wet, and when it dries do it again.

I personally like the drips down the sides; a 'real people' cupcake.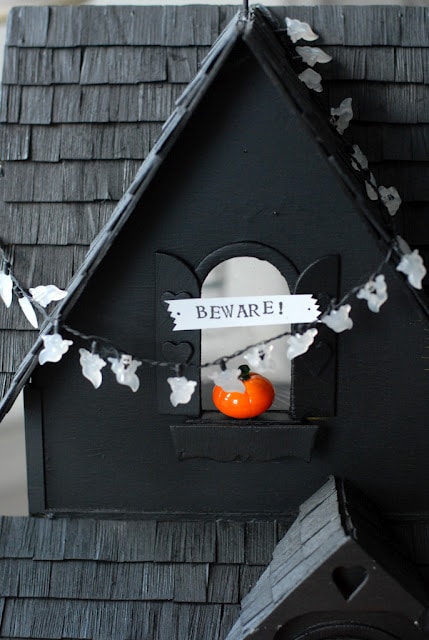 Occasionally I've endeavored a project that qualifies as 'full frontal Martha'.

The backdrop for these cupcake photos is a doll house I purchased from eBay years ago and converted into a haunted house for a Halloween decoration.
Taunt me if you will.
Adapted from Williams Sonoma
·
3 ½ All purpose flour (can substitute gluten free flour)
·
2 ¾ teaspoon baking powder
·
(3/4 teaspoon xanthan gum if making gluten free)
·
5 teaspoon pumpkin pie spice
·
14 tablespoons butter, softened
·
1 cup light brown sugar, packed
·
2/3 cup dark brown sugar, packed
·
1 2/3 cups granulated sugar
·
4 eggs, room temperature
·
1 2/3 cups pumpkin puree
1.
Grease and flour cupcake tins or place cupcake liners in pan(s).

Preheat oven to 350 degrees.
2.
In a mixing bowl combine flour, baking powder, baking soda, (xanthan gum if making gluten free), salt, spices.

Stir to mix fully.
3.
With an electric mixer beat butter on medium speed until creamy.

Add brown sugars and granulated sugar; beat until light and fluffy (about 5 minutes).

Scrape sides when needed.

Add eggs one at a time and beat to incorporate before adding another egg.
4.
Add 1/4 of the flour to the butter/sugar mixture and beat on low speed to incorporate.

Add 1/3 cup of the milk, beat to incorporate.

Repeat twice more, ending with the flour.

Do not over beat.
5.
Add the pumpkin puree and beat until incorporated.
6.
Spoon batter into cupcake tins; fill 2/3's full.

Bake 20-25 minutes until toothpick comes out clean.
7.
When done, remove from oven, let cool in pan 15 minutes and remove to baking rack to complete cooling.

NOTE:

If using glaze it works best on warm cupcakes (see below for more details).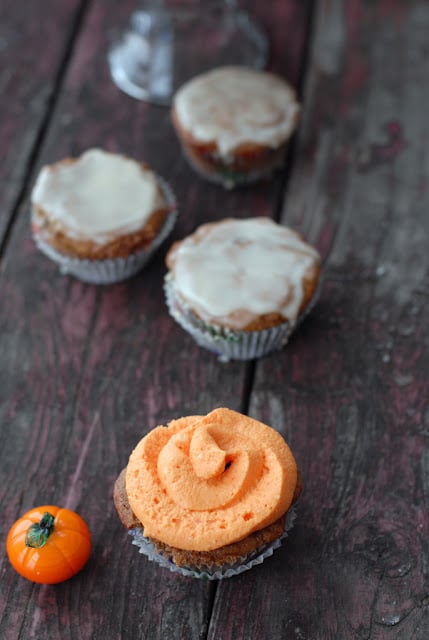 Adapted from Willams Sonoma
·
8 ounces soft cream cheese
·
8 tablespoons butter, softened
1.
Beat the cream cheese until softened.

Add the butter and beat to incorporate.
2.
Add powdered sugar and vanilla.

Beat until light and fluffy.

Frost cupcakes when cool.
·
2 tablespoon quality orange juice
In a mixing bowl hand whisk all ingredients together to combine.
To glaze cupcakes
:

To best glaze do so when cupcakes are still warm (not hot out of the oven).

Using a spoon, spread the glaze across the top of the cupcake.

Allow it to harden.

Glaze a second time if you like!