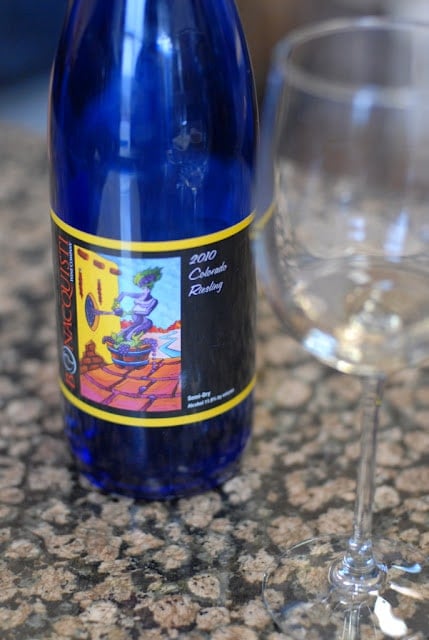 The Colorado Riesling is a Gold Medal Winner at Colorado's Wine Fest 2011 and a special pick of Paul's.

A great wine for Thanksgiving and I bought my bottle when I visited!
On our first true day of fall, christened with freezing rain and snow in the mountains, I took a trip to Bonacquisti Winery in Denver for what was to be a crush of Pinot Noir grapes from Hotchkiss Colorado.

A delivery snafu left the grapes in storage nearby and me with the full attention of friend Kat Scropos, Winemaker and Sommelier Paul

Bonacquisti and 'Oenophile and Gourmand', John Vertovec.

What's a girl to do?

Start tasting.
I should back up.

Bonacquisti is an Urban Winery, Paul Bonacquisti's vision perfectly embodied.

He's an understated, humble guy with local roots and loyalty to the area.

His path with wine began as a multigenerational family hobby from the basement, graduated to the garage and then to center stage for Paul after exiting a long career in radio.

His dream was to create an urban winery where customers could come in as they pleased in be right in the middle of the action.

He's not a fan of a disconnected, 'architected experience' where patrons come to a tasting room to find the winery's inner workings sequestered behind locked doors with exception of a 4:00 p.m. daily tour.
Paul has accomplished his goal in full.

In an accessible strip of shops one opens the door and feels as though they've walked into Paul's house with the warmth of the greeting.

A long granite tasting bar provides an elegant backdrop to enormous in-process vats of wine in varied stages of fermentation.

Being one enamored of industrial equipment and any process taking something from one state to another, I was in heaven.

The feeling I had at the winery was one of visiting a friend and ending up in the kitchen as somehow everyone always does.

You feel like you belong, can stay as long as you like and there will always be more to talk about…..perhaps about the long high shelf above the tasting bar of bottles with medals around their necks, all poised like accomplished Olympians each with a story to be told.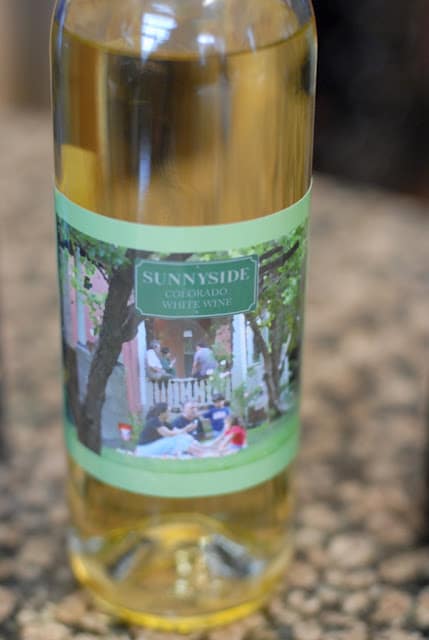 Each year Paul does a special Sunnyside batch in honor of his neighborhood.

The visual on the label says it all and conveys the vibe Paul is about.
Paul's winery and home are in the historic Italian Sunnyside neighborhood of Denver.

Any vision of the future includes his commitment to this area.

He puts Colorado first for grape procurement.

He is mindful of sustainability in all he does.

He is an artisan having a sommelier's keen intuition and palate for combinations and small batches of wine.

Even the standard staple lines (Vinny No Neck and dRed) vary a bit in flavor profile batch to batch.

Part of the charm in my eyes.
Despite Colorado's terroir promising success for emerging varietals, Paul also uses California grapes to round out his creations to embody his vision.

The flavor of a new vine versus an 'old vine' (50 years) or 'ancient vine' (75 years) are completely different.

There are high hopes for the fruits of current focus and efforts in expanding varietals in Colorado so stay tuned!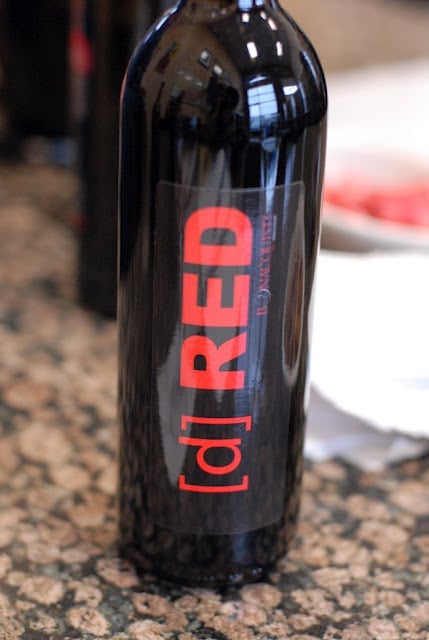 I sampled the breadth of their offerings.

Most of the wines have a charming back story, great label art and most importantly a mouth-filling flavor profile.

Their dRed for instance is a tribute to Paul's Grandfather from Italy who was a coal miner west of Trinidad Colorado, in Delagua.

This wine, a beautiful mix of Zinfandel, Colorado Syrah and Merlot, is a nod to where the passion for wine really started for Paul.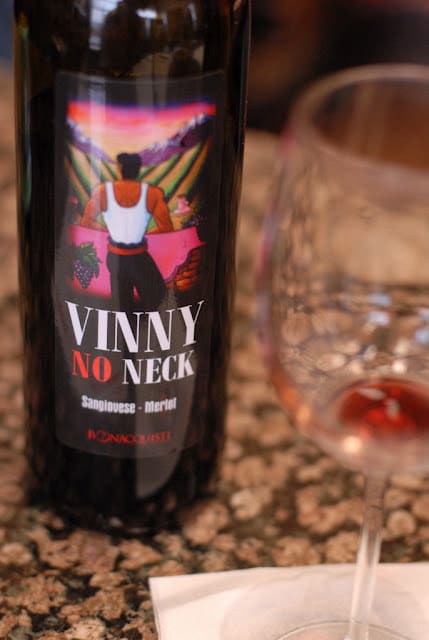 Another of the most popular blends is Vinny No Neck , fondly fashioned as an homage to Paul's young son.

I saw a photo.

The name does not call forth declaration of a physical malady but rather an impressive build and a personal exuberance only a young boy can wield.

To see him is to smile at his radiance, as the wine's name and taste aptly evoke as well.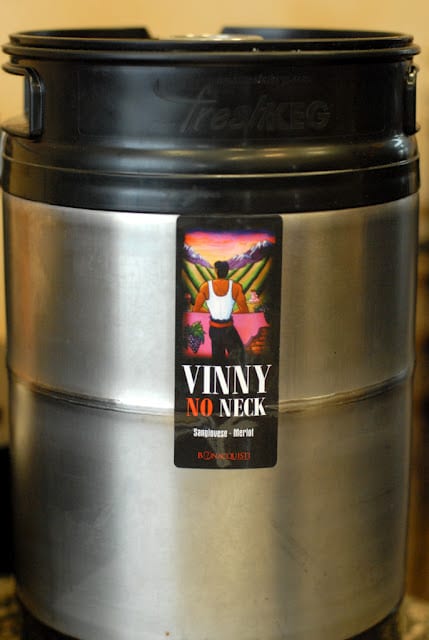 A cool option Bonacquisti offers restaurants is Wine Kegs for their more popular blends.

It allows space saving and ease for the restaurant as well as limits bottle refuse.
I spent a great deal of time with John Vertovec who is extremely knowledgeable having sold wine for 20 years and admired it for far longer I'd presume.

He was my escort through the Bonacquisti line leaving me with 10 pages of notes and ready to lead a course on wine tasting (but I'll leave that to the winery which they've begun to do).

I asked Paul what he'd like people to know about the winery and I could see had put him on the spot.

I suspect he 'lives it' and is not the most comfortable self promoting; he lets his wine quality do the talking.
John on the other hand was bursting to speak.

He feels "Paul's passion comes through in his wine.

He creates combinations showing the best aspects of the varietals but that are friendly with food".

Winemakers interest people and Sommeliers understand what varietals are suppose to be; 'with that combination, what can go wrong?!'

He sees Paul to be 'part Chemist, part Mad Scientist and Artisan, driven by passion'.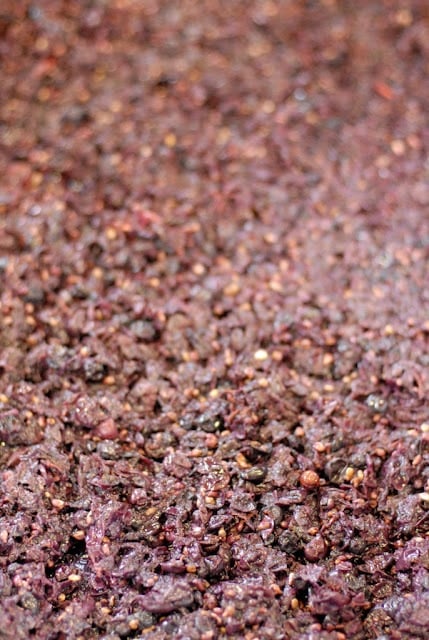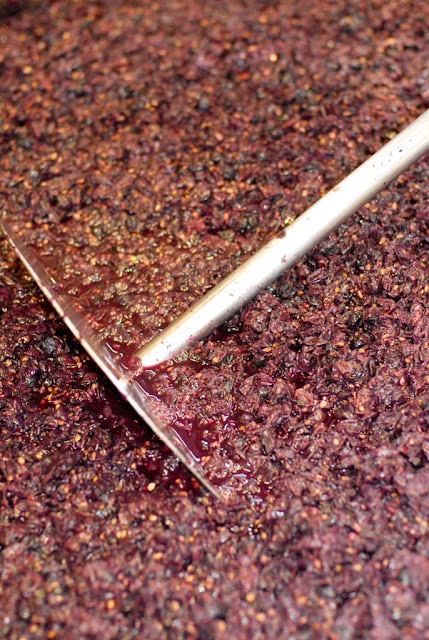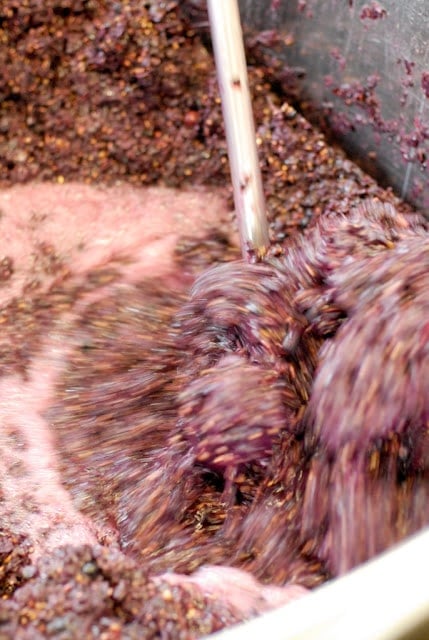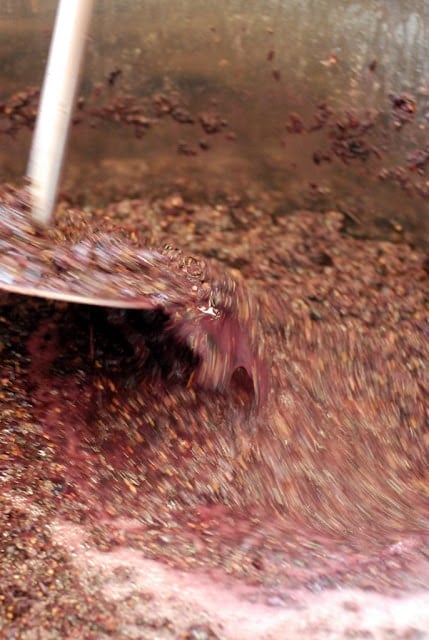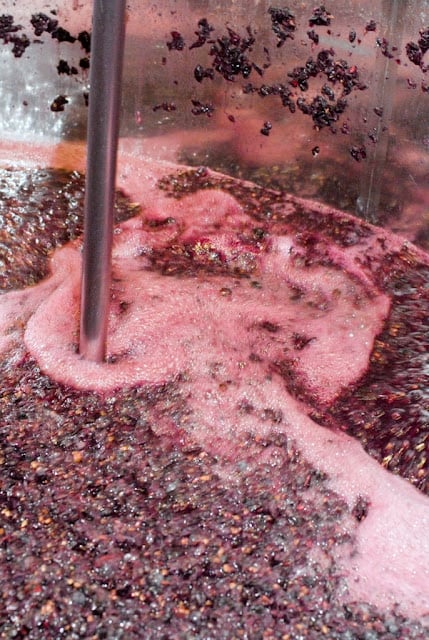 I was able to climb a tall ladder to look into an enormous vat (I'm sure it has a more sophisticated winemaker name) to observe a first phase Zinfandel fermentation as Paul mixed it up.

It was a beautiful deep maroon color.

After the almost violent churning I could see the air releasing through the top layer as though I was watching clams under the surface sand at a beach.
I liked these people and I liked Paul's wine.

I was transported back to my time living in San Francisco when a visit to the Wine Country was a casual weekend day trip, not a big hyped out event where we thought ourselves cool for being 'wine snobs'.

Bonacquisti reminded me of some of the smaller wineries at the time where you could really speak to the Winemaker and could feel their intent and personal essence in their wine.

He makes wine 'for the people', regardless of the sophistication of

one's

palate or what food you

may be enjoying on the occasion.

I encourage you to drop in.

You'll be welcomed with open arms and you'll want to stay awhile.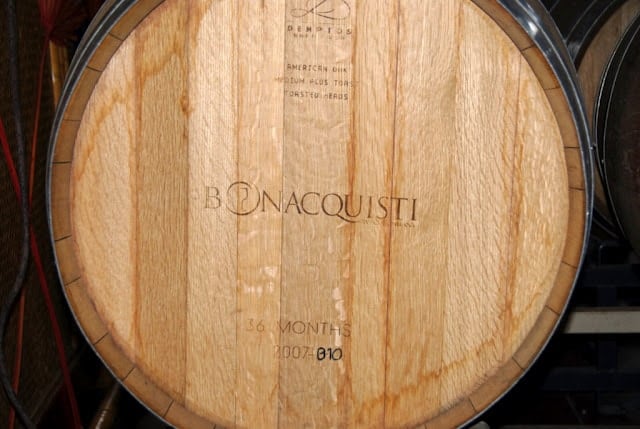 $5 tasting fee to taste 5 wines. Complimentary with purchase and for Wine Club members
Location:
4640 Pecos Street Unit I, Denver CO 80211. 303-477-WINE (9463).

Clickhere

for mapped directions.
Where to Buy
:
You can buy their wines online, at the winery as well as find them in a number of local restaurants and shops.

Click here

for more details. They also have a Wine Club.
Events:
They always have fun things going on and are starting up some classes.

Click here

to learn more.