Homemade paneer is a light cheese, great to eat by itself or to add to Indian recipes. If you've ever wanted to try making homemade cheese, this easy recipe for Homemade Paneer is a perfect place to start!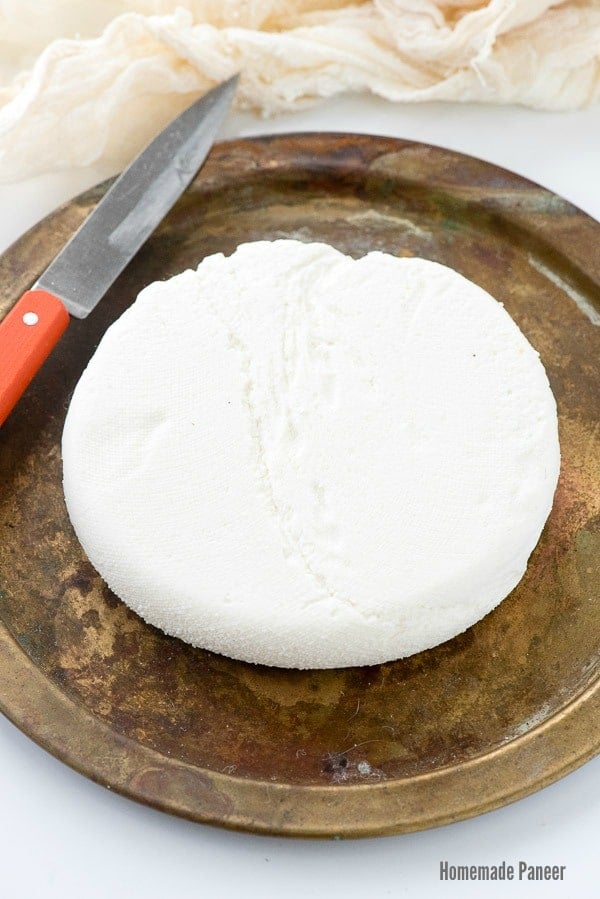 I have wanted to learn to make my own cheese for years. If I were to have predicted, ricotta or mozzarella probably would have been my first endeavor but instead it turned out to be Homemade Paneer. Go figure.
I think my interest in cheese making stemmed from my original locavore experiment, when I was trying to source all my protein and produce from a 100-mile radius over a Colorado winter. That lent itself to dabbling in a number of homesteading practices like root cellaring and canning.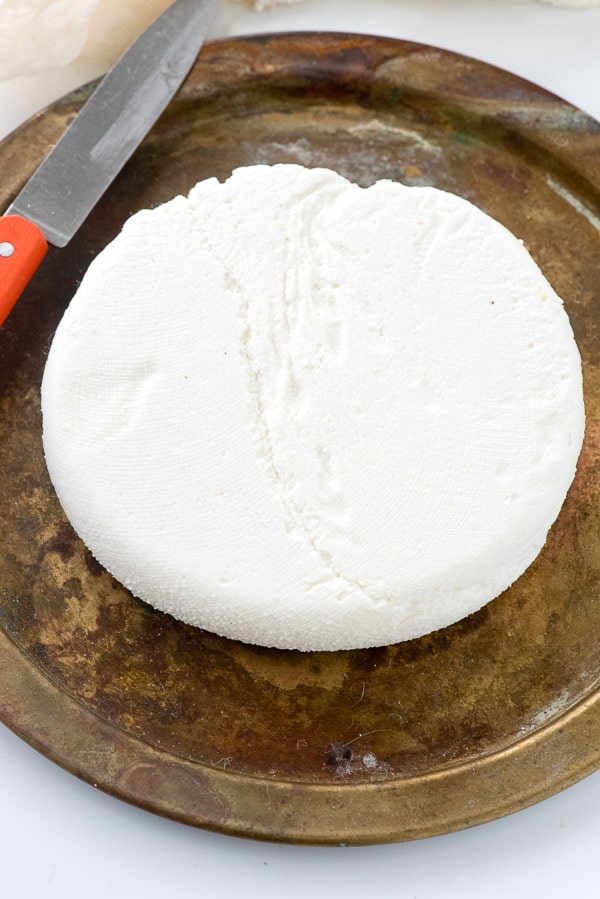 I find it very gratifying to create food that I'd normally buy. I love learning new things and often find exploring making ingredients from scratch if often easier than one would guess.
The results are usually something better tasting than what can be purchased too. In this case I love cheese, so checking out making it myself was a natural pursuit.
What is Paneer?
For those unfamiliar, paneer is fresh cheese made by curdling cow's milk with something acidic, like lemon juice or vinegar.
It is popular in South Asian recipes as well as eating by itself.
Paneer is formed into a block which can be sliced or cubed and used in cooked dishes without it melting.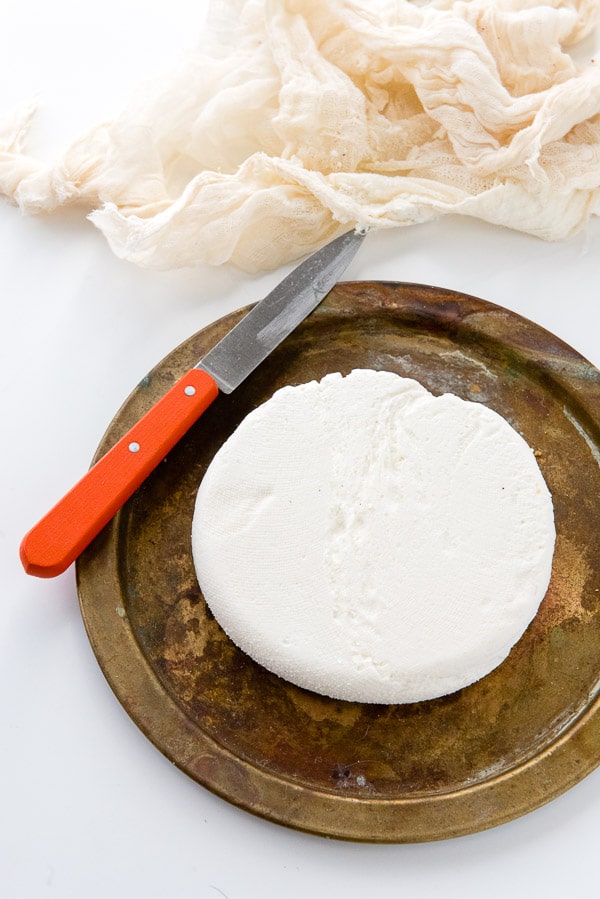 Before making Homemade Paneer, I'd done some research and realized it is an easy process.
Much like other recipes for ingredients normally purchased, after making it I was energized to try making other varieties of cheese.
How to Make Homemade Paneer
Whole milk is heated and lemon juice is added.
While stirring, the milk separates into curds and whey just as referenced in the Little Miss Muffet nursery rhyme.
As the curds form (they look like cottage cheese curds) the liquid or whey has a green tinge, so it's obvious when it's forming.
Once the curds have formed they are compressed in cheesecloth, rinsed and allowed to drain.
Finally, the compressed curds and refrigerated with a weight to form a round block of fresh cheese.
What Does Paneer Taste Like?
It has a light flavor and dense texture.
Paneer is great for salads, in cooked dishes and crumbled with nuts and honey.
Paneer Tikka Masala is a delicious recipe to use paneer too.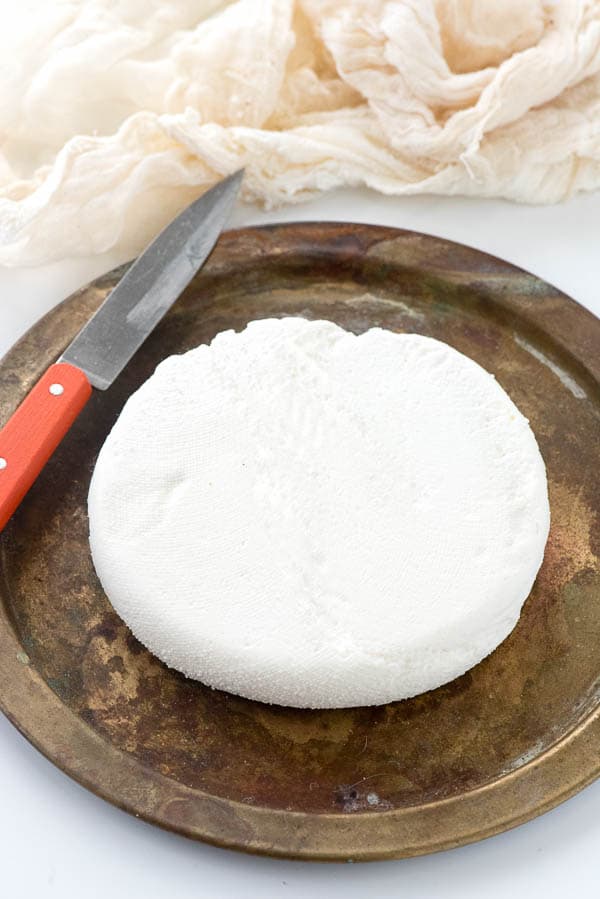 Recipe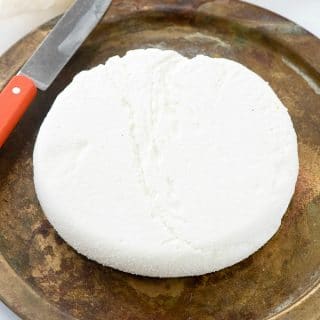 Ingredients
8

cups

Whole Milk

not ultra-pasturized

4-6

tablespoons

Fresh Lemon Juice

Cheesecloth
Instructions
Line a colander with a double thickness of cheesecloth, allowing a few inches to drape on either side of the colander. Set aside.

In a stock pot or Dutch oven, heat the milk over medium heat, stirring often as it warms.

When small bubbles appear on the surface of the milk, add 4 tablespoons of the lemon juice and reduce the heat to low.

Continue stirring gently as the milk curds appear.

If after a few minutes the milk curds (small whitish solids) have not fully formed separating from the whey (light greenish liquid), add another 1-2 tablespoons of lemon juice until the curdling is obvious.

Continue to stir gently to allow curds to form (and not break apart).

Remove the pot from the stovetop and pour contents into the prepared colander. Allow the liquids to drain and rinse lightly with cool water.

Fold the shorter sides of the cheesecloth inward over the curds and tie the long ends once to make a small packet. Squeeze gentle to release more liquid and tie to the kitchen faucet; allow to drain into the sink for 10 minutes.

Remove from the faucet and turn the cheesecloth packet of curds on its side with the tied area on the side as well.

Press on the cheese bundle to form a round shape.

Place the packet in a round cake pan (or other similar flat bottomed pan). Place a flat saucepan on top of the cheese and something heavy inside to compress the cheese (I put a brick in the saucepan).

Place in the refrigerator and allow to sit 1-2 hours until the cheese is fully formed. Note: it can sit longer.

Unwrap the cheesecloth to slice and eat the paneer.
Nutrition
Calories:
300
kcal
|
Carbohydrates:
24
g
|
Protein:
15
g
|
Fat:
15
g
|
Saturated Fat:
9
g
|
Cholesterol:
48
mg
|
Sodium:
209
mg
|
Potassium:
659
mg
|
Sugar:
25
g
|
Vitamin A:
790
IU
|
Vitamin C:
5.8
mg
|
Calcium:
551
mg
|
Iron:
0.1
mg