Asian Chicken Salad is fresh, crunchy and great all year round. Full of crisp shredded cabbage, refreshing cucumber, carrots, moist shredded chicken, and onion. Tossed in a spicy homemade Asian dressing brimming with bold exciting flavors!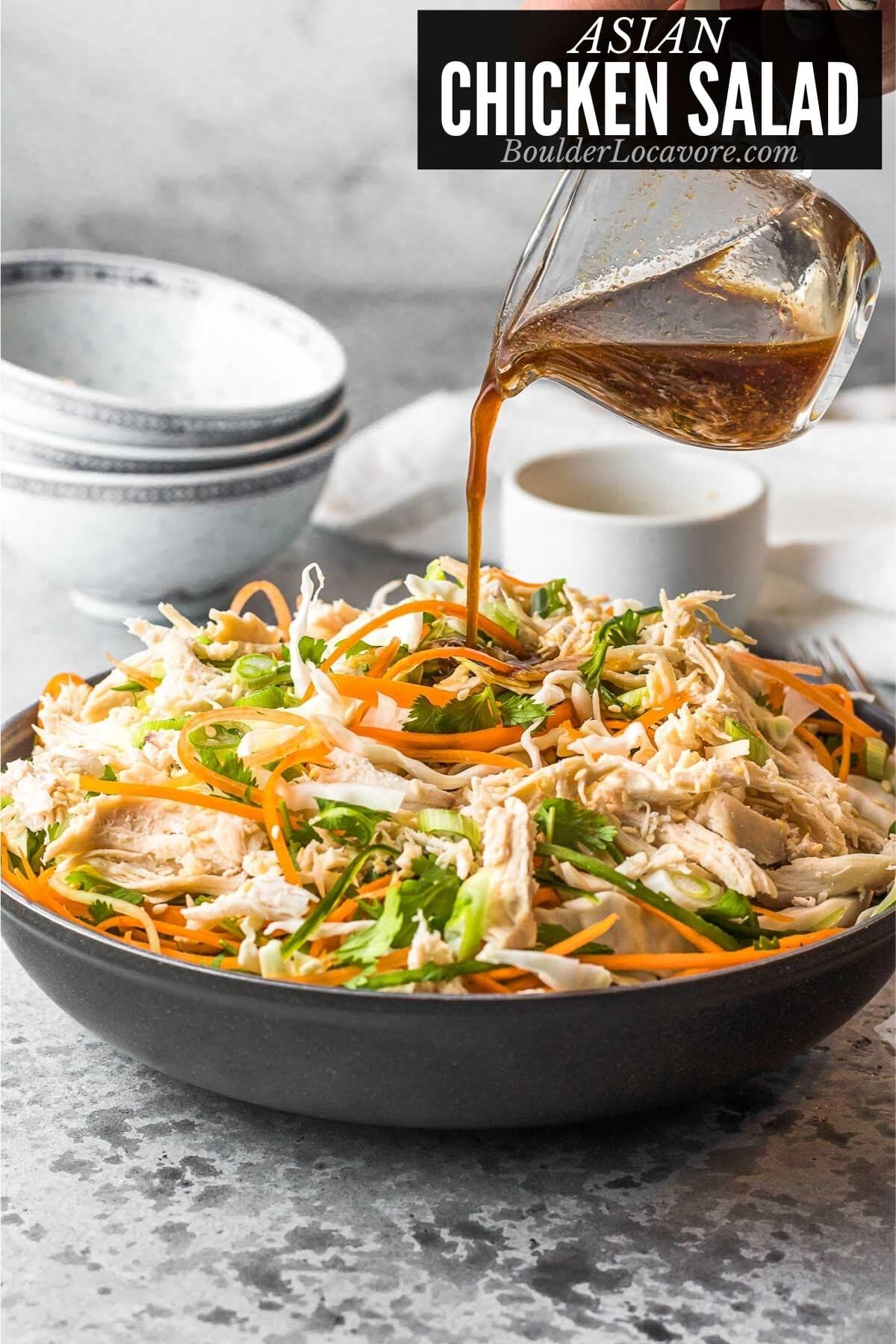 If you are a big fan of Chinese Chicken Salad you'll love this Asian salad too.
Fresh crisp ingredients with a spicy Asian dressing. Adding in shredded chicken makes the salad a filling main dish any time of the year.
You'll love Mongolian Beef Salad and Vietnamese Noodle Bowl with Lemongrass Chicken too.
The bold flavors make this light, refreshing salad recipe a winner any time of the year.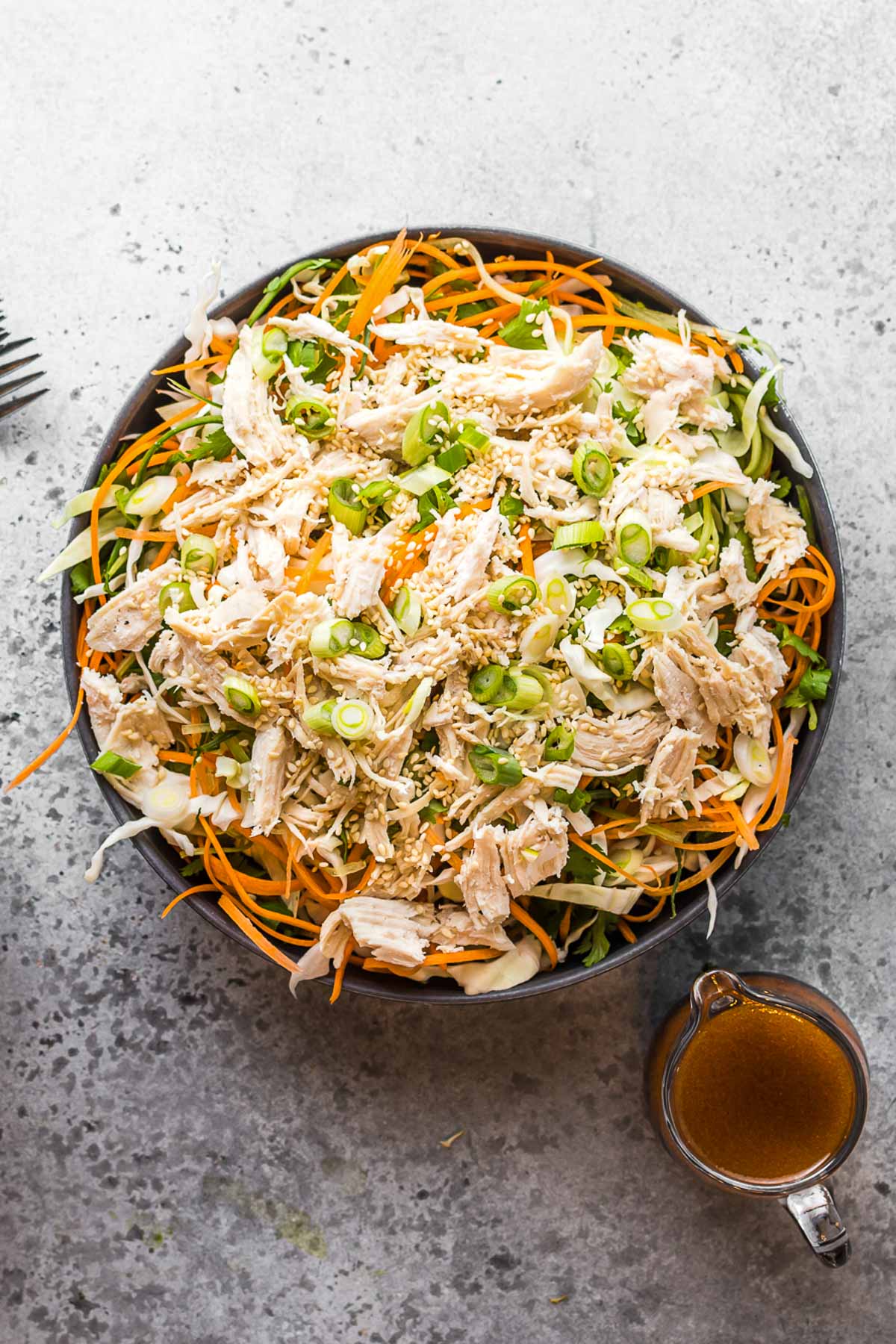 Recipe Ingredients + Notes
Cabbage. Shredded cabbage is used for a cool crunch. Store bought shredded cabbage can be used or you can shred it yourself. You can prep this ahead of time as it keeps well.
Cucumber. Fresh and hydrating. A wonderful salad ingredient that absorbs some of the dressing flavor.
Carrots. Another crispy fresh ingredient.
Cilantro. Fresh cilantro is a classic herb in Asian recipes. If you don't love cilantro add more cabbage instead (try red cabbage to add more color).
Green onions. These are sliced and added to the salad.
Chicken breast. Shredded chicken breast is used. You can make it yourself or use store bought chicken. Boneless chicken thighs could also be used.See the additional NOTES below for options.
Soy sauce. Use light or regular soy sauce. Gluten-free or regular soy sauce both work great.
Oil. Two oils are used in the spicy Asian dressing. Use a very light tasting oil like a mild olive oil or vegetable oil.
Sesame oil. Just 1 teaspoon is used but adds so much to the flavor of the dressing.
Mirin. Mirin is a rice cooking wine and is widely available in the Asian food section of the grocery store. It adds a little bit of sweetness.
Lime juice. Adds some fresh tangy flavor to the dressing.
Garlic. Fresh garlic is a classic for this recipe.
Honey. Adds just the right sweetness to the dressing.
Ginger. Freshly grated ginger has a bold robust flavor. If you are short on time substitute ginger paste.
Sriracha. This popular hot chili sauce adds a touch of spicy heat to the dressing. Using between 1 and 2 tablespoons is recommended. If you want it super spicy, add more to your preference.
Optional toppings
Sesame Seeds. These can be toasted and used to garnish the salad with them. These add a nice nutty taste. Or sprinkle them on raw!
Crispy wonton strips. These won't work for gluten-free diners but for an extra crunch add them on top.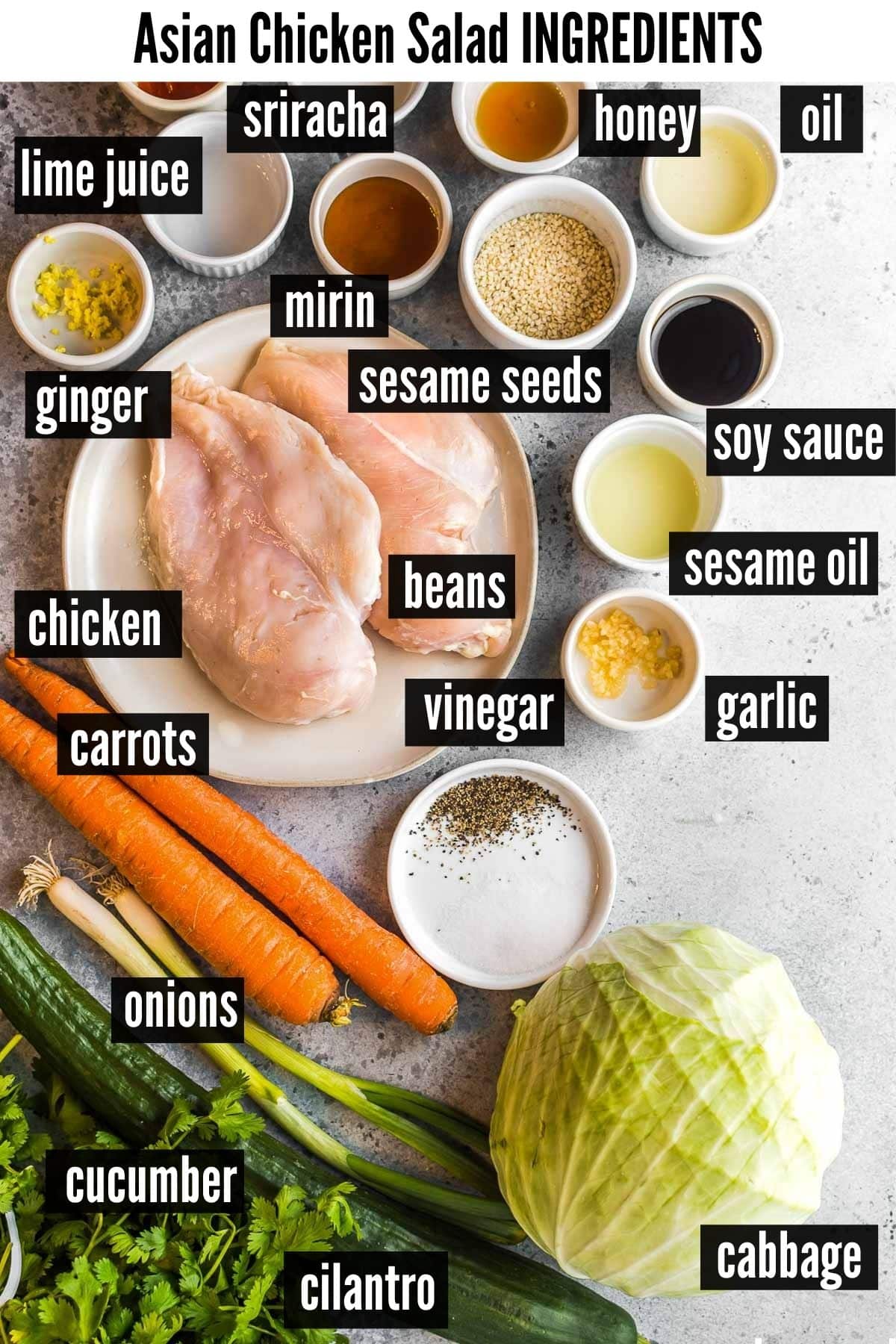 How to Make the Shredded Chicken
Best homemade shredded chicken. This is my all time favorite recipe for shredded chicken. You'll see from all the comments and 5 star reviews that I'm not alone!
The chicken is full of flavor and it has a fast shredding trick that's a life changer. It would be my first recommendation for this Asian salad recipe.
Homemade poached chicken. Another option is to make poached chicken. Cooking it in water will help keep the chicken from drying out.
The chicken will have a very light flavor. Instructions for poaching below.
Rotisserie chicken. Store bought rotisserie chicken can also be used. That saves the cooking time. If it's warm you can still use the shredding trick in the recipe above.
Store bought pulled chicken. Stores now ever sell pulled chicken or shredded chicken from their rotisserie chickens. It is usually available in the deli section. It takes all the work away for you.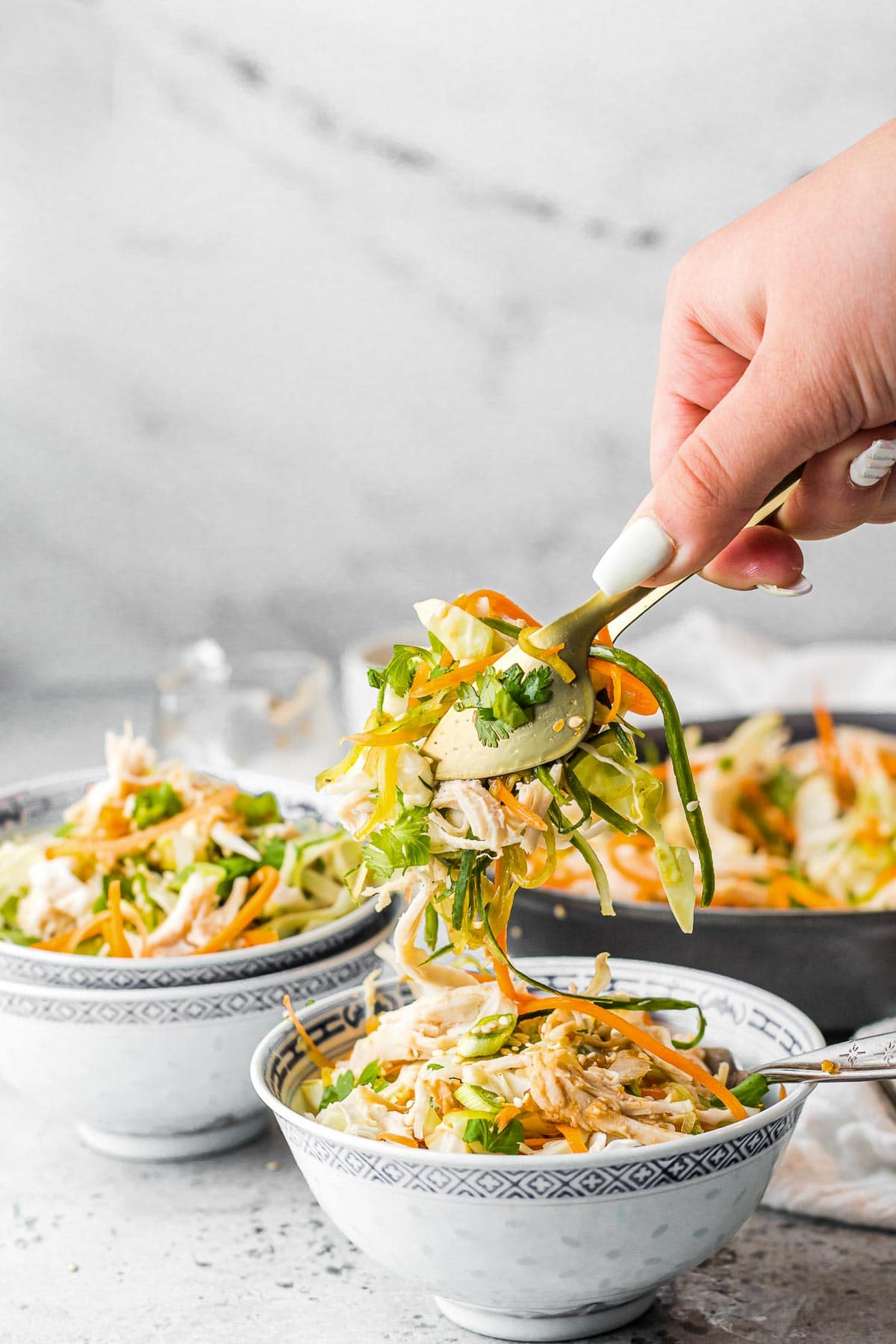 How to Poach Chicken Breasts
Place 8-ounce boneless skinless chicken breasts in a pan and cover with water.
Add ½ teaspoon EACH of salt and pepper.
Bring to a boil, once it has started boiling, reduce to a simmer and cook for 6-7 minutes.
Turn off the heat and place a lid on the pan. Let it set for 5 minutes.
Verify the internal temperature reaches 165 degrees. Using an Instant Read food thermometer is the easiest way to ensure the chicken is done.
Shred the chicken using 2 forks.
NOTE: if using larger chicken breasts the cooking time will be longer.
Variations
Sliced or slivered almonds. If you love an extra crunch and nutty flavor add 1/2 cup of slivered or sliced almonds. Roasted cashews would be great too!
Mandarin orange segments. Some versions of this salad included drained canned mandarin orange segments. For a pop of color and some sweetness, add 1 can (drained).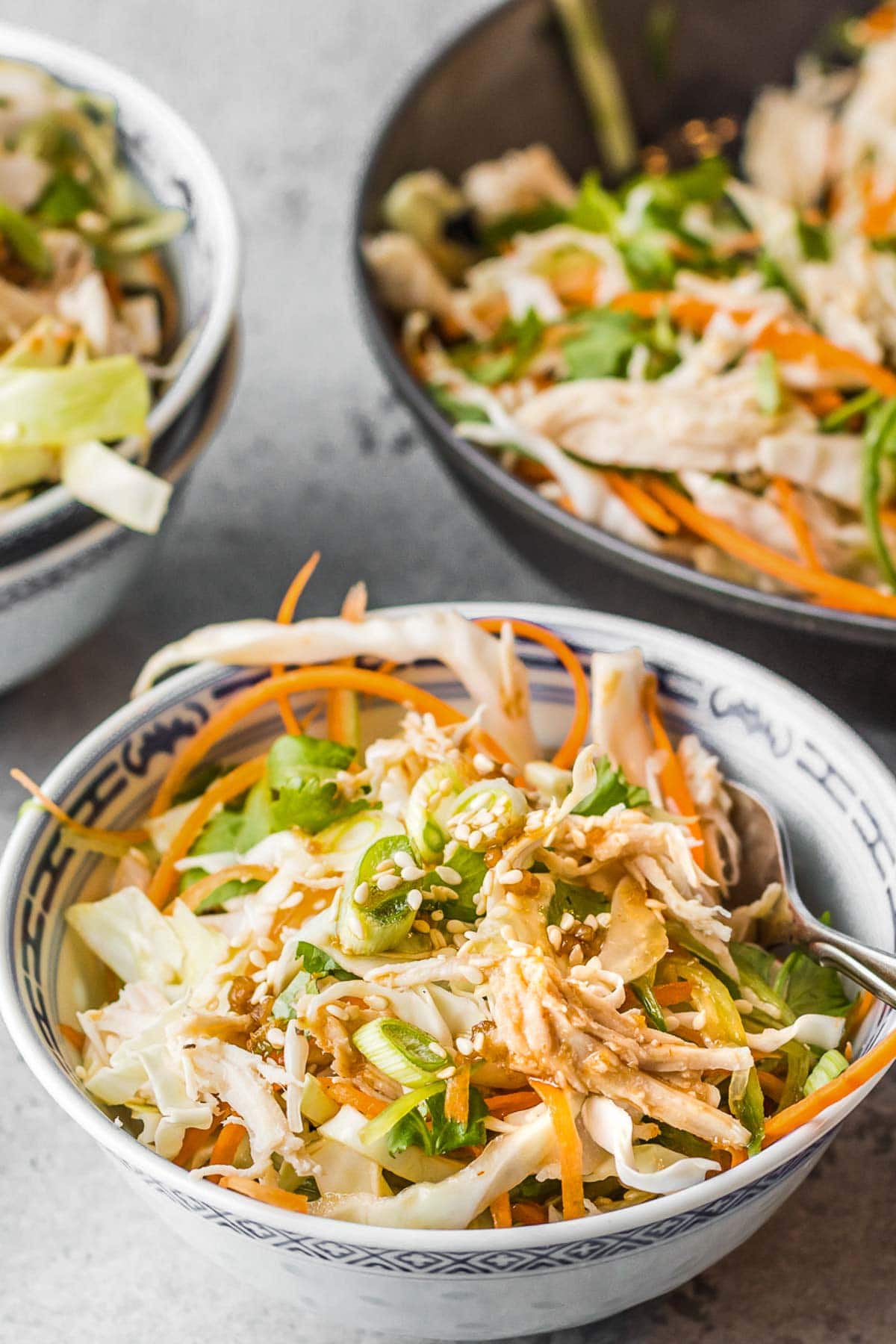 How to Make it – Step-by-Step
This Asian salad recipe has two main steps: making the dressing and combining the salad ingredients.
STEP 1. Make the Asian dressing.
In a small bowl combine the soy sauce, oil, mirin, sesame oil, lime juice, garlic, honey, ginger, sriracha and water. Stir to fully combine and dissolve the honey.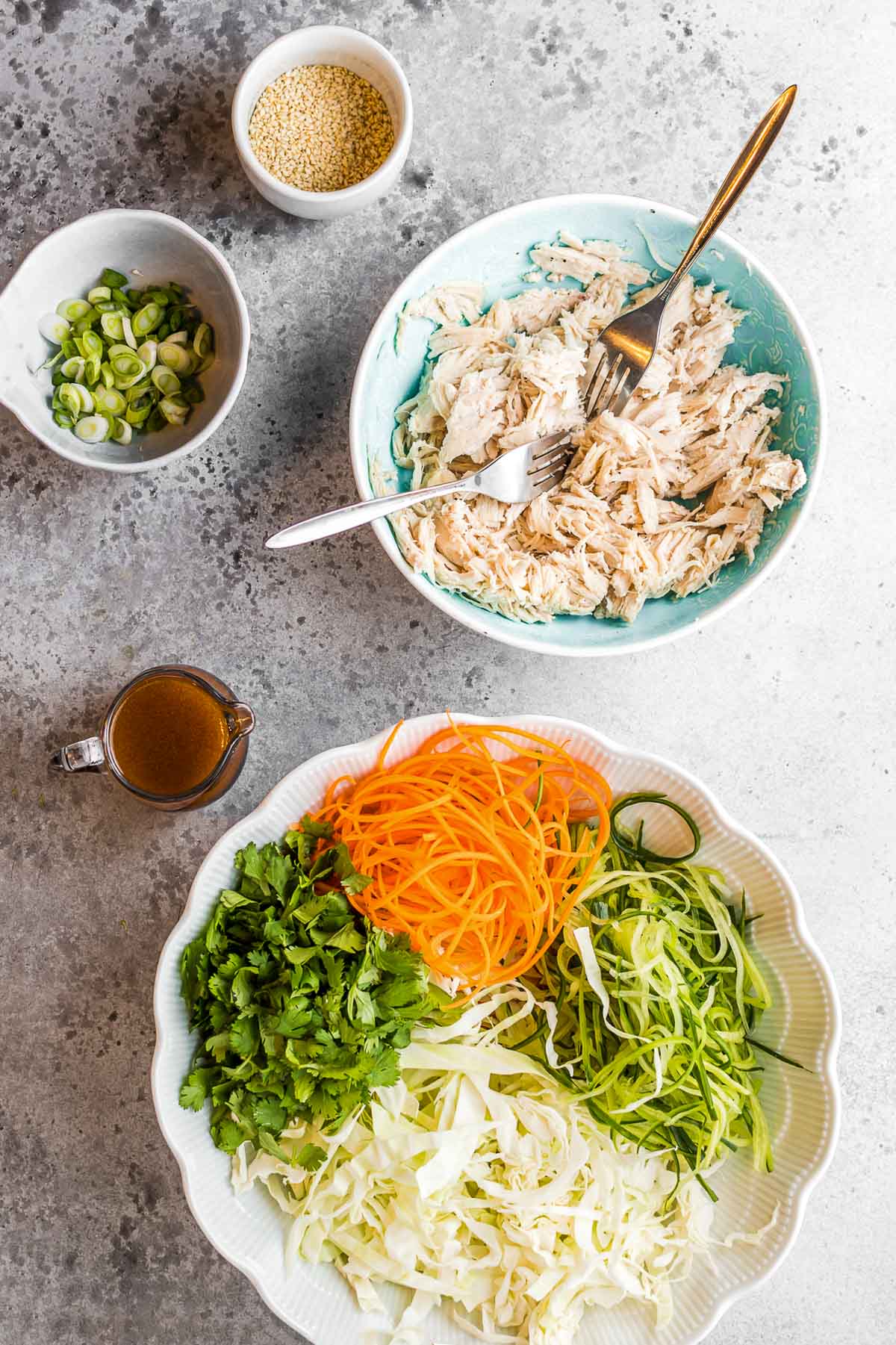 STEP 2. Make the salad.
In a large bowl combine the cabbage, cucumber, carrots, cilantro and onions. Toss together.
Add the chicken and toss again.
Pour on the dressing, toss to coat.
Serve with optional toppings if desired.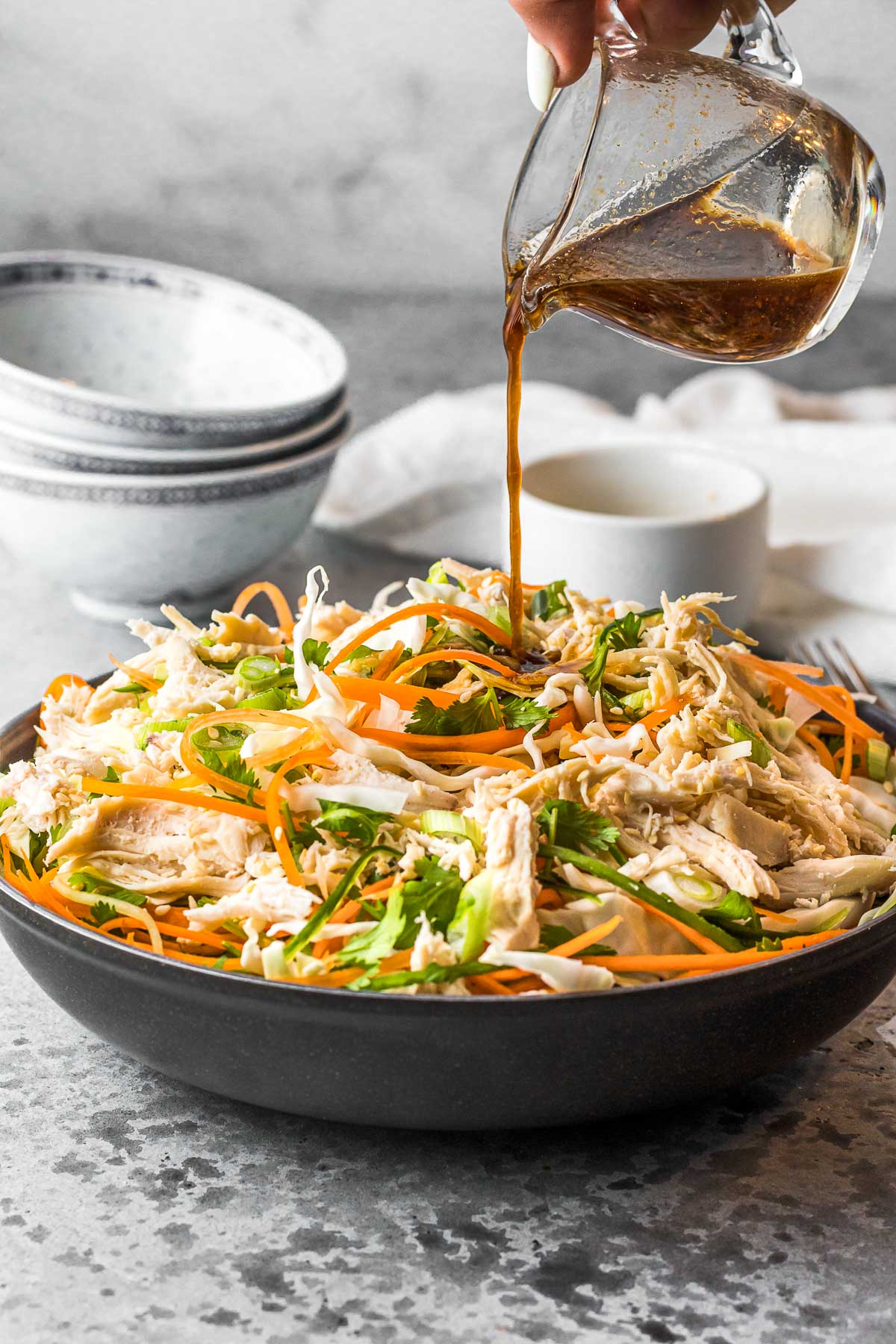 Recipe FAQs + Pro Tips
Time saving tips. Ingredient preparation takes the most time in this recipe. Here are some time saving tips to help cut that time down:
Rather than julienning the cucumber and carrots use a julienne peeler or vegetable peeler to cut them into long narrow strips as shown in the photos.
Substitute half an English cucumber for a traditional cucumber. They are essentially seedless so the step of removing the seeds is not necessary. The thin skin is also edible so peeling is not required unless you want to.
Buy shredded cabbage rather than shredding it yourself.
Buy shredded chicken (check with your grocery store deli for rotisserie shredded chicken).
Storing the Asian Salad
Once the salad has dressing it should be eaten right away. The dressing will make the fresh ingredients soggy if stored.
How to Make it Ahead
To prepare ahead, prep all the fresh ingredients. Keep them in airtight containers in the refrigerator (keep the ingredients separate).
When it's time to prepare the salad combine the fresh ingredients and add the dressing.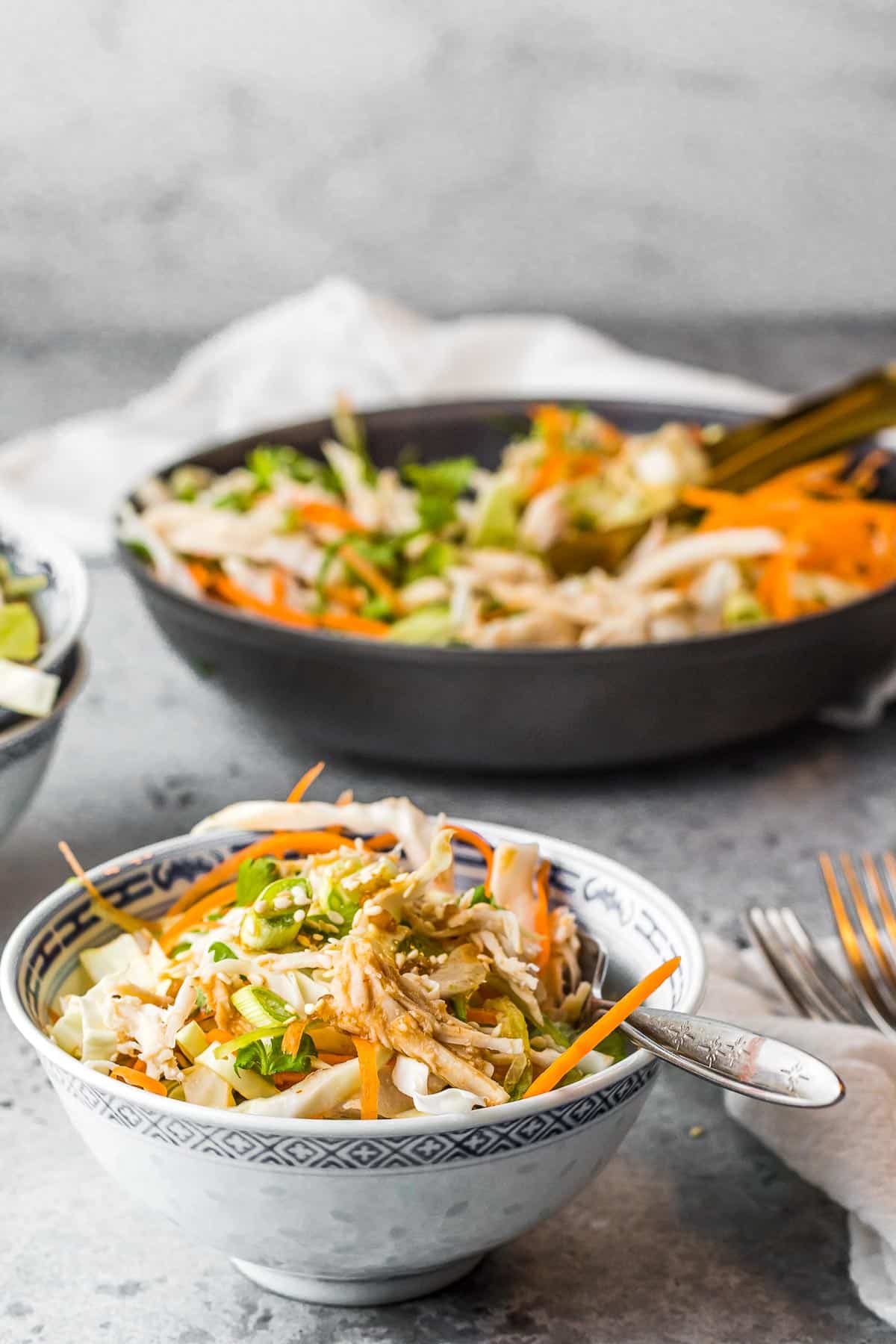 More Recipes You'll Love!
Did you make it? Please RATE THE RECIPE below!
Please SUBSCRIBE and FOLLOW ME on FACEBOOK , TWITTER , INSTAGRAM and PINTEREST !